A right-half who could also play on the right wing, Johnny joined the City at the start of the 1953-54 season from Hendon having previously seen service with fellow north London clubs Finchley and Wealdstone . He was one of a cluster of new signings made by St Albans that summer, as the club sought to improve its fortunes after finishing in the top half of the table just once in the 13 seasons either side of World War II.
After a couple of trial matches, Johnny made his debut on 22nd August – six days after his 27th birthday – during a 1-1 draw at Clarence Park with Ilford. Included in the City side that afternoon were long time favourites Fred Collings and Ron McCormack. St Albans began the season with a seven match unbeaten run, during which Johnny scored his first goal for the club. That goal came during a 3-1 win over Romford at their old Brooklands Stadium and was most notable in that Johnny scored in the opening minute before a single Romford player had touched the ball.
Unfortunately, following a defeat at Wealdstone in the 2nd Round Qualifying of the FA Cup, the team failed to return to its earlier good form and finished the season in eighth place. Even so, this was still a position that City had bettered on only two other occasions since 1931.
Johnny played in both of our FA Amateur Cup ties that season, the first of which was the long trip to Dartmouth United. The players had the rare experience of travelling to Devon the day before the game, while the supporters coach left St Albans at midnight on the Friday. Still, it was all worthwhile as two goals from Alan Tompkins secured victory in front of Dartmouth's record attendance of 1,104.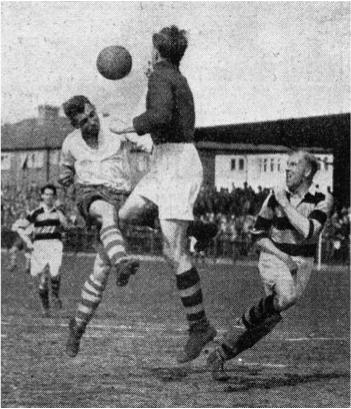 In the next Round the Saints suffered a shock 2-1 defeat at home to Spartan League side Briggs Sports. Johnny played in that match and also our Herts Senior Cup semi-final defeat at Ware. But he missed our Herts Charity Cup semi-final win, this time at home to Ware, due to attending his brother Roger's wedding. He was, however, back in the side for the final, which saw City defeat Athenian League outfit Barnet 2-0 at Underhill with another two goals from Tompkins.
Photo: Johnny Westmore challenges Barnet 'keeper Fred Stevens with the Bees captain Ray Livermore giving cover.
St Albans continued to strengthen the squad in the run up to the 1954-55 season and Johnny looked to be very much a part of the set-up when he featured in the first ten games of the season. He was then 'rested' for a trip to Kingstonian and was in and out of the side before making his final appearance for St Albans City during a 2-1 1st Round Amateur Cup defeat by Woking at Kingfield on 18thDecember 1954. Johnny Westmore played 46 times for the City and scored seven times. He made a further two appearances for the City Reserves.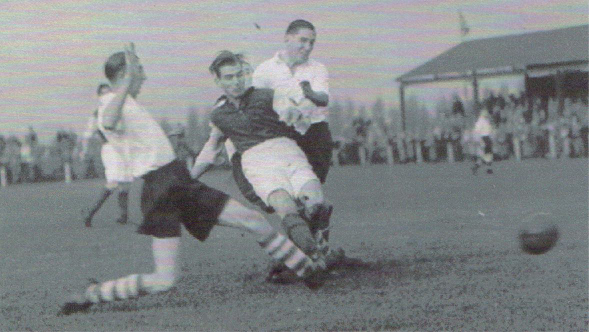 After leaving Clarence Park Johnny rejoined Hendon where he stayed until the end of the 1950's, taking his total appearances to 106 and scoring 16 times. During his first spell with the Dons he was a member of the side that reached the last four of the Amateur Cup, where they bowed out in a replay at Selhurst Park to eventual winners Pegasus following a draw at Highbury. In the previous round his goal secured a draw at Wimbledon in front of a crowd of 12,000, and he was also on target in the replay at Claremont Road.
Photo right: Johnny Westmore opens the scoring as Hendon defeat Wimbledon 2-0 in the Amateur Cup quarter-final replay at Claremont Road in 1951.
Away from football John was a carpenter and builder with most of his work in his home town of Mill Hill. At the end of his first season with St Albans City, in June 1954 to be precise, John married Sylvia and the couple were presented with a silver canteen of cutlery by the Club. Aside from the clubs listed above he also played football in Ceylon between 1943-47 for the Royal Navy. The Westmore name continues to be seen in local football as one of his grandsons plays for London Colney whilst two others play for Potters Bar Crusaders (U11's) and Colney Heath Youth (U9's).
Johnny passed away on the 10th December 2014. We thank his son Darren for assisting with the above information.
David Tavener