Jimmy 'Ginger' Norris passed away on Friday, 3rd April 2020, just one day short of his 90th birthday.
Born in St Albans, he worked at the Ballito stockings factory in Hatfield Road. He played for the Ballito works football team, Ballito Fully Fashioned, who, in 1961, were founder members of the St Albans Industrial League. Under his captaincy they were highly successful, winning the Knockout Cup for each of the first three years of the League. They were also League champions for one season and runners-up on the other two occasions. The Industrial League became the St Albans Sunday League in 1964 when the Herts F.A. recognised Sunday football.
As a teenager he played for Carlton, a St Albans youth team that had its headquarters in Hatfield Road. Jimmy is known to have played for Carlton from 1945, just four years after the club was formed.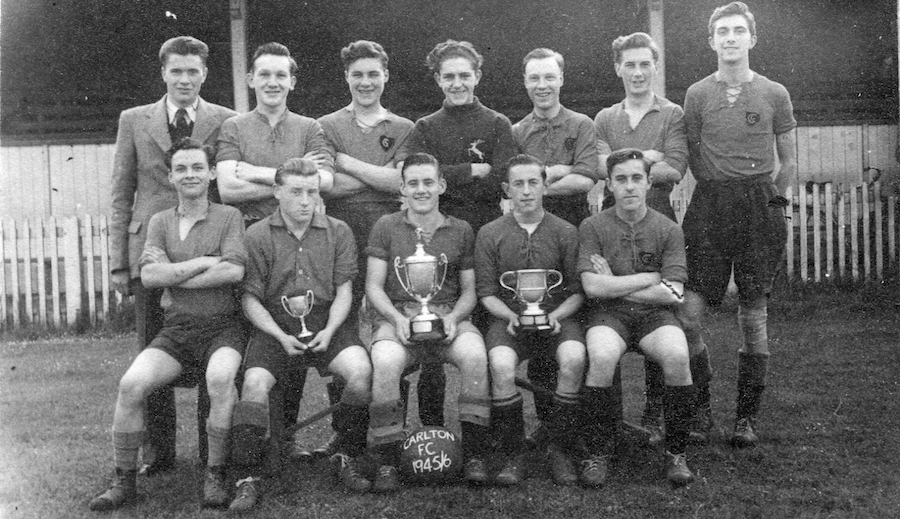 Carlton 1945-46
David McFarland, Arthur Hawkes, Pete Atkins, Jack Yate, Eric Emmett, R.Becker, Jim Brookes
Randall Lloyd, Jimmy Norris, Stan Blow, Cecil Hill, Chris Poulter

During Jimmy's time with Carlton, the club, which ran teams at Under 16 and Under 18 levels, won numerous honours including the Herts Junior Cup, Mid-Herts Benevolent Cup and the Mid-Herts League Group C in 1945-46. A year later Carlton were successful in the St Albans & District Minor League. More honours were gained in 1947-48 with the Under 18 side winning the Herts Junior Cup and the St Albans & District Minor League.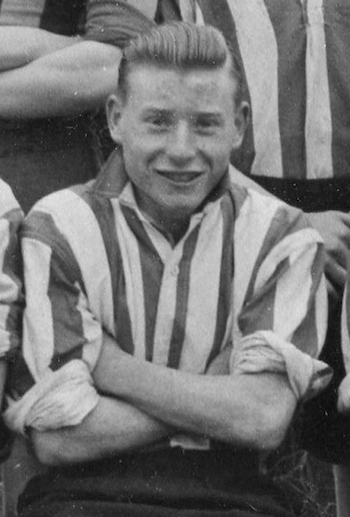 The matchday programme for the Benevolent Cup final on 27th April 1946 described Jimmy as, 'Ginger" Norris – Leading goalscorer in Group C. 'Has a good shot for his size.'
Jimmy's goalscoring prowess did not go unnoticed further up Hatfield Road and he, just like a good number of Carlton players of this era, was quickly snapped up by St Albans City. He made his City debut on 1st May 1947 when Kingstonian were the visitors to Clarence Park for an Isthmian League game.
In January 2014, Jimmy spoke to journalist and author Neil Jensen about his City debut. "I had gained something of a reputation as a centre forward and it was at the end of the 1946-47 season that I was asked to play in the place of the usual number nine, Dave Sayers. I was just 16 at the time. We played Kingstonian and I scored three."
Ginger actually stood in for Les Rance, City favourite Dave Sayers only made six appearances that season, the last of which had been on 7th April. Jimmy's hat-trick was the first by a St Albans City player on his Isthmian League debut. City were bottom but one in the one-Division 14-club Isthmian League at the time, Kingstonian were mid-table. Jimmy held his place in the side for the visit of Tufnell Park two days later but, after picking up an injury, was switched from centre forward to outside left and limped off long before the final whistle.
Ginger scored four other hat-tricks during his time at Clarence Park including a four-goal haul when Amateur Cup holders Woking were seen off 6-3 on 3rd May 1958. Woking had won the cup three weeks earlier in front of a crowd of 71,000 but sent a weakened side to St Albans. As City had never won the cup a request was made for Woking to bring the cup with them, so that the locals could cast their eyes upon it, the Cardinals duly obliged.
Ginger was back with Carlton for the 1947/48 season but did make one appearance for the City Reserves. He, playing at outside right, opened the scoring as the Reserves defeated Romford Reserves 3-1 at the Park on 18th October.
He made just one appearance for St Albans during 1948/49 – 4-1 defeat at home to Woking on 11th December – and it was a further six years until he returned to the First team in November 1955. Jimmy was the top goalscorer for Carlton again in 1949-50
Between then, and when he played his final game for St Albans on 23rd August 1958, he collected three Herts Charity Cup winners' medals, one Herts Senior Cup winners medal and one Senior Cup runners up medal.
His crowning glory as far as cup competitions is concerned came on 22nd April 1957 when City beat Hitchin Town 5-1 in the final of the Herts Senior Cup at Barnet's Underhill ground. City only came in to the competition in the fourth round with Jimmy scoring a hat-trick during a 7-3 win over Bishop's Stortford at Clarence Park . Goals flowed again in the semi-final as Jimmy tucked away three more as Letchworth Town went down 5-3 at the Park. In the final he added two more and finished the season as City's leading marksman with 24 goals in 35 games.
City's 1957 Herts Senior Cup wining side at Underhill.
Back: Alf Law, Ron McCormack, Terry Prebble, Bill Southern, Lou Channer, Ken Evans.
Front: Henry Bird, Jimmy Norris, Fred Collings, Clive Greenwood, Alan Tompkins.
During his time at Clarence Park , Jimmy caught the eye of the big boys in the Football League and he was not short of offers to turn professional.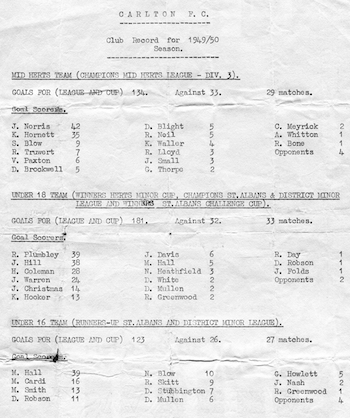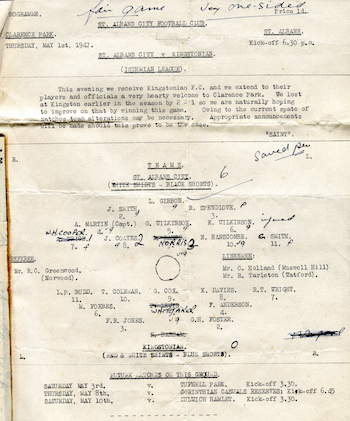 "I had nine offers in one day. Preston North End were one of the clubs. I travelled up to see them, but I wasn't too impressed. I recall they had a lot of Scots, in fact the only player who wasn't was the goalkeeper Gooch. I was earning more at Ballito's, so I found myself, like a lot of amateur players of the day, able to earn far more in another job. I also went along to Southampton and met Bill Dodgin Snr. He was a real character. Dressed in plus fours, he looked more like an old-time golfer! He offered me £10 if I was making the first team. But I was better off at Ballito's."
Brian Hubball, a colleague of Ginger's from back in the Sunday League days, recalls that Jimmy did not enjoy his trial with Preston because 'they wouldn't pass the ball to me!'
Jimmy also had an invitation to join an England Youth tour. Sir Stanley Rous wrote to his parents, but the cost of travelling abroad was prohibitive. He never got asked again. He did, though, gain representative honours whilst with St Albans when picked for Hertfordshire against Surrey at Wimbledon on 27thMarch 1957, and against Middlesex at Wealdstone on 11thDecember 1957. Jimmy scored in both games.
Ginger played in City's 5-0 defeat to Clapton at The Spotted Dog on the opening day of the 1958-59 season but was then banished to the Reserves. After four games and one goal for the Reserves he left the club in November and teamed up with former Saints Fred Collings and Dave Sayers at Hatfield Town.
The 1959-60 season saw him back at Clarence Park , this time playing with Letchworth Town in the 1stRound of the Herts Charity Cup. Joining him in the Letchworth team were ex-Saints Alan Tompkins and Fred Turner. Letchworth grabbed an early lead when Turner tucked away a penalty and it was Jimmy who scored the final goal as the Corinthian League side gained a surprise 3-2 victory.
A serious knee injury curtailed his days of playing senior amateur football but he then turned out in the Sunday Industrial League with great success.
Jimmy's wife passed away last year and we send our condolences to their children David, Ann, Mary and Susan at this sad time. We also remember another son, Andrew, a City supporter, who also is sadly no longer with us.
With thanks to Neil Jensen and Brian Hubball.