Maurice Walby is in a select group of former players who went on to become manager of St Albans City. Having played for the club between August 1959 and October 1962 he returned to Clarence Park to take charge of a financially troubled City side in 1978.
As a player, his move to Clarence Park came at a time when his standing in the game could not have been higher. He spent just over three years with Dunstable Town but left the Metropolitan League club in the summer of 1959. Between leaving Dunstable at the end of the 1958-59 season and joining City at the start of the following campaign he gained two England Amateur International caps when selected for games against the Netherlands and West Germany. The game against the Netherlands took place at Zuiderparkstadion, Den Haag, in front of 4,500 spectators on 20th May. England won that game 3-1 but, on the 27th May, in his second, and final, international England went down 2-0 at Leimbachstadion, Siegen, that game attracted a crowd of 25,000. He was also in the squad for games against Scotland, France and Luxembourg that summer but did not get a run out.
For most of Maurice's career to this point he had played at centre-half but midway through the previous season he had been moved to left-half, and that is where he turned out for England.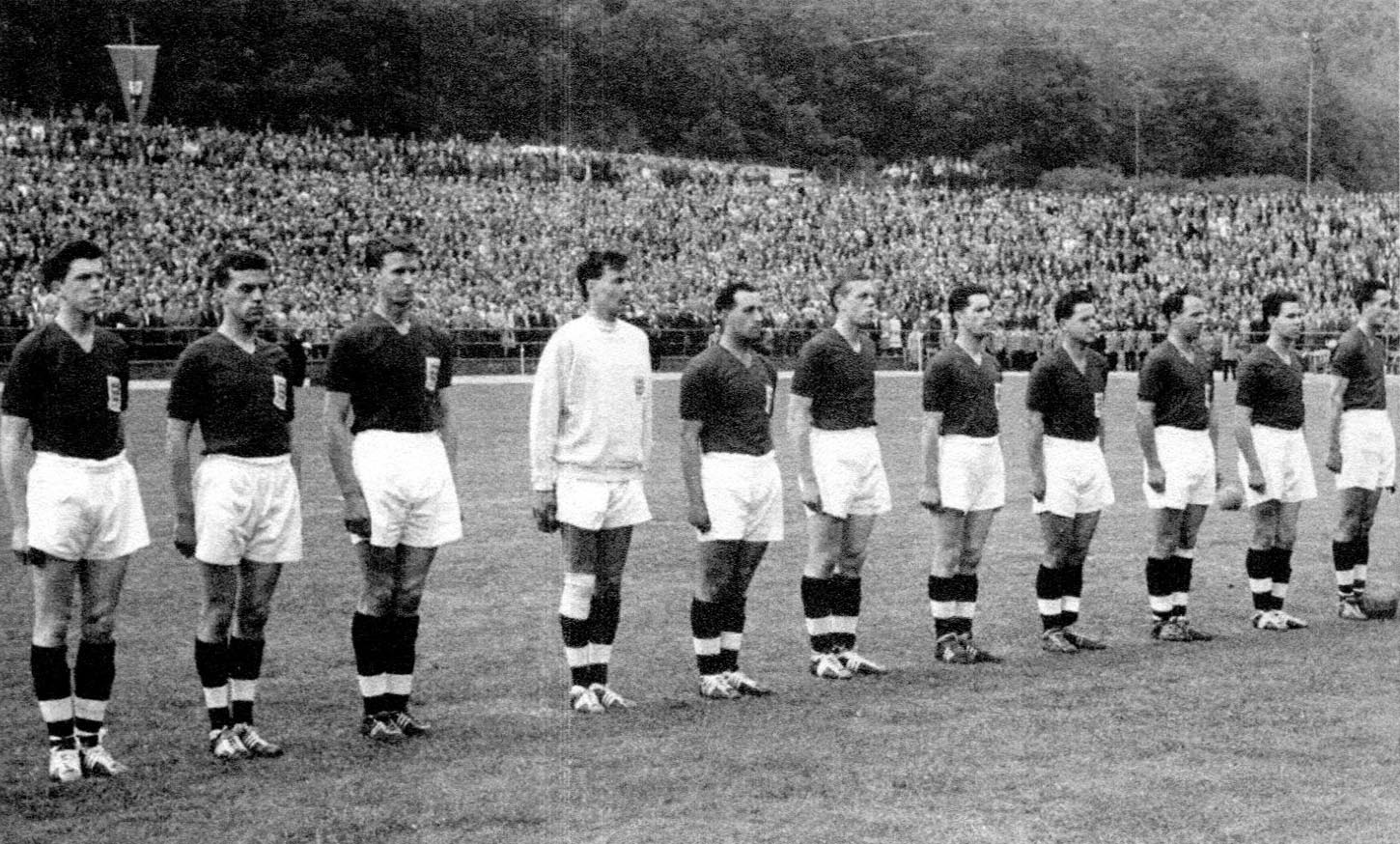 England team for the game against West Germany on 27th May 1959
Robert Brown (Barnet), Michael Tracey (Crook Town), Maurice Walby (Dunstable Town), Michael Pinner (Pegasus), Derek Gardener (Crook Town), Roy Sleap (Barnet), Geoff Hamm (Wimbledon), Patrick Neil (Corinthian Casuals), Terry Stacey (Carshalton Athletic), Alf D'Arcy (Barnet), Jim Lewis (Walthamstow Avenue).
thplace in the 16-team Isthmian League. The Herts Senior Cup was the only knock out competition in which City survived for more than one game, Bishop's Stortford ended the run in that competition with a 3-1 semi-final victory at Rhodes Avenue.
He was appointed captain immediately upon joining St Albans and featured in all of the club's 38 games during the 1959-60 season. The campaign was not a particularly successful one for Pat Welton's side as they came to rest in 12
One of the biggest crowds that Maurice played in front of that season was in early March when he, along with City players Dave Darby, Clive Greenwood and coach Pat Welton, featured in a Welwyn Garden City Select XI that faced a TV All Stars side at Springfields, Welwyn. The All Stars included Bernard Breslaw, Pete Murray, Jess Conrad, Ronnie Corbett and Roy Castle while the match referee was Tommy Docherty. Over 2,500 tickets for the game were sold. The kick-off was taken by June Cunningham.
At the end of the season City headed off to France to compete for the Victor Linart-Ilford Trophy. The competition was held at Verneuil-Sue-Avre in the Eure district of Normandy. After defeating French side Vernolien 5-0 on the 5thJune City lifted the trophy 24-hours later by having won more corners during the final than their opponents, German side Welper. A full report on these games can be found here.

St Albans City in France
Top: Barrie King, Alan Carter, Danny Desmond, John Stevenson, Dave Darby, Ron Wood, Don Falconer, Keith Rand, Mike Sweeney, Herbie Smith, Brian George.
Bottom: Maurice Walby , Pat Welton (Coach), Joe Fuentes, Bill Southern, John Roe.
The 1960-61 season was the club's first with concrete terraces at Clarence Park , as the railway sleepers that had been in place since the 1920s were consigned to history. On the pitch there was a slight improvement in City's fortunes as the club rose to ninth in the Isthmian League, this after a wretchedly poor run of results early in the season. In the FA Cup City removed both Dunstable Town and Stevenage before going down to a 4-0 defeat away to Hitchin Town.
City, with Maurice in the squad, returned to France in May looking to retain the Victor-Linart Trophy but after losing 3-2 to Welper had to settle for third place with a 1-0 win over Stade Vernolien. Maurice featured in 34 of City's 42 games during the season.
City were under new management for the 1961-62 season with Alex 'Jock' Weir replacing Pat Welton. Weir made several changes to the team but City again got off to nothing better than a mediocre start to the season and by the second Saturday in September were out of both the FA Cup and the Herts Charity Cup. Following a goalless draw with Barking on 14thOctober Maurice announced that he was quitting the club following a disagreement with Weir.
During the game against Barking referee L.G. Rosewarne had cause to remove Weir from the bench due to coaching from the touchline. Of the incident Maurice, in an interview with the Herts Advertiser reporter Dave Briffett, said, "Alex Weir accused me of not doing my job as a captain on the field and said that was why he was instructing players from the touchline. Obviously, I could not let that go unchallenged." He added, "I regret leaving the club and will miss playing at Clarence Park very much."
City supporter Bernard Clarke had a lengthy letter published in the Herts Advertiser fully supportive of Walby and blamed the departure of the City captain on constant criticism from the 'Terrace Mob.' Maurice played down this suggestion, "You get barrackers on every ground. They don't worry me in the least."
He scored ten goals in 82 games for the First team and found the back of the net four times in five Reserve team games. Three of the goals came during a 3-2 win over Maidstone United at Clarence Park on 19th November 1960. Maurice scoring three times in one game is noteworthy enough but even more remarkable is that all three goals came from the penalty spot.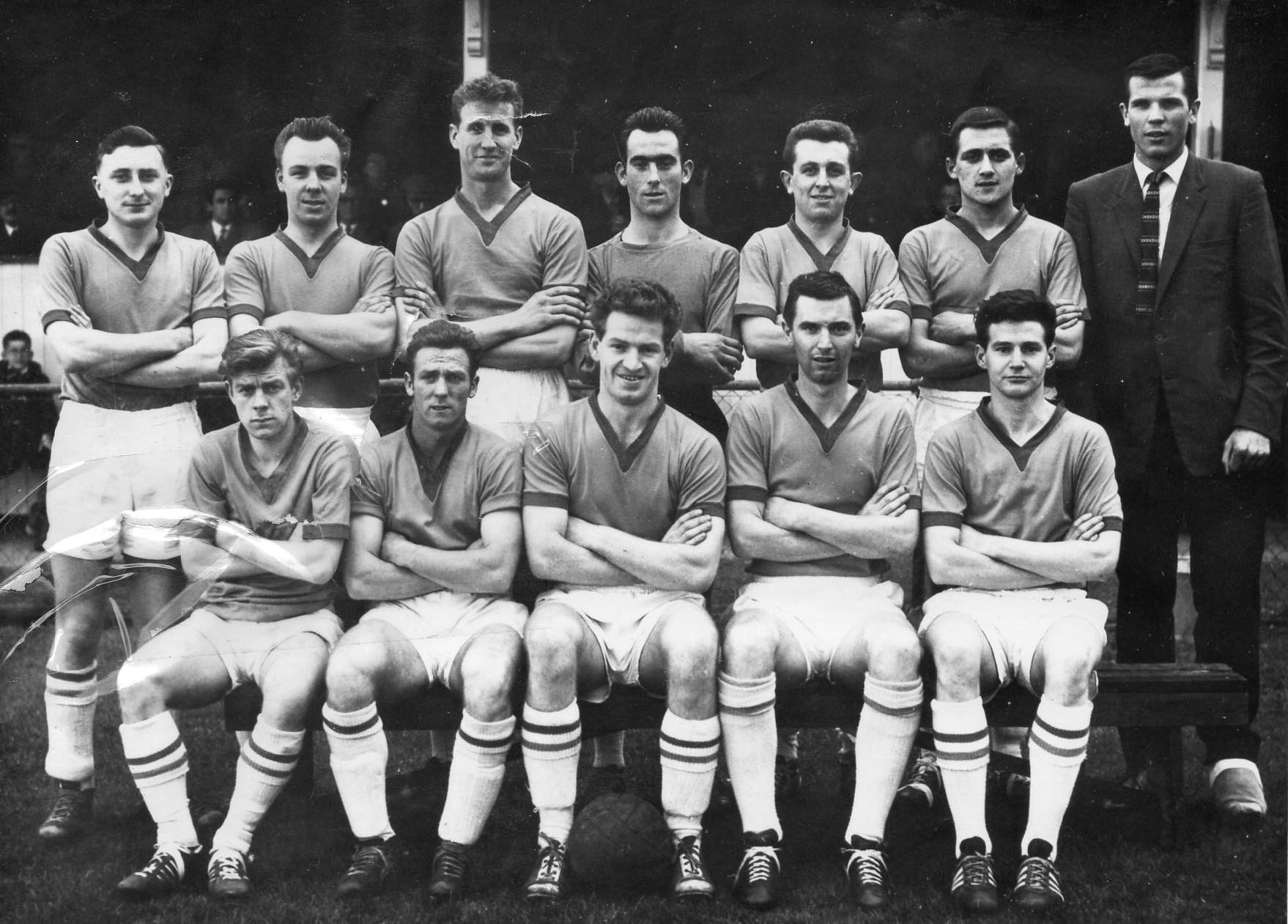 St Albans City 1960-61
Peter Clarke, Bill Southern, Maurice Walby , Mike Locker, Barrie King, Trevor Colman, Stuart McLean
Eddie Rolfe, Brian Figg, Barry Payne, Brian Nisbet, Malcolm Tomlinson
After leaving St Albans Walby had a spell with Letchworth Town and coached at Hertford Town. During his time at Hertingfordbury Park he led the club to the East Anglian Cup and gave John Mitchell his break into senior football there. It was from Hertford that Mitchell joined St Albans City and then Fulham. But Mitch was just one of several players, including the phenomenal Kerry Dixon, that Maurice recommended to the professional clubs.
He later worked as a scout for Tottenham Hotspur and was with the north London club when he accepted an invitation to become the manager of St Albans City in August 1978. His appointment came at a turbulent time in City's history. Bob Murphy had resigned as manager two weeks earlier after having returned from a summer holiday to learn that his playing budget had been cut by 50% of what it had been the previous season. Bob was replaced by another long serving City stalwart, Dennis Gibbs. But when Dennis discovered that the job would require more time than he had originally envisaged he resigned – after just one week.
With an eye on developing young talent City chairman John Howard then turned to Maurice Walby . A large number of players had left the club in the wake of Murphy's departure and Maurice tried, unsuccessfully, to get his good friend to return to the Park. Bob did, however, play in two cup ties during the season. Maurice added to his backroom team by appointing City old-boy Harry Kirton as coach. Kirton had played six games for the club during the 1953-54 season.
Walby was in an almost possible position but he made a pleasing start with a 2-0 win over his former club Letchworth, now playing under the name of Letchworth Garden City, in the Herts Charity Cup. But it was one of few highlights in an extremely poor season. City finished bottom but one in the now 22-team Isthmian League First Division (effectively the Second Division due to a Premier Division). The club was saved from relegation by the merger of east London sides Leytonstone and Ilford.
The Herts Senior Cup provided one glimmer of light as City saw off Baldock Town, Hatfield Town, Royston Town and Bishop's Stortford to reach the final against Watford. After a troubled season City signed off with a fine performance in front of 1,121 spectators at Vicarage Road but were unable to stop a strong Hornets side from winning 3-2.
Walby's side may have had a strong reliance on youth but they were carried along by the experience of former Hitchin Town midfielder Peter Robinson and the evergreen Phil Wood . Woody celebrated his 35th birthday early in the season and ended it by collecting the Player of the Season trophy. Early in the New Year, full back Ian Whitehead returned to the club at the start of a highly productive second spell at Clarence Park .
In spite of the heavy goals against tally goalkeeper Steve Anscombe generally showed up favourably during the season and was the only ever-present player in the 56 matches played. Robinson, with 15 goals, was the top goalscorer, three clear of the towering frame of Alan Easterbrook .
For the 1979-80 season Walby brought back a couple of City greats who were nearing the end of their careers, John Butterfield and Dave Lawrence. Butterfield just managed to nudge out the speedy and exciting John Mawhinney - who won the Player of the Season award - as leading goalscorer while Lawrence was appointed captain. Walby's second season in charge saw a vast improvement in results although an embarrassing exit was made from the FA Cup when United Counties League side Kempston Rovers pulled off a shock 2-0 win at the Park. In fact, other than for a surprise victory over Billericay Town in the League Cup, City's cup form was dire. However, a rise to seventh in the table was of great credit to Walby.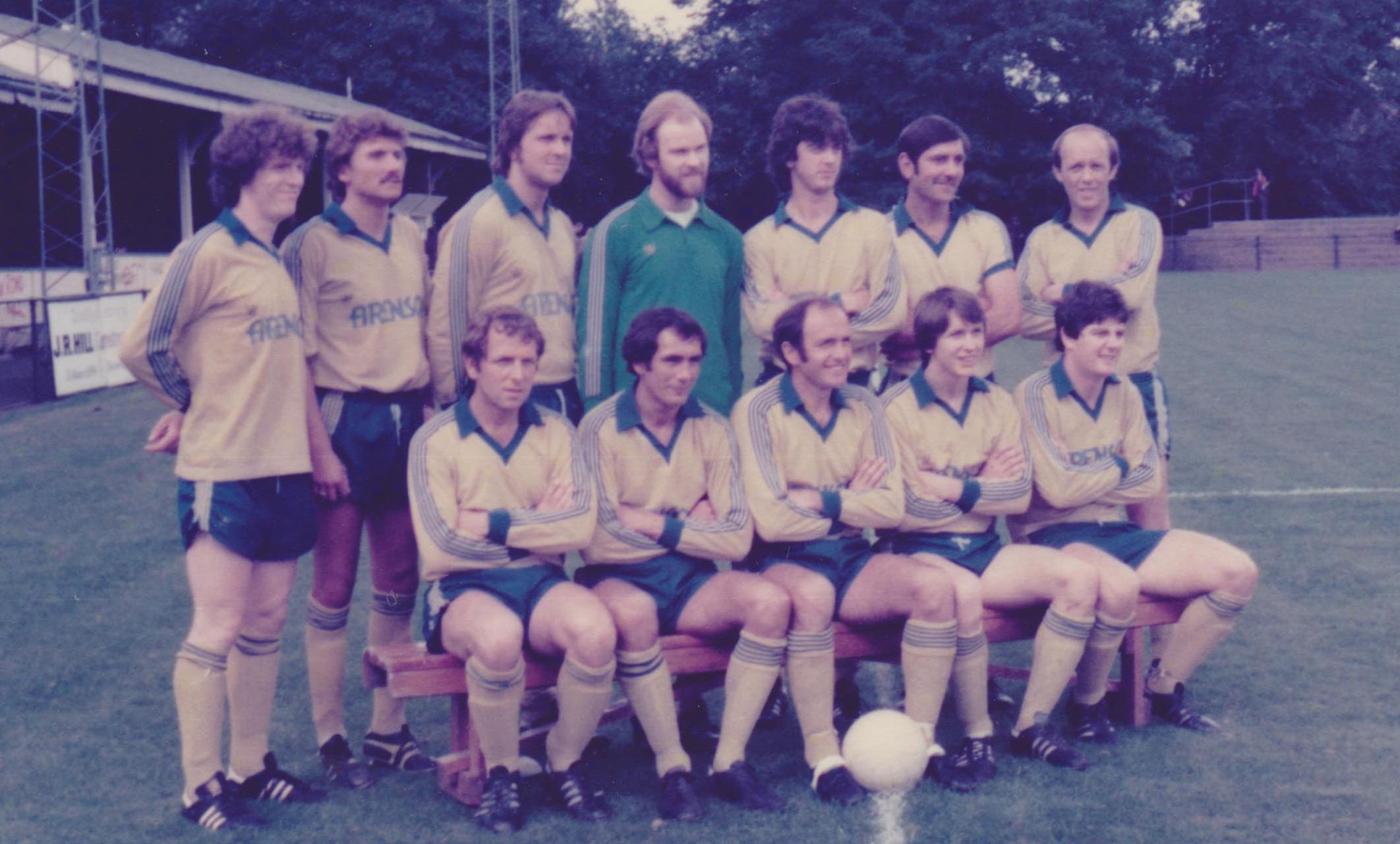 St Albans City 1979-80
George Cooper, Paul Massey, Ian Whitehead, Gary Evans, Jed Kerr, Peter Lawrence, Bill Green
John Butterfield, Phil Wood , Dave Lawrence, John Mawhinney, Sean Byrne
Off the pitch Maurice's long-time friend Kirton stood down as assistant and Peter Lawrence, brought in as coach at the start of the season, stepped up to work alongside the manager at the start of a long association with the club. Walby though, did not see out the season as City manager. Ron Duke was dismissed as manager of Bishop's Stortford, for disciplinary reasons, and Walby suggested that he should be approached regarding taking over at St Albans. Duke did take over, ironically, after City had just won five successive Isthmian League games, without a single goal having been conceded. Maurice moved upstairs to become general manager and Peter Lawrence was installed, at Walby's insistence, as assistant to Ron Duke .
In addition to St Albans, Dunstable and Letchworth, Maurice had spells with Bedford Town, St Neots Town and Eynesbury Rovers. He was also involved in the early days of renowned St Albans Sunday League side Sporting Club. Although at the veteran stage of his career he even appeared in a handful of games for the club that included a good number of City players. Players that worked under Maurice expressed how popular he was and how enjoyable he made their time at the club.
Outside of football Maurice worked for Electrolux in Luton for forty years. Born on 5th November 1929, he passed away in March 1999 and is buried in the Vale Cemetery, Luton. Maurice was married to Marion who passed away on 13th November 2010. They had one daughter, Alison.
Photos: Herts Advertiser. 'UK Amateur International Football,' by Brian McColl, Douglas Gorman and George Campbell. 1979-80 team photo Ray Stanton.