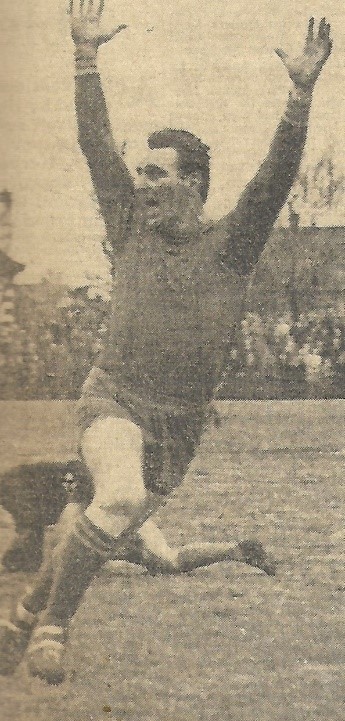 Barry Butterfield was a colossus of a figure who may have played for St Albans City for only a relatively short time but left an indelible mark in our history. He was a one of those special characters who had a presence about him – on and off the pitch - he was larger-than-life, infectious and will be greatly missed by all who knew him.
From the village of Kimpton, who he later represented on the football field, Barry joined St Albans City in the summer of 1965 having scored 53 goals during the previous season for Harpenden Town. Harpenden named Barry in their provisional line-up for the opening game of the 1965-66 season but City coach Harry Gibson called him up for the City First team on the same day after seeing the six-foot one-inch, 14st, bustling forward score twice for Harpenden against St Albans City Reserves in a friendly on 14th August.
Barry took just ten minutes to show that he was ready to step up from the South Midlands League to the Isthmian League by opening the scoring with a header from a Bob Humphrey cross against Dulwich Hamlet at Champion Hill. That goal opened the floodgates and by the end of the game Barry had had scored all four goals as City began the season in emphatic style.
It was the first time that a City player had scored four times in an away match since Barry Payne did so on the same ground in 1963, it was also the venue where Wilf Minter scored his famous seven goals. With that achievement Barry became the third player to score four times on his City debut but the only one to do so in an Isthmian League match.
Three days later, 24th August, he made his home debut and while he may not have got on the scoresheet a goal by Brian Nisbet lifted the Saints to the top of the table with victory over Barking. Barry and Brian were amongst the goals again the following Saturday as Woking went down 5-1 at Clarence Park. A fourth straight win, away to Oxford City, maintained St Albans position at the top of the table on goal average from Hendon and Enfield.
A break from league football saw Barry make his FA Cup debut with the Saints on 4th September and he marked it by scoring twice during a 3-0 1st Round Qualifying win over Dunstable, one of the clubs that had sought his signature during the summer. Looking on from the main stand were City greats Minter and Harold Figg.
City's position at the summit of the table was ended by Oxford City winning the return fixture at Clarence Park and then a 5-1 defeat at Kingstonian cemented City's fall from pole position. Barry got his name back on the scoresheet as 1,535 spectators saw Hitchin Town bow out of the FA Cup at the Park and followed it with his ninth goal of the season during a league win over Clapton three days later.
Barry missed his first game since joining the club when turning up too late for the coach to Woking but was back in the side the following Tuesday only to pick up an ankle injury during a rough defeat to Enfield at Southbury Road. Enfield's Billy Broomfield, later to make 176 appearances for St Albans, was sent off after head-butting City's centre-half Dave Bromley.
Barry played in just two more games before the end of the year but began 1966 in fine fettle when scoring in four successive games, including a hat-trick during City's a 4-1 Amateur Cup 2nd Round replay victory over Witney Town at Clarence Park; the crowd was 2,573.
City went into the 3rd Round meeting with Wycombe Wanderers as underdogs but emerged with a creditable 1-1 draw from Loakes Park with victory snatched from them when Barry had a goal disallowed for a foul on goalkeeper John Maskell (pictured). Barry was adamant after the game that Maskell had dropped the ball. That game attracted a gate of 5,964 and another 5,103 turned out for the replay at Clarence Park that saw Wycombe cruise through 3-0.

Gibson dropped Barry following the Wycombe defeat and expected him to turn out for the Reserves the following Saturday. Unfortunately, no one notified Barry of this and, instead, he went along to watch Harpenden play Hemel Hempstead Town in the South Midlands League Shield. The Harps were a player short, so he donned their kit and chipped in with a hat-trick. Ironically, the City Reserves also played with a man short that day.
A knee injury curtailed his football for the rest of the campaign but his 16 goals in 20 games were sufficient for him to be crowned as City's top goal scorer for the season. Second on the list was Martin Gladwin while the ever-popular Herbie Smith was the third highest scorer.
Barry started the 1966-67 season on the books of Letchworth but applied to rejoin St Albans in January. A month later, on 4th February, he made his first appearance of the season during a 3-1 win away to Dulwich Hamlet. A return to Champion Hill was less productive for Barry personally than at the start of the previous season (he didn't score) and during the closing weeks of the season he featured in just eight of City's 21 matches, scoring four times. Barry's final appearance for the City came on 2nd May when Hemel Hempstead Town were defeated by a Matt Hughes goal in the final of the Herts Charity Cup. In addition to Hughes, the City side that night included fellow club legends Phil Wood and Dave Lawrence.
In total, Barry played 28 times for St Albans City and scored 20 goals. His playing days at St Albans may have been over but he turned out once more at Clarence Park on 1st February 1972 for Hatfield Town in a friendly against Sid Prosser's side. By 1975 Barry's playing days had ended but he was back at the Park in December of that year as manager of Hatfield Town and looked on as his Spartan League side gained a surprise 1-1 draw in the Herts Senior Cup. Due to Hatfield not having floodlights at their Stonecross Road ground the replay took place at Clarence Park and this time City made no mistake with a 2-0 victory.
During the 1970s he was also manager of the highly successful St Albans club Selby as well as the Luton Sunday League side the Co-op Taverners.
It was in another off the pitch role that saw Barry back at Clarence Park in 1986 when he began a two-year stint as City's Reserve Team Secretary.
Barry retained his interest in sport in later years and at the time of his death was a member of Luton Indoors Bowling Club.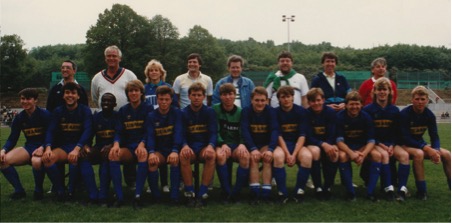 St Albans City at the Wartbergstadion, Alzey, West Germany, May 1987.
Syd Wells (Match Sec), Barry Butterfield (Reserve Team Sec), Beverley Long (Physio), Peter Lawrence (Reserve Team Manager), Les Littlechild (Dressing Room Steward), Robert Murphy (Managing Director), Ray Kierstenson (Coach), Ted Goldney (Assistant Manager).
Warren Kelly, Mick O'Shea, Marvin Bates, Terry Benning, Geoff Kirby, Alan Paradise, Lee Bozier, Jon Friend, Mark Barnard, John Colfer, John Watt (Captain), Martin Gurney, Paul Lowe.