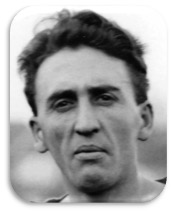 Wilfred Harry Minter. The name alone evokes images of a bygone age. It is also a name that struck a sense of foreboding into the heart of countless defences during the 1920's. On Thursday, 22nd November 1922, Wilf, better known as Billy, had what was either his greatest day or most heroic failure.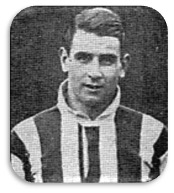 On that day St Albans City, then of the Athenian League, travelled to Champion Hill in south east London to face Dulwich Hamlet in a 4thRound Qualifying FA Cup replay. Dulwich were formidable opposition having finished second in the Isthmian League the previous season and beaten St Albans on their way to the semi-final of the Amateur Cup. Leading the Hamlet attack was Edgar Kail (right), a full England international.
The two sides had drawn 1-1 at Clarence Park the previous Saturday (attendance 5,215) with George Meagher scoring for the Saints. For the replay City made two changes. Arthur Webdale replaced Bertie Butcher, while a more significant change was made in goal. City's normal first choice keeper, New Zealander Innes Tennant who was also a singer, failed to make it to the game and, in fact, never played for the club again.
Tennant's place was taken by Alf Fearn, a half-back whose most recent First team appearance had been some 17 months earlier. Purely by coincidence, Dulwich also had to make a change in goal with Reserve team keeper Williams stepping in for Ernest Coleman, an England Amateur and Full international. City's loss of Tennant, without a suitable replacement, and Dulwich's good fortune in calling up a recognised goalkeeper, proved to be the difference between the two sides.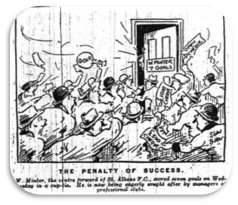 City started well with two good efforts from Minter but it was Dulwich, with their first attack of the game, who opened the scoring through Kail. Now, though, the stage was set for Minter to create history. By the half-hour mark Minter had completed his first FA Cup hat-trick, but with a second goal from Kail and one from Davis the home side were level by half time.
By the 52nd minute City's cause looked to be seriously damaged as Davis struck twice more – his hat-trick goal was contentious as Fearn was injured in a melee and only able to continue after treatment. Not wishing to go out of the cup after scoring a hat-trick Minter struck three more times in quick succession to put the citizens into a 6-5 lead with still 20 minutes to play.
St Albans continued to have the better of the exchanges but suffered a bitter blow five minutes from time when the referee awarded a goal kick only to change it to a corner in Dulwich's favour following a chat with one of his linesman. Dulwich seized the opportunity to take the tie into extra time courtesy of a header by Nichol.
As light began to give way to dusk in the early winter, extra time commenced and on 100 minutes Kail, with the aid of a slip by Fearn, became the third player to complete a hat-trick. During the second half of extra time St Albans dominated but were frustrated by a series of what they felt to be questionable refereeing decisions.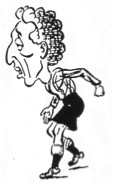 Even so, with just four minutes remaining, Minter found the net for the seventh time; a second replay beckoned. Minter was now in the record books for scoring the most goals in an FA Cup tie without winning the match. But as the game extended beyond the added 30 minutes Hamlet benefitted from another decision that baffled the Saints – Harold Figg being penalised for handball. Fearn misjudged the ensuing free kick and Davis headed home the 15th, and final, goal of the most incredible FA Cup tie of all time. The biggest winners were the 4,060 spectators that witnessed the game.
Needles to say, the match attracted great attention with Minter, who also got married in 1922, tracked by several professional clubs. But City's greatest marksman preferred to stick with the security of working in his father's grocery shop in Culver Road, St Albans, rather than be tempted by the glamour of the Football League, and he stayed put. Maybe some 'boot money' at Clarence Park also helped him to turn down the big boys. At the end of his playing days he joined the Team Selection Committee at Clarence Park.
The shop in Culver Road closed down in 1952 and a year later Minter joined De Havilland at Hatfield, where he worked until his retirement in 1963.
Minter's marriage in 1922 was significant in a way he could not possibly have foreseen at the time. He later claimed that the eve of the Dulwich game was the one and only time that his wife ever cleaned his boots for him.
Following the Dulwich match Minter was now a relative celebrity and that remarkable game also helped to shape the future of other City players. Fearn, over the course of the next nine months, made just three more First team appearances, all as an outfield player. He passed away in September 1937.
Inside-left Harold Stanley Miller was immediately snapped up by Charlton Athletic. He went on to play 20 league games for the south London club (11 goals); 337 league games (41 goals) for Chelsea and won one England cap. Miller's international appearance came on 24th May 1923 when he was one of England's goal scorers during a 3-1 win over Sweden in Stockholm. Minter was also selected to join the party going to Sweden, but declined due to 'business reasons'. George Wagstaffe Simmons, chairman of the FA International Committee and founder of St Albans City, declared that Minter would definitely have played against Sweden, and subsequently become City's only Full England international.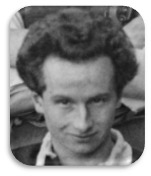 Ten days before the Dulwich match Harold Miller's brother, Redvers (right), turned out for Watford in Division Three of the Football League and was later on the books of Charlton and Queens Park Rangers, although he did not make the First team with either club. Harold Miller made 14 appearances for St Albans (4 goals), and Redvers 141 (41).
Minter died in December 1984 and is buried in an unmarked grave in the London Road cemetery in St Albans. He was 86.