One pathway used for catching the eye of the St Albans City selectors after World War Two through to the early 1970s was via a local youth club, Carlton Football Club. The Verulamium-based club, who had their headquarters at Bishop's Store at 113 Hatfield Road, were formed in 1943 and went on to become a phenomenally successful outfit with teams at Under 16 and Under 18 levels.
They played in a kit of red shirts but, as can be seen from the photographs, it changed in style down the years. By 1960 they had settled on red shirts, white shorts and white socks. Former Carlton players Bill Hussey and Mick Pestle, both of whom went on to play for St Albans City, revealed that the players had to supply the shorts and socks themselves and take the shirt home to wash after each game as well.
In keeping with the fashion of the time the shirts were buttoned-up by the neck and had normal shirt styled collars. By the start of the 1960s this had changed to 'v' neck shirts for the Under 16s and round necks for the Under 18s. The club crest was a simple shield with F.C. slipped inside a large C.
Clarence Park . Carlton players were already familiar with the Park due to the high number of cup finals in which they featured and were played at the home of the City.
Run during the early years by Scotsman David McFarland, Carlton provided a succession of players that featured in the City Reserves with many going on to play in the First team at
Carlton's first final came during the war years at the end of the 1943-44 season when they lost 2-1 to Townsend, after extra time, in the final of the Benevolent Cup. Their first success came in 1946 when they defeated holders Boreham Wood Swifts in the final, again at Clarence Park . In fact, the 1945-46 season was a highly successful one for the club as the Under 16s also lifted the Mid Herts Minor Cup and were champions of the Mid Herts League Group C. These were just the first of a succession of honours came the way of the club.
Since that success the U16s have enjoyed great success in the Hertfordshire Under 16 Youth Cup winning it 1945-46, 1946-47, 1951-52, 1953-54 and 1954-55.
The senior side also lifted the Hertfordshire Under 18 Youth Cup five times in 1947-48, 1949-50, 1953-54, 1963-64 and 1974-75.
In that 1963-64 final Carlton defeated Bennetts End Youth Club 6-1 at Clarence Park with future Saints Bob Murphy and Mick Pestle each scoring a hat trick.

One of the aims of devoting this section of the City History website to Carlton is to encourage anyone with information about the club to send in photos and, hopefully, add names and correct errors, to the team photos. There are large gaps in the collection of Carlton photos and the more that we get the greater our knowledge will become in ascertaining just how many of their players went on to play for St Albans City at First and Reserve team levels.
Listed below, in no particular order, are a number of individuals to have started their football career with Carlton before turning out for the City. The figures in brackets are the number games played and goals scored for St Albans.
Not all of the Carlton old boys joined St Albans as players, two became significant officials at Clarence Park . Dick East, a player and manager at Carlton, was the City Hon. Secretary between 1964-65 and 1972-73, prior to then he was our Hon. Assistant Secretary between 1959-60 and 1963-64. Going back even further Dick also had a season as Hon. Secretary to the City Reserve team. Syd Wells, a highly-rated midfielder (or half-back in those distant days), was City's Match Secretary between 1980 and 1994.
Until being able to compile a more comprehensive list of Carlton players it is difficult to be certain as to who was the first player from that club to turn out for St Albans City. However, Jimmy 'Ginger' Norris may well be that person having made his City debut on 1stMay 1947. Ginger became the first of just three players to score a hat-trick on his Isthmian League debut as City defeated Kingstonian 6-0 at Clarence Park on 1st May 1947. Jimmy passed away on 30th April 2020, just one day short of his 90th birthday.
The influx of Carlton players into the ranks of St Albans City had become a trickle by the 1970s and the last Carlton old boy to score for us was, probably, Bob Murphy (v Hounslow in the 4th replay of a London Senior Cup tie on 18th November 1975). Being the only person to have sold programmes, been the City captain, manager and managing director, Bob now has another detail to add to his c.v.
Jimmy Norris (86a, 49g), John Christmas (4a, 1g), Dennis Gibbs (148a, 1g), Barry Cobb (7a), Brian Haggerty (32a, 2g), Mick Pestle (1a, 1g), Matt Hughes (191a, 15g), Ray Bloxham (107), Dave Clark (61a), Barry Bentley (8a, 1g), Bob Murphy (133a, 8g), Bill Hussey (2a), Tony Mardle (15a, 2g), Bob Humphrey (21a, 1g), Roger Grant (193a, 9g), Mick King (21a 1g), Mick Coyle (2a, 1g), Bill Southern (111a, 3g), Keith Rand (7a, 1g), Jim Whiting (39a, 8g), Steve Murphy (6a, 1g), Alan Easterbrook (43a, 16g), Peter Robinson (94a, 32g), John Mitchell (47a, 25g), Eric Carvill (27a, 7g).
Carlton F.C. 1943-44
???, David McFarland, ???, ???, ???, ???, ???, ???
???, ???, ???, ???, ???, ???, ???, ???
Carlton F.C. 1944-45
David McFarland, Smith, Dellar, Keen, Walker, Brookes
Lucas, (?) Laws, (F?) Laws, Clarke, Gordon James, Dick East
Carlton F.C. 1945-46
David McFarland, D Lucas, B Smith, Dick East, AR Butcher, RG Perry, W Clarke
J Carver, Syd Wells, Ken Hornett, Gordon James, Jimmy Norris
Carlton F.C. 1945-46
David McFarland, Arthur Hawkes, Pete Atkins, Jack Yates, Eric Emmett, R Becker, Jim Brookes
Randall Lloyd, Jimmy Norris, Stan Blow, Cecil Hill, Chis Poulter
Carlton F.C. 1946-47
???, ???, Buff Blyth, ???, ???, ???, ???
???. Jimmy Norris, ???, Eric Emmett, ???
Carlton F.C. 1947-48
David McFarland, Peter Atkins, Ron Smart, ???, ???, ???, Dick East
Tom Day, Stan Blow, Jimmy Norris, ???, ???, ???
Carlton F.C. 1947-48
Tom Day, Ron Smart, Arthur Hawkes, Pete Atkins, Stan Blow, ???
David McFarland, Cecil Lawrence, ???, Joby Davis, Plumley, Stan Yate, Jack McAra, Colin Anderson, ???, Jack Yates, Spud Taylor
Ray Skitt, Tony Mullen, Jimmy Norris, Norman Heathfield, John Warren, ???
Carlton F.C. 1947-48
George Hurcomb, Norman Heathfield, ???, Bob Garner, Jock McAra, Ken Hooker, Ron Smart, Spud Taylor
Tom Day, John Freeman, Pete Atkins, ???, ???
Carlton F.C. 1949-50
David McFarland, Ken Waller, ???, Geoff Thorpe, Colin Meyrick, D. Blight, Maurice Coles
???, Jimmy Norris, Ron Truwert, Dennis Brockwell, Alf Whitton, Stan Blow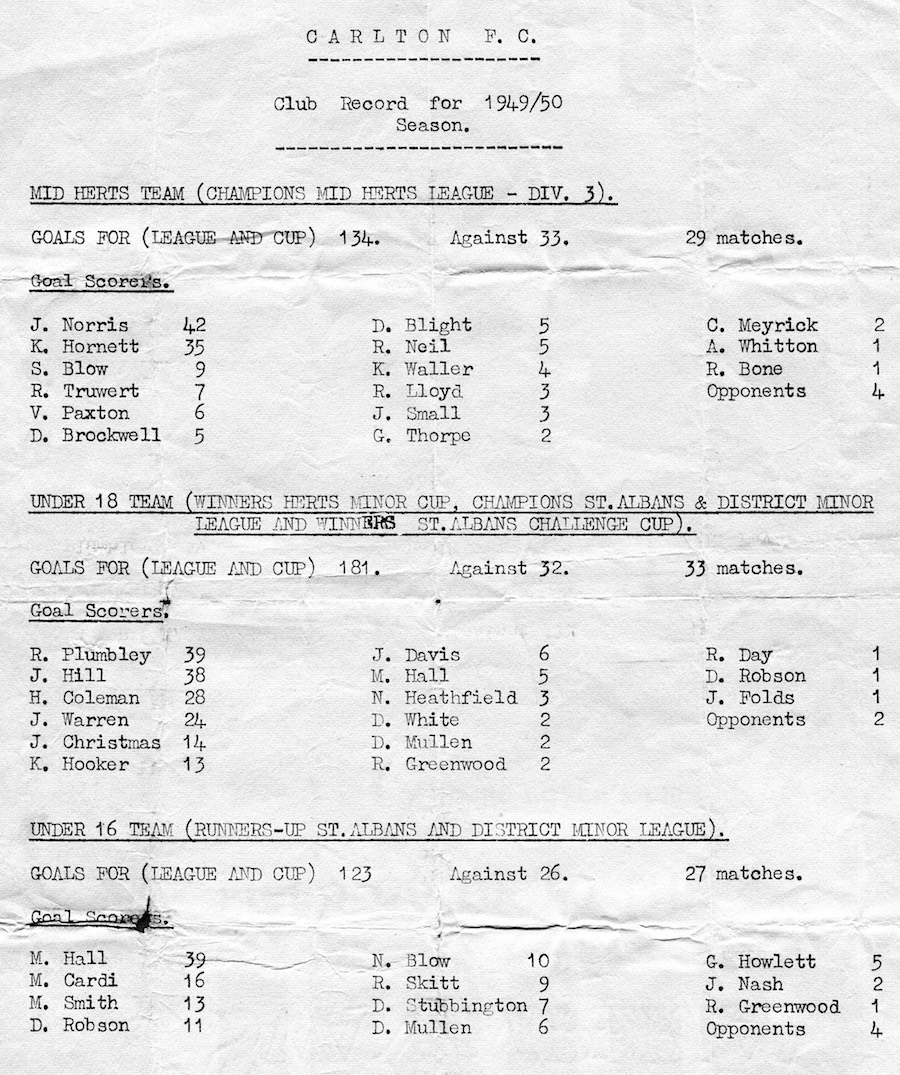 Carlton F.C. 1950-51
David McFarland, George Hurcomb, Buff Ralph, Ken Hooker, Jock McAra, ???, Joby Davis, ???, Dick East
Robin Rich, John Freeman, Clive Anderson, ???, ???
Carlton F.C. 1952-53
Dick East, Keith Lawrence, Maurice Gentle(?), Brian Hubball, ???, (?)Jeggo, John Ripp, David McFarland
Ken Folds, Dennis Gibbs, Ken Hodgins, Barry Cobb, (?)Davis, Jack Bannister
Carlton F.C. 1955-56
Dick East, ???, ???, ???, Gerry Gilham, Colin Morris, ???, David McFarland
???, ???, William Southern, ???, ???
Carlton F.C. 1955-56
Mick Potter, Vick King. Dick Hagger. Gerry Gilham, Colin Morris, Ralph Pond, Dick East
Brian Owen, William Southern, Brian Johnnys, Alan Howell, Mick Fleming.
Carlton F.C. 1957-58
Dick East, ???, ???, ???, ???, ???, ???, ???
???, ???, ???, Barrie King, ???, ???
Carlton F.C. 1960-61
Mr Cronshaw, Dave Sankey, Alan Rivers, Dave Fooks, Peter Lynche, Norman Sibley, Andy Cronshaw, Roger Wilkinson, Graham Pestle, Dave Bridges, Jack Jarvis
Dave Folds, Stan Braybrooke, Don Colebrooke, Dave 'Wiffy' Smith, Peter Crawley, Mick Pestle, Ian Fleming
Les Nunn, Tony Read, J Griffiths, Dai Henley, (?)Rogers, Dave Haggerty, Paul Jarvis
Les Meaton, Dave Fooks, Stan Braybrooke, Jeff Hemmings, Roger Wilkinson, Graham Pestle, Alan Rivers, Ian Fleming, Norman Sibley, ???
Andy Cronshaw, Don Colebrooke, Alan Edwards, Dai Rees, Dave 'Wiffy' Smith, Peter Crawley, Mick Pestle, Mick Folds
Carlton F.C. 1961-62
Don Colebrooke, Stan Braybrooke, Ted Andrews, Bob Stratford, Alan Rivers, Neil Riley, Sid Pestle
???, Mick Pestle, Peter Tyler, Graham Pestle, ???, Tony Flitton, Peter(?) Field
Carlton F.C. 1962-63
Graham Pestle, Don Colbrooke, Joe Kinnear, Alan Tatham, Peter Tyler, Matt Hughes
Carlton F.C. 1962-63
Ian Flemming, Brian Winter, Mick Pestle, Andy Desmond, John Lawson
Carlton 1962-63 Top Scorers
Ray Bloxham, Mick Lawrence, Dave Clark, Barry Bentley
Carlton F.C. 1962-63
Sid Pestle (Manager), Matt Hughes, Ian Flemming, Alan Tatham, John Lawson, Don Colebrooke, Charlie Nunn
Andy Desmond, Joe Kinnear, Mick Pestle, Brian Winter, Pete Tyler, Graham Pestle
Carlton F.C. 1963-64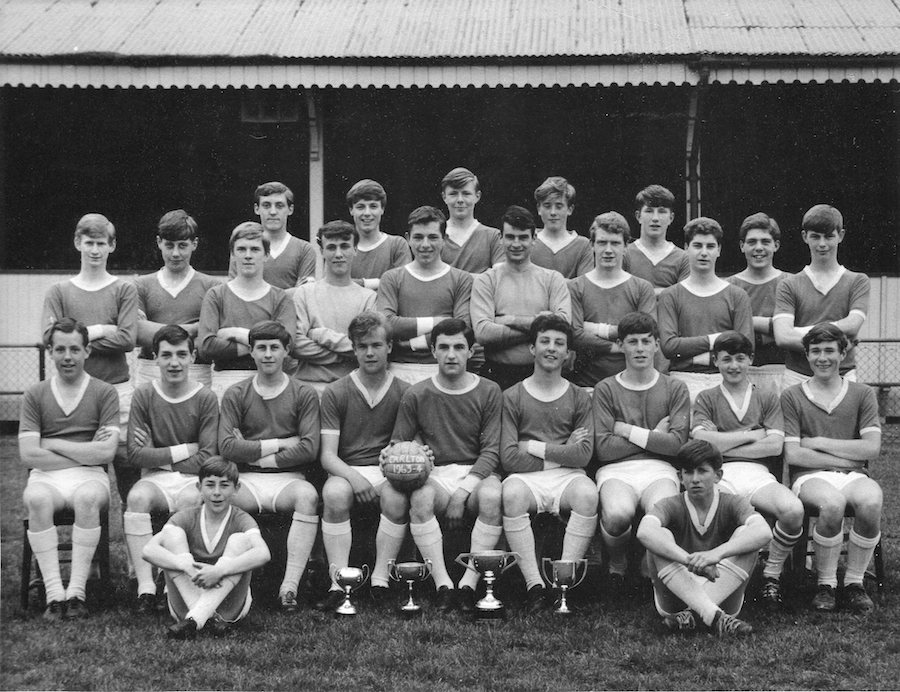 Steve Bates, Brian Taylor, Trevor Graham, Mick Lawrence (Jagger), Dave Clark (Daisey)
Matt Hughes, Ray Bloxham, Kelvin Curran. Alan Long, Neil Riley, Alan Tatham, Joe McNicholas, Kevin Allen,
Bob Murphy
, Brian Male
Bill Hussey, Mick Pestle, Tony Mardle, Bob Jellows, Graham Pestle, Andy Desmond, Bob Humphrey, Barry Bentley, Barry Robinson
Terry Pett, Roger Grant
Carlton F.C. 1963-64
Roger Grant, Trevor Graham, Alan Long, Ray Bloxham, Bill Hussey
Barry Robinson, Bob Jellows, Steve Bates
Carlton F.C. Management
Jack Mardle, David McFarland, ???, Charlie Nunn, Jack Jarvis, Harry Gibson, Mick Humphrey, Dick East, Sid Pestle, Eddie Allen
1969-70. A programme from the Chiltern League match between Stevenage and Carlton. Included in the Carlton line-up are future St Albans City players
John Mitchell
and Eric Carvill.
Clarence Park on 17th January 1970.
Letter to Eric Carvill confirming his selection for the game against Stevenage at
Carlton F.C. 1974-75
Pete Robinson, Jes Eassom,
Alan Easterbrook
, Tony Wilson, Steve Hull, Barry McHugh, Mick King
Aidie Smith, Mick Wright, Duncan Wingfirld, Gary Perrin
We would like to thank
Alan Easterbrook
, Barry Bentley, Barry Cobb, Graham Coleman, Brian Hubball, Gordon James, Robert Murphy, Mick Pestle, Dave Stanley. Roy Scott, Christine Prescott and The family of Stan Blow for supplying the photographs used in this article.