Preparations for the 1992-93 season received a financial boost with the transfer of full-back Dean Austin from Southend United to Tottenham Hotspur. When Austin joined Southend from St Albans City two years earlier a clause was inserted into the contract that would see City receive 15% of any sell-on fee from Roots Hall, less the initial £14,000 that the club paid for him. After Southend and Tottenham agreed to the transfer, St Albans had to wait to learn of their cut of the fee that was set by a tribunal. A fee of £375,000 was announced making it, at the time, the record fee received by Southend. City stood to collect a further £54,150 on top of the £14,000 received in 1991. Southend had an added clause in the contract with Spurs that they would receive an extra £50,000 when Dean had played 20 games for his new club. By the end of the season he had played well over 30 times for Tottenham, which triggered the extra payment to Southend and a bonus £7,500 to St Albans.
Changes at the Park
Changes were underway at Clarence Park following a ruling by the Isthmian League that all member clubs must have at least 250 tip-up seats. To make way for such seats, volunteers ripped out sections of the main stand either side of the players' tunnel. Out went old wooden benches from when the stand was built in 1922 to be replaced by 300 tip-up seats collected from Rochdale's Spotland home. Rochdale were in the process of redeveloping their ground and had around 800 seats requiring rehoming, some of which were collected by fellow Isthmians Witham Town.
Behind the scenes at Clarence Park , John Colfer, City's Player of the Year for 1990-91, was installed as Commercial Manager of the football club following a meeting with club chairman Bernard Tominey and hon. secretary Steve Trulock. City also honoured four long serving past and present members of the Club by naming them as honorary life vice presidents. Former City chairman and two-time Mayor Ken Hill was joined in accepting the honour with former hon. secretary Dick East, Club Historian Derek Christmas and committee veteran Charlie Hand. The club also bade farewell to a former manager when it was announced that Ron Duke had died suddenly on 4th July 1992.
After a lot of unfulfilled hype regarding the 1991-92 season, City manager John Mitchell steered clear of making predictions for the 1992-93 campaign. However, confidence was high that better days lay ahead. The Reserves and Midweek Youth sides were jettisoned so that all of the club's efforts could be concentrated into the First team, so there was a little pressure on the City manager to come up with the goods.
The number of players that left the club during the summer was fairly small. John Lacy , not for the first time, retired, whilst goalkeepers Lee Bozier and Simon Bartley both departed along with midfielder Ian Scott. Bozier travelled up the A6 to sign for Barton Rovers and Scott had a very successful season in Division One of the Isthmian League with Hitchin Town. Young striker Paul Halbert held hopes of joining Reading but eventually signed for Paul Fairclough at Stevenage Borough. Scott and Halbert were both members of a City party that had played two games in France just after the close of the previous season.
Midfielder Paul Hobson, Player of the Year for 1991-92, had committed himself to joining Enfield and boosted City's coffers by £12,000 in the process, with that sale Mitchell was able to fund his summer signings. In the summer of 1991 Wivenhoe Town had provided rich pickings for City, this time it was Finchampstead Road, home of Wokingham Town, where Mitchell did most of his summer shopping.
The City new boys
The financially troubled Berkshire club had fouled up on the contracts of several players and lost the services of Gary Westwood, Martin Gurney and Dean Williams to St. Albans without receiving a penny in return. Gurney was already a well-known face at Clarence Park , as he was a former City Youth captain and had made 202 First team appearances between 1984-89. Williams had a brief spell with the Saints in 1989, (eleven games), and had scored twenty goals in his one season with Wokingham Town. Westwood came to St. Albans with a big reputation having played 128 times for Reading in the Football League and was promoted with the Third Division club in 1985. During his three years at Wokingham, he won a runners-up medal in the Isthmian League and, as a youngster, picked up five England Youth caps. The return of Allan Cockram , who left the Saints for three good years with Brentford in 1988, was seen as further evidence that City meant business this time round. Cockram scored 17 times in 118 games for Brentford.
Three other signings were completed before the season started. Left-back Peter Risley joined from Dagenham at the start of a nine-year association with the club. In all his time at the Park (329 appearances), Risley rated the 1992-93 side as the best he played in. Another defender, Jimmy Hicks, was hailed by Mitchell as an important signing, from Kingstonian, but the tall central defender was soon released. The name of Shaun Brett meant little to City supporters in August when he signed from Ware but his track record as a striker was impressive having scored over twenty goals in each of the previous four seasons. At Clarence Park , Brett was converted to a midfield position and became a hit with the fans very soon after his arrival with performances in the mould of former City favourite Steve Oliver .
Whilst Mitchell and his assistant, Steve Ketteridge, attended to pre-season training, the club had a major battle to fight off the park if it was to avoid landing a hefty fine from the English Football Association. City were called to appear before the games top brass after having eight players dismissed during the 1991-92 season. After much deliberation the F.A. fined St. Albans £500 immediately and added a suspended sentence of £1,500, which was to be reviewed at the end of the forthcoming season.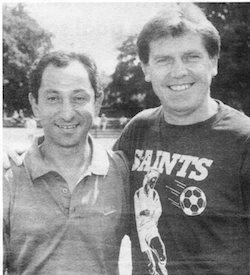 When the time arrived to start a lengthy series of friendlies, Mitchell seemed to have at his disposal a massive squad of players. Many of the unknown faces were just trialists and in eight friendlies City got through almost thirty players. First up was a friendly at London Colney on 21st July, it was a match of three segments that saw City triumph 4-1. Sixteen players were used by Mitchell at Colney, three never made it as far as a competitive game for the club and four others had packed their bags by Christmas. City chairman Bernard Tominey fulfilled a lifetime ambition four days later when he saw his childhood heroes, West Bromwich Albion, in action at Clarence Park . ( John Mitchell with West Bromwich Albion manager Ossie Ardiles ). Under the early leadership of the ever-popular Ossie Ardiles , a strong Baggies side strolled to a 7-0 victory. The following Tuesday City suffered a second successive defeat at the Park when going down 1-0 to Southend United. The defeat by Southend, watched by a sparse crowd, proved to be City's last reversal of the summer. After a 1-1 draw with a Wycombe Wanderers side that was virtually at full strength, City seemed to get stronger with every passing game and recorded five successive wins over modest opposition - Bedworth United 4-1, Hatfield Town 4-0, Farnham Town 2-1, Dunstable 3-0 and Ware 3-1.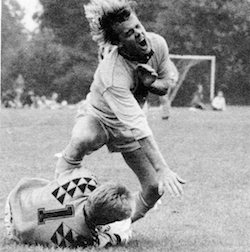 Despite the convincing results it wasn't all plain sailing for City with the biggest setback coming against Farnham. The Surrey club was on the verge of closure having had its ground rejected by the Isthmian League and had to fulfil the fixture with St. Albans at the National Sports Centre at Bisham Abbey, near Marlow. A big blow for City came when Gurney badly twisted a knee in a collision with the Farnham goalkeeper. The injury Gurney sustained in a fairly meaningless match seemed to set the tone for his season, often he appeared to be on a settled run only for events out of his control to change his fortunes, then, ultimately, it ended on a massive high. Gurney's injury on 8th August ruled him out of the Saints first competitive match on the 14th, a Herts Charity Cup tie at Clarence Park with Hitchin Town. Although from a Division below St Albans, Hitchin put in a positive performance but couldn't find a way past the debut making City 'keeper Westwood. The only other City debutant in the starting line-up was Risley although Hicks appeared as a substitute for his first game. Cockram played his first St. Albans match since March 1988 and Williams his first since October '89.
Young Bradley Anderson, a St. Albans schoolboy of whom much was expected, soon made his mark on the new season and scored the Saints second goal in a 2-0 win. Two minutes before Anderson's goal, Martin Duffield scored the opening goal of the season with a tremendous drive from outside the penalty area. It was his first goal for the club following his £5,000 transfer from Sutton United the previous March. Tottenham had a representative at the game who was running an eye over Anderson. The 18-year-old had had trials with the London club the previous month.
Five star Saints blitz Hamlet
Twelve days after the Hitchin game, City opened the new league season with a trip to Hayes Lane, Bromley, to face newly promoted Dulwich Hamlet. The match was switched from Hamlet's new ground due to the pitch not being in a suitable condition following the construction of the new Champion Hill ground on the site of the previous stadium. The game had another unusual ingredient in that it was to kick off at 3pm on Sunday 23rd August, a full twenty-four hours behind the rest of the league. City didn't waste any time in declaring their intentions for the season and hammered Dulwich 5-0. Steve Clark , top scorer in 1991-92, was quickly into top gear with a hat-trick and he was well supported by Williams (right) who scored twice as the duo formed a formidable partnership. Some of the goals that day were a treat to witness with intricate build up play ending with a quality finish. Hamlet's misery became a tragedy after just 63 minutes when Jon Daly, who later in the season joined Hendon, was dismissed following a second cautionable offence. City had made just one change to the side that defeated Hitchin with Brett replacing Michael Danzey. The City faithful were also treated to the rare sight of Terry Benning being back in the Saints colours, as he had a run out as a second half substitute.
But whilst several players were making a good impact on their return to the club, things were not looking so rosy for the likeable Danzey who now found himself behind Clark, Williams and Anderson for a place in the City attack. At the back, Westwood lined up behind a defence consisting of Roy Edwards, Paul Price, Kevin Mudd and Peter Risley . In midfield City positively flowed with invention through Cockram, Duffield, Brett and winger Jimmy King.
Following on from their largest opening day win for 25 years, City visited Hendon two days later. The only change was to replace Benning on the bench with John Colfer who combined his limited playing opportunities with the role of commercial manager at Clarence Park . Against the fancied Dons, City continued the promise shown against Dulwich and just after the hour led 2-0 with goals from Brett and King. But Hendon fought back to grab a point with goals inside the final fifteen minutes from Gary Donnellan and Malcolm Stewart.
Cockram double floors Boro
Clarence Park had its first taste of the new Isthmian League season on the 29th when City and Division One champions Stevenage Borough met for the first time in a league match. City, having worn all white at Bromley, displayed their new home kit of blue and yellow striped shirts with blue shorts and socks in front of a crowd of 910. On the front of the shirt was the name of the shirt sponsor, ' Roy of the Rovers .' On a warm afternoon a brace of goals from Cockram, the first being a particularly fine effort, earned City the thee points. But it wasn't all joy for Cockram who saw his second half penalty saved by the excellent Richard Wilmot. It was Saints eighth penalty miss since February. For Borough, managed by former Saint Fairclough and including ex-City hard man Steve Cox in their line up, it was their first defeat in the top Division.
Above: Allan Cockram evades Steve Cox's lunge to fire the opening goal past Stevenage Borough goalkeeper Richard Wilmot.
With Mitchell able to name an unchanged side to date, there were still several well-known names still waiting for the chance to show that they could further enhance the manager's team. These sidelined included Bob Dowie , Steve Scott and the fit again Garry Brooke . Assistant manager Ketteridge was hopeful of a return at some stage but his long-term knee and back problems were followed by an ankle injury that further delayed his comeback.
SEPTEMBER: Mitchell is top boss as City head the table
Windsor & Eton visited St. Albans on the 1st of the month looking to clinch their fourth successive win at Clarence Park . In a one-sided contest Windsor certainly played well enough to end City's unbeaten start but some poor finishing by the visitors allowed the home side to grab a 2-1 win. Clark's magnificently volleyed goal for St. Albans and Rowan Dodds' miss of the most open of open goals were probably the most telling reasons as to why City went top and Windsor in the opposite direction. Windsor, who had John Williams sent off, pulled a goal back four minutes from time through Dodds, shortly after Cockram had added City's second.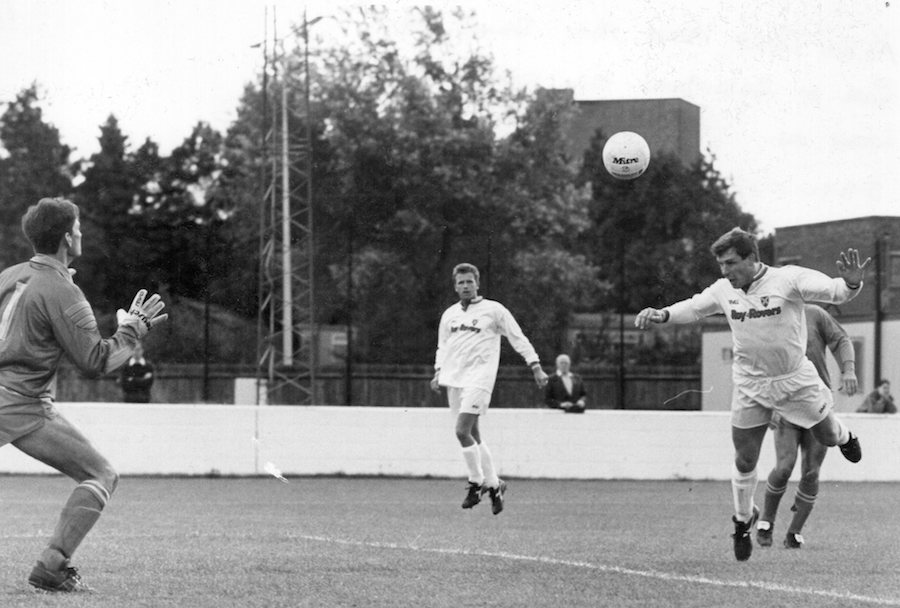 St Albans' right to head the table faced a tough examination the following Saturday away to a Basingstoke Town side that had already hammered Enfield 4-0. First half goals by Mudd (above), a crisp header, and a penalty by Duffield gave City a comfortable half time lead. Basingstoke piled on the pressure after the break but could only score once with a Vernon Pratt header as they slipped to their second defeat in four days.
The Windsor and Basingstoke matches saw Scott and Dowie, as substitutes, get a run out and against Brimsdown Rovers a week later it was Danzey's turn for a brief appearance. Danzey had a forced his way back into contention with a hat-trick in midweek against a youthful Cambridge United side at Clarence Park . United boss John Beck saw Steve Bradshaw and Anderson net City's other goals whilst Danzey's trio set in motion the possibility of the U's making a move in the transfer market.
In October 1991 Brimsdown caused an upset when knocking City out of the F.A. Cup after a replay but, twelve months on, there was to be no repeat. Goals by Clark, Mudd and Cockram put City in control before the unbeaten Spartan League leaders scored a consolation through Mark Freeman.
Goalkeeper Bozier played his final game for the club in a 4-0 friendly win over Barton Rovers at Clarence Park on the 15th, Lee soon teamed up with the Isthmian League Division Two side.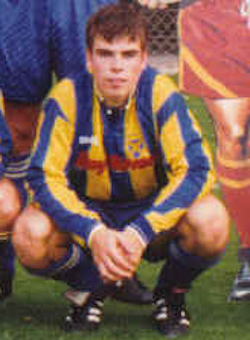 Wokingham Town, a side that had beaten City three times in three meetings the previous season, visited Clarence Park on the 19th with a side fielding former City players Andy Hopping, Gary Woolf and Tommy Langley. City included former Town players Westwood and Williams and it was the Wokingham old boys who had most to smile about as City cracked in seven goals. Clark scored twice in his 50th game as City notched up their highest tally in the league for six years. Anderson (left), a 76th minute substitute, also notched a brace, Duffield and Cockram added singles with Williams also being awarded a goal against his old friends. The result bore little resemblance to the balance of play, on another day, and against a side not as lethal in attack as St. Albans, the Berkshire side may have collected a point.
Three days later City faced Dulwich Hamlet in a 1st Round League Cup tie that was played at Tooting & Mitcham United's Sandy Lane ground, a venue where City hadn't won since December 1971. That record remained intact with Hamlet's Lionel Best scoring the deciding goal during extra time. Mitchell used the game to give Dowie, Hicks, Brooke and Danzey their first full games of the season. Gurney also made his first appearance since being injured at Bisham Abbey. It was the first time in eight games that City had fielded a changed starting XI. Following the 1-0 defeat Duffield was interviewed on the Saints Clubline and said that he didn't think that going out of the League Cup was so bad, as the club had set its sights on winning the league. City were also entered into nine other cup competitions, so it was far from the end of the road as far as cup glory was concerned.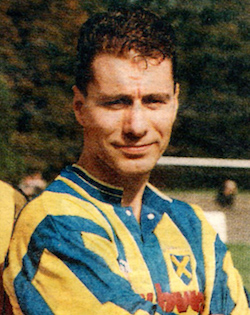 After 120 blank minutes against Dulwich, the City goal machine was retuned the following Saturday when Rayners Lane, of the Hellenic League, were crushed 5-1 at Clarence Park in the 2nd Round Qualifying of the F.A. Cup. Three up inside the opening 25 minutes City eased up in the September sunshine. King (right) scored his first F.A. Cup goal, Clark his eighth goal of the season and Williams claimed City's first F.A. Cup hat trick for nine years. Martyn Wilsden netted for a Lane side that included Paul Abell who played for the Saints some seventeen years earlier.
Despite having been in cup action on the final weekend of the month City still held onto the top position and Mitchell was named as the first Manager of the Month for the new season. Mitch's prize was a magnum of champagne and a £200 betting slip courtesy of William Hill. Along with Royston Town, St Albans were the highest scorers in the Isthmian League per game and as such the two clubs each received three Mitre footballs.
City were toppled from pole position in midweek when they were without a fixture. Although most of the news from the Park was good, Mitchell had lost a couple of players through injury. The experienced Price and King, both of whom were in excellent form, were sidelined. King's condition was the most worrying as the winger complained of breathing difficulties and feeling tired. The Scot had once been described by his then manager at Ipswich Town, Bobby Robson, as, 'the most promising youngster he had ever seen.'
OCTOBER: League record Stained, F.A. Cup run continues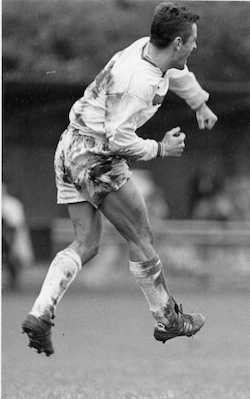 In eight previous visits to Wheatsheaf Lane, the home of Staines Town, St Albans had won just once – the previous October under John Mitchell – and the poor record continued on the 3rd October 1992 as City suffered their first league defeat of the season to goals scored during the final eight minutes by David Jones and Gary Crawshaw. Peter Risley 's first strike (left) for the club had given City the lead.
Three days later City played their first East Anglian Cup tie for 29 years when the recently reformed Romford travelled to Clarence Park for a 1st Round match. A goal after just five minutes by Gurney, his first for the club since April 1989, saw off the Essex side that put in an attack-minded performance.
Two indifferent displays were quickly forgotten on the 10th when City and Stevenage Borough lined up in opposition in the F.A. Cup for the first time. The game at Broadhall Way attracted the largest away crowd that City played in front of all season, 1,561. Those present witnessed a pulsating tie as Boro led three times only to be pulled back each time by Mitchell's Saints. Steve Graham gave Stevenage the lead after 43 minutes but within two minutes Clark beat Wilmot with a thunderous header for the equaliser. Boro regained the lead in the most bizarre of circumstances. Hearing a whistle in the crowd, Bob Dowie picked the ball up believing that City had been awarded a free kick. Instead, he was penalised for handball and, with a quickly taken free kick, Martin Gittings, a colleague of Clark's at Wivenhoe, pounced to score. A powerful drive by Cockram levelled for City with just 15 minutes remaining. The double comeback appeared to be in vain though, as Neil Trebble hammered in a third goal for Boro with just four minutes remaining. However, deep into injury time a trip on Cockram allowed Duffield to fire home a third equaliser, from the penalty spot, to the delight of the 500 or more City supporters present.
Dowie was called up for the first match, as injury continued to keep Price out of the side. Risley, badly injured by a horrendous tackle at Stevenage, was replaced by Hicks for the replay. Boro made two changes, Steve Cook stepped in for the unavailable Paul Bowgett, and goalkeeper Hugh Kirke covered for the suspended Wilmot. Clarence Park was awash with cup fever for the Third Round Qualifying replay and the game kicked off with long queues at all entrances to the ground. The attendance looked huge but, questionably, was declared at just 1,781. The atmosphere was electric but any City nerves were calmed in the sixth minute when Williams headed home a Cockram free kick. Six minutes after the interval Mudd repeated the trick when finishing off a flick by Dowie from Cockram's precise corner. The game was well into injury time when Nicky Edgar pulled one back for the Boro. Already City had survived more than two rounds in the cup for the first time since 1983 and were just one game away from appearing in the First Round for the first time in 12 years.
Cambridge United sign Michael Danzey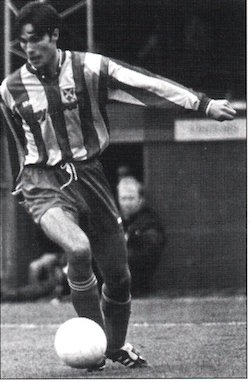 Whilst everyone's attention was now turning to the forthcoming F.A. Cup tie with Conference League side Telford United, Mitchell kept himself busy with some dealings in the transfer market. Benning was loaned out to Biggleswade Town, David Ross returned after a month on loan to Barton and Brooke was released after just eleven appearances in fifteen months at Clarence Park . But the centre of attention was Danzey (below) who was on the verge of signing for Cambridge United. A successful medical on 19th October paved the way for Danzey completing his move to the Abbey Stadium and a return to the professional game he left to join St. Albans for in April 1991. Saints were to receive £17,500 immediately with a further £5,000 to follow after 20 and 40 appearances. City also stood to collect 17.5 % of the fee from Danzey's next move.
Returning to matters on the pitch, City were again on the road to Wembley on the 17th for a 2nd Round Qualifying F.A. Trophy clash with Hayes at the Park. Goals by Williams, Gurney and Clark earned City a 3-2 win with John Stephen and former Saint Andy Cox scoring for the visitors. Problems from the penalty spot surfaced again with Williams' tame effort being saved by Hayes keeper Ian Chatfield. Edwards, injured when setting up Cockram's goal at Stevenage, missed the first of nine consecutive games, Ross played his first game since May and Colfer made his first full appearance of the season. Brett, another injury victim, was only named as sub.
The game was played in front of the cantilever stand that, for the first time, included a section sponsored by Coca Cola and featured the company logo. The deal had been concluded by John Colfer.
Patched-up side grab cup glory at Telford
City had a free week before travelling to Shropshire on the 24th to face Telford United in the last Qualifying Round of the F.A. Cup. Telford, managed by former Northern Ireland star Gerry Daly, were hot favourites to extend their run of appearances in the competition proper to eleven successive years. City stayed overnight in Telford after a meal at the Sopwell House Hotel in St. Albans, but, already, it was clear that Mitchell faced selection problems due to injuries. The manager's worries increased when his midfield linchpin, Duffield, failed to survive the pre-match warm up and limped dejectedly to the dressing room. Duffs was one of the few City players with experience of playing at Telford having turned out there for Enfield. Also missing were Edwards, Risley, Brett, and King whilst Price featured for only eight minutes as a substitute. By this time Dowie had re-established himself in the side, Scott played his third full game and Ross covered for Brett. Colfer had to be separated from his drink in the clubhouse at 2.15pm to take Duffield's place. Mitchell made a master stroke in midweek by taking defender Erskine Smart on a one-month loan from Enfield, it was the start of his second spell with the Saints. Smart was just one of several players to have an outstanding afternoon at the Bucks Head Ground as City upstaged the Conference side with a 2-1 victory.
Cockram opened the scoring from the penalty spot (below) after the lively Ross had been fouled. The same penalty spot was used by Steve Fergusson as he fired Telford level midway through the second half. With most City supporters now happy to bring Daly's side back to Hertfordshire for a replay the unexpected happened and Telford were slain. A City attack down the right ended with Clark cracking home a powerful drive in the fourth minute of injury time. For only the second time City had successfully removed a Conference side from the Cup. City celebrated their historic victory back at the Holiday Inn at Telford before heading south for further celebrations.
League chairman presses panic button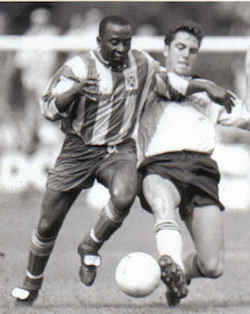 While most people connected to the club were celebrating, hon. secretary Steve Trulock was given a bolt from the blue by Isthmian League chairman Alan Turvey. In the boardroom after the game Turvey asked Steve if he had gained clearance from the F.A. to play Smart as, he believed, Erskine had played in an earlier Round of the competition whilst on loan to Basingstoke Town. Steve hurried off to the players' bar but had a nervous wait as Erskine was the last player to emerge. The secretary missed out on a celebratory drink but was relieved when Erskine said that he had not been on loan to Basingstoke or anywhere else.
The win at Telford proved expensive for Hasan Saglam, manager of HH Pizzas in London Road. City players were regulars at his restaurant and he promised to give the club £500 if they made it through to the 1st Round of the F.A. Cup.
After learning that the 1st Round draw had pitted City at home to Cheltenham Town, a return to more mundane matters was made two days after defeating Telford with a 6-0 Herts Senior Cup win over Tring Town at the Park. Anderson and Bradshaw put City two up inside seven minutes then Williams (below) briefly claimed the title of top scorer for the season with a four-goal blast against the Division Three Isthmians. Ross' season, which appeared to be on the ascent with his excellent display at Telford, suffered a cruel blow when injury forced him to retire before half an hour had been played. Simon Woolmer, as a substitute, played his second and last game for the club, as did Bradshaw.
On the final day of the month Grays Athletic were welcomed to Clarence Park for a Premier Division fixture. The two sides had met ten times during the previous four years and the Essex side boasted the impressive record of eight wins and a draw. Grays' hold over St Albans was finally broken as Mitchell's side set a new club record of eleven successive home wins at the start of a season when goals by Gurney and Cockram secured a 2-1 win. Ricky Walkes scored for Grays as City ended a slide down the table (due to cup commitments) which had seen them drop to ninth position. After eighteen competitive games City had scored 50 goals.
NOVEMBER: Cheltenham end Cup run, title race warms up
With less than a quarter of the season gone the talk was already of the championship being a three-horse race. That, in itself, was being generous to Enfield who had been runners up for the two previous seasons. Enfield had already lost three games including an important home fixture with Chesham United who were setting an astonishing pace.
City showed themselves to be keen to take up the challenge offered by Chesham and began the new month with a 6-3 over Harrow Borough at Earlsmead. Harrow suffered in much the same way that Wokingham had in September, that is to enjoy a large slice of the play but still get hammered. Boro twice led through former Northern Ireland international Ian Stewart and Paul Ripley but City were ahead by the interval thanks to goals from Gurney, Cockram and Clark. Clark went onto complete his second hat trick of the season and Ripley added a second for Harrow before ex-Saint Steve Conroy made his mark with an own goal five minutes from time. Jason Shaw became the third opposing player this season to be sent off, this time following a bad tackle on Risley who was only playing his second game after injury.
A high score against one side from Middlesex was the perfect way to warm up for a trip to Enfield on the 7th. At that time Enfield were second to Chesham and two places ahead of St. Albans, the points gap was five but City had five games in hand with a vastly superior goal difference. The first half was tight with the biggest incident of note being a clash between Duffield and Enfield player-manager Graham Roberts. The former England defender came off second best with a head injury which put him out of action for over ten minutes. City came out for the second half convinced that Enfield had given their best shot in the opening forty-five minutes, and so it proved to be. Cockram found the target first with a goal that few, if any, in non-league football could equal. The one-time Spurs man appeared to lose control of the ball on the edge of the penalty area as keeper Peter Hucker shut him down. Unperturbed, Cockram calmly rolled his right foot over the ball and dragged it away from the keeper. By now two defenders were back on the line but Cockram carefully chipped the ball beyond the keeper's reach and into the top corner of the net for his tenth, and possibly best, goal of the season. A handball by Curtis Warmington eight minutes from time enabled Duffield to complete Saints 2-0 win and condemn Enfield to their third home defeat of the season. For the time being, at least, Enfield were out of the championship hunt.
Three days after winning at Southbury Road for the first time since 1974 City played a friendly at Leighton Town and drew 1-1 with the Isthmian League Division Three newcomers. Mitch looked at several players on the fringe of the First team and one of the trialists, former Luton Town striker Godfrey Ingram, scored the City goal at Lake Street.
All attention was now focused on the 1st Round F.A. Cup tie with Cheltenham Town at Clarence Park on Saturday, 14th November. Southern League Premier Division side Cheltenham arrived at the Park unbeaten on their travels. The lure of the F.A. Cup and two very much in form sides attracted City's best crowd for twelve years. Sadly, Mitchell's men froze in front of the Sky TV cameras, and gave one of their least impressive displays of the season. A dull opening half was forgotten when Andy Tucker tripped Gurney inside the area, Duffield duly put City ahead with his fifth successful penalty of the season. The joy was short lived, Town substitute Jon Purdie won the visitors a penalty five minutes later that skipper Kevin Willetts powered into the Hatfield Road net. Eighteen minutes from time it was Purdie himself who popped up with the winning goal from Jimmy Smith's low cross. Unlike the match at Telford, City were at full strength against Cheltenham with Risley, Price, Duffield, King and Dowie all fully established back in the side.
Above: Cheltenham defender Anton Vircavs clears his lines as Dean Williams closes in and Peter Risley (far right) looks on.
City hid their disappointment well and were quickly back into the groove for picking up league points but it was a defeat and performance that was to haunt them for the rest of the season. The best news that week was supplied by Smart, who completed his move from Enfield, and Cockram, who finally signed a two-year contract and scotched rumours of a possible move to Belgium. Elsewhere in the F.A. Cup, Hayes, Aylesbury, Dorking and Sutton all said farewell and, after a replay, they were joined by Kingstonian. The hopes of the Isthmian League rested with Marlow who moved through to the Second Round after winning a penalty shoot-out with Southern League Southern Division side Salisbury City.
Chesham, already out of the F.A. Cup, had a good opportunity to increase their lead at the top of the table with two league games in the week before entertaining City on the 18th. With thumping 6-1 and 5-1 wins over Bognor and Carshalton respectively, Chesham moved 17 points clear of the third placed Saints. Gerald Aplin's side had also won all fourteen league games since that opening day defeat at Hendon. Another pointer in Chesham's favour was a goal difference of 35 compared to City's 18. In front of United's then best gate of the season, 1,456, Steve Bateman gave Chesham a 17th minute lead. But within fifteen minutes Clark had scored with a superb header and Brett added a second with a neat volley, as City moved into a 2-1 lead. The game then swung back in Chesham's favour when Dowie was dismissed to leave City facing the last 55 minutes with just ten players. A quick switch by Mitchell saw Gurney sacrificed and substitute Mudd inserted into the heart of the defence. Deep into first half injury time Chris Townsend netted United's second but, despite a lot of pressure, a winner could not be found.
City returned to Buckinghamshire the following weekend to battle out a 1-1 draw at a muddy Alfred Davis Memorial Ground, home to Malow. City struggled on the difficult surface but a goal by Clark, matched by Marlow's Mark Watkins, ensured an even share of the spoils.
Clarence Park was the venue for a Representative match on the 24th with the Isthmian League taking on an F.A. Xl. After a goalless first half the F.A. side went on the rampage with Farnborough Town striker David Leworthy scoring a hat-trick in a 6-1 rout. Clark, on home soil, scored the consolation goal for the League side. In addition to Clark, City had four other players in the Isthmian side; Cockram, Price, Risley and Dowie. Basingstoke manager Fred Callaghan was in charge of the team with John Mitchell as his assistant. The attendance was 245.
The month was concluded with two more cup ties, on the 25th City's debut in the Eastern Floodlight Cup ended in a 2-0 win over Saffron Walden Town at Clarence Park . Williams scored for the first time in seven games with Gurney adding the second.
More club history was made on the final Saturday of the month when goals by Cockram and Risley, a late penalty, gave City a 2-0 win over Purfleet in the 3rd Round Qualifying of the F.A. Trophy. Brett played the full ninety minutes after completing just one of the previous eleven games. Mudd and Price lined up at the centre of the defence as Dowie found his dismissal at Chesham costly. For the first time since entering both competitions in 1974, City had successfully come through the qualifying rounds of both the F.A. Cup and F.A. Trophy.
DECEMBER: Royalists rolled over by no festive joy for City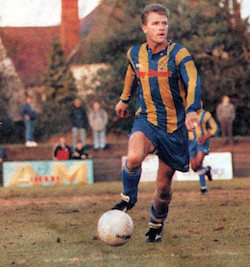 The festive month kicked off with Bromley suffering a fourth successive defeat at Clarence Park and had goalkeeper Curtis Hayes taken to hospital following a collision with Clark. First half goals by Williams and Clark set City on the road to victory before substitute 'keeper Frank Coles, a midfielder, erred for the third goal, credited to Williams, Mudd completed the scoring in the final minute.
Windsor & Eton, having failed to live up to the promise shown at Clarence Park in September, faced City on the 5th from down in 12th position. Despite having won just once at their poor Stag Meadow ground the Royalists looked to be in little danger of going down but their survival chances were not aided by goals from Clark, Williams and Brett (left) as City won 3-0.
St Albans' win at Windsor increased the pressure on Chesham who were held to a third successive draw. Bognor Regis Town, still stuck on two points, and recently knocked for six by both Chesham and Enfield, were expected to be easy meat for City on the 8th. In goal for the Rocks was the debut making Colin Matthews, it was a match he will never forget, as he made a series of superb saves. As well as Matthews played, City still led by two goals at the interval through Williams and Gurney. Inside the opening thirty seconds of the second half Garry Biddle pulled one back for the Rocks but City held on to end Bognor's four match unbeaten run at the Park. Williams' goal was his fifth in five games and his 17th of the season, also on 17 was strike partner Clark.
In the Premier Division's top match on 12th December, Clark added one more to his tally during an exciting 3-2 win over Carshalton Athletic at Clarence Park . The Robins led 2-1 at the interval through Dave Cooper and the phenomenal Jimmy Bolton. Brett scored St Albans' first goal and Duffield pulled City level with a penalty after 'keeper Les Cleevely had fouled Williams. Clark's winning goal moved City six points clear of Carshalton with the added advantage of six games in hand.
The all-conquering home record had to end sometime and the honour of being the first visiting side to claim a point fell to Yeading on the 15th. The game ended at 1-1 but it was a day in which fortune was very much on City's side. A late Scott penalty cancelled out Byron Walton's 58th minute goal after the visitors had dominated the play.
City were enjoying an exceptional season but changes were afoot inside the squad. Former Wales captain Price found himself making only the occasional appearance. Anderson had fallen down the pecking order with outside influences not helping his position. Dowie was struggling to hold down a regular place even though he was playing some of the best football of his career. Scott and Gurney were frequent partners on the bench. Ingram was only called upon for the minor cup ties. One new arrival was defender Dean Murphy who made his debut against Yeading.
City took a break from league action the day after the Yeading game to defeat Royston Town 4-2 at the Park in an Eastern Floodlight Cup tie. Debuts were given to goalkeeper Stephen Chapman, Matt Ferry, Danny Adams, Julian Bedford and Paul Taylor. Benning played his first full game of the season, Edwards played for only the second time in 17 games, while Anderson and Manderson played their final games for the club. Anderson, after a short spell at Barton, joined Stevenage. Steve Franklyn and Simon Crow netted for the Division Three Isthmian League side while Bedford, Scott, an own goal and a last minute penalty by Ingram secured City's victory.
Ground was lost in the championship race on the 19th when Grays Athletic chalked up a 3-0 at The Recreation Ground. To combat Grays renowned aerial approach to the game, Mitchell packed the defence with Edwards, Scott, Price, Dowie and Murphy. At the interval the ploy appeared to be working, as the sides went in goalless, but within thirty seconds of the restart Jason Walker opened the scoring. Ian Durant and Winston Whittingham completed the tally as Grays recorded their eighth win over the Saints in ten league meetings.
City through to Charity Cup final
A place was secured in the final of the Herts Charity Cup on the 22nd when Gurney's 48th minute goal saw off Stevenage at Clarence Park . It was the sixth game between the county rivals during 1992 and City ruled the roost with five wins and a draw to their credit.
Having gained just one point from their previous two league games, City were keen to get back to winning ways on Boxing Day with the short journey to Aylesbury United for a morning kick off. City gave an impressive display, their best for some weeks, and overcame Graham Westley's first goal for his new club to lead 2-1 as the game moved into injury time. Williams scored a fine equaliser and, in what was anticipated to be the final minute, Clark put City ahead in his first match back after four games out through injury. What been a one-sided affair was turned completely on its head during added time as Westley struck twice more to claim a hat trick and condemn City to a second successive away defeat.
City went into the festive season boasting their lowest number of league defeats since joining the Isthmian League in 1923, but the reversals at Grays and Aylesbury had cost them dear. On those dates Chesham beat Kingstonian and Marlow whilst Enfield moved up to reclaim second place.
A return to familiar territory on the 28th brought the best out of City as a second double of the season was completed with a 4-1 win over Basingstoke Town. Fred Callaghan's side was in the middle of a run that saw them win just once in sixteen outings. By the 46th minute City led 3-0 through Williams, King - his first league goal at the Park since August 1991 - and Clark. Paul Holohan, who was badly injured in the process, pulled one back only for Williams to continue his good run with the Saints fourth in the last minute.
JANUARY: Gap on Chesham closes but Trophy run comes and goes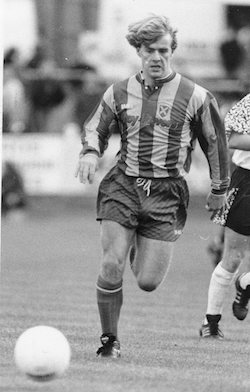 The turn of the year saw little change in St Albans fortunes with the goals continuing to flow. Dulwich Hamlet, at that time beaten only once away from home, suffered the double at our hands for the first time in 23 years on 2nd January when first half goals by Brett 2, and Williams paved the way for a 3-1 win at Clarence Park .
On the 5th of the month Royston Town visited Clarence Park for the second time in three weeks only to return home with an aggregate of ten goals against from their two trips. City's first win in the Southern Combination Cup was a personal triumph for Gurney (left), having completed just four of the previous 17 games, he scored his first hat-trick in this his 226th game for the club. Paddy Butcher, with a tremendous lob over the backtracking Westwood, scored Royston's consolation goal. Brett, Price and Ketteridge, with a penalty, completed the scoring in the 6-1 victory. Price's goal, in the 38th minute, was City's fifth of the night and his only strike for the club.
More celebrations were held at Clarence Park the following night as City fought back from a goal down to Rainham Town (Nicky Poulson) to clinch a 3-1 win in the 2nd Round of the East Anglian Cup. On a damp evening the sparse crowd gathered hoping to see City's 100th goal of the season in all competitions. The honour of scoring that goal fell to Clark. Of all the goals that he scored during his illustrious career this will probably rank as one of the most bizarre. Standing about 25 yards out at a Rainham goal kick, Clark found the ball coming straight at him so wasted no time in sending a long-range header past an embarrassed 'keeper, Brian Smart, who tried in vain to scamper across his goal and prevent City's equaliser. It was also Clark's 50th goal for the club. Clark scored his 22nd of the season in the second half and in the final minute Williams also added his 22nd of the season. The match, although played at the Park, was classed as an away fixture.
City played a third cup tie in five days the following weekend and made it a clean sweep with a hard earned 1-0 win over Weston-super-Mare in the 1st Round of the FA Trophy. The Southern (Beazer Homes) League Midland Division side were not enjoying the best of seasons but kept City waiting until the 87th minute for Adams' first, and winning, goal for the club. City, despite the score, dominated the game that was soured by a sickening facial injury to Weston midfielder Julian Stearnes. He spent two days in Mount Vernon Hospital before returning home. Victory took City through to the 2nd Round for the first time since the days of Ron Duke in 1982.
Below: Dean Williams , far left, looks on as Kevin Mudd and Steve Clark put pressure on the Weston-super-Mare defence.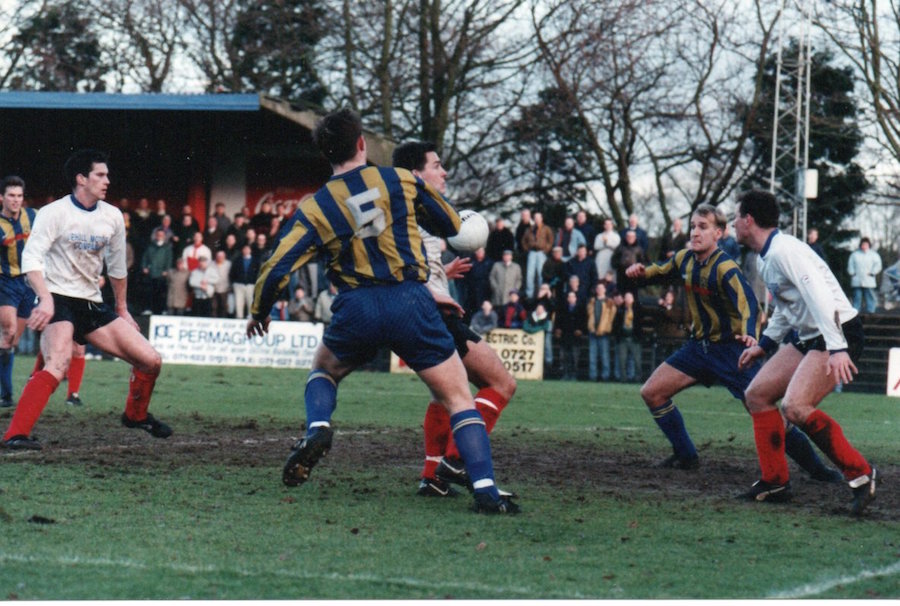 Adams' positive display against Weston after coming on as a substitute secured his place in the side for the match with Baldock Town at the Park three days later, only this time it was he who was substituted. Gurney was again on target as the home leg of group matches in the Eastern Floodlight Cup ended with a 2-0 win. The second goal went down as an own goal by goalkeeper Hugh Kirke who virtually threw a bouncing cross into his own net. A familiar face, at least to supporters with a memory stretching back ten years, was seen in a City shirt for the first time since early 1983 when Duncan Hardy had a run out.
The winning run was maintained the following Saturday when goals by Clark and Gurney extended City's unbeaten run against Hendon to a seventh game. Ex-Saint Trevor Wilkinson pulled one back for Hendon in the final minute but it wasn't enough to stop City from becoming the first side in the league to register ten home victories. During the match a collection was taken for the injured Stearnes, a total of £160 was raised and sent to the Weston-super-Mare player. In the build up to the Hendon match Mitchell revealed that Price and Dowie had been placed on the transfer list, the latter at his own request. Price had played in just two of the previous twelve games whilst Dowie, although in the side that defeated Hendon, was still very much in and out of the side.
A Kingstonian side that had won just one of its previous seven away games was in no condition to end Saints profitable run on the 19th. Goals by Clark and Cockram secured the 2-0 win which eased City through the fifty-point barrier and above Enfield back into second place for the first time since Christmas. The influential Duffield was welcomed back against Chris Kelly's side.
Duffield had failed to complete any of the previous seven games due to ongoing problems with an ankle injury, and he was sidelined again the following weekend during the now ritual defeat of Stevenage. City's first goal in the 2-1 win - Saints fifth single goal victory over Boro inside a year - was tucked away by Brett after Wilmot had made a dreadful hash in attempting to clear from outside his penalty area. A soft shot through a crowd of players by Shaun Debnam pulled Boro level but a wild lunge by Cox on Clark allowed Duffield the opportunity to claim all three points for City from the penalty spot. Shortly after scoring the winning goal Duffield limped off to be replaced by Adams. City were without 'flu victim Risley at Stevenage whose place was taken by Edwards. Gurney, for the second successive match, edged Williams out of the attack and his bustling style was clearly unsettling defences. The game attracted another four-figure attendance, 1,107.
Risley was back in the side three days later at Baldock Town but lasted less than three minutes before being carted to hospital by City Secretary Steve Trulock with a gashed head. Risley was seen back at the ground later in the second half munching on a burger. City's winning run was ended by the Southern League side despite Gurney's 13th goal of the season that ensured that this was to be his most productive season with the Saints. Two glaring errors by Westwood contributed to City crashing to a 2-1 defeat in their first away game in the Eastern Floodlight Cup.
Defeat at Baldock caused City to lose little sleep, they were still on course to qualify for the next stage of the competition and had another big game coming up on the final Saturday of the month when Conference League side Witton Albion were the visitors to Clarence Park in the 2nd Round of the FA Trophy. The best attendance for a Trophy tie at the Park, 1,470, saw City put in a poor first half display on their big day. But this time, unlike the Cheltenham match, Mitch's side improved beyond all recognition after the interval, unfortunately good fortune wasn't on their side and hopes of an extended run petered out with a 2-0 defeat. Brendon Burke benefitted most from Saints disappointing opening forty-five minutes by notching a brace. Witton had won their first league match in almost four months just a week before coming to St. Albans and was now back on course for a second successive appearance in the final. For Mitchell the blow was softened by winning his second Manager of the Month award of the season; his team was now just four points behind Chesham with both sides having played 24 games.
Below: Allan Cockram rues one that got away during the defeat at home to Witton Albion.
FEBRUARY: Title showdown at Clarence Park
Three days after toppling out of the F.A. Trophy City faced arch rivals Boreham Wood in the 2nd Round of the Herts Senior Cup. As with previous derby matches between City and Wood there was little in the way of exciting football. City appeared to be the better side although Wood had the clearer chances. That was until extra time when City took full control and settled the issue well executed goal by Cockram.
Twenty-four hours later City met Dunstable in a competitive match for the first time in twelve years. With several players feeling unwell, including Mitch, Ketteridge took charge of the team and fielded a mixed side with several players in unaccustomed positions. On a cold night, at an almost deserted Creasey Park, the struggling Southern League side won 2-0 with goals from a City old boy, Andy Cody, and substitute Peter Revell.
A welcome return to league action was made on Saturday 6th February with a trip to lowly Wokingham Town. Clark added a hat-trick to the two goals that he had scored in the earlier meeting of the clubs as City increased Town's relegation fears with a 3-1 win. Clark's goals came at the end of his longest run without a goal since joining the club - three games, it also came two days after his 29th birthday. Wokingham included just one City old boy in their side, Langley, whilst former Town players Westwood, Murphy, Gurney and Williams enjoyed their successful return to Finchampstead Road. For Murphy, though, it was a painful homecoming. A trip to hospital was called for to have stitches inserted after he had bitten a large gash in his top lip. The pain was eased when learning that Chesham had lost 1-0 at Stevenage, Chesham's next game was at St Albans.
To take their minds off the eagerly awaited clash, City had another big game in midweek with the visit of Barnet in the semi-final of the Herts Senior Cup. Managed by former Saint Barry Fry , the Bees were top of Division Three of the Football League and sent a strong side to the Park. Barnet may have been five points clear of York City at this time but it was City who called the tune in an entertaining cup tie. Pat Gavin opened the scoring for Barnet only for Williams to give City a deserved equaliser. But City's good performance went unrewarded when a deflected shot by Tony Lynch eight minutes from full-time secured a 2-1 win for the visitors.
Over 3,000 see showdown with Chesham United
Chesham headed to Clarence Park the following Saturday with the 17-point lead they once held over the Saints now down to a solitary point. Defeat the previous week had ended the leaders 23 match unbeaten run in the Premier Division and many now expected St Albans to reclaim pole position after a gap of almost five months. The match had clearly caught the imagination of the locals, City officials hoped for a gate of 2,500, they would have settled for 2,000, but on a misty afternoon all expectations were exceeded as a crowd 3,120 was announced to witness the top two sides in the Isthmian League.
Frustratingly for Mitchell, and most of the crowd, City didn't perform to their full ability and when Chris Townsend stepped out of the fog to give Chesham a 57th minute lead City looked set to lose their unbeaten home record. City were without the deadly Duffield, due to injury, and had Clark been unavailable, something that was almost a reality, then Chesham could well have claimed a famous victory. Clark, a school teacher at St. Mary's in Bishop's Stortford, was needed by the school to lead a party of children on a trip to Austria. Just when it seemed that all avenues had been explored in trying to find a way of getting him there on Saturday rather than Friday, Commercial Manager Colfer found a route via Germany which secured his release for the big match. Clark justified all the effort in the 67th minute when he demonstrated his instinctive finishing to round off a move involving Gurney and King for the equalising goal in a 1-1 draw. The next fifteen minutes saw City at their best and Chesham were fully extended. Cockram could have clinched a City win in the final minute but it was Chesham who came closest to a second goal when a stunning volley from inside his own half by Andy Adebowale hit the woodwork with Westwood retreating from outside his penalty area. The draw, played in front of the biggest non-league gate of the day, left the title race beautifully balanced with Chesham on 60 points and City on 59, both sides had played 26 games.
Below: Steve Clark runs towards the York Road terrace at a misty Clarence Park to celebrate his equalising goal against Chesham United.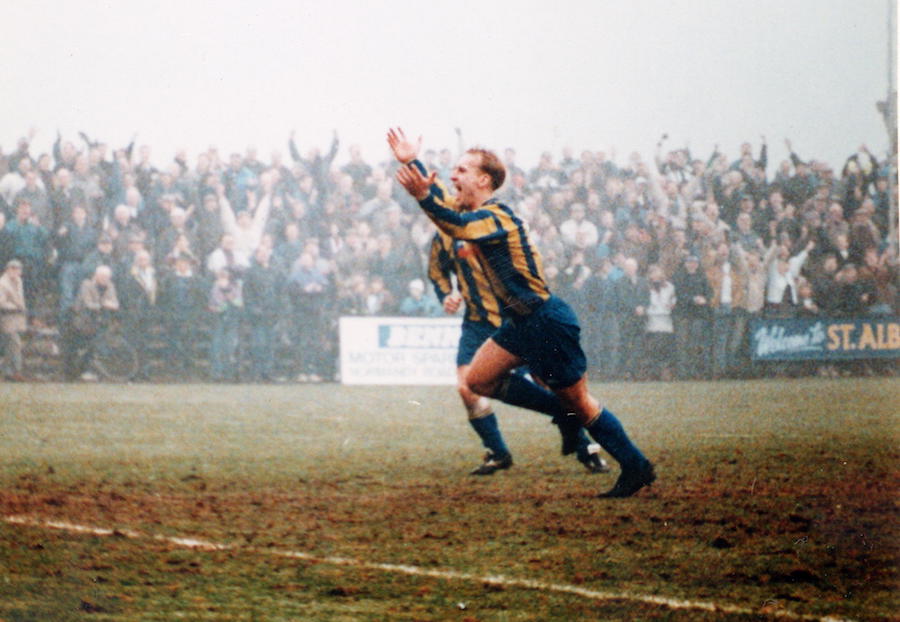 The run of big games continued the following Tuesday with a trip to Gander Green Lane to face Sutton United. The Surrey club were already through to the 3rd Round of the F.A. Trophy with victories over Conference sides Woking and Slough Town. The late-running Supporters Club coach turned up just in time for those onboard to peer over a wall to see Gary Thomas give the home side a sixth minute lead. By the 24th minute Dominic Feltham increased Sutton's lead and six minutes from time he added a third. An injury time goal by Williams after a good run by Brett did little to ease the disappointment of a poor City performance. The one bright spot was provided by substitute Ian Rutherford who gave a hard-working display on his return to the club. City were without Duffield and Clark at Sutton, which was a burden few, including St. Albans, could have coped with. Some pre-match entertainment was found in the car park by a fox that kept trying to avoid spectators by nipping in and out of the parked cars. Moments after that City were completely outfoxed and heard that Chesham had moved four points clear with a 4-1 win over Dulwich at Champion Hill.
A swift return to winning ways was imperative and, on the 20th, City reaffirmed the title challenge with a 3-1 win away to Kingstonian. Cockram set City on the way to a sixth double of the season with a rare headed goal, his 50th goal for the club. King, following up after Duffield's penalty had been saved, and Williams added a third before David Pearce pulled one back from the spot. Chesham took a rest from league action but found hope of glory in the F.A. Trophy shattered by Sutton United's 3-1 win at The Meadow.
City faced another midweek of two games on successive nights starting on the 23rd with a visit to Marlow in the inaugural Full Members Cup. Marlow had built a good reputation as a cup outfit during the season by progressing through to the Third Round of the F.A. Cup to play Tottenham Hotspur at White Hart Lane, a game in which they played well but went down 5-1. After a goalless first half, the game burst alive after the interval with the home side clinching a 3-2 win. Colin Ferguson and Watkins gave Marlow a two-goal lead before Ross pulled one back for City. A stunning effort by Dave Lay restored Marlow's two goal lead but Cockram set up a tense finish when tucking home a late penalty.
City vice-president Bobby Moore passes away
The football world was saddened a day later, 24th, when one of its most famous and endeared ambassadors, Bobby Moore OBE, died in London after a two-year battle against cancer. Moore was a close and personal friend of John Mitchell's; the duo having worked together for almost half of their twenty-year friendship. It was a saddened Mitchell that turned up at Saffron Walden Town that evening as Saints went down 3-1 in the Eastern Floodlight Cup, a result that knocked them out of the competition. Mitch had intended to miss the game once it was revealed that Bobby had passed away but the City manager had to provide transport for a couple of players. He left shortly after the kick off with Steve Ketteridge taking charge of the side. A fiery clash saw young Adams dismissed and three other City players booked by referee Mr K. Miller. Ross scored in the final minute after Tony Mercer, Tony Welch and David Cooper had given the Essex side a three-goal lead.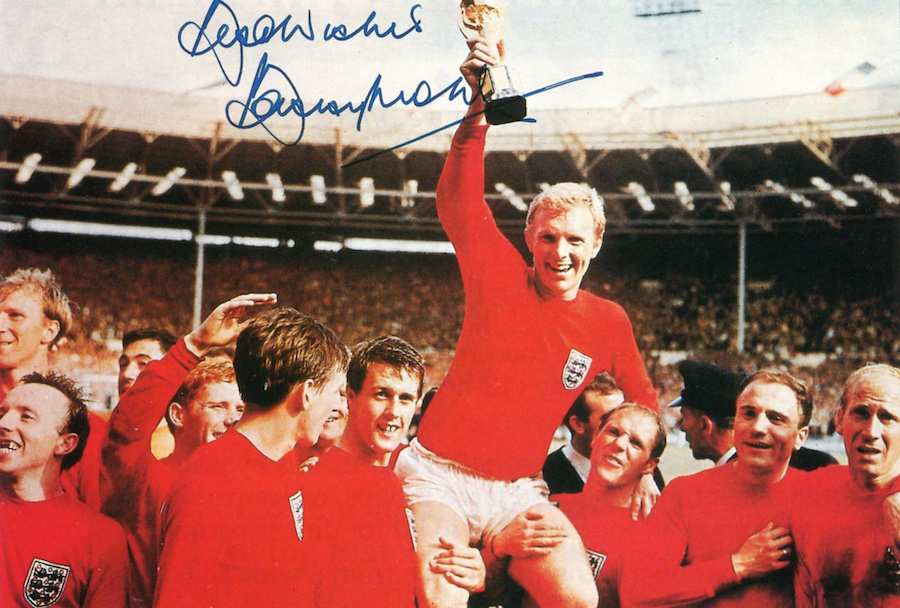 Speaking shortly after Bobby's death, Mitch paid tribute to his good friend.
"It has been incredible to see the response to Bobby Moore's death, as a person and as a player he was an ambassador of the sport and one of the nicest people you could ever meet. Of those twenty years I've spent with Bobby, approximately nine of them were in the business world, and I have to say that I don't think that there is one person in all that time who had a single bad word to say about him. There is a lot that people can learn from the qualities that Bobby showed. When you look at some of the heroes today and remember what Bobby offered then there is really no comparison, he was truly in a league of his own. On behalf of St. Albans City Football Club, to a lost and very dear friend we send our deepest sympathies to his family, the memory of Bobby will last for many years with the club, fans and more so with myself. I've lost a great friend and it would be nice to think that we could go on and win the championship for him. Bobby was a keen follower of non-league football, he used to mention us regularly on Capital Gold and on Monday mornings his first comments when he came into our office would always be 'the lads must have done well Mitch, or, what the heck happened on Saturday?'. The country showed it's true debt to Bobby when he was made an OBE, it is a great shame that football never showed such recognition until his untimely death."
In addition to being a vice-president of St Albans City, Bobby had played at Clarence Park in the 1989 Dreamflight charity match that attracted a gate of close on 6,000.
A minute's silence was held before the kick off at Saffron Walden and at the first home match since Moore's death, against Staines Town the following Saturday, 27th February, another silent tribute was paid by the crowd of 809.
Staines went into the meeting having won just one of their previous 13 games but City were unable to take maximum points from the side in 18th place. Clifton Soares and former City defender Craig Johnstone scored for the visitors either side of goals by Cockram and Williams as a 2-2 draw was played out. Chesham again took full advantage with a 4-3 win over Marlow.
MARCH: Charity Cup success but unbeaten home record falls
The month began well for the club with a meeting of the St. Albans Leisure Committee in the council chamber on 4th March agreeing, in principle, to a request for a twenty-year lease on the Clarence Park ground. Not one councillor voted against the proposal. City chairman Bernard Tominey had asked for a large turnout by City supporters and he was not disappointed as around 70 spectators sat in silence throughout the debate. Many of the supporters wore the club's replica shirts whilst others draped scarves and banners around the chamber to emphasise their support for the club. City needed the security of a lease to be granted acceptance into the Football Conference should they win the Isthmian League. There was also a growing belief that Chesham would turn down promotion as the owner was concerned that it could be financially damaging to the club. This would leave the way open for the second placed club to be offered promotion.
By collecting just five points from four games during the second half of February, City had lost ground on Chesham and, with time running out, needed to put together a good winning run. A visit by struggling Essex side Wivenhoe Town was a good game with which to follow up the council meeting with three points. The game was played on a bitterly cold night that attracted the lowest league gate of the season to Clarence Park , 472, but two goals by Brett and a single from Duffield clinched a 3-0 success. On the bench was Scott who had his first taste of league football since mid-December when used as a 60th minute substitute for Gurney.
The clock was turned back 21 years the following night for a trip to Garden Walk at Royston Town in the Eastern Floodlight Cup. Both sides were already out of the competition, so that barely forty spectators attended the game was of little surprise. On the City teamsheet was the name of one J.Mitchell who hadn't pulled on a City shirt in a competitive match since February 1972. Other 'veterans' wheeled out at Royston were Price and Ketteridge. Rutherford, Ross and Scott were also given full games, Murphy and Williams were named as substitutes although neither was present at the ground.
After City had lost 3-0 there were handshakes all round for Paul Price (right), as this was his last game for the club. He joined Hitchin who were eleven points clear at the top of Division One and bound for the Premier Division; they got there just two points clear of runners up Molesey.
Clarence Park was the venue for a little piece of history on the 5th when St. Albans Schools defeated North Herts Schools 2-1 in a replay of an English Schools F.A. Trophy match. The victory made St. Albans Schools the first team from Hertfordshire for 80 years to reach the semi-finals, Merseyside giants Liverpool Schools stood between St. Albans and a place in the Final.
For City's next match, away to bottom of the table Bognor Regis Town, Scott was back on the bench where he was joined by Dowie. A third successive win at Nyewood Lane looked a formality when Brett was fouled for a second minute penalty. Unfortunately, Duffield (below) blazed the spot kick well over the bar. It mattered little though, as City were three up by the interval through Brett, Clark and Williams. Chris Rustell and Hugh Howden briefly threatened City's superiority only for Clark to finish off his fourth hat-trick of the season and Williams score the sixth goal in a 6-2 win. Despite beating the bottom side 2-1 and 6-2, City's record against Bognor was the least impressive of all the top four sides. Chesham won 6-1 and 4-0, Enfield ran up scores of 6-2 and 6-0 whilst Carshalton coasted home 2-0 and 6-0 with Bolton scoring five of the eight goals.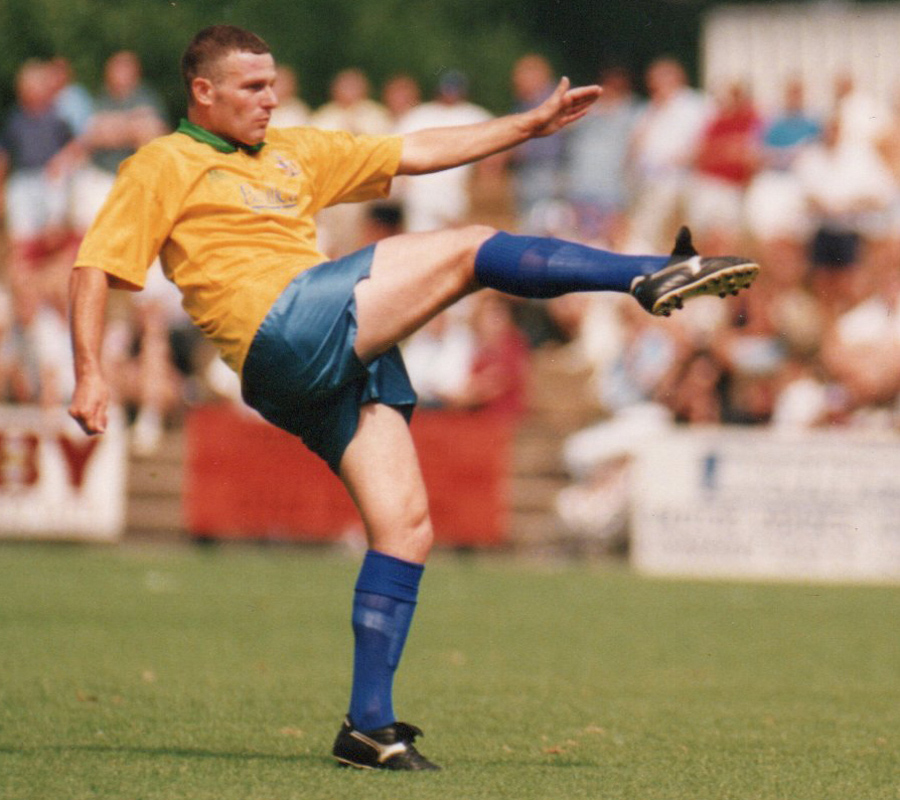 City old boy Steve Conroy ends unbeaten home record
Having returned to winning ways and scored a good number of goals in the process, City looked forward to the visit of Harrow Borough the following weekend, the 13th. St Albans' two recent home draws had allowed Chesham to claim the best home record in the Premier Division and as City stumbled to a shock 2-1 defeat against a resilient Harrow side, Chesham were left with the only unbeaten home record in the top division. The suspended Risley was absent, which led to a recall for Scott who then played a leading role in the final 18 games of the season. City never fully got into their stride against George Borg's side but many felt that they did more than enough after the interval to merit a point. Harrow led through Micky Engwell; Clark equalised only for Conroy to claim the decisive goal in the ninth minute of injury time.
City's first home defeat in eleven months was fully capitalised on by Chesham who crushed Bognor but Enfield slipped up once more at home, this time going down 3-2 to Hayes. City were now nine points behind the leaders with just ten games to play, only the most supreme optimist still believed that Chesham could be overhauled.
Mitchell had no thoughts of conceding the title and within the next seven days City underlined their determination to fight to the end with successive wins at Wivenhoe Town and Yeading. League double number eight was secured with a 2-0 win at Wivenhoe courtesy of Clark and a last-minute own goal by Steve Wright. Defender Smart was only named as sub at Wivenhoe after arriving late at the ground, as did several supporters who got on the wrong road and ended up in Clacton.
St. Albans Schools took centre stage on the 19th when they entertained Liverpool Schools at Clarence Park . Hopes of the local youngsters pulling off a major upset soared in the 12th minute when Andrew Sissons, of Marlborough School, put the home side ahead. The Merseysiders fought back well to claim a justified 2-1 win and a place in the final against Sheffield Schools. The achievement of the St. Albans side is best emphasised by the fact that Liverpool have over 100 more schools from which to find their players and in the side that played at Clarence Park were five internationals.
Five of the local boys later played for the St Albans City First team: Jay Thomas (St Georges School, Harpenden) (16 app, 0 goals), Andrew Sissons (Marlborough) (13, 1), Simon Dean (Marlborough) (8, 1), Tom Lawrence (Beaumont) (5, 0) and Nigel Getley (Marlborough) (2, 0).
Erskine Smart was back in the starting line-up for the short trip to Yeading on the 20th. When Yeading visited the Park in December they looked a side of speed and invention, three months on and there was no comparison. This time Yeading lacked confidence and were beaten far more convincingly than the 2-1 scoreline suggests. Well taken goals by Gurney and Clark took the Saints tally to 86 for the season before Byron Walton set up a nervous final few minutes with a late strike. Yeading's cause had been hindered in the moments leading up to half time when defender Alan Ardren was dismissed following a clash with King who was cautioned. Ardren had previously been booked by referee Graham Poll and was, subsequently, dismissed. Ardren didn't take too kindly to his early exit and was threatening just about everyone in sight as his team mates struggled for a full minute before managing to escort him from the pitch.
With just under seven weeks of the season to run City still had 15 games to play (eight in the league) and were keen to get some silverware into the cupboard to underline just how successful a season it had been. The first opportunity to secure a cup came on the 23rd of the month when Boreham Wood visited Clarence Park for the Final of the Herts Charity Cup. Twelve months earlier Wood had succeeded in removing City from both Hertfordshire competitions, so it was with a feeling of revenge that Saints completed a cup double over the Wood courtesy of Duffield's first half penalty. Wood included two former City players in Matt Howard, who had a good game, and the unused substitute Tony Flanagan.
The following Saturday presented City with an opportunity to fully remove Enfield from the title frame. Smart was suspended against his former club, whilst Cockram was also absent with a troublesome hamstring and ongoing problems with his stomach. In front of a crowd of 1,643, which included a surprisingly small number from north London, Enfield lined up with Hobson in their ranks. City managed to get the ball into the visitors net three times but each effort was disallowed for offences which weren't blindingly obvious to the human eye. Graham Roberts' side clung on for a desperate point which came as some relief after three successive league defeats and a 5-0 thrashing at Molesey in the semi-final of the League Cup. The point Enfield gained came at some cost with four players finding their way into the referee Graham Barber's notebook.
Below: Martin Gurney celebrates with Kevin Mudd but the goal was one of three City had disallowed against Enfield.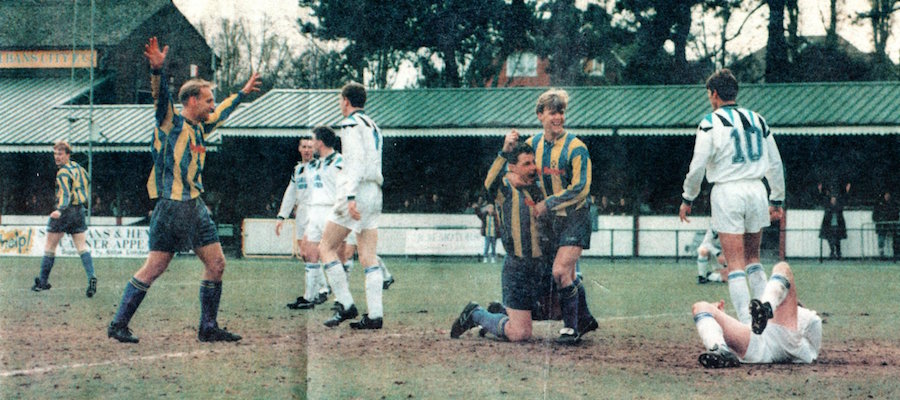 The month was rounded off with a first trip to Hoddesdon Town's Lowfield ground for 19 years. Williams, at this time the subject of an inquiry from Crystal Palace, was on the pitch from the start for the first time in four games but Clark was only on the bench. Rutherford and Ross were granted a rare full appearance and David Magrone made his debut. Although, generally in full control, City were forced to sweat by their South Midlands League hosts and had to wait until the 84th minute for Scott to crack home the deciding goal and clinch a place in the quarter final of the East Anglian Cup.
The price of promotion
Although St. Albans, especially manager Mitchell, still believed that they could win the league the main story centred on events off the pitch. The GM Vauxhall Conference sent a ground grading committee to Clarence Park and Chesham in February with a view to assessing the ability of both clubs to stage football at the very peak of non-league football. Back in December, Chesham chairman Tony Aplin stated that he would not take the club into the Conference if he felt that the move could jeopardise the clubs long term future. Mr Aplin stuck to his word and after hearing that the cost of bringing the ground up to Conference standards would be in excess of £75,000, he withdrew the club's application for promotion. St. Albans were in a similar position, £75,000 was needed to bring the ground up to new Conference standards (different from those for existing members) but there was an added catch. The Conference insisted that two trees within the ground should be removed. City were powerless to authorise the destruction of the trees and were also dead against the idea of doing away with their most famous landmarks. St. Albans were keen to find a compromise but hopes were not high and the football world watched in amazement as the Conference refused to budge in the face of national and local media outrage. It was widely reported that the trees were covered by a protection order but club secretary Steve Trulock revealed that the order was only issued later in the year, even then it was only for the one in the Hatfield Road terrace.
Biologist David Bellamy waded into the criticism being levelled against the Football Conference in their call to fell the two oaks.
APRIL: Sensational comeback at Carshalton, title race goes to the final game
Having ended March with a goalless draw with one of the sides vying for second place, Enfield, the new month kicked off with a trip to the one other club hoping to snatch the runner-up position from the Mitch's Saints. Billy Smith's Carshalton Athletic had clung onto the coattails of the leading three sides all season but any, realistic, desire to stay in the hunt was dependent upon the outcome of their home game with St Albans at Colston Avenue on 3rd April.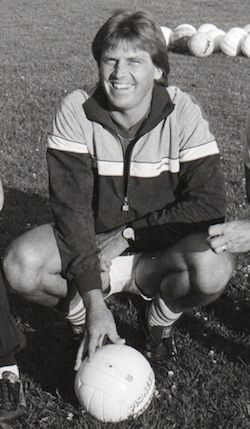 City were without Risley and King for the trip to Surrey on the day of The Grand National but welcomed back Smart and Cockram. Cocker's return lasted just 27 minutes before he limped off to be replaced by Ross. The popular Ross must have wondered what he'd let himself in for as in the remaining 18 minutes before half time the Robins top scorer, Bolton, struck a clinical hat trick from around the six-yard box. The great showdown between the Premier Division's top two scorers, Bolton and Clark, appeared to be a walkover as City emerged for the second half three goals down. A painful 45 minutes for Mitch (left) became even more painful during the interval when he vented his fury on a table but only succeeded in damaging his shin.
Clark's reply to Bolton's onslaught was swift and before fifteen minutes of the restart had elapsed City were back on level terms. Clark beat 'keeper Cleevely with two fine headers and Ross, who terrorised the Robins throughout the half, scored a cracking goal from thirty yards. In what was unquestionably City's finest forty-five minutes of the season, Mitch's side tore Carshalton apart and, whilst it is harsh on the rest of the team to single out one player, it must be said that Dowie's contribution was awesome. Following Ross's goal there was only going to be one winner and when substitute Rutherford opened his account it was just a case how many City would score. Clark looked to have completed yet another hat-trick with a blistering header but the effort was ludicrously ruled out for an alleged push. City, though, were not to be denied and in the final minute Clark, and the outstanding Duffield, set up Williams for his 29th goal of the season. It was Carshalton's first reversal on home soil for six months. In taking their total of league goals past the 90 mark with the 5-3 win, City accomplished their seventh successive win over Carshalton and completed league double number nine.
Three days later City fielded a strong side at home to Aldershot Town in the Billy Minter Trophy and were two goals up inside fifteen minutes thanks to another brace by Clark. With his side ahead in such ease Mitchell made changes that included a debut for teenager Paul Clark, who had spent most the season on the books of Cambridge United.
Above, the City line up at home to Aldershot Town.
City were again in cup action two nights later but this time had to manage without their leading scorer for the trip to Baldock Town in the quarter-final of the East Anglian Cup. Goalkeeper Richard Watkiss made an impressive debut during Saints 4-0 win which included a brace from set pieces for central defender Mudd. Rutherford and Scott also found the target. Murphy was back in the City defence after missing twelve games through injury.
League points were at stake the following weekend, 10th, but any thoughts of making a late bid to topple Chesham were not to the fore as a dire goalless bore was ground out with Hayes at Church Road. Illness ruled Dowie and Rutherford out of the game but King returned after missing three games. It was a poor day all round for the top sides with Chesham drawing at Carshalton, after Bolton had scored for the eighth successive Premier Division match, and Enfield went down at home this time to Dulwich.
City looked tired at Hayes in their 68th game of the season but were back to their best for the opening twenty minutes against Aylesbury United at Clarence Park on Easter Monday. Saints early showing against a Ducks side rejuvenated under new boss Alan Davies was on a par with the display at Carshalton but all City had to show for their efforts was a sweetly struck volley by Scott that clinched the three points. The celebrations were caught on film by a cameraman from The Independent (Adam Scott) who stood on the roof of the Hatfield Road toilets in order to get a good shot of the oak tree surrounded by spectators. The photograph was printed in the newspaper the following day (below). After Scott's goal City went off the boil and maybe, with a little good fortune, Aylesbury could have taken a point home.
Billy Minter Trophy won after a fright at Aldershot
With the possibility of pipping Chesham still alive, City rested several players for the return match with Aldershot Town on the 14th. City's first visit to the Recreation Ground came on the back of four successive clean sheets and with a defence which had conceded goals in just one of its previous eight games. Even the new look City side with the debut making teenagers James Benton and Jason McLelland appeared well set for another clean sheet as goals by Scott, a penalty, and Gurney opened up a two-goal interval lead. Gurney's goal, a powerful drive from outside the penalty area, was his 50th for the club. Steve Stairs breached the City defence in the 65th minute but within six minutes Cockram, with a superb effort, and Gurney, with his second, gave City a 4-1 lead on the night and a 6-1 advantage on aggregate. What happened next was almost beyond belief and, had it been a league match, would have made the Carshalton affair look run of the mill. Aldershot, through Mark Butler, pulled it back to 4-2 and as an inexperienced City side fell apart Tony Calvert claimed a fine hat-trick between the 81st and 89th minutes to nudge the home side into a 5-4 lead and leave them just one goal short of taking the game into extra time. City held out, just. Having gone 470 minutes without conceding a goal, City had then shed five in 24 minutes. With the Aldershot crowd now enjoying what had looked like being an embarrassing evening for them, Scott walked up to collect the Trophy.
City put two stuttering league performances behind them for the visit of Marlow on 17th April and led through Williams clever overhead kick for his 30th and last goal of the season. Marlow levelled with a headed goal by Kenny Glasgow following a cross by Brian McDermott who just a few weeks earlier had been a Mitch target. Marlow's hopes of holding out for a point survived just nine minutes of the second period before Clark beat the popular Kevin Mitchell with a thunderous header from a Duffield corner. City's third goal was pure farce. Marlow stood motionless waiting for the whistle after seeing a linesman flag for offside against Gurney (many incorrectly believed that Clark had been called offside). But when play was waved on Risley ran through and squared to Clark who danced, shimmied and generally killed time before slipping the ball past a bemused Mitchell. Cockram, with his first touch after coming on as a substitute, tucked away City's fourth goal before Clark scored the fifth goal in the final minute with his first penalty for the club. Clark's fifth hat-trick of the season made him the leading three goal specialist in senior non-league football this season.
The second half blitz against Marlow took the tally of league goals to 97, the race was now on to be the first club to the century mark. Chesham were on 96 and a shock 1-0 defeat at the Meadow to Enfield, courtesy of Hobson's last-minute goal, on 21st April not only presented City with a great chance to be the first to the ton but also offered hope that Chesham were at last slipping up. The night after Chesham's defeat City beat Park Street 3-1 at the Park in a friendly. In the Street side was Alan Paradise who had won a Division One championship medal with City back in 1986.
A delayed first trip to Dulwich Hamlet's new Champion Hill ground was made on the 24th. From a spectators' point of view there was a feeling of great disappointment. The ground possessed good behind the scenes facilities but was poor in the way of terracing and shelter. City's first away match of the season back in August should have been at Champion Hill but due to the pitch not being ready to stage a match the game was switched to Bromley's ground. Eight months on and, due to a fire at Bromley's Hayes Lane ground, City's return match with the Kent club was switched to Dulwich in an ironic twist of circumstances.
First to 100 league goals
The runners-up spot had been secured with the 5-1 win over Marlow which, given the state of the Dulwich pitch, was probably just as well. The first aim was to win to maintain the pressure on Chesham and then to score three goals. A battling performance on an unfavourable surface saw Scott open the scoring and Duffield increase the lead with a penalty. John Raffington pulled one back for Bromley but in the 73rd minute history was made when City reached the century of league goals for the first time in the Premier Division. Fittingly the goal was scored by the unstoppable Clark who earlier in the season had also scored City's 100th goal in all competitions. Below: Ian Rawlings of Bromley in unable to stop Steve Clark from scoring St Albans City's 100th league goal of the season.
Chesham announced their return to form with a convincing 4-1 win at Aylesbury. It was a result that took their total of goals to 100 but Chesham took sixteen minutes longer than St. Albans to notch that century goal. Lower down the league, Gerry Armstrong's Worthing, on their way to the Division Two championship, began the day on 98 goals and took that to 99 within two minutes of kicking off against Newbury. But to their frustration Worthing could not add a second and had to settle for a 1-1 draw, thus allowing City to pick up the cheque for £500 as the first side in the league to the century mark.
Three days later City faced Hayes for the third time during the season, hopes were high that the game would be more exciting than the meeting just over a fortnight previously. At the end of ninety minutes of complete tedium Hayes supporters must have left Clarence Park believing that it doesn't take much to challenge for the title nowadays. As dull as the game may have been City possessed the cutting edge in Clark who, after just eight minutes, scored the only goal of the game.
On the pitch, City ended the month two days later with a trip through the wilds of Hertfordshire, Essex and Suffolk to meet Sudbury Town in the semi-final of the East Anglian Cup. Sudbury boasted a formidable cup record; they were F.A. Vase finalists in 1989 and welcomed St Albans as holders of the East Anglian Cup. City rested King and Clark, and were without the unavailable Dowie. Watkiss deputised for Westwood. Cockram was withdrawn during the second half after collecting his first caution in 113 games for the club. On a mild evening at Sudbury's Priory Stadium home, City took an early lead when Mudd headed home. Dean Barker ensured equality at the interval but just after the hour Gurney pounced twice in five minutes to put Saints 3-1 ahead. Seconds after Gurney's second goal Paul Coe gave the Southern League side hope but City held out quite comfortably to clinch their first appearance in the final.
The league record during April, five wins and a draw, was rewarded with a third Manager of the Month award for John Mitchell , a remarkable achievement for a club that had not topped the table since October. But the championship dream was over. The night before the win at Sudbury, Chesham drew 0-0 with Bromley at the Meadow and opened a three-point gap between themselves and St. Albans with just one game to go. Chesham were as good as ensured of the title with the cushion of a goal difference of 66 to Saints 53.
Mitch to quit?
Despite the excellent season there were rumours that Mitchell was close to stepping down as manager. He, along with chairman, Bernard Tominey, had threatened to resign if the club could not take promotion. The club wanted to 'take' promotion but were denied due to circumstances beyond its control. The disappointment of not being able to lead St. Albans into the Conference had knocked a lot of enthusiasm out of Mitchell. In the middle of the month, he gave strong indications to close associates of his future plans but nothing was to be announced formally until after the season closed. The Conference stood by its original decision that the trees must go despite facing increasing pressure and attacks from the media at national and local level. The support City received was overwhelming but the Conference stood firm and eventually City accepted that, under protest, they had to withdraw their application to join the Conference and no club would be promoted from the Isthmian League.
MAY: Ketteridge manager as Mitch quits
Warm sunshine greeted St Albans City as they lined up for the final Isthmian League match of the season at home to Sutton United on the 1st of the month. Sutton, although never in contention for the championship, had enjoyed a successful season. In addition to playing Hereford United in the 1st Round of the F.A. Cup, the Surrey club reached the semi-final of the F.A. Trophy, where they defeated Conference champions Wycombe Wanderers 3-2 at Adams Park but lost the return match 4-0 at Gander Green Lane the following week. Westwood returned in goal for the Saints and successfully completed the season as ever present for the club in the League. Dowie, Mudd, Risley, Clark and King also returned after missing the trip to Sudbury two days earlier. Sutton had faced a nightmare final couple of the weeks to the season when they were asked to play four times a week for three weeks, something they accomplished with commendable success.
One question remained to be answered, could St. Albans, for the first time since 1983/84, complete a season without any side defeating them in both league games. The last time City went a whole season without a league double completed over them in the top division was back in 1969/70 when the League consisted of just one Division. It may have been the last match of a long league season but the two sides put on an entertaining display. Sutton held an interval lead through David Jones. City fought back and with goals by Clark and Gurney edged into a 2-1 lead. City had the chances to wrap up the points but in the final minute Peter Byrne hammered home a point saving penalty for the visitors.
Below: Allan Cockram gate crashes the party as, prior to the kick off against Sutton United, Steve Clark receives the Player of the Year trophy from club president Malcolm MacMillan.
The result mattered little as Chesham had defeated Dulwich 4-0 to clinch the title by five points. Clark's goal took his Premier Division total for the season to 35, only one short of the club record set by Billy Minter in 1927. At the end of the game a large group of supporters gathered in front of the main stand and called for Mitchell and the team to reappear, despite getting a negative response from the home dressing room they went home in high spirits.
East Anglian Cup won for the first time
Happy scenes were again evident two days later on the Bank Holiday Monday as City made a first appearance in the final of the East Anglian Cup. On the night that City overcame Sudbury, Cambridge City were winning 3-1 away at Harwich & Parkeston to secure their first visit to Clarence Park for eighteen years. Cambridge included former City striker Laurie Ryan who had a brief period in the Football League with Cambridge United since leaving St. Albans in 1984. Sadly, Ryan lasted just 15 minutes before limping out of the action. St. Albans were eager to win their first significant cup for 22 years and took a 32nd minute lead through Gurney's 20th goal of the season, the third player to reach that total. The Southern League Premier Division side levelled five minutes later through Simon Williams' quite superb long-range shot. Up until the hour mark Cambridge looked comfortably placed but the Saints suddenly stepped up a gear and the visitors were destroyed. Clark's 46th goal of the season (including one for the Rep side) put City ahead before Rutherford scored a brace, his first goals at the Park, as City claimed their third cup in six weeks with a 4-1 victory.
The season was done and dusted for most of the squad but a handful of players were placed on standby for the Hertfordshire squad to face Essex at Clarence Park in the Stanley Rous Trophy. Ultimately, Herts fielded a weakened side, without any St Albans players, and went down to a 3-0 defeat. Over at Rothamsted Park, City took a mixed squad to play Harpenden Town in a friendly on 5th May. Mitchell and Ketteridge, as substitutes, both had a run out as City cantered home 5-0. Brett scored Saints first before Gurney underlined his excellent end to the season with a hat-trick, Williams completed the scoring. The manager and his assistant, and chairman Bernard Tominey, had one final run out in the club's colours on 9th May when a Mitchell Allstars X1 drew 4-4 in a – short-lived – annual fixture with the Supporters Club. Mitch, Ketts and Bernard all got their names on the scoresheet.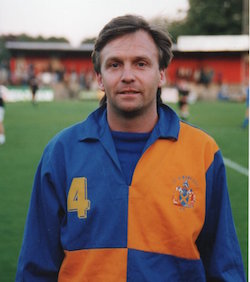 With Chesham United having turned down promotion to the Conference, the close season should have been a time of great excitement at St. Albans as the club geared itself towards Conference football the following August. But with the Conference having forced City to withdraw their application due to the now famous trees, a lot of people felt deflated. None more so than the manager and, in a press release on 14th May, Tominey announced that Mitchell had resigned with Steve Ketteridge promoted to manager. Mitch departed laying the blame squarely at the door of the Conference League. "Not going into the Conference when we had earned the right to be there knocked a lot of enthusiasm out of me. In anything I do I have to be fully motivated and I couldn't see that motivation being there next season," he said. Mitchell confirmed that he would continue in his role as vice chairman and would offer advice to Ketteridge whenever he requested it.
Ketteridge was delighted to be offered his first managerial position in football, "I am very pleased to get the job, I feel that I have gained a lot of experience during my time here. When I joined St Albans, we had a two-year game plan which included me succeeding John Mitchell as manager. We aimed to finish last season in the top six but did even better than that, I would be disappointed if we didn't go one better next season." The month closed with the club being informed that the Reserve team had been accepted into the Capital League for the 1993/94 season.
From the Chairman - Bernard Tominey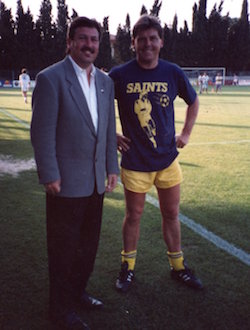 At the end of the season, City chairman Bernard Tominey penned an article for the Club Yearbook.
"What a great season! We won enough points to win almost any other league in the country. We scored more than 100 league goals, won the Herts Charity Cup, the East Anglian Cup, the Billy Minter Trophy, made it to the 1st Round Proper of the FA Cup and the 2nd Round Proper of the FA Trophy.

To be a part of such a wonderful season was tremendously satisfying and the large crowds that came to watch throughout the season were a great testimony to the good footballing side put together so carefully by John Mitchell . We started, controversially, by giving up our Reserve and under 18 Youth sides. Some thought this decision would prove to be a mistake. On the contrary, being able to concentrate solely on the senior side focused every mind at the club and we enjoyed our best season ever.

The high points of the season were numerous. We started by signing Gary Westwood the best goalkeeper we have had for many years, Allan Cockram , Martin Gurney and Dean Williams to complement the talent we already had at Clarence Park . The ground work for this side was carried out over the previous twelve months and the end result made the patient build up well worth the wait. Mitch's idea of spending a few days working out with the players at Bisham Abbey worked a treat and we got off to a great start by beating Dulwich Hamlet 5-0 away from home. Only Steve Trulock (club hon. secretary) still doubted our ability but even he was almost smiling after we beat Enfield away 2-0 for our first win at Southbury Road since 1974. The sustained run of wins in the league enabled Mitch to collect three Manager of the Month awards and convinced everyone that this season was no flash in the pan. In the FA Cup, beating Telford United 2-1 in their own backyard in Shropshire was a great memory and how can we forget watching two of the leading characters of the side, Allan Cockram and Roy Edwards, at the Holiday Inn in Telford strolling around the lounge with large brandies and even larger Havana cigars.

The two crowds of over 3,000 for the matches with Cheltenham Town and Chesham United at Clarence Park are again great memories. It was thrilling to be involved with a club enjoying such success and welcoming so many fans to our home matches. St. Albans City can be a great club, the following is there to support the club if we can produce the goods on the field. The council assistance in helping us in our attempt to get into the Vauxhall Conference was tremendous. They bent over backwards to help us and for that we thank them.

It was only after most of the hard work on and off the pitch had been achieved that the major disappointment of the season was to hit us. The GM Vauxhall Conference took a dislike to our trees and the shrubbery that surrounds Clarence Park . With no method of appeal the committee of inspectors from the Conference, including the chairmen of clubs in the relegation zone of their league, decided that the oak trees made us unworthy of our rightful place in their league. Well, the Conference League's loss is the Diadora League's gain because we still have a lot to offer them and our supporters. Do not be deterred by small minded, negative decision makers, we remain ambitious. The Department of the Environment have already denied us permission to build a new stadium on one site in the city but there are others that we are looking at and we shall continue our search for a new home if that is what must be done for us to progress.

On the playing side Mitch has handed over control of the team to Steve Ketteridge whose experience we are sure will take us to new heights next season. With Ketts as our manager we know that we will see more of the quality football seen so often last season. Our manager is very ambitious and is the right man to continue to take the club forward. Thanks and congratulations are due to everybody at the club for their contributions during a long season, in particular to John Mitchell for his fabulous achievements as manager.

At the end of the season Syd Wells, our Fixture Secretary for a number years, decided to step down and I would like to take this opportunity to thank Syd for all the hard work he has put in down the years and wish him well with the Boardroom hospitality. I would also like to say thank you to the local press, the council and most importantly to our supporters who followed the Saints everywhere and helped make the season such a grand success. Do all that you can to support the club both from the terraces and around the city with our various lotteries and together we can take the club from strength to strength."
BERNARD TOMINEY Chairman, St. Albans City F.C.
Photographs: Many thanks to the following for the use of their photographs and apologies to anyone left off the list.
John Sherwood, St Albans Observer, Herts Advertiser, Non-League Football Today (Bruce Smith), St Albans Herald, The Independent, David Tavener.
Final Standings 1992-93
ISTHMIAN LEAGUE - PREMIER DIVISION
1992/93
P
W
D
L
F
A
GD
Pts
1
Chesham United
42
30
8
4
104
34
70
98
2
St Albans City
42
28
9
5
103
50
53
93
3
Enfield
42
25
6
11
94
48
46
81
4
Carshalton Athletic
42
22
10
10
96
56
40
76
5
Sutton United
42
18
14
10
74
57
17
68
6
Grays Athletic
42
18
11
13
61
64
-3
65
7
Stevenage Borough
42
18
8
16
62
60
2
62
8
Harrow Borough
42
16
14
12
59
60
-1
62
9
Hayes
42
16
13
13
64
59
5
61
10
Aylesbury United
42
18
6
18
70
77
-7
60
11
Hendon
42
12
18
12
52
54
-2
54
12
Basingstoke Town
42
12
17
13
49
45
4
53
13
Kingstonian
42
14
10
18
59
58
1
52
14
Dulwich Hamlet
42
12
14
16
52
66
-14
50
15
Marlow
42
12
11
19
72
73
-1
47
16
Wokingham Town
42
11
13
18
62
81
-19
46
17
Bromley
42
11
13
18
51
72
-21
46
18
Wivenhoe Town
42
13
7
22
41
75
-34
46
19
Yeading
42
11
12
19
58
66
-8
45
20
Staines Town
42
10
13
19
59
77
-18
43
21
Windsor & Eton
42
8
7
27
40
90
-50
31
22
Bognor Regis Town
42
5
10
27
46
106
-60
25
1992-93 Appearances & Goals
| | | | | | | | | | |
| --- | --- | --- | --- | --- | --- | --- | --- | --- | --- |
| A | APPEARANCES | LEAGUE | | | CUP | | | TOTAL | |
| S | SUB & PLAYED | (42) | | | (34) | | | (76) | |
| G | GOALS | | | | | | | | |
| | | A | S | G | A | S | G | A+S | G |
| 1 | Danny Adams | 0 | 7 | 0 | 10 | 5 | 1 | 22 | 1 |
| 2 | Bradley Anderson | 0 | 4 | 2 | 3 | 5 | 2 | 12 | 4 |
| 3 | Julian Bedford | 0 | 0 | 0 | 2 | 1 | 1 | 3 | 1 |
| 4 | Terry Benning | 0 | 1 | 0 | 3 | 0 | 0 | 4 | 0 |
| 5 | James Benton | 0 | 0 | 0 | 1 | 0 | 0 | 1 | 0 |
| 6 | Steve Bradshaw | 0 | 0 | 0 | 2 | 0 | 1 | 2 | 1 |
| 7 | Shaun Brett | 37 | 2 | 10 | 18 | 4 | 1 | 61 | 11 |
| 8 | Garry Brooke | 1 | 0 | 0 | 2 | 1 | 0 | 4 | 0 |
| 9 | Steve Chapman | 0 | 0 | 0 | 3 | 0 | 0 | 3 | 0 |
| 10 | Abu Choudhuri | 0 | 0 | 0 | 1 | 0 | 0 | 1 | 0 |
| 11 | Paul Clark | 0 | 0 | 0 | 1 | 1 | 0 | 2 | 0 |
| 12 | Steve Clark | 39 | 0 | 35 | 19 | 1 | 10 | 59 | 45 |
| 13 | Allan Cockram | 32 | 3 | 12 | 21 | 2 | 7 | 58 | 19 |
| 14 | John Colfer | 0 | 1 | 0 | 6 | 1 | 0 | 8 | 0 |
| 15 | Michael Danzey | 0 | 0 | 0 | 2 | 1 | 0 | 3 | 0 |
| 16 | Bob Dowie | 20 | 5 | 0 | 20 | 4 | 0 | 49 | 0 |
| 17 | Martin Duffield | 39 | 0 | 7 | 17 | 1 | 4 | 57 | 11 |
| 18 | Roy Edwards | 10 | 0 | 0 | 12 | 2 | 0 | 24 | 0 |
| 19 | Matthew Ferry | 0 | 0 | 0 | 1 | 0 | 0 | 1 | 0 |
| 20 | Grant Gallagher | 1 | 1 | 0 | 0 | 0 | 0 | 2 | 0 |
| 21 | Simon Gammon | 0 | 0 | 0 | 1 | 0 | 0 | 1 | 0 |
| 22 | Matt Gauthier | 0 | 0 | 0 | 1 | 0 | 0 | 1 | 0 |
| 23 | Martin Gurney | 25 | 8 | 6 | 25 | 3 | 14 | 61 | 20 |
| 24 | Duncan Hardy | 0 | 0 | 0 | 1 | 1 | 0 | 2 | 0 |
| 25 | Jim Hicks | 1 | 1 | 0 | 4 | 1 | 0 | 7 | 0 |
| 26 | Godfrey Ingram | 1 | 5 | 0 | 3 | 2 | 1 | 11 | 1 |
| 27 | Mark Jenkins | 0 | 0 | 0 | 0 | 1 | 0 | 1 | 0 |
| 28 | Steve Ketteridge | 0 | 0 | 0 | 2 | 2 | 1 | 4 | 1 |
| 29 | Jimmy King | 35 | 2 | 3 | 15 | 2 | 1 | 54 | 4 |
| 30 | David Magrone | 0 | 0 | 0 | 0 | 3 | 0 | 3 | 0 |
| 31 | Lincoln Manderson | 0 | 0 | 0 | 2 | 0 | 0 | 2 | 0 |
| 32 | Glyn Manderville | 0 | 0 | 0 | 1 | 0 | 0 | 1 | 0 |
| 33 | Jason McClelland | 0 | 0 | 0 | 1 | 0 | 0 | 1 | 0 |
| 34 | John Mitchell | 0 | 0 | 0 | 1 | 0 | 0 | 1 | 0 |
| 35 | Kevin Mudd | 36 | 1 | 2 | 23 | 1 | 5 | 61 | 7 |
| 36 | Dean Murphy | 12 | 1 | 0 | 9 | 1 | 0 | 23 | 0 |
| 37 | Paul Price | 14 | 0 | 0 | 10 | 1 | 1 | 25 | 1 |
| 38 | Peter Risley | 36 | 1 | 1 | 19 | 2 | 1 | 58 | 2 |
| 39 | David Ross | 2 | 3 | 1 | 13 | 2 | 2 | 20 | 3 |
| 40 | Ian Rutherford | 1 | 10 | 1 | 7 | 2 | 3 | 20 | 4 |
| 41 | Steve Scott | 14 | 7 | 3 | 18 | 5 | 4 | 44 | 7 |
| 42 | Erskine Smart | 30 | 2 | 0 | 15 | 0 | 0 | 47 | 0 |
| 43 | Paul Taylor | 0 | 0 | 0 | 2 | 1 | 0 | 3 | 0 |
| 44 | Richard Watkiss | 0 | 0 | 0 | 2 | 0 | 0 | 2 | 0 |
| 45 | Gary Westwood | 42 | 0 | 0 | 29 | 0 | 0 | 71 | 0 |
| 46 | Dean Williams | 34 | 2 | 18 | 26 | 0 | 12 | 62 | 30 |
| 47 | Simon Woolmer | 0 | 0 | 0 | 0 | 2 | 0 | 2 | 0 |
| | Own Goal | | | 2 | | | 2 | | 4 |