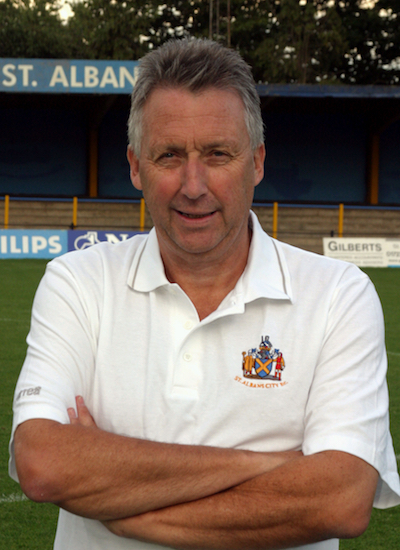 Colin Lippiatt , who took over the managerial position at Clarence Park in late November 2004 with St. Albans City firmly rooted to the foot of the Conference South table, freely admitted at the end of that season that he thought the club would go down at the time of his appointment. The turning point he claims, as City soared up the table to a healthy 14th place, were two victories over Gary Roberts' promotion chasing Cambridge City over the Christmas and New Year period.
Prior to Lippiatt's appointment, quite by chance following the dramatic departure of Stuart Cash just a week after taking on the task of manager in November 2004, City had endured 18 months of poor results and ill-discipline. The turnaround in fortunes under the experienced and respected former Woking and Yeovil Town manager was remarkable. With Nick Roddis as player-coach the two formed a formidable partnership.
For the start of the 2005-06 season City had lost few players from the end of the previous campaign. The most noteworthy departures were club captain Dean Hooper and Ben Walshe . Hooper had been one of the outstanding players during his one season at Clarence Park but an appalling disciplinary record (12 bookings and three dismissals in 36 appearances) counted strongly against him and made planning difficult for the management team. Walshe, too, was one of the successes of the 2004-05 season and his loss, following a move to Fisher Athletic, was a serious blow. Hooper signed for fellow Conference South promotion challengers Lewes.

City Youth jettisoned

City chairman John Gibson revealed that the senior club had cut its ties with St Albans City Youth, the youth setup was forced to move from Clarence Park and play its home games at London Colney's Cotlandswick ground. Gibson explained "We've lost Arsenal Ladies because of the state of the pitch; the ground and floodlights are falling apart and we really just need to take care of it with kid gloves." Money to improve Clarence Park was available from grants but Gibson declared little interest in shoring up the 111-year-old ground. "Any money put into Clarence Park is wasted when we move and we can't afford to lose as much as last season." No progress on obtaining a new ground for the club was achieved during Gibson's reign.
The cost of admission for Conference South matches at Clarence Park rose from £8 to £9. A claim by the Club that this still represented the lowest price in the Division failed even mild scrutiny. Just two clubs, Farnborough Town and Weymouth, charged a higher price while six offered lower admission prices than those to be found at Clarence Park .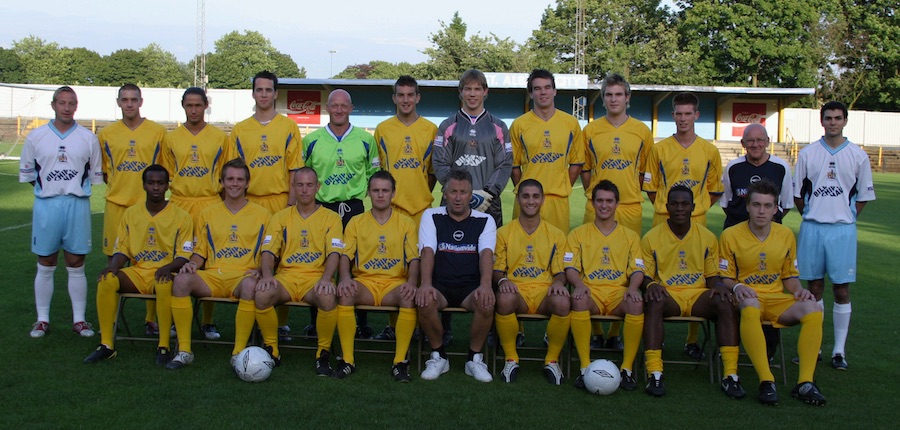 Back: Nick Roddis (Assistant Manager), Dean Cracknell , Tom Davis , Ben Patten , Paul Bastock , Chris Seeby , Ricky Perks , Ben Martin , Tom Beech , Simon Martin , John Fenely (Dressing Room Steward), Jason Laird (Physio).
Front: Yohance Lewis, Lee Clarke , Scott Cousins , Mark Graham , Colin Lippiatt (Manager), Paul Hakim , Anthony Allman , Patrick Ada , Carl Kavanagh .

On the playing side, City received one further blow before the season started with central defender Ben Martin seeing his hopes written off in a split second during a friendly at Tring Athletic as he suffered a terrible cruciate knee ligament injury that ruled him out for the entire campaign. Having already lost his fellow central defensive partner, the promising Gary Elphick to Brighton & Hove Albion, the loss of the towering Martin was major headache for the Saints.
A pre-season friendly match at Hampton & Richmond Borough provided City with a problem of a different kind as referee Alison Chapman dismissed the newly appointed City captain Scott Cousins for fighting along with Hampton's Graham Harper. Lippiatt fumed at the dismissal and problems were also brewing in the Herts Charity Cup where City and Boreham Wood were unable to agree a date to play their tie, in frustration St. Albans withdrew from the competition.
In addition to the games with Tring and Hampton, City had six other friendlies (former or future City players in brackets): Aldershot Town home 2-0 ( Tobi Jinadu , Mark Peters , Michael Barima ), Brighton & Hove Albion home 0-0 ( Gary Elphick , Alexis Nicolas ), Barnet home 1-3 ( Ben Strevens , Richard Graham , Damian Batt , Ben Bowditch ), Dunstable away 2-5, Stevenage Borough home 1-1 ( Shane Gore , Matt Hocking, Chris Sullivan), and Northwood away 3-1. Hampton included one-time Saint Elliott Godfrey.

Kedwell condemns City to opening day defeat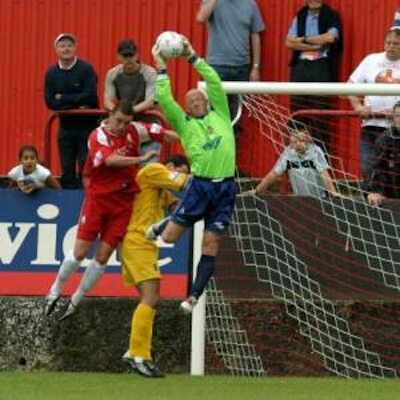 City opened the second season of the Conference South against one of the fancied sides on 13th August with a trip to Kent to face Welling United at Park View Road. Despite leading through a Lee Clarke goal the Saints succumbed 3-1 with Wings new signing Danny Kedwell, the top goalscorer in the Kent League the previous season for Herne Bay, scored twice. Five players made their debut including the former Bishop's Stortford trio of Anthony Allman , Dean Cracknell and Paul Hakim . Cameroon defender Patrick Ada started for the first time and was partnered by youngster Ben Patten who was never seen again. Also in the side, after rejoining the club, was Mark Graham who struggled to match the impact made by Walshe during the previous season.
Local teenager and County captain Carl Kavanagh was called up for his league debut the following Tuesday as Cambridge City condemned the Saints to a second successive defeat, this time 4-2 at Clarence Park . Cracknell notched City's first goal and Clarke added a second in one of the most entertaining and enjoyable matches of the season, going forward Cambridge looked a class act. Two games into the new season and City were back in the same position they had been when Lippiatt took over, bottom of the table. Kavanagh, along with Yohance Lewis, was released the following day to make way for the loan signing of Frenchman Djoumin Sangare , from Lewes. Sangare went straight into the side as he became one of twenty players used in the back four during the season, given such a rapid turnover and lack of consistency in the defence the success City were to savour during the season was all the more remarkable. Lippiatt remained most upbeat after the two reversals but admitted that overcoming the loss of central defenders Ben Martin and Gary Elphick was always going to be a challenge.
Sangare and Ada immediately formed a wonderful partnership, unpredictable they may have been but they always gave the impression that football was a game to enjoy. These two, coupled with the fast-developing Chris Seeby , who moved to right back in place of Allman, and Cousins on the left, were now part of a defence that was, almost by chance, one of the most impressive in the league. Behind that quartet was the evergreen brilliant Bostonian Paul Bastock , now 35, who gave tremendous enjoyment to the City faithful with a season enriched by a string of vintage displays.

First win then Weymouth hammered

Jack Pearce's Bognor Regis Town side were comfortably brushed aside by the new look Saints who also had Simon Martin back in the side following his return from Thurrock. Martin marked his return with a goal while Clarke maintained his goal-a-game record as City recorded their first win, 2-0, in front of the smallest Clarence Park crowd of the season, 311. Now off the foot of the table City searched for their first away win but, despite Bastock saving a Mark Peters penalty, they had to settle for a point from a visit to Basingstoke Town's Camrose home on the 27th. Clarke, after missing a hatful, scored the City equaliser.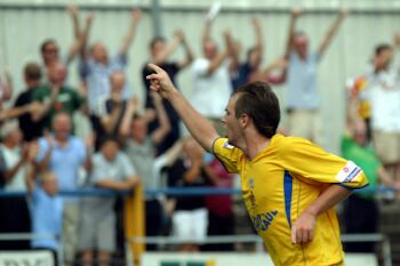 Weymouth, the only full-time club in the Conference South and the one with, by far, the largest weekly budget, came to the city on the August Bank Holiday Monday, 29th. The game attracted a disappointing crowd of just 536 but those who were there saw something to remember. Weymouth, despite the scoreline, played reasonably well but possessed a porous defence and an attack that could not puncture a now resolute City back four. Clarke (pictured left) opened the scoring from the penalty spot and, on 76 minutes, added a second with a stunning left-footed effort that, come April, was crowned the Goal of the Season. Managed by former City boss, Garry Hill , the title favourites capitulated in the closing stages with substitute Matt Hann opening his account for the season and Sangare netting his only goal for the club. Weymouth filed a complaint after the game that a club official and a supporter had both been verbally abused by a steward. City refuted the allegation that was taken up by the League.
Hann's goal was not enough to earn a recall to the starting XI in the next match as City were forced to dig deep to grind out a 1-0 victory over Hayes at Church Road. Clarke scored the decisive goal that ended a run of a dozen winless matches against the west London club. It was Clarke's 50th goal for the club in just 77 appearances as he maintained his goal a game record at the start of the league season.

Matt Hann hits seven-minute hat-trick
City named an unchanged side for a third consecutive match as Eastbourne United visited Clarence Park on 10th September. From a season of challenging for a promotion place during 2004-05 the south coast club were already at the wrong end of the table but held their own during a goalless opening 45 minutes. A significant switch occurred on 21 minutes when injury forced Cracknell to stand down in favour of Hann. Between the 51st and 58th minutes Hann, by scoring a classic hat trick consisting of a header and goals with either foot, confirmed that City were now a genuine force. Hann's hat trick was the first by a City substitute in a league match; Steve Oliver being the only other substitute to do likewise in a competitive match when he put three past Ampthill Town in a Wallspan Floodlit Cup tie in December 1986. Clarke added goals four and five as City overwhelmed the visitors from Sussex and for Simon Martin it was the perfect way to mark his 150th game for the Saints.
For the upturn in fortunes to be maintained City had to overcome a series of setbacks prior to a trip to Dorchester Town. The biggest problem was how to cover for Sangare who returned to Lewes at the end of his loan period; during the Frenchman's five games with the Saints just one goal was conceded. The Rooks, despite never having played him in their First team, refused to extend the loan. City brought in Reading teenager Peter Castle whose stay with the Saints was restricted to six games. Preparations for the Dorchester game were further hindered, for the second successive year, by traffic problems on the way to the Avenue Stadium. Dorchester took advantage of City's discomfort to open the scoring inside 18 seconds. But City were brimming with confidence at this point and stormed back to romp home 4-1. The fourth goal, scored by Hann against his former club, was the true goal of the season. Started at the back by Bastock rolling the ball out to Ada, City moved forward from the left touchline with Cousins also involved before Roddis slid a stunning ball deep through the heart of the Magpies defence for Hann to beat the advancing home keeper, Craig Bradshaw, to the ball before guiding it into the gaping goal. Martin bagged two of the earlier goals with Clarke extending the club record of the number of games scored in by an individual player since the start of the season to an eighth match. The 90 minutes marked the most stark contrast of styles seen all season, Dorchester opted for a route one approach, and never veered from it, while City gave one of their finest free-flowing performances of the season as the side rose to fourth in the table.

The following Friday saw City in FA Cup action with a first meeting with the new Enfield Town club. Back amongst the substitutes was Hakim just two weeks to the day after undergoing an appendix operation. To the concern of City supporters the match was to be played at Brimsdown Rovers Goldsdown Road ground where City had perished in bitter circumstances 14 years earlier. On that occasion City had three club officials, including the management duo of John Mitchell and Ron Duke , fined by the Football Association for a verbal attack on referee Mr Lawrence.

In almost a repeat showing of that performance City were below their best but looked to have secured victory through Martin's 89th minute goal only for Kojo Ofori to equalise seconds later. The game was fractious and the replay was little better as a spectacle before St. Albans went through via three-second half goals. A Russell Penn own goal started Enfield's downfall with Martin and Cracknell completing the scoring. Clarke's goalscoring run was over. One day before the replay with Enfield, on 26th September, Ben Martin underwent an operation in Droitwich to repair his cruciate knee ligament injury. It was the same hospital where he had the identical operation on his other knee six years earlier.

Returning to league action the much-fancied Lewes were next up, included in Steve King's side were Sangare and Hooper. To counter the threat of Hann, who was in sublime form, Lewes pushed Hooper to the left side of the midfield but the move failed as Hann opened the scoring right on half time. Martin scored for the fourth successive match as City climbed to second in the table with a 2-0 victory. Amongst the Lewes coaching staff was short-term former City boss Stuart Cash .

Three dismissed in night of shame at Kettering

A Kettering Town side, possibly distracted by the bizarre imminent appointment of Paul Gascoigne as manager, visited Clarence Park on 8th October for a 2nd Round Qualifying tie in the FA Cup. The opening 45 minutes saw City play some of their most scintillating football of the season yet created just a single clear chance on the Poppies goal. The Saints made one change for the game as the unbeaten run was extended to a tenth match. Kettering hit back to boss the second half and set up an intriguing replay after the game, somehow, ended goalless. In front of 1,220 spectators Ollie Burgess opened the scoring in the second meeting on 23 minutes and by the 69th minute had completed a hat trick with James Gould also getting on the score sheet as City were routed 4-0. The scoreline was bad enough but events between the 74th and 85th minutes will have alerted the Football Association as Olewale Ojelabi , Cousins and Ada were all dismissed. Ojelabi was sent packing just ten minutes into his debut and Lippiatt moved quickly to show him the door. City went into the season with a suspended £5,000 fine hanging over their heads due to poor discipline during the 2004-05 season; the loss of three players in one game hardly boosted any claims for leniency from the FA. Given that City's two previous FA Cup ties at Rockingham Road had ended in defeats of 9-1 and 6-1, perhaps it was not such a bad day after all.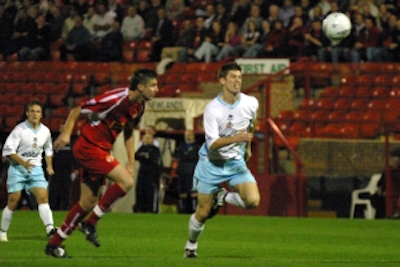 How City would react to the Kettering debacle would answer many questions about the Saints ability to go the distance but going into the next match away to Sutton United without Clarke, who had now gone five games without a goal and picked up an injury at Kettering, and Hann, left a shell-shocked side vulnerable. With Roddis back after suspension, City went for just three at the back and Cousins in a more attacking position down the left, it was a position in which he had played several times but rarely did he look at home there. Indeed, it was an exposed left flank that allowed Sutton, through Tony Quinton, to move into a strong two-goal lead inside 24 minutes. Despite having a petulant Geoff Pitcher dismissed John Rains side went to the top of the table with a 4-0 success. Although the margin of victory was resounding it was evident that this Sutton side was in a false position but even so their astonishing slide towards near relegation was unexpected. The fall from grace was costly for Rains who decided to call time on his 30 years at Gander Green Lane early in the New Year.

Two days later City had a second opportunity to rise to the top of the table with a trip to Purfleet to face a Thurrock side that had lost three of its opening four home games. City could not have wished for a better start as Cracknell scored inside 40 seconds but Thurrock, with two goals from the very impressive Steve Harper, fought back to clinch a 2-1 victory.

To help get City back on track the fixture list kindly put forward bottom of the table Newport County as their next opposition on 22nd October. Bastock welcomed the struggling visitors with open arms, and safe hands, as he set a new club record of seven consecutive clean sheets in home matches. But, despite having lost their previous nine Conference South matches and scored in just one of the last six, the Welsh club held out until deep into injury time before Hakim, at the 13th attempt, opened his account to secure a welcome victory.

City gave a debut to central defender Aaron Barnett against Newport and he retained his place for City's next match, against his former club Carshalton Athletic. Injury ruled out Tom Davis for the Newport match but he was back on the bench for the journey to Colston Avenue. Less fortunate were Ada and Cousins who missed the game through suspension. Ada received a one-match ban for his dismissal a Kettering but Cousins missed six games as another three matches from the Herts FA for his pre-season sending off at Hampton matched his three-match ban from the Kettering replay.

Saints top the table
The absence of Ada and Cousins for Carshalton forced Lippiatt to bring in more new faces with left back Lee Flynn and central defender Sean Hankin, formerly of Dagenham & Redbridge and Lewes respectively, making their debut. Given all the changes it was hardly surprising to see City again well below their best and Clarke, his confidence undiminished by the goalless run, finally looked a touch crestfallen as Stuart Searle saved his 39th minute penalty. By then Hakim had broken the deadlock and deep into injury a deflection off Daniel Nwanze secured a 2-0 win and a fortuitous three points. More importantly, after all the problems of recent weeks City had picked up maximum points from two successive games and kept two clean sheets, and any disappointment felt by the nature of City's stuttering performance was washed away as the result took Lippiatt's side to the top of the table.

Eastleigh, making their first visit to Clarence Park the following Saturday, had no intention of letting St. Albans extend the run of home clean sheets with former Saint Neville Roach opening the scoring inside three minutes. The impressive counter-attacking Hampshire side chalked up a surprise 4-2 win. Roach's goal, in Seeby's 100th game for the Saints, ended the club record of 635 minutes without a goal conceded at Clarence Park . In amongst the Eastleigh defence, behind which the amply framed Wayne Shaw had a fine game, was Bradley Thomas. This was his fourth game against the Saints in 16 months, having been sent off during the first two games he settled on just yellow cards in the next two.

Three days later City were at home to a Yeading side that could do nothing right at home but had won four and drawn one of six away games in their first season in the Conference South. After the Eastleigh game, Lippiatt rang the changes with Barnett, Graham, Roddis and even Clarke all having to settle for a place on the bench as Ada, Allman, Simon Martin and Davis were all recalled. With his second goal of the week Hankin gave City an early lead and with a Davis hat trick and a single from Martin St. Albans romped into a five-goal lead. Yeading, already reduced to 10 men following the dismissal of Nevin Saroya, scored twice in three minutes to ruffle City's feathers but could not deny City their first home win over the Ding.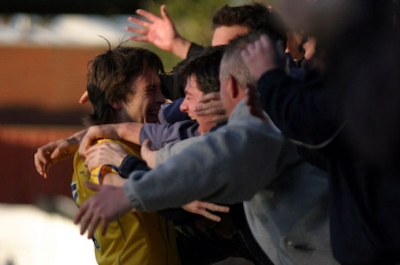 Just one change was made for the next match, at Maidenhead United, as Barnett replaced Allman who was released later in the week. The Magpies had conceded eight goals at Bognor in midweek with the experienced Scott Tarr between the sticks but illness ruled him for City's visit to York Road with Paul McCarthy stepping in. Maidenhead must have been fearing the worst when two dreadful blunders by McCarthy presented City with a two-goal lead inside 13 minutes. Davis and Hann were the beneficiaries, Hakim added a third on half time and Hann a fourth two minutes after the restart. McCarthy atoned for his earlier bloopers with some excellent saves; particularly one from Clarke who had now gone goalless for 11 games. The game was ludicrously one-side and how City scored just four times is still a mystery. On the bench that day, for the 19th and final time this season, was Tom Beech . After several failed attempts the club finally agreed a package that saw the striker, who was signed by former manager Steve Castle and score just two goals in 27 games, leave the club.

Michael Barima became City's 13th debutant of the season for the visit of Farnborough Town on 19th November but, after a disappointing performance, he became one of nine players to feature in just one game during the course of the season. Goals from Hann and Cracknell – who was on standby for the England semi-professional side to face Belgium at Wauve - put City two up inside eight minutes but, in what was to become a feature of City's play, the side tried to settle for what they had rather than continue on the attack. Farnborough seized the initiative and with a late goal from Jay Gasson rescued a thorough merited point, Matt Pattison having reduced the deficit before half time.

Revenge was in the air one week later as City returned to Heybridge Swifts for a 3rd Round Qualifying FA Trophy tie. A year earlier City had won 2-0 at Scraley Road in the FA Cup only to be thrown out of the competition for fielding an ineligible player. The City chairman threatened legal action on that occasion but this was not followed through. This time City safely got beyond the Essex club legally on the back of an early Cracknell goal. The Saints had to make an early change with Ada going off injured to be replaced by Nick Burton who went on to enjoy an outstanding debut at the heart of the defence as the Swifts piled on the pressure, Burton missed the next league match with the reasonable excuse of being on his honeymoon. Cousins returned at left back before missing the next two games to complete his series of suspensions.

After a ten-day break City returned to action with a makeshift side at Hemel Hempstead Town that included three youngsters from the Academy side. The management was unimpressed with the trialists, behind whom the Lincolnshire Youth goalkeeper James Lambley made his debut, as the Saints received their biggest ever away hammering in Herts Senior Cup, 6-1. A more serious setback was the loss of Roddis with a calf strain. One plus point, although not evident on this display, was the return from Fisher of winger Ben Walshe . Substitute Tom Davis scored the City goal while Anthony Thomas bagged a hat trick for the Tudors.

For the first match of December, at Weston-super-Mare, the Saints were facing a slight player crisis with Lippiatt forced to call in three more new faces, all defenders. Mark Burgess (Hendon), Nathan bunce (loan from Canvey Island) and Eddie Duah (supposedly from Barnet but played a single game for a multitude of clubs) all made their debut. It was too many changes in one go for the side to cope with and within 18 minutes City were two goals down at the Woodspring Stadium. Hakim reduced the deficit only for Seagulls skipper Matt Rose to add a third. Saints dominated the second half but further goals would not come their way. Weston had played the top two sides – Weymouth and Havant & Waterlooville - in their two previous games and with this result pushed third placed Saints down to fifth.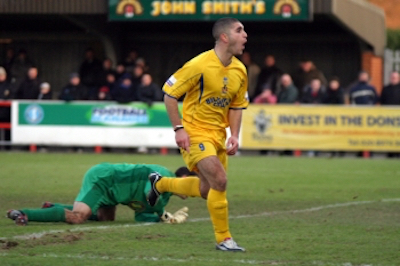 The FA Trophy took centre stage on 17th December with a first meeting with AFC Wimbledon whose manager, Dave Anderson , was briefly coach to Bob Dowie at St. Albans in 1999. The Dons, backed by exceptional support, saw their hopes of a cup upset enhanced by a Richard Butler goal before City awoke from a sluggish start to score twice through Hakim, his first being City's 150th FA Trophy goal. Former Saint Dave Sargent equalised from the penalty spot before Barry Moore's own goal put the Saints through to the 2nd Round. The attendance was, surprisingly, some 500-700 down on recent Wimbledon gates at Kingsmeadow and the Saints chairman took umbrage believing that his club had been swindled out of significant revenue. A solicitors' letter was despatched to Kingsmeadow and although legal action did not follow the FA did look into the matter before absolving the Dons.

Some five weeks after the most recent home game City were back at Clarence Park on Boxing Day to welcome an unusually poor Bishop's Stortford side. Second half goals from Clarke, Walshe and Hann, his 10th of the season and in front of City's first home league gate in excess of 600 for more than three years, lifted the Saints back into third place. The player with most to celebrate, on a day when Burton and Burgess made their league debuts, was Clarke whose 13-week wait for a goal was finally over. More good news concerned the discipline as City avoided any yellow cards for the first time in seven games and only the second time in 14 games.

The year ended with fellow promotion opposition Havant & Waterlooville travelling up from Hampshire on the final day of the year. City gave warning as to their growing stature with goals from Clarke and Martin only partly emphasising their dominance during an excellent performance. One could have some sympathy for the Hawks as they lost goalkeeper Colin Matthews through injury at half time although his misfortune did allow ex-Saint Gareth Howells the chance to perform at the Park for another 45 minutes. Howells had already made one return to the Park this season back in October as a member of a Mayor's All-Stars team that played against the staff of HMS St. Albans. At half time Aaron Barnett was physically ill in the dressing room after taking a knock to the head during the first half. After the game Hann was met in the dressing room by City legend Steve Clark , the scorer of 322 goals in 488 games during the 1990s. In his younger days Hann had been a pupil of Clark's at a school in Bishop's Stortford.

Five minutes into the first game of the New Year and City were a goal behind as Bishop's Stortford sought to improve upon a run of one win from ten league games. But, even before half time, it was evident that the game would be turned around at some point. Within ten minutes of the restart Clarke and Cracknell restored normality with Hann adding a third late in the day. Hann's goal was his tenth of the season, an excellent return for a right-sided midfielder. Much of his exceptional form for the first half of the season was put down to him being the fittest he has ever been after spending a portion of the pre-season with the Great Britain University team and then featuring in an England side at Docklands in a Futsal (five-a-side) competition.

The mix of playing games against Stortford and then a promotion seeking side continued as Welling United, the draw specialists, lined up at the Park on 7th January. After Welling wiped out Martin's early goal City had the points wrapped up by half time with further strikes from Davis and Cracknell, as the Saints made easy work of one of the meanest defences in the Division. New at the heart of the City defence was Ben Lewis . The one-time Southend United player turned out for Stortford in both of the holiday matches and quickly made a good impression at his latest club.

City reclaim top spot with devastating display at Histon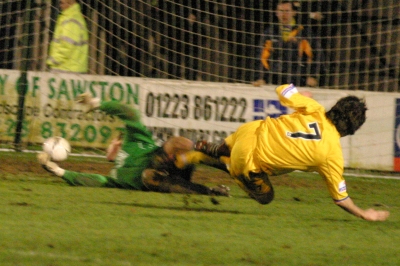 Four successive league wins eased St. Albans into second place although another tough test was, seemingly, in store the following Wednesday with a first league meeting with Histon at Bridge Road. Prior to the game, a visit into the Stutes clubhouse was rewarded with a close up view of the truly magnificent Southern League championship trophy that the Cambridgeshire club had won the previous season. But Histon hopes of maintaining a remarkable rise up the non-league pyramid were dented by one of the most absorbing displays of counter-attacking wing play of the season as City roared to a 5-0 victory.
There were several terrific matches during the season but this was the most incredible display of one side totally destroying another decent side. Hann led the rout with two goals on the night of perhaps his finest 90-minutes in a City shirt while Martin and Clarke chipped in with one apiece before Walshe, also in untouchable form, completed the tally with a majestic free kick. Histon defender Erkan Okay was dismissed following fouls on Matt Hann on 20 and 50 minutes. The two players were good friends having played together at Cambridge City.

To the credit of the Histon supporters seated in the main stand they appreciated what they had just witnessed and had the sporting decency to applaud Lippiatt's boys as they trudged off the pitch somewhat elatedly. Watching the game was former Saints boss Garry Hill who made his since oft-repeated boast that his present club, Weymouth, would 'have the league wrapped up by March'. Given the budget at Weymouth compared to the other 21 sides in the Conference South nothing less was expected. He travelled home in the knowledge that his old club had just replaced his present one in pole position, twenty-hours later the two sides swapped places once more.

The Histon match almost came to a tragic early ending just moments into the second half, as referee Darren Brockwell fell to the ground with a suspected heart murmur. After receiving treatment at the ground Brockwell was taken to hospital while his place in the middle was taken by his senior linesman, Robert Earl. An appeal for a qualified official to step forward to run the line was taken up by Herts FA member and BBC Three Counties reporter at City matches, David Willacy. He later confessed that it was almost 30 years since he had last run the line in senior non-league football when he was involved in an Isthmian League match between Hendon and Barking.

The 5-0 win over Histon was City's fifth consecutive Conference South victory and the good news on the pitch was matched in the boardroom with the announcement that Ian Ridley, the chief football writer for The Mail on Sunday, had joined the board at Clarence Park . "The club has a huge amount of potential, otherwise I wouldn't be here. This could certainly be a National Conference club. When I went to watch the team at Histon, I got the buzz of being involved with a club back. I saw areas of the club I thought I could make a difference with," he said. Just to add a little extra spice to the promotion battle, Ridley was formerly chairman at Weymouth.

City out of Trophy as Cousins suffers broken leg

City could not have been in better spirits as they travelled to Tamworth on 14th January looking to progress into the 3rd Round of the FA Trophy, hoping, in the process, to claim their first Conference scalp in the competition. It was felt that St. Albans could not have played Mark Cooper's side a better time. they were languishing at the foot of the Conference and were three days away from a replayed FA Cup tie with Stoke City, surely the Trophy was of little interest to them. St. Albans had concerns of their own with Walshe and Burgess cup-tied and were without Hakim for a fifth consecutive match due to injury. From the early minutes it was clear that City could find no rhythm and, with Cracknell struggling with a cold, things did not get any better. Once ahead through Daniel Davidson Tamworth, aside from Martin hitting the woodwork, bossed the game and in the closing stages could have raked up a cricket score as City disintegrated. The game marked the end of the road for Mark Graham who was released shortly after and it also saw Roddis on the pitch for the last time until the final seconds of the last game of the season. Troubled by a thigh strain the former England semi-professional international took to concentrating more on his coaching duties at the Park.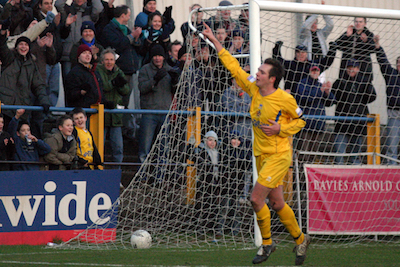 Because of their league form City were excused a bad day at Tamworth but it was also a costly day for the Saints in other ways as in the final minute Cousins and the Lambs Nathan Jackson flew into a tackle with Cousins left in a crumpled heap and his left foot dangling, most grotesquely, at a right angle to his leg. The broken leg Cousins sustained that day ended his season in a most brutal fashion but no blame can be attached to the Tamworth player. Once in hospital Cousins had a steel pin inserted into his leg. The injury came at a time when Cousins had put his disciplinary problems behind him and was playing his best and most confident football since joining the club. If there was a better left back in the Conference South then he had yet to be seen. Tamworth faced Dagenham in the next Round and generously took a collection on Cousins' behalf.

With all their cup commitments now behind them the Saints were back in league action the following Saturday, 21st January, with a trip to the south coast to face Bognor Regis Town at Nyewood Lane. The Rocks seized the upper hand to take a two-goal half time lead through Ben Watson who had rejected a move to Rushden & Diamonds earlier in the week. Clarke pulled a goal back two minutes from time but why Mark Nwokeji had to wait until the 89th minute to make his debut, after signing from Walton & Hersham, was baffling. When finally thrown into the fray Nwokeji's speed dislodged the Rocks who just managed to hold out for victory. Nwokeji was once the 200 metres All England schoolboy champion. City began the game with Ada at right back and Seeby in midfield and by the time the required switch had been made Bognor were in full swing. Bastock, not happy to lose at the best of times, was showing remarkable levels of determination at this stage of the season. For the second time in his life he was enduring a bout of 'early pneumonia' that left him weak, although it was hard to detect the symptoms from his continued good form.


An out of form Basingstoke Town at Clarence Park were the ideal opposition for City to bounce back, and two early goals for Clarke supplemented by a third in the second half clinched his first hat trick of the season and the club's third. The Saints received a further boost with the return of Ram Marwa on loan from Dagenham, where he had been unable to hold down a first team place. If he was short on first team football it did not show as he slipped seamlessly into the side. The one off-note moment for the Saints was a late Stoke goal by James Taylor but nonetheless City were back on course.

On 4th February, three days after the out of favour Graham joined Maidenhead, City took a big step towards turning the championship battle into just a two-horse race. A visit to Lewes' wonderful Dripping Pan ground presented the Saints with an opportunity to put daylight between themselves and those on the fringe of the play-off places. Goals by Ada, his first for the club, and Hann, saw City expand the gap between second and the fifth placed club widen to ten points. In the Rooks clubhouse were plans of how the Dripping Pan was to be redeveloped.

Clarke strikes 20th goal for the season

St. Albans' uesful habit of scoring early came into effect again on 11th February in the return match with Sutton United, only for Martin's 16th minute goal (left) to be equalised within two minutes by Mark Watson. Martin limped off four minutes later with a knee injury sustained, so many behind the goal believed but refuted by the player, during his sliding goal celebration. Undeterred, City added two more through Clarke, his 20th of the season, and Marwa, the first since his return to the club, as Sutton's amazing slump continued with a 3-1 defeat. Three days after defeating City in October The U's beat Eastbourne to cement their position of second in the table, but the match at Clarence Park was their 17th league game since Eastbourne and of those only one had ended in a Sutton victory.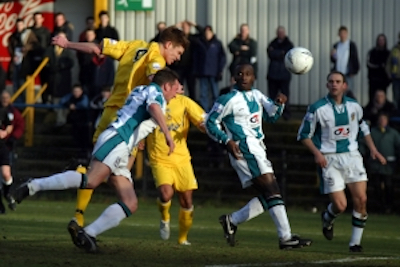 Having fielded the same XI against Lewes and Sutton, Lippiatt made one change for a trip to Cambridge City on the following Tuesday. Hakim returned from injury in place of Martin on what proved to be a sensational evening. With two attack-minded sides the outcome was always likely to be unpredictable and the opening 56 minutes were certainly that. Paul Booth opened the scoring for Gary Roberts side on four minutes, within the next four minutes Marwa scored twice and nine minutes from the break the Saints went into a 3-1 lead through Hakim. That third goal, constructed by Chris Seeby's excellent defence-splitting low through ball, came at a time when St. Albans were starting to misdirect too many passes but it seemed like this was their day. Cambridge had other ideas and in added time notched a bizarre second goal through the grounded Greg Lincoln. Any desire St. Albans possessed of 'keeping things tight' early in the second half was quickly extinguished. Whites' substitute Michael Gash bagged a brace within 13 minutes of the restart to regain the lead for Cambridge, 4-3, and with the Saints struggling to get their act together the Milton Road side held out in relative ease. With six wins and a draw from eight games Cambridge, although down in eighth place, were emerging as genuine contenders.

The loss of three points was not the only blow suffered by the Saints at Cambridge as Ada sustained a knock to the head in an incident that also saw Whites striker Robbie Simpson not return for the second half. Ada was only taken off after Cambridge had scored their fourth goal, perhaps a tad, or 13 minutes, too late. Regardless of his head injury Ada was due to miss the next match, away to Newport County, anyway through suspension and he was joined on the sidelines by Flynn who was injured. Spirits were raised two days after the Cambridge game with a rare television appearance for the Saints. The players appeared for approximately 90 seconds on the 'Red Carpet Show' on ITV2 as part of the build up for the Brit Awards. The players showed their footballing skills, and a bit more, from the showers as they introduced various acts in the British Breakthrough Act section.

On a somewhat difficult surface at the Newport Stadium City fought hard to gather all three points and it was another day when this was achieved with thanks to Bastock as much as the goalscorers. Hann, Marwa and Walshe, with what looked like an exceptional piece of finishing but he later admitted was an intended cross, got the goals that overcame a Newport side, managed by one-time Tottenham player Peter Beadle, that looked to have enough about it to avoid the drop.

Nervy Saints edge back to the summit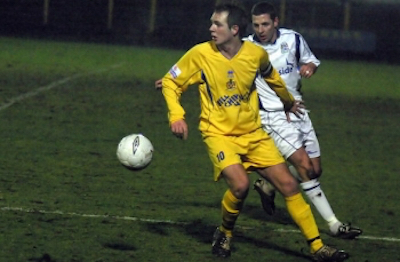 City were unchanged for the visit of Thurrock on 21st February and went into the game knowing that victory would see them return to the top of the table. Garry Hill was again in attendance but this time he will have enjoyed what he saw as City, although three goals to the good by the 56th minute, looked decidedly mediocre. However, to look mediocre and score three times cannot be such a bad thing. Walshe opened the scoring with a wonderful free kick and this was followed by goals for Marwa and Martin whose 10th league goal early in the second half came at a time when City were flowing gracefully. Almost out of the blue Thurrock substitute Kris Lee reduced the deficit but this was expected to be little more than a minor irritant when Steve Heffer was dismissed for raising a hand into the face of Davis. Thurrock, though, had no intention of accepting what should have been the inevitable and pulled a second goal back, through Lee again, and came mightily close to salvaging a point as City failed to regain their earlier momentum. City withdrew Martin on 76 minutes, with Hakim going on, and it was to be Martin's final appearance of the season as his troublesome knee refused to improve and before the season was out keyhole surgery was required to repair the damage.

The Thurrock game saw Burgess make his final appearance of the season before being consigned to 13 successive matches of watching from the bench without getting on. Also on the bench, for the final time against Thurrock was nippy striker Nwokeji who joined Staines Town having already played a few games for the Swans when not required by St. Albans. Given that City were in with a good chance of going back to the top of the table it was deflating to see just 354 at the Park for the Thurrock match. The weather, which was bitter in the extreme, was one reason for the low turnout but also the match was fighting against live Champions League football. The choice was simple; a bone-shakingly cold evening at Clarence Park to see St. Albans City face Thurrock or a warm evening at home with a hot drink watching Real Madrid entertain Arsenal; a tough call. Three former City managers made up part of the sparse crowd; Alan Randall (April 1996 to December 1996), Garry Hill (March 1998 to May 1999) and Steve Castle (October 2003 to November 2004, although he did return for a second spell later in the John Gibson era).

Following the Thurrock game, City announced that several players had renewed their contracts. Lee Clarke and Tom Davis both agreed a new two-year deal, Paul Bastock one-year, Matt Hann two-years and Chris Seeby one year with the option for an extra year. Colin Lippiatt said of the deals, "It sends out a message that this club is going forward. Nobody can say what level we'll be playing at next year but we'll be prepared and by getting the likes of Clarkey on board it will attract other players and make people sit up and take notice."

Table-topping Saints ventured down to the south coast on 25th February with Ada and Flynn both back in the starting line up for the first time since Cambridge. Conditions did little to aid either side at Prior Lane as problems with a difficult surface, the pitch had been under water earlier in the week, was compounded by a fierce wind that blew mostly straight down the pitch. The wind was, supposedly, in City's favour during the opening half but Eastbourne Borough paid little notice to that as Anthony Storey fired them ahead from the penalty spot. A spectacular strike from Seeby hauled City back on level terms right on the interval but the clearest opportunity to secure all three points was lost when, eight minutes from time, Clarke's penalty into the wind was saved by Lee Hook.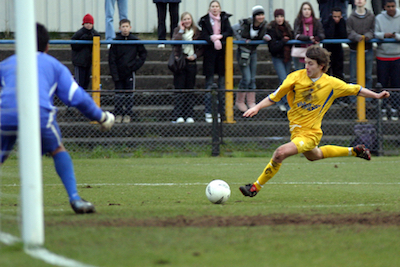 The loss of two points at Priory Lane cost St. Albans top place to Weymouth but City returned to winning ways a week later with a good 2-0 victory at Clarence Park over Dorchester Town. Dorchester held out for an hour before Hakim made the breakthrough and Clarke tied things up in injury time. A bad back ruled Lewis out of the Eastbourne match, Ada was recalled to play alongside Burton but when Lewis returned for the Dorchester match Burton returned to the bench and left the club later in the week. In the hours leading up to the Dorchester match ten supporters, including director Bill Chippington, took part in a sponsored walk around the City with proceeds split between the football club and The Grove House Hospice, the top fund-raiser was the Mayor of St. Albans, who also doubled-up as City's club president, Malcolm MacMillan.

City were now sitting very nicely in second place six points clear Cambridge City and 11 points clear of Welling United who were one position below the last play-off place. A trip to Yeading on Tuesday 7th March gave City an opportunity to record their first double over the west London club and put a bit of pressure on Weymouth who were without a midweek fixture. On a wet night City played some of their best football for weeks and moved into what appeared to be a safe position with goals from Marwa and Walshe. City were coasting and creating a succession of good chances, more goals beckoned but within seconds of a goalline clearance in the 81st minute a goal did come but not at the end it had been expected. Substitute Lee Roache pulled one back for Yeading and two minutes later fellow substitute and one-time (one match) Saint Michael Barima grabbed a shattering equaliser. City continued to pile forward but a share of the spoils was all that could be mustered in front of a pathetic attendance of 132.

Just one change was made for the next fixture as Carshalton Athletic, making a belated and seemingly successful fight against relegation, visited the Park the following Saturday. Out again went Ada, his place was taken by Gary Elphick whose contract with Brighton & Hove Albion had been terminated at a cost to the Saints of just £100. Elphick had made an outstanding impression during a loan spell with the Saints the previous season and Lippiatt was delighted to have saved the 20-year old central defender who was languishing unhappily at Aldershot Town on a loan deal that was not working out favourably. After a goalless first half three fine goals in eleven minutes from Hann (left) and Clarke, two, secured a welcome victory. With two of the previous three home matches having attracted gates in excess of 600 it was disappointing to see just 562 people witness City's latest victory, what did the highest scoring side in the Division have to do to attract more support?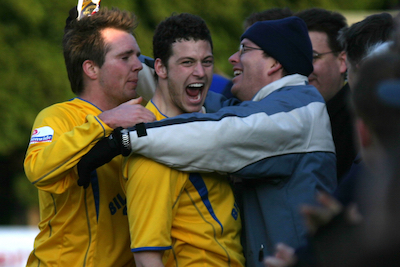 Another new face, Amos Foyewa on loan from Lewes, was added to the squad for the following Saturday's trip to Eastleigh in the first league meeting between the two clubs at the Sparshatts Stadium. A difficult encounter was anticipated and City certainly had to battle to clinch a 2-0 win courtesy of second half goals from Hakim and the jubilant Elphick. Unfortunately for the goalscorer referee Richard Palmer took a dim view of Elphick being hugged by a City supporter, Tim Petty, who had leaned forward over the perimeter fence, and promptly handed the central defender a second yellow and then red card. It was the only red card City collected during their 42 Conference South matches. The game was further marred by a bunch of yobs, numbering around six, masquerading as City supporters but not previously or since seen at a St. Albans match, who hurled vile abuse at Eastleigh keeper Wayne Shaw and were involved in an ugly altercation with him at the final whistle.
After a dozen matches on the bench Cracknell (left) was brought back into the starting line up for the visit of Maidenhead United on 25th March as Davis began his second suspension of the season. Davis' form during the second half of the season had been his best since joining the club and his influence was growing although a dreadful disciplinary record was a blight on his game. Much of his improvement was down to Roddis and Lippiatt finally convincing the talented midfielder that the best way to demonstrate his undoubted talents was by staying on his feet rather than going to ground a touch too easily. Carl Taylor's Maidenhead side may have been rock bottom but the match attracted the first league crowd to Clarence Park in excess of 800 for more than three years. Defensive frailties contributed to the Magpies downfall on the day but also City entertained the good sized crowd with some slick football. City were two up within half an hour through Hann – his 17th goal of the season and 20th for the club overall - and Hakim. Marwa scored the third with City's 50th home league goal of the season before Clarke added the fourth. This emphatic victory carried City back to the top of the table; far from winning the league by March Garry Hill found his Weymouth side knocked from their perch once more at the end of it.

Fortunate Farnborough end Saints goalscoring run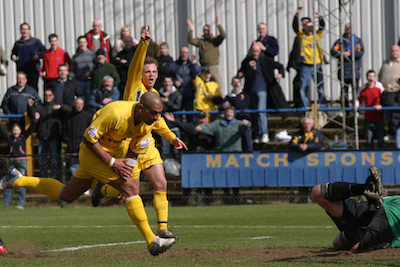 City went into the final straight of six matches facing as tough a run-in as any side could be handed but were boosted by the news that Marwa had made his move from Dagenham permanent. In addition to the return match with Weymouth the Saints faced three other promotion contenders in the other five fixtures. First up were Farnborough Town, managed by former Scotland international Frank Gray. Boro were on a nine-match unbeaten run but for an hour were penned back in their own half. Four times in the opening ten minutes City could, and possibly should, have taken the lead but frustration set in long before the final whistle sounded to mark the end of the Saints run of scoring in 26 consecutive league games. The disappointment felt was all the greater after Farnborough played out the final 19 minutes with ten men following the dismissal of Adam Theo for fouls on Hann and Walshe. City lined up with just one enforced change from the side that beat Maidenhead, as Ada stepped in for the suspended Elphick.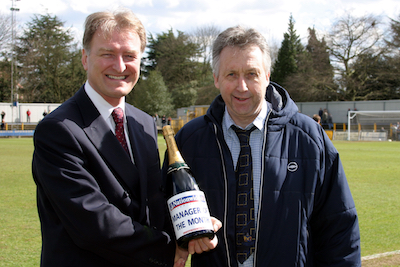 The draw with Farnborough at Cherrywood Road enabled Weymouth, after collecting just two points from their previous three matches, to reclaim leadership of the Conference South. A second successive home crowd in excess of 800, this time 853, greeted Histon for their first visit to Clarence Park for a league match on 8th April. Steve Fallon's side were three points off a play-off place and looked to be out of contention as City chalked up a tenth consecutive home league win for the first time since the 1920s through Marwa's first half strike (left). Histon could rightly feel more than a touch miffed at not getting at least a solitary point as they became just one of many clubs to bow to the brilliance of Bastock. An afternoon that commenced with Colin Lippiatt presented with the Conference South Manager of the Month award for March (right) closed with the Saints having confirmed that they will finish no lower than second in the table.

What was expected to be a straightforward win over struggling opposition on 15th April turned into an almighty struggle as lowly Hayes withstood heavy first half pressure before being brought down on 73 minutes by Walsh's perfectly placed free kick. It was Hayes' last reversal of the season. Again, though, it was some stupendous work by Bastock that kept Hayes out. Bazza's excellence was rewarded by the setting of another club record; that of six consecutive games without conceding a goal. Just for good measure the attendance was an excellent 977.

5,022 see classic title-decider at The Wessex Stadium

Two days later, Easter Monday, St. Albans City journeyed down to Dorset for what would in all probability be the championship decider with Weymouth. The fixture caught the imagination of the locals as 5,022 people made their way to the Wessex Stadium to see the clash of the top two Conference South sides who were both already guaranteed a top two finish. In both camps there were individuals with strong ties to the opposition. Ian Ridley, making his first return to the Wessex Stadium since becoming a director at St Albans said, "I could never have predicted it to turn out like this – a virtual championship decider between my home town club, where I was chairman and which I have supported for more than 40 years, playing against the club from the city where I have settled my family for the last 25 years. I'll certainly have mixed feelings about Monday's game."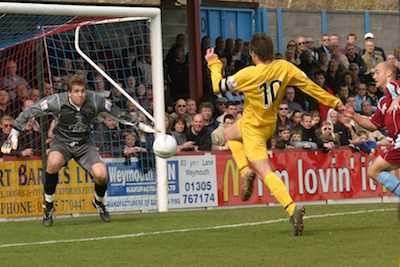 Weymouth manager Garry Hill offered a similar perspective on the day. "I'll go up to the St Albans fans before the game and applaud them, I've got a real soft spot for the club, I had a wonderful season there reaching the Trophy semi-final. In an ideal world I'd love to see both sides get promotion." Matt Hann , scorer of 17 goals going into the game and who had turned down a place in the England Futsal team earlier in the month to concentrate on City's promotion push, had previously played for Weymouth's neighbours Dorchester. "I've played there a few times, the Christmas derby was always good and it'll be a massive game. It's the sort of game that you want to be involved with in your career.

The Saints made one change from the Hayes match with Walshe making way for the unpredictable Foyewa. The match was a thriller, there was not a more absorbing contest all season.

Weymouth started well, City began badly with poor challenges by Flynn and Hann earning early yellow cards. Gradually City settled and were well on top by the time a schoolboy error by Elphick allowed Raphael Nade, on loan from Carlisle United, to open the scoring. It was the first goal City had conceded in 578 minutes and was a frustrating way to blow out on a potential new club record. But any disappointment lasted no more sixty seconds before Clarke celebrated his 100th league game for the Saints by smartly flicking past Arran Lee-Barrett City's 100th goal of the season (left). Immediately the football stepped up and a gear and it was City calling the tune with some glorious approach work that had Weymouth in retreat, not that it was all one-way as the Terras counter-attacked to great effect.

The game, and ultimately the championship, then turned on three crucial decisions by referee Eamon Smith, two were -from the City viewpoint - quite plainly wrong and the other contentious. Deep into almost seven minutes of added time at the end of the first half Smith blew for a foul after Kirk Jackson had played ball out to the offside Nade. The offside offence came before the foul yet the Surrey official awarded the free kick to the home side and Matthew Bound grateful drilled a blistering drive into the net despite Bastock getting his left hand to the ball. A similar incident in the second half saw the linesman keep his flag raised, but when a free kick was awarded to City later in the move the play was called back for an offside decision in Weymouth's favour. Consistency, hardly.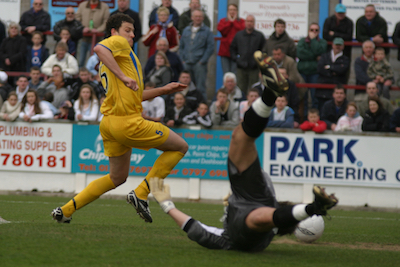 Seven minutes into the second half and Weymouth, with another blockbuster from Bound, went into a 3-1 lead from the penalty spot. The initial assumption was that Flynn had committed a foul, later it was suggested that it was Davis but what is clear is that neither offence was as blatant as Nade's foul on Lewis in the build up to the penalty decision. However, Smith's biggest blunder was yet to come as he, quite incredibly, disallowed Foyewa's headed goal from a Hann corner. It was a hideous decision and given the way the game was going it is hard to believe that City would not have gone on to win. By then City had pulled back to 3-2 with Elphick (right) going some way to atoning for his earlier error by sliding home Clarke's low cross after Davis had opened up the home defence. Davis's performance was sheer brilliance, it was far and away his best for the club.

City captain Lee Clarke was certainly unimpressed with the performance of the referee. "We were the better team for most of the match, we just needed a bit of luck at times. I felt the referee's decisions weren't up to much and that certain calls went against us – such as the goal we thought we'd scored. But we made too many mistakes and when you're fighting for promotion you just can't afford to do that." Colin Lippiatt enthused about the game but felt that the referee was out of his depth. It is a pity that the memory of a truly fantastic game will, at least from a St. Albans perspective, be tarnished by the performance of Mr Smith. On the day good fortune was not on City's side but credit has to go to both sides for serving up such a spectacle in front of that remarkable crowd.

On the strength of that win Weymouth, who had Shaun Wilkinson sent off, opened up a five-point lead with two games to play, victory at Bishop's Stortford the following Saturday and the title was theirs. Two days before that match the league was rocked as Altrincham were docked 18 points for fielding an ineligible player, the club having failed to secure international clearance for James Robinson. Altrincham took the player from Accrington Stanley who had played him in some Reserve team matches after he had previously played in Iceland. Altrincham lost all the points they had gained whilst Robinson was in the team.

FA investigate Weymouth for playing an illegible player

In the days leading up to Weymouth playing Stortford the Football Association came across Solomon Taiwo. It was revealed that Taiwo had played a small part in two league games for Weymouth back in September and October without the club gaining the required international clearance for the player who had turned out in America for Fort Wayne Fever. The Terras had signed Taiwo from Maidenhead United who similarly had not gained international clearance. To ensure that the rules were abided by throughout all Divisions of the Conference, St. Albans lodged a complaint to the league. Maidenhead, who were already relegated, accepted their two-point deduction with good grace while Weymouth, who stood to lose four points and have their lead over the Saints reduced to a single point, stood their ground and requested a formal hearing. The dispute was just another headache for the Conference who were being attacked from all sides for the startling action taken against Altrincham, and there were problems as to which clubs would actually be permitted to play in the Conference in 2006-07. Lewes were bitterly upset after being told that their Dripping Pan ground would not get the required grading for a place in the play-offs; Canvey Island, after Jeff King withdrew his considerable financial support, announced that they would be pulling out of the league; Scarborough were facing an uncertain future due to financial troubles as were Farnborough and Weymouth, although the latter strenuously denied that a £1.6m debt was a problem as chairman Martyn Harrison frequently stated that he never expected to see his immense loan again. Another club with problems was Cambridge City, they had sold their ground and were set to leave Milton Road in the summer but fought hard to stay for at least another season, their long-term future looks anything but secure.

Bastock's brilliance secures second place for Saints

Rumours of Weymouth having none, two or four points deducted abounded but the uncertainty of the matter had an unsettling effect not only on the Terras but also on the Saints. City went into their penultimate match against Havant & Waterlooville minus Walshe, who had received three broken toes at Weymouth, knowing that their championship bid was very much back on. Given the events off the pitch another almighty encounter was anticipated as City took to the field at Westleigh Park, instead the 502 crowd endured 90 minutes of painful viewing. The only goal of the game, which seriously damaged Havant's play-off aspirations, was presented to City on a plate by former Saints keeper Howells whose blunder allowed Hakim to set up Clarke for his 25th goal of the season. Howells limped off at half time not to reappear. With the Hawks other regular keeper, Colin Matthews, also injured they turned to Wessex League youngster Tom Taylor who did himself no harm with two good second half saves. Even so, Taylor's heroics were upstaged by Bastock who pulled off three outstanding saves including one from the leading scorer in Conference South, Rocky Baptiste, that had an element of Gordon Banks' save against Pele about it.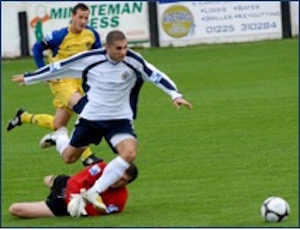 The rumour-mill worked tirelessly in the days between that match and the final day of the Conference South season on the 29th April, but City faced Weston-super-Mare and Weymouth entertained Lewes on that day still not knowing whether the Terras would be docked any points. As it was unlikely that Weymouth would lose more than four points the equation going into the final match was simple, beat Lewes and Hill's boys would win the league.

St. Albans had to beat Weston and then rely on the league imposing the anticipated four-point sanction on Weymouth. City, with Cracknell restored to the side in place of Foyewa, put in a low-key first half display and a simply dreadful second half performance. Down on the south coast Weymouth took a two-goal interval lead, City's championship dream was fading. There was no further scoring at the Wessex Stadium but at Clarence Park there were goals and for once it was not City getting the majority of them. Weston's front pairing of John Williams and Marvin Brown were one of the most useful partnerships seen during the season and each was rewarded with a goal either side of Hakim's tenth league goal of the season to give the Seagulls the double over their hosts. City's 11-match winning home run was over. In many respects the result was an irrelevance once Weymouth had won but there was disappointment that the winning home run was not extended through to the end of the season, it was but a minor point. Left: Paul Hakim in action against Weston-super-Mare.

The 42-match Conference South programme may have been over but City still had a prize to go for that was the equal of the championship, as they now had to partake in the promotion play-offs with the winners joining Weymouth in the Conference National, the season was far from over.

Spirits were raised after the defeat by Weston with a series of presentations in the clubhouse. The main awards for Player of the Year and Players' Player of the Year being won by two players who spent many hours during the season travelling down to St. Albans each week in the same car from Boston and Peterborough, Paul Bastock and Lee Clarke respectively. Matt Hann was voted the Conference South Player of the Year. Clarke received a further boost that weekend when it was announced that he, and Matt Hann , had been named in Paul Fairclough's 35-man England squad to take part in the Home Nations championship later in the month. Left-back Lee Flynn confirmed that he would also be on international duty of another kind later in the month when teaming up with the Middlesex Wanderers for their two-match tour of Botswana.

By finishing in second place the Saints were guaranteed a home game in the play-offs but were spared the stress of a play-off semi-final due to Lewes not being granted the required grading for their Dripping Pan ground. It was the second successive year in which Lewes had finished in a play-off position but not been allowed to partake; their plans for redevelopment had yet to reach fruition.

While City pondered the future, Farnborough Town and Histon did battle in the other semi-final but the visitors to Cherrywood Road had a surprisingly comfortable day with Farnborough looking a spent force and going down 3-0. Southern League champions Histon were very much on a high, none more so than striker Neil Kennedy whose hat-trick account for Boro. The win was Histon's fifth in succession, Steve Fallon's side headed for the final showdown with the Saints in prime form.
Conference League officials met with Weymouth on Thursday 4th May to debate the Taiwo affair, the outcome being that the champions were deducted four points but still won the league by a four-point margin.

Saints beat Histon again to clinch Conference place

City went into the play-off final on Sunday 7th May, at Stevenage Borough's Broadhall Way ground, without long term absentees Ben Martin , Scott Cousins and Simon Martin . Also absent was Ben Lewis who sustained a leg wound in the days leading up to the game in a motorcycle accident that required internal and external stitches. In place of Lewis came Ada whose performances and keenness during the season were worthy of a place in a game that could see City rise into the top level of non-league football. The Saints made one other change with Walshe reclaiming his right sided position from Foyewa. Histon were also forced into one change with their experienced goalkeeper Lance Key having to stand down due to injury in favour of Martin Davies.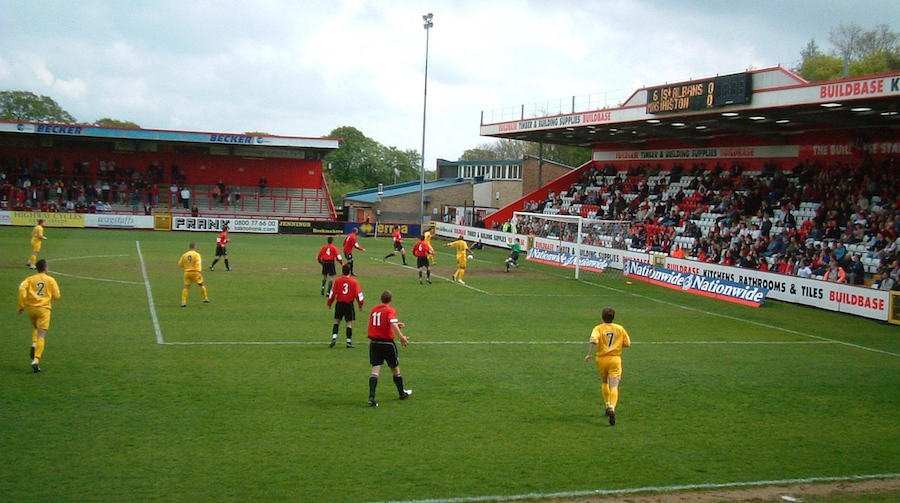 Above: With his 69th goal in 121 games for the Saints, Lee Clarke pounces on a cross from no.2 Chris Seeby to open the scoring against Histon (photo: Ray Stanton).

Histon's recent form was reflected in their early play in the play-off final but City, twice victors without conceding a goal in the two league games between the clubs, went ahead after just seven minutes when Clarke swept home Seeby's low cross. Both sides had chances to alter the scoreline during a poor quality first half but it took a defensive error for City to add a second on 54 minutes. Hakim gathered Flynn's headed pass, that Histon's Adrian Cambridge mistakenly let pass him by, and tucked the ball inside Davies' near post to effectively settle the matter. Any lingering hopes Histon held of coming back were shattered when Roscoe Hipperson was harshly dismissed on 77 minutes. St. Albans City were in the Conference fewer than 18 months after Colin Lippiatt had stepped forward to be temporary manager after Stuart Cash walked out within a week a replacing Steve Castle , under whom City were firmly rooted to the foot of the table. The transformation was beyond words. Lippiatt claimed that this promotion topped everything else that he had achieved in the game. "I've been very fortunate to have a good CV in football with three FA Trophy wins and promotion to the Conference with Woking, but this tops it all really," he said. Before talking to the press after the game he had a quiet moment to himself in the dressing room, "I just went into the dressing room and sat there quietly for a while. Mentally it takes its toll on you. It was emotional for a lot of people."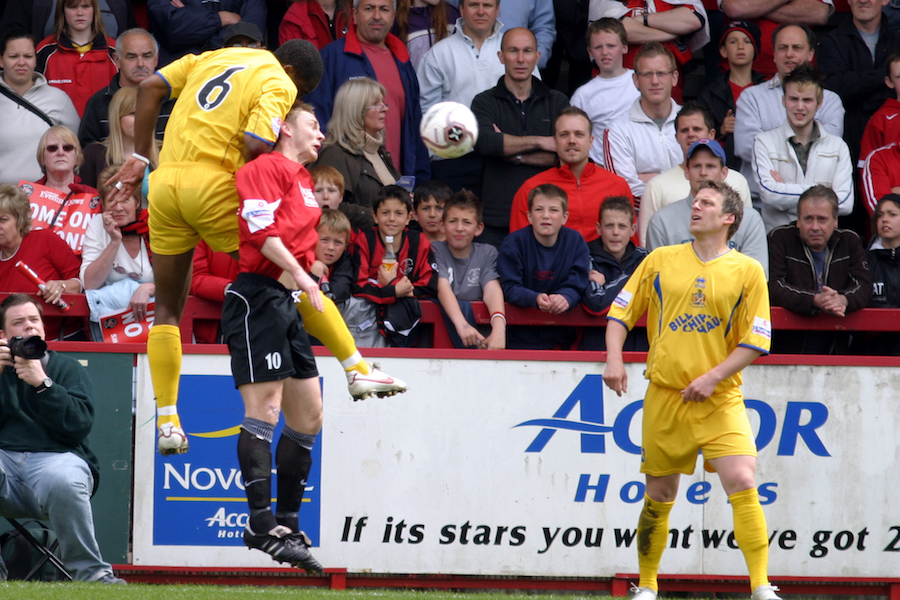 Above: Patrick Ada wins a header at Broadhall Way as Lee Flynn looks on.

The match attracted the third highest attendance of the season to Broadhall Way, 3,175, it was the first time in 13 years that City had played in front of crowds of over 3,000 twice in the same season. Despite Histon claims of selling 1,700 tickets in the days leading up to the game it did appear that City, just, had the greater number of supporters on the day. There were many tales of supporters making long journeys to get to the game but none beat that of Phill Spokes and his girlfriend Sue Davies who interrupted their round the world trip to see the final weeks of the season. The duo travelled back from Buenos Aires in time for the Hayes match on 15th April and stayed for the promotion clincher against Histon before resuming their travels in Las Vegas. Other long distance travellers to the play-off final include Tony Rivers who flew down from his home in Glenrothes, Scotland, Supporters Club chairman Ian Rogers who was in Grimsby on the morning of the match, while others came from Bristol and even a number of Boston United supporters popped down to cheer on their local hero, Paul Bastock . Also making a rare appearance at the game after a lifetime of supporting the Saints was club historian Derek Christmas, an octogenarian who lived in Bourne, Lincolnshire, at the time and who first saw City back in the early 1930s.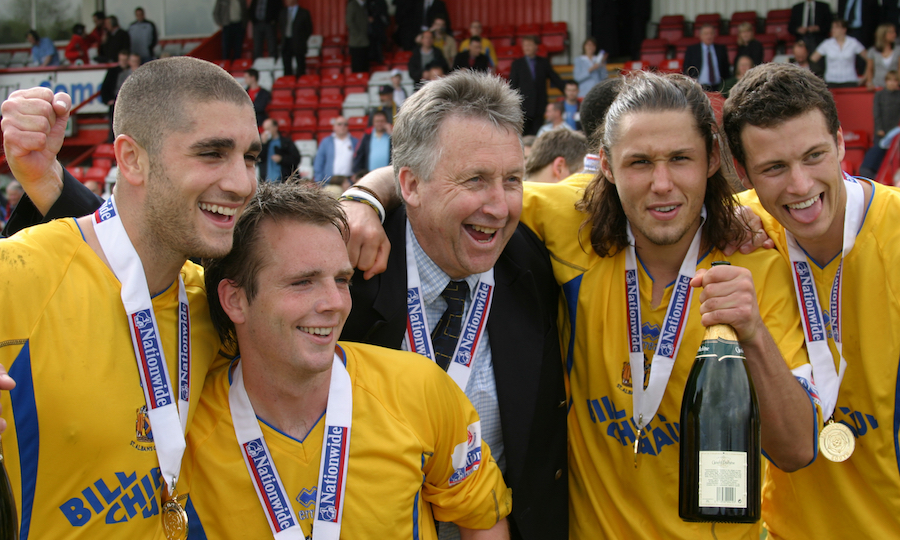 Above: City celebrate the victory over Histon and promotion to the Conference National; Paul Hakim , Lee Clarke , Colin Lippiatt , Tom Davis , Gary Elphick .

One disappointment of an astonishing season was that not once did attendances at Clarence Park top the one thousand mark, indeed the City support at Stevenage far outnumbered the seasons average at the Park. Despite this the St. Albans & District council granted the club a civic reception on Saturday 13th May after an open-top bus parade through the city centre.

Two days before the promotion celebrations the Supporters Club held its Annual General Meeting in the Clarence Park clubhouse. It was announced that the Supporters Club had a cash reserve of £11,000 and that membership stood at 244. Great concern was expressed at the overall lack of maintenance of Clarence Park and a request was made by chairman Ian Rogers for the club to reverse its decision to kick out St Albans City Youth.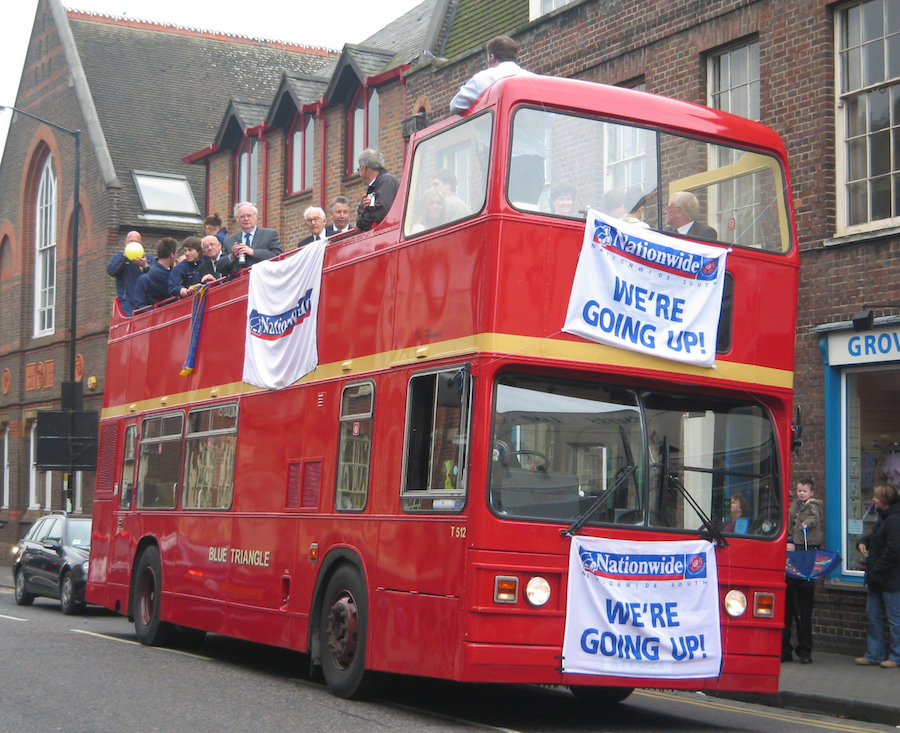 Above: Paul Bastock blows into a balloon as the open-top bus ride reaches the top of Victoria Street prior to turning right into St. Peters Street.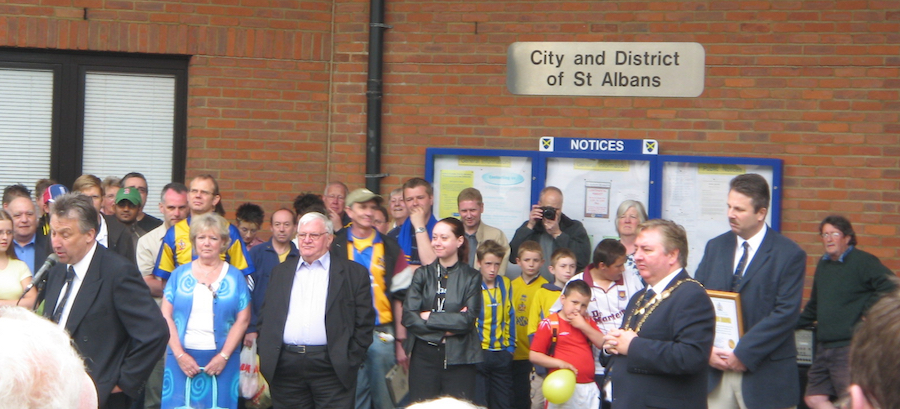 Above: Manager Colin Lippiatt (to the left) gives an entertaining speech in front of the council offices in the Civic Centre. To the right is the Mayor of St. Albans, Malcolm MacMillan
Final Standings 2005-06
CONFERENCE SOUTH
2005/06
P
W
D
L
F
A
GD
Pts
1
Weymouth
*
42
30
4
8
80
34
46
90
2
St Albans City
42
27
5
10
94
47
47
86
3
Farnborough Town
42
23
9
10
65
41
24
78
4
Lewes
42
21
10
11
78
57
21
73
5
Histon
42
21
8
13
70
56
14
71
6
Havant & Waterlooville
+
42
21
10
11
64
48
16
70
7
Cambridge City
+
42
20
10
12
78
46
32
67
8
Eastleigh
42
21
3
18
65
58
7
66
9
Welling United
42
16
17
9
58
44
14
65
10
Thurrock
42
16
10
16
60
60
0
58
11
Dorchester Town
41
16
6
19
59
71
-12
54
12
Sutton United
42
13
10
19
48
61
-13
49
13
Weston-Super-Mare
42
14
7
21
57
88
-31
49
14
Bishop's Stortford
42
11
15
16
55
63
-8
48
15
Bognor Regis Town
41
11
13
17
52
54
-2
46
16
Yeading
41
13
7
21
45
60
-15
46
17
Eastbourne Borough
41
10
15
16
50
60
-10
45
18
Newport County
42
12
8
22
50
67
-17
44
19
Basingstoke Town
41
12
8
21
46
70
-24
44
20
Hayes
42
11
9
22
47
60
-13
42
21
Carshalton Athletic
41
8
15
18
40
66
-26
39
22
Maidenhead United
#
42
8
9
25
49
99
-50
31
*
Four points deducted
+
Three points deducted
#
Two points deducted
The Players Who Fulfilled the Dream
During the course of the 2005-06 season 38 players played their part in St. Albans City's unforgettable campaign although only 33 featured in Conference South matches. The following gives a profile of all those who pulled on the City kit at some stage of the season. (These profiles go to the end of the 2005-06 season and do not include what happened to each player in later seasons).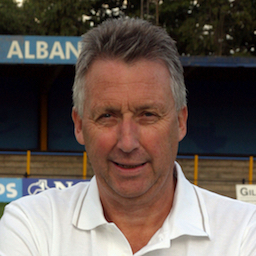 Colin Lippiatt (Manager)– Joined the Saints in October 2004 as assistant manager to Stuart Cash following a spell as scout for Watford. When Cash walked out within a week of taking the job the experienced Lippiatt took on the top job at Clarence Park . Performed a near miracle in taking what appeared to be a side certain for relegation to midtable safety. The 2005-06 season saw the Saints at the top of the table on several occasions before finally finishing the campaign as runners-up to champions Weymouth, an Easter Monday title decider between the two clubs attracted a gate of 5,022 to the Wessex Stadium. Celebrated his 50thConference South match as manager on 28 January with a win over Basingstoke Town that gave him the joint-best points per game record of any City manager in charge for 50 or more league games. Has also managed Chesham United and Yeovil Town but will always be remembered for his partnership with Geoff Chapple at Woking, the duo taking the Cards through the Isthmian League to the Conference, three FA Trophy successes and the memorable FA Cup ties with West Bromwich Albion and Everton. Lippiatt also had a spell as manager at Woking and worked as Chapple's number two at Kingstonian. Prior to his success at Woking he was assistant manager to Brian Caterer at Leatherhead and Maidenhead United. As a player he turned out for west London clubs Hayes, Ruislip Manor and Uxbridge before ending his career in the mid 1970s at Wokingham Town. After promotion to the Conference had been secured with the win over Histon, Lippiatt said, 'I have been very fortunate to have a good CV in football, with three FA Trophy wins and promotion to the Conference with Woking, but this tops it all really.'

Patrick Ada – A 21-year old speedy central defender who impressed after joining the Saints late in preseason matches. Born in Cameroon he forged a formidable partnership with loan signing Djoumin Sangare and established himself as a dominant presence in the Saints defence although he was also used in midfield. Scored his only goal of the season on 4 February during a 2-0 win over Lewes at the Dripping Pan. After being restricted to a place on the bench for the final four games of the Conference South season he returned to the starting line-up for the play-off final and was many supporters choice for the Man of the Match award. Previously in the Conference South with Redbridge he ended the 2004-05 season on the books of Barnet from whom he joined St. Albans. Was released shortly after the end of the season to make way for Dave Theobald.

Paul Bastock – A huge favourite at Clarence Park he was voted Boston United's greatest ever player after 625 games in 12 years at York Street. He missed just one match during Boston's Conference winning season and was ever present during the Pilgrims first two seasons in the Football League. Began his career with Coventry City where he collected an FA Youth Cup winners medal - against a Southampton side containing Alan Shearer and Matt Le Tissier - and has since had spells with Kettering Town, Fisher Athletic, Aylesbury United , Scarborough, Dagenham & Redbridge, Malaysian side Sabeh and represented the FA. Made a dozen appearances in Division Four of the Football League for Cambridge United including the final ten games of the 1987-88 season when he conceded just nine goals. Made his St. Albans City debut on 23 November 2004 and has since been ever-present in Conference South matches. Set a club record of seven consecutive home clean sheets on 22 October 2005 and on 15 April 2006 equalled the club record of six consecutive clean sheets. His achievements have been rewarded with three Player of the Month awards during the 2005-06 season and after the final home game of the season he was presented with the Supporters Club Player of the Year Trophy. Earlier this season set up his own goalkeeper-coaching course in his hometown of Boston. Outside of football he is also a fine golfer and cricketer.

Mark Burgess - Two-footed defender who joined the Saints early in December 2005 after a fourth spell with Hendon during which time he made 110 appearances for the Dons, there was a mere nine-year gap between his debut and his only goal for the club. Made his St. Albans City debut with an impressive performance at left back away to Weston-super-Mare on 10 December but thereafter spent most of the season restricted to a place on the bench. During his time away from Claremont Road he has had spells with Hitchin Town, Aylesbury United , Wealdstone , the now defunct Hornchurch and almost three seasons with Kingsbury Town. Was released at the end of the season.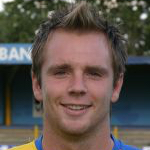 Lee Clarke – Scored 25 times in the Conference South during 2005-06, the same as for the previous season, and for the second successive year is the Division's second highest scorer. His 26thgoal of the season was the crucial first strike in the play-off final victory over Histon. The St. Albans City Player of the Year for 2004-05 he won the Players' Player of the Year award for the 2005-06 season and also collected the Goal of the Season trophy. His achievements have been rewarded with a place in the England semi-professional squad to play in the Four Nations tournament during May, this despite him having previously played five times for Northern Ireland at U21. Has also made two appearances for an FA XI. Marked his 100thleague appearance with the Saints on Easter Monday by scoring City's 100thgoal of the season. Began his career as a sixteen-year-old with Cambridgeshire side Yaxley prior to teaming up with the former St. Albans player Barry Fry at Peterborough United. Signed for the Saints from Peterborough in January 2004 having made three appearances for the Posh, also had a spell on loan to Kettering Town. Away from St. Albans he has set up his own coaching school, in association with the local schools, in Peterborough. His grandfather, William Gallagher, scored seven times in 21 appearances for Ipswich Town during the early 1950s while his father, Colin Clarke, was the Northern Ireland striker.

Scott Cousins - A left-sided player, with an exceptional first touch, who is in his second season at Clarence Park after spending the 2003-04 season with Isthmian League Premier Division side Hendon. Had five seasons with Chelsea, one as a professional, prior to signing for the Dons but actually began his career on the books of Queens Park Rangers. Played in a trial match for Luton Town against St. Albans City in the summer of 2004 and joined the Saints two weeks later. Started the 2005-06 season in midfield but soon reverted to his more familiar left back slot. Responded well to being handed the added responsibility of captain but surrendered that position when given a lengthy suspension after being one of three St. Albans players dismissed during the FA Cup defeat at Kettering Town. His return to the side coincided with a run of six successive victories from mid-December but his season ended in tragedy in the final minute of City's 2nd Round FA Trophy tie at Tamworth on 14 January when he sustained a broken left leg just above the ankle during St. Albans defeat to the Conference side. Had a pin inserted into the injury which was successfully removed early in March. In a tremendous display of sportsmanship Tamworth kindly held a collection on Scott's behalf during their FA Trophy tie with Dagenham & Redbridge. Just prior to the injury he began coaching at David Beckham's Football Academy in Greenwich and later this year plans to take his UEFA 'B' coaching badge. Returned to work at the Academy in mid-March but is restricted to paperwork rather than anything physical for the time being.
Dean Cracknell – Joined St. Albans City in the summer of 2005 from fellow Hertfordshire club Bishop's Stortford and quickly opened his account when scoring in the Saints first home game of the season. Lost his place in the starting line-up in mid-January and despite playing well when selected since he was frequently confined to a place on the bench. A midfielder, born in Hitchin, he was a trainee with Northampton Town prior to moving into the non-league game. Signed for Aylesbury United in the summer of 2004 after making two appearances for Maidenhead United, also had short spells with Stevenage Borough and Barnet. Was placed on stand-by for the National Game squad for the match against Belgium at Wavre last November.

Tom Davis - Enterprising midfielder who can unhinge any defence with his pinpoint long passes and hit his best form during the second half of the 2005-06 season. Joined the Saints in December 2004 from Gravesend & Northfleet after scoring for the Fleet second string against the City Reserves. Following a short spell out of the side early in the 2005-06 season he returned with his first hat trick in senior football during the Saints 5-2 Conference South win over Yeading on 8 November. Made his 50thappearance for the Saints during the 3-1 win at Bishop's Stortford on 2 January and ended the week by scoring City's 50thConference South goal of the season during the win over Welling United. Missed a couple of matches late in the season through suspension but was the star of the show when 5,022 spectators saw City go down 3-2 to Weymouth in the championship decider on Easter Monday. Born in Bromley he was previously a professional with Fulham where he had to overcome a long-term leg injury.

Gary Elphick – A 20-year old central defender who played 19 times for the Saints during the 2004-05 season on-loan from Brighton & Hove Albion. Was given a new contract with the Seagulls at the end of the season but after just two first team appearances – had the misfortune to be dismissed in one of them – was loaned out to Aldershot Town where he played three games. Returned to Clarence Park in a permanent deal on 10 March 2006 and enjoyed a winning start in his second spell with the Saints as City defeated Carshalton Athletic 3-0 the following day. Scored his first goal of the season a week later as City won 2-0 at Eastleigh only to be bizarrely sent off for his celebration that was far from excessive. The defence kept a clean sheet in each of their first four matches with him back in the side, he even popped up with a goal during the thrilling title-decider at Weymouth and has cemented his future to the Saints by signing a new one-year contract. His brother Tom is currently with Brighton.

Lee Flynn – Had a spell on-loan to the Saints early in the 2005-06 season from Conference side Dagenham & Redbridge and during March 2006 made the move a permanent one. Made four appearances during his first spell with the Saints and prior to his return for a second loan spell on 17 January played five games on loan to Cambridge City. The Saints sought his return after regular left-back Scott Cousins was ruled out for the remainder of the season after suffering a broken leg. A 32-year old left-sided player whose previous clubs include fellow Hertfordshire sides Barnet, Stevenage Borough and Boreham Wood as well as Hayes, Romford and Hendon. During May 2005 he joined the Middlesex Wanderers for their three-match tour of Japan. A year earlier he was part of the Wanderers side that defeated Racing Club de Calais in Calais and in May 2006 went with the Wanderers on a two-match tour of Botswana.

Amos Foyewa –A one-time trainee with West Ham United who signed for Bournemouth in July 2001 but had his progress at Dean Court slowed when suffering a broken leg. Made a dozen appearances for the Dorset club before joining Woking in March 2003 where he spent two seasons, scoring 14 times in 77 appearances. Moved into the Conference South with Lewes in the summer of 2005 but after establishing himself in the side was struck down with mumps and struggled to regain his place. Born in Nigeria he has scored twice in the League during 2005-06 for Lewes and joined the Saints on loan on 17 March. Had what appeared to be a perfectly good goal disallowed during the Conference South championship-decider at Weymouth on Easter Monday. Returned to Lewes at the end of the season.

Paul Hakim - Striker signed for the Saints during the summer of 2005 following a productive campaign in front of goal for Bishop's Stortford. Scored freely during the pre-season friendly matches but picked up an ankle injury at the start of the season and was then sidelined following the removal of an appendix. Opened his account with the last minute winner against Newport County on 22 October, and went into the festive season on the back of seven goals in nine games including two top quality strikes in the 3-2 FA Trophy victory at AFC Wimbledon on 17 December. Became the fourth City player to reach double figures for the season when he notched the first goal in St. Albans' 2-0 win at Eastleigh on 18 March, and scored his tenth league goal of the season during the final home match of the season when City went down 2-1 to Weston-super-Mare. Found his best form from December onwards and capped a memorable campaign with the Saints second goal in the play-off final victory over Histon. Prior to playing for Stortford he had a brief spell with Dagenham & Redbridge as well as stints with Slough Town, Wingate & Finchley and fellow Hertfordshire club Cheshunt.

Matt Hann - Midfielder in his second season with the Saints having joined the club from Dorchester Town. Missed the start of the season after appearing for England in the international Futsal tournament in July. Back in the summer he also appeared for the British team at the World University Games in Turkey. Had to be content with a place on the bench at the start of the Conference South season but a seven-minute hat trick during the 5-0 win over Eastbourne Borough on 10 September secured his place in the side and triggered his best scoring spell since joining the club. Found the target on just three occasions during 2004-05 but in scoring the Saints third goal during the Boxing Day win over Bishop's Stortford moved into double figures for this season and notched his 20thfor the club during a 4-0 win over Maidenhead United on 25 March. His performances this season have earned him a call up to Paul Fairclough's 35-man England squad taking part in the Four Nations tournament during May 2006. Made four appearances in the Football League with Peterborough United before switching to the non-league game with Cambridge City.

Ben Lewis – Signed for St. Albans City in the first week of January 2006 after playing in both holiday fixtures against the Saints for his previous club Bishop's Stortford. Having lost both times against St. Albans he enjoyed a winning debut on 7 January as City defeated Welling United 3-1 at Clarence Park. A one-time Youth player for Colchester United he made two Football League appearances for the club in 1995 before switching to Southend United for whom he scored the winner against Fulham on his League debut in September 1997. Played 14 League games for Southend prior to moving into the non-league game where he has had spells with Heybridge Swifts (three spells), Welling United, Chelmsford City (his hometown club), Grays Athletic and Redbridge. Missed out on City's play-off final victory after a motorcycle accident in the week leading up to the game left him with a badly gashed leg.

Ben Martin – Towering central defender who missed all of the 2005-06 season after suffering the second cruciate knee ligament injury of his career during a preseason match last summer at Tring Athletic. Underwent an operation in Droitwich that was a complete success and by November he had resumed training and is set to return to action for the start of the 2006-07 season. Joined the Saints in August 2004 after making one appearance for Swindon Town. Has had loan spells with Lincoln City, Farnborough Town and Stevenage Borough and also appeared for Aylesbury United and his hometown club Harpenden Town.

Simon Martin – One of two former St. Albans City Youth players in the current First team squad at Clarence Park . Since breaking into the Saints First team in March 1996 he has had spells with Lincoln United (due to beginning studies at Lincoln University), Hucknall Town and, in the two seasons prior to 2005-06, Thurrock. This is his third stint with the Saints having been top goalscorer for the two seasons prior to joining Thurrock. His return to St. Albans from Hucknall cost the Saints a £5,000 fee set by an FA tribunal. The 2005-06 season has been a landmark campaign for the Potters Bar-based schoolteacher as he has made his 150th appearance for the Saints (currently on 180) – more than any other member of the current squad - and also scored his first FA Cup goal for the Saints. With 67 goals to his name he is 15th in St. Albans list of All Time goalscorers and on 21 February notched his 10th league strike of this season, unfortunately sustained a knee injury in the same game which subsequently ended his season.

Ram Marwa – A hard-working and popular midfielder who originally signed for the Saints from Grays Athletic early in the 2004-05 season and went on to score five times in 40 games before leaving the club at the end of that season to sign for Conference club Dagenham & Redbridge. Rejoined St. Albans City on loan on 26 January but towards the end of March made the move permanent by signing a two-year contract at Clarence Park . Despite playing in the centre of the midfield he enjoyed a goalscoring return to Clarence Park finding the back of the net eight times in his first fourteen games. Made his 50th appearance for the Saints during a 3-0 win over Carshalton Athletic on 11 March. Born in Norway he represented his country at Youth level before moving to England to sign for Leyton Orient. Had spells with Erith & Belvedere and Ilford before embarking on a stint in Australia, trained with Orient upon his return and then joined Grays.

Nick Roddis - Player/coach who joined the Saints in November 2004 after short spells with Crawley Town and AFC Wimbledon. A former England semi-professional international (nine caps, one goal) who has captained the Great Britain side at three World University Games, including playing in China, and also gained representative honours with the Isthmian League. A former trainee with Nottingham Forest his travels have taken him as far afield as Boston Town, Boston United, Yeading, Hayes, Woking and Aldershot Town whom he captained to the Isthmian League championship. Was in exceptional form during the early part of the 2005-06 season but a calf strain kept him out of the side for a while until returning as a substitute during the FA Trophy defeat at Tamworth on 14 January to make his 50thappearance for the club. His next appearance came four months later as a last-minute substitute in the play-off final at Stevenage.
Andy Ross - Versatile 23-year-old player who can fill in either in midfield or defence and made his St Albans City debut as a last-minute substitute during the Saints 2-0 Conference South victory over Dorchester Town on 4 March 2006. Born in Irvine, Scotland, he moved south to sign for Chelsea where he progressed through to the Reserves and played alongside his now Saints team mate Scott Cousins . Although captain of the Reserves he moved back north to join Partick Thistle on 22 May 2003 without breaking into the first team at Stamford Bridge. Scored once in 18 Scottish League Division One appearances for Partick. Joined the Saints in March 2006 after a spell in Australia playing for Melbourne club Richmond.

Chris Seeby – A former St. Albans City Youth player who has developed into one of the most consistently good players in the current squad. Also spent time with Watford during his formative years. Has established himself in the Saints first team over the past two seasons, which have seen him fill almost every position in midfield and defence although his best performances have come at right back and the holding role in midfield. On 5 November 2005, at home to Eastleigh, he became the third former St. Albans City Youth player to complete 100 games for the club and on 1 April made his 100thLeague appearance. November proved significant for him in other areas as well as he had a spell as captain of the side and celebrated his 21st birthday. Scored his first goal of the 2005-06 season with a blistering 25-yard drive to salvage a point at Eastbourne Borough on 25 February, it was his first goal since March 2005.

Ben Walshe – Scored six times in 40 games for St. Albans City during the 2004-05 season but started the 2005-06 campaign with Isthmian League side Fisher Athletic before returning to Clarence Park in November. Made his 50th Conference South appearance for the Saints during the 3-0 win over Carshalton Athletic on 11 March, in so doing took his record since returning to the club to 12 wins and two draws from 16 games. Missed the final couple of league games of the season after suffering a foot injury during the Easter Monday game at Weymouth but returned to play in the play-off final success against Histon. As a youngster with Queens Park Rangers (at the same time as his long time friend and now St. Albans colleague, Scott Cousins ) he made his debut as a substitute during a 3-0 home defeat to Stockport County on 28 April 2001 and was in the starting line up for a 4-2 win at Chesterfield on 2 February 2003 only for a first half leg injury to curtail his career at Loftus Road. In between those appearances he had a brief spell with Aldershot Town (six appearances) and joined the Saints from Gravesend & Northfleet in the summer of 2004. Was one of four players to leave the Saints at the end of the season.
The following played for St. Albans City at some stage of the 2005-06 season but moved onto pastures new before the campaign was over.
Anthony Allman - One of three summer signings made by the Saints from county rivals Bishop's Stortford. A right-sided England Schools international he had five seasons with Charlton Athletic and Colchester United but unfortunately did not appear in the First team. Spent a season with Woking prior to joining Stortford with whom he reached the FA Trophy semi-final during 2004-05. The summer of 2005 saw him back in an England kit competing in the Futsal tournament against Poland at Docklands. Left the Saints in November 2005 to play closer to his home with Margate.
Michael Barima – Signed for St. Albans City in mid November 2005 having started the season with Maidenhead United after switching to the York Road club from Yeading during the summer. Well travelled his former clubs include, Harrow Borough, Metropolitan Police, Wembley, Southall, Hampton & Richmond Borough and Beaconsfield SYCOB. Made his debut for St. Albans at right back during the 2-2 Conference South draw with Farnborough Town on 19 November but was substituted during the second half and released without making any further appearances.
Aaron Barnett – Made his St. Albans City debut during the 1-0 win over Newport County on 22 October 2005 having joined the club earlier in the week from Carshalton Athletic. Spent the previous season with Margate and featured in both Conference South matches between the Saints and The Gate. Kent-born central defender who joined Gravesend & Northfleet from Erith & Belvedere and was a member of the Fleets 2001-02 Isthmian League championship winning side. Had a spell with Bishop's Stortford prior to joining Margate. Released by the Saints one day after the FA Trophy exit at Tamworth on 14 January 2006, he made 11 appearances for the club.
Tom Beech - Tall striker who joined the club during October 2004 from Cambridge United. A prolific scorer for United's Youth team he was a member of the Reserves when the Saints snapped him up. Scored twice in 27 appearances for the City during the 2004-05 season and was an unused substitute 19 times during 2005-06 prior to being released at the end of November to join Thurrock.
Nathan bunce - Imposing central defender who began his career on the books of Brentford prior to moving into the non-league game with Yeading. Joined Hayes for £2,000 in 1996 following the Missioners promotion to the Conference and in two spells made 179 appearances for the Church Road outfit. Left Hayes for the first time to join Stevenage Borough before moving onto Farnborough Town for whom he played in the clubs FA Cup tie against Arsenal at Highbury. Had a second spell with Stevenage prior to joining Havant & Waterlooville in the summer of 2004 but joined the Saints on a one-month loan from Canvey Island making his debut during the Conference South defeat at Weston-super-Mare on 10 December. Returned to Canvey at the end of his loan and later in the season played against St. Albans for Maidenhead United.
Nick Burton - Defender who signed for St. Albans City in November 2005 from fellow Conference South side Eastleigh and made his debut during an FA Trophy victory at Heybridge Swifts at the end of the month - missed the Saints next two matches due to getting married at the start of December. Began his career as a youngster with Torquay United and Portsmouth before going into the non-league game with Yeovil Town. Had a spell at Aldershot Town before spending move than three years at Hampton & Richmond Borough where he was captain and helped the club into Premier Division of the Isthmian League. Signed for Gravesend & Northfleet whom he helped win a place in the Conference in 2002 as Isthmian League champions. Ended the 2004-05 season with Crawley Town joining Eastleigh during the close season. After appearing in City's FA Trophy wins at Heybridge Swifts and AFC Wimbledon he made his Conference South debut during the home Boxing Day win over Bishop's Stortford and went on to enjoy victory in each of his first six games for the Saints. Lost his place in the starting line up following City's defeat at Bognor Regis Town on 21 January and left the club in mid-March.
Peter Castle - Teenage central defender signed on loan from Reading, made his debut on 17 September 2005 during the 4-1 win at Dorchester Town and returned to Reading at the end of his loan. On 30 April 2003, at the age of 16 years and 49 days, he became the youngest ever player in the Reading First team when used as a substitute during a 3-0 win at Watford, whilst at Clarence Park was also the youngest member of the current St. Albans side. Suffered a bad injury during 2003-04 that delayed his progress. Began his career with six years at Bournemouth from the age of nine and has since played for both the England and Eire Youth international sides. Broke into the Royals Reserve side when just 15.
Colin Cattermole- Made his First team debut at centre half on 6 December 2005 during the Saints 6-1 Herts Senior Cup defeat away to Hemel Hempstead Town. The 2004-05 season saw him make five appearances for the midweek City Youth side and three appearances for the Reserve side in the Capital League. This season he is with the St. Albans City Youth Development set up.
Eddie Duah – A right back, he was one of three defenders to make his St. Albans City debut during the 3-1 Conference South defeat at Weston-super-Mare on 10 December 2005, this proved to be his only appearance for the club. A well-travelled player whose previous clubs include the following although some were just for trials; Barnet, Newport County, Kingstonian, Southend United, Stevenage Borough, Cheshunt, Boreham Wood, Northwood, Billericay Town, Slough Town, Carshalton Athletic, Darlington and Croydon.
Alex Fraser - One of four players to make his debut during the Herts Senior Cup tie at Hemel Hempstead Town on 6 December. Playing at right back he was just 16 at the time of his debut (eight days prior to his 17thbirthday). A member of the St. Albans City Youth Development scheme.
Mark Graham - Returned to Clarence Park for his second spell at the start of the 2005-06 season, in between times has played for Hornchurch and Braintree Town. Born in Newry he is a left-sided midfielder who made 18 Football League appearances for Queens Park Rangers and one for Cambridge United. Since moving into non-league football he has also played for Aldershot Town, Canvey Island and Billericay Town. Gained international recognition for Northern Ireland at three levels; Schoolboy, Youth and 'B'. Started the season switching between either flank but by the turn of the year was restricted to a place on the bench and joined Maidenhead United after being released on 28 January.
Sean Hankin – A former trainee at Crystal Palace who turned professional with the Eagles but made just a solitary substitute appearance (a goalless draw with Bolton Wanderers in March 2000) before joining Torquay United for £20,000. A left back, he played 52 times for the Devon club but after losing his place through injury was kept on a short-term contract. Is not short of non-league experience having played for Margate, Northwich Victoria and Crawley Town. Had a brief spell with Lewes early in the 2005-06 season before joining the Saints in October, made his debut during the win at Carshalton Athletic, scored his first goal during the home defeat to Eastleigh on 5 November. His first five games saw him fill three different positions in the Saints backline but was released following the draw with Farnborough Town on 19 November.
Carl Kavanagh - Hertfordshire U18 captain who, during the 2004-05 season, in addition to making his First team debut for the Saints, played for the City Youth, Reserves and Harpenden Town. Performed impressively in pre-season to earn his Conference South debut during the home match with Cambridge City but was released without making any further appearances for the club.
James Lambley - Teenage goalkeeper signed as cover for Paul Bastock in November 2005 after being released by Boston United. Progressed through the ranks at Boston having also played for Boston Town and Grantham Town. A member of the Lincolnshire County Youth side that, on 21 January 2006 progressed through to the semi-final of the FA County Youth Cup with a 2-1win over Cheshire. Is unlikely to forget his only appearance for St. Albans City after conceding six goals during a frantic 41-minute spell as an inexperienced City side went down 6-1 away to Hemel Hempstead Town in the 2ndRound of the Herts Senior Cup. Left the Saints in February to find a club closer to his Boston home.
Darren Lancaster- A St. Albans City Youth player who is also on the Youth Development scheme. Speedy striker who, thirteen days before his 18thbirthday, was part of a quartet to make their First team debut during the Herts Senior Cup defeat at Hemel Hempstead Town on 6 December. Despite the Saints being thrashed that night he showed no shortage of good potential.
Yohance Lewis- Had trials with the Saints during the summer of 2005 but was released during the first week of the season. A product of the Charlton Athletic Academy he progressed through to the Reserves before having trials with Colchester United. From there he drifted into the non-league game with Dagenham & Redbridge, Grays Athletic, Chelmsford City and during 2004-05 Redbridge.
Mark Nwokeji - Signed for St Albans City in mid January 2006 after a second spell with Ryman League side Walton & Hersham where he scored 22 times in 75 games. Began his career as a junior with Charlton Athletic and Colchester United. Was noted for his speed in his youth and was once the All England 200m schoolboy champion. His non-league travels have taken him to Leatherhead, Chesham United (where he first played under Colin Lippiatt ), Harlow Town and Ware. Was restricted to a place on the bench during his short time with the Saints and in an effort to maintain match fitness he signed Ryman League forms with Staines Town making his debut for them on 11 February. The move to Staines became permanent a month later when he left Clarence Park after just two substitute appearances.
Olawale Ojelabi - Signed from Maidenhead United but his debut was short lived as he was dismissed just ten minutes after coming on as a substitute during the 4-0 FA Cup 3rdQualifying Round replay defeat at Kettering Town on 11 October and was released by the club later in the week. Nigerian born, he scored on his debut for Maidenhead earlier in the season.
Ben Patten - Teenage central defender who joined the Saints in the week prior to the start of the season but was released after just one appearance. Spent the end of 2004-05 season with Ipswich Town whom he joined from Ford United for a nominal fee in February 2004. Looks a fine prospect but manager Colin Lippiatt required a more experienced replacement for the injured Ben Martin .
Ricky Perks - Spent the first four months of the 2005-06 season as understudy to Paul Bastock but left in mid November without adding to the solitary first team appearance he made during the 2004-05 season. A former St. Albans City Youth and Reserve team player who has also been known to play outfield in the St. Albans Sunday League. Had a brief spell with Harpenden Town early in the season but after leaving the Saints he made a short term return to his old club, Sandridge Rovers, before moving on to Walton & Hersham.
Tommy Williams- Signed for the Saints from Braintree Town as midfield cover during the early part of the 2005-06 season. Made two substitute appearances during the respective 4-0 and 5-0 victories over Weymouth and Eastbourne Borough but then teamed up with the former Saints boss Steve Cook at Boreham Wood. As a youngster he caught the eye of Staines Town whilst playing for Barnes Juniors and has since turned out for Hayes, Leatherhead, Carshalton Athletic and Wealdstone .
There are other people who assist with the team each and every week of the season but receive scant mention. Pride of place goes to physio Jason Laird, kitman John Fenely and club secretary Steve Eames.


Photos: Leigh Page, Ray Stanton and David Tavener.