From the glory of promotion from the Conference South to the National Division at the end of the 2005-06 campaign, St Albans City entered the 2007-08 season almost in complete disarray. A season of stability was the best that the club, approaching its 100th anniversary in April 2008, could possibly hope for. An immediate return to the top Division of the Conference was most certainly out of the question.
Since City's relegation had been confirmed there had been a mass exodus of players. The boardroom was equally low on numbers with the list of directors consisting of John Gibson (chairman), Alasdair McMillin (vice-chairman), Karen Gibson and Leigh Page. Relations between the chairman and supporters were, to put it mildly, strained.
Following the resignation of Colin Lippiatt at the end of the 2006-07 season a number of candidates were interviewed to fill the vacant position. Ritchie Hanlon, a 28-year-old midfielder who retired due to a knee injury in January 2007, was the surprise appointment. The background to his first managerial position almost defies belief. Shortly after the end of his playing days, with Cambridge United, Hanlon turned his hand to being a football agent and it was in this role that he contacted St Albans City suggesting possible replacements for Lippiatt.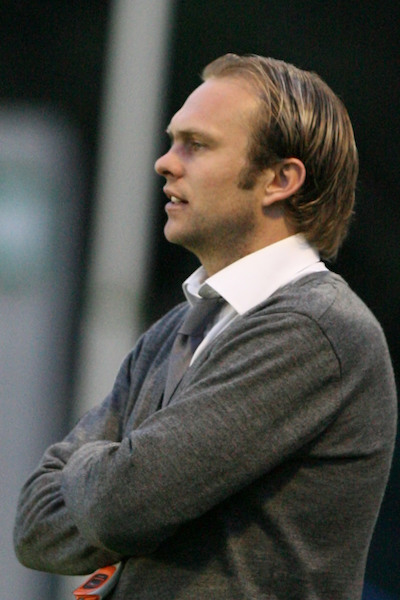 During discussions with the City chairman Hanlon, whose time as a player at Cambridge coincided with Steve Castle's spell as assistant manager at the Abbey Stadium, was invited to have an interview himself with a view to becoming manager of the Saints. On Sunday 13th May Hanlon was put through a two-and-a-half hour interview with his appointment being ratified 24 hours later at a meeting of the Board. The following Thursday Hanlon was introduced to supporters at the Supporters Club AGM held in the clubhouse at Clarence Park . Gibson and vice chairman Alasdair McMillin spoke effusively of their new manager to a clearly unconvinced gathering.
Hanlon set about building a new squad with gusto during the close season. By the time of him being handed the keys to Clarence Park , Hanlon, or at least the Saints, had already lost several of the players who performed during the one season in the Conference National. Departing quickly from the scene of the dramatic fall from grace were Paul Bastock , Djoumin Sangare (end of loan from Grays Athletic), Nick Roddis (overlooked as a possible replacement for Colin Lippiatt ), Ahmed Deen and Malik Buari. And the departures hardly slowed in the wake of Hanlon's arrival. Chris Watters, signed in January from Boreham Wood, had his contract terminated and returned to Meadow Park. Watters was part of a double signing from Boreham Wood along with Leon Archer, the duo costing the Saints a staggering £15,000. Even at the time of their acquisition the signings appeared a gamble by Lippiatt lavishly supported by Gibson. The pair struggled to make an impact and Archer also left Clarence Park during the summer to join Braintree Town in an unusual contra deal that would see Queensway Press print the Saints matchday programme for free. The owner of Queensway also being the chairman of Braintree.
Next to go was Tom Davis who had made it clear for some time that he no longer wished to remain at St Albans, in fact he first asked for a transfer on the eve of the Conference National match at York City in mid-March. After a prolonged search for a new club Davis signed for Lewes in a deal reputed to be worth £8,000 to the Saints, this figure was never ratified by the club.
After two seasons at Clarence Park , Dean Cracknell headed for pastures new and dropped down a Division to join near neighbours Hemel Hempstead Town. Also moving on were Bastock's understudy Ricky Perks , who was promised First team football at Hitchin Town, Faly Basse and Guy Lopez, the latter completing preseason with the Saints but was not offered a contract by Hanlon.
Even before preseason had begun problems were starting to make their presence felt with City losing Scott Cousins to another foot injury. This time a broken toe just weeks after the left back had regained full fitness from the broken leg sustained at Tamworth in January 2006. Ben Martin was also facing a delayed return to the side, as further work was required on the damaged knee that kept him out of the side for the best part of the two previous seasons. Another blow was suffered during the summer when the City skipper, Lee Clarke , missed two weeks of preseason training due to being on holiday; Hanlon was not impressed, especially when Clarke returned looking somewhat above his optimum playing weight.
Hanlon was working to a budget greatly reduced from the one Lippiatt had worked with the previous season. To stay within his financial limit Hanlon sought to bring in a succession of young, inexperienced, players whose potential he believed he could nurture before selling them on. First of the new boys was 22-year-old Gary Burrell, a left-sided player who was with Chelsea as a youngster but joined the Saints after two seasons at Heybridge Swifts. To work alongside him as player/manager Hanlon called upon 32-year-old Mark Beard, an FA Trophy winner with Stevenage Borough earlier in the summer.
Preseason training was staged at Oaklands; the chairman proudly saying the club had been offered the excellent facilities there for the whole of the forthcoming season. By September it was no longer possible to train at Oaklands, as the surface was dangerous with stones coming through the turf. Routine work carried out on the pitches had gone badly wrong and City were forced to revert to training at Clarence Park with the result being a worn Hatfield Road goalmouth within a couple of weeks of the start of the season. Giving assistance with the training at Oaklands was the former City manager Steve Castle , who was also in charge of the Development squad at the college.
The significance of pre-season training taking place at Oaklands gradually unravelled as the college was named as main club sponsor for the forthcoming season. Later in the season, after plans for a massive redevelopment at Oaklands were made public William Verry Construction Ltd, the company that owns St Albans City Football Club, was named as the preferred contractor for the £110 million project.
Sunday 15th July provided Hanlon with the first opportunity to put his new look squad through their paces in public as City took part in four-team tournament featuring City, Hemel Hempstead Town, Rothwell Town and Kettering Town at the Poppies Rockingham Road home. All of the teams would play two games with the winners of their first match going through to meet in the final. Kettering started as favourites as their squad included Italian great Gianfranco Zola. The supporting cast was not too bad either as the Kettering side that beat Rothwell 3-1 also featured Gianluca Festa, Christian Karembeu and Les Ferdinand. Zola scored a trademark free kick as the Poppies cheered a disappointingly low attendance. City made a dreadful start as Ollie Burgess and Drew Roberts fired Hemel into an early two goal lead. Gradually City got on top and pulled level through Matt Hann and Lee Clarke before winning 4-3 on penalties. In the final Kettering had to make do with just one international, Karembeu, in their ranks. Then, to the dismay of the organisers, and most certainly the sponsors, a first half goal by Gary Elphick secured victory for the Saints. Clarke collected the trophy from the prospective new owner of Birmingham City, Carsum Young.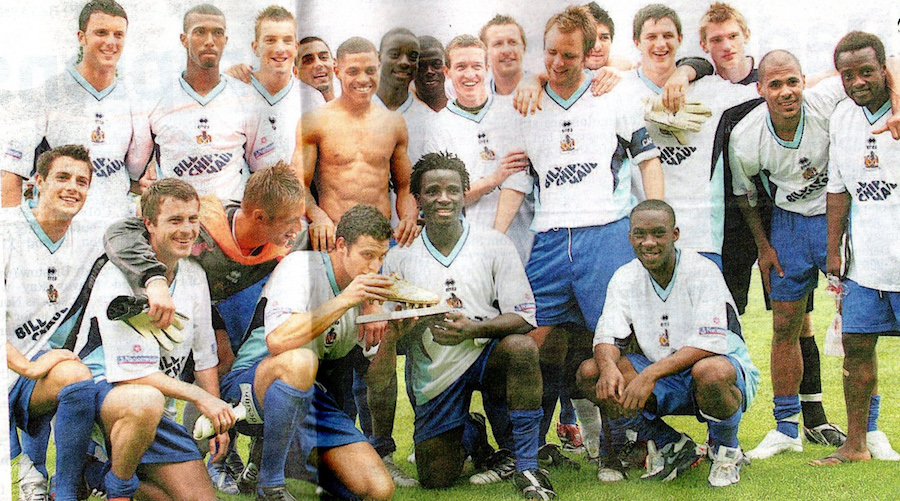 Hanlon fielded no less than 15 new faces in the two fifty-minute matches, during which he made wholesale changes at half time in both games. The new boys were; Nick Eyre (Dagenham & Redbridge), Michael Harvey (AFC Wimbledon), Reiss Noel (Southend United), Mark Beard, Paul Bruce (Dagenham & Redbridge), Gary Burrell, Hector Mackie (Stevenage), Joe Welch (Southend United), Jamie Waite (Cambridge United), Hassan Sulaiman (Crawley Town), Hasim Deen (Stevenage Borough). Marcel McKie (Lewes), Paul Semakula (Cray Valley), Byron Bubb (AFC Wimbledon) and James Baker (Braintree Town). Only three of this large influx did not make it to the start of the season. Welch moved on to sign for Bishop's Stortford, Bubb joined Southern League side Burnham while Baker, after a run of increasingly disappointing summer performances, returned to Braintree who had been hoping to sell him to the Saints for a minimum of £4,000.
Three days later a wonderful strike by Sulaiman earned City a 1-0 win at Potters Bar Town. Hanlon was already purring with delight at the way his youngsters were bedding in but the club suffered a PR nightmare the following Sunday with a poorly organised friendly against 'Celebrity United'. Celebrity in this case, mirroring the madness of the current era in which it seems anyone who has either played football or spent five seconds on television is a celebrity. The best known names in the visitors' side were Darren Campbell and Radio 1 DJ Spooney. The City side included two of the clubs' greatest players from the latter part of the previous century; Allan Cockram and Peter Risley , while another former Saint from the 1990s, John Colfer, also turned out. With goals from Matt Hann , Mackie and an own goal City won 3-1. Harvey, formerly with the rap and one-time chart-topping group So Solid Crew, used his showbiz connections to organise the match. The list of 'star' names expected to play was only confirmed two days before the game and proved to be ridiculously inaccurate.
The Sunday celebrity match kicked off a hectic week, at the end of which some players complained of feeling tired. On the Tuesday, 24th July, Hanlon had a first look at former Liverpool Reserve team striker James Frayne during a 3-1 victory at Hitchin. The Canaries were without the injured Ricky Perks who looked on from the sidelines as Harvey, Bruce (penalty) and Oaklands College youngster Chris Haslam netted for City.
Just 24 hours later and the Saints were back in action to face a Watford XI at Clarence Park . Any signs of fatigue were difficult to detect, as the Hornets were despatched 2-1 with Sulaiman and former Watford youngster Chris Seeby netting for the Saints (left); Kevin Forbes scored for the visitors. Watford may disagree, but the match provided good entertainment and City, quite wrongly as it transpired, began to believe that they were onto a good thing. The side was proving difficult to score against but friendlies really do mean nothing and trying to gauge anything from them is a big mistake.
That is something St Albans were to preach themselves the following Saturday when a bruising encounter at home to Stevenage Borough was lost 2-0. Referee Steve Chittenden took the rare action in a friendly match of booking three players. City went into the game without Eyre and Baker, after both players were injured in a car accident on their way to the ground. At this early stage Eyre was sizing up to be a fine replacement for the seemingly irreplaceable Bastock. Amongst the crowd was Ron Henry, grandfather of Boro skipper Ronnie Henry, a stalwart of the Spurs 1961 Double winning side and, more relevantly, a former player for St Albans City Reserves.
Having been beaten by a physically stronger side when losing for the first time under Hanlon, City were given the run-around in a more orthodox manner on the 31st as Barnet cantered to a 4-0 victory at the Park. Eyre was in outstanding form as Barnet threatened to run riot but the keeper could do nothing to stop James Puncheon from scoring a hat-trick of penalties. Suddenly City's youngsters were being tested and could find few answers.
The Watford game featured City's first look at the extremely fit Semakula and he played his first full 90 minutes against Stevenage. Another new face seen for the first time against Barnet was that of striker Danny Morgan , scorer of two goals when Bishop's Stortford removed the Saints from the FA Trophy the previous December. The long serving Southend United defender Leo Roget also had his first run out of the summer having assisted Hanlon from the touchline during the preceding matches.
A shocking incident involving Frayne during the Barnet match led to his immediate release by the club while Bubb was also not retained and Baker, sidelined since the car crash, headed back to Braintree without playing another game for the Saints. The amazing turnover in players continued at Maldon Town on 2nd August with Brazilian Alisson Corona being handed an opportunity to promote himself in a match that saw the Saints completely overwhelmed by the Essex club. Hanlon's claims that Wolverhampton Wanderers wanted to take Noel, on trial, coming on the heels of a Premiership club supposedly looking at Semakula, virtually fell on deaf ears as City slithered to a third successive defeat. One bit of good news for the City boss was the anticipated return of right back McKie after the player had had trials in Spain with Deportivo La Carona.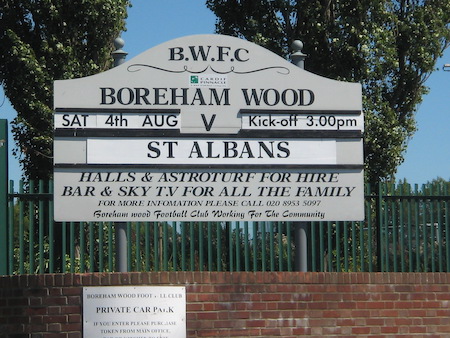 For the final friendly of the summer City visited Boreham Wood and despite taking a two goal first half lead through Burrell and Bruce were pegged back to 2-2. A four-goal victory for the home side would not have been unjust after a second half in which St Albans seldom got close to the half way line. Lopez made his final appearance, as a late substitute, and Clarke appeared for the first time since the Kettering tournament.
The early summer enthusiasm had been quelled by a run of three defeats and a draw, City were most certainly lacking experience and the two 'older' heads, Bruce and Beard, had performed only sporadically. Hanlon was also concerned that his injury list was growing just as the season approached. Concern was also expressed as to his budget, as he had stated earlier in the summer that he was looking for 5,000 spectators to come through the turnstiles during the four home friendly matches; the actual figure was barely one quarter of this.
New season starts with City in disarray
A new era for St Albans City, under the leadership of the youngest manager in the history of the club, kicked off on 11th August with the visit to Clarence Park of a Dorchester Town side that turned full time during the summer. It was a huge gamble by the Dorset club but with a 3-0 victory under their belts, courtesy of goals from Jamie Gleeson, Hardy Pinto-Moreira and Matt Groves, they believed it to be a gamble about to pay rich dividends. However, that the Magpies failed to win any of their next five matches said more about the troubled times that lay ahead for St Albans rather than Dorchester setting Conference South alight. The official title for the league was Blue Square South. Nine players made their debut and Chris Seeby made his 150th league appearance, but it was the end of the road for Lopez who was shortly to rejoin Dorchester.
Left: A dejected City bench at the final whistle.
Concern over City's inability to score goals grew the following Tuesday when, at a rainswept Gander Green Lane, the Saints ground out a dire goalless draw with expected fellow strugglers Sutton United. Clarke was restricted to a place on the bench after arriving late due to horrendous traffic problems, this allowed Mackie to start but the youngster did not take his chance well. Joining Mackie in attack was on loan teenage Stevenage striker Jerome Anderson, he was not seen again. Harvey, a controversial signing that had not gone down well amongst supporters, made his debut.
The 18th of August, just one year and one week after sitting astride the Conference National, St Albans slumped to the foot of Conference South with a 2-0 defeat to Newport County at a wet Newport Stadium. City had marked the start of their centenary year by failing to score in their opening three league games, an unwanted first for the club. Two good saves by County keeper Glyn Thompson and a goalline clearance by Steve Jenkins denied City their first goal of the season but, generally, it was another poor display in which Clarke celebrated his 150th league match. Scorers for County were the impressive and vastly experienced duo of Julian Alsop and Jason Bowen. Hanlon was left to bemoan a lengthy injury list that included long-term absentees Cousins and Martin, plus Elphick, McKie, Anderson and Semakula. Discipline was also proving to be a significant problem. Burrell, withdrawn at half time against Dorchester, was placed on the bench against Sutton and walked off to the dressing room after all three substitutions had been made. With such petulance he had effectively ended his career at St Albans and there were hints that Hanlon was growing increasingly exasperated at Hann's indifferent early season form.
Elphick and Mackie returned to the starting line-up for the visit of Eastbourne United on 25th August while Morgan was handed a debut. A mere 310 minutes into the season Morgan (below left) scored City's first goal of the campaign and nine minutes later Beard opened his account as City drew level after being two down only to succumb to Jay Lovett's late winner. Scott Ramsey scored his second brace of the season as Eastbourne maintained their good start to the season. Despite recovering from two goals down to draw level this was another poor performance and a fall in the attendance from 503 for the Dorchester game to 458 for this one suggested that the faithful were already losing faith. A bad start on the back of a relegation season was something that the club could ill afford. City picked up another four bookings taking their season's tally to twelve from four matches.

Two days later, on the Bank Holiday Monday, City picked up their second point of the season with a desperately poor goalless bore away to Braintree Town. The home side, with manager George Borg banished to the stands following the latest failure to control his volatile nature, looked as equally inept and goal shy as the Saints. Most pleasing for City were the performances of Sulaiman and Roget while a smirk appeared upon the face of many visiting supporters when, at the final whistle, the tannoy announcer stated that the supporters transport for Braintree's match at Weston-super-Mare had been downgraded from a coach to a mini bus. This reflected upon the falling support for an unattractive and poor Braintree team although it did not stop the home club reporting a generously announced gate of 610 for the visit of the Saints.
In the days following the Braintree game Hanlon took a break from his duties at Clarence Park to cut the tape at the reopening of the refurbished branch of the Skipton Building Society in Victoria Street.
Ten games in and Hanlon is out
The visit of Fisher Athletic to Clarence Park on 1st September offered hope that City's winless run may be about to end. After a bright start to the season, Wayne Burnett's young side had suffered two successive 3-0 defeats yet they returned to winning ways through a Jeff Goulding goal on a day when City mustered just one on-target effort. Not for the first time, the margin of defeat was restricted thanks to a number of good saves by the popular Eyre, while four more bookings told its own sorry story. The attendance dropped to below 400 for the first time since February 2006. After praising Nick Eyre and Hassan Sulaiman , Hanlon said, "As for the others, the youth team show more commitment and desire." Chairman John Gibson threw his support behind the manager. "He has been brought in to manage the club and that's what I'm going to let him do. I don't think he has done too much wrong."
Two days after the Fisher game, a Reserve team that included Chris Seeby , Reiss Noel, Marcel McKie and Ram Marwa , went down 3-1 at home to Leyton in the Capital League.
Having named an unchanged side for the Fisher match, Hanlon made six alterations to his starting XI for a Friday night fixture away to an undefeated Bishop's Stortford side. The effect at Woodside Park was stunning as City, somewhat against the odds, chalked up their first win of the season, this despite the ever-dangerous Greg Pearson firing Stortford ahead inside two minutes. By the interval City had built up a commanding lead through Beard, Stortford old boy Morgan and the outstanding Sulaiman. The Bishop's cause was also hindered by the dismissal of Mark Wright; he had been a target of the Saints earlier in the year. Carl Patten reduced the deficit before Sulaiman's second goal of the night restored the two-goal cushion. Loui Fazakerley's 87th minute goal and Jack Midson's injury time header against the woodwork ensured the game produced a suitably dramatic finale. Sulaiman became the first player since Valentine's Day 2006 to score twice in an away league match. Hanlon's changes had been dramatic, if indeed not drastic, with three players – Fola Onibuje ( Wycombe Wanderers ), Paul Smith (Barnet) and Alex Bolt (three-month loan from Rushden & Diamonds) – making their debut, while Cousins had his first start of the season. Deen was recalled after illness and Damian Batt returned at right back at the start of a three-month loan from Stevenage.
Below Left: Hassan Sulaiman scored twice in City's win at Woodside Park.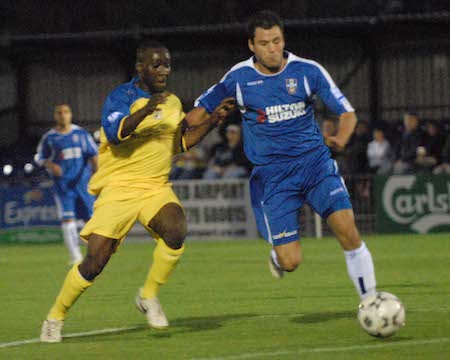 Burrell's City career proved to be brief as he signed for Cambridge City but moved on again within a week of moving to Milton Road. The biggest story surrounded Matt Hann who, having resigned from a position with William Verry during the summer, completely severed his ties with the chairman when he accepted an offer to join fellow Conference South side Eastleigh. Many supporters felt that a move could be the spark to reinvigorate a player of undoubted ability. Within six minutes of his debut for Eastleigh Hann had created two goals on the way to a 3-2 home win over Weston-super-Mare.
Given Hann's lack of good form his departure was not that great a surprise but Hanlon almost dropped a bigger bombshell as it had been his intention to leave Elphick out from the side that played at Stortford. On top of that there was speculation that the central defender, and current Player of the Season, could be bound for Ebbsfleet United (still better known under their established name of Gravesend & Northfleet). An injury to Roget led to Elphick's reinstatement but there was a suspicion that an order had been received from above to play him.
The win over Stortford lifted City off the foot of the table and eight days later a first home point of the season was recorded as league leaders Lewes were held at to a 1-1 draw at Clarence Park . When Morgan smartly flicked City ahead on 78 minutes there was even the possibility of a second straight win but a Paul Booth goal three minutes later banished such wild thoughts. But that City even took a single point from the match was down almost entirely to one man, Nick Eyre. The City keeper, as he had been at Stortford, was outstanding and capped a marvellous display by saving Booth's injury time penalty.
Right: Danny Morgan opens the scoring against Lewes.
Morgan, in for the injured Onibuje, who limped out of the Stortford match within eight minutes of the start, was the only change for the Lewes match and Hanlon confidently named an unchanged side for the visit of bottom club Thurrock on 19th September. Nothing other than a City victory had been contemplated, Thurrock were lambs to the slaughter, and a 5-0 scoreline supported this claim. The only problem is that it was Thurrock who ran amok and really should have scored at least double the five they did get. The catalyst for the amazing result came on 13 minutes
when Eyre, sold short by a weak Batt back pass, hauled down Che Stadhart and was promptly dismissed (left). Hanlon's part in what followed was scrutinised as he elected to haul off midfielder Paul Smith to allow Waite's participation when it had been expected that he would sacrifice one of the two forwards. Even so, City's capitulation was startling and, regardless of the dismissal of Eyre, Hanlon's position had been severely weakened. Furthermore, a gate of 311 to witness Thurrock's sixth victory in their last eight visits to the Park will have done little to appease William Verry's finance department.
Four days later City travelled to the wonderful spa city of Bath for their first visit to Twerton Park. This time it was Elphick who had an opportunity to carry out some sightseeing as within five minutes of the kick-off he received a red card following a tangle with Dave Gilroy as the two players raced towards the edge of the Saints penalty area. Third placed Bath were hardly likely to waste such an opportunity and referee Kevin Johnson did little to aid Hanlon's cause when awarding the home side a contentious penalty. Gilroy duly opened the scoring and second half strikes from Darren Edwards and Adie Harris sent the locals in a crowd of 798 home in good spirits. Oaklands College youngster James Archer replaced Bolt for the final six minutes to make his debut and was fortunate to stay on the pitch for that length of time after a couple of 'robust' challenges. The match also marked Seeby's final appearance of the season, although he was unaware of it at the time.
Right – Hanlon receives encouragement at the final whistle from his opposite number at Bath.
Hanlon, unlike the locals, had less to smile about but remained remarkably upbeat at the final whistle although one sensed that he was a condemned man walking. A lengthy 'phone call from the vice chairman, standing at the front of the main stand, to the chairman offered little hope for Hanlon's survival. The City boss, whilst trying not to say too much, complained that he had been told to release five players following the Thurrock farce, it is also believed that he was ordered to field two players in particular at Bath.
His position was untenable. Hanlon had, in fact, released three players with Harvey, Smith and Roget all shown the door. The departure of those three players in particular seemed a bizarre choice. Smith, although possessing limited mobility, had performed well and Roget appeared to be very close to Hanlon. Harvey's exit was more palatable to supporters but it was still a curious choice; none of the three players were not on contracts.
Forty-eight hours later, at training, Hanlon learned of his fate. Just ten games into his managerial career and he had been sacked. Given that the directors had seen few of the matches under his control it seemed a rash decision. With his inexperience and the squad he'd built an upturn in fortunes did not appear to be just around the corner, but what did the Board expect from a raw 29-year-old manager not even six-weeks into the season. It was a poor appointment in the first place and the decision to then not grant the manager time to turn things around simply compounded the earlier error Hanlon's assistant, Mark Beard, left at the same time and, after signing for AFC Wimbledon, was highly critical of his time at St Albans, stating he regretted the move to a club with no ambition. Following Hanlon's exit the chairman said, "I think he was given enough time." He also added, "Once Ritchie got off to such a bad start it was always going to be an uphill task for him."
The training session that followed Hanlon's sacking had further repercussions on City's season as an innocuous challenge between Seeby and Reserve team player Leigh Wooldridge left Seeby's season in tatters. The defender, in his sixth season as a first team player, suffered serious ligament and cartilage damage to his right knee and was ruled out for the rest of the season. He was not insured and a dispute later ensued over who should pay, and how any costs for an operation should be met, the squabble contributed to a delay in the operation being performed.
The task of training the squad was passed to Lee Clarke and Scott Cousins , the duo called in Steve Castle to work alongside them. Castle had already turned down an offer to manage the Saints for a second time. "I've got no ambitions to take over full-time. I've got too many commitments at the moment, but maybe in 18 months or two years time, if the right offer came along, I might be interested," said Castle.
The trio selected the side for the following weekends FA Cup 2nd Round Qualifying tie at home to Bishop's Stortford. In reality, City were in disarray and the Bishop's duly brushed aside a St Albans side that lacked any of the commitment one would normally expect from a side playing in the English Cup. Two goals from Greg Pearson put the visitors in control by the hour with an injury time Elphick goal making the scoreline more respectable from City's perspective. Missing from the side were loan players Batt and Bolt, and the injured Seeby. Coming into the team was Smith, who, quite amazingly, had been invited back to the club, Morgan and, for the first time, Paul Semakula. After the match a supporter questioned the chairman as to why Castle was on the bench, the reply of 'go away you are boring me' is not quite what one would normally expect from a club chairman to a spectator who spends hundreds of pounds following the club home and away each season, and had done so for getting on for 30 years.
Just one day after the cup defeat and City were under new management as Dave Anderson was persuaded to give up his role as assistant manager at Windsor & Eton, a position that he had only taken on in July, to take charge at Clarence Park . Anderson had previously been assistant manager to Bob Dowie at St Albans for a short period in 1999, since then he had managed with some success at Hendon and AFC Wimbledon. Before working on the squad Anderson gathered his personal team around him with his long-time colleague John Turner named as assistant manager and Steve Baker, recently sacked by Chertsey Town, appointed coach. Anderson was quick to outline the needs of the team, "We need to be stronger. The balance is not right. We are missing an ugly side to the team."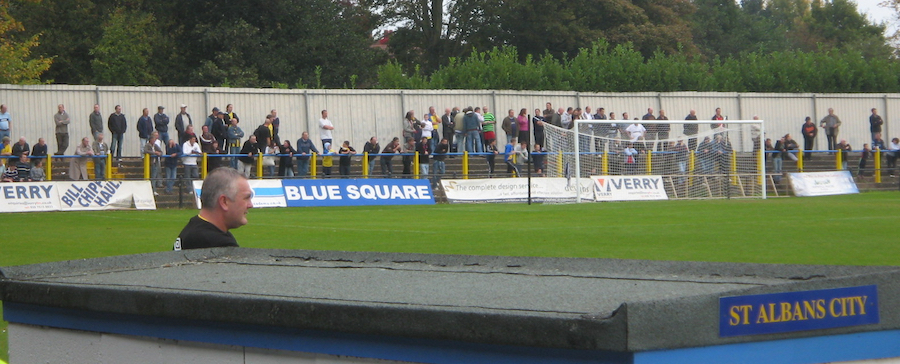 Above – Dave Anderson looks on in his first match as City boss.
Another lowly club, Welling United, provided the opposition for Anderson's first match on 6th October. Any hopes of viewing his strongest possible XI were shattered with Eyre and Elphick both suspended, Smith was also absent, presumed departed once more. Batt returned to score a spectacular goal but by then Welling were two goals to the good through Ross Montague and a Bruce own goal, the latter was in his first start for seven matches. The Wings held on for a deserved victory after what was another dispiritingly poor and gutless City performance. Little faith was shown in Eyre's understudy Waite as Anderson pulled in, for just one match, 17-year-old Brentford keeper Sebastian Brown. Ironically another on loan Brentford custodian, Clark Masters, was between the sticks for the visitors. Bolt, Bruce and Reiss Noel were also recalled to the starting line up along with right back Marcel McKie who had been sidelined by injury since the draw at Sutton.
The following Tuesday Anderson took the opportunity to arrange a friendly at home to Chesham United. The new boss ran the rule over his present squad and a number of trialists, although he was not overly impressed by the new faces as City went down 4-1 in the behind closed doors match. Due to an early exit from the FA Cup the club had a free Saturday on the 13th. City's conquerors from the 2nd Round Qualifying, Bishop's Stortford, went down to a 1-0 defeat at Wealdstone on this day. Ram Marwa played against both Stortford and Welling, and also for 45 minutes of the Chesham friendly, but was transfer listed by Anderson who told him he was not the type of player 'we require at the minute.' After a few weeks on the sidelines Marwa signed for fellow Conference South side Hayes & Yeading United. Leaving the Park at the same time was striker Danny Morgan .
Lee Clarke's name made a welcome return to the scoresheet on 20th October but the skipper's second goal in 2,312 minutes could not stave off a 4-1 defeat at the Beveree as Hampton & Richmond Borough maintained their good start to the season. Had it not been for another fine performance from Eyre the Saints would have suffered their heaviest defeat ever at the Beveree. But Eyre was also the victim of a cruel piece of ill fortune as an Elphick back pass from the edge of the penalty area bobbled wickedly just as Eyre went to clear his lines. The 'keeper could do no more than watch in horror as the ball, after clearing his swing, bounced its way into the goal.
The following Tuesday City headed to Hayes Lane to face a Bromley side expected to be pushing for a play-off place. A Sam Wood goal inside three minutes seemed to put Bromley on course for a fourth straight win but by the seventh minute City were not only back in contention but leading by two goals. The transformation was staggering and for those travelling supporters caught in terrible traffic on the M25 the news given to them upon reaching the ground must have sounded surreal. Clarke had struck twice and Bruce once but by half time the outcome was back in the balance as Francis Duku headed home. The outstanding Deen restored City's two goal advantage but when he then deflected Gareth Williams 87th minute shot past Eyre the visitors had an anxious wait before clinching victory. It was the second match in succession that the opposition had scored with a deflection off the unfortunate Deen.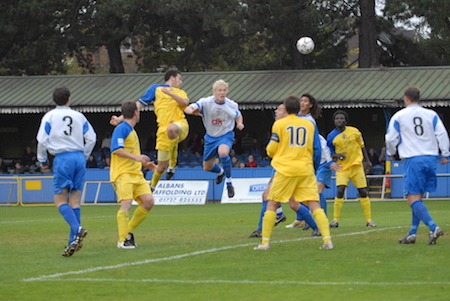 The Supporters Club staged a Quiz Night on Friday, 27th October. Normally, these functions were held in the clubhouse at Clarence Park , but, due to an ongoing dispute with the Football Club, this one was held at the Waverley Club in Waverley Road. The winners were a team that included the City secretary Steve Eames, Ian Ridley and his wife Vikki.
City were unable to build on the good work of an away win as Weston-super-Mare, a mediocre side, strolled to a 3-0 win at Clarence Park on 27th October courtesy of a brace of second half goals from Ryan Harley and one from Gareth Hopkins. One plus point for the club was that not a single City player was booked, the first time that had happened since the end of the previous season. On the eve of the match an agreement was reached to terminate the contract of Hector Mackie , the Scot joined Potters Bar Town.
November – Stevenson scores on debut but struggle continues
Anderson made his most significant changes so far since taking charge at the Park when, on 3rd November, he gave debuts to three players during a fortuitous draw at home to fellow strugglers Bognor Regis Town. Jon Stevenson salvaged a point with an 88th minute goal as he, along with full backs Jomo Faal-Thomas and Craig Vargas, pulled on a City shirt for the first time. The trio replaced the injured Sulaiman and the suspended duo of Clarke and Bruce. During the afternoon a collection was taken in aid of Seeby's impending operation, approximately £250 was raised.
City extended their unbeaten away run to a second game the following Saturday when taking a point from a poor goalless encounter at Champion Hill with Fisher Athletic. City's growing club of debutants greeted two new members with one-time Spurs youngsters Stephane Seanla, on loan from Barnet, and an Anderson old boy from AFC Wimbledon, Richard Butler, were welcomed into the fold. Butler scored 54 times in 95 games for the Dons but had been troubled by injury so far this season.
Two factors, the reduction in size of the pitch at Clarence Park and the marked changed in style to a route one game, were not going down well with supporters and the club was thrown into further turmoil with Elphick making it known that this had been his final game for the club. Anderson was fully aware of City's mounting problems., "There is a lot more to be done than we initially thought," he said after the game. Writing in The Non-League Paper, Anderson said, "My new job is an even bigger challenge than I initially envisaged."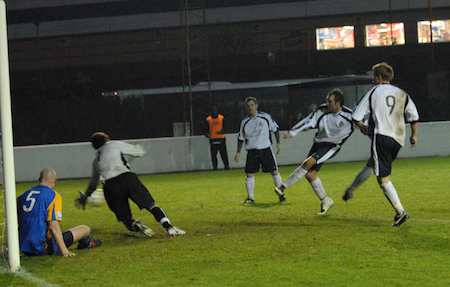 Thoughts of the County Cup returning to Clarence Park for the second time in four years were crushed at Meadow Park on November 13th as Boreham Wood, under the control of former City manager Steve Cook , handed an inexperienced City XI a 3-2 defeat. Wood's leading marksman Simon Thomas scored twice. Elliot Onochie opened the scoring before City responded with second half goals from Deen and Craig O'Connor who was making his fifth and final appearance for the club.
City were back in league action on the 17th with a visit to the Camrose to face Basingstoke Town. During the week Anderson denied that Elphick had left but made it clear that a move was not far off. Elphick duly took his place in the middle of the defence but could not stop City falling to a harsh 3-1 defeat. The Saints put in a positive display but had just a Clarke goal (left), his fourth in five games, to show for their efforts as they continued to languish one place off the foot of the table. Stoke built up a two-goal lead through Rob Watkins and Michael Charles before a thunderbolt from captain Steve Laidler condemned Anderson's side to a tenth defeat in 17 league games.
Attention diverted away from league strife over the next five games as just one of that quintet was for league points. The visit of Braintree for a 2nd Round Setanta Shield (League Cup) tie attracted a paltry gate of 127, the lowest of the season, but the few that showed up got full value for their money with the game going to penalties after a 1-1 draw. A draw was a just outcome with Butler scoring his only goal for the club in the final minute of normal time to wipe out Robbie Martin's 85th minute opener for the Essex side. That the tie went to a shoot-out was again down to Eyre who delighted the home support when saving a 115th minute penalty from City old-boy Leon Archer. And Archer's misery was far from over as he also missed Braintree's fourth spot kick as City won the shoot-out 5-4. The night was a total triumph for Eyre who saved three penalties during the course of the evening.
City's improving disciplinary record suffered a jolt as four Saints were cautioned and Vargas was dismissed for two bookable offences. Prior to the kick off a one-minute silence was observed in memory of former City vice chairman Paul Hawkins who had died when struck by a motorbike as he was leaving a supermarket in Spain.
The match had been played on a new slimline Clarence Park after Anderson ordered that the width of the pitch be reduced by four metres. He gave his reasons with brutal honesty, "I have taken it in a little bit. If you are the best team in the league you have the biggest pitch – we are not the best team in the league. When you have got weaknesses, the bigger the pitch, the more exposed you are." The thinking was simple; the narrower the pitch the sooner a struggling side can clear its lines and the less space good sides would have to work in.
With spirits lifted by the Braintree match St Albans headed for Maidenhead United on the final Saturday of the month for an FA Trophy 3rd Round Qualifying fixture. The optimism was without foundation as Maidenhead, without a home win thus far in any competition, won 2-0 and with better finishing would have more than doubled that score. Clarke put United ahead with an early own goal and Manny Williams settled the issue on 72 minutes as City's search for a cup win in open play was extended to a year. Maidenhead celebrated their first home cup win over St Albans in seven attempts by pocketing the £3,000 prize money while City were left to ponder a reply to a letter from the Football Association asking for reasons as to the club's poor disciplinary record.
December – Clarke spot on as City win at home at last
City kicked off the festive month with Clarke being physically ill in the dressing room minutes before the start of the home Conference South match with Bromley on the 1st. But the City captain felt a whole lot better two hours later after converting a 90th minute penalty that secured the Saints second win in 20 home matches. Remarkably it was City's first successful spot kick (other than in a shoot-out) since January. Anderson's faith that Clarke would secure the first home win under him was wafer thin and he headed down the tunnel as his skipper placed the ball on the spot. With that goal City's poorest ever home start to a season, ten games without a win in all competitions, came to an end and it also completed City's first league double since the 2005-06 season.
The attendance of 393 against Bromley took the season's average down to 400 and it was to be Elphick's final game for the club before joining Conference South rivals Havant & Waterlooville. The central defender left on a free transfer after it was agreed to terminate his contract. Suspension ruled out fellow defenders Deen and Vargas as City entertained Thurrock in the 3rd Round of the Setanta Shield on 15th December. Two goals by Clarke, one another penalty, clinched a second successive home win, as the long wait for a cup victory came to an end. For the first time in 13 months City had also won two successive home matches, goalkeeper Nick Eyre played a significant role in the win. Former Hitchin Town captain Ryan Frater enjoyed an impressive debut, striker Daniel Chillingworth, on loan from Cambridge United, also made his first appearance, while Seanla's loan from Barnet ended. With Elphick gone, Clarke was now the only player on show to have featured in City's play-off victory over Histon just 19 months earlier.
The turnover of players continued at some pace. Chillingworth made just three substitute appearances while two players signed from Leyton, bottom of the Isthmian League Premier Division, also came and went in quick time. Solomon Henry played in four games while Tobi Oshitola failed to make a single appearance.
The merits of a League Cup competition can be argued for and against quite strongly but City's season received what was felt at the time to be a massive boost when Torquay United, second in Conference National, were defeated 2-0 in the Fourth Round at Clarence Park on 22nd December. A Mark Ellis own goal and one of several Bruce specials secured the victory in what was a low-key affair. Making his debut as a late substitute was Solomon Henry. The attendance was recorded as a disappointing 454 but City's run in the competition so far had earned the club £7,000 from the sponsors.

Above:City await the start of the second half at home to Torquay United.
Four days later, Boxing Day, City's highest gate of the season, 612, welcomed Gary Roberts , another former City manager, and his Cambridge City team to Clarence Park . Anderson was keen to see that the win over Torquay would be used as a springboard to better times, but was wary that it could be a millstone. Looking forward to the Cambridge game he said, "Let's not be known as the team that can beat Torquay but can't climb the league."
Cambridge were four places and six points better off than the 20th placed Saints and the visitors enhanced their position by outplaying their hosts and cruising to a comfortable 2-0 victory. First half goals for Michael Gash and Neil Midgley gave credence to Anderson's pre-match fears. In the Cambridge side was former St Albans defender Dave Theobald while the hosts were without the injured Faal-Thomas, and Ben Martin played despite a heavy cold.
The year closed with a third draw of the season with Braintree Town and the fifth in the last six games between the two clubs. Bruce opened the scoring with a superbly placed 20-yard free kick only for summer trialist James Baker to plunder a last-minute equaliser for the Iron. The draw ensured that for the second successive year St Albans went into the New Year occupying a relegation position. It was a difficult day for Anderson who had Butler and Chillingworth rule themselves out in the morning through injury while Faal-Thomas was absent due to a family bereavement. Just for good measure Ben Martin arrived with just 15 minutes to spare after his car broke down en route to the game. Right-sided midfielder Hamza Twomey replaced Henry for the final two minutes to make his league debut. Anderson, like Hanlon, had now been in charge for ten league games, and had collected just three points more than his predecessor.
January – Director quits, Anderson sacked, Castle returns
City went into the New Year with another vacancy on the ever-decreasing list of directors with Leigh Page, a club stalwart if ever there was one, resigning his position.
Three years and six days after visiting Cambridge City when bottom of the table, City headed for Milton Road on New Year's Day 2008 two places off the foot of the table but had their Conference South survival hopes seriously dented by a thumping 4-0 defeat. Lee Chaffey gave the home side an early lead before a Michael Gash hat trick, including two penalties, concluded The Whites joint biggest win of the season. Seventeen-year-old Alex Olcot came off the bench to make his league debut. The scoreline did not tell the whole story, City had competed reasonably well but were found wanting in front of goal. That Cambridge failed to win a corner, while the Saints won six, speaks volumes as to the balance of play but the telling statistic is that Roberts' side had five shots on target and St Albans had none. City's discipline was also found wanting as four more bookings were collected. Bruce was handed a two-match ban after picking up his tenth booking in just 21 games. Anderson seldom criticises match officials but just about the kindest words he could say about referee Chris Miller at Cambridge were, "I would like to congratulate Cambridge City for beating us in the first half and congratulate the referee for beating us in the second half."
Above – The main stand at Milton Road. The ground failed to get its crucial 'B' grading by the end of the season leaving Cambridge City with the prospect of being thrown out of Conference South.
One of the features of City's trip to Cambridge, and most matches played during December was that no directors had been present. Despite this the Board deemed Anderson as not being the man to guide the club to safety. After being in charge for just 11 Conference South matches the Northern Irishman was dismissed. Anderson was understandably scathing of the City Board but felt that having been given such a short time his CV would not be damaged. Although he was not back in management by the end of the season his views were read through a weekly article in the Sunday newspaper Non-League Paper.
Gibson, despite witnessing barely a single match during December, gave his reasons for Anderson's sacking. "I wasn't happy with results or the style of play. He also never got to within the budget, but it comes down to the results, and the performance against Cambridge was abysmal."
Anderson called the decision to dismiss him a joke. "I find the whole thing absolutely hilarious; I can't see anything beyond humour in this. I think it will do John Gibson's reputation more harm than mine. We were making strides but when major surgery is needed, as it was, it always takes a bit of time. I'm in no doubt that I would have kept the club up," he said. Ominously for Anderson, throughout his reign the matchday programme left the line for the name of the manager blank.
For the Saints next match, at home to bottom of the table Sutton United on 5th January, City were once again under the temporary leadership of Steve Castle . Lee Clarke led calls for Castle to be handed the job permanently. Gibson received suggestions from former boss Colin Lippiatt as to who he should give the job to. Gibson mentioned George Borg as a suggested name but his programme notes at the time of Anderson's appointment made this an unlikely move, 'I told him (Anderson) what we required in terms of a manager and how we expect a level of decorum in the dugout and not someone with the "George Borg approach"', he wrote.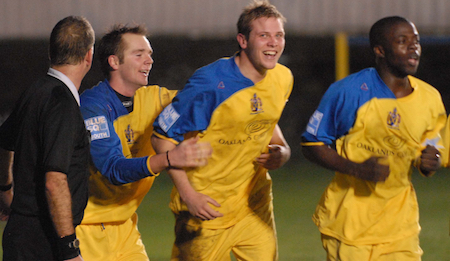 City actually dominated the Sutton match in a fashion not seen all season but after taking the lead through Stevenson two late goals condemned Castle's side to defeat and bottom place in the table. The match could have moved heavily in City's favour after just five minutes when the Saints were awarded a penalty. Clarke again opted for a stop-start run-up but again only succeeded in confusing himself as he then chipped the meekest of spot kicks into the arms of 'keeper Phil Wilson. The final result was a travesty but City, angry at the performance of referee Ian Crouch, were found wanting once again when it came to discipline. The New Eltham match official dismissed Sutton's Nick Greene just five minutes after the substitute came on but, more crucially, sent City's Paul Bruce packing at the same time and five minutes later showed Faal-Thomas a second yellow, and then red, card. Faal-Thomas's second caution saw Sutton awarded a penalty that Craig Dundas stuck away and eight minutes later, the 90th, John Scarborough claimed the winner for Ernie Howe's side. City had two other players booked during the game and at the final whistle Eyre too was cautioned while Andy Edwards, an old friend of Castle's and called in to assist on the bench, was reported to the F.A. for comments made to the match official. Bruce, having been due to start a two-match ban for ten bookings, had it lengthened to five games following his dismissal against Sutton. Of Castle, Gibson said, "I have got a lot more faith in Steve Castle than some of the supporters."
On a lighter note, under Anderson the pitch was narrowed but following his exit it reverted to the size it had been at the start of the season; 100m x 69m.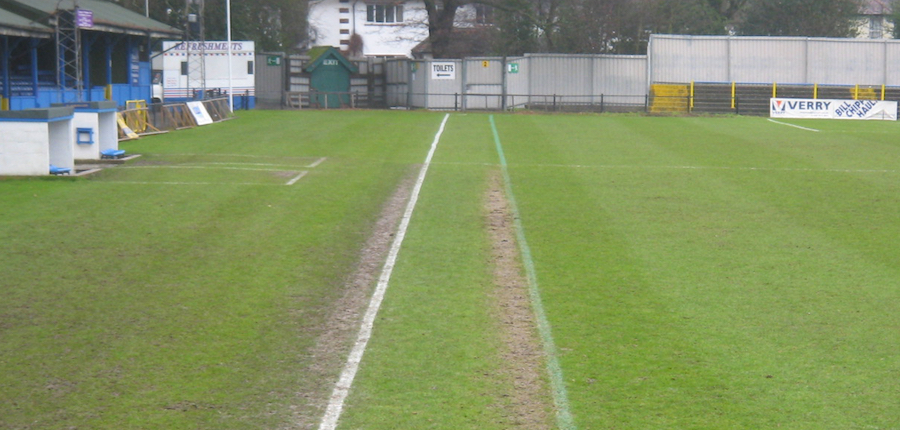 The list of candidates to become, effectively, City's fourth manager of the season was far from long and once Castle refused to rule himself out of the running it seemed fairly obvious that he would carry on in his present position at least until the end of the season. A strong rumour that Graham Westley was to become manager appeared to have little substance although he is known to have tried to contact the chairman during the season.
On January 12th City visited a Havant & Waterlooville side that four days later were to entertain – and beat – Swansea City in the FA Cup. Back in the City side was Ben Martin who had gone AWOL towards the end of Anderson's reign while James Quilter made his debut in midfield. An old boy, Simon Martin , returned to the fold on loan from Hayes & Yeading United and marked the occasion by giving the Saints a fourth minute lead at Westleigh Park after Clarke had skipped past Gary Elphick . Havant hit back with want-away defender Tom Jordan scoring twice and substitute Craig Watkins adding a third during added time.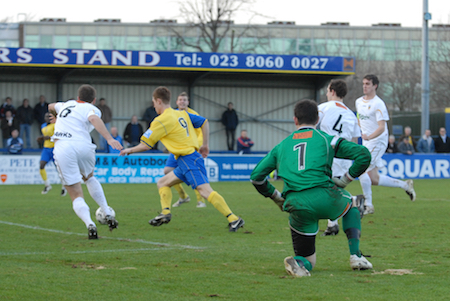 According to the F.A., City possessed the poorest disciplinary record in the country and Castle certainly had his hands tied for the trip to Eastleigh on 19th January. In addition to the injured foursome of Seeby, Semakula, Noel and Sulaiman, City were without the suspended quartet of Bruce, Stevenson, Vargas and Faal-Thomas. Two other players, Henry and Chillingworth, had also left the club. Facing an Eastleigh side striving for promotion, and containing former Saint Matt Hann , City were good value for the point won courtesy of Simon Martin's second half equaliser, as he became the 30th player to make 200 appearances for the club. The other Martin, Ben, had a less enjoyable day. He was booked just after the hour for a foul on Ashan Holgate and sent off 17 minutes later for showing dissent to the referee.
Back in the City line-up was Dean Cracknell who had rejoined the club from Hemel Hempstead Town. Making a debut as a substitute was Jamie Wakem, formerly of Romford and Herts side Takeley; his City career proved to be the 14 minutes that he was on the pitch at the Silverlake Stadium. Fellow substitute Richard Butler, having already fallen out of favour when asking for transfer in the aftermath of Anderson's sacking – the reason stated being that travelling from his home in Ashford, Middlesex, was too much for him – lost further respect on the terraces by seemingly having gained weight since his last appearance on Boxing Day. An ankle injury hindered his progress. By the end of the month Butler had returned to the Isthmian League to sign for Staines Town in exchange for £500.
The joy of picking up a point at Eastleigh, City's first in 2008, was offset by more disciplinary mayhem. Referee Constantine Hatzidakis may not have been the best referee seen all season but all the football authorities will have seen is that St Albans City had four more players cautioned and Ben Martin dismissed for two yellow card offences. One of those booked was Lee Clarke who became the first player in the history of the club to be cautioned a staggering 50 times. His latest yellow card earned him a two-match ban. Sticking with the '50' theme, the goal scored by Eastleigh's Andy Forbes was the 50th league goal conceded by the Saints this season in what was Castle's 50th league match as manager. Gibson announced that Castle would remain in control until the end of the season.
City travelled to Dorchester Town on 26th January to face a side that had won just once in 16 games and, not too dissimilar to St Albans, were in turmoil off the pitch. On the pitch it was no contest, Dorchester were simply dreadful as City cantered to a 3-0 victory, thus overturning the result from the opening day of the season. An own goal by Mark Jermyn set City on their way with Marcel McKie netting his first for the club and Simon Martin his third in as many games. The Magpies cause was not aided by goalkeeper Simon Evans twisting an ankle when trying to keep out Jermyn's headed own goal. The 'keeper departed on a stretcher and was replaced by substitute Alex Browne, a central defender. Castle's revamping of the side had stepped up a gear with Paul Hakim returning to the club after an unsuccessful year with Stevenage Borough. Reappearing from the bench was a somewhat amply framed Ben Walshe for his fourth spell with the club, following a stint in Australia. The win was City's third in three visits to the Avenue Stadium – renamed The Jewson Stadium earlier in the week – and it was also Castle's first league success since 4th September 2004. The result capped a miserable week for Dorchester, seven directors had quit the club in the days leading up to the game.
City's two-match unbeaten away run ended at Church Road on 22nd January, as Hayes & Yeading United won an entertaining match 2-1. Josh Scott sent a penalty high over the crossbar for the Missioners but he did add to a goal from Will Hendry before Lee Clarke reduced the arrears. For once Nicky Eyre was not City's star player with the 'keeper blaming himself for both of the goals City conceded.
February – Five games, one point, relegation looms
Two successive league defeats became three the following Saturday when Maidenhead United moved 11 points clear of the Saints with a 3-0 victory at Clarence Park , the Magpies biggest win in 49 meetings between the two clubs. Former Saint John Hastings opened the scoring before hesitancy by Eyre allowed Manny Williams to nip in for the second, Ashley Smith completed what could easily have been a rout. Suspension for Bruce, Clarke and Ben Martin restricted Castle's options but the City boss surprisingly went for the obviously unfit Walshe. After 79 minutes Walshe's latest stint with the Saints came to an end while James Archer made his sole starting appearance in a league match.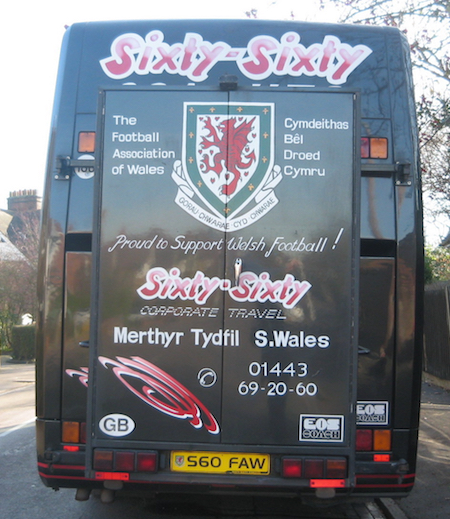 City's bid to continue flying the flag for the Conference South in the League Cup (Setanta Shield) was unceremoniously ended on 5th February as Premier Division leaders Aldershot Town strolled to an easy 4-0 victory at the Park. Kirk Hudson gave Gary Waddock's side a fourth minute lead with Rob Elvins adding a brace by the interval, Scott Donnelly completing the rout on 75 minutes with a spectacular effort from 30 yards. The prospect of City scooping a second successive cup upset tempted just 375 spectators from their armchairs. Ben Martin returned after suspension and lively Leyton Orient teenager Bradley Gray made his only starting appearance. Gray, in the 34th match of the campaign, became the 50th player used by the club this season. City's cause was hardly aided by an early dead-leg injury inflicted on Deen. The unfortunate Eyre suffered more damage to his sagging morale as a misunderstanding between him and Martin let in Elvins for his first goal of the night.
Left: Newport County's Football of Wales coach parked in Clarence Road.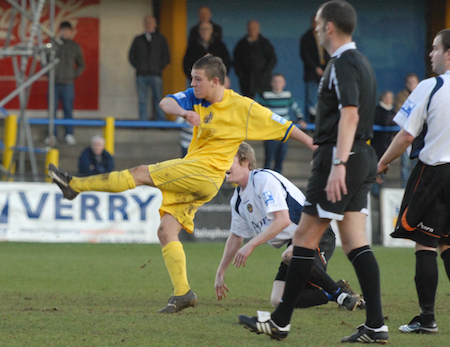 A welcome clean sheet was achieved the following Saturday as Newport County's push towards the play-offs was slowed by a goalless draw in Hertfordshire. The midfield contained some extra steel with Southend United youngster Luke Thurlbourne making an impressive debut (right). Also back in the side were Bruce and Clarke while Faal-Thomas and Archer made their final appearances for the club. Archer joined Potters Bar Town while Faal-Thomas returned to Wealdstone . After three games without a booking the Newport match saw a return to the bad old days as three City players were shown a yellow card. However, referee Michael Rowley crowned a poor display by mixing up the bookings when sending his report to the league. He should have recorded bookings against Clarke, Thurlbourne and Hakim. But instead filed bookings against Hakim and Bruce. Rowley inadvertently showed the two Newport players booked, Bowen (no.7) and Evans (no.11), as being the St Albans no.7 and no.11. Due to this, bookings were recorded against Hakim (no.7) and Bruce (no.11) with Clarke and Thurlbourne both escaping the cautions that they should have received.
Steve Castle was confident that City could avoid the drop but would not look too far into the future. "I was only too pleased to help out. It is in my interests that the club stays in this Division as it would make the college more attractive." As for the future he added that he had not looked beyond the end of this season.
For 45 minutes of the next match, away to championship chasing Eastbourne Borough on the 16th, St Albans showed genuine signs of progress. But all the good work was shattered right on the stroke of half time when Quilter was dismissed for an elbow into the face of Boro midfielder Marc Pullen. The decision for referee Ian Crouch to send off Quilter looked straightforward from the press box but others, including Castle, with a different angle to the incident, came to the defence of the midfielder. Certainly, if a wayward elbow did catch Pullen then it would have been completely out of character with the way Quilter played during the rest of the season. He was handed an automatic three-match ban for receiving a straight red card.
The incident could not have come at a worse time for City. Eastbourne were frustrated, making little headway against their lowly visitors but with a four-goal second half salvo the second in the table Sussex club boosted their promotion bid. Paul Armstrong began and finished the goal feast, his second coming from the penalty spot, with Scott Ramsay and Nathan Crabb adding to City's problems. It was the Priory Lane club's third league win in eight days, during which time they had scored eleven times without reply. The one bonus to come out of the game for St Albans was the performance of new signing James Fisher , formerly of Northwood, at right back, less pleasing was Clarke's fifth booking in nine appearances. Chairman Gibson was highly critical of referee Ian Crouch in his next set of programme notes, this in spite of not being at Eastbourne.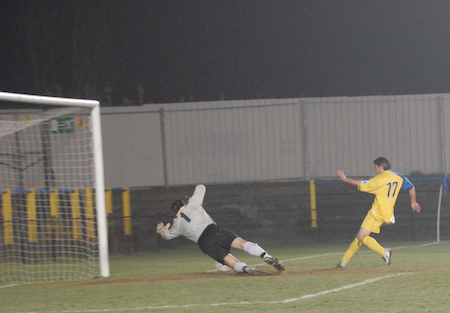 Castle gave a league debut, as a second half substitute, to Bradley Gray the following Tuesday as City's plight worsened with Bishop's Stortford winning 2-1 at Clarence Park for the second time in five months. After a lengthy delay awaiting international clearance, City were able to include Nigerian Akanni-Sunday Wasiu as substitute. And it was the two substitutes that linked up to give Gray his only goal for the club. That strike came just eight minutes before City would have equalled a 71-year-old club record of five successive matches without a goal. Stortford striker Greg Pearson was having no such problems in front of goal as he stuck away his 22nd of the season and fourth in three games against the City. Craig Edwards' had opened the scoring midway through the first half. Sulaiman was included in the starting line-up for the first time since New Year's Day, and Deen also returned after missing three matches. Ben Martin was relegated to the bench while Castle's frustration at the lack of goals meant there was no place even amongst the substitutes for Clarke.
Simon Martin and Clarke were both on the bench on 23rd February as Bath City made their first visit to Clarence Park . The Romans strengthened their bid to reach the play offs when completing the double over their hosts with a 2-1 victory. Although City gave a more encouraging performance than in recent matches the goal Darren Edwards scored three minutes from time pushed the Saints to the bottom of the table. City's goal shy strike force at last found the target with Hakim opening the scoring only for Dave Gilroy to grab an equaliser just 48 seconds into the second half. Hakim's goal was his first in 566 minutes and came on the day when he was moved from a position on the right of midfield to his preferred central attacking role.
March – Honours for Castle and Bastock as Saints roar back
It seemed almost as though City's trip to Weston-super-Mare on the first day of March was a stay at the last chance saloon. The atmosphere around Woodspring Park suggested that Weston believed they were in safe waters. That said, the Seagulls looked to improve upon a run of one win in 14 games by completing a league double over the Saints. Weston had ten points more than City and also the benefit of three games in hand. City were rock bottom on 20 points, the same number as Sutton United and Dorchester Town; Welling United were in 19th position on 24 points. The game on the Somerset coast was City's 32nd Conference South match of the season, wins had been recorded in just four of the previous 31 outings.
Castle again rang the changes as Clarke remained on the bench and was joined by Scott Cousins . Marcel McKie replaced Cousins but after starting well the left back was substituted just before half time due to a hamstring injury and did not regain his place in the side during the remaining ten matches. Making a reappearance for the club, after a gap of more than 17 years, as an 80th minute substitute, was midfielder Jonathan Hunt . He had been out of the game for five years but had been a team mate of Castle's at Peterborough United. The biggest change came in goal. After an unhappy stint playing under ex City boss Garry Hill at Rushden & Diamonds, Paul Bastock was back with St Albans City. Nick Eyre had paid the price for a run of unfortunate slips that had damaged his confidence and the confidence of those playing in front of him. Furthermore, the keeper stated in a newspaper interview that he was likely to leave in the summer, thus prompting the club to look for a replacement sooner rather than later. Eyre, unquestionably City's most outstanding player up until the turn of the year, headed back into the Conference National to join Grays Athletic on loan for the remainder of the season. Bastock quickly made his presence felt as he barked orders to a defence that suddenly appeared organised and strong. Bastock, approaching his 38th birthday in May, was delighted to be back at the Park and was looking forward to renewing old acquaintances, "They (City supporters) are a good set of fans. I had a good rapport with them. We are in a very difficult position and hopefully I can bring a bit of experience at the back and rattle a few ear holes."
On a ground where a 3-0 defeat persuaded Castle to resign as manager in October 2004 City's season was finally ignited by a victory that sparked a remarkable sequence of results.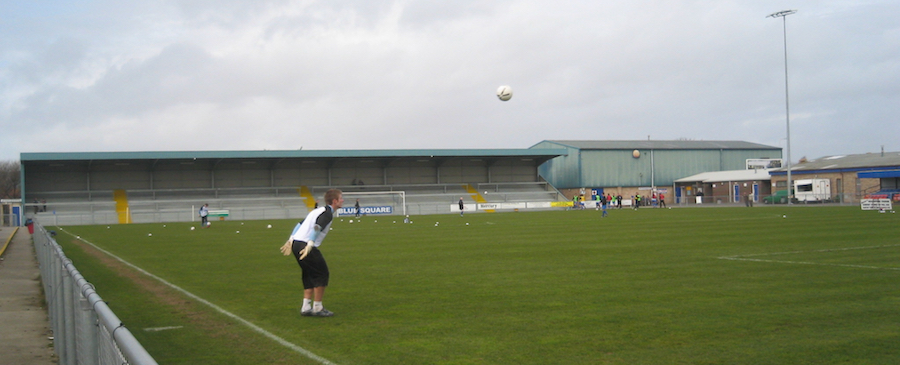 Nick Eyre prepares to receive the ball at Weston-super-Mare from Paul Bastock having been replaced by the Bostonian upon his return from Rushden & Diamonds.
With two successful spot kicks inside the opening 22 minutes Paul Bruce became the first City player in 18 years to convert two penalties in one match while Clarke, just five minutes after coming off the bench, scored his second goal in 1,018 minutes, as City cruised home 3-0. City's first win at Winterstoke Road lifted them off the foot of the table and closed the gap on Weston to seven points, although the Somerset club still had the security of those three games in hand.
There was a genuine belief that for the first time in more than 13 months City could chalk up two consecutive league wins as a Basingstoke Town side ravaged by financial problems visited Clarence Park on March 8th. A number of senior players had left the Hampshire club in the days leading up to the match but City were in no mood to offer any sympathy and romped to a 4-1 win. Bruce added another brace, including one more from the penalty spot. City remained in 20th position but after 59 league matches as manager Castle had at last won back to back matches for the first time.
Successive wins against sides in the bottom half of the table took City to within a point of 19th placed Welling but now the resurgence faced its sternest test, as Castle took his side to the south coast to face league leaders Lewes at the wonderful Dripping Pan ground. Lewes went into the game 44 points better off than St Albans but were suffering from a growing injury list and had picked up just one point from their previous two games. The Rooks injury list included Tom Davis and another former Saint, Hamid Barr. Against this background, it was in some relative comfort that City completed a third successive win on the back of an excellent strike by Clarke and a close-range effort from Hakim; the successful partnership from the promotion season was back in business. Castle had made just one change from the win over Basingstoke with Fisher replacing Deen. The attendance of 717, although move than 260 above City's average, was the lowest seen at the Dripping Pan for two months.
That City were still entrenched in 20th position underlined just how helpless their position had appeared a fortnight earlier. The chairman was lavish in his praise of the manager; "I'd rather delay my compliments towards Steve until I know that we are safe. But there is no question in my mind that he has completely transformed the team." He also took the opportunity to have another swipe at the club's supporters as he reflected on not giving Castle the job following Colin Lippiatt's departure the previous May. "Foolishly, I listened to some of the outspoken characters around that know nothing about the game."
The starting XI was unchanged the following Saturday, 22nd, for the trip to Thurrock as City looked to continue their great escape. A strong wind made life difficult for both sides but St Albans appeared well placed for a fourth consecutive win when Hakim struck his fourth goal in five games after just seven minutes. Whether or not the conditions hindered City will remain open to debate but the side failed to maintain the attack minded approach of the three previous games and in the second minute of added time Fola Orilonishe struck to claim an equaliser. It was a cruel and potentially damaging blow with just seven games remaining.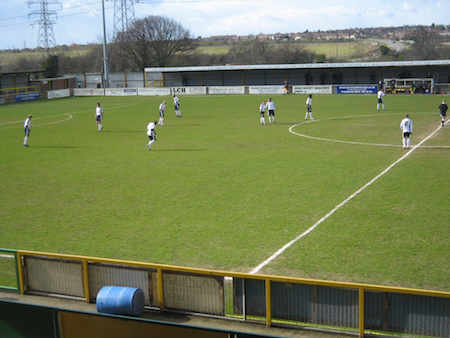 Left: A rubbish bin tips over in the powerful winds at Ship Lane, Thurrock.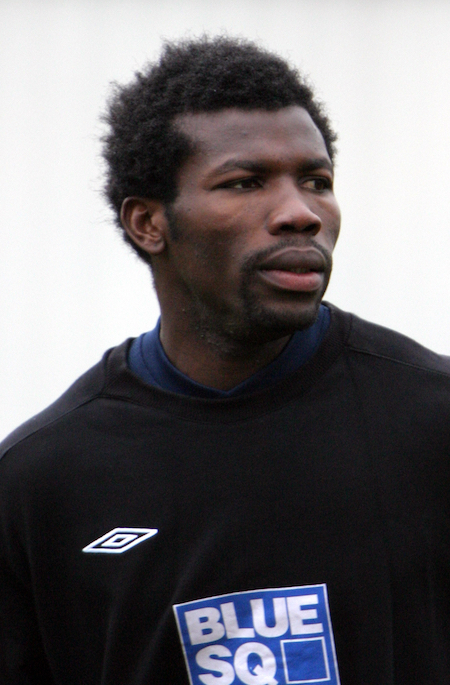 Two days later, on Easter Monday, City had a chance to put the disappointment of the loss of two points at Thurrock behind them with the return fixture at home to Hayes & Yeading United. Just 15 minutes into an untidy encounter and the Saints were indeed on their way to three more points as Clarke deflected home a header by Sunday. The match was put beyond the visitors on 73 minutes when Simon Martin , playing against the side with which he had started the season, won a free kick that precipitated the dismissal of Hayes midfielder Steve Perkins. Bruce added another gem to his collection with a sweetly struck dead ball into the roof of the York Road goal from just outside the box.
Two days after the Hayes match Chris Seeby finally set upon his road to recovery with an operation on his damaged knee at the Spire Hospital in Harpenden. The operation was said to be a success but Seeby's recovery was expected to be slow with his return to action likely to be towards the end of the year.

Akanni-Sunday Wasiu (tight) was not pleased that Clarke claimed the first goal against a and the Nigerian was on the receiving end of more bad luck against Havant & Waterlooville on 29th March as this time his header flew into the net off Hakim. The rest of the team was not too bothered who got the goals but everyone celebrated as the 1-0 win over Gary Elphick's new club finally took the Saints clear of the bottom three. Prior to Bastock's return City had collected one point in six games and conceded 13 goals in that time. In the first six games after his return the side won five, drew one and conceded just two goals. It was a record no other side in the Division could match during March and Castle duly won his first Manager of the Month award. Just for good measure the club made a clean sweep of the Conference South Awards for March as Bastock was named as Player of the Month. Castle was delighted at receiving the award. "I'm very proud to have won but I'll be happier if I win the April award as it means we are definitely staying up."
April – Saints climb to safety in penultimate match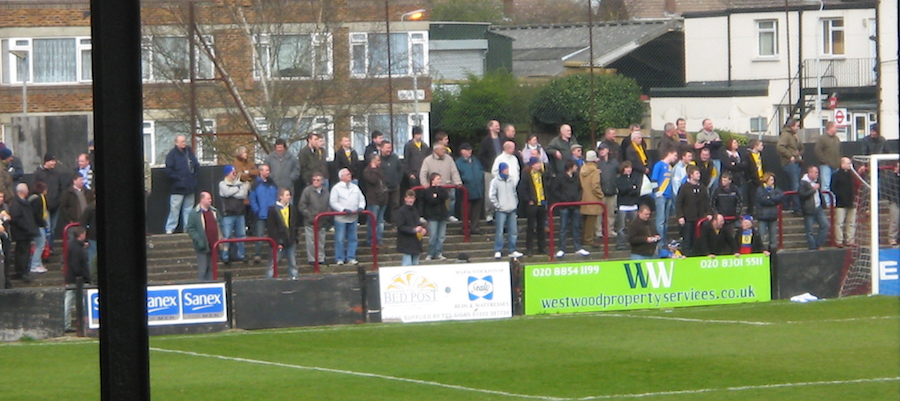 Over 100 supporters travelled to see City face Welling United in a crucial relegation encounter
For the first match in April St Albans travelled south of The Thames to face a Welling United side that, although like the Saints deep in relegation strife, was another of the in-form teams in the Division. Three 1-0 wins in four games had earned the Wings some breathing space, and the second highest crowd of the season to attend a league match at Park View Road saw a suitably tight game. All the honours went the way of the two defences as Welling edged closer to safety and City satisfied themselves by extending their outstanding defensive record to just two goals conceded in seven games as the sides ground out a goalless draw. City were forced into changing what had become a settled line up as Quilter deputised in the middle of the defence for Frater who was serving the first of a two-match ban after reaching ten yellow cards, seven of which he brought with him from his time at Hitchin Town. The point took City to a seasons' high position of 17th.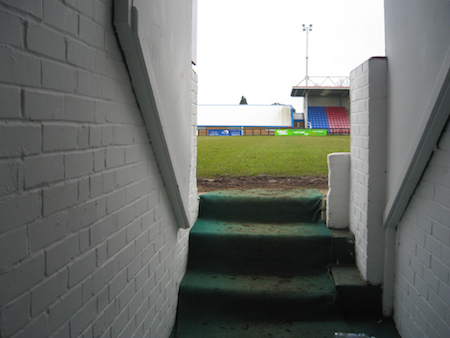 Right – The view from the players' entrance at Park View Road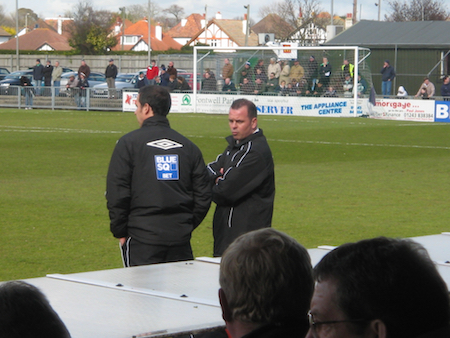 City faced another of the sides staring relegation squarely between the eyes on the 12th as Bognor Regis Town, beaten in their three previous Blue Square South matches, welcomed the Saints to the south coast. A repeat of the result at Welling would extend the unbeaten run to an eighth match and, far more importantly, keep Castle's side above Michael Birmingham's Bognor. Paul Bruce missed the Havant and Welling games through illness but returned at Nyewood Lane in place of Hassan Sulaiman whose season ended abruptly with a hamstring injury sustained during the first half at Welling. The game kicked off with hailstones driving towards the Bognor goal, within seconds it was replaced by bright sunshine but the football resembled the chill temperature rather than the aesthetically pleasing conditions. Providing results elsewhere were favourable then a draw would probably satisfy both sides. And so the game panned out, heading as it did towards a dull goalless draw. That is until the fifth minute of added time when a Mark Knee shot crashed into the woodwork with left back Seb Wallis-Tayler cracking the rebound into the back of the City net. Quite sensationally Bognor had grabbed a lifeline and with Maidenhead thrashing Bishop's Stortford 5-0, and Welling winning at Sutton, City were now staring into the abyss. The defeat pushed the Saints to one place and two points above the relegation zone. As if the result was not sufficient to dampen the Saints centenary weekend then the loss of two players through injury certainly did take the sheen off any celebrations. Jonathan Hunt lasted just 18 minutes before a heel injury forced him out of the game while Ben Martin collapsed with a hamstring injury on 89 minutes that, like Sulaiman, brought his season to a premature close.
Above left – Bognor manager Michael Birmingham was chastised by a club official for his abrasive nature throughout the match. Here the duo exchange opinions. Below – Steve Castle takes a more laid-back approach at Nyewood Lane.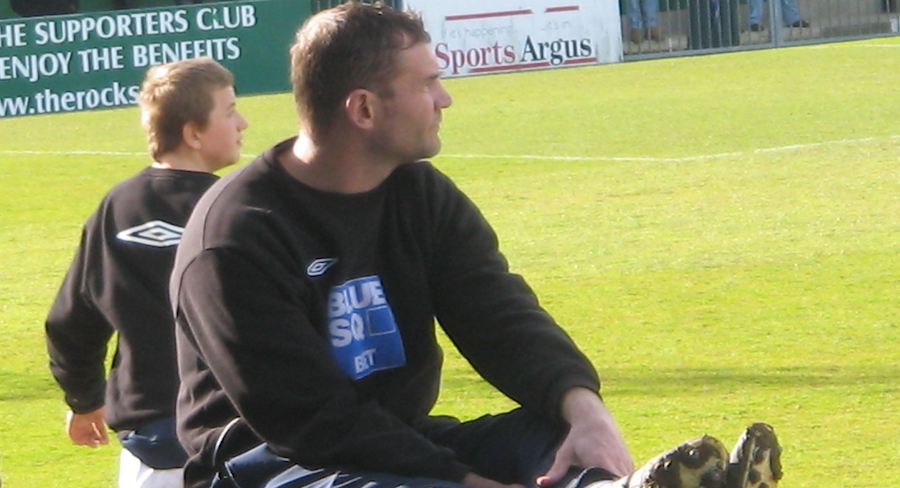 The Bognor match was the final game in the first 100-year history of St Albans City. The club turned 100 the following day, Sunday, 13th April 2008. As it turned out, the result at Bognor did not dampen any celebrations as, quite shamefully, the club did not organise a single event that weekend to mark this historic occasion.
Before City's next match on Saturday, 19th April, Weston-super-Mare, the side immediately below St Albans in the final relegation slot, had two midweek matches to play. On the Monday a Gary Elphick goal gave Havant a late lead against Weston but an injury time goal salvaged a point for the Seagulls to move them to within a point of the Saints. Three days later Weston took a first half lead at home to fellow strugglers Maidenhead United only for two second half Richard Paquette goals to take the Magpies closer to safety. Weston had now used up both of their games in hand and like St Albans had just three games to play as the season entered its penultimate weekend.
City now required a maximum of two wins in three games to avoid a second successive relegation, but with Weston unlikely to do likewise then the Saints could probably get away with less. The first of the trio of games saw Eastleigh at the Park on the 19th. City's plight attracted the highest gate of the season to Clarence Park , 658. Eastleigh had looked certainties for a play-off place until a stuttering run of three games without a win allowed Fisher Athletic, Newport County and Bath City to put their place under threat. A dubious penalty decision following a tackle by James Fisher on former Saint Matt Hann allowed Andy Forbes to seemingly get the Spitfires mission back on track. But after an error strewn hour St Albans turned the game with two exceptional goals from the recalled Bradley Gray and the lively Sunday who then capitalised on an error by Eastleigh keeper Chris Tardif to add a third goal, City's 50th of the season. Former Saint Steve Watts set up a tense finish with a superb strike, but City held on to damage the Spitfires promotion hopes with a 3-2 win while defeat for Weston at home to Bromley virtually secured safety for the Saints.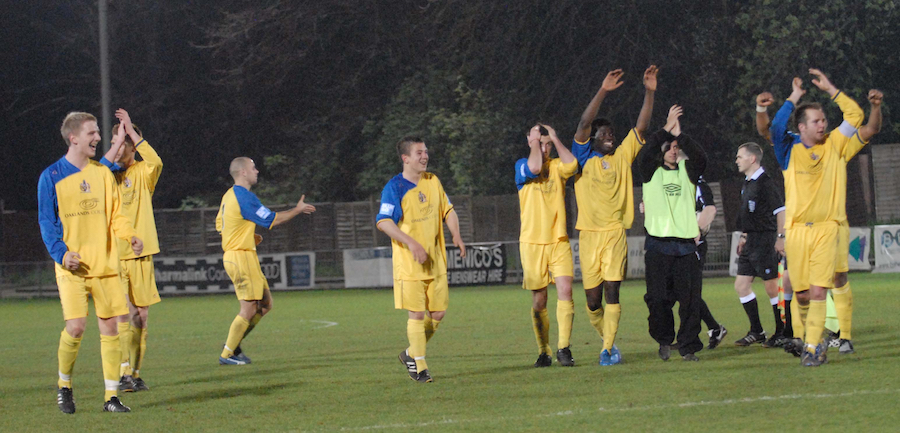 Gray's unexpected return after more than two months out of the side was a complete success with the teenager retaining his place in the starting line-up for a trip to Maidenhead United the following Tuesday. With Weston having let slip a 3-1 lead to draw 3-3 with Basingstoke the previous night City required just a draw at York Road to be certain of avoiding relegation. Despite Paul Bruce missing a penalty for the first time since joining the club, and then limping off, as did Quilter in the second half, City secured the point required with a 0-0 draw that meant survival for the Saints and relegation for Weston. It mattered not a jot that the game was 90-minutes of tedium. When City visited Weston on March 1st the Seagulls were ten points clear of Castle's side with the added comfort of having three games in hand, now, City were safe. Despite the remarkable transformation in City's fortunes under his command, Castle refused to commit his future to Clarence Park . "I'm not looking any further than the end of the season," he said. And the 41-year-old was honest about his first time in charge of the club that lasted just over a year. "I felt I should have done a better job last time and I'm quite satisfied with the job I've done this time around. I came back to prove to myself I could do it. As a young manager I made a series of mistakes which were not beneficial to results the first time I was here. Hopefully I have rectified a lot of those."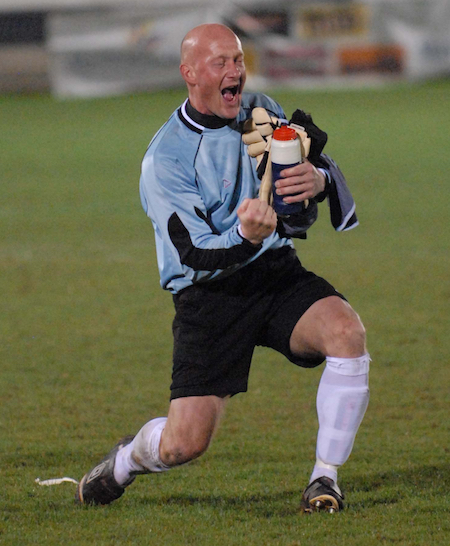 With safety secured City faced a potentially tame 'typical end of season' match with Hampton & Richmond Borough on April 26th, the final day of the season. Instead, a makeshift City side, a number of players having picked up knocks during the week, fought out a surprisingly competitive 90 minutes with Alan Devonshire's side that had already qualified for the play offs. Simon Martin's first goal in exactly three months gave City a fourth minute lead that Hampton finally wiped out in the 78th minute through Lawrence Yaku. The season was signed off in front of a second successive attendance in excess of 600.
At the final whistle the public address announcer, Tony Watts, revealed that Paul Bastock , just eleven games after rejoining the club, had won the Supporters Club Player of the Season trophy. He is only the second player to have won the award twice and the sixth goalkeeper to have won it since it was first presented in 1976. Prior to the kick off Scott Cousins was presented with the Player of the Month award for April. Later, in the clubhouse, Lee Clarke received the Goal of the Season award for his effort at Lewes, Paul Bruce collected the Players' Player of the Year trophy and Peter Knock the Wagstaffe Simmons Trophy as Clubman of the Year.
The Stats and Facts
St Albans City used 57 players during the 2007-08 season, a figure surpassed just twice previously during the club's first 100 years. Thirty-eight players made their City debut, of which 23 had left the club by the end of the season. The shortest City career of the season went to Folawiyo Onibuje. He was substituted 13 minutes into his only game but actually limped off injured after just eight minutes. Lee Clarke and Simon Martin both passed 200 appearances. Clarke and Scott Cousins made the highest number of appearances during the season when appearing in 44 of the 49 games. It was the first time in 44 years that City had played fewer than 50 games in a season.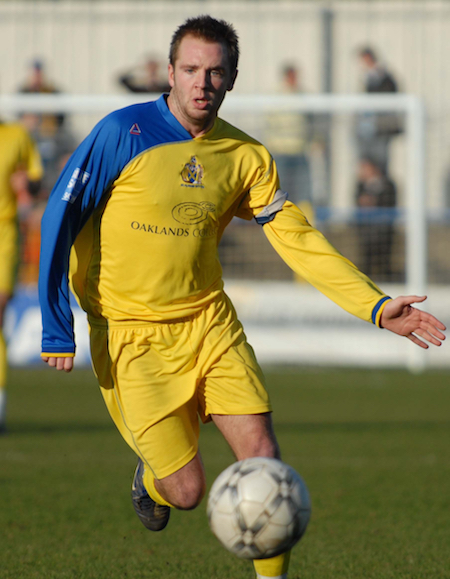 For the fifth successive year Clarke (left) was the top goalscorer but he also became the only player to date to be the highest scorer without getting into double figures in league games for two consecutive seasons. He scored nine times in Conference South and twice in cup ties.
Goalkeeper Nick Eyre won three Player of the Month awards (August, September and December). The other monthly winners were; Lee Clarke (October), Richard Butler (November), Hasim Deen (January), Paul Hakim (February), Ben Martin (March), Scott Cousins (April).
It was the first season since 1973-74 that the club had got through three managers, that earlier season ended in City's first relegation. Ritchie Hanlon was sacked when City were in 21st position, the club was in 20th place when Dave Anderson was dismissed. City's points tally for the season was doubled during Paul Bastock's first nine games back at the club.
City picked up the club record 93 bookings during the season at a rate of 1.90 per games, opposition bookings totalled 63. Paul Bruce matched Tom Davis's record of 15 bookings in one season. Seven City players were sent off and four opposition players also saw a red card.
The cost of admission to league games at the Park was £10, there was an additional charge of £2 for a seat in the main stand but this was seldom implemented due to a shortage of staff. Thirteen other clubs in Conference South charged £10 for admission, two £9.50, five £9 and relegated Weston-super-Mare £8.50.
The matchday programme was voted the poorest in Conference South.
Final Standings 2007-08
CONFERENCE SOUTH
2007/08
P
W
D
L
F
A
GD
Pts
1
Lewes
42
27
8
7
81
39
42
89
2
Eastbourne Borough
42
23
11
8
83
38
45
80
3
Hampton & Richmond Borough
42
21
14
7
87
49
38
77
4
Fisher Athletic
42
22
5
15
65
61
4
71
5
Braintree Town
42
19
12
11
52
42
10
69
6
Eastleigh
42
19
10
13
76
62
14
67
7
Havant & Waterlooville
42
19
10
13
59
53
6
67
8
Bath City
42
17
15
10
59
36
23
66
9
Newport County
42
18
12
12
64
49
15
66
10
Bishop's Stortford
42
18
10
14
72
60
12
64
11
Bromley
42
19
7
16
77
66
11
64
12
Thurrock
42
18
9
15
63
64
-1
63
13
Hayes & Yeading United
42
14
12
16
67
73
-6
54
14
Cambridge City
42
14
10
18
71
72
-1
52
15
Basingstoke Town
42
12
14
16
54
75
-21
50
16
Welling United
42
13
7
22
41
64
-23
46
17
Maidenhead United
42
11
12
19
56
59
-3
45
18
Bognor Regis Town
42
11
11
20
49
67
-18
44
19
St Albans City
42
10
12
20
43
69
-26
42
20
Weston-Super-Mare
42
9
10
23
52
85
-33
37
21
Dorchester Town
42
8
10
24
36
70
-34
34
22
Sutton United
42
5
9
28
32
86
-54
24
St Albans City Squad 2007-08
Jerome Anderson –Eighteen-year-old striker who joined the Saints at the start of the season on a one month loan from Stevenage Borough. Joined Boro from Oxford United after scoring 33 times for United's Youth team during 2006-07. His only City appearance came during a 0-0 draw at Sutton United on 14thAugust.
James Archer –Was added to the Saints First team squad early in the season having previously been with the local Oaklands College Youth set up run by Steve Castle . Made his debut in the closing minutes of City's 3-0 defeat at Bath City on 22ndSeptember and featured in a further six games.
Paul Armstrong– Trained with City in the summer of 2007 under Ritchie Hanlon but was signed in October by Dave Anderson . Added eight games to the eight appearances he made during 2001-02, but was released in November 2007 and signed for Hitchin Town.
Kwame Asamoah– From the Oaklands development project, appeared in just two Reserve team matches but made his First team debut as a substitute in the final day of the season draw with Hampton & Richmond Borough.
Paul Bastock – Joined the Saints in November 2004 and played in 84 consecutive league games until being suspended in November 2006 after being dismissed in an FA Cup tie. The 2005-06 season saw him set a club record of seven consecutive home clean sheets and also equal the club record of six consecutive clean sheets (home and away matches). Such achievements helped the Bostonian win the Supporters Player of the Year award. Began his career with Coventry City where he collected an FA Youth Cup winners medal - against a Southampton side containing Alan Shearer and Matt Le Tissier - and has since had spells with Kettering Town, Fisher Athletic, Aylesbury United , Scarborough, Dagenham & Redbridge, Malaysian side Sabeh and represented the FA. But it was during a twelve-year stay with Boston United that he built his reputation; 625 appearances secured him the title of 'Boston United's Greatest Ever Player'. Missed just one match during Boston's Conference winning season and was ever present during the Pilgrims first two seasons in the Football League. Also made a dozen appearances in Division Four of the Football League for Cambridge United including the final ten games of the 1987-88 season when he conceded just nine goals. Made his 125thappearance for St Albans with the Saints final Conference National match of 2006-07, joined Rushden & Diamonds in the summer but returned to Clarence Park at the start of March 2008 and six matches later was named Conference South Player of the Month. Played in all of the Saints final eleven matches of the season and such was his influence he became only the second player to win the Supporters Club Player of the Season trophy for a second time. Paul Bastock is pictured above with the Player of the Season trophy presented by Supporters Club chairman Ian Rogers.
Damian Batt –Rejoined the Saints for a second spell from Stevenage Borough on a three-month loan deal early in September having moved to Broadhall Way from Clarence Park in January 2007. An outstanding right back who can fill a number of positions. Formerly a youngster with Norwich City he has had trials with Wycombe Wanderers , Cheltenham Town and Bournemouth; also had a brief spell with Redbridge. His St Albans City debut came in front of 6,190 spectators during a Conference National match at Oxford United on September 1st2006.
Mark Beard– Signed for St Albans City in the summer of 2007 after playing a leading role in Stevenage Borough's successful bid for the FA Trophy. The most experienced member of the City squad who began his career as a trainee with Millwall, turning professional in 1993. Joined Sheffield United for £117,000 two years later and had two spells with Southend United either side of a stint with Kingstonian. Was appointed player/coach at Clarence Park having previously coached in Spain in 2006. Left the club when Hanlon was sacked, joined AFC Wimbledon and publicly criticised the set up at St Albans, citing a lack of ambition.
Alex Bolt –An 18-year old midfielder who has worked his way through from the Youth section at Rushden & Diamonds to the Reserve team at Nene Park and was loaned out for three months to St Albans City to further his first team experience. Made his debut as a substitute during the Saints 4-3 win at Bishop's Stortford on 7thSeptember 2007. Returned to Rushden at the end of his loan, made five appearances for the Saints.
Sebastian Brown– Goalkeeper who joined City for a one-match loan while Nick Eyre was suspended. Was loaned to St Albans City by Brentford for the home match with Welling United whose keeper, Clark Masters, was also on loan from Brentford.
Paul Bruce– One of nine players to make his debut for St Albans City during a 3-0 opening day of the season defeat at home to Dorchester Town. Signed for the Saints in the summer from Dagenham & Redbridge after making 125 appearances in five years for the Daggers. As a left-sided youngster he was on the books of Queens Park Rangers making 42 First team appearances for the Loftus Road club and also had a short spell on loan to Cambridge United. Scored a number of spectacular goals and replaced Lee Clarke as penalty-taker early in the New Year. Also had a run as captain at the start of the Saints good run during March. Despite being suspended four times during the season he was voted the Players' Player of the Year and was runner up in the Supporters' award.
Gary Burrell– A left-sided player who was one of Ritchie Hanlon's first signings having been snapped up from Isthmian League side Heybridge Swifts early in the summer. Formerly on the books of Queens Park Rangers he had stints with Edgware Town and Wealdstone prior to spending two seasons at Heybridge. Was released after playing just 45 minutes for St Albans. Joined Cambridge City but left Milton Road without making a single appearance, ended the season at Boreham Wood.
Richard Butler –A striker who stepped up to the Conference South from the Isthmian League on November 8th2007 when joining the Saints from AFC Wimbledon, thereby following in the footsteps of the then City manager Dave Anderson . Spent three seasons with the Dons winning four versions of the Player of the Year award in 2004-05 after scoring 30 times, but his final two seasons at the club were blighted by injury. Won the Player of the Month award in his first month at Clarence Park but lost interest following the dismissal of Dave Anderson and signed for Staines Town. Started his career with Ashford Town (Middx).
Daniel Chillingworth– Striker who joined St Albans City on loan from Rushden & Diamonds in December but was troubled by injury following his arrival, restricting him to just two substitute appearances. A 26-year-old striker who has played for both Cambridge clubs, United and City, as well as Notts County and loan spells with Leyton Orient and Darlington.
Lee Clarke – A renowned striker who despite finishing the 2007-08 season as a regular in midfield was still St Albans City's leading scorer for a fifth successive year, having the club from Peterborough United in January 2004. The son of former Northern Ireland striker Colin Clarke he has played for Northern Ireland himself at U21 level and also represented the F.A. The Saints Player of the Season for 2004-05, he played for local side Yaxley before joining Peterborough and also had a loan spell with Kettering Town. Currently the seventh highest scorer in the Saints history and made his 200thappearance for the club during the Conference South fixture at Eastbourne Borough on 16thFebruary. His goal at Lewes on 15thMarch won him the Goal of the Season trophy, which he is seen, right, receiving from Supporters Club vice chairman Barry Hilliard.
Scott Cousins – An exceptional left-back who regained his place in the side at the start of September following a prolonged lay off after suffering a broken leg at Tamworth in January 2006. Began his career with Queens Park Rangers before spending five years with Chelsea. Joined the Saints in the summer of 2004 after a season with Hendon and had spells with Harrow Borough and Wealdstone during his rehabilitation in 2006-07. After a couple of years coaching at the David Beckham Academy in Greenwich the summer of 2007 saw him join the coaching staff at the St Albans-based Oaklands College, which partakes in the PASE scheme. A return to his best form during the second half of the season was capped with the Player of the Month award for April 2008.
Dean Cracknell –Rejoined the Saints for his second spell in January from Southern League neighbours Hemel Hempstead Town. A member of the 2005-06 promotion winning St Albans City side having joined the club at the start of that season from Bishop's Stortford. Surprisingly released at the end of February 2008 he joined Cambridge City. A midfielder who has also had spells with Northampton Town, Aylesbury United , Maidenhead United, Stevenage Borough, Barnet and Staines Town.
Hasim Deen – A Gambian international who has represented his country at U17 and U21 levels and signed for St Albans City in the run up to the 2007-08 season after a fortnight on trial with Leicester City. Spent the 2006-07 season with Conference National side Stevenage Borough, after moving from Margate, but was unable to command a regular place in the First team at Broadhall Way. One of City's most consistent outfield players he filled in both along the backline and in midfield. Missed a number of games late in the season, which restricted him to finishing only joint third in the Player of the Season poll.
Gary Elphick – Powerful central defender who signed for St Albans City from Brighton & Hove Albion following a loan spell at Clarence Park in October 2005. A successful first loan to the Saints prompted Brighton to offer a contract but he left shortly after for a brief loan to Aldershot Town and then a permanent move to St Albans. Hugely popular player on the terraces as confirmed by his Player of the Year award picked up at the end of City's sole season in the Conference National. Left City in December 2007 to join fellow Conference South side Havant & Waterlooville but being cup-tied missed out the Hawks thrilling FA Cup 4thRound tie at Liverpool.
Nick Eyre– Joined St Albans City in the summer of 2007 from Conference National champions Dagenham & Redbridge. Signed for Dagenham in January 2007 after making 19 First team appearances for Rushden & Diamonds having started the 2006-07 season as first choice custodian at Nene Park. An England U15 and U17 international who, in addition to playing for Tottenham Hotspur at various Youth levels also made ten appearances for the Reserves. His first taste of non-league football came with Grays Athletic, firstly on loan and then on a permanent deal. Popular with supporters, he won three Player of the Month awards at St Albans, whilst during November he saved a penalty against Braintree in a Setanta Shield tie and followed it with two more during the penalty shoot-out. Fell out of favour in the New Year and rejoined Grays on loan during March. Had his pre-Christmas form come during the second half rather than first half of the season then he would almost certainly have collected the Player of the Season trophy.
Jomo Faal-Thomas– A November signing from Wealdstone , where he played under John Turner, the assistant manager at Clarence Park at the time of him moving to St Albans. Had previous Conference South experience with Hayes during the 2006-07 season. A right sided player who made his St Albans City debut, in midfield, during a 1-1 draw with Bognor Regis Town on 3rdNovember 2007 but switched most impressively to full back. Left the club in February to return to Wealdstone .
James Fisher – A right-back who played alongside Scott Cousins at Chelsea and was recommended to St Albans City by Cousins. Made his debut during the 4-0 defeat at Eastbourne Borough on February 16thand went on to give a string of excellent performances as City's defensive record showed an immense improvement. Previous clubs include Wembley and Wealdstone .
Ryan Frater –Joined St Albans City at the start of December from county rivals Hitchin Town, where he was captain. A former Youth player with the Canaries he was in his second spell at Top Field after stints with Bedford Town and Dunstable. Signed a contract at Clarence Park through to the end of the 2007-08 season. A 23-year old central defender who formed an excellent partnership alongside Ben Martin and benefited greatly from the return of Paul Bastock .
Bradley Gray –Was with the Saints on work experience from Leyton Orient for whom he frequently appeared in the U19 side during the season. Made his debut during the Saints 5thRound Setanta Shield tie with Conference National leaders Aldershot Town, and scored on his league debut during a 2-1 defeat by Bishop's Stortford at Clarence Park on 19thFebruary. After a two-month absence he returned to the side for the visit of Eastleigh on 22ndApril and was again on the score sheet.
Paul Hakim – Began his second spell with St Albans City on 25thJanuary after a year with county rivals Stevenage Borough following a £10,000 transfer from Clarence Park to Broadhall Way. Originally joined the Saints from Bishop's Stortford having previously played for Dagenham & Redbridge, Slough Town, Wingate & Finchley and Cheshunt. The scorer of City's second goal in the promotion clinching play-off victory over Histon in May 2006. Upon his return, was initially used wide on the right of the midfield but looked far happier when pushed forward into his favoured central attacking position.
Matt Hann – A right-sided player who was is in his fourth season with the club having joined St Albans City from fellow Conference South side Dorchester Town, where he spent two seasons. Commenced his career with Cambridge United before making his debut in the Football League with Peterborough United, has also played for Cambridge City. Has represented Great Britain at the World University Games and also played for England at the indoor Futsal tournament. Struggled to recapture his exciting form from the first half of the 2005-06 season and left the club to join Eastleigh in September 2007.
Michael Harvey– A left back signed in the summer of 2007 from Isthmian League club AFC Wimbledon, played for the Dons when the two clubs met in the FA Trophy in December 2005 and was sent off after the final whistle. His early days were spent with Chelsea and Barnet while his non-league clubs include Ford United (Redbridge), Harrow Borough, Aldershot Town and Lewes. Also well known as a member of the rap group So Solid Crew. Left the club towards the end of September.
Solomon Henry –Made his St Albans City debut as a substitute during the Saints notable 2-0 Setanta Shield victory over Torquay United three days before Christmas. Joined the Saints from Isthmian League Premier Division strugglers Leyton having started his career at Barnet, where he progressed through from the Protec Youth scheme. Scored on his debut for the Bees before moving into the non-league game with Leatherhead, Berkhamsted Town and Ashford Town. Was released after making four appearances.
Jonathan Hunt – London-born right-sided player who rejoined St Albans City in March 2008 more than 17 years after making his only previous appearance on 28thAugust 1990. In the intervening years he scored 29 times in 236 Football League appearances for Barnet, Southend United, Birmingham City, Derby County, Sheffield United, Ipswich Town, Cambridge United and Wimbledon. Started in a league match for the first time since August 1990 when City moved out of the bottom three with victory over Havant & Waterlooville on March 29th.
Hector Mackie – An attacking midfielder who made his debut for the Saints as a substitute during City's opening day defeat at home to Dorchester Town. Spent the 2006-07 season with City's neighbours Stevenage Borough and also had a spells on loan to Welling United, Cambridge City and Diss Town. Started his career with Waltham Forest prior to having a couple of trial matches for the U18 Tottenham Hotspur side. Unable to hold down a First team place he joined Potters Bar Town.
Ben Martin –Returned to the Saints in mid-December 2007 after a spell with Isthmian League Premier Division side Ashford Town (Middx), where he was recuperating following a return to fitness after a prolonged lay off due to a knee injury. An imposing central defender who made one appearance for Swindon Town in October 2003, in the LDV Trophy, having joined the Wiltshire club from Aylesbury United . Whilst with Swindon he had loan spells with Lincoln City, Stevenage Borough and Farnborough Town. Has since had short spells with Staines Town, Leighton Town and Wealdstone . Was in exceptionally good form when a hamstring injury sustained at Bognor curtailed his season on 12thApril.
Simon Martin – Returned to St Albans City from Hayes & Yeading United in January 2008 for his fourth spell at Clarence Park having originally worked his way through from the Youth side. Made his City debut in March 1996 and has since had spells with Lincoln United, Hucknall Town, Thurrock and Wealdstone . Top scorer for St Albans in two successive seasons earlier this decade, he once cost the Saints £5,000 to bring him back to Clarence Park . Celebrated his 200thappearance for the club with the Saints equaliser at Eastleigh on 19thJanuary 2008.
Ram Marwa – Midfielder who played a significant part in St Albans City's promotion to the Conference National in 2005-06 after returning to the club for a second spell having spent half a season with Dagenham & Redbridge. Norwegian-born he has represented Norway at Youth level and since leaving his home country has, in addition to playing in England, played football in Australia. Joined City from Grays Athletic in September 2004 having previously played for Erith & Belvedere and Ilford, has also had trials with Leyton Orient. Joined Hayes & Yeading United on loan early in 2007-08, making the move permanent after the New Year.
Marcel McKie– A left-back who spent his formative years with Tottenham Hotspur during which time he had a loan spell with Crewe Alexandra. Made almost 50 appearances for Spurs Reserves and has represented England at every level from U16-U19. Signed as a professional with Spurs in September 2001 but was released five years later without breaking into the First team. Played for Kettering Town and Lewes during 2006-07 having also had trials with West Ham United, Wycombe Wanderers and Dagenham & Redbridge. Featured for the Saints at left back and on the left of midfield.
Danny Morgan – Striker who caught the attention of St Albans when scoring twice for Bishop's Stortford to help remove his new club from the FA Trophy in December 2006. A one-time youngster with MK Dons he made half a dozen appearances for Oxford United and had a loan spell with Brackley Town prior to joining Stortford. Scored City's first goal of the season when making his debut at home to Eastbourne Borough on 18thAugust but his stay was restricted to just 12 games
James Nash– A former MK Dons U18 captain who joined the Saints in October 2007 as one of Dave Anderson's first signings but was released after making just three appearances. Went on to play one game for Bognor Regis Town and ended the season with Wivenhoe Town.
Reiss Noel – Former Southend United youngster who moved to Clarence Park from Roots Hall just prior to the start of the 2007-08 season. Made his Conference South debut in the middle of the defence as a substitute during a goalless draw at Sutton United on August 14th. Injury ruled him out for much of the season although he reappeared fleetingly towards the end of the campaign.
Craig O'Connor– Twenty-seven-year-old striker, who joined St Albans City on 19thOctober 2007 from fellow Conference South side Eastleigh, had started the campaign with Lewes. A former Brentford youngster who was born in Slough and played for a number of clubs in that area; Beaconsfield SYCOB, Burnham, Windsor & Eton and Maidenhead United. Has also played for Thurrock and Cambridge City, and joined Weymouth during the Terras Conference South championship winning season of 2005-06. Scored once in five games for St Albans before moving onto Windsor & Eton.
Folawiyo Onibuje– Nigerian born striker who joined the Saints from Shrewsbury Town at the start of September 2007 having spent just one month with the Shrews. Lasted just eight minutes of his sole City appearance, at Bromley, before a calf injury cut short his involvement. Ended the season in the Football League with Morecambe. Previous clubs include Charlton Athletic, Brentford, Swindon Town, Cambridge United, Peterborough United, Barnsley, Huddersfield Town, Preston North End and Wycombe Wanderers .
Alex Olcot –A product of the Oaklands youth development set-up who was promoted to the First team squad to make four substitute appearances during the season. A regular in the City Reserve side he made his Conference South debut as a substitute during the Saints 4-0 defeat at Cambridge City on New Year's Day.
James Quilter – Originally a central defender he was used to good effect both in that position and central midfield after joining the Saints in January from Essex Olympian League side Manford Way. A former youngster with Tottenham Hotspur who had spells and trials with Brentford, Southend United, Dagenham & Redbridge, Heybridge Swifts, Cambridge City, Bishop's Stortford and Takeley.
Leo Roget– Signed for St Albans in the days leading up to the start of 2007-08, having been present at a number of City's friendly matches, and made his debut against Dorchester Town. A central defender who worked his way through the ranks at Southend United before making 120 League appearances for the Shrimpers. After leaving Roots Hall he turned out for Reading (loan), Brentford, Rushden & Diamonds (then in the Football League) and Oxford United. Released by St Albans City just days before Ritchie Hanlon was dismissed.
Stephane Seanla –Born in the Ivory Coast he is a former Tottenham Hotspur youngster who made his professional debut in the Carling Cup as a substitute during Watford's goalless draw with Accrington Stanley in September 2006. After leaving the Hornets in January he had a spell with Kettering Town and joined Barnet during the summer. Made two on loan appearances for the Saints before returning to Barnet. Then went on loan, briefly, to Wivenhoe Town prior to being released by Barnet.
Chris Seeby – Longest serving member of the current St Albans City squad having worked his way through the Youth and Reserve set up at Clarence Park prior to making his First team debut in February 2003. Played his 150thLeague game (177 all competitions) during the defeat at home to Dorchester Town on 11thAugust 2007. As a youngster he also had a spell with Watford and since breaking into the City First team has won promotion to the Conference National, won the Herts Senior Cup and, in September 2006, played for the England National Game XI at the official opening of Forest Green Rovers' New Lawn Stadium. Played his 181stgame for the Saints during a 3-0 defeat at Bath City on 22ndSeptember but suffered a cruciate ligament injury at training two days later and was ruled out for the rest of the campaign. The injury was not operated on until the following March, thus delaying his comeback by several months.
Paul Semakula- Teenage midfielder who began his career with Leyton Orient before joining the David Beckham Academy at Greenwich, where he was later to work part time. The 2006-07 season saw him gain senior football experience in the Kent County League with Cray Valley having originally played for the U18 side. His progress at St Albans during 2007-08 was hindered by two separate injuries, the latter bringing his season to an end at the start of December. Underwent a minor knee operation at the end of the season.
Joe Shirripa– A 25-year-old Australian who signed for St Albans City at the start of November. Born in New South Wales he played for Aussie clubs Hanwood and Manly United. Moved to England early during 2007-08 and in September played for Leyton Orient Reserves during a 3-0 win over Wycombe Wanderers . Left St Albans City without making a single appearance.
Paul Smith –Very experienced midfielder who joined the Saints early in September 2007 after starting the season with neighbours Barnet. Began his career with Southend United and made his Football League debut with the Shrimpers before moving on to Brentford, Gillingham – where he made in excess of 350 appearances - Walsall, Swindon Town and, during 2006-07, Torquay United where he took his total of League appearances to 549 during which time he scored 34 goals. Has previous non-league experience with AFC Sudbury. Made four appearances around the time of Hanlon's dismissal before moving on.
Jon Stevenson– Joined the City at the start of November 2007 from county rivals Hitchin Town having scored in a friendly between the two clubs back in the summer. Marked his City debut with a late equaliser against Bognor Regis Town on 3rdNovemberthat secured only St Albans second point from eight home games. A central midfielder, who was also used as a makeshift striker, he has also played for Enfield and Ilford. Returned to Hitchin in January 2008.
Hassan Sulaiman – Another summer 2007 signing who made his St Albans City debut on 11thAugust and quickly established himself at right-back before being moved to the right of the midfield to good effect, scoring twice in his first game in that position as City won 4-3 at Bishop's Stortford. Ended the 2006-07 season with Conference National side Crawley Town. A former scholar with Arsenal he has also had spells with Wigan Athletic and Aldershot Town. His speed makes him a handful for defenders but a hamstring injury picked up at Welling United ruled him out of the final four games of the season.
Luke Thurlbourne – A fierce competitor who joined the Saints early in 2008 as a work experience player from Southend United. Made his St Albans City debut during a goalless draw at Clarence Park with Newport County on 9thFebruary and has since become an integral part of the midfield. A player who truly bites in the tackle and uses the ball well. His performances with St Albans persuaded Southend to offer him a contract at the end of the season that he accepted.
Hamza Twomey– A two-footed predominantly right-sided 19-year-old product of the local college set up he made his First team debut in the County Cup in October 2006. Was in the starting XI for a Blue Square South match for the first time in January 2008 as City went down at home to Sutton United. Impressive performances against Havant & Waterlooville and Eastleigh earned him an 18-month contract.
Craig Vargas– A tall, lean left back who was one of three players to make his debut during the home draw with Bognor Regis Town on 3rdNovember. Signed for St Albans City the previous day from Wealdstone . Previous clubs include Hendon - where he also played under the now former City manager Dave Anderson - and Brook House. Also featured as a central defender with the Saints prior to leaving the club in January, thereafter had spells with Carshalton Athletic and Boreham Wood.
Jamie Wakem –Made his City debut as a substitute during the draw at Eastleigh on 19thJanuary. Was unattached for much of the 2007-08 season but has previously spent three years with Romford. Was called up purely to bolster a shrinking squad and was not seen again with the First team.
Jamie Waite– A Thailand international goalkeeper who played for the full national side 11 days before his 16thbirthday. A well-travelled goalkeeper, he was understudy to Nick Eyre at Clarence Park and had stints with Tottenham Hotspur, Rotherham United, Barrow, Kettering Town, Stevenage Borough and after 18 months with Cambridge United had a spell with MK Dons. Was not paid by the club as his wages came via a sponsorship deal with a Thai brewery. Made one appearance for the Saints, as a substitute during a 5-0 defeat at home to Thurrock, before departing to sign for Bradford City and then on loan to Droylsdon.
Ben Walshe – Rejoined St Albans City for a fourth spell on 26thJanuary 2008, making his return as a substitute during City's 3-0 win at Dorchester Town the following day. Was well short of match fitness and left the club after just two games. Made his City debut in August 2004 and played a leading part the following season in the Saints promotion to the Conference National. Started his career with Queens Park Rangers and prior to first playing for St Albans had spells with Aldershot Town and Gravesend & Northfleet. Has since had stints with Fisher Athletic and Australian clubs Richmond and Doveton. Outside of the game, he had a role in SKY TV's Dream Team football soap.
Akanni-Sunday Wasiu–Became the 37thdebutant of the season when appearing as a substitute during City's 2-1 defeat at home to Bishop's Stortford on 19thFebruary. Born in Nigeria he joined the club via Latvian side Vilnius having also scored during a trial for Bournemouth Reserves at the turn of the year. Scored his first goal for St Albans during a 4-1 win over Basingstoke Town on 8thMarch and added one of the Goals of the Season during the 3-2 win over Eastleigh on 22ndApril. Achieved a better points per game ratio than any other St Albans City player during 2007-08.
Ritchie Hanlon –Appointed St Albans City manager just prior to his 29thbirthday in May 2007 having retired as a player with Cambridge United the previous January due a recurring and serious knee injury. Played in both Conference National matches between Cambridge United and St Albans in 2006-07. As a youngster he was a trainee with Chelsea before making 123 Football League appearances during spells with Southend United, Peterborough United, Rushden & Diamonds and Lincoln City. Has also played non-league with Welling United, Stevenage Borough and Weymouth. Was sacked after just ten league games with City one place off the foot of the table.
Dave Anderson – Appointed St Albans City manager on 30thSeptember having started the season as assistant manager at Windsor & Eton. Enjoyed a successful spell as manager of AFC Wimbledon winning the Dons promotion to the Isthmian League Premier Division but missed out on a place in Conference South with two successive play-off semi-final defeats. Joined AFC Wimbledon from Hendon where he spent three seasons and did not finish outside the top eight. Prior to Hendon he gained coaching and assistant manager experience with Enfield, Aylesbury United , Harrow Borough, Southall and North Greenford United. Formerly a goalkeeper with Glentoran and Bangor, he had a short spell as assistant manager at St Albans City under Bob Dowie in 1999. His backroom team consisted of assistant John Turner, and coach Steve Baker. Was dismissed after being in charge for just 11 league matches and five cup ties. City were 20that the time of his departure.
Steve Castle – Took over as caretaker manager a couple of days into the New Year following the dismissal of Dave Anderson . Previously City manager from October 2003 through to October 2004, resigned following a defeat at Weston-super-Mare that left City rooted to the foot of the table. A former player for St Albans City, 61 games and three goals, he had a lengthy professional career taking in spells with Leyton Orient (257 league apps, 56 goals), Plymouth Argyle (101-35), Birmingham City (23-1), Gillingham (6-1) and Peterborough United (102-17). After an indifferent start to his second spell as City manager his side embarked on a seven-match unbeaten run – six during March 2008 – that culminated in him winning his first Conference South Manager of the Month award. Having admitted that it seemed likely City would be relegated he had the satisfaction of leading the Saints to safety in the penultimate match of the season. Is also a scout for the England U19s and runs the Oaklands Youth Development project.