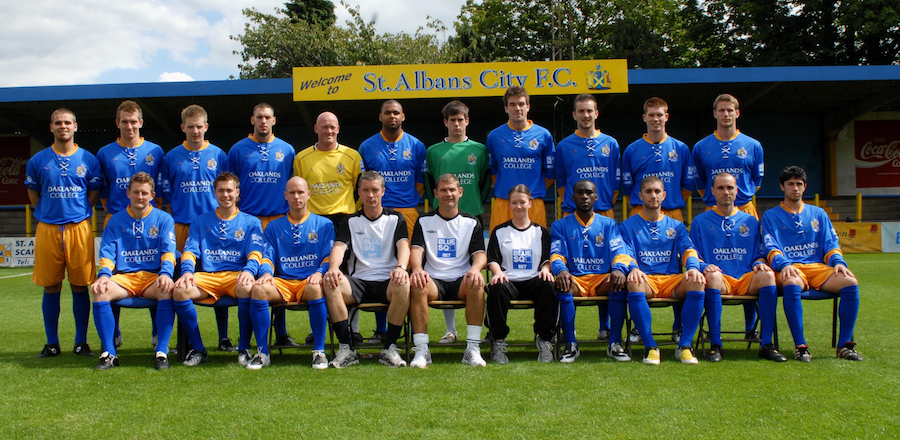 St Albans City 2008-09
Sean Ridgeway , Ben Bowditch , James Fisher , Rod Hicks, Paul Bastock , Ryan Frater , Chris Adams, Ben Martin , Chris Seeby , Simon Martin , James Quilter
Tom Youngs, James Archer, Scott Cousins , Andy Edwards (Assistant Manager), Steve Castle (Manager), Charlotte Gautry (Physio), Hassan Sulaiman , Paul Hakim , Jonathan Hunt , Hamza Twomey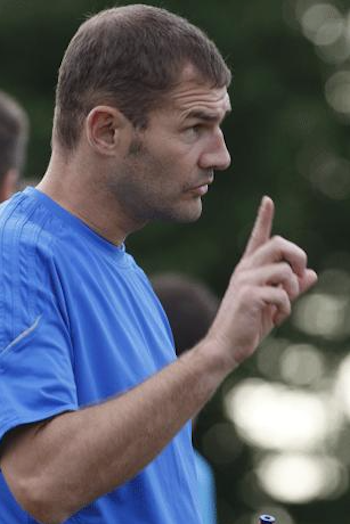 Throughout St Albans City's remarkable great escape at the end of the 2007-08 season manager Steve Castle (right) refused to, at least publicly, commit himself to another season at Clarence Park . During the close season the Club made no mention of Castle's intentions for 2008-09. On the outside it was simply assumed that he would continue as City manager and that is what duly happened.
Not only was news about the position of the manager quiet but it was also a summer of relatively few changes to the playing staff. Of the 15 players named for the final match of the 2007-08 season against Hampton & Richmond Borough only three, Luke Thurlbourne , Akanni-Sunday Wasiu and Reiss Noel, failed to reappear for pre-season training. Teenager Noel was not retained while Sunday stepped up into the Football League to sign for Colchester United. Thurlbourne returned to Southend United at the end of his loan spell, his performances with the Saints secured him a one-year contract at Roots Hall. Paul Bruce missed the Hampton match but was expected to start the new campaign with the Saints. But Bruce missed the early games due to taking a coaching role with Queens Park Rangers' academy side and was advised in the autumn to retire from the game to avoid lasting damage to an ongoing toe injury. The only other anticipated change from the previous season was in the shape of a new physio. Jason Laird, who had held the position for four years, joined the backroom staff at Chelsea with his place being taken by Charlotte Gautry Following on from Beverley Long and Jude Monteath, Charlotte became the Saints third female physio but her stay was brief and during September she was replaced by Zac Chandler. One other change off the pitch was that Tony Keen stood down from his role regarding the commercial activity of the club.
City's summer programme was relatively low-key although a friendly with a Tottenham Hotspur XI was originally built up as the Saints Centenary Celebration Match, the club having turned 100 the previous April. The first friendly was against Paul Fairclough's Barnet on 15th July. Both sides fielded different XI's for each half with the City sides featuring trialists Parys Okai, Ashley Grinham, Jamie Eames, Rod Hicks, Jake Palmer, Ola Williams, Adam Fry, Ryan Mattos, Sean Ridgway and Daniel Chillingworth. Barnet won the game through Ryan Hall's 64th minute goal.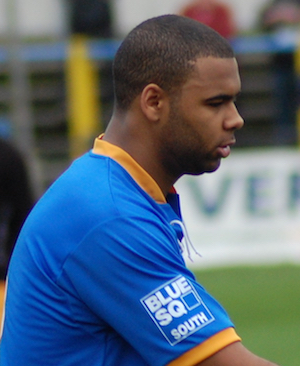 St Albans were back in action just 24 hours later, 16th July, with a now downgraded match against a Spurs XI. Included in the Tottenham line up were First teamers Anthony Gardner and Kevin Prince Boateng, and young goalkeeper Lee Butcher who would be back at the Park for more significant matches later in the season. Simon Martin scored City's first goal of the summer but Spurs were already two goals to the good through David Hutton and Alex Olsen. Steve Castle, for the opening 45 minutes, fielded the side that he hoped would take City into the new season. After the 2-1 defeat in front of 580 spectators Castle said, "While we were reasonably solid at the back, we were a little shot-shy and rusty up front." The Saints defensive solidity suffered a blow when it was revealed that Ryan Frater (left), a highly influential figure since joining the club from Hitchin Town the previous December, had received a hairline fracture of the leg and faced a lengthy lay off. This, to a degree, was offset by the return to full fitness of Ben Martin , the only question was who would partner the 6'7" City captain in the middle of the defence.
After two games against professional sides City's next three warm up matches were against lower level opposition that produced far from inspiring results. On 23rdJuly City's First team, including midfield trialist Ben Bowditch and goalkeeper Grant Heywood, laboured to a 1-0 victory over Thurrock Reserves at Ship Lane, Jonathan Hunt's early penalty being the difference between the two sides.
Experienced full-back Lee Protheroe had his first run out as City went down to a 2-1 defeat to Boreham Wood at Meadow Park on the 26th. Protheroe lasted until half time when a groin strain ended his day, it was an injury that led to his departure from the club early in the season. Hassan Sulaiman gave City an early lead before Wood turned up the heat on a sweltering day with goals from Eugene Ofori and Greg Morgan. In the Wood side were former Saints Noel Imber, Mark Burgess and Chris Watters.
For the first competitive game of the summer Hitchin Town welcomed City on 27thJuly in the 1st Round of the Herts Charity Cup. Having looked goal-shy thus far City found their shooting boots and saw off the Southern League Premier Division side with goals from Paul Hakim , Ridgway, a Hunt penalty and a spectacular effort from Hicks. Paul Barnes had, briefly, pulled Hitchin back on level terms. In addition to Ridgway and Hicks there were also debuts for Bowditch and Eames, although the latter did not make another appearance for the Club.
August
City resumed the run of friendlies on 1st August with the short trip to Theobalds Lane to face Cheshunt. A Darren Williams own goal right on half time gave City victory but it was achieved at some cost. Lee Clarke , looking a tad above his optimum playing weight having missed much of pre-season, sustained a back injury following a collision with home 'keeper and former City trialist Joe Welch. The Cheshunt side also included one-time City defender Graeme Butler while City supporters, for the final 26 minutes, had their first look at Paul Bastock's understudy, Chris Adams. The pre-season matches ended for most of the First team squad with an entertaining 1-1 draw with a Watford XI at Clarence Park on 5th August. Simon Martin scored for the Saints with Lewis Young netting the Hornets equaliser. Castle took a look at central defender Tobi Jinadu for much of the second half and with a promising display Jinadu duly signed Conference South forms as his number of clubs moved past the 20 mark. City's preparations were completed with a mixed side facing Harpenden Town at Rothamsted Park on the 7th on a pitch that was hidden somewhere beneath a rugged carpet of grass cuttings. City led through a Tegana James goal before former Saints Reserve team player Leigh Wooldridge equalised with Andy Saul scoring the Harps winner.
Two days later the new Conference (Blue Square) South season got underway with City entertaining a Havant & Waterlooville side that was rated as the pre-season championship favourites. On the bench for the visitors was former City defender Gary Elphick . To mark the first 100 years of the Club St Albans City took to the pitch in a replica kit of the 1908-09 season. It was the only way in which the club marked its centenary.
Havant's top billing had been based on an expensively assembled squad, one that was funded by an incredible FA Cup run earlier in the year that ended in defeat, but glory, at Anfield. The Hampshire side could hardly have made a worse start as Simon Martin took just 61 seconds to fire City ahead with the first goal of the season anywhere in Conference South. But City were denied an unexpected victory when the Hawks equalised with a freak goal that saw Bastock punch the ball into the back of Ben Martin's head with the rebound looping into the net. City started with six of the players that featured in the final match of the previous season while there were league debuts for Bowditch and Ridgway. Just one player made his full debut with former Cambridge City and The Non-League Paper journalist Tom Youngs making the first of his four unimpressive substitute appearances. Hamza Twomey appeared on the team sheet for the final time before leaving Clarence Park to join Hadley Wood. Prior to kick off a minute's silence was held in memory of 29-year-old cancer victim Ernie Cooksey. Also before the match got underway the two sets of players lined-up in a straight line across the pitch with the home side then moving across to shake the hand of each of the opposing players. This act being part of the Respect campaign initiated by the Football Association.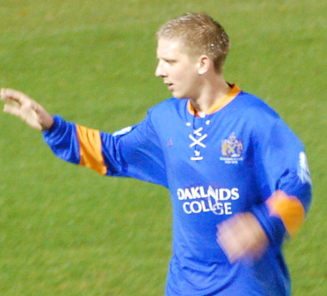 Throughout pre-season questions had been raised several times about the Saints ability to score goals. Chances were squandered during the warm up matches but it was nothing compared to the three points tossed away during City's first visit to Worcester City's St George's Lane ground on 11th August. St Albans, particularly during the opening 45 minutes, played some excellent attacking football but it all came to nothing as Worcester won 2-0 courtesy of strikes from Marco Adaggio (10 minutes) and Matt Dinsmore (54). Protheroe was booked on his debut while Hicks, as a substitute, made his league debut. City's most impressive performer thus far was right-back James Fisher (left). Worcester charged £11 for admission – along with Basingstoke Town the highest in the league – and intended to charge an extra £1 if the side ever got into the top three. The highest position attained was fifth and by December the side had fallen out of the top ten. Adult admission prices to Clarence Park were £10 plus an extra £2 for a seat in the stand.
City were on the road again the following Saturday, the 16th, with a long trek to the full timers of Dorchester Town. St Albans had collected maximum points from their other three visits to the Avenue Stadium but on this occasion had to settle on a point from a mediocre encounter. Hakim ended a seven-match league goalless run to open the scoring on ten minutes with one of the best-worked goals of the season. The Magpies, ravaged by injury, drew level four minutes later through Jamie Muge. Clarke had recovered sufficiently from his back injury to make his first appearance of the season as a 66th minute replacement for Simon Martin .
The search for the first win of the season returned to Clarence Park on the 23rd as another highly-rated outfit, Jeff King's Chelmsford City, made their way to St Albans. Chelmsford had a goal disallowed inside 90 seconds but brushed that setback aside to completely overwhelm the Saints with excellent passing football. Goals by the outstanding Bertie Brayley and Ricky Holmes put the Clarets two goals to the good at the interval but City, led by Clarke for the first time this season, reduced the deficit ten minutes from time through Hakim. The Chairman, who missed the season's opener against Havant, was absent once again but in his programme notes reflected on two points from three games as, 'Our start to the season has been steady and reasonable.'
A Bank Holiday Monday trip to Maidenhead United saw no change in City's fortunes as a Richard Pacquette goal on 79 minutes lifted the Magpies into fourth place and sent the Saints down to 17th. Castle gave a debut to speedy striker Gary Cohen who was returning to action after almost two years out of the game due to knee problems. Jinadu also came off the bench to make his debut but it was to be his only appearance before continuing his tour of non-league clubs in the London area. Jinadu, a central defender, probably realised that his chances would be limited when he was sent on for just the final 55 seconds and those were spent as an emergency striker. The defeat meant that, for the second successive year, City had failed to win any of their opening five games.
The likelihood of City ending the month with a much needed victory appeared slim as Eastleigh headed for Clarence Park . The Spitfires had won their first three matches, then after being hammered 5-1 at Bromley, returned to winning ways against Bognor. Castle's options seemed limited but he shuffled his pack with great success. Clarke, Cohen and Ridgway were relegated to the bench as Protheroe (right-back) and Simon Martin (forward) were recalled with Sulaiman returning to the right of the midfield after missing two games through injury. James Quilter was taken out of the defence to bolster the midfield, Fisher moved inside to partner Ben Martin in the middle of the defence. One other new face was that of Southend United central defender Gordon Rieck, who replaced Protheroe for the final 20 minutes. Simon Martin put City ahead on five minutes (above) and after a further five minutes the visitors were two-down as Hakim struck. Just before the interval Ben Martin scored his first goal since April 2007 and after the break Sulaiman scored his first goal in just under a year. Cohen chipped in with his first goal to round off a sensational 5-0 victory. The margin of the victory was all the more bizarre in that the shot count was only just in City's favour at 14-13.
August Player of the Month – Ben Martin .
September– Cup shock at Harlow
The confidence gained from the resounding win over Eastleigh was evident the following Tuesday, 2nd September, as Bishop's Stortford were competently outplayed at the Park. City marched to a 2-0 victory courtesy of James Quilter's first goal for the club and a last-minute penalty by substitute Clarke. That goal ended a barren run of 12 goalless games for Clarke. City made one change from the Eastleigh match with Alex Bailey coming in at right back for his debut in place of the ill Protheroe. Bailey possessed a fine pedigree but was looking to rebuild his career after two years out of the game through injury. In goal for the Bishop's was former Saint Nick Eyre while one-time City defender Matt Jones was at right-back.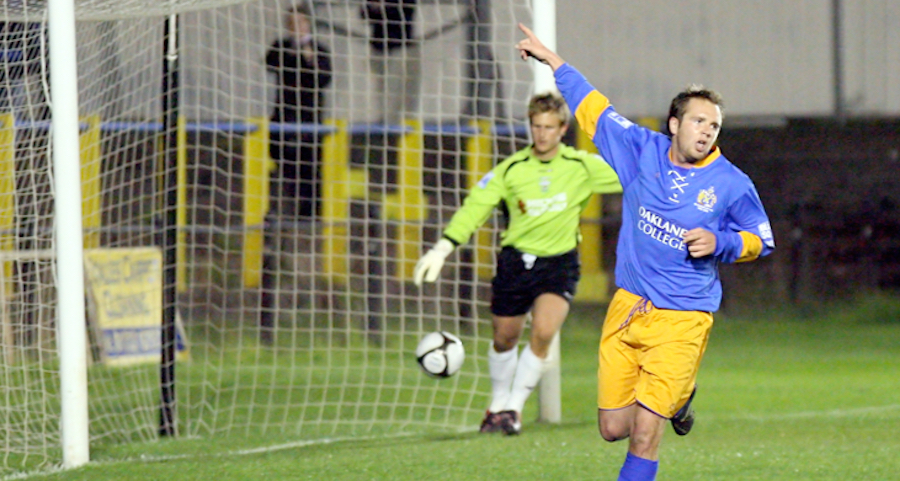 Former City 'keeper Nick Eyre vents his frustration on the ball while Lee Clarke celebrates scoring City's second goal against Bishop's Stortford.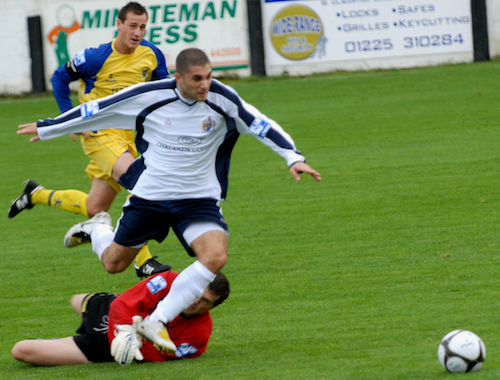 Long-time supporter Mark White had cause for celebration as City lined up against the students of Team Bath at Twerton Park on the 6th. But there was precious little else to cheer the travelling supporters as the home side strengthened their good start to the season with a 2-0 victory. City had the chances to record their first away win of the season as Mark attended his 700th consecutive First team match but when Hakim (left) managed to shoot wide of a goal that could not have been more open then the writing was on the wall. The Students, top after three games but now in fourth place, saw off the Saints with two goals in three second half minutes through Ben Thomson and Steve Abbott.
City welcomed an in-form Hayes & Yeading United to Clarence Park for a 1st Round Setanta Shield (League Cup) tie on the 9th and were unable to deny the Missioners a seventh successive victory. Hayes ended City hopes of matching the previous seasons run through to the 5th Round with Staforde Palmer notching the only goal. It was a poor game and another that led to changes. Rieck made his only starting appearance for the club before being released while Ridgway was on the team-sheet for the final time. City picked up a succession of injuries during the game, which led to a number of players being moved to unusual positions including Clarke in the middle of the defence.
The worry about finding the target on a consistent basis came to the fore on 13th September as Thurrock moved off the foot of the table with a 2-0 victory at the Park. This was City's 11th match of the season and their fifth without scoring, it was also a third defeat and third game without scoring within eight days. Thurrock's first win of the season was sealed by a magnificent volley by former Saint Lee Flynn two minutes from time but the Fleet had been put on the path to victory with a freak own goal. Although maybe it could be said that it was not a freak, as it was a replica of the goal conceded to Havant with Bastock punching the ball into the net via Ben Martin's head. James Archer came off the bench for his third and final game of the season before heading south to continue his studies at Chichester University. Shortly after heading to Sussex Archer joined Bognor Regis Town but had just a short spell with the Rocks.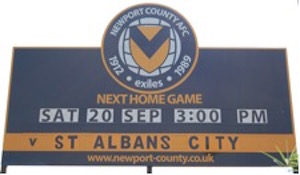 City returned to winning ways on the 20th with Jonathan Hunt's first goal for the club heaping the pressure on Newport County manager Dean Holdsworth, as a 1-0 defeat nudged the South Wales club into the bottom three. Hunt's goal, a penalty following a foul by former Saint Ashley Vickers on Cohen, settled a match that was truly abysmal. St Albans certainly deserved the points but the lack of goals remained a talking point, especially given that the side had scored just once in 803 minutes in open play in away league games. With the league season now ten games old it was already clear that the quality of football to be found in Conference South was, at best, average. By some distance Chelmsford – on the evidence of their performance at Clarence Park – looked to be the pick of the bunch. Protheroe was back in the side after a spell in hospital, this after losing seven pounds in next to no time. The victory aside, the big bonus to come out of the game for City was the return, on loan, of Luke Thurlbourne from Southend United. Thurlbourne, still only 18, had been out of action for many months after suffering a serious illness that at one stage threatened more than just his football career. The impact the teenager made on the side was immediate and gave some welcome steel to the midfield. Despite having four players booked by referee John Busby, City's tally of yellow cards from a dozen league and cup matches stood at 12; as opposed to 33 and two dismissals from the same number of games the previous season.
The draw for the F.A. Cup pitted St Albans City at home to Isthmian League Premier Division side Harlow Town. Castle's record as manager in cup competitions will hardly have struck fear into City's 2nd Qualifying Round visitors but the boss was looking for a good run. "I would love to get this club on a cup run and come up against higher opposition. We are not going to get many plaudits for beating a team from a lower league but we will get lambasted if we lose." After missing the Newport match with an ankle injury, left-back Scott Cousins , now in his fifth season at Clarence Park , was back on the bench. Hicks and Thurlbourne returned to the starting line up as Bowditch and Simon Martin stood down. Teenager Craig Mortimer also appeared on the team-sheet for the first time. The match was a drab affair with the Essex side that included one-time City players Beckett Hollenbach and Jamie Richards comfortably holding out for a goalless bore. With this being an F.A. competition rather than a league match the two sides were able to name seven substitutes (Harlow managed six) instead of the normal five for league games.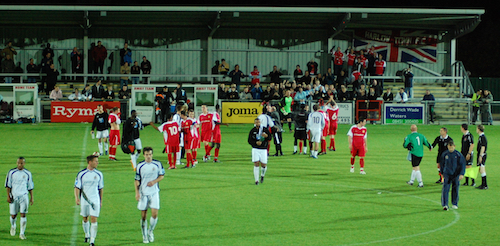 City supporters travelled to Harlow on 30th September for their first game at Barrows Farm believing that the home side had probably squandered their one shot at beating higher opposition by not winning at Clarence Park . Bowditch and Cousins were recalled as Quilter and Protheroe stood down, the latter never again to reappear in the First team although he did make a further appearance for the Reserves in mid November. Harlow had other thoughts about missing the boat and were two goals to the good within 14 minutes through Richard's glancing header inside 37 seconds and then a Cousins own goal. Castle spent most of half time standing in the tunnel mulling over what he had just witnessed rather than looking to cajole his players in the dressing room. Harlow had the chances to build a substantial lead before City roared back with a deflected Cousins free kick on 75 minutes and a solo effort from Cohen three minutes later that brought the sides level. It now appeared that Bastock could celebrate his 150th game for the club with champagne but instead it was Hollenbach, courtesy of Danny Green's wonderful 87th minute strike from just outside the penalty area, who was able to pop the corks with genuine joy as his 200th game for Harlow ended in victory. Castle publicly accepted that Harlow deserved their victory and the City manager was fully aware that the club had lost a great opportunity to boost the coffers.
Harlow picked up £4,500 from the F.A. prize fund for the victory and in the 3rd Qualifying Round faced struggling East Sussex side Crowborough Athletic – the prize for winning that tie was £7,500. It gets worse – Harlow's reward for beating Crowborough was, quite unbelievably, a 4th Qualifying Round tie away to Burgess Hill Town. Whilst not meaning to belittle any other clubs, City could, and should, have won their way through all of the Qualifying Rounds. The prize for beating Burgess Hill Town, as Harlow duly did, was £12,500; making a grand total of £27,500 poured into the club due to winning four Qualifying Round ties. Harlow's run ended in the 1st Round Proper with a 2-0 defeat at home to Macclesfield Town. Castle was honest enough to confess, "We let everybody down." But City were not the only Conference South side to flop in the F.A. Cup. Ten sides from the Division fell at the first hurdle to lower league opposition and this figure rose to a staggering 14 by the time the 4th Qualifying Round was over. All of which leads to the suspicion that the standard of football in Conference South was not as high this season as one would perceive it should be.
September Player of the Month – Paul Bastock .
October– Award for Castle as City climb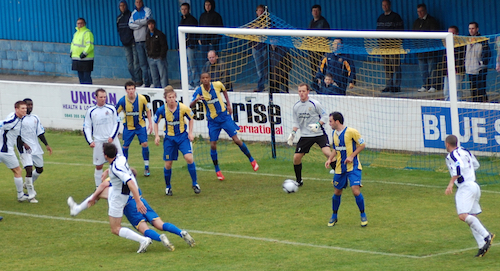 The misery of the cup defeat had to be quickly brushed aside as the Saints travelled to Basingstoke Town on 4th October looking to collect maximum points from the side at the foot of the Conference South table and still winless. City duly chalked up a second successive away league win despite trailing at half time to Phil Ruggles 44th minute goal. The goals that won the game, a wind assisted effort directly from a corner by Hunt and a Rob Watkins own goal (left), just about summed up a truly gruesome encounter at The Camrose. Bowditch set up the deciding goal in as much as it was his corner that Watkins put into his own net, but it was to be his final game for the Saints, while unused goalkeeper Chris Adams was also on the team-sheet for the final time. Bowditch was actually sidelined with a stomach strain but was not selected again. Castle sought to shake up his goal-shy front-line by dropping Hakim to the right of the midfield while Clark and Cohen led the attack. Clarke though, was soon back in midfield to replace Quilter who suffered an ankle injury inside 17 minutes, something that allowed Simon Martin to return to the attack. Also added to the injury list was Bailey while Sulaiman was still some way away from returning. One player on the way back though was Frater who replaced Bailey for his first game of the season. Looking on from the back of the main stand at The Camrose was former City manager Colin Lippiatt and his wife Frances.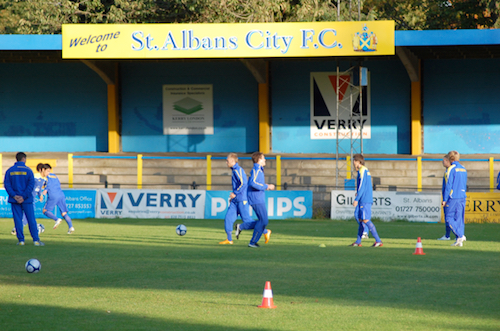 Clarence Park took on an international flavour on the 7th & 8th of October with the Kazakhstan national side training at the ground (right) in preparation for their World Cup qualifying match with England at Wembley the following weekend.
Due to the premature cup exit City were without a game on the 11th but were in action on the 14th with a friendly against Leyton Orient at Brisbane Road. The match, which was a behind closed doors affair, allowed Frater a decent run out with the added bonus of a 4-3 win for the Saints.
City's winning league run was extended to three the following Saturday, 18th October, when Sam Hurrell marked his debut with the only goal of the game at Clarence Park against struggling Bognor Regis Town. The win lifted City into the top ten for the first time since the promotion season of 2005-06. Hurrell joined City from Northwood having previously had a contract with Chelsea, something that was his prize for being the first winner on SKY One's Football Idol. Thurlbourne, having missed the trip to Basingstoke due to injury, replaced Bowditch while Frater had his first full 90-minute run out in a competitive game since April. Named on the team-sheet for the first of three times during the season was 18-year-old Oaklands College goalkeeper Austin Byfield.
Whilst the three straight wins stabilised City's league position, the performances were tepid and the prospect of a sustained rise up the table seemed unlikely. Goals were still a problem for the attack with whichever pairing leading the side contributing just a solitary goal from the past nine games. That statistic was stretched to a tenth game as a first half Hunt penalty earned a gritty three points from eighth placed Welling United at Park View Road. Eight games without a goal meant there was no place in the starting XI for Hakim. But the duo Castle opted for up front were hardly in breathtaking form with both Simon Martin and Cohen, as previously mentioned, having scored just once each in their previous nine games. Fortunately, City were able to pick up points on the strength off an improving defensive record, the Welling game saw Bastock keep his fifth clean sheet in eight league games. A free-from-injury Ben Martin was a significant feature in the Saints defensive strength. Making an appearance, as a last-minute substitute, was Hector Mackie , who was back with the club more than a year after being released. Mackie's return, after a spell with Potters Bar Town, was almost a case of déjà vu. His last game for City had been as a last-minute substitute against Welling on 6th September 2007 The club received a further boost when it was announced that Southend agreed to extend Thurlbourne's loan into a second month.
Unsurprisingly Castle stuck with the side that beat Welling for the visit of mid-table Bath City on the 25th. Confidence was now oozing through the side and, despite trailing to Sekani Simpson's freak 13thminute goal that looped high over Bastock from out on the Romans right, chalked up a fifth successive win as the second half strike force of Simon Martin and Hakim grabbed a goal each, the latter having replaced Hurrell soon after half time. Clarke's resurgence came to an abrupt halt with a knee injury that saw him fail to reappear for the second half; it was the start of a slow painful end to his career at Clarence Park . The run of victories in October, four in four games, not only lifted City to seventh in the table but also won Steve Castle his second Manager of the Month award.

The prize awarded by League sponsors Blue Square to the Manager of the Month was a one-inch thick, six-inch square slab of engraved blue glass (left) that weighed 3lb 3.6oz (2.5cm x 15cm x 15cm. 1.46kg).
Two days after the win over Bath a further boost was received when Chris Seeby , playing his first match since City lost 3-0 at Twerton Park in September 2007, came through a Reserve team match at Clarence Park . Not only did Seeby come through unscathed but capped his 60-minute appearance with a cracking goal during the 4-1 defeat to Harrow Borough. Also in the City Reserves side was Quilter who had been on the bench for the past three First team matches.
If life was starting to look rosy for City on the pitch, the future was less enticing for the chairman and his company, William Verry. Earlier in the year Verry's had won the contract to be the preferred contractor for the massive redevelopment and building project planned for Oaklands College Smallford Campus. The project was said to be worth £110m but the development, which was to be on green belt land, was called in for closer scrutiny by the Secretary of State. A public consultation was scheduled for March 2009.
October Player of the Month – Luke Thurlbourne
November– City rise to fifth but suffer humiliating cup defeat
City's winning run came up against most atrocious conditions on 1st November with the Conference South fixture against Bromley. Hayes Lane was battered by driving rain, wind and cold temperatures as the two sides faced each other for the 100th time. Hakim announced his return to the starting XI with a brace before former Saint Nic McDonnell bagged a pair for Bromley. But sandwiched between that double was a gloriously back-flicked goal by Cohen, his first since August, that secured a 3-2 win over the midtable Kent side. Bromley captain Mark Corneille had the unwanted distinction of being the first player to be sent off in a City match this season but that dubious dishonour should have gone to Fiston Manuella for a shocking challenge on Simon Martin . Manuella was taken off at half time and made just two more substitute appearances before leaving the club. With Clarke out injured Quilter returned to the midfield, Hurrell stood down for Hakim. Despite the weather the game, particularly during the second half when conditions were getting close to farcical, was an entertaining affair.
A number of players were nursing knocks and with this in mind Castle sent a side of virtual rookies to face Hemel Hempstead Town in the semi final of the Herts Charity Cup on the 4th. The only senior experience was supplied by Hurrell, Quilter and Mackie with the first two not reappearing for the second half. Hemel were in no mood to let City get away lightly and were ruthless as they handed the Saints the second biggest defeat in the club's history and the biggest in cup competitions. For Garry Sippetts it was payback time for the striker who, many felt, was not given a fair crack of the whip whilst at St Albans under Gary Roberts and Steve Cook during the early part of 2002-03. Sippetts helped himself to five goals in the 10-0 drubbing, just one more goal would have handed City their joint heaviest defeat. Nathan Bowden-Haase – two weeks after getting the goal that put City Reserves out of the League Cup – netted the first with Steve Sinclair adding the second before Sippetts opened his account. Paul Edgeworthy made it 4-0 on 24 minutes with Ian Cooper and Mark Coulson, from the penalty spot, joining Sippetts in the second half six-goal feast. In addition to being City's biggest cup defeat, it was also our heaviest away defeat and the third time City had conceded ten or more goals in a single game. Eight players made their First team debut including goalkeeper Jake Palmer, a former youngster with Ipswich Town. Of the other two 'keepers to concede ten goals, Herbert 'Micker' Smith did so in only his second game (11-2 away to Luton Clarence, 19th April 1909) and George Holben had the misfortune to match Palmer and do it on his debut (11-0 home to Wimbledon, 9th November 1946).
Having considered the Herts Charity Cup as nothing more than an irritant, St Albans City banished the Hemel match from the memory with a four-goal second half salvo against 20th placed Fisher Athletic on 8th November that secured a seventh consecutive league victory. An own goal set City on the path to three more points and either side of a Sam Higgins goal for the visitors Hakim struck his second double in successive league games with Quilter completing the scoring in the final minute. New signing Adam Everitt (left), signed from Bromley on the eve of the match at Hayes Lane, made his debut alongside Ben Martin as a stand-in for the injured Frater. Ryan Baronet, a 17-year-old member of St Albans City Youth, made his one and only appearance on the team-sheet as an unused substitute. Bailey was also an unused substitute and was released after the game purely due to tightening finances at Clarence Park . The return of Thurlbourne to Clarence Park went down well on the terraces and with this being a fifth win in each of his five appearances since rejoining the club it was not difficult to understand why. The win lifted City to sixth in the table and just three points adrift of second placed Maidenhead United.
Standing between the Saints and an eighth successive win in Castle's 100th match as manager of the club were Hayes & Yeading United. The west London side enjoyed an eight-match winning run earlier in the season and were two places above City in the table. Victory would have propelled City into second place and in the 77th minute of a gripping encounter Hakim put the Saints ahead with his 10th goal of the season. Bastock was just five minutes away from keeping his 50th clean sheet when Will Hendry scored direct from a highly controversial free kick to ensure a share of the spoils. The draw lifted Hayes into second place while St Albans, for the one and only time during the season, climbed into a play-off position. With Frater fit again Everitt had to settle for a place on the bench where he was joined by Bradley Gray, the striker was back with City for a second spell from Leyton Orient as part of the work experience scheme. In the Hayes midfield was the popular former Saint Ram Marwa .
City's indifferent cup form took a welcome upturn on the 19th as Barnet were despatched from the Herts Senior Cup by virtue of a 3-0 defeat at Clarence Park . After being handed a fifth minute lead courtesy of Jeremy De Magalhaes' comical own goal City wrapped up the 1st Round win with second half goals by Jon Munday and Seeby. Munday, a versatile central defender or midfield player, was making his debut after joining the club from Grays Athletic while Seeby's goal brought cheer to all at Clarence Park on his return to the First team. In addition to Munday, there were debuts for goalkeeper Byfield and teenage striker Inih Effiong , while Sulaiman returned to action. The two second half goals were also the first City had scored in the York Road for nine home games.
The win over Barnet was City's fifth in 16 cup ties under Castle and confidence was high of improving that statistic on the 22nd as Kent side Dartford visited the Park in the 3rd Round Qualifying of the FA Trophy. Castle, looking forward to the tie and still bearing the scars of the F.A. Cup defeat to Harlow, stated, "a good cup run really would benefit us financially." The message seemed to have trouble reaching the dressing room as Dartford, 18th in the Premier Division of the Isthmian League, had few problems in holding out for a goalless draw – the match fell on the 86th anniversary of City sharing 15 goals in an F.A. Cup extravaganza at Champion Hill, with Wilfred Minter scoring all of St Albans' seven goals. City made one change from the Hayes game with Sulaiman taking the place of Hunt who had a slight thigh strain. Making a welcome return to Clarence Park was Dartford striker Rob Haworth, a veteran of 182 games for the Saints during the 1990s.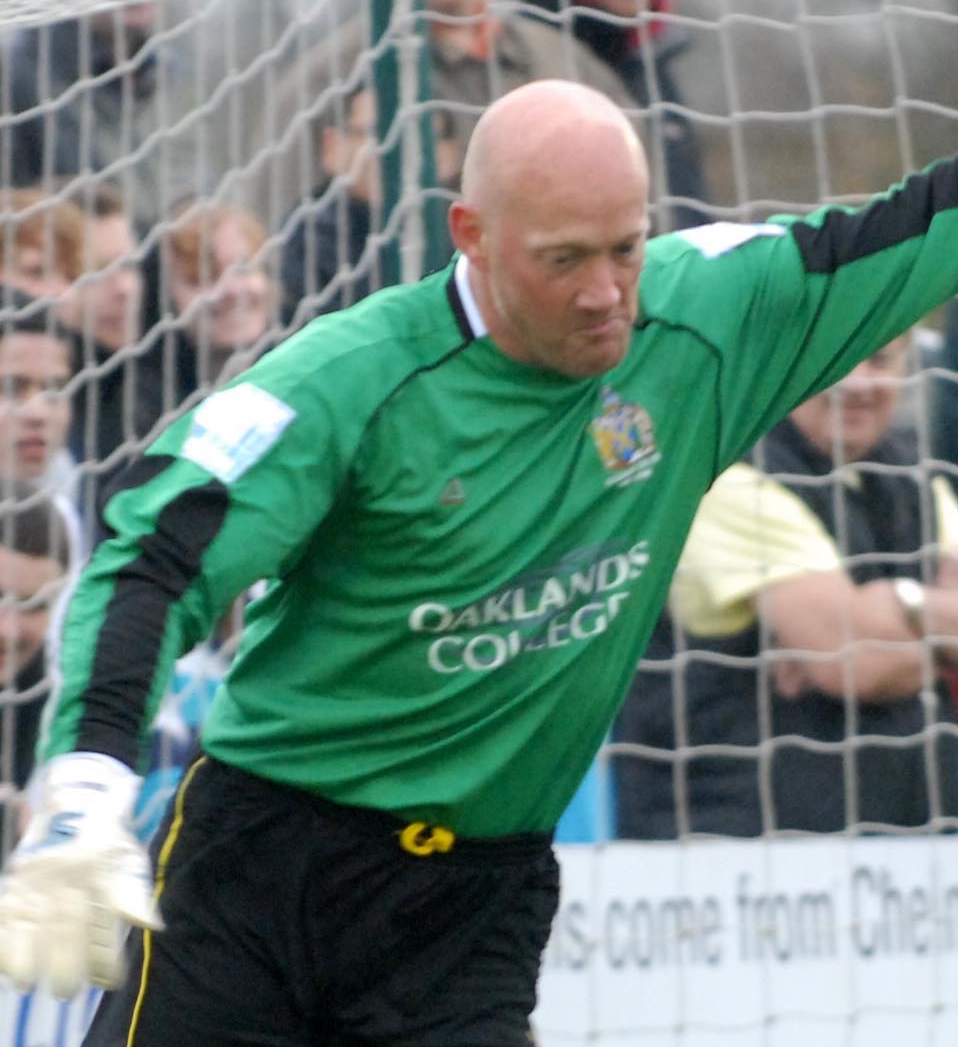 Hunt returned for the replay, at the expense of Hurrell, and Everitt came in at left back for Cousins. The match was Ben Martin's 100th for the club. Although doing little more than holding their own in their first visit to Princes Park, City led through Quilter's 33rd minute goal. What appeared to be a stubborn victory all changed just prior to the hour when Dartford sent on substitute Ryan Hayes; for the next half hour the Saints were crucified. Haworth equalised with 12 minutes remaining and City were being ruthlessly slaughtered like sitting ducks. With Hakim, Sulaiman and Cohen all off through injury there appeared no escape for the Saints, the impression being reinforced when substitute Simon Martin also picked up an ankle injury. Dartford were swarming all over them but one man, Bastock, stood firm. Three times Bastock astounded everybody with double saves. He made countless other saves with the woodwork also coming to the Saints rescue on two occasions. And when Bastock and the woodwork could not deny the Darts then the referee was on hand to do his bit by disallowing what appeared a perfectly good back-heeled winner by Haworth. Extra time saw Bastock continue his heroics to take the tie to a penalty shoot-out. Dartford's game was built on passing football and if there had been any justice City would have joined the eight other Conference South sides that bowed out of the competition to lower league opposition. Instead, as the game went to a penalty shoot-out lottery, it was the visitors whose nerve held best. Bradley Gray got City off to a perfect start and when Steve Butterworth missed Fisher was able to give City a two-goal cushion. Jamie Day got Dartford off the mark before Cousins maintained his record of never having missed from the spot. The tension rose again, on a bitterly cold night, as Tommy Osbourne netted for the home side and Quilter struck the woodwork with City's fourth effort. But Dartford hopes sank when Hayes crashed his effort against the woodwork leaving the experienced Hunt to secure a most flattering win for the Saints. Castle did not hide his embarrassment at City's lucky escape, "I cannot believe that this is a ten-game unbeaten run. We looked like a bottom of the table team that didn't have a clue." As for Bastock (right), whose brilliance earned the club £4,000 prize money, the City manager said, "I can't describe what I feel in praise of him. He is an example to the lesser characters."
City ended the month with a trip into Essex to face Braintree Town at Cressing Road, The weather was cold, very cold, foggy, uninviting and damp; the football was similar. City's eight-match unbeaten league run came to an end through Sean Marks' 75th minute goal. With Hakim and Simon Martin injured, Gray came in for his only starting appearance before heading back to Orient, and Everitt continued at left-back in place of Cousins. City's injury problems suffered another blow with Frater limping off minutes before the deciding goal.
November Player of the Month – Paul Hakim .
December– Thurlbourne goes as City stutter
The festive month kicked off with a 2nd Round Herts Senior Cup tie away to South Midlands League side St Margaretsbury on the 3rd. Castle fielded a strong side that included Clarke after eight games on the sidelines. The 25-year-old was still awaiting an operation on his damaged right knee but was able to play on it in the meantime. After leading through Cohen's early goal City trailed at the interval after Tony Smith and Paul Taylor struck twice in three minutes. Fortunately, City avoided another cup humiliation when Cousins equalised from the penalty spot on 71 minutes with Seeby and Simon Martin carrying the visitors to a 4-2 win at Station Road.
Back in August City gave one of their most impressive performances of the season but still fell to defeat away to Worcester City. The result, 2-0, was repeated at Clarence Park on 6th December as Worcester became the first side this season to complete the league double over St Albans. The visitors had lost five of their previous six games, failing to score in each of these defeats, while for the Saints it was a first home league defeat in almost three months. Cousins returned in place of Everitt while Hakim came in for Gray at the teenager headed back to Leyton Orient. Castle's frustration at City's lack of consistency in front of goal saw him take Cohen out of the attack at half time and switch him to a position wide on the right of the midfield. Just 17 fruitless minutes later Castle sent on young Inih Effiong in place of Cohen. During a season in which the lack of directors at matches was frequently commented upon, it was noticeable to see Mrs Gibson put in one of her two appearances during the campaign – coincidentally on a day when three Lord's were in attendance. Her other appearance was for the visit of AFC Wimbledon.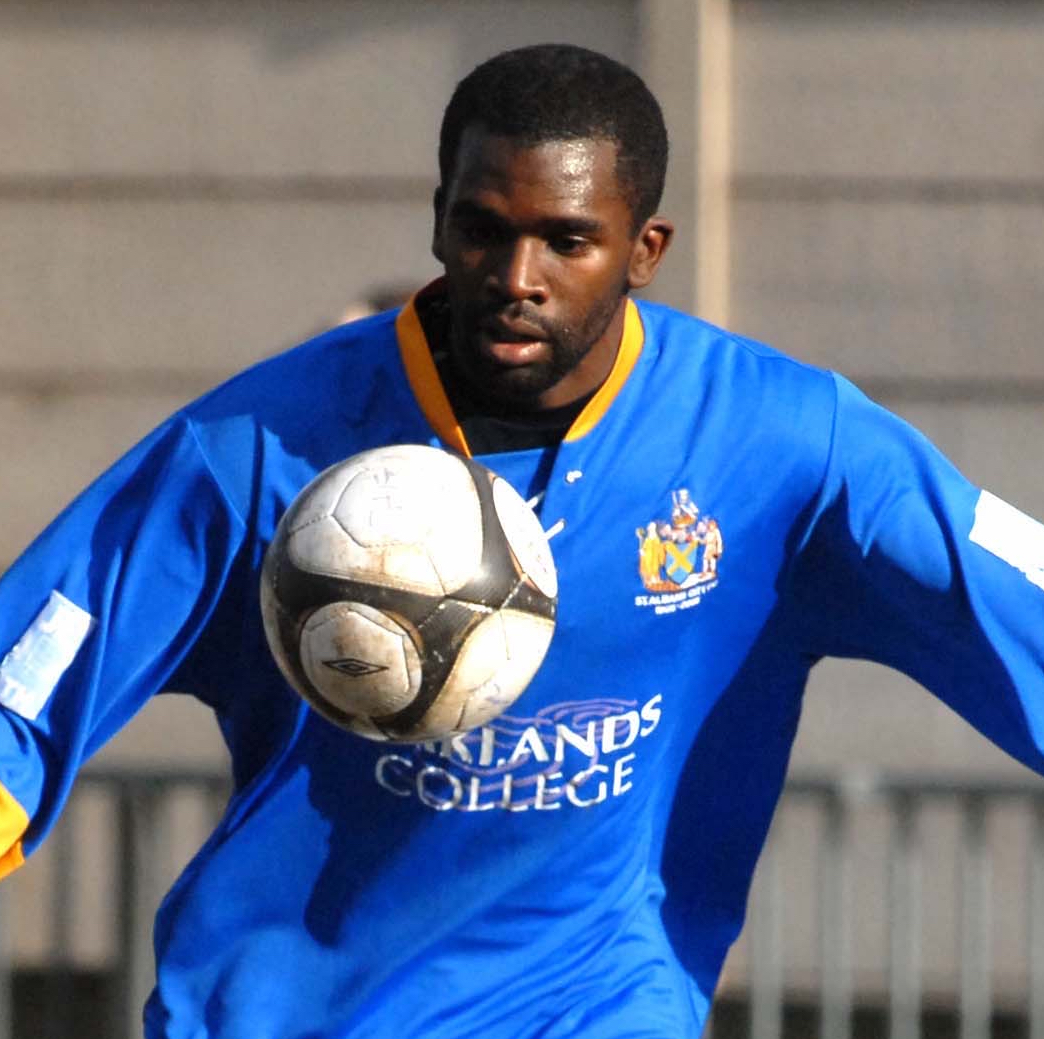 With their form dipping City faced a daunting trip to Stevenage Borough for a 1st Round FA Trophy tie. Graham Westley's side had yet to get into their stride in the league and for over 80 minutes City, with Everitt back in place of Cousins, more than matched their county rivals. Andy Drury gave Boro an interval lead but it was surprising that the visitors were kept waiting until the 81st minute before Cohen (left) equalised. City now went for a shock victory but instead left themselves open at the back and slumped to a 4-1 defeat, a score that bore no relation to the game. Steve Morison scored Boro's second goal on 86 minutes and a quick breakaway, after Bastock was still at the opposite end of the pitch having moved forward at a corner, saw a clearly offside Lee Boylan score the third. Morison rubbed salt into City's wound with the fourth goal in added time. The match marked the end of Thurlbourne's loan to St Albans and his stint ended in misery as the he departed on a stretcher having suffered a fractured fibula of his right leg. Clarke came off the bench to replace the stricken midfielder and gave a high-quality performance that demonstrated just what value to the side a fully fit Clarke would be. Hurrell, too, showed flashes of his talent when attacking down the City left after coming on for Sulaiman.

Having fallen out of the two national knock-out competitions at an early stage and started to drift away from the play-off places, City looked to rebuild their season away to Havant & Waterlooville on the 20th. But City's league form continued to desert them and despite Jamie Collins failing to score from the penalty spot (right) the Hawks still eased their relegation fears with a 2-0 victory that ended a nine-match winless run. Craig Watkins' and Gary Holloway's goals either side of half time were sufficient to hand City a third successive league defeat, all without scoring. Castle had sought to stem the slide by making a number of changes. Clarke came into the centre of the midfield, Hurrell went to the left and Simon Martin returned in place of the unavailable Cohen. Rob Nicholls was brought on for the final 11 minutes but the 18-year-old did not get another run out before heading back to Brentford. A booking for Hakim for dissent denied the team the opportunity to complete five successive matches without having a player cautioned. City went into Christmas in ninth place but having occupied a play-off position a month earlier they were now nine points adrift of fifth place.
With a game on Boxing Day and another on New Years Day, the festive season was hardly a busy time but if City were to stay in touch with the leading pack then favourable results from the two holiday matches against Alan Devonshire's Hampton & Richmond Borough were imperative. Beaten to promotion in the previous seasons play-off final Hampton were challenging again and arrived at Clarence Park in fourth place. Quilter, Everitt and Hurrell were left out as Cousins, Cohen and Seeby all returned. It was a highly significant day for Seeby as he played his first league match for more than 15 months. Castle also moved Fisher into the midfield and was given an excellent performance by the 24-year-old. The match was a feisty and highly enjoyable affair although Cohen had his Christmas ruined when sent off for a high tackle on Francis Quarm; City had four other players cautioned. Despite a shot count of 20-6 in favour of the visitors a draw seemed a just outcome. City led twice through Hakim and a Stuart Lake own goal, while Hampton ensued the third successive draw between the two sides at Clarence Park with goals from Lawrence Yaku and Lee Hodges. City, now in tenth place, ended the year having played 21 league games; seven of which produced a maximum 21 points with the other 14 games amassing just ten points.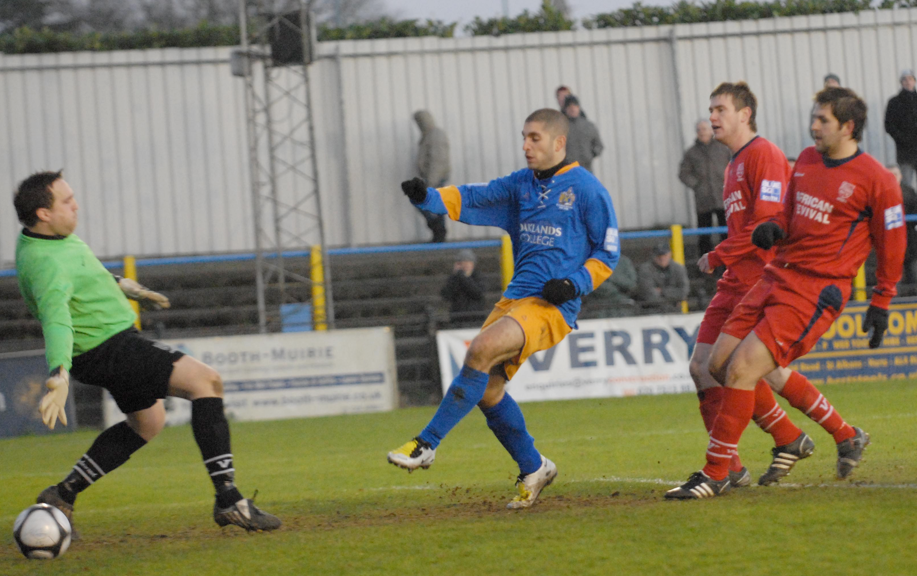 December Player of the Month – Paul Hakim
January– Slump continues, Clarke edged out
The return fixture with Hampton at The Beveree was a calmer encounter but a second draw within a week did neither side many favours. Chances were at a premium, City may feel that they, overall, had the better openings in a match of 43 free kicks but a miss by Yaku almost challenged Hakim's at Bath for the miss of the season. The match, which saw Sulaiman come in for Simon Martin , finished goalless as City failed to score for the third successive away league match.
Football was sidelined early in the month as severe frosts wreaked havoc across the country. Dorchester Town's visit to Clarence Park was a fruitless venture as a midday postponement came after the Magpies had completed more than half of the trip from Dorset. City were more fortunate the following Saturday, 10thJanuary, when an early pitch inspection at Stoneham's Lane saved them from making a wasted journey to Eastleigh.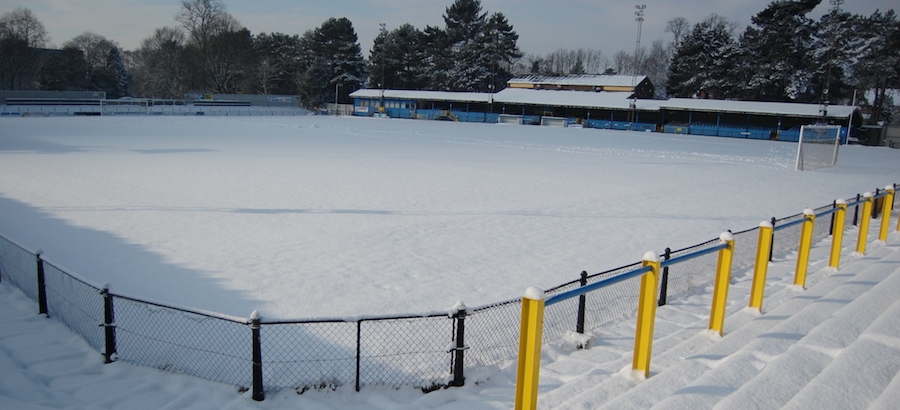 The cold weather relented sufficiently for City to welcome Bromley on the 17th, and what a glorious way it was to shake off the cobwebs. St Albans fading play-off aspirations received another dent as Bromley became the first club to twice beat the Saints 5-4. City's 10th defeat by this score was all the more remarkable for skipper Ben Martin who became the fourth City player to score a hat-trick yet finish on the losing side. City trailed 3-0 just after half an hour following goals by Ryan Hall, Warren McBean and Adrian Stone but were level on 72 minutes through Martin's hat-trick, the Saints first in the league for three years. But just when it seemed as though City would pull off a stunning victory Bromley hit back with McBean's second goal of the game and a strike by Luke I'Anson. Making his City debut was on-loan Dagenham & Redbridge striker Danny Charge, the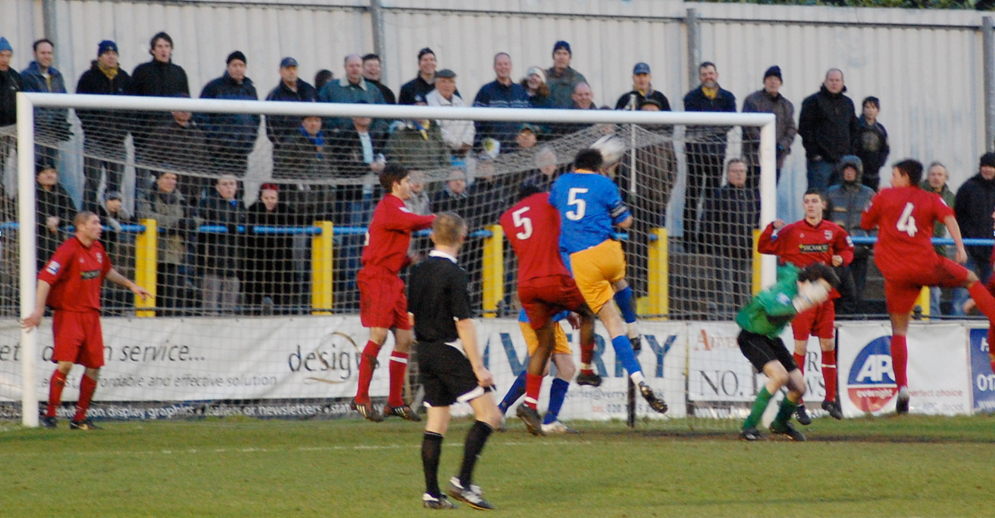 teenager became the fifth player this season to score on debut but he still ended up defeated. Cohen missed the game due to his dismissal against Hampton, Simon Martin filled in. The Bromley match highlighted the difficulty Castle was faced with; that being, one of consistency in front of goal. Only leaders AFC Wimbledon had scored more times at home than City yet on their travels only lowly Bognor had found the net fewer times than St Albans. The biggest casualty of City's poor start was Clarke; Castle withdrew his midfielder after just 31 minutes. It was to be Clarke's final appearance in a St Albans City shirt. Before the month was out he was sent a letter offering to terminate his contract. Sluggish communications led to the issue rumbling on for more than two months before his departure from Clarence Park was finally confirmed. Popular on the terraces, Lee Clarke had scored 92 times in 231 games but left the Park when stuck on 199 league appearances.
A break was taken from league football on the 20th as Oxhey Jets paid their first visit to Clarence Park for a 3rd Round Herts Senior Cup tie. Having lost 4-1 at Oxhey in 2006 City were keen to put the record straight and fielded a strong side to face the Spartan League side. But the evening turned into another night of cup humiliation for Castle's team, as they could not muster a single shot on target while the Jets strolled to a shock 3-0 win. A second half brace by Adam Lowton either side of a Jamie Arthur goal proved more than enough to brush aside a totally inept City performance that saw Simon Martin play as a lone striker.
A week of bizarre results and matches ended with another unscripted twist as a 1-0 defeat to Bath City at Twerton Park was achieved by conceding a farcical own goal inside 23 seconds, this despite St Albans having taken the kick off. The goal that decided the points, and handed the Romans a sixth win in eight games, saw Frater's attempted clearance from the goalline rebound off the prone Everitt and into the visitor's goal. The unfortunate Everitt was starting a league match for the first time since the defeat at Havant. Quilter was also recalled while Seeby, clearly needing time to find his best form, was relegated to the bench.
The Norwegian Branch of the City Supporters Club chose Bath as one of the games to attend during the season, and probably wished they hadn't.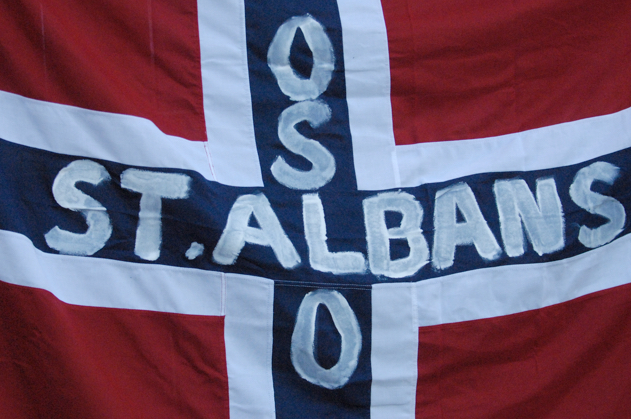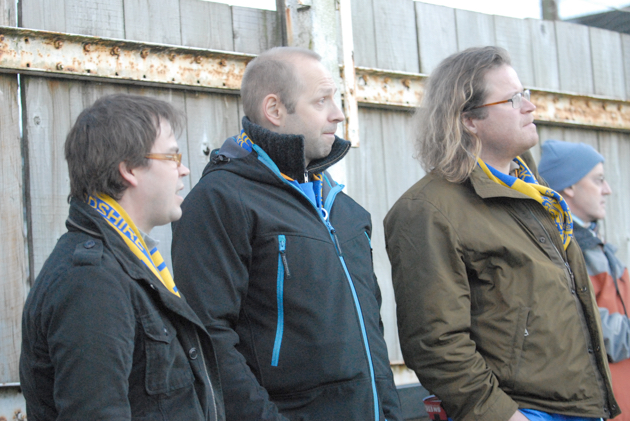 Castle made three changes for the visit of Welling United the following Tuesday as he sought to arrest the losing run. Out went Simon Martin and Sulaiman as Cohen and Seeby were recalled while Craig Mortimer, having come on as a sub during the defeat at Bath, was in the starting XI for the first time. The game started like an action replay of the Bromley match. Sanchez Ming and Charlie Sheringham, with a penalty, put the Wings into a two-goal lead before City got back on level terms through Hakim and substitute Sam Hurrell . But three minutes from time Sheringham struck for a second time to hand City a third successive defeat. Hurrell's performance persuaded Welling to put in a successful seven-day approach for the left-sided midfielder. The run of poor results saw fall City to 13thin the table and a growing 11 points from the last play-off position – the gap between City and the bottom three was a decreasing 12 points.
Below: Sam Hurrell scores City's second goal against Welling United.
In the next match, away to Weston-super-Mare, St Albans were to rue missed chances as two points were squandered in a 1-1 draw. City led through Everitt's first goal for the club, which came 364 minutes after the Saints most recent away league goal, but ultimately it was another fine performance by Bastock that prevented Weston from adding to Manny Williams 56thminute equaliser. Injury to Frater led to Everitt stepping into the middle of the defence and Sulaiman returned in favour of young Mortimer. The play-offs were fast disappearing off the radar and with relegation unlikely City ended the month heading for mid-table obscurity.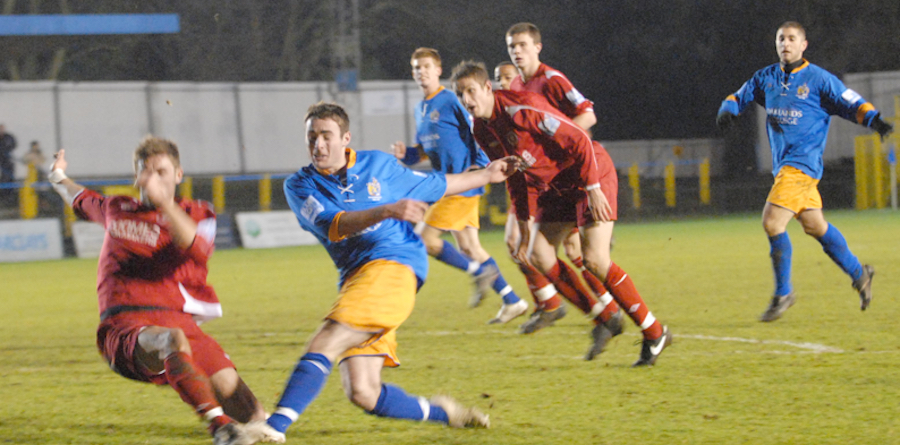 January Player of the Month – Ben Martin
February – City bounce back
The continuing cold snap, and a fresh deep covering of snow, caused the Saints trip to Eastleigh to be called off for a second time on 3rd February and four days later the visit of AFC Wimbledon to Clarence Park went the same way. But City did manage to play one match before resuming their league campaign when they took on Potters Bar Town on the 11th February on an all-weather surface at the David Beckham Academy in Greenwich. City won 5-1 with goals from Everitt 2, Fisher, Hakim and Charge (left).
Conference South football kicked back into life on Valentines Day with City happy to collect a point from county rivals Bishop's Stortford at Woodside Park. The match only went ahead after a large number of volunteers helped clear the pitch of snow the day before the game. The Bishop's dominated early on and led through a goal by the excellent Lewis Smith. City were fortunate to be just a solitary goal down at the interval and had their ears warmed by a verbal onslaught during half time from Castle. The City manager then displayed his anger by sending his side out for a half time training session on the pitch. Aided by a surprisingly uncertain performance by Stortford, and an improved showing in their own form, City salvaged a draw courtesy of a shocking blunder by former City 'keeper Nick Eyre that allowed Hakim to score the Saints 50th goal of the season. For Castle the draw represented the 100th point of his managerial career, achieved from 95 matches. The team showed several changes as suspension ruled out Ben Martin and James Fisher while Simon Martin attended a wedding. Danny Charge was given his one starting appearance, before heading back to Dagenham, and Frater joined Everitt in the heart of the defence. Despite encouraging performances in midfield by Fisher it was evident that City were still missing Thurlbourne, this problem was alleviated to a degree at Stortford as Leyton Orient teenager Solomon Shields began a one-month loan period with the Club. The central midfielder looked a useful acquisition on his first outing and prior to returning to Brisbane Road left a lasting impression with his temporary buddies. Watching his former club in action for the first time this season was Steve Clark , the second highest goal scorer in City's history.
City welcomed back Fisher and Ben Martin for a trip to a Hayes & Yeading United side that had lost ground in the race for a play-off place with just one win in seven matches. A dire second half performance by the Saints allowed the west London club to re-ignite their promotion push with a 2-1 victory. Matt Ruby scrambled home the winner after Shields had wiped out the lead given the home side by former Saint Ram Marwa . Shields' unbridled joy at notching his first goal for the club was a sight rarely seen in football nowadays as the 19-year-old ran excitedly back to the centre circle beaming broadly and moving too swiftly for his team-mates to offer their congratulations. Injury ruled out Everitt for the trip to Church Road and there was further injury woe for Castle as Frater broke down again with his troublesome hamstring leading to his exit inside the opening 30 minutes. The match contained a couple of unusual incidents. The first saw the Missioners do a pre-match huddle but then felt the need to do another as the first was done before the toss had been made. The second incident was less savoury as Hayes goalkeeper Delroy Preddie hurled his water bottle into the front wall of the stand as the players made their way off at half time.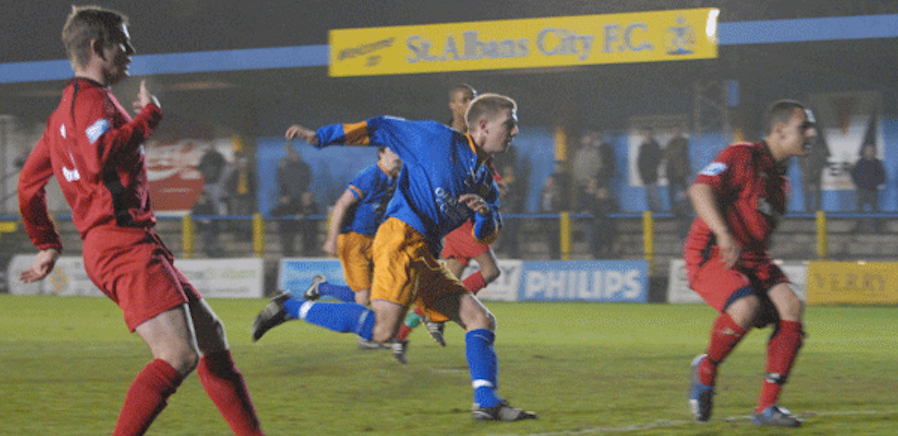 After three successive away games City played their first home match since January with the return fixture on the 24th against a Basingstoke Town side that had moved clear of the relegation zone with a run of four unbeaten matches. For a side battling to avoid the drop Basingstoke were in exceptionally generous mood and handed City two gift goals inside the opening ten minutes. Hakim was the first beneficiary and Cohen, with his first goal at the Park since August, the second. The end of a 12-match winless run, and the Saints first victory of 2009, was confirmed on 33 minutes when Fisher, playing his 49th game for the club, hammered in goal number three (above). With Frater sidelined due to injury Ben Martin's latest partner in defence was Quilter; his midfield slot was filled by Mackie who was with the Saints on a dual registration with Spartan League side Haringey Borough. A side without a win for over four months and facing lowly opposition on a night of televised European football was always likely to be of limited interest and the match duly attracted City's smallest home attendance for a league match since December 2004. Amongst the absentees, not for the first time, were all of the four directors of the club. The match took place as a 12-day public inquiry into the expansion at Oaklands College got underway. The company handling the construction was William Verry, the owners of St Albans City Football Club.
The final day of the month saw City travelling to the south coast to face a Bognor Regis Town side riddled with financial difficulties and coming to terms with the loss of their clubhouse following a large fire. Also absent from Nyewood Lane was the familiar figure of the genial Jack Pearce who had been forced to cut back on his unstinting devotion to the club through serious illness. Manager Darrin Killpartrick assembled a side built around youth and this lack of experience was evident as City, without dominating, chalked up their second 5-0 win of the season. Missing from the City side was Cousins after falling ill on the Friday, his place went to Bailey. Since leaving City in October Bailey had tried his luck, without much success, at Aldershot Town. Fisher crowned his 50th appearance with his second goal of the week, Hakim doubled the lead before the interval. A brace from Hunt, including City's first league penalty in four months, and a second goal for Hakim completed a second league double of the week. Hunt's penalty was City's sixth and last of the season; all of which were converted. Bognor's misery deepened when it was revealed goalkeeper Anthony Ender suffered a broken foot in an innocent collision with Cohen.
February Player of the Month – James Fisher
March – Bastock injured, Butcher stakes claim
Team Bath made their inaugural visit to Clarence Park on 7th March and put in one of the most disappointingly unadventurous performances of any visiting side this season. The game ended as it began, goalless, with City taking most pleasure from a painfully dull 90 minutes. City's relative pleasure was founded on the fact that Castle had to cope without the injured Everitt, the suspended Hakim and, at the last minute, Ben Martin who was forced to cry off with a stiff neck. Included amongst the substitutes were the injured duo of Frater and Seeby, neither of whom were fit enough to play. City received just about the most severe blow they could suffer to their playing staff when Bastock collided with a goalpost. It was only some time after the game that it was established that the 38-year old had played the final 20 minutes with a broken eye socket. The injury ended Bastock's run of 42 consecutive league appearances.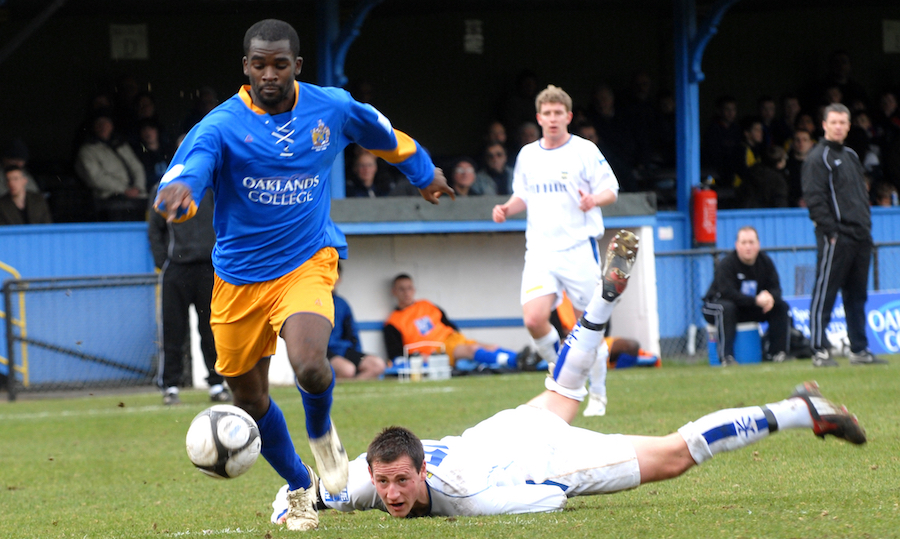 Above: Gary Cohen on the attack against Team Bath.
The run of three successive clean sheets faced a tough examination on the 10th as league leaders AFC Wimbledon made their first trip to Clarence Park . The Dons had drawn their two previous matches but with eight consecutive wins prior to then were well on course to win the Conference South championship at the first time of asking. A number of frantic telephone calls were made the day prior to AFC's visit as the Saints tried to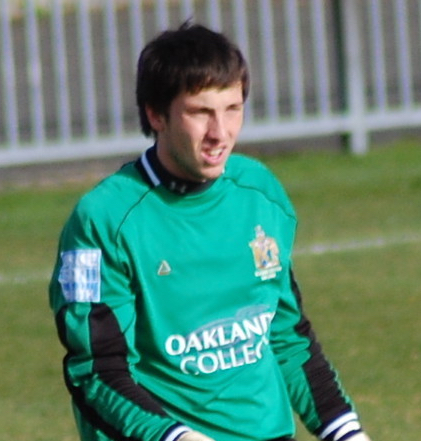 get cover for the injured Bastock. One was eventually found at White Hart Lane where Tottenham Hotspur offered the club 20-year-old Lee Butcher (left) on a one-month loan. Butcher was no stranger to the Dons, having previously played on loan for Terry Brown's side, and gave an assured performance as City had the better of an entertaining goalless draw and came close to ending their visitors 16-match unbeaten run. Other than Butcher coming in for his debut City made one other change with Simon Martin making way for Hakim while Hunt played his 50th game for the club in Castle's 100th league match as manager. Thanks to the Dons excellent support the attendance was boosted to 1,105, City's best for almost two years.
Having put in an impressive performance in front of a decent crowd against AFC Wimbledon, City had to motivate themselves in front of just 137 people at Champion Hill on 14th March against a Fisher Athletic side facing relegation on the pitch and administration off it. Fisher, it could be said, went into the match in good form having defeated Bath City in their previous game – the reason they were at the foot of the table though was due to losing all of the 16 matches running up to the Bath game. Dave Mehmet's completely amateur side could have gone someway towards recording a second successive win but were guilty of finishing that was simply pathetic. Even so, City were on course for a third successive 0-0 draw until popping up with four second half goals on a dreadful surface. Hunt opened the scoring, Ben Martin headed in the second and substitute Simon Martin , on the day he moved into City's All Time Top Twenty Appearance chart, chipped in with a late brace (below). Athletic were staggeringly inept after the break as City racked up 16 attempts on goal to the home XI's nil, the second half corner count was 9-1 in City's favour.
The match against Fisher not only saw City keep a remarkable fifth consecutive clean sheet but it was now more than four-and-a-half games since an opposing player had had a shot on target. After conceding goals during each of the opening five league games St Albans had now kept 11 clean sheets with central defender and captain Ben Martin playing at a level few in the league match. Unfortunately, much of City's good defensive work had been nullified by an attack that had also failed to score in 11 league games.
Before City's next match the verdict was announced of the public inquiry into the planned development at Oaklands. The scheme was 'put on hold' after the Government failed to come up with their share, £45m, of the funding after taking on too many such projects across the country. Optimistic noises were made by college principal Mark Dawe that the scheme could be salvaged at a later date but the likelihood is that the project will be scrapped. The college had already spent an estimated £9m on the scheme.
Lee Butcher's wait for his first direct shot to save since joining the Saints came on 21st March, his third game, during a drab 1-1 draw with Newport County at Clarence Park . It was the first time in five games that an opposing side had managed to get a shot on-target against the City defence. Simon Martin's two goals against Fisher earned him a place in the starting line up and after just 15 minutes he put City on course to complete the double over Dean Holdsworth's Exiles. Butcher kept that target in reach when making a fine save from a Danny Rose penalty but the highly promising 'keeper was finally beaten eight minutes from time as Newport salvaged a deserved point through Sam Foley. The draw edged City back into a top ten position. Prior to the kick off a one-minute's silence was observed in honour of Derek Christmas, the St Albans City Club Historian, who died on 15th March at the age of 86.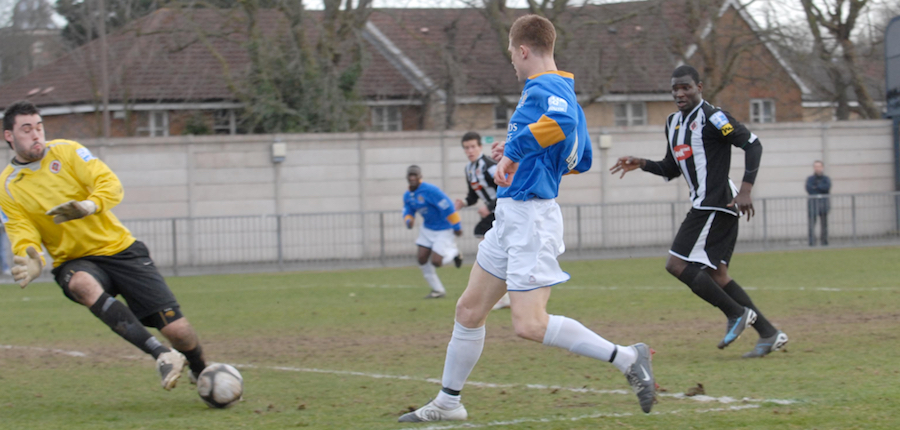 City's season of contrasting fortunes continued to move in an upward direction on the 24th with a 2-0 victory over a Dorchester Town side still in danger of relegation. Goals either side of the interval by Hakim and Cohen secured a 2-0 win over the Magpies. Castle stuck with the XI that started against Newport while the visitors included a City favourite of ten years earlier, Ashley Vickers . Dorchester were already on course for defeat at two-down when Ronayne Marsh-Brown was dismissed for a late challenge on Shields, it seemed a poor decision and unjust on a player who had had a decent game.
To the surprise of many Bastock was back in the frame for City's trip to Thurrock on the 28th but the veteran keeper had to be satisfied with a place amongst the substitutes as Butcher, quite rightly, retained the goalkeeper's jersey and justified the decision by keeping his fourth clean sheet in five games. An injury to Fisher allowed Everitt to return to the starting line up for the first time in six weeks, this time in the centre of the midfield. Given that the match was played on a poor pitch, in the face of a strong wind and frequent heavy icy cold showers, it was a reasonably entertaining encounter. Former Saint Lee Flynn , 35, was comfortably the best player on the pitch. A goalless draw at this stage of the season meant little to the Saints but Castle was none too pleased that his side, unbeaten in seven, was unable to get the better of a side without a win in seven.
Above: Solomon Shields attempts to break clear from former City player Lee Flynn at Thurrock's Ship Lane home.
A play-off place may have gone but City were still keen to finish as high as possible and on the last day of March could test themselves against genuine championship contenders as they took on Eastleigh at the Silverlake Stadium. The Spitfires had opened up the possibility of AFC Wimbledon not winning the title with a 2-1 win over the Dons three days before City's visit. St Albans started well enough at a ground at which they had never previously lost but in a dull affair ended up well beaten at 3-0. Eastleigh, looking to avenge their 5-0 thrashing at Clarence Park back in August, had the match in the bag inside 21 minutes following goals by Jonny Dixon and Jamie Brown. Tony Taggart completed the scoring with a 59thminute penalty as City's eight match unbeaten run came to a shuddering halt. Taggart's penalty was the fifth conceded by City during the season, of which just three located the target.
March Player of the Month – Solomon Shields
April– Tame ending as Dons teach Saints a lesson
St Albans faced five games during the final month of the season and could yet make a significant contribution as to which sides would feature in the play-offs, as three of these matches were against clubs inside the top five places. Weston-super-Mare, enduring their annual battle against relegation, were first up and offered little resistance when going down 3-0 at Clarence Park on the 4th. Hakim, who set himself a target of 20 goals for the season, scored his 17th league, and final, goal of the campaign to open the scoring with Ben Martin adding the second as City sauntered into a two-goal half time lead. One of the criticisms levelled at City during the season was the poor delivery from crosses in open play and the quality of balls into the penalty area from set pieces. The Seagulls were on the receiving end of when City did actually get it right as Simon Martin headed home the third goal from a Hunt free kick late in the second half. It was the perfect way in which Martin could celebrate his 200th league game. Bastock kept a clean sheet on his return as he made his 175th appearance, it was also his 55th clean sheet overall and the Saints eighth in ten games. Bastock's return meant there was no place for Butcher as the Spurs 'keeper came to the end of his loan spell at Clarence Park . Another player at the end of the road with St Albans City was Shields who, before heading back to Orient with a ringing endorsement from his colleagues at Clarence Park , signed off by collecting the Player of the Month award for March.
Castle was keen to see that City's season did not peter out tamely, the win over Weston was a good start and with a draw away to promotion seeking Chelmsford City on Good Friday, it did appear that City were going to live up to the wishes of the manager. At any other time of the season the point from City's first visit to Melbourne Park would have been an outstanding result but by now Chelmsford were playing nothing like the side that stated the season. Clarets skipper Andy Duncan headed Jeff King's fading promotion hopefuls into a first half lead only for City captain Ben Martin , again from a Hunt corner, to match that with a headed equaliser midway through the second half. The game attracted a good crowd of 1,459 spectators but at the open sports arena the game was made difficult by a strong wind and incessant rain. The performance of referee Matt Foley also did little to raise the spirits during a poor 90 minutes. In addition to handing Ben Martin his fifth booking in as many games the Reading official also showed Hunt two yellow cards as the midfielder, at the age of 37, was dismissed for the first time in his long career. The draw lifted City, albeit briefly, back up to ninth in the table.
James Quilter and Gary Cohen celebrate as Ben Martin watches his header cross the line for City's equaliser at Melbourne Park, the home of one of his former clubs.
Maidenhead United, opponents of the original St Albans FC back in 1894, provided the opposition for the occasion of City's 101st birthday on 13th April. It was also Fisher's 25th birthday but he had little to be joyful about after breaking a bone in his right hand at Chelmsford, something that ruled him out of City's final three matches. Maidenhead had been close to a play-off position all season but declared that they would not be able to attain the planning permission required to bring their old York Road ground up to Conference National levels, and due to this stated they would not be taking part in the play-offs should they get there. In the end United fell six points short of the top five but still displayed commendable spirit in completing the double over City with a 2-1 victory at Clarence Park . United took an early lead through captain Ashley Nicholls only for Hunt to quickly put City back on level terms with his eighth goal for the club but his first at the Park. A thoroughly deserved win for Johnson Hippolyte's side was secured during the second half through the lively Mustafa Tiryaki. City's first home defeat for more than two months came during Ben Martin's final match of the season, as suspension ruled the central defender out of the final two games. It was also Martin's 99th league game for City. Cousins, dropped for the two previous matches, returned to the side. Prior to the kick-off a minute's silence was held in memory of the former City manager Jimmy Neighbour who had died on 11th April of a heart attack at his home in Woodford at the age of 58.
Below: Following an excellent cross by City goalscorer Jonathan Hunt , Adam Everitt sends a header against an upright against Maidenhead United.

For the last home match of the campaign City welcomed Braintree Town on the 18th and bowed out with a performance that fell somewhere between pathetic and inept. In addition to the suspended and injured players City were without Bailey, who attended a wedding, and Hakim who was delayed on a business trip – said to have been to South Africa. Several more players probably wished they could have been elsewhere as Braintree handed City their biggest home defeat of the season and became the third side to beat the Saints both home and away. James Hawes opened the scoring with a superb half volley and was joined on the score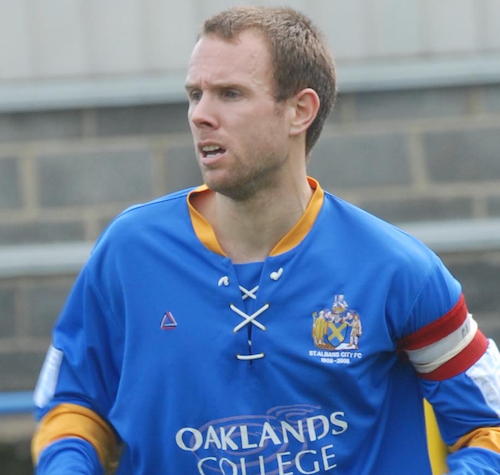 sheet after the interval by Danny Hockton and Gareth Williams. In Ben Martin's absence Cousins, making his 150th appearance (left), stood in as captain and Kwame Asamoah, virtually 12 months after his only other Conference South appearance, came off the bench to replace Frater who, after just three minutes, suffered a sprained ankle in a collision with Hockton.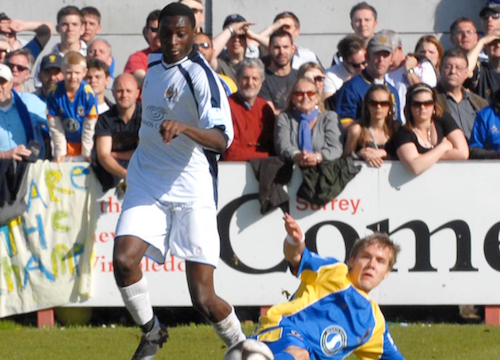 A number of presentations were made throughout the afternoon, starting with Jonathan Hunt collecting the Player of the Month award for April. The Supporters Player of the Year trophy went to Ben Martin who then popped up into the clubhouse to pick up the Players' Player of the Year award. Simon Martin , on behalf of the absent Paul Hakim , received the Goal of the Season award for Hakim's effort during the home match with Eastleigh. Ironically the award probably should have gone to Martin for his wonderful overhead kick in that same match yet, somehow, it was omitted from the short list of candidates. Supporters Club chairman Ian Rogers was presented with the Wagstaffe Simmons Clubman of the Year award from David Willacy. In common with much of the season there was not a single director present at the game, consequently there was no speech from a director after the game. Castle also declined to give a speech to supporters in a packed clubhouse.
With Hakim and Bailey back City were able to field a recognisable XI for the last match of the season as the Saints attempted to gatecrash the party planned by league leaders AFC Wimbledon. There were questions as to how strong the City side would be but a successful attempt to bring Gray back in from Leyton Orient for one match helped Castle to name a reasonable team. Even so, City were still unable to fill all the substitute places for the ninth time in 17 league games. The Dons were having no such problems and, courtesy of a large squad, were able to make six changes from the side that effectively won the title the previous weekend with a draw at Hampton. For AFC to be denied the championship they would need to lose at home to City and Hampton, in their last match, would have to claw back the small matter of 13 goals. At their 'acquired' Kingsmeadow home – formerly the home of Kingstonian who were now reduced to tenants – the Dons were attracting huge crowds and for the title clincher against St Albans City the seven-year-old south-west London side was watched by a club record attendance of 4,722. It was the second highest attendance in the short life of Conference South. The record attendance of 5,022 also featured City as they went head to head with Weymouth for the championship in 2006. After an even opening 45 minutes City kindly allowed Wimbledon to get into party mood as promotion was secured with second half goals from Kennedy Adjei, St Albans resident Sammy Hatton, and captain Jason Goodliffe. As AFC Wimbledon manager Terry Brown and his coach Stuart Cash celebrated on the pitch with the trophy, City walked quietly away to ponder finishing in 12th place.
Above right: Inih Effiong on the attack at Kingsmeadow.
Hassan Sulaiman takes a throw-in in front of the City support at the home of the newly crowned Conference South champions, AFC Wimbledon.
April Player of the Month – Jonathan Hunt
Summary
Leading the way with making the most appearances during the season was James Quilter who featured in 49 of the 54 matches played. He was followed by Jonathan Hunt on 48 and Ben Martin on 46. Forty-seven players were selected during the season. Twenty-five players made their City debut, this included eight in the Herts Charity Cup defeat at Hemel Hempstead Town. For the second successive season Simon Martin was the most used substitute with 27 appearances from the bench.
Lee's Clarke's five year run as City's leading goalscorer came to an end, Paul Hakim took top billing with 18 goals (17 league) and was the only player to get into double figures. City collected 71 bookings during the season; Ben Martin with 12 and James Fisher with nine yellow cards were the biggest offenders. The remaining 50 bookings went to: 7 Paul Hakim , 6 Gary Cohen , Jonathan Hunt , James Quilter . 3 Lee Clarke , Scott Cousins Adam Everitt , Luke Thurlbourne . 2 Alex Bailey, Paul Bastock , Lee Protheroe, Solomon Shields . 1 Ryan Frater , Rod Hicks, Hector Mackie , Sean Ridgway, Hassan Sulaiman . Two players were sent off; Gary Cohen at home to Hampton & Richmond Borough on Boxing Day and Jonathan Hunt at Chelmsford City on 10th April. Opposition bookings totalled 77 with two players sent off.
City were awarded six penalties during the season and converted all of them; 4 Hunt, 1 Clarke, Cousins. Of the five penalties City conceded only three were scored.
The average attendance for Conference South matches at Clarence Park rose from the previous seasons 450 to 467. Without the gate of 1,105 against champions AFC Wimbledon the average at the Park would have shown a fall from the 2007-08 season.
By the end of the season there was some concern as to the future of the Club due to the owner's company, William Verry Limited, being placed into administration by Barclays Bank on the 5thMay. A division of William Verry - Facilities Management - went into voluntary administration on 30thApril 2009. Chairman John Gibson issued a statement on the football club website stating that the club is owned by William Verry Holding Ltd and is in no danger following part of the Verry group going into administration. This statement appears to have been a flight of fancy as on Tuesday, 5th May 2009, it was announced that William Verry Ltd had gone into administration, with BDO Stoy Hayward appointed as joint administrators. Days later it emerged that the Club's debt was, in fact, owed to Verry Construction and not the Holding Company. Despite this, the administrator announced on 12th May that they 'have nothing to do with the football club whatsoever.'
An internet search revealed that Verry had been in trouble for some time and the downturn that hit the construction business had hit them hard. Verry were the preferred contractor for the now shelved Oaklands project in Smallford. The overall scheme was said to be valued at around £110m with Verry's share of the work thought to be in the region of £63m, but with that project sidelined the future for the company looked bleak.
The financial support that Verry had given St Albans City since acquiring the Club in February 2002 was substantial. For the year end accounts to 30thJune 2008, the liability of the football club to William Verry stood at £523,127.00, which was almost £80,000 up on the previous year.
In spite of his company crashing, John Gibson remained at the helm of the football club for the start of the 2009-10 season.
All the Saints 2008-09
(2008-09 appearances, goals, bookings and dismissals; 'a' 'g' 'y' & 'r' in parenthesis).
Chris Adams –Summer 2008 signing who progressed through the EFCO youth system at Stevenage Borough. Gained senior experience during the 2007-08 season in the Spartan South Midlands League with Biggleswade Town and Luton club Kent Athletic. Although only 19, he is a qualified referee and took the line for 20 minutes of the Saints Setanta Shield tie with Hayes & Yeading United on 9thSeptember after one of the match officials suffered a leg injury. That game was as close as he ever got to making a First team appearance but was named as City's substitute goalkeeper for nine matches before leaving the club.
James Archer –A 19-year-old midfielder who made his St Albans City debut in September 2007 before spending a large part of the season with Isthmian League side Potters Bar Town. Returned to Clarence Park in the summer of 2008 and made a further five appearances before beginning studies at Chichester University and joining Bognor Regis Town. (5a, 0g).
Kwame Asamoah –A midfield player who made his debut during City's final match of the 2007-08 season but had to wait 51 weeks before his next league appearance. A member of the Oaklands Football Development project he made 15 Reserves team appearances during 2008-09 and featured in the club record cup defeat, 10-0 (Herts Charity Cup) at Hemel Hempstead Town. (3a, 0g).
Alex Bailey– Defender who joined St Albans City in September 2008 but left in November for a spell with Aldershot Town before rejoining the Saints in February. A London-born England Youth international who played exactly 100 games for Chesterfield between 2004-07, scoring one goal. No stranger to Conference football having made four appearances for Halifax Town in the Conference National during the 2007-08 season. A right-back who also filled in on the opposite flank. (20a, 0g, 2y).
Paul Bastock – Once voted Boston United's Greatest Ever Player, the 38-year-old goalkeeper finished the 2008-09 season having made 179 appearances (55 clean sheets) for St Albans City. Twice voted Player of the Year at Clarence Park , his return to St Albans at the start of March 2008 coinciding with a dramatic turnaround in results that paved the way for the Saints to pull off a sensational escape from seemingly certain relegation. A member of City's 2005-06 Conference South promotion winning side, he played 625 games for Boston United and has also played in the Football League with Cambridge United. He has represented the F.A. and had spells with Coventry City, Kettering Town, Bath City, Fisher Athletic, Aylesbury United , Scarborough, Dagenham & Redbridge, Malaysian side Sebeh and Rushden & Diamonds. Holds the St Albans City club record for keeping seven successive home clean sheets and the joint record for six consecutive games (home and away) without conceding a goal. (43a, 10 clean sheets, 2y).
Ben Bowditch –A one-time Tottenham Hotspur youngster who played for the club at U17 and U19 before making 21 appearances for the Reserves. Then had spells with Colchester United (7 app) and Barnet (10 app). Has played for England at five different levels; U15, U16, U17, U19 and U20, making a total of 30 appearances for his country. Spent a short time in Denmark playing for AB (Akademisk Boldklub) Copenhagen and had previous Conference South experience with Cambridge City and Yeading. Released by the Saints in October. (14a, 0g).
Lee Butcher– Twenty-year-old Tottenham Hotspur goalkeeper who had a highly successful loan spell with St Albans City in March after regular 'keeper Paul Bastock sustained a fractured eye socket. Butcher kept a clean sheet in four of his first five games for the Saints and saved a penalty in the other. Joined Spurs in July 2007 after being released by Arsenal and was named as an unused substitute in 11 Premier Reserve League matches during 2007-08. In addition to St Albans he had loan spells with Grays Athletic, Margate and AFC Wimbledon. (6a, 4 clean sheets).
Daniel Charge– Joined St Albans City on a one-month loan from Dagenham & Redbridge in January 2009. Scored on his City debut during a 5-4 defeat at home to Bromley on 17thJanuary and made just one starting appearance, away to Bishop's Stortford, before returning to Victoria Road. (3a, 1g).
Lee Clarke – Signed for St Albans City from Peterborough United in January 2004 following a loan spell at Clarence Park . City's leading goalscorer for five successive seasons and was Player of the Year for 2004-05. Before joining Peterborough he played for local side Yaxley and later had a short time on loan to Kettering Town. The son of former Northern Ireland striker Colin Clarke, he played for the national side himself at U21 level whilst with St Albans against Switzerland in Belfast on 18thAugust 2004. He also represented the F.A. and was selected for the semi-professional England squad until it was pointed out that he had already played for Northern Ireland. His final two seasons with the Saints were plagued by injury, his sharpness in front of goal was duly affected and he dropped back into midfield on a regular basis. His final appearance came during the 5-4 defeat at home to Bromley on 17thJanuary 2009. At the time of his departure he was the seventh highest scorer in the club's history (92 goals) and had made 199 league appearances (231 all competitions). Following a knee operation he signed for Welling United. (19a, 1g, 3y).
Gary Cohen – A 25-year-old striker who joined the Saints towards the end of August 2008 after two years out of the game following a knee injury picked up whilst playing for Grimsby Town. Scored six times in 46 games for Grimsby having previously made 29 appearances for Gretna. Also enjoyed a highly productive time in front of goal for Workington. As a youngster he was with Tottenham Hotspur until the age of 11, he then joined Watford and later had a spell in Australia with Manly United. Noted for his speed, which is hardly surprising given that his father appeared in the Olympics at Montreal and Moscow while his mother had run in the European Championships, both as sprinters. (42a, 7g, 1r).
Scott Cousins – Left back who had his fifth season with St Albans City having joined the Saints in the summer of 2004 from Isthmian League side Hendon. Missed almost a year after suffering a broken leg during an FA Trophy tie at Tamworth in January 2006. Regained full fitness with spells at Wealdstone and Harrow Borough. Made his 150thappearance just prior to the end of the 2008-09 season. Had five years with Chelsea as a youngster having previously been with Queens Park Rangers. During the 2008-09 season he began a second spell as a coach at the David Beckham Academy at Greenwich and holds a 'B' grade UEFA Coaching Badge. Left St Albans City at the end of 2008-09 to join Carshalton Athletic. (43a, 2g, 6y).
Inih Effiong – A 17-year-old forward who made his Conference South debut against Worcester City on 6thDecember 2008 having previously played in a couple of cup ties for the Saints. A product of the local Football Youth Development College. (9a, 0g).
Adam Everitt – A former Luton Town youngster who spent a year as a professional at Kenilworth Road before moving into the non-league game. Joined St Albans City in November 2008 from Bromley having previously played for Cambridge City, Eastleigh, Yeading (where he was Player of the Year), Hayes, Hemel Hempstead Town and Harrow Borough. Tough tackling played who appeared in midfield and defence and scored his first St Albans goal during a draw at Weston-super-Mare on 31stJanuary. A postman in his hometown of Hemel Hempstead. (21a, 1g, 3y).
James Fisher – A former Chelsea youngster who signed for the Saints in February 2008 from Northwood having previously played for Wembley and Wealdstone . Originally used at right back by St Albans City he also had a spell in the middle of the defence but after the turn of the year slotted into the midfield with great success. Took 49 games to score his first goal for the club and then marked his 50thgame, at Bognor Regis Town on 31stJanuary, with his second goal. (45a, 2g, 9y).
Ryan Frater –Central defender who joined City in December 2007 and quickly formed a good partnership with Ben Martin . A former youth player with Hitchin Town he had two spells with the Canaries either side of stints with Bedford Town and Dunstable. Missed the first seven weeks of the 2008-09 season after suffering a fractured leg during a friendly against a Tottenham Hotspur XI. (27a, 9g, 1y).
Bradley Gray– Striker who has had four loan spells with the Saints over the past two seasons, including returning just for the historic game with AFC Wimbledon at Kingsmeadow on 25thApril 2009. The Leyton Orient teenager had two stints with St Albans during 2007-08, scoring twice in five games, and made a further six appearances a season later. (6a, 0g).
Paul Hakim – Striker who is in his second spell having returned to Clarence Park in January 2008 after a year in the Conference National with Stevenage Borough. Originally joined St Albans City from Bishop's Stortford in August 2005 having also played for Dagenham & Redbridge, Slough Town, Wingate & Finchley and Cheshunt. City's leading scorer for 2008-09 and finished the campaign with a career total of 45 goals 130 games. (45a, 18g, 7y).
Rod Hicks –Tall, right-sided winger who scored on his St Albans City debut on 29thJuly 2008 as City defeated Hitchin Town in the Herts Charity Cup. Previously had spells on the books of Rushden & Diamonds, Kings Lynn Town and Peterborough United. Left St Albans after making just seven appearances to have a brief spell with Hitchin Town. (7a, 1g).
Jonathan Hunt – Played one game on loan to St Albans City from Barnet in August 1990 and returned for his second appearance 17 years later in March 2008. Enjoyed a highly successful career as a professional in the intervening years scoring 29 times in 236 Football League matches (301 all competitions) for Barnet, Southend United, Birmingham City, Derby County – where he appeared 25 times in the Premiership - Sheffield United, Ipswich Town, Cambridge United and Wimbledon. His return to St Albans tied in with the Saints moving out of the Conference South relegation zone. Suffered from a serious back and pelvic injury during his professional days and is now a Certified Hanna Somatic Educator, and a Certified Equine Hanna Somatic Educator (a complimentary therapy). (48a, 8g, 6y, 1r).
Sam Hurrell – Gained national attention when winning the first series of SKY One's Football Idol, and with it a contract with Chelsea. Played in the Youth and Reserve sides at Chelsea but joined St Albans City from North Greenford United. Scored on his City debut, a 1-0 win over Bognor Regis Town on 18thOctober 2008, but was released later in the season and signed for Welling United. (18a, 2g).
Tobi Jinadu –A well-travelled central defender who joined St Albans City at the back end of the summer friendlies in 2008 following an impressive performance against local rivals Watford. Has played for and had trials with over 20 clubs including Aldershot Town, Sutton United, Bristol Rovers, Queens Park Rangers, Lewes, Thurrock, Hayes and Welling United. Started the 2007-08 season with Heybridge Swifts but missed the second half of the campaign due to a knee injury. (1a).
Hector Mackie – Midfielder who rejoined St Albans City for a second spell on 15thSeptember 2008, from Potters Bar Town, having originally made a dozen appearances for the Saints early in the 2007-08 season. Began his career with Waltham Forest and had a couple of trial matches with Tottenham Hotspur prior to joining Stevenage Borough and then had loan spells with Welling United, Cambridge City and Diss Town. (20a, 0g, 1y).
Ben Martin –A 6'7"central defender who fully re-established himself in the side at the start of 2008 following three injury-ravaged years. The City captain during 2008-09 he performed to a consistently high standard and duly walked off with both the Supporters and Players' Player of the Year trophies. Signed for Swindon Town from Aylesbury United in August 2003 before going out on loan to Lincoln City, Stevenage Borough and Farnborough Town. On the road to recovery from his injuries he had short stays with Staines Town, Leighton Town and Wealdstone . On 17thJanuary 2009 he became only the fourth St Albans City player (second in league matches) to score a hat trick yet finish on the losing side as City went down 5-4 at home to Bromley. Finished the season stuck on 99 league appearances (123 all competitions). (46a, 7g, 12y).
Simon Martin – Has made more First team appearances (262, 83 goals) than any other member of the current St Albans City squad having made his debut in March 1996 after progressing through from the Youth set up. Is currently in his fourth spell with the Saints during which time he has twice been the leading goal scorer and featured in the 2005-06 promotion winning side. Once cost the Saints £5,000 to re-sign him from Thurrock, has also played for Lincoln United, Hucknall Town, Wealdstone and Hayes & Yeading United. During the season he moved into City's list of top twenty appearances and top ten goalscorers. (45a, 8g).
Craig Mortimer– A product of the local college Football Development scheme who played in a couple of Hertfordshire cup matches prior to making his league debut during St Albans City's 1-0 Conference South defeat at Bath City on 24thJanuary 2009. A fine crosser of the ball he can play on either flank of the midfield. (13a, 0g).
Jon Munday– Former Queens Park Rangers trainee who made his St Albans City debut when scoring during a 3-0 Herts Senior Cup win over Barnet in November 2008. A central defender who played 20 times for Worcester City during the 2007-08 season and has also had spells with Kidderminster Harriers, Hendon, Hayes and Grays Athletic. Joined Hitchin Town after failing to establish himself at St Albans. (5a, 1g).
Rob Nicholls– A midfielder who had the misfortune to join St Albans City on loan from Brentford at a time of the bad weather during the winter of 2008-09. This restricted his appearances with the Saints to just 11 minutes during the 2-0 defeat at Havant & Waterlooville on 20thDecember. (1a, 0g).
Jake Palmer– A teenage goalkeeper who signed Conference South forms with the Saints shortly after his 18thbirthday on 15thOctober and made his debut when City faced Hemel Hempstead Town in the Herts Charity Cup. A former academy player at Ipswich Town who gained senior experience earlier in 2008 in Division One Midlands of the Southern League with Berkhamsted Town. (3a, 0g).
Lee Protheroe –A 32-year old right back who signed for the Saints at the start of August 2008 after being a member of Chelmsford City's promotion winning side during 2007-08. Began his career in the Spartan League with Walthamstow Pennant and St Margaretsbury before stepping up via Ruislip Manor, Enfield, Yeading, Aldershot Town, Canvey Island, Gravesend & Northfleet and Margate. Made his debut during the Saints visit to Worcester City on 11thAugust. (5a, 0g, 2y).
James Quilter – A former Tottenham Hotspur youngster who played for Spurs at U17, U19 and Reserve team levels. Has previously played for Billericay Town, Braintree Town, Cambridge City and Takeley while also having had trials with Brentford, Oxford United, Stevenage Borough, Southend United, Dagenham & Redbridge, Woking and Welling United. Joined the Saints in January 2008 from Essex Olympian League side Manford Way. A Fitness Instructor, he featured in defence and midfield for the Saints during 2008-09 and scored his first goal for the club during a 2-0 win over Bishop's Stortford in September. Made more appearances, 49, than any other City player during 2008-09. (49a, 3g, 6y).
Sean Ridgway –Summer 2008 signing who scored on his debut as St Albans City defeated Hitchin Town 4-1 in the Herts Charity Cup on 29thJuly. Began his career as a trainee with Luton Town before having spells with Rushden & Diamonds, Chesham United, Hayes, Dunstable, Aldershot Town, Crawley Town, Stafford Rangers, Thurrock, Kings Lynn Town (trial) and Margate (trial). Has also played for Australian side Manly United and joined St Neots Town after leaving St Albans. (8a, 1g, 1y).
Gordon Rieck– Young central defender who was with St Albans City on a dual registration from League One side Southend United having joined the Saints on 29thAugust, continued to train full time with Southend. Previously a youth team player with Gravesend & Northfleet. Made his City debut during the 5-0 win over Eastleigh on 30thAugust. (2a, 0g).
Chris Seeby – Returned to the side in November 2008 after suffering a cruciate injury in September 2007 and resumed his Conference South career in December. Spent some time with Watford as a youngster but worked his way into the First team at Clarence Park after progressing through the Youth and Reserve teams. During his 190 games for the club he has won promotion to the National Conference and a Herts Senior Cup winners medal. Has also made one appearance for the England National Game XI. Ended the 2008-09 season playing on loan under former City manager Dave Anderson at Isthmian League side Northwood. (9a, 2g).
Solomon Shields – Joined St Albans City on a one-month loan from Leyton Orient early in February 2008, this was later extended to a second month and was voted Player of the Month for March. A 19-year-old midfielder who made his debut in the Football League in May 2007 as a substitute during Orient's 3-1 defeat at Huddersfield Town. Made his City debut during a 1-1 draw at Bishop's Stortford on 14thFebruary and scored his first goal a week later during a 2-1 defeat at Hayes & Yeading United. (12a, 1g, 2y).
Hassan Sulaiman – Joined St Albans City in the summer of 2007 after leaving Crawley Town and had made 75 City appearances by the end of his second season. A one-time scholar with Arsenal he also had spells as a youngster with Wigan Athletic, Aldershot Town and Slough Town, and trials with Peterborough United. Predominantly a right back in Arsenal's U17 side he has been mostly used on the right of the midfield with St Albans but reverted to full-back towards the end of the 2008-09 season. Is on the coaching staff at Chelsea. (39a, 1g, 1y).
Luke Thurlbourne –Had a spell on loan to St Albans City from Southend United during the 2007-08 campaign and returned for a three-month loan the following season. Came back strongly after suffering a serious illness during the summer of 2008 but his second spell with the Saints finished badly with a broken leg sustained during City's FA Trophy tie with Stevenage Borough at Broadhall Way. (15a, 0g, 3y).
Tom Youngs –Signed for the Saints on the eve of the 2008-09 season from Cambridge City where he spent two seasons. Born in Bury St Edmunds, his professional career began with Cambridge United where he scored 43 times in 150 league games. Signed by Northampton Town for £50,000 in March 2003 but failed to score in 31 games in all competitions for the Cobblers. Moved to Leyton Orient in January 2005 before concluding his professional days with seven goals in 52 games with Bury. (4a, 0g).
Steve Castle – Manager– A former St Albans City midfielder (61 app, 3 gls) who is in his second stint as manager of the club. Oversaw the dramatic escape from relegation during 2007-08, City's form during March 2008 won Castle his first Conference South Manager of the Month award, his second followed in October. Made his debut as a City player in August 2002 and was manager for the first time between October 2003 and October 2004. During a 16-year professional career he enjoyed successful spells with Leyton Orient (257 league apps, 56 goals), Plymouth Argyle (101-35), Birmingham City (23-1), Gillingham (6-1) and Peterborough United (102-17), he was transferred for fees totalling £420,000. In addition to being manager of St Albans City, he also runs the St Albans-based college football development project and had a spell as a scout for the England U19 side. On 15th November 2008 he became the ninth City manager to be in charge of the side for 100 matches and by the end of the season had also reached 100 league games.
Andy Edwards –Coach– Appointed as coach during the 2007-08 season after finishing his playing days with Aldershot Town. Began his career with Southend United before moving to Birmingham City for £400,00 in 1995. Joined Peterborough United in November 1996 and made over 300 appearances for the Posh, many as captain. Later had spells with Rushden & Diamonds, Grays Athletic and a second stint with Southend. Made one appearance for St Albans City Reserves in April 2009.
The following players made one appearance for the Club in the Herts Charity Cup tie away to Hemel Hempstead Town on Tuesday 4th November: Daniel Broux, Aiden Byfield, Jack Cartwright, Edson Pascoal, and Dean Regis. Josh Lamonaca also played in that game against Hemel and the Hers Senior Cup tie at home to Oxhey Jets. Troy Oham-Strachan played in the Herts Charity Cup tie at Hemel and also in the Herts Senior Cup tie at home to Barnet.
Gone But Not Forgotten
Two significant figures connected to St Albans City passed away during the season.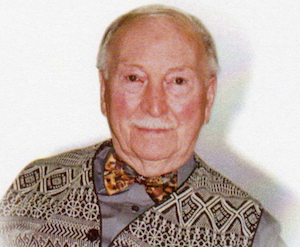 Derek Christmas– Club Historian Derek Christmas (right), who passed away on 15th March 2009 at the age of 86, had an insatiable appetite for sport, with his passion for St Albans City and The Old Albanians CC being second to none. Derek started to attend matches at Clarence Park well before the start of the Second World War and in 1935 began his staggering collection of matchday programmes. Later in the decade he started to amass press cuttings and maintained the collection right up until his final days. Amongst his collection is also book after book of press cutting of the Mid Herts League from 1949 onwards. His commitment to local sport though went way beyond what was printed in the newspapers; he kept impeccable statistics on both the football club and the cricket club. And after moving to Bourne in Lincolnshire in 1985 he took up the challenge of adding the statistics of their Cricket Club – at numerous levels – to his repertoire. He was also a cricket umpire and was bitterly disappointed when father time took his toll earlier this decade and stopped him from standing in the middle for hour upon end. A former Press Secretary at Clarence Park he was the Saints Club Historian for over 50 years and during the 1990s was made an Honorary Life Member, a position also bestowed upon him by the Old Albanians. He was survived by his wife of more than 50 years, Ellen, and children Martin and Sandra.
Jimmy Neighbour – Jimmy Neighbour , who died at Buckhurst Hill on 11th April 2009 at the age of 58, was a tricky winger who learned his trade under the legendary Tottenham Hotspur manager Bill Nicholson. Jimmy scored 11 times in 156 games for Tottenham and was a member of the Spurs side that won the League Cup in 1971. After leaving White Hart Lane he played over 100 games for Norwich City and, later, 73 league games for West Ham United. His playing career ended with a loan spell at Bournemouth. After retiring from playing he became manager of Enfield, leading the north London club to success in the FA Trophy in 1988. Jimmy also had a spell as assistant manager at Doncaster Rovers and was involved with the Youth teams at both Spurs and West Ham. He was appointed manager of St Albans City in December 1996 with his first match being a Premier Division Isthmian League match at home to Harrow Borough on 21stDecember; Steve Clark and Jon Daly scored for City in a 2-2 draw. He was manager for 56 league games, of which 23 were won, and for 25 cup ties. The last of these was a 3-0 defeat at home to Sutton United in the semi final of the League Cup. This game, played on 10th March 1998, proved to be Jimmy's final match as manager of the Saints in all competitions.
Ben Martin receives his Players' Player of the Season trophy from kitman John Fenely . James Ronayne of the Herts Advertiser looks on.
Ian Rogers receives the Wagstaff Simmons Clubman of the Year shield from David Willacy.
The majority of the photographs were kindly supplied by Robert Walkley with others supplied by Leigh Page and David Tavener.
In the team photograph at the start of this review there is a gap to the far right of the back row. This was due to Lee Clarke not being able to attend the session and the intention was that he would be superimposed at a later date.
Final Standings 2008-09
CONFERENCE SOUTH
2008/09
P
W
D
L
F
A
W
D
L
F
A
GD
Pts
1
AFC Wimbledon
42
17
2
2
49
14
9
8
4
37
22
50
88
2
Hampton & Richmond Borough
42
13
5
3
38
16
12
5
4
36
21
37
85
3
Eastleigh
42
15
4
2
37
18
10
4
7
32
31
20
83
4
Hayes & Yeading United
42
14
3
4
39
19
10
6
5
35
24
31
81
5
Chelmsford City
42
12
6
3
42
24
11
2
8
30
28
20
77
6
Maidenhead United
42
11
3
7
28
23
10
5
6
29
23
11
71
7
Bath City
42
11
4
6
28
24
9
4
8
28
21
11
68
8
Welling United
42
9
6
6
32
25
10
5
6
29
19
17
68
9
Bishop's Stortford
42
9
4
8
28
28
8
4
9
32
32
0
59
10
Newport County
42
10
3
8
31
29
6
8
7
19
22
-1
59
11
Team Bath
42
9
1
11
30
29
7
6
8
32
35
-2
55
12
St Albans City
42
8
6
7
35
26
6
6
9
21
24
6
54
13
Bromley
42
9
5
7
36
30
6
4
11
24
34
-4
54
14
Braintree Town
42
7
5
9
23
24
7
5
9
34
30
3
52
15
Havant & Waterlooville
42
6
10
5
34
28
5
5
11
25
30
1
48
16
Weston-super-Mare
42
5
7
9
24
34
7
4
10
19
34
-25
47
17
Worcester City
42
4
8
9
18
25
8
3
10
20
28
-15
47
18
Basingstoke Town
42
4
11
6
17
19
6
5
10
19
36
-19
46
19
Dorchester Town
42
6
6
9
23
30
4
6
11
16
31
-22
42
20
Thurrock
42
6
5
10
25
23
3
8
10
29
37
-6
40
21
Bognor Regis Town
42
4
6
11
19
38
3
6
12
14
30
-35
26
22
Fisher Athletic
42
3
1
17
9
47
2
2
17
13
53
-78
18