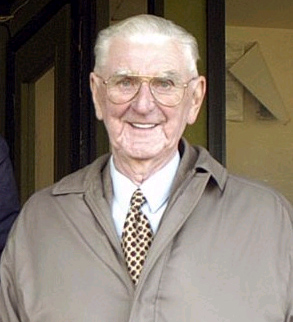 Stan William Johnson, born 18th February 1908, is believed to have been the last surviving member of the final Isthmian League winning side produced by St Albans City. Stan passed away on 22nd February 2004, but in the final year of his life had a long chat with club historians David Tavener and Peter Taylor. During their conversation Stan spoke about playing for the Saints, some of the characters of the day and of his memories of playing football in the Bernards Heath area of the city.
Stan was born in Lattimore Road, St Albans, just under two months before George Wagstaffe Simmons took credit for the formation of St Albans City Football Club at a stormy meeting held in the council chambers at the Town Hall.
When Stan was aged four the Johnson family moved a short distance across the town to Culver Road and he went to Bernards Heath School.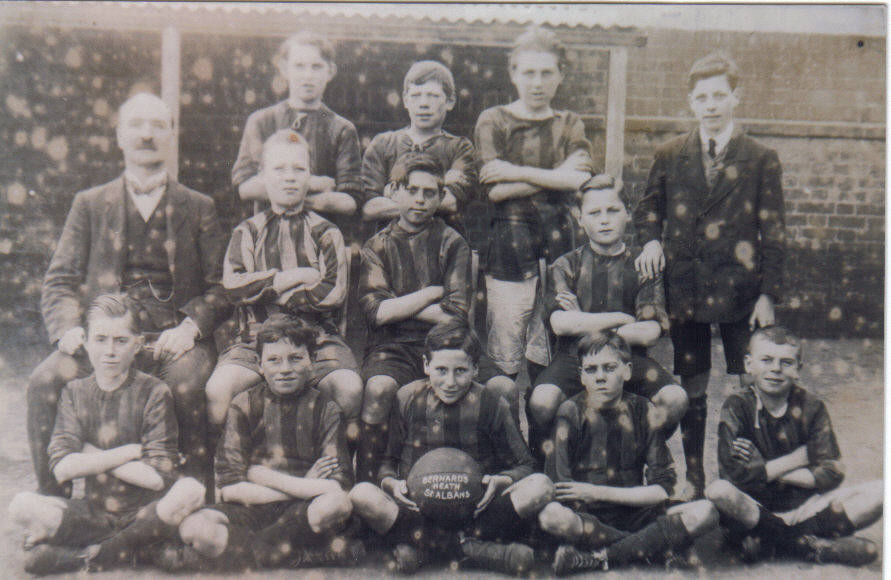 Bernards Heath School
Back: Richard Butcher (right back), Eddie Bourne (goalkeeper), Stan Johnson (left back)
Middle: Mr Gladwell (headmaster), Jim Clark (centre half), Bert Johnson (right half), Ron Archer (left half), Sid Bates (trainer, bucket)
Front: Reg Stone (outside right), Wally Staton (inside right), Wally Adams (centre forward), Tich Hewitt (inside left), Harry Clark (outside left)
The new surroundings were very much to the toddler's liking as he was now in an area of St Albans that was a stronghold of local football at the time, matches on the nearby Bernards Heath attracted large crowds. Prior to signing for the City, he played for local side Heath Athletic, a time that he recalled with great clarity and affection.
"When I was with Heath Athletic, I was always the youngest but being tall I stood out. We had some big games on the Heath and I remember there were some good players out there. One of the better players was Harry Clark, he went on to play for St Albans City about a year before I did. But Harry had to retire because of a badly injured knee and he never played again, he injured it playing for St Albans."
"On that side of the town there was a load of players from the Christmas family and a load from the Butcher family that all lived in Upper Culver Road. Not only did George Butcher play for St Albans for many years but so did his brother Bert."
"In 1926 there was a general strike and the printers were involved in a match on Bernards Heath although I forget who it was against. It was just a normal match at the start except that the teams weren't in football gear, just their normal togs, but it finished up about 30 to 40 a-side! Everybody joined in and it was a good laugh."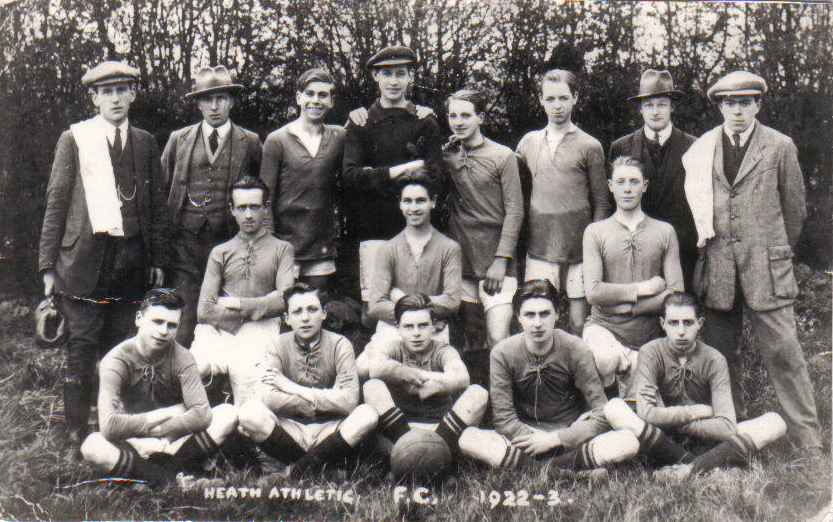 Heath Athletic 1922-23
Back: J.Stanley, B.Christmas, Bert King, Fred Welch, Jack Day, Stan Smith, Harry Noaks, Bert Rance
Middle: Sid Tearle, Frank Noaks, Bert Rance
Front: Bill Clark, Frank Trulock, Harry Clark, Stan Johnson, Percy Christmas
At this time, the 1920s, St Albans City were riding a crest of a wave as one of the most feared clubs in amateur football. The Isthmian League championship came to Clarence Park three times between 1924-28 and during this period the club also made three, sadly unsuccessful, appearances in the semi-final of the F.A. Amateur Cup.
Attendances frequently topped the 5,000 mark with the club record of 9,757 being set in February, 1926, with the visit of northern side Ferryhill Athletic for an Amateur Cup tie. Clarence Park was very much an open ground at this time and the noise the large crowds made travelled easily across the city, as Stan recalled. "We used to get good crowds watching up on the Heath but you knew when St Albans had scored because you could hear the roar from Clarence Park , 'hello, City have scored again' they would say."
Stan played 14 times for the City First team and between 1928 and 1934 he made a known 115 appearances for the Reserves, he saw at close hand the mastery of St Albans' all-time top goalscorer, England Amateur international Wilfred Minter.
Memories of Wilf Minter
"Wilf was very clever, there was nothing of him really he only weighed just over 10st but he was a very good player, tricky and elusive. He didn't have a very strong shot but he was very accurate. I used to live up Culver Road where Minter's shop used to be, Wilf used to go round slowly on a bike delivering goods. It was his father's shop then I think later on he took it on himself."
"He was a very quiet man, if he saw kids kicking a tennis ball around in the street he would join in, he wasn't arrogant or at all big-headed. Before he played for St Albans, he played for Hatfield Road Old Boys."
On 22nd November, 1922, Minter etched his name into football folklore with a record that is unlikely ever to be surpassed. "I was coming home from EAC (Electrical Apparatus Company) on the day St Albans played a replayed FA Cup tie at Dulwich Hamlet, of course there were no floodlights in those days, so they played it in the afternoon. Walking home along London Road I heard someone say St Albans had lost 8-7 but it was only when I went past Minter's shop and saw the score there that I believed it and saw that Minter had scored all seven. I couldn't believe it, that is why I had to go past Minter's shop just to see whether it was true. It's a record that I shouldn't think will ever be beaten, it doesn't seem possible to score seven goals and still be on the losing side."
Minter also featured prominently in Stan's debut for the Saints on 14th January, 1928. "I remember my first match for the First team. It was at Chiswick against the Civil Service; I think the next season they went out of the league. I know I put a ball right through the middle for Wilf Minter to score, I remember it as if it were yesterday."
Fulham show interest in Stan
Stan played during our golden era alongside some of the most famous names in the City's history. But he had no need to feel inferior to his more established team-mates, as, but for a wicked twist of fate, he could have joined the elite band of players to progress from St Albans City into the Football League.
At the end of the 1927-28 season Albert Ward, the City goalkeeper, left the Isthmian League champions to sign for Fulham who had just been relegated from Division Two of the Football League. Possibly as part of the deal that took Ward to Craven Cottage, Fulham played two friendlies against the Saints during the 1928-29 season but the Cottagers had another reason to visit Clarence Park , as Stan explained.
"I had been told that Fulham were interested in signing me, I never knew who put them onto me but I expect it was probably Albert Ward. George Butcher said I should turn pro' if they offer it but I said I won't dream about turning pro until after the Herts Senior Cup."
City faced Apsley in the final of the Senior Cup and brought the trophy home on the back of Wilf Minter's 24th goal of the season in front of around 3,000 spectators at Berkhamsted's ground. But for Stan the victory was badly soured by an injury he picked up during the second half. The match report of that game praised Stan for his performance but said that he was hindered by a twisted ankle.
Unfortunately, it was far more serious than that. "I had fractured my ankle but there were no substitutes in those days, so I played on for the last thirty minutes. I went to see Dr Cleveland, the club doctor, from there they sent me to hospital and I had to have an operation on my ankle. Of course, after that Fulham didn't want to know. I was told that I wouldn't play football again. Well, I did but it was a struggle."
The injury Stan sustained that day not only put paid to any hopes of turning professional but also denied him county honours. He had played for Hertfordshire at Junior level but missed out on senior honours due to his injury. "Sid Duller was left back for Hertfordshire, he played for St Albans before joining Hitchin. Duller got injured and the Hertfordshire secretary, I think his name was Scott (Ernest J) wanted me to play against Cornwall in the semi-final of the Southern Counties Amateur Championship to be played at Clarence Park . But, of course, I couldn't play because I also got injured."
In the county side that day were three other St Albans players, Fred Holland, Wally Buckingham and Minter. Buckingham scored once while Minter notched three more of the of 57 goals he scored in just 37 games for the county.
Although Fulham's interest in Stan may have waned his memory of the friendly against them was still fresh in his mind. "They had an outside right who I had the measure of and he said to me, 'don't try to take the mickey or I'll bloody well get you'. I said back, 'if you come anywhere near me and I'll kick you straight where it hurts!' He didn't come near me after that, I wonder why."
City win Herts Senior Cup
The game against Apsley in which he picked up his ankle injury is not Stan's only memory of the Herts Senior Cup that season, three weeks earlier City defeated Hitchin Town 6-2 in the semi-final – needless to say Minter scored a hat-trick.
"I recall that semi-final at Clarence Park , we were playing Hitchin. The game was going on and there was a tremendous noise (coming from outside the ground). I said to Freddie (Holland) 'what's going on?' Apparently, the special train from Hitchin was late and their supporters were clambering over the fence to get in, they didn't pay but they made a hell of a noise to get in. We still won and then beat Apsley but we didn't get our medals straight after the final because they had the wrong inscription on them. We eventually got them at a club function." (Each medal was engraved with the competition and players name).
Stan's memories of St Albans City went way back before he ever dreamed of playing for the club but, as he recounted, his father certainly had his career mapped out for him. "I remember going to watch St Albans for the first time with my dad when I was a little kid. I must have been about seven or eight and I couldn't work out why they had to put the ball in between them posts."
"The ground ( Clarence Park ) was not as good as it is now, of course there was no terracing then just a chain around the pitch. I always remember people shouting and hollering. It's funny but I remember my dad saying to me 'you'll be playing for them one day.' He used to play for a team called Stanville."
Stanville were a St Albans club who began their life playing matches in Hatfield Road before switching to St Michaels in 1893, they were frequently in the final of the Bingham Cox Cup before meeting their demise soon after the turn of the century.
At the time that Stan played for St Albans the players did not have the luxury of changing rooms within the football ground, "We used to dress in the cricket pavilion and walk across to the football ground. There was one bath and one shower, so on a muddy day it was a fight to get in the bath quick!"
Unwanted visitors on the football pitch
It may be almost unimaginable now but up until the mid-1920s tennis was played on the football pitch during the close season, an even less welcome visitor was at the Park during the Great War. Stan was only six when the war started but he remembered that the club had to move out of its home. He also recalled some other interesting features concerning the ground.
"During the First World War the Football Club used to play their matches on the cricket ground in Clarence Park because the army occupied the football ground. Outside the football ground was the tea chalet which was run by the Manner's sisters. The turnstiles to the ground used to be in York Road and not where they are today, but right down at the entrance to the park in Clarence Road. It was something like 9d or one and thru'pence to watch them then. There used to be large advertisements up on the billboards around town advertising the games; St Albans City versus so and so."
City in the Channel Islands
At the time that he joined the club Stan was still a teenager and at the end of the season, which saw the Saints win the Isthmian League for the third time, he went with a large party on the club's second excursion from the mainland. City were invited to partake in the Victory Cup that they had previously won in 1926. "We went from Weymouth to Jersey and I think it was a very rocky journey, the sea was a bit rough. We played three matches and I played in one of them against Jersey Wanderers (City won 6-4 and then beat Guernsey United 8-2 in the final with Minter adding his almost obligatory hat-trick). I was only 20 at the time, I was the youngest one there and I think it was George Butcher who kept an eye on me. I think the name of the hotel we stayed at was the Brines Royal Hotel."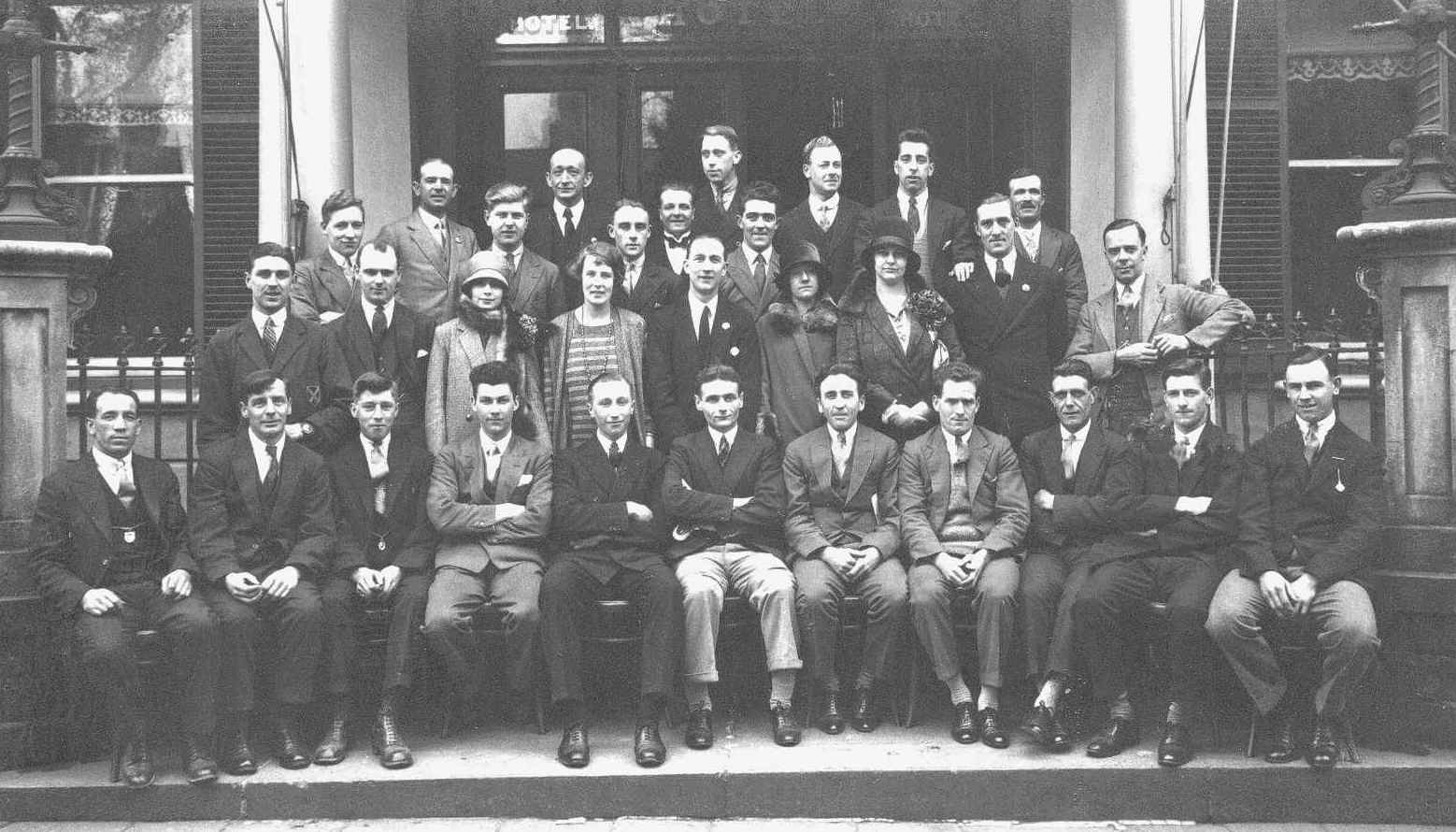 St Albans City pictured outside the Brines Royal Hotel, Jersey. Stan is standing furthest to the left in the row one up from those seated. Front row:
George Butcher
, Fred Holland, W.Brewer, Len Coulson, W.Shaw, Fred Hellicar, Wilfred Minter, Harold Figg, Bert Saggers,
Wally Buckingham
, Albert Ward.
The Saints honorary secretary at this time was Bill Green, he was well known throughout the city. "Bill Green went into partnership with a St Albans player, Percy Winter, and they ran a sports shop (Green & Winter, Market Place, St Albans). In that match when I fractured my ankle Percy injured his knee and never played again."
"When Percy joined St Albans he took over from Peter Pierce whom everyone knew as Phil. I also remember Fred Dear who played at outside right and only ever used to use his left leg to stand on! As I remember he lived in Welwyn." Percy is standing next to Stan in the photo.
In addition to playing in the same St Albans City side as the club's all-time top goalscorer Wilfred Minter (362 appearances, 356 goals), Stan also played with our fourth highest scorer, Charlie Bunce (174 app, 148 gls). When Stan's playing days were over he joined the team selection committee, it was a move which probably benefited Bunce more than most.
"When he first came to St Albans he was playing at outside right. I was on the committee when I recommended we should play him at centre forward, which we did and it came off. He was tricky on the wing but I felt he was wasted out there." After finishing as a player Stan served on the committee from 1934-47.
"There were three of us on the selection committee, myself Wilf Minter and Harold Figg, we would discuss team selection in the pavilion during the week but I forget what day it was." (Training was held on Tuesday and Thursday, so selection was probably decided on the latter). After coming off the committee he continued to watch the team as a supporter.
Stan gave up smoking 30 years ago after being told to do so by the hospital due to the hardening of the arteries causing problems in his legs. That was on a Friday and he made his final packet last until the Monday morning and he never smoked again. "They all smoked when I played, I did as well but I never saw Minter nor Figg have a cigarette."
Football in the 21st century
Although he saw two matches at Clarence Park during the 2002-03 season, Stan was not overly impressed with the modern game, "I don't think it's as classic as it used to be, to be honest I didn't think a lot of the game we saw the other week. But my son rang me to say that he's just back from watching Darlington and he said that he saw a better game at Clarence Park . Somehow the game is different now. I was treated well down there and enjoyed the day."