For this article we focus on City's FA Cup 3rd Round Qualifying tie against Barnet, played on 22nd October 1977.
Jimmy's glittering professional career may have been behind him and the '70s was a decade of massive personal problems but he could still pull in the crowds with over 1,700, four times our average gate, turning out to see if City, then in Division One of the Isthmian League, could shock our illustrious visitors from the Southern League.
City went into the Barnet match in a lowly 15th position but had games in hand on all of the other sides ranging from leaders Dulwich Hamlet (five games) to struggling Wembley (eight). But falling behind on league fixtures was not manager Bob Murphy's biggest problem. A crippling injury list ravaged his 15-man squad with goalkeeper Steve Wyatt, defenders Les McCormack and Tony Lock, and enigmatic midfielder Keith King all unavailable through injury. Former England Amateur international Chris Duggan was forced into action but was far from fully fit.
Murphy himself came out of retirement and, in preparation for Barnet, came on as substitute in City's FA Trophy defeat at home to Wembley a week before the FA Cup tie. Another City old boy, Stuart McLean, was also called out of retirement. McLean made his St Albans City debut in September 1960 but was best known for a lengthy association with Boreham Wood that ended in 1974 when he was found guilty of assaulting Grays Athletic player Roger Turner. Murphy and McLean were teammates for renowned local Sunday League side Albert RN, and previously at Boreham Wood, and Bob called him to assist with the coaching at Clarence Park .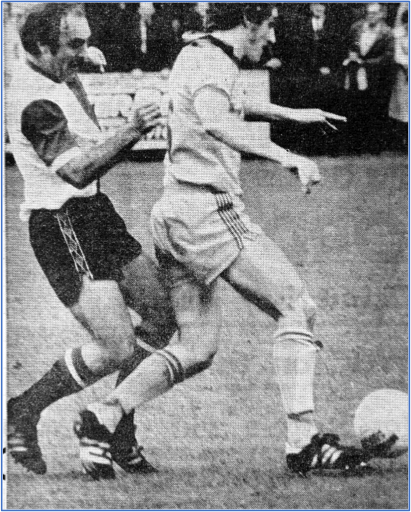 City's makeshift side struggled to get into gear and were three-goals down before bustling centre forward Derek Brown teed up Danny Johnson for the Saints first goal. Midway through the second half and a mix up between goalkeeper Steve Anscombe and McLean allowed Greaves to nip in and score the fourth Barnet goal. The outcome had already been decided but City did reduce the arrears for a second time with Paul Mayles getting on the scoresheet.
Left: City midfielder Alan Ayling shields the ball from Jimmy Greaves
Greaves had built his reputation as a supreme finisher but by now was playing in midfield and he truly ran the show in Barnet 4-2 win. He was 37 at the time of playing at the Park and Herts Advertiser reporter Charlie Randall gave a detailed breakdown of his influence on the game.
'He was caught in possession just once, he was in possession 40 times and misused the ball just eight times from that number. He had five shots; one was deflected wide, one saved easily, one charged down and the final one was a goal.'
Bob Murphy saw Jimmy play many times when he went to watch Tottenham Hotspur and Arsenal on alternate weeks during the 1960s, and even though the Barnet match was 40 years ago he remembers it well and Jimmy Greaves' contribution in particular.
"He came, he played, he ran the show, he left us in his wake, he hit the post while we were asleep, he scored, he had a quick couple of large VaT's and he went home. We were even too slow to catch him in the bar after the game."
St Albans City: S.Anscombe, I.Whitehead, P.Wood, R.Murphy (S.McLean), M.Davis, D.Johnson, A.Ayling, W.Whyte, P.Mayles, D.Brown, C.Duggan.