City, the St Albans version, come into the game on 26th November 2022 having won the past three encounters with our visitors, Bath City. But, since first playing the Romans in September 2007, we have had things far from our own way. Bath won that first encounter at Twerton Park 3-0 and went on to record 11 victories in the first 15 games between the two clubs. Today's 'Tales From The Park' takes a look back at that first meeting and the story of the 2007-08 season.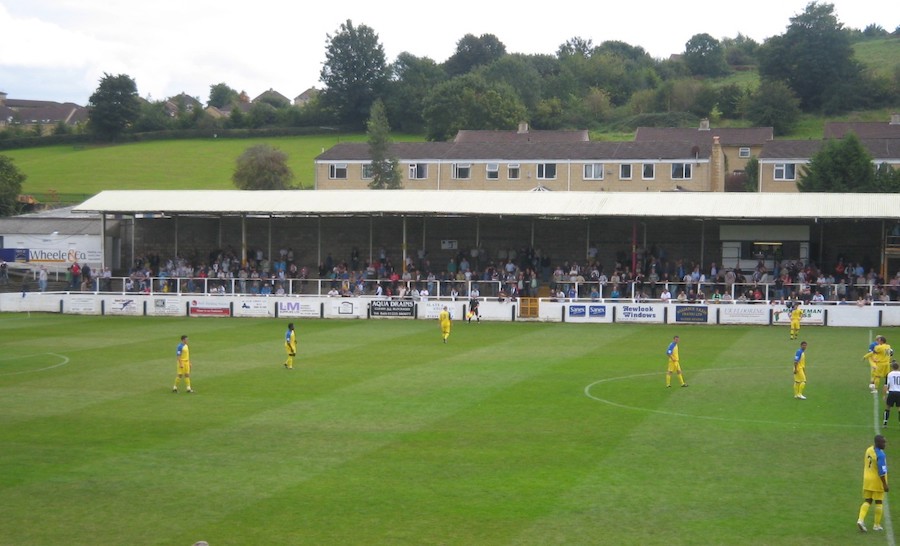 The opening paragraph from the matchday programme on 22nd September 2007 emphasised the proud history of both cities as Phil Weaver spoke of Bath boasting the coronation of our first king, Edgar, in their abbey in 973. He followed that with mention of St Albans (Verulamium) being home to England's first Christian martyr, Alban, beheaded by the Romans (not the Bath ones) in AD304; other dates suggested for Alban meeting his end are circa 254 or 209. For another contributor to the Bath City programme, Mark Stillman – to this day a regular at their games – this match was the 300th consecutive game of the Romans that he had attended (the author of this piece was attending his 1,298th consecutive St Albans match). Above: Ritchie Hanlon's Saints await the kick off at Twerton Park.
Two-Division gap disappears
That the two sides could be playing each other in a league match would have been virtually unthinkable 12 months earlier. At that time we were about to embark on our first (and only) season in the Conference National while Bath were in the Premier Division of the Southern League. But, following our relegation and the Romans winning promotion as league champions (ahead of second placed Team Bath), we found ourselves on equal footing in 2007-08.
Under the leadership of manager John Relish, Bath had enjoyed a good start to the season and with just one defeat in the opening nine (Blue Square) Conference South games were third in the table behind Steve King's Lewes and Garry Wilson's league leaders Eastbourne Borough. Our position was a little more precarious with Ritchie Hanlon's Saints looking down on only Bognor Regis Town and Sutton United at the foot of the 22-team Division. Bath had aided our cause during the week leading up to this game with a 3-1 win at Nyewood Lane over Bognor; Dave Gilroy struck a hat-trick for the Romans, his first goals of the season. Our midweek adventure was a not so glorious, a 5-0 defeat at home to Thurrock. Having goalkeeper Nick Eyre dismissed after just 14 minutes was not what we had planned for but it did allow Jamie Waite to make his only First team appearance and watch the ball fly past him on four occasions.
Right: A rainy day in Wales. Ritchie Hanlon awaits the second half of our 2-0 defeat at Newport County (Robert Walkley).
From their opening nine league games Bath had kept four clean sheets and failed to score just once. The Thurrock game was our sixth without scoring but we had achieved goalless draws at both Sutton United and Braintree Town. Our sole victory to date came in an entertaining clash with Bishop's Stortford at Woodside Park where two goals for Hassan Sulaiman paved the way for a 4-3 win.
Elphick's day goes flat - twice
A crowd of 798 welcomed the two sides onto the pitch at Twerton Park and had to wait just five minutes before we again had our numbers reduced to ten when central defender Gary Elphick was dismissed. From the opposite end of the pitch, it looked to be a harsh decision by referee Kevin Johnson and ruined the game virtually before it had started. The sending off, following what appeared to be an innocuous clash with Gilroy as the two players chased a through ball, completed a miserable few hours for Elphick who had suffered a puncture on his way to Bath from his home near Brighton.
Gilroy was back in the action on 23 minutes when he converted a penalty and with further strikes from Darren Edwards (51 mins) and Aide Harris (56) the Romans sauntered to a 3-0 win. This was our first of sixth successive visits to Twerton Park in which we failed to score (five against Bath City and once against Team Bath).
One week after this game, Bath made progress in the F.A. Cup with Chris Holland's first minute goal securing victory over Truro City at Treyew Road. After then defeating Newport County, the Romans bowed out in the final qualifying round at Torquay United in front 2,149 spectators at Plainmoor; it was the highest crowd that Bath played in front of that season.
A return trip was made to Newport in the F.A. Trophy but there was to be no repeat of the earlier success as County romped home 3-0. As if playing Newport County twice in the league was not enough for the two clubs they squared up to each other for a third cup tie – all at the Newport Stadium – in the League Cup with the Welsh side pulling through 3-2. Bath's fortunes were no better in the Somerset Premier Cup where they fell in the 1st round to Taunton Town then of the Southern League Division One South & West.
Shortly after the win over us, Bath's league fortunes tailed off and with just three wins from the final dozen games they slid to eighth in the table. We would have been more than happy to tail off in eighth place but, instead, tailed off from 20th at the time of our visit to Twerton Park to 22nd at the time of their 2-1 win at Clarence Park on 23rd February. A second successive relegation appeared unavoidable. However, a most bizarre season did have a quite spectacular twist in the tail.
Three City managers but only one Bazza
Ritchie Hanlon, brought in to replace Colin Lippiatt following his resignation at the end of the previous season, had his first foray into management terminated just a day after the game at Twerton Park as six points from ten games saw him ousted. Ritchie's replacement was the experienced and successful Dave Anderson who had left A.F.C. Wimbledon back in the summer. Anderson was afforded just 16 games in charge and with nine points from 11 Conference South matches became our second managerial casualty within 15 weeks following a 4-0 defeat at Cambridge City.
Next into the manager's seat was former City player and manager Steve Castle who was appointed in a caretaker capacity. Castle's first ten games yielded five points and concluded with the defeat to Bath at Clarence Park . Steve then made what was, possibly, the most significant signing of his football career as he persuaded veteran goalkeeper Paul Bastock to return to the club from Rushden & Diamonds. Bazza's return led to Nick Eyre, who had missed just two league games during the campaign prior to this point, left the club to join county rivals Bishop's Stortford.
Our turnaround in fortunes with Bazza back between the posts was remarkable as a first day 3-0 win at Weston-super-Mare was followed by a 4-1 home win over Basingstoke Town and a 2-0 win at promotion chasing Lewes. Just one of the final 11 games was lost, 22 points were collected and Bazza, a mere seven weeks after rejoining the Saints, was named as Player of the Season. We avoided relegation by five points with Weston filling the final position.
Left: Paul Bastock celebrates as relegation is averted with a goalless draw away to Maidenhead United (Robert Walkley).
Steve Castle remained as manager until the end of the 2010-11 season, taking his number of games in charge to 228. Bastock, who made one appearance for Bath City during a 1-1 draw with VS Rugby in October 1988, ended his City days, after 315 games, in May 2014 following our Southern League play-off final victory over Chesham United at The Meadow.
Bath City: Paul Evans, Sekani Simpson, Jim Rollo (Paul Keddle 66), Gethin Jones, Chris Holland, Adie Harris (Matt Coupe 61), Steve Jones, Scott Rogers, Darren Edwards, Dave Gilroy (Phil Walsh 59), Mark McKeever, sub; Martin Paul.
Booked: Holland 53, Rogers, 71.
St Albans City: Nick Eyre, Chris Seeby , Scott Cousins , Mark Beard, Gary Elphick , Hasim Deen, Hassan Sulaiman , Ram Marwa , Alex Bolt (James Archer 84), Lee Clarke , Hector Mackie ( Danny Morgan 44), subs; Reiss Noel, Paul Semakula, Jamie Waite.
Booked: Seeby 43, Bolt 45, Beard 56, Archer 90. Dismissed: Elphick 5.
Referee: Kevin Johnson (Weston-super-Mare).