This article takes a look back at the 2004-05 season when City and The Hawks first met for a competitive fixture. It was not, however, the first game between the two clubs. That match was a friendly played just prior to the start of the 2001-02 season when a first half goal by City's Mike Bignall was cancelled out by Liam Daish's 76th minute equaliser as the two sides drew 1-1 at Clarence Park .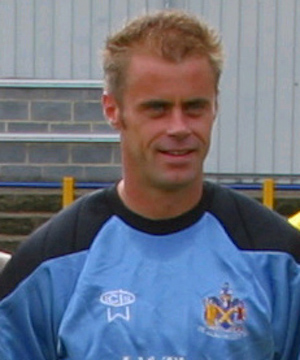 The 2004-05 season was the inaugural campaign of the Conference (National League) South. We moved to the new league from the Isthmian League where we had been a regular feature since 1923. Havant & Waterlooville, who switched from the Southern League, had been formed just a few years (1998) before the new league came into existence with the merger of Havant Town and Waterlooville; none of our paths had crossed in the past.
Havant, with Dave Leworthy as manager, had made a good start to the season and, following a 4-0 win over Dorchester Town, were second in the table. Their only reversal so far had been another 4-0 game; a thumping received at big spending Hornchurch. With three goals to date, Dean Holdsworth was the Hawks leading scorer while goalkeeper Gareth Howells (left), a veteran of 209 games for the Saints during the 1990s, had kept two clean sheets in the opening four games.
Having finished a lowly 19th in the Isthmian League the previous season, we had sneaked into the Conference via two sensational away victories in the play-offs; 4-3 at Heybridge Swifts and then 5-4 at Bedford Town. Our struggles of 2003-04 continued at the start of the new season with an opening day triumph away to a poor Sutton United side being overshadowed by three successive defeats, including a 5-2 trouncing at Clarence Park by Welling United.
Manager Steve Castle made one change from our most recent game, a 2-0 defeat at Woodside Park against Bishop's Stortford, with Gary Wraight returning to the starting XI in place of the injured Jamie Southon. Leworthy, unsurprisingly, named an unchanged side from the Dorchester game. In addition to their manager who had appeared in the Football League for six clubs, including Tottenham Hotspur, and scored freely for the likes of Fareham Town, Farnborough Town, Dover Athletic and Kingstonian (not to mention 26 in 93 games for Havant), the Hawks squad featured several well-known faces.
Holdsworth had been signed in the summer from Wimbledon, fellow striker Gavin Holligan (who missed this game through injury) had been captured from Wycombe Wanderers while defender Tom Jordan was the son of Scotland striker Joe Jordan.
Castle and Holdsworth were no strangers to each other having been at school together and Holdsworth took just eight minutes to impress his old chum by placing a glancing header from Geoff Pitcher's cross into the City net. Three minutes later, though, and City were level when a Gary Wraight free kick was headed home from just inside the penalty area by Miguel De Souza. The rest of the half remained fairly open but the second 45 minutes petered out into a petty affair with referee Ray Lee being heavily criticised by both clubs.
Steve Castle objected a tad too strongly about the Brentwood's official's performance and was removed from the dug-out on 71 minutes. Three other City players (Wraight, Lee Clarke and Daren Sarll) were also booked along with the Hawks duo of captain Neil Champion and substitute Bobby Howe. Champion's booking was courtesy of a pretty dreadful challenge on City left-back Scott Cousins and led to both players being substituted. Cousins' injury paved the way for Ben Walshe to make the first of his 77 appearances for the club.
Following the draw with us at Westleigh Park, Havant fell away alarmingly and failed to again win two consecutive league games until February. Between the start of December and 12th February Havant won just one of 13 league games and slid to the bottom of the table. Against a background of financial problems, Leworthy was sacked in November and replaced by Ian Baird. It took time for the new boss to revive the clubs' fortunes but they did receive a boost in mid-January when another Holdsworth goal secured victory at Clarence Park in the F.A. Trophy 3rd Round. The Trophy run ended in the following Round when Conference South leaders Grays Athletic trounced them 5-0 at The Recreation Ground. The Hawks bid for the F.A. Cup faltered at the first with Bath City winning 2-0 at Westleigh Park.
Baird made changes to his squad, but far from major ones, and gradually turned them into a winning unit. The threat of relegation was banished by a run of one defeat in 11 games and by the time that they went down 3-1 at the Park in the return league fixture in April their safety had already been secured. With 27 goals Holdsworth was the top goalscorer.
The draw down on the south coast in August provided us with one of few good days during the first half of the season. Just three of our opening 15 league games ended in victory and our F.A. Cup exploits lasted just 90 minutes despite a 2-0 win (Gary Wraight 2) at Heybridge Swifts. The result was expunged from the records and we were thrown out due to a bizarre technicality that led to accusations against other clubs that, allegedly, plotted our downfall. As far as the competition was concerned, we were removed due to playing the ineligible Jamie Southon, but the circumstances behind this happening were somewhat murky.
Following a 3-0 Wednesday night defeat at Weston-super-Mare on 27th October, Castle resigned as manager. The experienced Miguel De Souza stepped up to be temporary manager and after three games made way for the incoming new supremo, Stuart Cash . De Souza's time as manager was made to seem long-lasting compared to Cash who quit after just two games citing promotion at work as the reason for the change of heart.
Colin Lippiatt to be his assistant and, as far as St Albans City were concerned, it turned out to be one of the most inspired decisions of any City manager. Lippiatt released our two longest serving players, Wraight (138 appearances) and De Souza (104) and wasted no time in recruiting goalkeeper Paul Bastock from Dagenham & Redbridge. Bazza went onto play 314 games for the club and became only the second player to be twice voted the Supporters Player of the Season. At the other end of the pitch, Lippiatt drew the best out of Lee Clarke , his 33 goals in 48 games included hat-tricks against Bognor Regis Town and then Havant & Waterlooville in the return league fixture at Clarence Park . The win over Havant secured our Conference South future for a second season. Havant finished the campaign in 13th place, one point and one position above the City. Left: Colin Lippiatt and Stuart Cash .
During his short stay at the Park, Cash had brought in the experienced
Aside from the cup competitions already mentioned, City fell at the first hurdle in the League Cup, 5-2 at home to Grays Athletic, and at home to Boreham Wood in the Herts Charity Cup. Stuart Cash's first of his two matches in charge was a 3-1 win at Broxbourne Borough in the Herts Senior Cup. Further wins over Hertford Town and Cheshunt put us through to meet Boreham Wood in the final at Broughinge Road where goals by Kezie Ibe and Clarke (left) gave the club its 13th, and still most recent, success in the competition.
Line ups for the first league meeting with Havant & Waterlooville at Westleigh Park on 28th August 2004:
Hawks: Gareth Howells (Andy Poyser 62), Alec Masson, Jason Chewins, Neil Champion (Bobby Howe 15), Tom Jordan, Neil Sharp, Dave Town, Geoff Pitcher, Dean Holdsworth, Dean Blake (James Taylor 68), Luke Byles, subs, James Campbell, Jamie Ford.
City: Melvyn Capleton, Dean Hooper , Scott Cousins ( Ben Walshe 13), Darren Sarll, Ben Martin , Chris Zoricich ( Chris Seeby 27), Gary Wraight, Adam Parker, Lee Clarke ( Matt Hann 87), Miguel De Souza, Richard Thomas, subs, David Parkinson, James Robinson.
Referee: Paul McCaul. Attendance: 497.