Ron Duke teams up with Mitch
During their first five seasons back in the Premier Division of the Isthmian League, St Albans City had not finished higher than 14th in the table. With Ron Duke named as assistant manager and a number of well-known signings made, the 1991-92 season was touted as the one in which the club would challenge for honours. Duke was in his second spell at Clarence Park having been manager from March 1980 until May 1982.
Whilst several big names in Isthmian League circles came into the club, a number of the top players from recent years departed. Central defender Andy Cox (135 app, 16 goals) was sold to fellow Premier Division side Hayes for £7,000. During the early weeks of the new season, Hayes also took goalkeeper Paul O'Reilly (70 app) for almost £2,000.
Defender Matt Howard (123/2) joined Boreham Wood, veteran midfielder John Margerrison (35/6) moved to Harlow Town and striker Steve Newing (18/1) signed for Edgware Town. Phil Dicker (38/3) returned to one of his former clubs, Southall, after just three more First team appearances.
Rich pickings for Mitch at Wivenhoe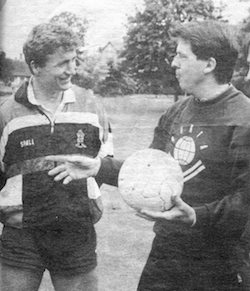 The list of incoming players was impressive, John Mitchell was pleased enough to say, "This is the best squad St. Albans has had for many years and certainly the highest quality I've ever worked with here." Fifty percent of Mitchell's summer shopping had been conducted in Wivenhoe Town's dressing room with Paul Price, Steve Clark , Jimmy King and Garry Brooke all being enticed from the Essex club. All four boasted an impressive, experienced background. Thirty-six-year-old Price (left, with John Mitchell ) made 25 appearances for Wales and included Luton Town and Tottenham Hotspur amongst his numerous clubs. He had actually played for the whole of the 1990-91 season illegally. He had joined Wivenhoe from Australian club Bayswater Inter in the summer of 1990 but the Essex club never contacted the Australian F.A. to gain international clearance. It only came to light when City tried to put him on contract at Clarence Park . Although the innocent party in the indiscretion, Price paid a £100 fine to free himself up to play for his hometown club, St Albans.
Clark (27) became City's most expensive signing when £5,000 was required to secure the services of the player who, for two seasons, had been Wivenhoe's top scorer. King (28) was seen as vital to Clark's continued goalscoring feats and Mitchell made no secret about the pleasure he got in signing the former Scottish Youth international winger. Former Spurs midfielder Brooke (30), completed the quartet to move from the Broad Lane Ground to Clarence Park but his stay was blighted by injury.
The new club captain was Steve Ketteridge (right), a £2,500 purchase from Aylesbury United . Ketteridge was expected to miss the start of the season as he recuperated from an achilles operation, his comeback was further delayed by a twisted ankle sustained when out on a road run during the summer. One of the earliest signings was a player Duke knew well, Mark Furneaux (25) on a free transfer from Hendon. Steve Forbes, who had made three appearances at the start of the previous season, was re-signed but again failed to establish himself in the side as a back injury restricted his opportunities. Goalkeeper Trevor England (23) was signed as cover for Steve Wallduck from Luton side Walden Rangers, then on the eve of the season two more players signed on. Ricky Cornish (20) joined City after a season with Aldershot and experienced Dagenham midfielder Steve Scott (29) seemed to complete Mitch's shopping.
At this stage City appeared to have a large, experienced, squad but injuries and holidays put paid to any hopes of getting a settled side together in time for the kick off on 17th August. The first friendly was a run out in relatively long grass at Farnham Town on 27th July. Two second half goals by Michael Danzey secured a City victory. A sparse crowd were treated to one of the most amusing incidents of the whole season. A Farnham player, not making enough allowances for the cramped pitch, came down a slope to take a corner, swung his leg but instead of floating a perfect cross into the goalmouth only succeeded in removing the corner flag from its hole.
July was rounded off with a home friendly against a youthful Arsenal X1 minus any household names. Supporters were given their first chance to see Clark in action and he didn't disappoint as he scored the final goal in a comfortable 3-1 win. Cornish and Paul Hobson, a promising signing from earlier in the year, had scored the first two goals. Also looking lively at this stage was trialist Ian Edet but he departed after just one more First team friendly.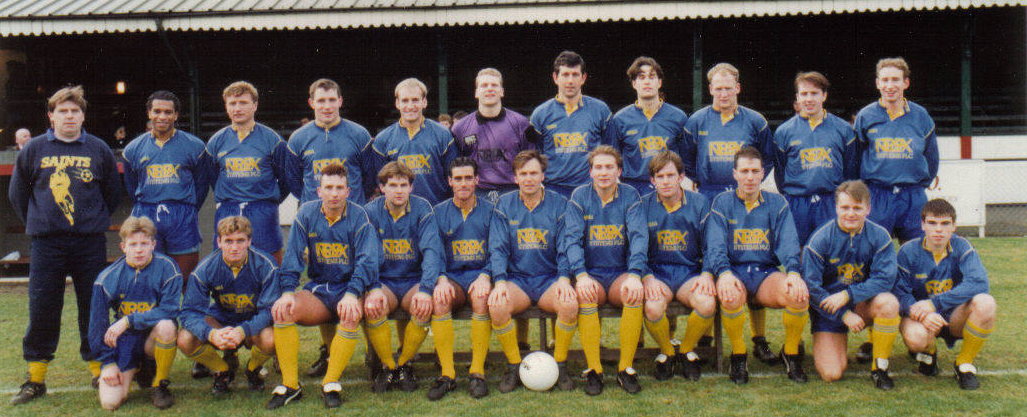 Back:
John Mitchell
(Manager), Trevor Wilkinson, Paul Price, Kevin Mudd,
Steve Clark
, Andy Hopping,
John Lacy
, Michael Danzey,
Bob Dowie
, Steve Storey, Ricky Cornish
Front:
David Ross
, Tony Joyce, Paul Hobson, Steve Scott, Craig Johnstone, Steve Ketteridge (Captain), Ian Scott, John Colfer, Jimmy King,
Garry Brooke
, Bradley Anderson.
AUGUST: Heavy opening day defeat and growing injury problems
Former City defender Dean Austin returned to Clarence Park on 3rd August but was now wearing the colours of Southend United. The Shrimpers had no problems in trouncing a weakened City side 8-0. Since joining Southend for £14,000 in March 1990, Austin had won two promotions as the club moved from the Fourth to Second Division in successive seasons.
The day before the Southend match, City chairman Bernard Tominey announced a major sponsorship deal with the London based office computer company Interfax. The club was set to receive £25,000 in the first year of the sponsorship. The deal included shirt advertising for Interfax but the shirts were not seen until December. A new sponsor was required when the previous sponsor, J-Cars, ceased trading.
A new lottery, the Alphabet Forecast, was also launched prior to the start of the season. It boasted of having a potential weekly first prize of £100,000. The City players were also looking at the possibility of cashing in should they have a good season. Each member of the squad stood to collect a share of a pool of £50,000 if the club won the league and there were also huge cash incentives on offer for reaching Rounds One, Two and Three of the F.A. Cup.
On the playing side City faced problems with an injury list that was getting out of hand before a ball had been kicked in a competitive match. Players taking late holidays only added to the problems. Despite the player shortages City still managed to win the final two friendlies in comfort. Bedworth United went down 3-1 at the Park whilst Biggleswade Town were crushed 10-0. Mitchell used 25 players in the five friendlies, Michael Danzey was top scorer with six, including a hat-trick against Biggleswade.
The first competitive match was at Boreham Wood on the 14th. A solitary Robert Bourne goal was sufficient to settle a dire Herts Charity Cup tie in Wood's favour. Saints were without Trevor Wilkinson and Steve Clark at the newly named Meadow Park.
Wilkinson returned for the opening Isthmian League match on the 17th against Wokingham Town at Clarence Park . Town included former City players Martin Gurney , Dean Williams and Gary Woolf and the first two named got on the scoresheet in a 3-0 win for the Berkshire club. It was City's heaviest first day home defeat in thirty years. Below: Trevor Wilkinson is tackled during the defeat to Wokingham.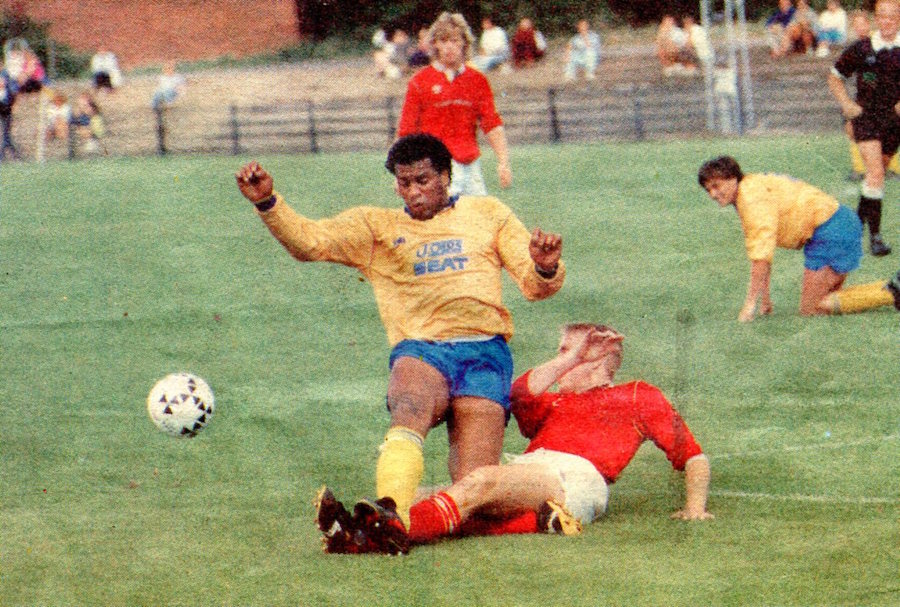 Clark made his debut in a competitive match three days later as City went down 3-1 at Enfield. Paul Hobson opened the scoring before the E's hit back. Enfield defender Erskine Smart scored one and set up another as City lost at Southbury Road for the first time since 1971. City had begun the season at 16-1 for the title but the bookies took a dim view of their early form and quickly lengthened the odds.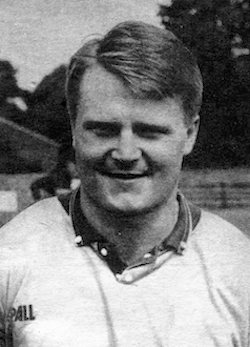 The performance at Enfield had shown a marked improvement from the opening day and the following Saturday, 24th, brought the first win of the season against a Carshalton Athletic outfit equally bereft of points. A penalty by Steve Cox set City on their way before Clark struck with his first for his new club. A late strike by Jimmy Bolton couldn't save the Robins from losing at home to City for the fifth time in seven games. Wilkinson, facing competition in attack from Clark and Danzey, was outstanding in midfield at Colston Avenue. Garry Brooke (left) was also in the starting line-up but an injury picked up at Boreham Wood flared up and he was withdrawn before half time.
The first point on home soil was collected the following Tuesday when a Hayes side including former Saints Gary Keen, Warren Kelly and Andy Cox were held 0-0 at the Park. With three games played Hayes had yet to concede a goal in the Premier Division.
Having taken four points from two games City suffered a surprise defeat on the last day of the month as Bognor Regis Town stretched their unbeaten record at Clarence Park to three games with a 3-2 success. Pluses for Saints were first goals of the season for Wilkinson and Jimmy King who was already showing signs of linking well with his former Wivenhoe striking partner Clark. Mitchell continued to make changes with both John Margerrison and Phil Dicker being released whilst Peter Whiteside was taken on loan from Tottenham Hotspur.
Elsewhere, the Reserves were unbeaten after two Suburban League games. Dave Henstock and Ian Edet hit the goals that secured a 2-1 win at Hayes, this was followed by a goalless draw with Uxbridge at Clarence Park .
SEPTEMBER: Problems at home but best away run for eight years
The new month kicked off with a testing run of five consecutive away games, these were negotiated successfully with problems not arriving until the 28th when the first of only two home games was played during a twelve-match run of fluctuating fortunes.
Wivenhoe Town, facing three of their old boys, were kept pointless and bottom of the table after five games, as goals by their former favourites Jimmy King and Steve Clark lifted City into 14th place. Michael Danzey was dropped to the subs bench whilst Alan Campbell was recalled to bolster the centre of the defence.
Two days later Danzey, coming off the bench, scored his first goal of the season as Division Two Isthmian League side Ruislip Manor were comfortably removed from the League Cup, 3-0 at Grosvenor Vale (later the home of Wealdstone ). Hobson and Wilkinson had set up the win with first half goals.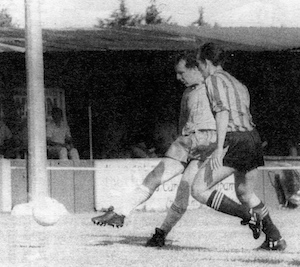 The following Saturday, 14th September, City barely stretched themselves on a sweltering day at Mundford Road in Norfolk as Thetford Town were overcome 2-0 in the 1st Round Qualifying of the F.A. Cup. In the first meeting between the sides, former City Youth player Steve Storey (left) opened his account with Clark adding the second well before half time. Eastern Counties League side Thetford were missing six of their regular players (two suspended, four injured) and, according to the locals, substituted Ray Mathews at half time because he was booked in to attend a wedding reception.
Chelmsford City provided stiffer opposition on the 21st when the Saints met the Southern League Premier Division side at New Writtle Street in the 1st Round Qualifying of the F.A. Trophy. A well taken goal by Trevor Wilkinson was sufficient to settle a fast and exciting match. Club captain Steve Ketteridge at last played a full 90 minutes in a fifth successive away win. The unused City substitute at Chelmsford was Australian Peter Whiteside who was called up after scoring a hat-trick in his only appearance for the Reserves. Whiteside didn't get a game at Chelmsford and left City without making a First team appearance. His hat-trick for the Reserves came during an 11-0 win over Feltham & Hounslow in the Suburban League North Division on 14th September. Kiwi David Henstock also scored three times that day.
Right; Jimmy King who set up the winning goal at Chelmsford. Another new signing at this time was 19-year-old defender Jamie Kearns, from Cambridge United, who departed after just four Reserve team appearances.
City's best winning run away from home for eight years ended on the following Tuesday, 24th, with a 2-0 defeat at newly promoted Bromley. A controversial penalty set the Kent side on the path to victory at Hayes Lane.
Despite losing, the performance at Bromley was encouraging, so it was with some surprise that City couldn't see off Spartan League side Brimsdown Rovers at Clarence Park in the F.A. Cup on the last Saturday of the month. Steve Cox's one and only goal at home put City ahead but missed chances proved costly deep into injury time when a rash challenge by keeper Steve Wallduck offered Brimsdown the chance for their only on target shot in the whole match. Danny Sullivan duly converted the resulting penalty to deny City a tie with Chesham United. The performance of referee Colin Lawrence caused some concern with four players being booked in a tame affair.
The Brimsdown match coincided with the launch of the Saints ClubCall Line, a premium cost telephone service with daily updates of the news from Clarence Park .
OCTOBER: Cup disaster at Brimsdown
One of the first items that the new Saints ClubCall Line had to report was the disastrous outcome of the F.A. Cup replay with Brimsdown Rovers at Goldsdown Road, Enfield, on the first day of the new month. Brimsdown sat back hoping to catch St Albans on the break. That break came in the 78th minute when referee Colin Lawrence awarded a penalty against Steve Wallduck. It was a decision that outraged many in the crowd of 188, the majority of whom were from St. Albans. Wallduck was also none too impressed with the decision and was dismissed by the match official for comments he made. Lawrence's report cleared Wallduck of using threatening or foul and abusive language, so why he actually sent him off remained a mystery. Danny Sullivan ignored the uproar going on around him to score past Steve Cox from the penalty spot and a second goal by Neville Dennis five minutes later confirmed a bitter and controversial cup exit.
As Lawrence made the long walk from the pitch across open ground to the distant changing rooms he was severely criticised by City fans. The following day the club were informed that Mr Lawrence had filed a report to the F.A. for the alleged bad behaviour of City chairman Bernard Tominey, manager John Mitchell and coach Ron Duke . The trio had a month to prepare their case before heading to Lancaster Gate to face a charge of bringing the game into disrepute. Before he left the ground Lawrence asked the City secretary, Steve Trulock, for the names of those who had abused him as he walked off the pitch at the end of the game. The reply he received outlined that it was pretty much every City supporter at the game, "What, all of them?"
Attention returned to events on the pitch the following Saturday with a trip to Basingstoke to face a side that hadn't won since putting five past Wivenhoe on the opening day of the season. An early Steve Clark goal gave City the lead but a late equaliser by Brian Lucas was followed by the dismissal of Steve Cox who picked up two quick bookings in the closing minutes. It rounded off a miserable day for Cox who also had a first half penalty saved by the debut making Keith Bloxham.
Newly promoted Chesham United were the next opponents and the unbeaten Buckinghamshire side climbed into the top three with a 2-1 win at Clarence Park . Clark again gave City an early lead but late goals by Billy Goldstone, a penalty, and Micky Banton continued Saints winless home record. Worse was to come in the final five minutes when Paul Hobson was sent off for retaliation. It was the first time in City's history that players had been sent off in three successive matches.
As with the previous season, City were finding points hard to come by at home so it was with some relief that all three points were taken from Staines Town at Wheatsheaf Lane on the 12th. Goals by Cox, a penalty, and Clark put City in command before Tony Joyce reduced the arrears for Staines from the penalty spot after a foul by Bob Dowie . The match marked the end of the road for Steve Wallduck and Mark Furneaux who joined Barking and Dagenham respectively.
Reserve team keeper Trevor England, who was married the previous month, took over from Wallduck for the trip to Cheshunt for a Southern Counties Senior Cup tie on the 15th. But England couldn't prevent the home side from being the second Spartan League outfit to inflict an embarrassing defeat on City in two weeks. Steve Storey scored his second and last goal for the club whilst Dave Henstock, a prolific scorer for the Reserves, made his last appearance in the 1st Xl during a 3-2 defeat in City's only appearance in the competition. Danzey scored City's other goal.
Clarky's first hat-trick
Greg White was called up for his first game in the senior side for eighteen months for a visit to Top Field to face Hitchin Town in the 2nd Round Qualifying of the F.A. Trophy the following Saturday. Mark Smith opened the scoring for the Canaries but Steve Clark then took charge with his first hat trick for the club in a 3-2 win. On the eve of the game Hitchin had sacked their manager Steve Norris and his assistant Bill Baldry, the latter a former St Albans player.
Below: Steve Clark scores his second goal against Hitchin Town at Top Field.
England made his Isthmian League debut during the visit of league leaders and championship favourites Woking on 26th October. Two other players, midfielder Ian Scott (below), signed from Aylesbury United , and veteran striker Tommy Langley, from Staines Town, also made their debuts. England had an outstanding afternoon but Scott, who gave City a first half lead, ended the day in hospital with a broken nose after a clash with Lloyd Wye. Four minutes from time Wye scored the goal that preserved Woking's unbeaten away record. Although clearly far from fit, Steve Ketteridge had a run out against Woking but suffered the indignation of seeing Laurence Batty save his early penalty. The attendance of 828, which included a large contingent from Surrey, was the highest at the Park so far this season.
The month closed with Boreham Wood clinching a Herts Cup double over City with a single goal Senior Cup success at the Park. Micky Dingwell headed the only goal with just twenty seconds remaining. Two days later coach Ron Duke resigned - it was the third time that he'd left the club having been manager ten years earlier and coach under Mitchell in 1985. Duke departed with a broadside at the players and complained that Mitch was too soft on the players. "There was no way I could take it any longer because certain players are pulling the club down by not giving a damn,' said Duke.
Mitchell vowed to carry on without an assistant but, as the season wore on, Ketteridge became more involved in team matters. Following Duke's departure, Mitchell told veteran defender Alan Campbell that his services were no longer required, later in the season he teamed up with Duke at Hendon.
NOVEMBER: Goals flow as City hit top form
St Albans City's eighth home match of the season, against Windsor & Eton on 2nd November, failed to bring John Mitchell his first win at the Park since May as the Royalists clinched their third successive victory at Clarence Park and left City floundering in 18th position. Clark scored again in a 2-1 defeat. Michael Danzey, after five games on the subs bench, was dropped following the Windsor game and injury put Jimmy King out of the next three matches. Ian Scott's nose injury also forced him to miss the next eight games.
There was sweet and sour news for the club when it appeared for two hours in front of an F.A. disciplinary panel at Lancaster Gate as the Brimsdown Rovers affair was brought to a close. The club was cleared of failing to control its supporters, and the serious charge of bringing the game into disrepute was also dismissed. But Tominey, Mitchell and Duke were all found guilty of using insulting behaviour towards the referee and received fines of £150, £50 and £100 respectively.
The following day, 9th, saw City travel to fourth-placed Sutton United. Steve Cox was recalled for his last game and a debut was handed to 20-year-old David Ross . Former City Youth player Ross was back at the club after a season with Southern League side Wealdstone . Two goals for Alan Gane's side by Andy Scott couldn't stop City from gaining their first win at Gander Green Lane for 21 years. Ross required just an hour to open his account but it was a brace by Paul Hobson that secured all three points. Cox, who joined Stevenage Borough, signed off with a booking.
Three days later a long overdue first home win of the season was recorded. Bromley, in the Isthmian League Cup 2nd round, were the victims despite taking the lead through Martin Coates. Tommy Langley's one and only goal for the club turned the game round and he was later joined on the scoresheet by a brace from Clark and Ross's first goal on home soil. The 4-1 win was witnessed by just 155 spectators, the lowest Clarence Park crowd of the season.
St. Albans became the focus of the national press the following Friday, 15th November, when an IRA bomb ripped through the old Barclays Bank building in the Civic Centre blowing two terrorists to pieces in the process.
City continued with their improved form a day after the bombing but were left feeling shell shocked after a 2-0 defeat by Grays Athletic at the Recreation Ground. City had played some good football but it was a black day for Billy Goldstone, on loan from Chesham United, as he was dismissed on his debut for the so-called professional foul on the half way line. The player who Goldstone allegedly fouled, Winston Whittingham, confessed after the game that he had not been touched.
First Isthmian League home win since May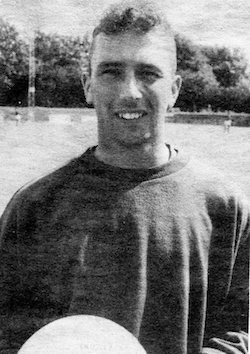 Goldstone, highly impressive during his four games with St. Albans, made his mark in better fashion three days later as it was his eighth minute penalty that put the skids under Harrow Borough at Clarence Park . Harrow, fresh from a 6-1 win over Staines Town and managed by former City boss Peter Lawrence, were swept aside as Hobson made it 2-0 by the tenth minute. Ex-City defender Mark Barnard, inadvertently, popped home the third and further strikes from Hobson (left), Michael Danzey and Steve Clark completed a 6-0 rout. Danzey's goal was particularly welcome as it came on his return to the side after being dropped eight games earlier, five of those matches had been spent on the subs bench. He then played two games for the Reserves where a hat trick against Hampton earned him his First team recall. Jimmy King also returned against Harrow and the versatile John Colfer made his 100th appearance. It was City's first home league win since May. In addition to Barnard, Harrow included former City players Neil Henry and Mick O'Shea.
City built on the thrashing of Harrow with another goal feast, this time at the Kingsmeadow home of third-placed Kingstonian. A stunning 5-3 win lifted St Albans into the top ten for the first time and ended the K's nine-year unbeaten home record against City. It was also our first win at the compact Kingsmeadow ground that had opened in 1989. Danzey confirmed his return to form with a brace and there were singles for King and Goldstone, another penalty, before Steve Scott (below) settled the most enthralling contest of the season with his first goal for the club in the 88th minute. As shown in John Sherwood's photograph, City were still wearing the shirts bearing the name of the previous season's sponsor.
Next stop was a 3rd Round Qualifying FA Trophy tie away to Dagenham on the final Saturday of the month. City went to Victoria Road full of confidence and goals but their plans suffered a setback when Steve Ketteridge was dismissed after just 15 minutes for dissent. Undeterred, City went on to dominate a thrilling first half but it was still goalless at the interval. Outstanding strikes by Danzey and Hobson in the opening six minutes of the second period appeared to have put City on the verge of a place in the 1st Round proper. But Dagenham quickly pulled one back and as City tired Ted Hardy's side completed an exciting comeback and 3-2 win with Leo West's late winner. West went on to have lengthy career in the Football League playing under his full surname of Fortune-West. The loss of Ketteridge, who received a three-match ban, was undoubtedly a blow as he neared full fitness in a run of eleven consecutive appearances. Making a surprise return to the side at Dagenham was John Lacy , the veteran defender having gone into retirement six months earlier and not played for St. Albans since March 1988. Lacy's call up came in response to a six-week ban handed out to Colfer for an offence in the St. Albans Sunday League whilst playing for Chequers.
DECEMBER: Goals continue to flow as records tumble
City quickly banished the memory of the Trophy defeat with a deluge of goals in the Loctite Cup. Aveley, bottom of Division One and our conquerors in the final of the AC Delco (Isthmian) League Cup nineteen months earlier, were no match for a now free scoring Saints. Michael Danzey notched his first hat trick for the club at senior level. Bob Dowie scored his first goal for a year and Steve Clark added two more to his total as City walked off 6-1 winners at a bumpy Mill Field. For Aveley it was a 13th consecutive defeat.
Next up were Bognor Regis Town at Nyewood Lane, the sea air was to City's liking as Jack Pearce's Rocks were unable to stem the goal flow. Bognor did, through Garry Biddle and Kevin Maddock, put two past the on-loan Redbridge Forest 'keeper Andy Hopping but Hobson, Danzey (below), King and Clark all found the target in a 4-2 win. Danzey's goal was his eighth in five games since being recalled.
At this time City just couldn't play often enough and were frustrated on the 14th when a frozen Clarence Park pitch led to the local derby with Hendon being called off. The pitch was fine three days later as City hammered in five more goals, this time at the expense of Third Division Tilbury who still had yet to lose a league game at this time. Clark launched a personal crusade against the Dockers by scoring the opening four goals, taking his tally for the season to 20, and laying on the fifth for Trevor Wilkinson in a 5-0 win.
Clark injury blow
City kept quiet that Clark would be missing for the next game, a league match against Windsor & Eton at Stag Meadow. The Bishop's Stortford school teacher had scored 17 times in his past 17 games but was now sidelined by the removal of gristle from an earlier groin and hernia operation. John Mitchell hoped that Clark would be out for no more than three weeks but it turned out he had to do without his services for seven matches. Wilkinson stepped into Clark's No.9 position and quickly justified the manager's faith in him by scoring twice in the Saints first win in that part of the Royal's back garden; Richard Evans (not the future City player) also struck twice for the home side. Danzey scored the other goal in a 3-2 City win. Debuts were given to defenders Craig Johnstone and Tony Joyce, formerly with Harrow Borough and Staines Town respectively. Joyce was replaced due to injury before half time in what was to be his only game for the club. Garry Brooke , as sub, was seen in action for the last time before his operation. The match against Windsor was virtually ruined as a spectacle for the spectators by a howling gale, but it did provide a humorous moment as the wind took hold of the cap of City supporter, Roy Bouttell, lifted it over the perimeter fence and deposited it in the car park.
The year ended with a trip to Marlow's Oak Tree Road ground, a ground where City had never lost. The unbeaten record was kept intact but there was precious little to excite the crowd of 510 as a dull encounter ended goalless. Steve Storey came off the bench to make his 28th, and final appearance before joining Northwood. He was joined at Northwood by fellow Saint Greg White.
JANUARY: League Cup run continues
City went into the New Year in good spirits after learning that the free-scoring form in December had won John Mitchell his fifth manager of the month award; it was the club's first such award since John Lacy won it in October 1987. The highest Clarence Park attendance for a league game for more than 20 years, 1,502, welcomed second placed Enfield on the 1st but City gave a disappointing display and could have no complaints as Enfield won 2-1 to maintain their distant challenge to Woking. Marc Salmon and Graham Westley put Graham Pearce's side in control before Paul Hobson converted a late penalty.
Losing to Enfield, although disappointing, was not a major setback but defeat the following Saturday at home to bottom side Wivenhoe Town was a serious blow. Dave McCoy gave the Essex club an early lead. Substitute Bradley Anderson marked his home debut with a headed equaliser in injury time. But, deeper into added time, McCoy added his second as Wivenhoe cashed in on the club with the poorest home record in the Division.
The side that replaced Wivenhoe at the foot of the table, Bishop's Stortford, appeared set to hand St Albans a third successive home defeat on the 7th when goals by Tommy English and John Lawford put the only other Hertfordshire side in the Premier Division into a two-goal lead. But, aided by a Daren Went own goal, City rediscovered their attacking flair of a few weeks earlier and won with further goals by Danzey and Hobson.
Clark played for the Reserves four days later, the 11th, when the First team were without a game and scored in a 2-2 draw against Hayes at the Park, John Colfer scored the second City goal. Clark's return to fitness was mildly hindered when picking up a knee injury in a side featuring ten players with First team experience.
A fourth successive home game was played the following Saturday when Carshalton Athletic were the visitors. City carried on from where they left off against Stortford and produced their best form, a point confirmed by the reporter, Martin Bryce, for Carshalton's local paper who rated the Saints as the best side Athletic had faced all season. City's fifth consecutive win over Carshalton was founded on the brilliance of Hobson and the goals of Steve Scott and Danzey. Full back Roy Edwards was in good form on his debut while Bob Dowie missed the game through suspension and Ricky Cornish played his last game as an 85th minute substitute. Andy Hopping made his last home appearance as Carshalton surrendered third place to neighbours Sutton United.
City reject bid of £5,000 for Michael Danzey
Michael Danzey's form drew attention from elsewhere with Hendon having a bid of £5,000 for the striker rejected. Sheffield United, managed by former City player Dave Bassett, invited Danzey to Bramall Lane for a trial. Tommy Langley did leave Clarence Park at this time with Basingstoke Town paying £1,500 for his services. Anderson was also gaining attention and turned out for Swindon Town's South East Counties match at Southampton that ended goalless. The Swindon manager was Glenn Hoddle. Former City boss Peter Lawrence was not experiencing such satisfying times as he was sacked as manager of Harrow Borough.
The run of home games ended on Monday 20th with Wokingham Town removing City from the Loctite Cup in the 2nd Round with a 3-1 win. Darron Wilkinson and Dave Thompson, with two, scored for Roy Merryweather's side. Steve Scott replying for the home side.
On the last Saturday of January, City took advantage of a Hayes side missing ten regulars through injury to record an eighth away league of the season courtesy of Scott's third goal in as many games. New Hayes boss Clive Griffiths was forced to field a number of Reserves as City, with Clark leading the attack, moved into the top six of the Premier Division for the first time since October 1987.
A sixth successive away game without defeat was very much a feather in City's cap on the 28th as a place in the last four of the League Cup was secured with a 3-2 win away to Sutton United. Danzey and a Hobson penalty put City two-up before a brace from the prolific Dominic Feltham restored parity. Hobson struck again during extra time to clinch a second win in three months at Gander Green Lane.
FEBRUARY: Billy Minter Trophy retained
International opposition were entertained at the Park on the 1st month with a visit by the touring New Zealand national side. The match was organised by John Mitchell and Bobby Moore's marketing and promotions company, MMA (Mitchell Moore Associates). The Kiwi's possessed four players with World Cup experience and won 3-1 with Clark heading in the City goal.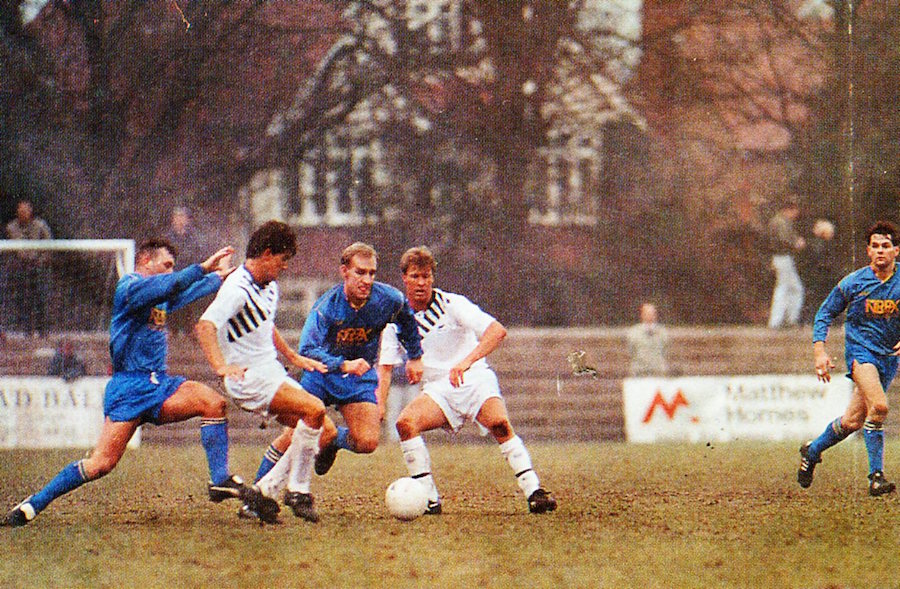 Above: Paul Hobson,
Steve Clark
and Steve Scott in action against New Zealand.
City's flirtation with the top six proved to be brief as Wokingham Town chalked up a 4-1 win at Finchampstead Road on the 8th. It was Town's third win over City in three meetings during the season and gave the Berkshire side a goals record of 10-2. Clark scored his first goal in competitive football since returning from injury but Danzey, struggling with an ankle injury, went off at half time and was not in the starting line up again for another six weeks.
The Billy Minter Trophy, launched the previous season with a one-off game with Barnet but now expanded into a two-legged affair, brought runaway Division One leaders Stevenage Borough to Clarence Park on the 11th. Two goals by Paul Hobson, the first a truly magnificent swirling strike from fully 35 yards, gave City a slender but well deserved 2-1 win. The win was gained at some cost with Paul Price, a model of consistency, being taken to hospital with a leg fracture following a tackle by the abrasive Shaun Debnam. Mitchell used the 1st leg against Stevenage to see Mudd and Anderson in action from the kick off for the first time. In goal was Lee Bozier who had rejoined City the previous week from Baldock Town.
Returning to league action, City suffered their seventh home reversal of the season in the Premier Division the following Saturday against Dagenham. Ted Hardy's side won 2-1 and in so doing maintained their unbeaten league record at the Park. Steve Scott (below) notched his fourth goal in seven games but Johnstone played his final game when his long running hamstring problem returned.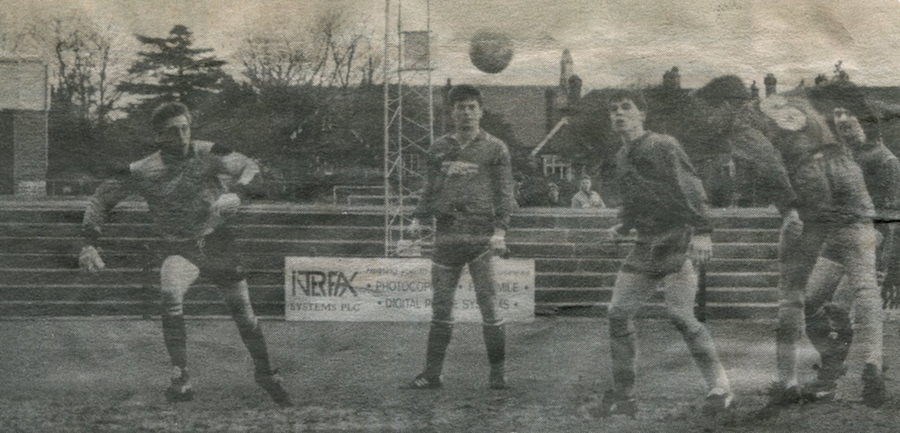 Six days after tormenting Paul Fairclough's Stevenage at Clarence Park , City winger Jimmy King repeated the torture at Broadhall Way. From a goal down City won 3-1 but it could have been a massacre as City turned on the style. Hobson converted a penalty and, for the first time, Clark and Anderson scored in the same game.
Injuries continued to hamper Mitchell's plans; Danzey's proposed trial at Sheffield United was postponed due to his injury, Price faced another month on the sidelines, and, to cap it all, school teacher Clark was to miss the next three games due to a school trip. Better news came from Garry Brooke who had resumed light training. Andy Hopping was recalled by Redbridge but was then loaned out to Barking.
Crewe look at Anderson
Two days after seeing Steve Ketteridge collect the Billy Minter Trophy from club treasurer Bill Nicholson, City played Fourth Division Crewe Alexandra in a friendly at Clarence Park . Centre of attention for Crewe was teenage City striker Anderson. One of the men on the bench for Crewe that night was Ian Rutherford who made his debut, on loan, for City the following Saturday. Clark scored the City goal in a 2-1 defeat against Crewe. John Mitchell had lined up Ossie Ardiles to play against Crewe but Ossie, recently sacked as manager of Newcastle United, was called in for a meeting with a Football League club about a possible return to management.
Rutherford could do little to help City avoid their 20th home league defeat in 34 games as Staines Town recorded a surprise 2-1 win on the 22nd. It was a result which took City out of the top half of the table. Paul Hobson lost his 100% record from the penalty spot as Town 'keeper Trent Phillips pulled off a superb save, it was the first of four City misses in six attempts. Ketteridge scored the first of his three goals for the club after future Saint Gary Crawshaw and a Josh Price penalty had put the Swans in command. Making a surprise return to the team sheet was Martyn Hirst who played three games under Mitchell in November 1986. He had spent most of the season playing for the Reserves but left shortly after being named as an unused sub for the First team. Mitchell reacted angrily to the constant failings in front of their own fans by placing high scoring midfielder Hobson on the transfer list.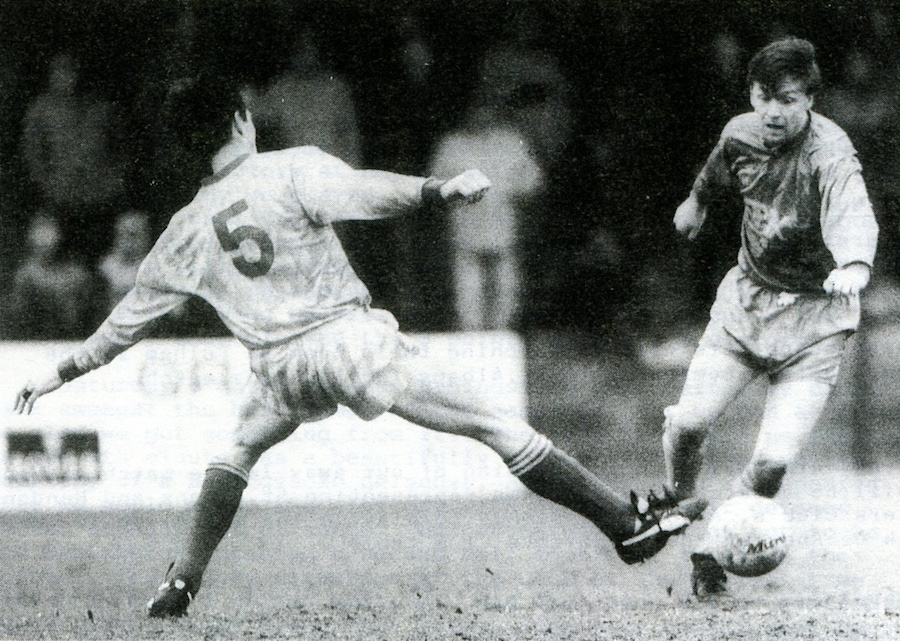 Steve Ketteridge takes on Staines' defender Gary Dodd.
The month was seen out with two more home games. An impressive performance by Hendon on the 25th was marred in the closing stages as referee Mr Williams had to dismiss the Dons duo of Malcolm Stewart and Nigel Keen in separate incidents. Anderson gave City an early lead after Dons 'keeper Dave Root had blocked a Rutherford penalty, but Robbie Garvey equalised, again from the spot, after Dowie had conceded his third penalty in successive home games. The attendance was 510, the highest at Clarence Park in the final 15 home games of the season. Injury ruled the influential Jimmy King out of the next two games but Ian Scott was able to return after ten games on the sidelines.
A fourth successive home Premier Division game on the 29th again failed to yield maximum points as Basingstoke Town escaped with a draw after surviving a string of wasted City chances. Indeed, the Saints' only goal in the 1-1 draw came courtesy of Town defender Steve Riley. Town's equalising goal was set up by the recently transferred Tommy Langley. Earlier in the week Anderson spent a few days with Crewe and made a favourable impression. With King and Danzey not fully fit City extended Rutherford's loan at Clarence Park by another week. Mitchell revealed that four clubs had shown an interest in Hobson but added that City would want a five figure fee. "The uncertainty of clubs looking at Paul has affected his game so now that his name is on the list clubs can come into the open and we can start talking business," said Mitchell. Clubs believed to be most interested in signing him were Hendon, Enfield and Woking.
MARCH: League Cup bid ends with semi-final defeat
After a run of just one win in six home games the gloom was lifted on 3rd March with a 4-2 win over Bromley. As with the League Cup tie, Bromley took the lead but goals by Clark, Hobson 2 and Anderson, who converted a penalty, carried City to a 4-1 win.
A trip to lowly Harrow Borough's Earlsmead ground on the 7th saw King come on at half time for Anderson who limped off after a challenge by former City player Steve Shea. Before his withdrawal, Anderson had again scored from the spot while Kevin Mudd, against his old club, added the second. Harrow grabbed a much needed point, which lifted them off the foot of the table, with goals from Paul Ripley, his 22nd of the season, just nine seconds into the second half, and a David Gipp penalty in the final minute.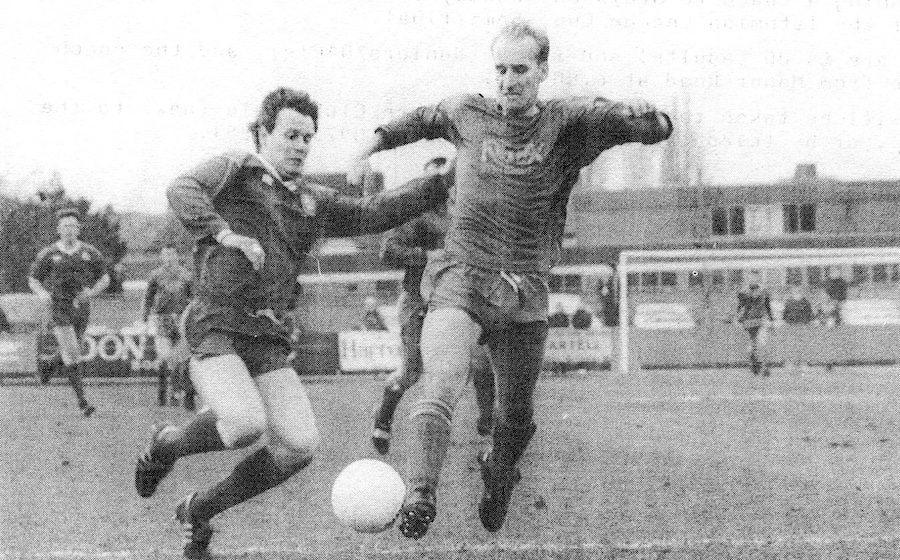 Above: Steve Clark is about to be brought down by Harrow Borough defender Warren May. Bradley Anderson (below) scores from the resulting penalty.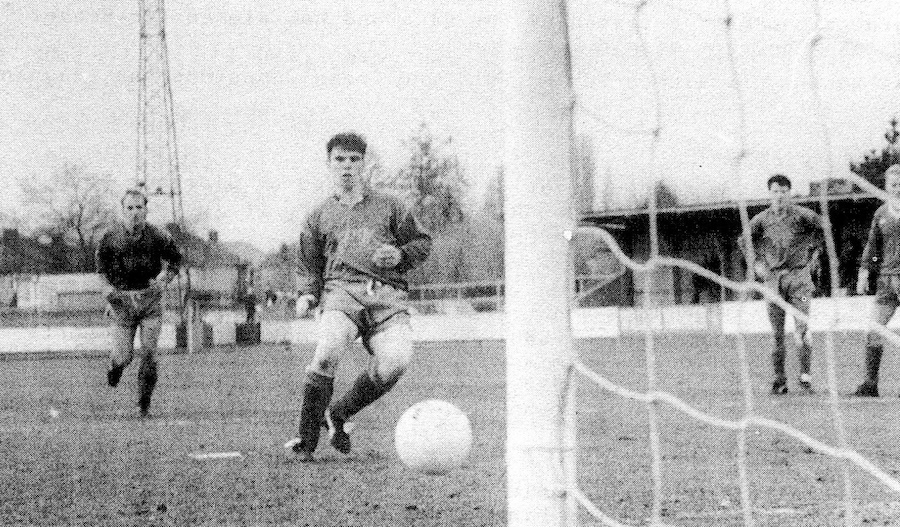 Mitch had stated that he wanted either Woking or Enfield in the semi final of the League Cup as he felt that their style would suit Saints better than Grays long ball game. He didn't get his wish but in the opening 19 minutes of the 1st leg all appeared to be going well as Steve Clark neatly tucked away two crosses from King. With City looking dangerous every time they went forward a John Colfer own goal (credited by Grays to Ricky Crown) sandwiched between Clark's goals hardly seemed of any great significance. But City's early menace soon wore off and Phil Sammons celebrated his 450th game for the visitors by equalising in the 64th minute. Ten minutes later a melee in the Grays goalmouth ended with Mudd and Grays' midfielder Dean Crumpton being booked. Crumpton was involved in another incident soon after which saw Colfer's misery compounded by his dismissal. It was the fourth successive game between the two clubs match in which St. Albans had someone sent off (the three earlier ones being Tony Flanagan, manager Jimmy Howard and Billy Goldstone). Finishing the evening all square at 2-2 fell well short of expectations and a crowd of just 351 was also a big disappointment.
The following weekend, 14th, City faced league leaders Woking and we went down to our heaviest defeat at Kingfield in 32 years. But Woking's 4-1 win contained two highly controversial penalty decisions and it was of little surprise that referee Mike Burrell came in for scathing criticism. One player who made a sizeable contribution to Woking's win was second half substitute, and former Saint, Mark Biggins. The Cardinals second penalty was thumped home with an astonishing amount of power by goalkeeper Laurence Batty. City's disappointing week suffered two further blows with Anderson hobbling off after just 15 minutes and new £5,000 signing Martin Duffield, from Sutton United, being sent off after tangling with Trevor Baron just minutes after being booked. Duffield received an extended four-match ban after making hand gestures as he left the pitch. Woking went through the entire season with crowds in excess of 1,000 for every home game, for our visit the attendance was 1,912. With Woking being one of the sides interested in Paul Hobson it was hoped that he would shine and speed up a deal, but he had one of his quieter days and Woking's interest waned.
Better news for City came from elsewhere with the national press reporting that Derby County had placed a bid of over £500,000 for Southend United defender Dean Austin. Southend signed Austin from City two years earlier for £14,000 and agreed that St. Albans would receive 15% from his next move, less Southend's original fee. Austin, however, with his contract up at the end of the season was in no rush to move from Roots Hall and was quite happy to wait and see if a Premier League side would come in for him during the summer.
A friendly was played against a representative side from the Mid Herts League on the 17th to mark the league's centenary. Clark and Danzey scored a couple each but the biggest cheer of the night was saved for the late appearance of John Mitchell on the pitch.
Grays were back at the Park the following weekend for a Premier Division match and gained a psychological advantage for the impending League Cup 2nd Leg tie by coming back from a goal down to win 2-1. After Clark opened the scoring Steve Ward and John Campbell scored for the visitors.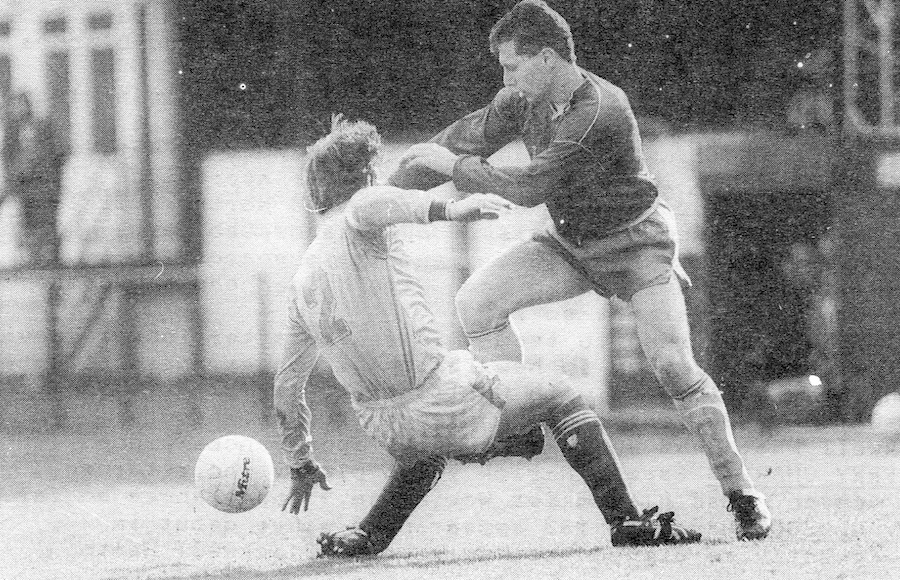 Above: Jimmy King beats Grays' defender Barry Fox at Clarence Park .
Paying the penalty
The two sides reconvened at Grays' Recreation Ground three days later on the 24th and produced a hard fought but uninspiring tussle of few chances. Paul Price, although well short of full fitness, was thrown back into the fray and Michael Danzey was also back in the side. The match looked set for extra time until a dramatic incident in the 78th minute. Roy Edwards, one of City's better performers on the day, made a rash tackle for which he was booked. From the resulting free kick Danzey rose to head the ball away but, to Lee Bozier 's complete astonishment, only managed to head the ball powerfully into his own net, (although clearly an own goal the Isthmian League again awarded it to a Grays player, this time Paul Timson). Forced to attack City at last put Barrie Delf's goal under pressure and their moment of salvation looked to have arrived in the 89th minute when Clark was felled inside the box. Three days earlier the excellent Delf had denied Anderson from the penalty spot at Clarence Park , with three different players now having missed penalties in quick succession it was agreed that Clark would take the next one. But, with him receiving treatment following the foul, Edwards took command and volunteered to save the day. Delf, however, had an air of invincibility about him and, under pressure, Edwards put his kick wide. Grays held out and defeated Enfield 3-1 in the final at Dagenham in May with Andy Alexander having an outstanding game.
City resumed league duties four days later and gave a positive display when defeating Dave Russell's Marlow 2-0 at the Park to end their 14-game unbeaten run. John Lacy was back in the side after seven games out but the headlines were claimed by Paul Hobson who struck a superb goal to go with Kevin Mudd's first half effort. Marlow had already added their name to the list of clubs looking at Hobson and his performance certainly did him no harm. While Hobo's future remained up in the air three other players had signed for new clubs. Trevor Wilkinson joined league rivals Hendon, Ricky Cornish moved to Chelmsford City and David Henstock signed for Hemel Hempstead Town.
Mitchell called for a strong finish to the season but City were denied a second successive win the following Tuesday when David Sansom struck an 89th minute equaliser for Aylesbury United in an entertaining 3-3 draw at Clarence Park . This was no ordinary end of season affair with the Ducks three times coming back after goals by Steve Scott, Mudd and Hobson had put City ahead. Hobson's goal was something of a rarity for City - it came from a penalty. Over the course of the season, City scored from just 11 of the 17 penalties they were awarded.
During the latter part of the month and throughout April, a Sports and Leisure exhibition, strongly featuring memorabilia of the football club, was held at the Museum of St. Albans in Hatfield Road. Keeper of Local History, Harriet Purkis, was pleased with the interest shown in the football memorabilia. "St. Albans City Football Club attracted a lot of attention. A comment in the comments book from a football supporter who had never visited the museum before is more than enough reward for me," she said.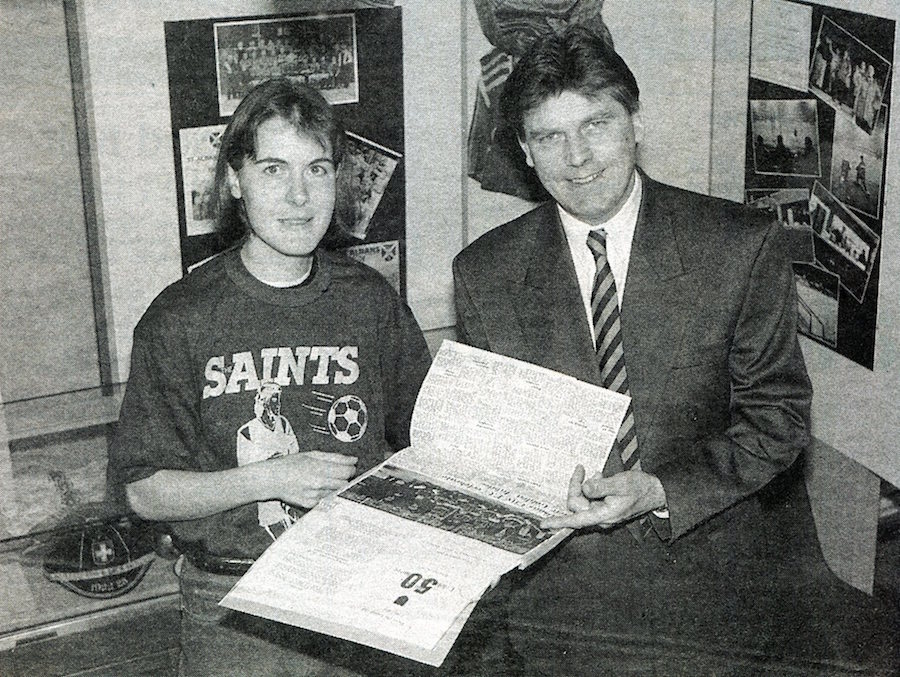 Above: John Mitchell with Harriet Purkis from the Museum of St. Albans.
APRIL – Season peters out
A twenty year wait for a win at Hendon's Claremont Road ground was ended at the start of the month with Michael Danzey's 15th goal of the season seeing off a Dons side that gave a poor showing after looking useful at Clarence Park . Danzey was a lone figure in attack as City shuffled the pack to cover for Steve Clark . City's top scorer was sidelined after what had seemed to be a minor knee injury became infected and eventually led to a hospital visit. Clark's latest absence took his total of missed games for the season to nineteen.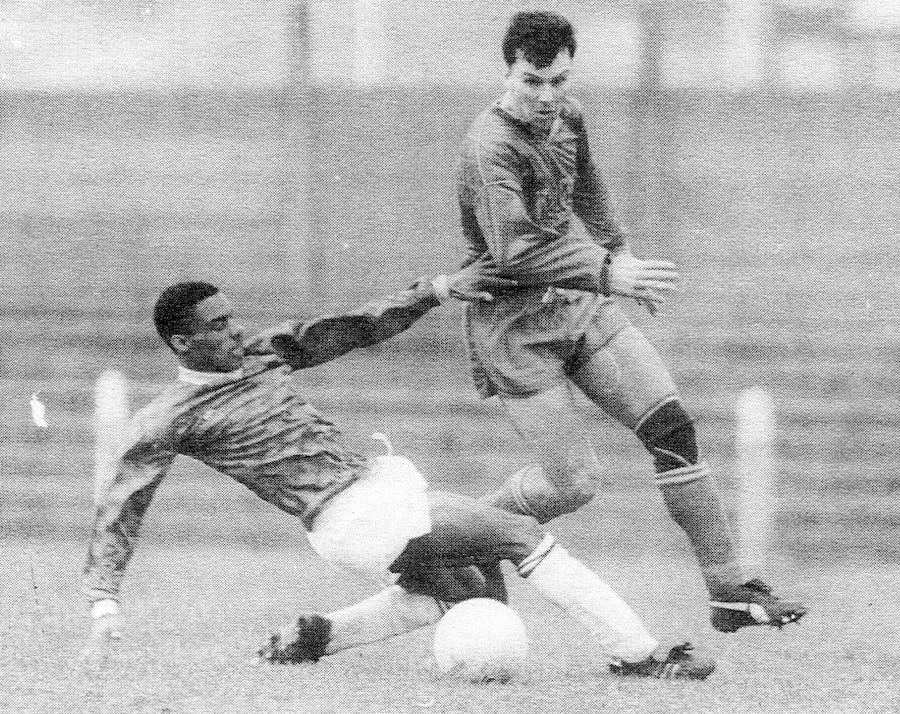 Above: Roy Edwards during the win at Hendon.
Two days after winning at Hendon, City secured their highest total of points in the Premier Division with a point gained from a dour goalless draw with Dagenham at Victoria Road. Martin Duffield returned after suspension as a half time substitute for John Lacy .
Steve Scott, who made more consecutive appearances during the season than any other player, was only named as sub for the next match at home to Sutton United. City began promisingly and a flowing move enabled Hobson to score his 20th goal of the season. Thereafter, City fell away badly and Sutton were able to extract some revenge for their two defeats at home to St. Albans earlier in the season by winning 2-1.
A return trip to Aylesbury United a week later saw City travel home from Buckingham Road pointless and reflecting on missed first half chances that contributed to a 2-0 defeat. Danzey played for almost an hour but was still being troubled by his long-term knee injury that later necessitated an operation. Cliff Hercules scored twice for the Ducks as he took his career record with the club to 212 goals in 415 games.
City supporters had a new face to get used to for the penultimate away game with Chesham United on the 22nd. Mitchell brought in Jimmy King's brother, Alan, who still resided in Scotland at the time but was looking to move south. King's debut was soured by an 89th minute booking. Ian Scott, who had the unfortunate distinction of being the first player released at the end of the season, was in the starting line-up for the last time. A close game looked to be heading City's way when Clark powered home a Steve Ketteridge cross in the 64th minute. Micky Banton pulled the home side level and fellow substitute Mark Dawber put United ahead in the final minute. Seconds later, Banton tucked home the goal which ensured that our eleven-year unbeaten league record at The Meadow was over.
Paul Hobson became the centre of attention for City's final match at Clarence Park on the last weekend of the month even though he wasn't selected for the game. Two days earlier City had accepted a bid from Enfield of £12,000 and Hobson duly agreed personal terms with the Southbury Road club. The transfer was completed the following Tuesday 28th April.
Prior to the match with Kingstonian on the 25th, an entertaining 2-2 draw, Hobo did manage to get onto the pitch to receive the supporters Player of the Year trophy. Looking towards next season Mitchell left Hobson out of his side but City still put in a fighting display and hauled themselves back from two down to grab a point. David Pearce struck twice for K's whilst Clark and David Ross replied. The match wasn't without controversy though. Referee Mike Burrell was laid out (right) when taking a clearance by Martin Duffield full in the face, he continued until being replaced by his senior linesman at half time but riled Saints by disallowing a Jimmy King goal for a foul by Clark. Substitute referee Mr Ripper further angered City by crossing off a headed goal by Clark for offside. After the game City filed reports of complaint against both officials. Burrell was the referee who dismissed Duffield earlier in the season when making his City debut at Woking. The match was the last of the season for Bozier, Ketteridge and Alan King who collected his second booking in two appearances. It was City's 46th and final booking of the season.
Below: Paul Hobson, who emigrated to New Zealand once his playing days were over, receives the Supporters' Player of the Year trophy from City chairman Bernard Tominey.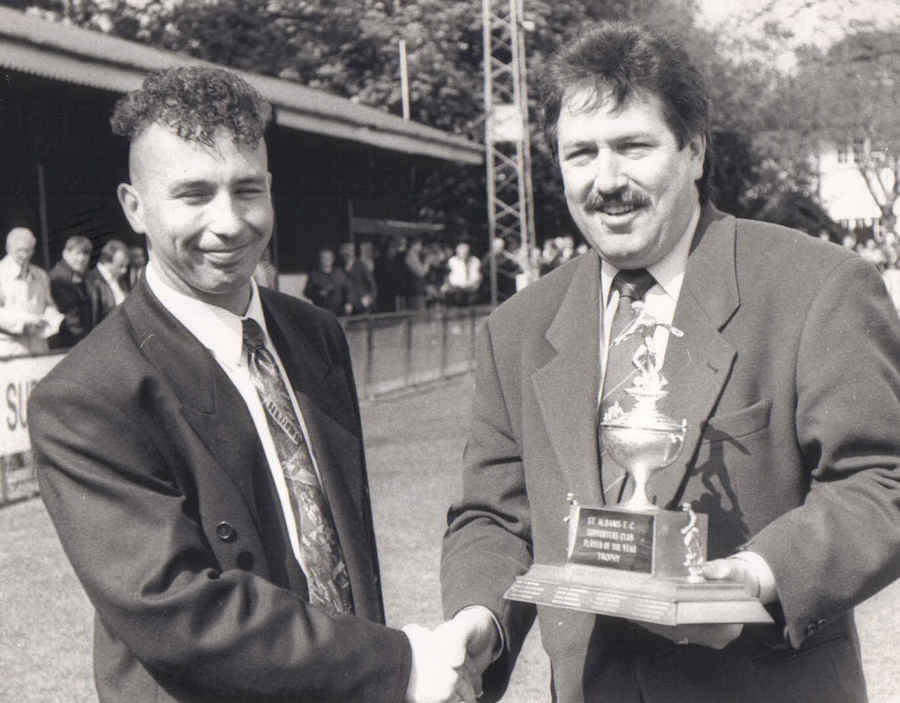 May: City in France
City ended the competitive part of the season with a trip to Bishop's Stortford who had the dubious distinction of being the only club to be relegated within the whole of the Isthmian League. With Lee Bozier unavailable, Simon Bartley had his first run out in the senior side since March 1991, he was the fifth goalkeeper used by the club during the season. Paul Halbert, signed from Aldershot following the demise of the Hampshire club, was quite impressive during a brief run out as a second half substitute. Anderson twice headed against the woodwork but it was Steve Clark , for the third successive game, who found the target in a 1-1 draw. It was Clark's 29th goal of the season in just 42 appearances, fully justifying the £5,000 John Mitchell invested in him the previous summer. But a troublesome domestic season had to have a controversial end and just seven minutes from time Bob Dowie became the eighth City player to be dismissed. Booked three minutes earlier for dissent, Dowie retaliated with a head butt after being elbowed in the mouth by Devon Gayle and left the referee with no choice but to dismiss him. Somewhat surprisingly, though, Gayle was allowed to stay on the pitch.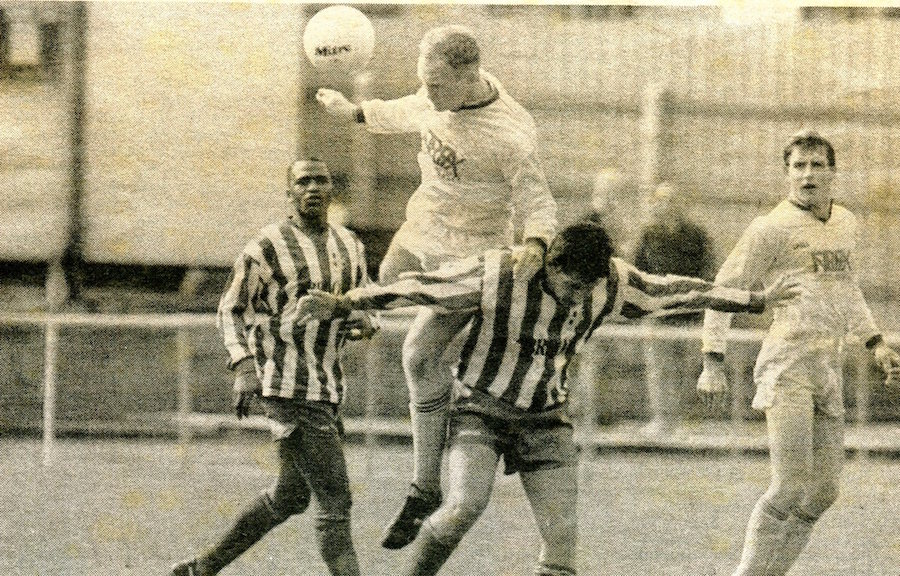 Above: Kevin Mudd looks on as Bob Dowie wins a header prior to being dismissed at Rhodes Avenue.
End of season awards
One day after the draw at Bishop's Stortford, the club held its annual Presentation and Dinner & Dance at the Watford Hilton Hotel. One of the most significant presentations made was to George Walker, chairman of St Albans City Youth, to mark his 50 years of involvement in Hertfordshire football. Club President Malcolm McMillan presented George with an inscribed silver-plated plaque.
Bob Dowie collected the Players' Player of the Year trophy while Don Walker won the award for the Reserve team and Lee Wakefield for the Youth. Ron Nicholson, brother of City Treasurer Bill Nicholson, was presented with the Clubman of the Year award.
The season may have fallen short of expectations but it ended with a sense of adventure as the club fulfilled two friendly matches in France in May. Departing from Gatwick on Cup Final day, 9th May, and landing at Nice, the players and attached party stayed in the picturesque hillside resort of Holiday Green in Rue de Bagnols, Fréjus. The site was owned by Ken Hill, a former Mayor of St Albans and one-time City chairman and president.
For the opening match, on 12th May, the opposition was due to have been Draguingnan but their place was taken by local side Puget. (Above; distant action from the game). It was a feisty encounter, particularly during the first half and City trailed by a single goal at the interval. John Mitchell brought himself on to restore some discipline after the break and with goals from Steve Scott, Michael Danzey 2, and Andy Cox, City ran out 4-1 winners. Initial reports stated that Cox's goal was an own goal. This was due to him being a contracted player with Hayes at this time and should not have guested for St Albans on the tour. In some of the team photos he is seen with his head bowed to avoid identification. The first half of the game was refereed by a gentleman from the French club. Due to his lack of control of events on the pitch, he was replaced at half time by the City club secretary Steve Trulock, a qualified referee. Steve had run one touchline during the first half with City supporter Leigh Page on the opposite line. City's kit man John Harvey replaced Steve on the line after the break.
Two days after defeating FC Puget, Saints faced French Division Three (regional) side Fréjus. The opening half was enjoyable with some good football from both sides but after the interval the match again deteriorated. Saints twice led through Danzey and Paul Halbert but 2-2 at the final whistle was a fair result. Wisely, the referee terminated the game a good six minutes early. City suffered a serious blow midway through the second half of the Fréjus game with Martin Duffield going down with a serious knee injury. Duffs later rejoined City at a restaurant after a local hospital had completely covered his leg in bandages. Danzey was another on his way to hospital. At 5am on the day after the last game he travelled to Nice airport on his way to London for an operation on his injured knee that afternoon.
Alan Dawson (Assistant Manager), Kevin Mudd,
Bob Dowie
, Steve Walduck, Ian Scott, Paul Price, Michael Danzey,
John Mitchell
(Manager), Bernard Tominey (Chairman)
Steve Scott, Martin Duffield, Paul Halbert, Jimmy King, John Colfer, John Harvey (Kit Man).
The club slogan, 'March with the Saints,' took on a new meaning during the tour when the players mini-bus ran out of petrol and had to be pushed by the team to the nearest petrol station. The problems didn't end there as the station was closed so a march through the town to the beach was called for.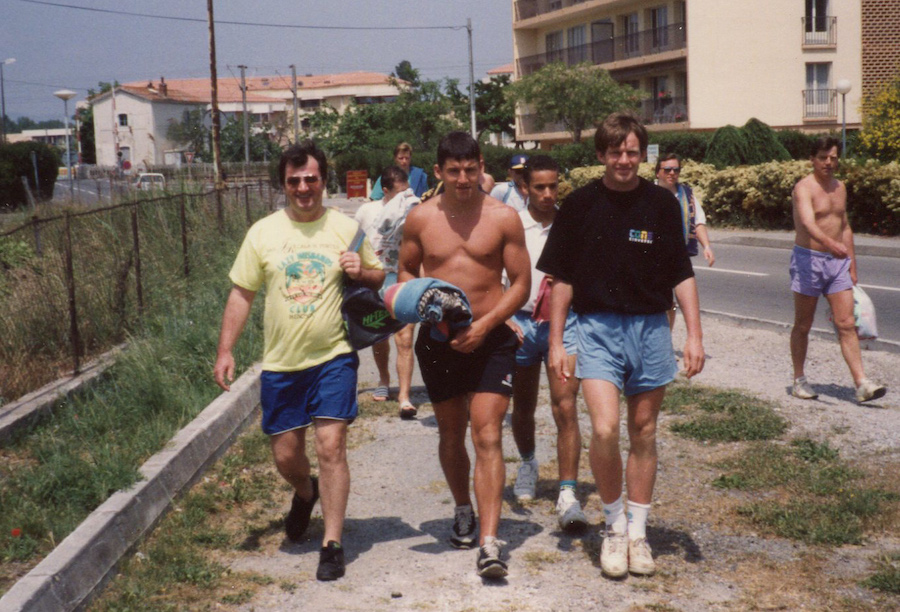 Left: John Harvey (kit man), Andy Cox, Paul Halbert, John Colfer and (right) John Mitchell lead the way.
John Mitchell felt that the tour had been a success and on his return to Harpenden said, "We went out there to have a look at one or two players and I was pleased with what I saw. We had two very tough games but to be honest I was a little disappointed with the French, I thought that they would show us a lot more and they got away with a lot of things which you just wouldn't in this country. But overall, I was pleased with the way it went."
A French report on the two games pointed the finger of blame for the physical nature of the two games squarely at St Albans door. The opening paragraph of a match report stated, 'In the language of Shakespeare the word Friendly certainly exists, although the footballers from the other side of the channel mustn't use it very often.'
On 27th June 1992, John Mitchell was interviewed at his Harpenden home. During an hour-long chat he covered a wide range of topics in connection to St Albans City.
The expectations that everyone had at the club at the start of last season were not fulfilled which was a big disappointment to me personally. However, I've had to take a longer term view which I've always maintained is the mainstay of any successful football club. Comparing the quality of the players we had at the end of the 1990/91 season to those at the end of last season and you can see that the stature of these players has grown. What we haven't got yet is the right mix. In the recent European Nations Championship we saw a side (Denmark) which got in through the back door pull together and pull off a remarkable win. It was amazing to see what could happen by everyone pulling together, that was an ingredient which was missing at St. Albans last year.

One of the major steps taken this summer has been to ensure that we have 18 players who are totally committed to playing for St. Albans City Football Club and can build a club spirit which is second to none. In my previous years at the club as manager I think everyone will agree that we had a bunch of players who would die for the club. We've seen all too often in the Football League that the top sides can buy the best players but without the right will to win they won't succeed. This is often what stops a good side becoming a great side.

One can't really go on about the past but we recently had an exhibition at the Museum of St. Albans and it was interesting to read how even in the days of Billy Minter everyone pulled together. But the days are gone whereby clubs were run on just a few pennies and times have changed with the non-league game being recognised as a very powerful commodity. The game has undergone major changes over the past 2-3 years since the Justice Taylor Report and St. Albans has had to go with the flow. We sunk a lot of money into a complete refurbishment of the bar, the tea bar and the directors' room. Now we are looking at a better quality of seating for the spectators. All of these things cost a substantial amount of money and coupled with the expenditure on players you get an idea of the sort of capital one has to raise to run a club even at our level.

Our record in recent seasons at selling players into the Football League is probably as good as any non-league side and it is something which I hope we can continue. We need to be active in that way because until we get a winning and successful formula on the pitch we will not survive on revenue through the turnstiles. A side like Woking only comes along once in a while and we sincerely hope that we will be the next Woking. But, as I said before, until we get into that position we can't rely on normal commercial activities or our gate receipts to see us through. We have to be seen to be creating additional revenue, I think that our success in the transfer market is also a big plus for the club as a lot of players want to come to St. Albans on the basis that they know we are very much a kind of shop window for League sides. On saying that I don't intend us to be continually shifting players in and out, the ideal scenario is to sell one player a year. This would be the perfect balance between keeping the quality of the side up and meeting the financial requirements of running a major non-league football club.

The most contentious issue concerning the club in recent months has been the closing down of the Reserve and Midweek Youth sides. As I've said before in the local press it was a decision taken at the top end of the club where we've had to analyse the full immediate benefits to the club of those two sides. Once you've looked at the facts in detail you come to the conclusion that there have been no immediate benefits to the First team. Sometimes in football you have to take hard decisions which are going to upset people and believe you me it was a very hard decision for us to make. I'd very much like to see St. Albans City run 122 sides but the reality of it all is that, to some degree, it is a drain on income and is certainly a drain on resources. Everyone connected with the club knows the problems we've had with using the pitch, so when packaged with the lack of benefits to the First team and the financial commitments, then one can easily justify what was a very difficult decision. The bottom line is that we have not had benefits from either the Reserves or the midweek U18 Youth side. We had Youth players last season who preferred to play for local sides rather than our Reserves because the Reserves league wasn't of a good enough standard and that can't be right.

Looking at my own case I had to go away and play for Hertford Town before making it at St. Albans and in David Ross we have seen that that situation still exists today as he had to play for Wealdstone before he could gain his spurs and get into our side. Ideally, we would want players to come through the Youth team into the Reserves and onto the First team but it just hasn't happened that way. Farnborough, Redbridge and Barnet have all shown that you can have success by running just one side. We just failed to get a side entered into the Capital League for the 1992/93 season but we will keep on trying as I do believe that the better quality sides we attract to Clarence Park the better it is for our players and supporters alike.

Discipline was very much a topic which followed us around last season and as the manager the buck stops with me. We, as a side, changed an awful lot of things around last year with many new players coming into the club. Had those players not come, then players such as Paul Hobson would not have materialised into the better players we saw them become. When we brought in players like Steve Clark and Jimmy King, surely no one would argue against them being great players, it could only be to the benefit of those already on our books. What you can't expect is to bring in eight players and see them all blend together immediately, that is the same at all levels of the game. I played in the pro game for 9-10 years and the best side I played in was not necessarily the best side for individual ability.

But getting back to the discipline angle it was reflective of not having everybody together as a unit, one or two people were frustrated at times and it showed a little bit on the pitch. I take full responsibility for that, I was the manager and the players were fined. Clearly the formula for fining them wasn't right and that will be stepped up this year but I do believe that we will see a different type of St. Albans. People mustn't forget that before last year we had something like three or four years where we saw little good football, but there was a short spell last year where we were absolutely magnificent. We have now set our standards and that is what we must aspire to, we have to do it consistently.

One area which we have focused on closely in the summer is the defence, you can't go on conceding the type of goals we gave away last season and expect to have success. So hopefully we have strengthened this area, put the discipline right and will now go out there play the game the right way and put a smile back into St. Albans game. A lot of people have come up to me over the past twelve months and said that we've turned the corner with the quality of players we've got and although the results haven't gone right for us, they do believe that we are on the right course. Now we have to make sure that we have completely turned the corner.

On another front it has been very pleasing to see how well two individuals have slotted into two key positions on the administration and commercial side of the club. I think that the commitment shown, the dedication and love of the game our secretary Steve Trulock has clearly shown through. Early on he suffered some adverse publicity, through no fault of his own, but has since shown just how misinformed that information was. It seems kind of ironic that you get someone of the quality of Steve who steps in and immediately gets a slap in the face. He responded well and to be perfectly honest he has been a first class secretary. Steve has been very easy to work with and at almost any hour of the night has gone flying halfway round the M25 to sign a player for me. As a manager you need to have a good secretary and we are very fortunate to have him.

John Golfer is probably a little like Steve, myself and numerous other people who are totally dedicated to the club. We've had problems in the past with the commercial side and it's very pleasing that John has taken on that particular role. He has already shown an excellent aptitude to the job and people will see new things happening at St. Albans City Football Club which will be extremely beneficial to the running and efficiency of the club. He has been a credit to us and I'm sure that this is going to be a long and, hopefully, successful relationship. John has two roles at the club now as a player and as commercial manager, but he has the shrewdness and is streetwise enough to get through the pitfalls that these two jobs could throw his way.

My final point concerns our supporters for I believe that we have a new breed of supporter. We must have something like a dozen lads who have emerged in the past year who have given us real hope for the future. They, like us, have rolled up their sleeves and got stuck in and have substantially helped the club during the close season. Their help during the summer has given the club a tremendous boost. Last season their support was fantastic and if anyone deserves success then they do. I'm very grateful for their support and let us hope that in the future we can give them the success that we all want. I would hasten to add one more point which impressed me about them more than anything. We had a spell last season when we were absolutely brilliant, perhaps the best side in the league. We also had some very bad times but through the good and the bad times they stuck with us and gave unbelievable support. Everyone including the players fully appreciated this support. One of the biggest motivations for me is that these supporters haven't tasted the success we had a few years ago and I want them to taste it in the future. Hopefully this season we will bring them that success."
John Mitchell , Vice-chairman and Manager of St. Albans City Football Club.
FROM THE CHAIRMAN - BERNARD TOMINEY
A THREE-YEAR REVIEW OF ST. ALBANS CITY F.C.
The 1991-92 season was Bernard Tominey's third season as chairman of St Albans City. Writing for the City Yearbook he looked back on the changes made to the club during this period.
"FACILITIES FOR SPECTATORS. - New Bar facilities. - Improved tea-bars. - New seats in the main stand. - New boardroom facilities.

SPONSORSHIPS. We have achieved tremendous sponsorship support over the last three years growing from almost nil at the start to £75,000 per annum now. Local interest from companies has grown although there is still a lot of work to do; the appointment of John Golfer here to tap local potential for extra revenue will prove to be very beneficial to the club.

LANDLORDS RELATIONS. We have achieved a greater support from the council and St. Albans Leisure who are our landlords through better working relations. Many improvements to the changing rooms including new shower areas, new water boilers and stand re-painting have been made. More improvements are underway, including better referee and linesmen facilities, a new medical room and improvements to the fencing around the ground.

The requirements to improve grounds grows all the time since the Taylor Report and the upgrading of facilities now required by the Diadora (Isthmian) League. Fortunately, we have progressively improved our facilities so that not a lot of additional work is necessary, even so the work outstanding will still cost £100K plus. This includes - 1) New medical and physio facilities. 2) Improved boardroom facilities. 3) Improved ground and enclosure fencing. 4) Better office facilities. 5) Possible enhancements to the floodlights. Like all clubs we are under constant pressure to improve and it is our objective to have the best spectator facilities in our league over the coming years.

To assist our ground development objectives a number of special events have been held in previous years. This year we have the Saints Golf Day in July, Sports Dinners in September, December and March with a summer ball planned for next May following a five-a-side tournament featuring many local clubs. The target for these fundraising events is to raise a substantial amount of revenue which will go towards the overall development of the club.

TEAM AFFAIRS. We are fortunate to have the services of John Mitchell as manager (as well as being vice-chairman of the club) and Steve Ketteridge as an able assistant manager. I believe that this management team is as good as any in the league. With our objective being to become the top non-league football club in the country we are well placed to progress. The team has not achieved the success that we are all hungry for in the last three years but last year's first full year for Mitch, back in charge after a few seasons 'resting' showed some encouragement. We have a number of quality players added to recently by a further intake of some of the best players in our league which hopefully will put us in a good position to challenge for honours this season. Our hopes are high for a good FA Cup run and a high finishing position in the Diadora League Premier Division. We are also looking for an improvement in our disciplinary record.

We compete in a tough and highly competitive league in which other clubs are building their resources and looking to achieve glory too. Let's hope that we are soon to return to the successes of the past and bring a new era to the club.

SUPPORTERS. We are fortunate to be able to rely on a large core of local supporters and anticipate that we can lure many more Saints fans back to the Park if we can achieve our objectives on the pitch. We are very grateful to all the supporters who have helped to install the 'new' seats in the stand during the summer and also for their efforts in helping to improve our facilities through grass cutting, re-painting the interior of the stand and generally tidying up. We always welcome new supporters so encourage your friends and colleagues to come down to Clarence Park to enjoy what we all hope will be a good season.

PLAYER TRANSFERS. Our policy introduced three years ago of contracting our best players has paid off through the transfer of players to Football League clubs. We have sold Tony Kelly to Stoke City for £45,000 and Dean Austin to Southend United for £14,000 plus a potential £77,000 from his recent sale to Tottenham Hotspur. We encourage young players to progress to League clubs for the benefit of themselves as well as the club. We believe that this policy encourages the best young players to come to the Saints knowing that we will provide them with expert coaching and encourage them further up the football ladder.

UNDER 18 MIDWEEK YOUTH AND RESERVE TEAMS. Regrettably we have disbanded these teams to concentrate on the development of the First team of the club. Unfortunately, neither team had produced sufficient players for the First team. We continue to retain our affiliation with the St. Albans City Youth teams and with it the overall development of youth football in St. Albans.

To close I would like to thank all the 'backroom' staff who contribute so much to the club. Ron Nicholson thoroughly deserved his award as Clubman of the Year for 1991/92 but there are others to be thanked including Malcolm MacMillan (Club President), George Walker (a director and chairman to the City Youth), Steve Trulock (Secretary), Bill Nicholson (Treasurer), Syd Wells (Match Secretary), Ray & Jane McCord (bar), Andy Hammond (Clubcall), Terry Edwards, Steve Eames, John Lister and the whole of the Harvey household (John, Pauline, Mark & Michelle). Special thanks go to those supporters who did so much around the ground during the summer and congratulations to the Programme production team for yet another successful season. Finally, many thanks to all the sponsors and contributors to the club and let's look forward to a successful season both on and off the pitch in 1992/93."
BERNARD TOMINEY Chairman of St. Albans City Football Club.
Photographs courtesy of John Sherwood, Herts Advertiser, St Albans Observer, St Albans Herald, David Tavener (photos from France).
Final Standings 1991-92
ISTHMIAN LEAGUE - PREMIER DIVISION
1991/92
P
W
D
L
F
A
GD
Pts
1
Woking
42
30
7
5
96
25
71
97
2
Enfield
42
24
7
11
59
45
14
79
3
Sutton United
42
19
13
10
88
51
37
70
4
Chesham United
42
20
10
12
67
48
19
70
5
Wokingham Town
42
19
10
13
73
58
15
67
6
Marlow
42
20
7
15
56
50
6
67
7
Aylesbury United
42
16
17
9
69
46
23
65
8
Carshalton Athletic
42
18
8
16
64
67
-3
62
9
Dagenham
42
15
16
11
70
59
11
61
10
Kingstonian
42
17
8
17
71
65
6
59
11
Windsor & Eton
42
15
11
16
56
56
0
56
12
Bromley
42
14
12
16
51
57
-6
54
13
St Albans City
42
14
11
17
66
70
-4
53
14
Basingstoke Town
42
14
11
17
56
65
-9
53
15
Grays Athletic
42
14
11
17
53
68
-15
53
16
Wivenhoe Town
42
16
4
22
56
81
-25
52
17
Hendon
42
13
9
20
59
73
-14
48
18
Harrow Borough
42
11
13
18
58
78
-20
46
19
Hayes
42
10
14
18
52
63
-11
44
20
Staines Town
42
11
10
21
43
73
-30
43
21
Bognor Regis Town
42
9
11
22
51
89
-38
38
22
Bishop's Stortford
42
7
12
23
41
68
-27
33