The summer of 2009 was a tough time for managers of non-league football clubs. Indeed, with the recession biting hard and unemployment rising, it was a difficult period for the country overall. But the problems facing St Albans City manager Steve Castle seemed more acute than those confronting many of his counterparts in Conference South.

The club, certainly off the pitch, was in a dreadful state. Since coming under the ownership of John Gibson and his company, William Verry Ltd, in February 2002, the Club had built up a mind boggling debt of well over £500,000. Just to make matters worse, this debt was owed to a company that went into receivership in May 2009.
Such was the mysterious way in which the accounts of St Albans City were kept the money loaned to the football club was not loaned by the parent company, William Verry (Holdings) Ltd, but a subsidiary, William Verry Construction Ltd. This branch of Verry's went into administration early in May with Holdings following along shortly after with total debts amounting to a staggering £19.1m. The accounts to June 2008 showed that Construction had loaned the football club £527,147. This was a rise of almost £80,000 on the previous year, so it would not be unreasonable to believe that the loan to St Albans City could have been in the region of £600,000 by June 2009.
BDO Stoy Hayward was appointed to act as administrators for the entire Verry Group. This included taking a look at the football club and, it is believed, BDO decided that due to the club having no assets (the ground being owned by the St Albans & District Council) they would not place the club into administration. They did, however, wipe off the loan from Construction to the football club, thereby making St Albans City debt free. Whilst this was obviously good news for supporters it did appear to be a move that bore some similarities to events at Southampton. The only difference being that the south coast Saints were placed into administration and suffered the subsequent points deduction. An investigation by the Football Association into club affairs late in the summer gave St Albans, possibly surprisingly, a clean bill of health.
By this time Gibson, chairman of St Albans City and a director of William Verry Ltd, had made moves to reclaim possession of the club and obtain new funding. In May, as Verry's fate became public, he announced plans to get ten groups or individuals to invest £10,000 each in exchange for a 10% stake in the club. Within a couple of weeks it was evident that this plan had failed completely. In midsummer he held talks with, it is believed, two groups interested in investing large sums in the club. Those closest to him at the football club believe he was on the point of finally walking away from Clarence Park when these talks began. For some reason he did not sell the club to either party and early in the new season investment was made in the club by at least three individuals and one company.
With William Verry no longer in existence the club, in theory, was no longer Gibson's to sell. But, most astonishingly, he had been able to purchase back from the administrator William Verry's holding in the club, debt free, for a meagre £5,000. The club was now owned by a company that was unknown to its officers, let alone its supporters. The identity of the new owners was later revealed as Wisetrip (St Albans) Ltd, with their offices registered at Gibson's home address. Later in the season the registered address was changed to Whitley Bay, the home of William Verry's accountants. Although the administrator had wiped off the loan made by William Verry Construction Ltd to the football club there were other day-to-day bills to be cleared, by the time of the start of the season it is thought that these were probably in the region of £30,000.
Shortly after the start of the 2009-10 season Gibson pushed once more for new investment in St Albans City. Since the demise of William Verry he had been working as a consultant for the Abingdon based construction firm Leadbitter. His keenness to tie himself in with another construction company as soon as possible leaned heavily on a major project Verry's had secured prior to their collapse. Verry's had won the contract for the huge redevelopment of the Oaklands College campus at Smallford. The deal was estimated to be worth anywhere between £70-£110m. But the collapse of Verry's was hastened when the Learning Skills Council failed to come up with the previously anticipated 50% funding of the project. Oaklands was just one of a number of projects around the country that did not receive the funding expected from the Learning Skills Council due to this government body running out of money.
Although the loss of that project probably played a major part in the demise of Verry, there was still plenty of other redevelopment work to be done at Oaklands and Gibson curried favour with Leadbitter by winning for them the contract to carry out such work. The prospect of houses being erected on part of the land owned by Oaklands was thought to be of great interest to Leadbitter.
Company rules state that Leadbitter cannot own a football club in the way William Verry had, but it is believed that part of Gibson's reward for obtaining that contract was a one-year sponsorship deal with the football club said to be worth £30,000. Leadbitter were duly invoiced for this sum, while three individuals were also invoiced to the tune of £10,000. Gibson was also confident that he would receive £10,000 from the Saints City Trust, although the members of this body made it quite clear that no such cash would be invested in the Club.
The Saints City Trust was officially launched in October 2009 but was, effectively, in operation from May 14th when its formation was overwhelmingly voted upon by supporters at meeting held in the clubhouse at the football ground. By agreement of Supporters Club members, the Trust received in excess of £9,500 from the bank account of the soon to be mothballed Supporters Club. By moving the funds from the control of the Supporters Club to a body that soon had official recognition the Trust had legally put the money beyond the grasp of an administrator should the senior club be put into administration. What supporters voting on the transfer of funds did not know at the time was that senior officials of the Supporters Club had already transferred the money into a new account, making the vote inconsequential but potentially embarrassing should it have gone against the move. Ian Rogers, chairman of the Supporters Club, had no doubts as to the aims of the Trust, 'I would like to look to the future where a majority of the club is owned by a supporters trust,' he said.
But the early days of the Trust did not run as smoothly as had been anticipated. The Trust was split into five groups, each group was led by a co-ordinator. Pretty soon two of the five group leaders had resigned and the Trust was facing criticism for just sitting on the money it had obtained from the Supporters Club rather than investing in much needed items that affected the daily running of the club. One point on which Trust officials, members and sceptics could agree upon was that no hard cash should be given to the senior club without conditions attached.
After appearing to have an amicable relationship the Trust and the Club were soon at loggerheads. By December, however, agreement was reached on how the Trust would help fund the Club with a percentage of takings from within the ground being forwarded to the Club's coffers. That the Trust took so long to announce its intentions did the new organisation few favours. Questions were raised about what was happening to the more than £9,000 transferred from the Supporters Club, plus more than £3,000 raised from a highly successful launch night. Around one month after its official launch the Trust signed up its 100th member. The Trust continued to defy efforts by the chairman of the senior club to get it to pass over £10,000 in exchange for a stake in the Club. When the chairman announced that the Trust would not be guaranteed a seat on the Board their stance gained increased justification.
With such turmoil going on in the background Steve Castle faced an almost impossible task in building a squad that could survive in Conference South, let alone challenge for honours. Spending a good deal of his time convincing players that the club was not on the verge of extinction and that they would indeed be paid, was a hassle he could have done without quite happily. And Castle found his position further undermined when both he and club secretary Steve Eames were issued with their P45's during the summer. The notices were dealt with by BDO Stoy Hayward. The secretary went unpaid for ten weeks but was reengaged for the start of the 2009-10 season.
Training Begins
The squad that assembled for pre-season training at Oaklands in early July was notable for the number of players missing that had served the club during 2008-09. The biggest absentee, in both size and stature, was Player of the Year and club captain Ben Martin . With St Albans' finances in a mess it was of little surprise that our best player should be linked with other clubs and as the summer moved on 26-year-old Martin confirmed that he had joined big spending Chelmsford City. Ben's namesake, Simon Martin , attended some of the training sessions before signing for Slough Town after scoring 83 times in 262 games for the Saints. Scott Cousins , another long serving player and captain for City's final match of the previous season, departed after making 151 appearances in six years at the Park. Cousins joined Carshalton Athletic but soon moved back to Hendon, one of his former clubs. The steady departure of experienced players continued as Jonathan Hunt , who even in his 38th year was a sheer joy to watch at times, left somewhat acrimoniously after being unable to agree terms. One player to make a quiet exit was Chris Seeby . His departure, after 190 games for the Saints, was barely mentioned, which did a great disservice to a local player who had come through the ranks and was dependable in a number of positions. Seeby, 24, teamed up with short-time former City boss Dave Anderson at Northwood.
City had struggled for goals for three season and the close season saw the departure of the leading scorer, 18 goals in 45 games, for 2008-09 Paul Hakim . Hakim, though, did not sign for another club but was sidelined due to an increased workload that ruled him out from playing on Saturday's. This restricted him to just a dozen, goalless, appearances during the season. The last of the established players to leave was Hassan Sulaiman who played in three friendly matches and returned to play in one Reserve team match early in the season before finally cutting his ties at Clarence Park . One player who made a good impression during the latter part of the season when recalled by Castle for a second spell was Hector Mackie ., But he too was not around come the start of the new season as he enlisted as a student at university in Bath. Mackie signed for Weymouth but his season was ruined by a cruciate knee ligament injury in his first run out with the Terras. City also looked in danger of losing central defender Ryan Frater who had a trial with Luton Town but didn't move to Kenilworth Road and was made club captain at the Park.
Castle was not short of new faces at the early training sessions as he shared coaching duties with his new assistant manager Mark Peters . A central defender, Peters was Player of the Year at the financially troubled Kings Lynn in 2008-09 and could look back on a professional career that began at Manchester City and took in stops at several Football League clubs including Peterborough United, Mansfield Town, Leyton Orient and Cambridge United.
City's first practice match was a friendly with Peterborough United at Clarence Park on 14th July. The Posh were without former City striker Craig Mackail-Smith due to injury. The 19-man City side included such familiar faces as Paul Bastock , Alex Bailey, Luke Thurlbourne , Ryan Frater , James Quilter , Gary Cohen , James Fisher and the soon departing Simon Martin . The trialists included left-back Jamie Thurlbourne (elder brother of Luke), central defender Julio Barnes (from Stevenage Borough), midfielders Darren Quinton (Braintree Town), Gazmend Davti (appeared briefly for the Reserves the previous season), Ryan Maxwell, striker Drew Roberts (Hemel Hempstead Town) and wide men James Edgerley (Hitchin Town) and Phil Kane. Castle also took a look at Daniel Chillingworth as he sought to strengthen his attack. But Chillingworth, a strong target man with a good touch who had two previous short spells with the club, had been beset with injury problems for a number of years and early in the season a succession of niggles cut short his latest attempt at a comeback. Peterborough won 4-0 with former Hampton & Richmond Borough striker Ben Wright netting a hat-trick.
Four days later City played a trial match of three 30-minute segments against Hayes & Yeading United at Oaklands. One new striker on show was 21-year-old Jamie O'Donoghue, formerly of Brimsdown Rovers. The match was drawn 1-1 with Cohen equalising for City after Rob Gradwell put Hayes ahead from the penalty spot. Although just a training match Luke Thurlbourne was booked along with the Hayes duo of Gradwell and Joe Stevens; none of the bookings were forwarded to the F.A.
Another new face for a friendly at Harlow Town on the 21st was Danny Green whose glorious drive gave Harlow a thrilling F.A. Cup victory over City the previous September. Solomon Shields was given his first run out of the summer as Harlow won 4-2. Late goals from Shields and Fisher did little to hide the embarrassment after Ricky Crece, Joe Stevens, Clark Akers (penalty) and John Frendo had put the home side into an uncatchable position. But Harlow's on pitch success was at odds with the utter turmoil that engulfed it behind the scenes. Chairman Simon Morgan had resigned earlier in the day and after the final whistle manager Glen Alzapiedi and several club staff walked out.
For City's first visit to Brackley Town on 28th July a side led by Peters won 1-0 with a goal from Fisher. Peters took his first look at central defender Jason Mitchell and on the hour 17-year-old midfielder Jonathan O'Donnell made his first appearance and left a good impression on the City coach. Twenty-four hours later City went down 4-1 at home to Watford with Green scoring City's consolation goal after Will Hoskins and Jordan Parkes had each netted a brace for the Hornets. O'Donnell, along with Peters, Ryan Maxwell and striker Ricky Miller, made his first start. Miller had spent the previous season with Boston United but had begun the decade playing Sunday football with St Albans City Youth. Another new face was that of midfielder Godfrey Poku .
St Albans' most impressive performance of the summer was a 2-0 win over a strong Leyton Orient side on the 30th July. First half goals by Cohen and O'Donoghue secured the win in front of around 250 spectators. Adam Everitt made his first appearance of the season against an Orient side that had former City assistant manager Andy Edwards amongst its backroom staff.
August
st, and the friendlies closed with City going down 2-1 at Bedford Town on the 4th August. It was very much an experimental City side with Michael Emery in goal and former Youth striker Ryan Baronet up front. Making his final appearance for the club, 19 years after his debut, was Jonathan Hunt . City's goal came from former Nottingham Forest youngster Liam Hook.
The new month kicked off with Roberts and Shields scoring during a 2-2 draw with Hemel Hempstead Town at Vauxhall Road on the 1
Following the collapse of television company Setanta, City's fixture list would be lighter in the coming season than the previous campaign, as the company had sponsored the Football Conference League Cup and no other sponsor stepped forward to keep the competition going.
Everitt off in opening day flop
Ashley Vickers as assistant manager, were once again expected to struggle. City gave debuts to Mitchell, O'Donoghue and Green but had withdrawn all three players within the hour with Mitchell and O'Donoghue quickly released. Having ended the previous season with two successive 3-0 defeats the Saints kept the run going as a brace from the brilliant Ivan Forbes either side of a Neil Martin goal gave the Magpies a surprise 3-0 win. City's afternoon was compounded by the dismissal of Everitt for the second of two unsightly lunges at the elusive Forbes.
St Albans City opened the new Conference South season with a long trek to the south coast to face Dorchester Town at the Avenue Stadium. Having abandoned being full time Dorchester, now with former Saint
Clarence Park on 11th August. It was City's lowest first home gate of the season for five years. A relatively quiet game was made memorable by the quality of the two goals that ended City's losing run. Roberts opened his account with a blistering drive from outside the penalty area on 59 minutes and Danny Green did likewise two minutes from time. Already Green was showing flashes of inspiration in a league that, in recent seasons, had shown itself to be blighted by sides coached to grind out results rather than win with flair. Castle fielded just one debutant with Darren Quinton coming on to replace Shields. The win brought renewed confidence to the team but the off-pitch problems were all too evident. The pitch was surrounded by precious few advertising boards with all the William Verry boards having been unceremoniously removed. The matchday programme made a belated start to the season arriving, as it did, only during the second half of the game. Prior to the game a one minute's silence was held in memory of former City player Jomo Faal Thomas , who had died tragically young from cancer just ten days after his 21st birthday.
It seemed as if any summer optimism around the team had been blown away in one sunny afternoon in Dorset and just 318 people turned up to see City's first home game of the season as Worcester City visited
Any fears of a poor start were completely banished the following weekend as Drew Roberts scored twice from the penalty spot to clinch a 2-1 win over Ian Baird's fancied Eastleigh side. Two successive wins at Clarence Park represented City's best home start to a campaign for seven years while it had been 22 years since a St Albans player had last scored twice from the penalty spot in a home league match. Hakim had started against Worcester but being unavailable on the Saturday was replaced by Green. Much of the credit for the win went to 39-year-old goalkeeper Paul Bastock who was in exceptionally good form and was clearly benefitting from an increased training programme that he put himself through. In his first matchday programme notes of the season the chairman stated that no offers had been received regarding the purchase of the club and then spent two columns being highly critical of the Trust for not investing in the club, although he then added, 'I have spoken to other potential shareholders who have stated that they will only "buy in" as long as the supporters club is not involved.' The tone of mistrust between the chairman and the Trust had been set for the season ahead. It proved to be his only set of notes for the matchday programme for the entire season.
City's opening two home matches had produced 11 yellow cards (five for St Albans, six for the opposition) but this was nothing to the storm they encountered against Welling United at Park View Road on the 18th. Andy Ford's side had lost their first three matches but with former Saint Lee Clarke in sparkling form were two goals to the good inside 18 minutes. Michael Deane opened the scoring with Clarke heading the second. City's problems, though, were only just beginning. A minute from the interval Shields was dismissed after referee Matt Foley deemed him to have gone in high on Stephen Perkins. It looked an odd decision and the referee merely added to the confusion by awarding City the free kick. Matters got worse for City when Andy Sambrook added the third Welling goal on 63 minutes. Six minutes later City went down to nine men when Bastock was adjudged to have hauled down Clarke outside the penalty area with the use of an arm. If there was contact then it was certainly nothing more than minimal and why Clarke went down instead of simply going wide of the City keeper to collect his clever lob and then score is a mystery. As a now shirtless Bastock headed for the dressing room it was evident that a longstanding friendship had been damaged, even if only temporarily. Adam Everitt put on the goalkeeper's jersey and it was only after the game that he revealed that he had never previously played in goal. Fortunately for the visitors Quinton had reduced the deficit on 66 minutes with his first goal for the club and on 77 minutes he scored his last goal for the club when converting a penalty. In light of what had gone before it defied belief that referee Foley did not dismiss Deane for the foul on Cohen that led to the spot kick. Welling held on for their first win of the season while City's troubled night deepened when Castle substituted Luke Thurlbourne just 32 minutes into the game. As if to set a trend later picked up by Bastock the abrasive Thurlbourne departed minus his shirt and duly received a lashing from his manager who criticized his frequent breaking of the club dress code.
St Albans returned to the calmer waters of Clarence Park the following Saturday to welcome Lewes, who were back in Conference South after just one season in the National Division. As the recession bit deep into all walks of life Lewes joined a growing number of clubs facing an uncertain future due to financial difficulties. But the Rooks problems looked to be easing as Sam Crabb fired Steve Ibbotson's side into a 67th minute lead. The Sussex club had three golden opportunities to make certain of their first win of the season but deep into added time were punished for their poor finishing when substitute Mark Peters headed home the equalizer with his first goal for the home side. The draw was Lewes's fourth stalemate in five outings since the start of the season. Castle was forced into making changes. Jamie Thurlbourne was called in to replace suspended left-back Everitt while Quinton made his first start as Castle dropped the younger Thurlbourne. Another new face was that of Bradley Thomas who came off the bench in the closing stages but was not seen again in City colours. Appearing on the team sheet for the first time, although not called upon to play, was Jonathan O'Donnell, better known as 'JJ.' Further evidence of the financial strife of the club was given in the matchday programme that had now shrunk in dimensions, was printed in mono and was no longer printed on glossy paper. It was, also, virtually devoid of advertising as another stream of income dried up.
In the days leading up to the Lewes game it became known that, to boost income, the club had agreed terms to allow Herts County League side London Maccabi Lions to play their home matches at Clarence Park . The City chairman had made it known that this was an avenue to be explored but for the fee the club was to receive it did appear that the Saints had panicked and taken onboard the first club to show an interest in the deal. This meant that Clarence Park was now host to the City First, Reserve and midweek Youth teams as well as the Lions. Also, it was the Saints central base for training.
The third away match of the season involved a sortie across the county to face Bishop's Stortford at Woodside Park. Included in the Bishop's starting XI were former Saints Nick Eyre and Ben Bowditch but it was striker Lewis Smith who caught the eye. Stortford had not started the season well and dropped summer signings Ashley Nicholls and Charlie Sheringham. Even so Mark Simpson's side won at a canter with first half goals from Bertie Brayley and Dean Harris securing a 2-0 victory. Castle recalled Luke Thurlbourne to right-back, which led to James Quilter joining Frater (making his 50th league appearance) in the heart of the defence. As the attacking trio of Cohen, Roberts and Green failed again to find the target, a debut was given to on-loan 18-year-old Southend United forward Craig Calver. Watching from the main stand was Sheringham's father Teddy and a St Albans managing director from around 12 years earlier, Barry Nevill. Nevill, Sheringham's agent, had even been City manager for two games.
The Bank Holiday Monday (31st August) visit of Hampton & Richmond Borough was even more explosive than when Alan Devonshire's side called in the previous Boxing Day. On that occasion five players were booked and Cohen dismissed. This time round, Luton-based referee Paul Forrester waved his yellow card seven times and changed the colour to dismiss City pair Jamie Thurlbourne and Fisher. Just for good measure Castle was also ordered out of the dug-out and away from the playing area. Fisher's red card came after the final whistle when he passed a few unseemly words about Mr Forrester's performance. Feeling that he hadn't adequately described the performance of the referee Fisher added a few more expletives on their way down the tunnel. Unfortunately, there was little wrong with Forrester's hearing and Fisher received two two-match bans for his troubles. Fisher was also booked ten minutes from time, for dissent, but this was erased from the records once he was shown a straight red card. The match itself got off to a flying with Ian Hodges and Craig Dundas giving the Beavers an early two-goal cushion before Roberts converted his third penalty of the season. The game failed to live up to its lively start and the frustration of the players towards Paul Forrester was evident with four of the last five bookings being for dissent. The one good note struck was an attendance of 420, the first home gate of over 400 for eight matches.
Player of the Month – Luke Thurlbourne .
September - Cup misery continues
St Albans had not picked up an away point since drawing at Chelmsford City at Easter, and a 2-0 defeat at Melbourne Park on the 5th extended the poor run. Chelmsford, after winning their first two games, entertained the Saints suffering a dip in form having lost their previous three matches. But, with Ben Martin back in the side for the first time since being injured on the opening day of the season, Glenn Pennyfather's side clinched victory through Antonio Murray and giant substitute Robert Edmans. Castle gave a debut to goalkeeper Michael Emery , due to Bastock being suspended, and Calver had his first start up front alongside Cohen. Everitt returned from suspension to replace Jamie Thurlbourne but took just ten minutes to collect another yellow card. Cohen made his 50th appearance but a 15th successive match without a goal for the former Grimsby Town player made it an afternoon to forget.
Staines Town, making their first visit to Clarence Park for 13 years, following promotion from the Isthmian League, added to City's woes with a 3-1 win on the 8th that was made all the more comfortable by a needlessly conceded penalty by Everitt inside five minutes. Leroy Griffiths scored from the spot but was later sent off when striking Fisher with an elbow. A heavily blooded Fisher confessed through a swollen mouth that he could not remember the incident. Referee Ian Crouch maintained the high number of bookings in matches at the Park as, in addition to Griffiths' red card, he showed his yellow card eight times. Further goals from Howard Newton and Chris Bourne put the Swans into a commanding position by half time with Jamie Thurlbourne reducing the deficit direct from a free kick with his only goal for the club. The game saw the City attack goalless once again. This despite Hakim playing for the second successive midweek game, but it was to be his final starting appearance until December. Castle revealed that he had released Danny Green while Darren Quinton, an unused substitute, appeared on the team sheet for the last time.
The Saints four-match losing run ended with an entertaining home draw with Havant & Waterlooville on the 12th. Daniel Chillingworth put City ahead with his only goal for the club but 15 minutes from time Manny Williams equalised for the visitors, who also stuck the woodwork on three occasions. Castle abandoned the 4-3-3 formation he had used thus far and went for 4-4-2, with Cohen taken out of the attack and used wide on the right of the midfield. On the opposite flank City gave a debut to David Galbraith. After a highly promising first match the former Tottenham Hotspur player faded and, unable to shake off niggling injuries, was not seen again after making six appearances – each of which saw him substituted. For two of the three substitutes used, Jamie Thurlbourne and Calver, this was their final appearance for the club while the third one, Craig Mortimer, was playing his last home game. Making a first appearance of the season, in our ninth game, was the new City home kit.
City's coffers received a welcome boost, as the Premier League, in recognition of the difficult financial situation engulfing the country, made a £1m payment to the Conference with the share to clubs in the North and South Divisions being £6,000 each. City were also to receive a further £1,500 from the Conference League's central fund.
Solomon Shields returned from suspension to score his first goal of the season as City won 2-0 at troubled Weymouth the following Saturday, the 19th. At the time of Shields goal City already led through a Martin Slocombe own goal and went on to win for the first time in nine away games. Bastock had the pleasure of keeping City's first clean sheet in ten matches. City deservedly won against the bottom of the table Dorset side but a local radio reporter summed the match up most aptly when he stated, 'the game burst into mediocrity in the 35th minute'. City gave a belated debut to O'Donnell, a 71st minute substitute for Galbraith. A debut was also handed to tough tackling midfielder Godfrey Poku , an 89th minute replacement for Chillingworth who had enjoyed a fine personal performance. City took to the pitch at the Wessex sporting their new all-red away. City's matchday programme made clear that the kit was purchased by nine supporters yet the Trust claimed it was part of their contribution towards the club. The victory over Weymouth put City in good heart for the following week's F.A. Cup tie at Heybridge Swifts, and after that the Saints looked forward to another winnable league encounter at Weston-super-Mare. An air of optimism was sweeping through the club.
City's visit to Scraley Road, home of Heybridge Swifts, was their first for four years and their first in the F.A. Cup since a 2-0 win in 2004 was overturned by the Football Association when it was revealed, via sources then at Hornchurch, that City had fielded an ineligible player. The offence had been tenuous in the extreme. But six years on Heybridge, two Divisions' below the Saints, needed no help from outside parties and courtesy of a dreadful City performance the Essex side secured the £4,500 prize and a place in the 3rd Round Qualifying through Ben Codling's 77th minute goal. Castle fielded Galbraith wide on the left flank and Poku on the opposite wing. Both were withdrawn at half time, Poku possibly harshly, to be replaced by Ryan Maxwell and Galbraith by O'Donnell. Within minutes O'Donnell, still only 17, was showing himself to be a class above anything else on the pitch. The teenager struck the woodwork with one effort and demonstrated an ability to control the ball and pass to team-mates far better than anyone else on the pitch. It may not have been enough to avoid City's winless FA Cup run extending to a fourth season and seven matches but O'Donnell had wasted no time in catching people's eye.
The week following the cup defeat saw Gibson make two unusual additions to the Board of Directors with Nick Archer and Mark Jones being added to the top table. Neither, though, actually signed up to become directors in the true sense of the word. Gibson, apparently, wanted to increase the numbers and 'reward' the duo for their efforts at the club down the years. While Mark continued to run the club website and clubhouse, Nick took an increasingly important role with regards to the club finances, he also had to deal with a look by the F.A. into the Saints financial situation. The appointments were coupled with an announcement of a generous sponsorship by construction company Leadbitters. Gibson, since the demise of Verry's, had been acting as a consultant for the Abingdon based company, the evidence of this seeing Leadbitters handed the contract to carry out the work at Oaklands that was Verry's before their demise. The construction of the main block may have been off the agenda but there was sufficient work to be done for the company to sponsor St Albans City to the tune of, allegedly, £30,000. This was spread over two payments with the second instalment being made at the end of January.
Player of the Month – Luke Thurlbourne .
October - Saints City Trust Launched
Missing from the Heybridge debacle were the ill Alex Bailey and injured Drew Roberts . Bailey was back in the side for the trip to Weston-super-Mare on the final Saturday of the month but was now playing on the right of the midfield rather than in his more accustomed full-back slot. City found plenty to raise their spirits after the cup upset with all three of the goalscorers having extra cause for celebrations. Luke Thurlbourne returned to form and scored his first goal for the club, Cohen ended his 20-match - and 1,652 minute - goal drought and Shields scored for the second successive league match. Weston, enduring an annual battle against relegation, found the target through a wonderful Jack Compton free kick and a less glorious headed own goal by Quilter. Southend United central defender Justin Clayton, 19 and signed on a dual registration, came in for his debut in place of Peters.
Due to the premature FA Cup exit City were without a game on the 10th October but a significant event took place in the clubhouse on the 8th with the official launch of the Saint City Trust (the Supporters Trust). Working parties had been in operation for much of the summer and expectations that the launch night would be a big success financially proved correct. A sale of the first XI places on the Trust exceeded all expectations with two of the numbers fetching £300 each – former City captain and manager Kevin Mudd being one of the two big bidders. Former St Albans Mayor Malcolm McMillan, and club president since 1991, was another join the 'First XI'. But the night did not go completely as planned. It was billed as a chance to mix with City legends, whereas, in fact, only one other former player, Andy Polston, turned up on the night and a promise of chances to win City memorabilia was also a damp squib. Even so, with supporters keen to join the Trust around £3,000 was raised on the night, and with the £9,559 transferred from the Supporters Club three months earlier, the Trust soon had a healthy bank balance.
City returned to action on the 17th to welcome Dean Holdsworth's Conference South leaders Newport County. Prior to the kick off the Saints, belatedly, gathered for their first team photo of the season as they lined up with crew members of HMS St Albans. A collection was taken from around the ground in aid of the Help For Heroes charity. O'Donnell was given his first start and took the opportunity to demonstrate that he was a player of immense potential. The match attracted City's first gate of over 500 since March but a goal by former Stevenage youngster Charlie Henry – the 200th league goal conceded during Steve Castle's reign - sent the Saints spinning to defeat and a fifth successive home match without victory. After the match Castle spoke of being hampered by a transfer embargo that had been placed upon the club by the Football Conference.
St Albans endured another 11-day break before facing Lewes at the Dripping pan on the final Wednesday, the 28th, of the month. Following the home draw with the Sussex club Castle labelled the Rooks as the poorest side in the Division. With just one win under their belts Lewes should have provided rich pickings for the Saints but after Galbraith had a seventh minute penalty superbly saved by Rikki Banks the visitors were on the back foot. Bastock pulled off three outstanding first half saves but it was all in vain as fog, which had swirled around the ground since midway through the half, made conditions farcical and referee Lee Venamore called a halt to proceedings at half time. By then City had had three players booked and lost both Quilter (shoulder) and Shields (hamstring) to injury.
A first home win since August finally arrived on the last day of the month as bottom of the table Weymouth succumbed 2-1 at Clarence Park in a dreadful match. The Terras arrived at the Park on the back of a run of results that would test the loyalty of any die-hard fan; ten defeats and one draw in eleven games. Despite this, David Obaze gave Weymouth the lead on the half hour only for Poku to equalise with his first goal for the club. Roberts clinched a City win from the penalty spot on 37 minutes. Weymouth's task had been virtually impossible since the 18th minute following the dismissal of Kyle Critchell for a foul on Poku. The match ended with referee Matt Foley receiving wholly unjustified and shameful abuse from some individuals closely associated to the visitors. After the match Castle revealed that Luke Thurlbourne had been released, "He hasn't been looking after himself. It's a massive disappointment as I was one of his biggest supporters," said the City manager.
Player of the Month – Godfrey Poku .
November – Sagna sensation then Woking hit back
Clarence Park , but with Bastock gone, for an alleged foul on Robbie Rice, Michael Emery , on his 19th birthday, was between the sticks to face the resulting penalty. Matt Warner duly scored from the spot but Stoke lost their way against ten men and a draw was a just outcome. Emery was far from the youngest player in the City side as Conner Baker, at just 17 years and five months, enjoyed a most promising debut at left back. Fellow 17-year-old O'Donnell was crucial to City's fortunes in that he was starting to prove a highly influential player in midfield and he was joined in the middle of the park in the final minute by another 17-year-old, Rob Magwood . Quilter, although in some discomfort, was able to play the full 90 minutes but Shields was on the sidelines.
It was City's turn to battle against the odds following an early dismissal in their next match when Bastock was sent off at Basingstoke Town. City led through Roberts sixth goal of the season, his first away from
th to face a Woking side struggling to find good form on home soil since their relegation from Conference National. Woking manager Graham Baker made five changes from their previous match and he paid the full price as the Cards problems persisted as Lamine Sagna, having scored five times in two Reserve team matches, came off the bench six minutes from time to score the winner just 40 seconds later. The sensational start to Sagna's City career grabbed the headlines but the player to catch the eye for a longer period was Peter Smith . The left-back was previously with Poole Town but a move to north London encouraged his friend, and manager of the City Reserves, Darren Gibb, to invite him to try his luck at Clarence Park . Smith played for just 56 minutes at Woking having played for 70 minutes of the Reserves 4-4 Presidents Cup draw with Redbridge the previous night. The final debutant was midfielder Danny Johnson who replaced the returning Shields just after the hour.
Three more debuts were made during City's visit to Kingfield on the 10
Shields also made way for Johnson at half time the following Saturday and the former Maldon Town player scored a stunning goal at the Hatfield Road end of the ground after weaving his way past three Braintree Town defenders. But Johnson's goal on his home debut could not secure victory as the Iron salvaged a draw through Robbie Jones powerful strike ten minutes from time. Braintree had defender Paul Goodacre dismissed during a remarkable eight minutes of added time. Referee Wes Linden attracted attention for the lengthy added time he allowed and match officials were also in the spotlight the following Thursday as a 'Referee's Night' was held in the clubhouse. FIFA official, and former St Albans resident, Phil Sharp took centre stage in enlightening the assembled throng, numbering a hugely disappointing 18, in the Laws of the Game and their interpretation. Also present was Roy Williams who held the position of Herts F.A. County Training Officer.
Michael Emery was back in goal for City's return to Woking in the FA Trophy as Bastock sat out the first game of his two-match ban following his dismissal at Basingstoke. James Fisher also returned having missed the last two games after being handed an extra two-match suspension for comments made to referee Paul Forrester following his dismissal against Hampton in August. For twenty minutes City dominated and created numerous chances but once Quilter conceded an unfortunate own goal the floodgates opened. By the time Ryan Frater also deflected the ball into his own net Woking had added further goals through Moses Ademola and Ricky Anane. A 6-0 drubbing was concluded with goals from Harry Arter and Giuseppe Sole. With that 3rd Qualifying Round defeat City's record in the Trophy now mirrored their FA Cup form – four years without a win.
The defeat at Woking came after four unbeaten league matches, it should not have been seen as anything more than a blip but City's off the pitch difficulties were starting to mount once more. The registration embargo may have been just a short-term measure but Castle was now being pressed to reduce his squad by a budget cut. The first casualty was Alex Bailey although it was evident that the injury prone duo of Chillingworth and Galbraith would also not be returning to the club.
City saw out the month with a drab 2-0 defeat to Bromley at Hayes Lane, the Lilywhites goals coming from Gareth A Williams and Mark Corneille. Sagna was in the starting line up for the first time as Cohen was dropped to the bench and 17-year-old Ross Dedman made his debut as a late substitute for Quilter.
Off the pitch the club is believed to have received a £10,000 boost from Geneva-based company Technical & General Guarantee. It was thought at the time that the company had taken a 10% stake in the club but this was not shown in the list of shareholders held at Companies House.
Player of the Month – Peter Smith .
December – Start of prolonged freeze
St Albans went into December in 16th position, six points clear of the relegation zone. That gap was extended to a healthy nine points as Fisher's first goal of the season and Cohen's first at the Park since March saw off Basingstoke Town 2-0. The Hampshire club were one of many to be suffering financial hardship and manager Frank Gray saw a number of players depart as the side won just once in ten games. But Town 'keeper Craig Atkinson had cause to be cheerful as he had the pleasure to deny City a goal from 12 yards when he saved Roberts' 84th minute penalty. Excluding the abandoned match at Lewes it was the Saints first miss of the season after 11 successes dating back to 22nd April 2008. In addition to booking Atkinson for the foul on Cohen that led to the penalty, referee Ian Rathbone booked four other players and dismissed Stoke midfielder Steve Laidler for two offences in three first half minutes. Sagna started for the second and last time while O'Donnell, Sagna's replacement, had to be content with a place on the bench.
Chelmsford City boosted their promotion aspirations on the 5th when completing the double over the Saints through Ricky Holmes sixth goal in seven games. The star of the show in a poor quality match was Bastock who pulled off four excellent saves. Frater and Roberts both picked up their fifth bookings of the season to earn a one-match ban each.

Much to the surprise of many, Steve Castle continued to offer O'Donnell no more than a place on the bench but the former Watford youngster brushed aside that disappointment to add City's second goal (above) in a 2-0 win over Bromley at the Park on the 12th as the Saints moved to within six points of the play-off places. Cohen opened the scoring with an excellent shot from the edge of the penalty area that went on to win the Goal of the Season award. O'Donnell's goal capped a good week for the teenager as he joined fellow midfielder Godfrey Poku for a midweek run out with Luton Town Reserves.
Adam Everitt , in for the suspended Frater, returned to the starting line up for the first time in seven weeks as City paid their first visit to Dover Athletic's Crabble ground the Saturday before Christmas, 19th. Everitt was named as captain and along with Poku was in fine form as a fortuitous goal from O'Donnell, direct from a free kick out by the touchline, gave City a 31st minute lead only for Shaun Welford to ensure an equal share of the spoils with an equaliser three minutes later. The bustling Welford caused a gash to Mark Peters leg and four minutes from time City's assistant manager took his revenge with an ugly lunge that sent the Dover striker spinning high in the air. Unsurprisingly, Peters was dismissed. Justin Clayton's stay at Clarence Park was thrown into some doubt when he failed to show up at Dover. There were horrendous traffic delays on the way to and in Dover itself. With the country deep in the grip of a what seemed an endless winter of freezing temperatures, Dover made a determined effort to get matches played by hiring a complete cover for the pitch at a cost said to be in the region of £30,000. With the match attracting the first sub 1,000 gate of the season at the Crabble, and 408 down on their previous lowest home attendance, the measure of success of the pitch covering is somewhat debateable. Left: Johnathan O'Donnell scored for the second successive match as City gained a draw at The Crabble.
st, to be postponed. St Albans were back in action on Boxing Day as Australian Angus McLachlan, who made his debut at Dover, opened the scoring with an early goal during a 3-0 win at Maidenhead United. Two exceptional strikes by Drew Roberts secured City's biggest win of the season and moved the Saints into the top ten for the first time in more than four months. Not only did Roberts score two exceptional goals but in City's 25th match of the season he became the first player to score twice in open play in the same match. For the second match running a player had problems in getting to the match. Long delays caused James Quilter to miss the first half, which at least allowed Ross Dedman to make his first start.
The match at Dover was City's last before the festive season as a frozen pitch caused a Herts Senior Cup tie against Royston Town, set for the 21
For the final match of 2009 City welcomed Welling United to Clarence Park but put in a disappointing performance in going down to a 2-1 defeat. The Wings led at the interval through Andy Pugh but Roberts pulled City level and the Saints looked on course for victory when the visitors had Jake Hobbs dismissed for a shocking lunge on Poku that put the midfielder out of the game. But not for the only occasion during the season the side with numerical advantage failed to capitalise and just before the start of more than seven minutes of added time Pugh clinched victory for the Wings with his second goal. Former Saint Lee Clarke had the dubious honour of picking up the 50th opposition booking of the season. Due to a mix up over delivery deadlines there was not a matchday programme on sale for this match.
Player of the Month – Peter Smith .
January – Football frozen out
The New Year saw the country shivering to a halt with a lengthy spell of sub-zero temperatures. After the Welling match City faced 23 days of inactivity as home games against Maidenhead United and Royston Town were put off due to a frozen pitch. A third attempt to play the County Cup match was lost under snow, as was a Conference South fixture at Havant & Waterlooville and a home meeting with Dorchester Town. City finally welcomed in 2010 on 19th January when South Midlands Leaguers Royston caused an upset by tipping a reasonably strong City side out of the Herts Senior Cup. Late and outstanding goals from skipper Ross Collins and striker Ryan Lockett gave Paul Attfield's side victory in front of 89 spectators. Steve Castle gave debuts to 16-year-old 'keeper Adam McWeeney and substitute Luke Jackaman. More significantly, a debut was also handed to striker Babatunde Ayodele but it was not something that had the support of the City manager.
Ayodele had been brought to the club by Daniele Manzi, not a name familiar to City supporters at this time. He was listed as an executive at a company called Euro-Academy Brasil, a loose interpretation could be that the company develops footballers and helps to find them clubs; much as one would think of the work of football agents. Manzi was also connected to north London side AC Finchley and was said to be a shareholder of Wisetrip (St Albans) Ltd, the owners of St Albans City. Manzi, having invested in Wisetrip, the company owned by John Gibson, wanted Ayodele to show what he could do against Royston but showed himself to be completely lost and out of his depth. He wasn't given a second opportunity. In addition to be being an embarrassment to the club on the pitch the match also left its mark in the record books as it meant City had crashed out of every cup competition at the first hurdle and not scored a single goal in all three competitions entered – both of which were club firsts.
Missing from the Royston match were teenage midfielders Godfrey Poku and Jonathan O'Donnell who, following a long drawn out saga, finally agreed to sign for Luton Town on 18-month contracts. Castle was hopeful of getting the duo back at Clarence Park at least on one-month loan deals.
Rob Magwood (17) were given their first starts and celebrated by picking up a booking each. New signing Chris Sullivan made his debut. The match was the first City game in which one of the local St Albans newspapers, the Herts Advertiser through its reporter James Ronayne, provided up to the minute live online updates.
City were grateful for the Royston game in one respect, after a prolonged lay off it gave them a competitive run out before facing Dean Holdsworth's Conference South champions elect Newport County. St Albans went into the match at the Newport Stadium with some players carrying injuries while others picked up knocks during the game. County were in no mood to be sympathetic to City's plight and having taken control of the game with goals from Gary Warren – following a clear foul on Bastock by the debut making Chris Todd – and Craig Reid, ran riot in the final ten minutes with Reid, the leading scorer in Conference South, adding his second and Paul Cochlin and Jamie Collins completing a 5-0 romp. Midfielders Danny Johnson (19) and
Clarence Park when chalking up a 2-0 victory on the 30th. Chris Holland gave Bath an early lead with Lewis Hogg adding the second ten minutes from time. The Saints handed debuts to two loan players; right sided Jake Beecroft (Rushden & Diamonds) and striker Jake Argent (Leyton Orient). The margin of defeat was kept to a respectable level by outstanding performances from Adam Everitt and Paul Bastock . Along with Peter Smith , who won the Player of the Month award for a third successive month, this duo were enjoying a rich streak of excellent form. Poku was back in the City side at the start of a one-month loan but Castle could find no place in the starting line up for the talented O'Donnell. The icy terrace behind Bastock in the picture to the left is empty due to being closed for safety reasons.
Bath City ensured that January was a month St Albans would prefer to forget as the Romans gave one of the most impressive performances of any visiting side to
As if the three defeats towards the end of the month, all without scoring, had not dampened morale sufficiently City's growing off-pitch problems were brought into the open by a letter posted on the club website by 'The Directors'. Gibson, quite amazingly, later publicly admitted that the original idea behind the letter was his but that he had nothing to do with the final copy. Such a statement is astonishing. The main point of the letter was that the Club had requested the Trust donate £6,000 to club funds and that an unnamed shareholder would match that amount. According to the letter, the Trust 'avoided' making the contribution and the shareholder had withdrawn his offer. The letter suggested that the funding would go towards sustaining a promotion challenge. It also included the sentence, 'The alternative, without a contribution from the Trust, is to cut the playing squad, forego a play-off challenge, start next season with a reduced playing budget, and the prospect of financial instability.' All of which is quite an astounding accusation given that £6,000 is the equivalent of approximately just two weeks of the already relatively low playing budget. And when mentioning 'financial instability' the letter gave no mention of the £500,000+ debt built up by the chairman and the board prior to the collapse of William Verry. It also failed to mention the again rising debt as it stood at the end of January, which was believed to be in the region of £30,000. The Trust, in response, refuted 'the charges laid at its door.' The Trust also derided the figure of £6,000 as 'a drop in the ocean' given the perceived debt of the football club.
Player of the Month – Peter Smith .
February – Dunn goals spark City fightback
The spat between the club and Trust ran on into February with Malcolm MacMillan, club president for 20 years, urging the Trust to support the club. A personal letter from the former mayor of St Albans proclaimed, 'Far from being a drop in the ocean, a £12,000 cash injection would assist considerably the financial recovery. I cannot make a guess about the long-term finances of the club but I do know that there are new benefactors who want to provide a cash injection. However, I can understand their reluctance to contribute further when a body of supporters sits on thousands of pounds donated by other supporters for the well being of the club they love.'
Weston-super-Mare arrived at the Park on the 6th on the back of seven successive away league defeats and provided the ideal fodder on which St Albans could end their winless run. Boston-based striker Ian Dunn became the first City player in 19 years to score twice on his debut and inspired the Saints to a 2-1 win after Ben Cleverley had put the visitors in front. Twenty-nine-year-old Dunn was a novice to football at this level and was one of two forwards to make his debut as his 73rd minute replacement, James Lindie, was also new to the club. Both players had been given their first run out in a City shirt in a midweek training match at Clarence Park against junior club AC Finchley. The new arrivals compensated for the departure of Justin Clayton, Angus McLachlan and Danny Johnson, the latter due to Castle not having the funds to continue paying the player.
With Ryan Frater ruled out due to bruised ribs, Adam Everitt stepped in to captain the side for a midweek game (9th) at home to Maidenhead United and secured City's third double of the season when heading the only goal of the game 15 minutes from time. Dunn was ruled out through illness, something that allowed Paul Hakim to enjoy one of his occasional run outs. The match attracted only the second sub 200 attendance at Clarence Park since the formation of Conference South.
The upturn in City's fortunes continued at Ship Lane on the 13th as promotion seeking Thurrock were held to a goalless draw on an almost grassless pitch. Everitt and Gary Cohen joined Frater on the injury list which led to Mark Peters and James Quilter coming together to forge a good partnership in the middle of the defence. Quilter was playing despite a troublesome knee that was likely to require surgery during the summer. A game low on decent quality football saw the Saints collect not a single booking for the first time in 25 league games.
One of the most impressive sides to play at the Park during the season was Staines Town and Steve Cordery's in-form Swans ended City's mini-revival when winning a lively encounter 4-3 at Wheatsheaf Lane. Scott Taylor opened the scoring for the home side but City hit back with headed goals by Dunn and Peters. Unabashed Staines had regained the lead by the interval courtesy of Taylor's second goal and a well-placed free kick by the debut making Mazin Ahmad. Leroy Griffiths extended the Swans advantage midway through the second half before Cohen, one of four City players booked, scored the seventh and final goal of the game nine minutes from time. It was the first time Staines had completed a league double over St Albans and lifted the home side into a season's best third place; City were 14th.
Poku pulled on a City shirt for the final time on the 22nd – O'Donnell was not even on the bench – as the Saints lined up to face Havant & Waterlooville at Westleigh Park on a chilly evening in Hampshire. Havant, for the second successive season, had under-performed in the league but welcomed City looking to extend a seven-match unbeaten run. On a sodden pitch that only just survived a late inspection and was declared unfit by several players, City stunned the Hawks smallest crowd of the season with Drew Roberts' 56th minute goal, his 10th of the season, giving the visitors a glimpse of the play-off places.
Player of the Month – Solomon Shields .
March – City eye the play-offs but off-pitch troubles mount
Former Saint Ashley Vickers was back at Clarence Park at the start of the new month as caretaker manager of Dorchester Town. The Magpies were showing signs of a marked improvement under Vickers leadership and proceeded, at least for the opening 45 minutes, to play City off the park. City's defence stood firm as Dorchester racked up ten first half corners. The scoring was over by the 38th minute with two more goals from Roberts, one a penalty, coming either side of a Matt Groves penalty for the visitors.
The likelihood of St Albans City poaching a place, against all odds, in the play-off's increased on the 6th when Roberts continued his goalscoring run with an early and decisive strike against Eastleigh on a dreadful pitch at the Silverlake Stadium. Roberts was joined in attack by Lindie as business commitments ruled out Cohen and Hakim, while Dunn was absent following a cut to the playing budget. City's determination to cling onto victory and not risk getting caught on the break extended to not putting a single player into the Eastleigh penalty area when winning two late corners. City's defence was virtually impenetrable with James Quilter taking many accolades having made a surprise appearance after suffering what, at first, appeared to be a serious leg injury against Dorchester. Completing the league double over Eastleigh lifted City to ninth in the table.
But what was happening on the pitch was being overshadowed by events of it. Due to broken promises in paying off a tax demand the Conference had handed the club its second registration embargo of the season. And with the transfer deadline just three weeks away it was clear that the players Castle had signed on now were the ones with which he would have to see out the remainder of the season. Most bizarrely, on the eve of the next match, at home to Thurrock, the City chairman ordered that the club's official website message board be closed down, thus further alienating supporters from the club as they could no longer discuss all aspects of the club online. The message-board was reinstated during the following week but by then a new site had also come into being.
In addition to the registration embargo and missing message-board, the off field turmoil was becoming increasingly obvious. An indication of the mess the club was in could be gleaned from the fact that its telephone line had been disconnected and the council were refusing to discuss an extension to the soon to be expired lease due to an unpaid invoice of £1,800 building insurance.
Back on the pitch, Thurrock's hopes of holding onto a play-off position they had held for the best part of six months had begun to fade due to a lack of goals; an astonishing 8-2 win at Eastleigh excepted. A lack of firepower was again evident when City gave one more outstanding defensive display in winning 1-0 at Clarence Park on the 13th. Everitt capped his run of good form by heading the winning goal, behind him Paul Bastock was imperious in goal. City were now up to eighth with eight games to go but with Thurrock being the only above them not to pick up any points that day the good run needed to be maintained for a shot at the play-offs. At this time City had played more games than most teams in the Division and were the only side in the top half of the table with a negative goal difference.
The off-pitch turmoil was barely placated by City's fourth successive victory and three days after the Thurrock match a meeting of the Supporters Trust went against the wishes of the club chairman. The club had asked for £6,000 from the Trust, which at this time had around £14,000 in its bank account, but the Trust voted to offer only £3,000/4,000, with strings attached. The conditions, as stated on the Trust website but lacking full details, were that the Trust would use the donation to settle invoices directly, take out advertising/shares in the club, and a chance to partake in business planning with the club for 2010/11. Sixteen members sent in their vote by proxy to support the offer of £4,000 unaware that one individual had promised to match the £6,000 had the Trust voted in favour of that proposal. Full details of the conditions attached were never made public but at the start of May the Trust announced that it was to pay £3,000 towards pitch maintenance and £1,000 towards improving the match officials' facilities at Clarence Park . Although less than crystal clear, a posting on the Trust website suggested that this was the £4,000 voted for by Trust members at the 16th March meeting. The cost of work on the pitch during the summer was estimated at £3,700, the Football Club was to contribute the balance.
City's late run for the play-offs took in a visit to St George's Lane on the 20th to face a Worcester City deep in relegation trouble but retaining a good chance of survival with two wins in their previous four matches. Worcester had the better of the exchanges but with Bastock, Smith and Everitt again in excellent form City extended their unbeaten run to a fifth match with a goalless draw.
Clarence Park . Roberts opened the scoring from the penalty spot but Adam Birchall, with the first goal City had conceded for 367 minutes, sent the two sides in level at half time. Shaun Welford clinched the points for the Kent side but Dover had an anxious final 22 minutes after defender Jon Wallis was dismissed for two quite soft offences. Although City possibly had the better chances it was clear that Dover had played the better football.
The month closed with a revitalised Dover Athletic coming from behind to strengthen their promotion push and, as Castle conceded, effectively end the Saints bid for the play-offs with a 2-1 victory at

The defeat was a watershed in City's season as the chairman reacted by cutting an already reduced budget. Steve Castle was left with little option but to release players. Leading scorer Drew Roberts , who had attracted attention for quite some time from Southern League Premier Division side Brackley Town, departed to join the Northamptonshire outfit. Having scored 14 goals, including six penalties, during his 35 appearances Roberts was certain to end the season as City's top scorer despite his premature exit. Less fortunate were James Quilter and James Lindie as both players were released after the 5pm transfer deadline, so could not sign for another club. Lindie had been disappointing during his time at the Park but Quilter, despite collecting an array of injuries during the season, was a supremely reliable performer. He may not have been spectacular but seldom had a bad game. It was believed that Castle chose to release Quilter due to him facing the prospect of a knee operation in the summer, by leaving now he could have the operation earlier and be fully fit come the start of the following. Castle made it clear that, depending on the situation at Clarence Park , he wanted both players, Roberts and Quilter, back for the 2010-11 season.
The departure of three players was far from the end of the matter regarding the financial problems at the Park as several players faced playing for the rest of the season without any financial recompense. Indeed, Dunn had been doing so since returning for the home match against Thurrock.
Player of the Month – Adam Everitt .
April – Off-pitch problems take their toll
The budget cuts in the days leading up to a home match with Bishop's Stortford on 3rd April had clearly taken their toll on the players that remained. By half time Stortford, with one win from their previous 13 matches, had stormed into a three-goal lead through Danny Morgan and a Leon Antoine brace. Morgan was in outstanding form against his former club and when Cohen reduced the arrears Morgan struck for a second time. Dunn added a second for the Saints but in losing 4-2 City had got off lightly. Paul Hakim made his 142nd, and final, appearance in a City shirt.
Two days later, Easter Monday, City travelled to the banks of the Thames to face a Hampton & Richmond Borough side still in need of a handful of points to secure Conference South safety. The problems facing Castle were obvious as he was unable to name five substitutes, and of the four he did name only two could be considered as serious first team players. It was evident that Castle was facing quite a battle if he were to celebrate his 150th League match as manager with a win. The final result, a 3-0 defeat, may suggest otherwise but City actually put in a decent performance with just two late goals giving an unfair slant to the score. Dave Tarpey bagged the first two goals with Lawrence Yaku completing the scoring. The only sour note for Alan Devonshire's Beavers was the late dismissal of Chris Robinson for a bizarre attack on Peter Smith . The match was Jake Beecroft's last for the club before returning to Rushden & Diamonds at the end of his loan.
Ross Dedman and Rob Magwood both positively blossomed in the middle of the pitch. Up front Castle named the only two genuine strikers at his disposal, Cohen and Dunn. The only serious contender on the bench was Danny Johnson. City had retained his registration after he left earlier in the season and he showed good loyalty in settling for a place on the bench in the remaining games despite not being paid.
With Beecroft (left) gone Castle's options were further restricted but he got around the problem with a flash of inspiration. Having played with a 4-4-2 all season he opted to go for three at the back with Peters going between the ever-dependable Frater and Everitt. Smith was pushed forward into a left wing-back position and Fisher fulfilled the same role on the opposite side of the pitch. Sullivan was pushed inside but it seemed a fluid position as he often drifted out to the flanks. Two of the biggest successes in the new formation were teenagers
The first time the players tried out the new formation was away to a Braintree Town side that was closing in on clinching a play-off place. Twenty-five minutes into the meeting at Cressing Road St Albans looked to be sliding to a substantial defeat. Braintree were running the show and led through goals from Jacob Mingle and a dreadful decision to award a penalty that allowed Brad Quinton to double the Iron's advantage. But on the half hour Cohen was brought down by home keeper Craig Holloway and Dunn duly reduced the deficit. Thereafter, City not only battled gamely but had the better of the exchanges and were unfortunate, though happy, to go home with just a single point after Fisher equalised direct from a free kick.
th, sought to add to the relegation woes of another with a trip to the delightful ancient town of Lewes. The Sussex clubs Dripping Pan home has retained much of its old charm despite the construction of new stands and terraces in recent years. Having won their two previous matches and also recorded a first away win of the season at fellow strugglers Worcester, Lewes were optimistic of moving out of the bottom three for the first time since December. The match finished goalless but nonetheless was a thoroughly entertaining encounter with both sides able to claim that they had done enough to win.
Having slowed the bid for promotion of one team City, on the 14

For the final home match of the season City welcomed a Woking side that had got its promotion challenge back on course following a poor spell and arrived at Clarence Park occupying the final play-off position. The first half was a fine flowing encounter with both 'keepers, Ross Worner and Paul Bastock , each making two outstanding saves. Bastock made further good saves after the interval but the Cards won the points through Harry Arter's strike a minute before the break. The game was soured by the 39th minute dismissal of Gary Cohen . It was a poor decision by referee Simon Knapp who either misread the incident or was influenced by the hysterical reaction of the Woking bench, which led to a good deal of pushing and shoving on the pitch. Sadly, these scenes were repeated at the final whistle and again it was sparked by those on the bench rather than the players. right – Paul Bastock pulls off a spectacular save from Tony Sinclair).
Prior to the kick off Rob Magwood was presented with the Player of the Month award for April. Further presentations were made in the clubhouse after the game. It was a busy evening for Peter Smith who walked off with both the Supporters' and Players' Player of the Year trophies. Gary Cohen's goal at home to Bromley won goal of the season award and Steve Castle , in a break with tradition, became the first paid employee of the club to win the Wagstaffe Simmons Clubman of the Year award; it is normally awarded to volunteers in recognition of selfless service to the club. Neither Castle nor the club chairman made a speech.
The proceeds of ground raffles from the Woking match were given to the players to help fund their end of season night out at Batchwood nightclub, the sum raised was £333. Missing from the night out was Cohen as the event clashed with his stag night. During the afternoon a number of postcards were distributed amongst supporters calling for chairman John Gibson to stand down.
City's season ended with an eighth winless match, this time at Twerton Park, the point gained by the home XI was sufficient to secure a play-off place for Adie Britton's side. Magwood was again in excellent form with Everitt not far behind. The match was the first between the two clubs to attract a four-figure attendance. Chris Sullivan's season ended prematurely with a mild asthma attack forcing his departure on 24 minutes with the dropped Ian Dunn sent on to join Gary Cohen in attack. This was anticipated to be Cohen's final appearance for the club as his new career as a paramedic would restrict his weekend availability. Speculation rose after the game as to Steve Castle's future after the City manager, in a post match interview at Twerton Park, refused to confirm that he would be at Clarence Park for the start of the 2010-11 season.
Player of the Month – Rob Magwood .
Summer in the City
As the season closed it was not just the future of the City manager that was in some doubt. The ongoing unpaid tax bill, the reason for the club being blighted by a player registration embargo since early in March, meant that City were edging towards possible extinction. Come the end of the season all non-contract players, which covered all St Albans City players, are no longer registered with any club and need to be re-registered prior to the start of the next season. Due to the embargo St Albans could not register any players so, without the embargo lifted, would not be able to start the new season and, as a consequence, forced to close down. The situation was highlighted at a board meeting two days after the match at Bath City. Present at the meeting were John Gibson (chairman), Alasdair McMillin (vice chairman), Franco Sidoli (no position, nor a shareholder) and Nick Archer (director). Gibson is believed to have announced that he had no funds to support the club and that the total debt was £35,000. This was in spite of an estimated £72,000 having been received in sponsorship since the previous summer. A number of those sponsorships were one-off deals leaving the Club facing monumental losses for the 2010-11 season. But the likelihood of Gibson being in charge even by the end of May let alone the new season seemed to be receding every day. It was revealed that the Inland Revenue had set a deadline of 11th May by which the unpaid tax bill must be settled. An agreement was reached between the Club and the Revenue as the deadline approached but, as Castle and City supporters were to learn early in the next season, the Club was on far from safe ground. Throughout the summer St Albans continued to be under a registration embargo, something that restricted the attractiveness of a move to Clarence Park for any possible signings Castle had in mind. Through no fault of his own Steve Castle was in the worst position of any City manager probably since Maurice Walby took charge in the summer of 1978.
Summary
A total of 44 players appeared for St Albans City during the 2009-10 season, of which 32 made their debut. Paul Bastock and Ryan Frater made the highest number of appearances, 41, while James Fisher featured in 40 of the 45 games played. Bastock became the fourth City goalkeeper to play in 200 games for the club while Quilter passed 100 games.
Drew Roberts was the top goalscorer with 14 in 35 games, of these six were penalties while another penalty was saved. Bastock kept 14 clean sheets during the season, taking his total to 69 in 200 games, his dismissals rose to three and bookings eight. Twenty players were booked during the season and there were eight dismissals. Bookings: 9 James Fisher . 8 Mark Peters . 7 Gary Cohen , Adam Everitt . 6 Drew Roberts , Peter Smith . 5 Ryan Frater , Godfrey Poku , Luke Thurlbourne . 4 James Quilter , Solomon Shields . 3 Rob Magwood . 2 Paul Bastock . 1 Craig Calver, Justin Clayton, Ian Dunn, Paul Hakim , Danny Johnson, Lamine Sagna, Chris Sullivan. Dismissals: 2 Bastock, 1 Cohen, Everitt, Fisher, Peters, Shields, J.Thurlbourne. Steve Castle was also despatched from the dug-out on one occasion.
Attendances for Conference South matches at Clarence Park fell by almost 19% to 379, the lowest figure for five years. The club slipped one place in Conference South from the season before, 12th to 13th, but did actually pick up one point more than during 2008-09.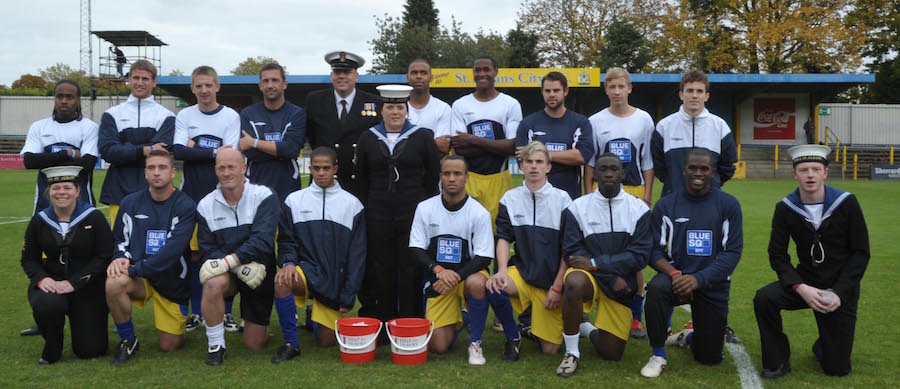 ALL THE SAINTS 2009-10
2009-10 statistics in parenthesis (appearances, goals, bookings, dismissals)
Jake Argent– An 18-year-old striker who joined the Saints on work experience from Leyton Orient. Made his Conference South debut during City's defeat at home to Bath City on 30th January 2010. Scored a hat trick in Leyton Orient's final Football Combination match of the season, a 4-4 draw with Aldershot Town, to secure a six-month contract with the O's. (4a).
Jack Ashcroft– An 18-year-old midfielder who made his St Albans City debut as a substitute during the Conference South draw at Braintree Town on 10thApril. His links to the Saints go back several years as he was a member of the City Youth U9s. (3a).
Babatunde Ayodele– A player whose inclusion in the side was a low point in the history of the Club in that manager Steve Castle was 'forced' from powers above him to play this player. His CV boasted of a glorious past, none of which could be substantiated and he looked completely out of his depth in his one appearance – as a substitute during City's humbling County Cup defeat by Royston Town. (1a).
Alex Bailey– A former England Youth international who is equally comfortable at right or left-back. Played 100 games for Chesterfield and also had spells with Aldershot Town and Halifax Town. Popular defender who had two spells with City during 2008-09 but was released due to budgetary constraints after adding just 14 appearances the following season. (15a).
Conner Baker– Had trials with the Saints in the summer of 2009 after finishing the previous season with Hemel Hempstead Town. A 17-year-old left-back who made one First team appearance, a 1-1 draw at Basingstoke Town, and played in all six of City's FA Youth Cup ties this season. Joined Chesham United in mid season although City retained his Conference South registration. (1a).
Paul Bastock – A veteran of 625 games for his hometown club of Boston United and 220 appearances for St Albans City. Twice voted Player of the Year during two stints with the Saints. Began his career with Coventry City where he won the FA Youth Cup and played in the Football League with Boston United and Cambridge United. Has since played for a number of non-league and overseas clubs including; Kettering Town, Bath City, Fisher Athletic, Aylesbury United , Scarborough, Dagenham & Redbridge, Rushden & Diamonds and Malaysian side Sebeh, has also gained FA representative honours. Runs a goalkeeper coaching school in Boston and also has his own cleaning business. (41a, 14 clean sheets, 2y, 2r).
Jake Beecroft– Joined the Saints in February 2010 at the start of a two-month loan deal with Conference National side Rushden & Diamonds. A midfielder who has made 29 first team appearances for the Diamonds and had loan spells with Ilkeston Town and Solihull Moors. Was been responsible for a number of goal assists during his short time with the Saints and was well received by supporters. (13a).
Craig Calver –Signed for St Albans City on 28 August 2009 on a one-month loan from Southend United and made his debut 24-hours later at Bishop's Stortford. Formerly a youngster with Ipswich Town he made two appearances in the Isthmian League with Harlow Town during 2008-09. After leaving St Albans he had loan spells later in the season with AFC Sudbury and Braintree Town. (4a, 1y).
Daniel Chillingworth –Striker who had his second spell with the Saints during 2009-10 having made three on-loan appearances in December 2007. Began his career with Cambridge United where he played over 100 games before having loan spells with Darlington and Leyton Orient. Joined Rushden & Diamonds in the summer of 2005 and spent time on loan to Notts County whilst at Nene Park. During a career that has been blighted by injury he has also played non-league football with Cambridge City. Injury again cut short his time at Clarence Park . (9a 1g).
Justin Clayton– Had a brief spell with the Saints during 2009-10 on a dual registration with Southend United. A 6'5" central defender who spent three seasons with Woking and made his St Albans City debut during a 3-2 win at Weston-super-Mare on 3rdOctober. Fell out of favour after failing to make it to City's match at Dover Athletic in December and made just one more substitute appearance before being released at the end of January. (11a, 1y).
Gary Cohen –An exceptionally quick striker who joined St Albans City in August 2008 after two years on the sidelines through injury. Was with Tottenham Hotspur until the age of 11 and later returned to the professional game with Watford after signing from Redbridge. Has since had spells with Gretna, Scarborough, Workington and Grimsby Town where he filled in at number of positions ranging from full-back to striker. His father was a sprinter at the Montreal and Moscow Olympics whilst his mother has run at the European Championships. Training to be a paramedic and due to this commitment is expected to retire from the game. (39a, 5g, 7y, 1r).
Ross Dedman – Versatile 17-year-old who is one of six teenagers to feature in both the City Youth and First team this season. Played all along the back four this season but towards the end of the campaign established himself in his favoured central midfield position. Spent some time with the Youth set up at both Stevenage Borough and Hitchin Town prior to joining Oaklands, from where he progressed into the City First team. Had a trial in Leyton Orient's final Football Combination match of the season, against Aldershot Town at Brisbane Road on 6thMay, and was invited back for pre-season training ahead of the 2010-11 campaign. (16a).
Ian Dunn– Scored twice on his St Albans City debut during a 2-1 win over Weston-super-Mare on 6thFebruary and ended the season as joint second highest scorer with five goals. A commanding centre forward who has previously played for Bourne Town, Sleaford Town, Holbeach United, Spalding United and Wisbech Town. His father, Brian, played for Hartlepools United in 1959-60. (13a, 5g, 1y).
Michael Emery – Teenage goalkeeper who has previously been on the books of Rushden & Diamonds and was a student of Paul Bastock's goalkeeper coaching school in his hometown of Boston. Made his debut during the Saints Conference South match at Chelmsford City in September. Was with City on a dual registration with Spalding United but missed the final couple of games of the season after writing off his car on the morning of the Woking match. (4a).
Adam Everitt – Signed for St Albans City from Bromley in November 2008. Was a youngster with Luton Town before having spells with Cambridge City, Eastleigh, Yeading, Hayes, Hemel Hempstead Town and Harrow Borough. Scored his first goal for the club in February 2010, was City's Player of the Month the following month and after performing well at left-back was outstanding at centre-half, narrowly missing out on the Player of the Year award. (31a, 2g, 7y, 1r).
James Fisher –Former Chelsea youngster who signed for the Saints in February 2008 from Northwood having previously played for Wembley and Wealdstone . Started with St Albans City as a right-back but was then moved to central defence and switched between full-back and midfield during the 2009-10 season. A stand-in captain who had the misfortune to be City's most booked player during the campaign and finished the season on 98 appearances for the Saints. (40a, 2g, 9y, 1r).
Ryan Frater –Former Hitchin Town central defender who joined St Albans City in December 2007 but suffered various injuries during his first 18 months at Clarence Park . Had two spells with Hitchin either side of stays with Bedford Town and Dunstable, and during the summer of 2009 had trials with Luton Town. Adapted well to being City captain for the 2009-10 season and closed the campaign on 93 games for the club. (41a, 5y).
David Galbraith- Luton-born left-sided player who joined St Albans City early in the season following a short spell with Kings Lynn Town. Played for Tottenham Hotspur at U17, U19 and Reserve team levels before making 28 First team appearances. Signed for Northampton Town in January 2004 and has since also had spells with Boston United and Kettering Town. After a promising start he left the club after just six games and missed the rest of the season through a knee injury. (6a).
Danny Green –First came to the attention of City supporters when scoring a spectacular 87thminute winner for Harlow Town against St Albans City in the FA Cup in September 2008. A product of the Harlow Youth team who joined City in the summer of 2009 and scored his first goal during City's 2-0 win over Worcester City on 11thAugust, seven days after his 19thbirthday. Was released after just eight appearances and following a spell with Billericay Town was given a contract at Dagenham & Redbridge. (8a, 1g).
Paul Hakim – Was not expected to play for the Saints during 2009-10 due to business commitments but did manage to fit in 12 appearances. Added class to the attack but failed to add to the 45 goals he took into the season. Spent a season in the Conference National with Stevenage Borough sandwiched between his first two spells with St Albans. Has also played for Cheshunt, Dagenham & Redbridge, Slough Town, Wingate & Finchley and was once at the centre of a controversial transfer to Weymouth that ended with the Football Association ordering his return to St Albans. Is believed to be moving to South Africa for a year in the summer of 2010. (12a, 1y).
Jonathan Hunt – Midfielder who made his St Albans City debut, on loan from Barnet, in August 1990 but waited until March 2008 to make his second appearance. In between times he made a combined total of over 300 appearances for Barnet, Southend United, Birmingham City, Derby County, Sheffield United, Ipswich Town, Cambridge United and Wimbledon. Played 25 times in the Premiership whilst at Derby. A back injury curtailed his playing days but was able to resume playing after receiving a complimentary therapy called Hanna Somatic and he later became a qualified Hanna Somatic Educator. Left on the eve of the season, apparently after a disagreement over wages. (0a).
Luke Jackaman– Made his debut, as a substitute, when 17 during City's Herts Senior Cup tie with Royston Town in January 2010 and was handed his Conference South debut for City's final match of the season away to Bath City. A central midfielder who can play wide and was ever present during the City Youth teams' long FA Youth Cup run. (2a).
Tegana James– Made his City debut in December 2006. In April 2008 he made his first appearance in the Conference South with his second game being the Saints final match of the 2009-10 season. A striker who features regularly for the Reserve team and assists with coaching at the local football development college. During 2009-10 he also had brief spells with local sides Hemel Hempstead Town, Colney Heath and Codicote. (1a).
Danny Johnson –Midfielder who joined St Albans City from Malden Town having been ever present for the Isthmian League club during 2008-09. Made his debut as a substitute during the Saints win at Woking in November 2009 and scored his first goal for the club during a 1-1 draw with Braintree Town four days later. Was released due to budget cuts but returned for a second spell towards the end of the season. (13a, 1g, 1y).
James Lindie– A striker who signed for St Albans City in February 2010 but was released after ten goalless appearances. Previously with Southend United, he was sidelined for a lengthy period through injury. Has had loan spells with fellow Conference sides, Ebbsfleet United, Grays Athletic and Bishop's Stortford, and a spell in Spain with CD Javea. Had a trial with Ayr United having started in senior football with Potters Bar Town. (10a).
Peggy Lokando– A Congolese international who was formerly with Southend United. A one-time Arsenal youngster who has also had spells with Leyton, Dagenham & Redbridge and Crawley Town. Joined the Saints in February and was named as a substitute for three First team matches but his sole appearance was 45 minutes for the Reserves. (0a).
Rob Magwood –Captain of the St Albans City Youth side that progressed through five Rounds of this seasons FA Youth Cup before losing a 2ndRound Proper penalty shoot-out to Wycombe Wanderers . A midfielder who was on the books of Watford and is also signed to Spartan South Midlands League side London Colney. Turned 18 at the end of March and crowned a remarkable season by winning the Player of the Month award for April. (15a, 3y).
Angus McLachlan– A 21-year old Australian who joined the Saints in December 2009 from fellow Hertfordshire side Cheshunt. Had a short spell on loan to Cambridge City earlier in the season having previously played for Brisbane side North Star. Made his City debut during a 1-1 draw at Dover Athletic just before Christmas and scored his first goal a week later as the Saints won at Maidenhead United. Returned to Cheshunt after just two more appearances. (4a, 1g).
Adam McWeeney– Goalkeeper who excelled during the Saints FA Youth Cup run in 2009-10, was rewarded with his First team debut when facing Royston Town in the Herts Senior Cup. Was an unused substitute for three other First team matches. (1a).
Ryan Maxwell– Scottish midfielder who made two substitute appearances during 2009-10, including City's FA Cup defeat at Heybridge Swifts. Well-travelled he had spells with Irish sides Glentoran and Larne as well as his homeland clubs Raith Rovers and Hamilton. Made two Conference South appearances for Basingstoke Town in 2005, one of which was against St Albans, and has also played for Margate, Dagenham & Redbridge, Boreham Wood, Welling United, Crystal Palace U19s, Stansted and Harlow Town. (2a).
Ricky Miller -A 20-year-old striker who had trials in the summer of 2009 after leaving Boston United but was no stranger to the Saints having played for St Albans City Youth and went with the club, in the U12 side, to Holland at Easter 2001 to partake in a youth competition. Although signed by the Saints he never turned out for the club, except in friendly matches, and headed up the A1 to join Stamford having previously played for Lincolnshire side Spalding United. (0a).
Jason Mitchell –A 21-year-old central defender who spent the 2008-09 season with Essex side Maldon Town and had a couple of weeks on trial with Luton Town in the summer. Signed for the Saints just prior to the start of this season but was released after playing for the first hour of City's opening match of the season, at Dorchester Town. Has also played for Witham Town. (1a).
Craig Mortimer– A product of the local college Football Development scheme who made his City debut in the Herts Charity Cup in November 2009 with his league debut coming two months later during the Saints Conference South match at home to Bath City. Was released the following month and signed for fellow Hertfordshire side Berkhamsted. (3a).
Jonathan O'Donnell –Played for Southern League side Hemel Hempstead Town during 2008-09 before making the short journey to St Albans City during the summer. A hugely influential figure in the Youth teams magnificent run in the FA Youth Cup. Made his First team debut at the age of 17 and in January 2010 signed an 18-month contract with Conference National neighbours Luton Town. Started out with seven years at Watford and then two with Milton Keynes Dons. (16a, 2g).
Jamie O'Donoghue –A 21-year-old striker who was with Barnet Youth during 2005-06 and has since played for Yeading, Biggleswade Town and Brimsdown Rovers. Has also played in Australia for Melbourne side Langwarren while his father played for Irish club Cork City. Was one of two debutants for the opening day match at Dorchester Town not to be given a second game. (1a).
Mark Peters –A 37-year-old St Asaph-born central defender who joined the Saints in the summer of 2009 as assistant manager. Was with Conference North side Kings Lynn Town for the 2008-09 season, winning the Player of the Year award with the Linnets. Began his career with Manchester City and then Norwich City before making his Football League debut with Peterborough United. Had lengthy spells with Mansfield Town and Rushden & Diamonds before playing for Leyton Orient and Cambridge United. Also had a brief loan spell with Aldershot Town and combines his time at Clarence Park with coaching at the local sports college. (31a 2g, 8y, 1r).
Godfrey Poku –Joined the Saints early in 2009-10 and after scoring twice in two Reserve matches made his First team debut during City's 2-0 win at Weymouth on 19thSeptember. A former student at Redbridge College he was offered a scholarship at Fort Louis College early in 2009 but was unable to take up the offer. Joined Luton Town on an 18-month contract at the same time as O'Donnell and was loaned back to the Saints for one month before moving to Luton permanently. (21a, 1g, 5y).
James Quilter – A fitness instructor who joined St Albans City in January 2008 from Essex Olympian League side Manford Way. Played for Tottenham Hotspur at U17, U19 and Reserve team levels and has since turned out for Billericay Town, Braintree Town, Cambridge City and Takeley while also having had trials with Brentford, Oxford United, Stevenage Borough, Southend United, Dagenham & Redbridge, Woking and Welling United. The only player to have appeared in all of City first 37 league matches of the 2009-10 season, often when carrying an injury, but was released following a budget cut at the end of March. (38a, 4y).
Darren Quinton –Midfielder who ended the 2008-09 season with Conference South rivals Braintree Town, where his uncle Bradley was manager. Progressed through from the Youth team at Cambridge United but after making over 70 First team appearances suffered a cruciate knee ligament injury and made just one further appearance before leaving the Abbey Stadium. Was the first City player to score twice in one match during 2009-10 but was released after just five appearances. (5a, 2g).
Drew Roberts –Former England Schoolboys International who joined the Saints from local rivals Hemel Hempstead Town and scored against his former club in a pre-season friendly. Has had spells with Bedford Town, Kettering Town, Aylesbury United , Cambridge City and Histon. Was twice on the losing side in play-off matches against St Albans. City's leading goal scorer with 14 goals in 35 games but was released on transfer deadline day to join Brackley Town following a cut to the playing budget at Clarence Park . Converted six out of seven penalties during the season. (35a, 14g, 6y).
Lamine Sagna –A 21-year-old Senegalese born striker who made a remarkable start to his career with St Albans City. After scoring five goals in two Reserve team matches he made his First team debut as a substitute at Woking on 10thNovember and scored the winning goal 40 seconds later. Failed to add to that tally and left after making eight appearances. (8a, 1g, 1y).
Solomon Shields –Signed for St Albans City in the summer of 2009 having had a two-month loan spell at Clarence Park during the preceding season whilst with Leyton Orient. City's Player of the Month for March 2009. A former scholar at Brisbane Road who made one league appearance during three years as a professional with the east London club. His season ended when suffered a ruptured Achilles whilst playing with friends at the end of February. (26a, 2g, 4y, 1r).
Peter Smith –An attack-minded left-back who made his debut when the Saints won 1-0 at Woking on 10thNovember 2009. Started the season with Poole Town having previously played for fellow southern sides Lymington & New Milton, Winchester City and Salisbury City. Also had three months on trial with Bournemouth. Made a tremendous impact at Clarence Park , being voted Player of the Month during each of his first three months with the Saints and topped that by winning both the Supporters and Player's Player of the Year trophies. As with Jonathan O'Donnell, he was introduced to St Albans City by Reserve team manager Darren Gibb. (29a, 6y).
Hassan Sulaiman – Made 75 appearances in two seasons for the Saints but left at the end of the 2008-09 season and had trials with Woking. Hinted at a City comeback and made three Reserve team appearances during the season. A coach at Chelsea, he had spells with Arsenal and Wigan Athletic as a youngster and played for Aldershot Town, Slough Town and Crawley Town. (0a).
Chris Sullivan– Joined the Saints from Billericay Town in January 2010 having previously had spells with Canvey Island, Tooting & Mitcham United and Stevenage Borough. Predominantly a forward he was also used on the flanks of the midfield. (15a, 1y).
Bradley Thomas– Central defender whose one appearance was as an 83rdminute substitute during the 1-1 draw with Lewes in August 2009. A well-travelled 25-year-old who has played for a number of clubs including Peterborough United, Kettering Town, Aldershot Town, Heybridge Swifts, Sutton United, Weymouth, Eastleigh, Yeovil Town, Tamworth, Boston United and Crawley Town. Has twice been dismissed when playing against St Albans. (1a).
Jamie Thurlbourne –Summer 2009 signing from Eastern Counties League champions Newmarket Town, for whom he scored 11 times from midfield. Has played for a number of sides in the East Anglia area including Cambridge City, Wisbech Town, Haverhill, Mildenhall Town and, Long Melford. Elder of the Thurlbourne brothers, a left-back he scored once in his seven games for the Saints. (7a, 1g, 1r).
Luke Thurlbourne –Feisty midfielder who had two loans spells with St Albans City whilst on contract to Southend United. Suffered a broken leg in December 2008 during City's FA Trophy defeat at Stevenage Borough but made a remarkably swift recovery. Made the move to St Albans permanent for the 2009-10 season but quickly fell out with the club over disciplinary issues and joined his brother in a move to Mildenhall Town for whom he scored in the Cambridgeshire Invitation Cup final. (12a, 1g, 5y).
ST. ALBANS CITY MANAGER
Steve Castle – After a distinguished 16-year career as a professional, consisting of over 600 games, he turned his hand to management in October 2003 with St Albans City and following a difficult first stint enjoyed steady progress during a second spell in charge at Clarence Park . On Easter Monday 2010 became only the third individual to be St Albans City manager for 150 league games. His days as a professional began and ended at Leyton Orient and took in stops at Plymouth Argyle, Birmingham City, Gillingham and Peterborough United. Was transferred for fees totalling £470,000. Prior to joining the Saints as a player he also appeared for county rivals Stevenage Borough. In addition to being City manager he also runs the St Albans-based college football development project and had a spell as a scout for the England U19 side.
Final Standings
Conference South
P
W
D
L
F
A
W
D
L
F
A
GD
Pts
GF
GA
1
Newport County
42
18
3
0
50
8
14
4
3
43
18
67
103
93
26
2
Dover Athletic
42
12
4
5
36
20
10
5
6
30
27
19
75
66
47
3
Chelmsford City
42
10
7
4
30
21
12
2
7
32
27
14
75
62
48
4
Bath City
42
10
8
3
30
19
10
4
7
36
27
20
72
66
46
5
Woking
42
11
4
6
29
20
10
5
6
28
24
13
72
57
44
6
Havant & Waterlooville
42
10
8
3
40
23
9
6
6
25
21
21
71
65
44
7
Braintree Town
42
12
5
4
32
17
6
12
3
24
24
15
71
56
41
8
Staines Town
42
10
6
5
37
20
8
7
6
22
20
19
67
59
40
9
Welling United
42
9
4
8
30
23
9
5
7
36
28
15
63
66
51
10
Thurrock
42
9
7
5
37
33
7
6
8
29
27
6
61
66
60
11
Eastleigh
42
8
4
9
37
32
9
5
7
34
34
5
60
71
66
12
Bromley
42
8
5
8
37
27
7
5
9
31
37
4
55
68
64
13
St. Albans City
42
9
3
9
25
25
6
7
8
20
30
-10
55
45
55
14
Hampton & Richmond Borough
42
7
5
9
34
36
7
4
10
22
30
-10
51
56
66
15
Basingstoke Town
42
5
5
11
19
33
8
5
8
30
35
-19
49
49
68
16
Maidenhead United
42
6
6
9
24
28
6
6
9
28
31
-7
48
52
59
17
Dorchester Town
42
9
8
4
41
26
4
1
16
15
48
-18
48
56
74
18
Bishop's Stortford
42
6
5
10
17
25
6
6
9
31
34
-11
47
48
59
19
Lewes
42
7
7
7
31
28
2
8
11
18
35
-14
42
49
63
20
Worcester City
42
7
4
10
29
28
3
6
12
19
32
-12
40
48
60
21
Weston-super-Mare
42
4
5
12
30
42
1
3
17
18
51
-45
23
48
93
22
Weymouth
42
4
3
14
17
51
1
4
16
14
52
-72
22
31
103