St Albans City prior to the friendly with Watford at Clarence Park on 17th July 2010.
Glodi Kwemi, Inih Effiong , Ryan Frater , Mark Peters , James Fisher
Scott Sinclair, Joe Clemo, Rob Magwood , Peter Smith , Paul Bastock , Drew Roberts
The summer of 2009 saw St Albans City manager Steve Castle pondering as to whether there would be a football club for him to take charge for the 2009-10 season following the demise of the club's financial backer, William Verry Limited. The company had collapsed in May 2009 with debts totalling £19.1m. The club came through that dire situation, and a debt to Verry's in excess of £550,000 that the administrator - BDO Stoy Hayward - wiped off, only to face similar problems in the summer of 2010.
This time the threat appeared to come from the Inland Revenue. Twice during the 2009-10 campaign the club was blighted by a player registration embargo, implemented by the Football Conference due to an unpaid tax bill, and it was believed that the Club had been given until mid May to come to an agreement or face a winding up petition. An agreement was reached between the Club and the Revenue as the deadline approached but, as Castle and City supporters were to learn early in the season, the Club was on far from safe ground. Throughout the summer St Albans continued to be under a registration embargo, something that restricted the attractiveness of a move to Clarence Park for any possible signings Castle had in mind.
Speculation continued as to just how long chairman John Gibson could remain in charge of the troubled club. He dismissed an apparent offer by contacts of former director Ian Ridley. It is thought that Ridley's contacts were willing to invest £100,000 into St Albans City immediately, with further funding to follow. Gibson brushed the proposal aside stating that he did not want the Club to fall into the hands of a single owner. His vision was for a number of people, or groups, investing equal amounts and all having an equal stake and say in the running of the club. Such words from a person who, during his first eight years at the helm had run it completely autocratically and lost the services of many fine people along the way due to this, were beyond belief.
Clarence Park would have to be quite lucrative to match the joint income of his jobs at St Albans City and Oaklands.
There was also speculation as to Castle's future with him being linked to the vacant manager's position at Braintree Town, a perceived ideal move given his home in Bishop's Stortford. But Castle had another link to St Albans that he was less keen to break. For six years he had nurtured the 'talent' at Oaklands College on the Football Development Course. The financial security provided by this job, although not funded by the Football Club, would mean that any new position he took away from
Off the pitch the Club resigned its Reserve side from the Capital League and entered it into Division One of the Spartan South Midlands League. This move needed ratification by the Football Association before being allowed to proceed. But the Reserve team was, in most people's eyes, the Reserve team of St Albans City in name only. For the forthcoming season it would be under the control of Franco Sidoli, Daniele Manzi and former City midfielder Alexis Nicholas , who was an employee of Sidoli's at his Frank Warwick Estate Agent business. Sidoli and Manzi had grown in significance at Clarence Park during the spring and by making a financial input to the Club had gained the confidence of the beleaguered Gibson. The duo were major players at the north London AC Finchley club and it was envisaged that they would fill the City Reserve side with players from their own club. It was believed that they invested in St Albans and looked to field their players in City's Reserve side because AC Finchley did not possess the facilities required to play at South Midlands level and that is the level at which they wanted their players to perform. There was concern that the Reserve side would be dominated by AC Finchley players and that Castle would face problems in getting players he wanted to look at into the team. Also, it was felt that by giving the Reserve team to outsiders a possible route into the First team for students at Oaklands had been cut off, just as it had been for members of St Albans City Youth when Gibson tied the Club in with Oaklands earlier in the decade.
Preparations for the new season began at the start of July with training sessions at Oaklands College. The sessions were well attended although the numbers were boosted by a high number of hopeful youngsters looking for a club. The majority of the squad from the previous season took part at one time or another but gone from 2009-10 were Ian Dunn, Chris Sullivan, Michael Emery and, most significantly, Gary Cohen whose new career as a paramedic would rule him out from playing at weekends. Teenagers Ross Dedman and Rob Magwood were both placed on contracts but this was believed to have been at the behest of the chairman rather than the manager. The thinking being that the chairman wanted to show to Oaklands College that the link between the Club and the College was proving productive for both parties.
Drew Roberts and James Quilter , both released following a cut to the playing budget in March, returned but Quilter's season came to an abrupt halt at training on 9th July when he suffered a cruciate ligament injury to his left knee. Quilter had been due to miss that particular training session, as he was at a wedding reception, but he rushed back to find that there were only five recognised First teamers taking part. The injury ruled him out for the entire season. Adam Everitt was also back in training after undergoing a hernia operation during the summer. Ben Martin , after a season with Chelmsford City, watched one training session and, having been released by the Essex club, stated he was keen on a return to the Park. During the close season he had had surgery on his left knee.
City's opening friendly of the summer was on Friday, 16th July, with Leyton Orient being the visitors to Clarence Park . The ground had benefitted from a makeover during the summer courtesy of the parents (Gary Dedman and Dave Magwood) of two players who painted the front of the main stand and repaired the missing decorative wooden curtains adorning the front piece just under the gutter. The duo also power-blasted the weeds that made the terraces and the banking behind the Hatfield Road goal so unsightly. Once the season started Gary and Dave also manned the turnstiles as the shortage of volunteers within the Club became increasingly apparent. Work had also gone on with the annual restoration of the pitch. The Trust, still in possession of more than half of the £9,646 taken from the bank account of the old Supporters Club, contributed the £3,525 payment for the work. However, this included £525 VAT that need not have been paid had the Trust allowed the Club, which is VAT registered, to pay for the work.
Castle used 21 players as City went down 5-0 to Orient for whom Scott McLeish scored a hat-trick.
St Albans were back in action the following afternoon to welcome Championship neighbours Watford who won an uninspiring encounter courtesy of goals from John Eustace and Stephen McGuinn. City's first goals of the summer were scored by Inih Effiong , who bagged a brace during a 4-2 defeat at Brackley Town on 21st July. Effiong, who made his debut in November 2008, returned to Clarence Park after spending a season with Boreham Wood for whom he scored once in 15 league games.
The following Tuesday saw a side of mostly trialists win 3-1 against Waltham Abbey on a dreadful surface at Sewardstone Road. City's goals came from Danny Johnson, Effiong and Glodi Kweme while the Abbey's goal was an unfortunate own goal by Mark Peters put past Dagenham & Redbridge 'keeper Dave Hogan. City saw out the month with a dull goalless draw at the Park with big spending Crawley Town, a side that was expected to challenge strongly for the Conference National title. On that same day, 31st July, the new-look City Reserves side went out of the Herts Charity Cup with a 2-1 defeat to Oxhey Jets. Eight of the City starting XI, and all of the three used substitutes, were previously with AC Finchley. Lee Armitt and Spencer Bellotti scored for the Jets before Rob Quattromini reduced the deficit in a fixture that is recorded as a First team game. A reasonably strong City side ended the pre-season programme with a poor 1-0 defeat to Hemel Hempstead Town at Vauxhall Road on the 7th August.
The Saints summer form hardly set the pulses racing but at least the club was clear to sign players in readiness for the new season after it was revealed that the registration embargo, in place at the end of the previous season, had been lifted. The Conference had imposed the embargo due to City's failure to pay an outstanding amount to HMRC believed to total £20,000. A deal was brokered that would see the debt to HMRC cleared within five months with the final payment due in mid December.
The New League Season
The league had a revamped name for the new season with the sponsors extending it by one word to the Blue Square Bet League with City competing in Blue Square Bet (Conference) South.
Fears that the side would break up at the end of the previous season, due to the perceived perilous financial state of the club, proved unfounded with Steve Castle doing well to retain most of his squad. The side that kicked off the new season away to Thurrock on the 14th August contained six members of the side that had played during 2009-10. Also in the squad at Thurrock were three former Saints who had rejoined the Club. But City were without skipper Ryan Frater and youngster Ross Dedman , as both players were hindered by hamstring problems. Debuts were given to David Deeney (from Hemel Hempstead) and Robbie Martin (Braintree Town), while 6'9" substitute Leon Simpson also came on for his debut. After a goalless first half City took a two-goal lead through Drew Roberts and Effiong. Both strikers finding the target on the opening day was just what Castle wanted but City were unable to collect all three points as a brace by Cliff Akurang, including a penalty, ensured an equal share of the spoils. In the Thurrock side was former Saint Lee Flynn , who looked as sprightly as ever despite being just a month away from his 37th birthday. Castle stated that he was 'gutted' to only get a draw against a side he said would comfortably finish inside the top ten. Thurrock actually took 15 games to record their first league win and ended the season inside the bottom three.
City's first home Conference South match of the season was greeted by an unforgettable cloudburst that almost forced referee Neil Hair into calling a premature end to proceedings. Given the dreadful conditions a decent game was witnessed with visitors Basingstoke Town, although there were no goals to entertain the lowest attendance for the opening home game of the season for at least 25 years. The lack of goals, which extended City's winless run to ten league matches, allowed Paul Bastock to celebrate his 200th league game with a clean sheet while James Fisher made his 100th appearance. Adam Martin came in for his debut.
A new club record was set on the second Saturday of the season as an inspired performance by Paul Bastock secured a goalless draw with Braintree Town and ended the Iron's winning start to the season. It was the first time City that had opened a season with three successive draws. Oaklands student Glodi Kweme, as a substitute for Effiong, made his debut. Braintree played for more than half of the game with just ten men following the dismissal of central defender Adam Bailey-Dennis shortly before the interval. City Coach Darren Gibb was back in technical area after completing a two-match ban handed out for using abusive language during the previous season's home game with Woking. Prior to the kick-off a one minute's silence was observed in honour of former City goalkeeper and manager Doug Parkin , whose death in Spain had been announced earlier in the week.
First half goals by James Fisher and Effiong gave City a two-goal advantage over Staines Town at Wheatsheaf Park on the 24th but, as with the trip to Thurrock, it was a lead they were unable to hold on to and with the aid of a Peter Smith own goal, and a goal from Leroy Griffiths, the Swans salvaged a point. Ryan Frater , as a late substitute for Smith, made his first appearance of the season while Sean Shields , a teenager formerly with Rushden & Diamonds, Tottenham Hotspur and Potters Bar Town, as well as Oaklands College, appeared on the team-sheet for the first time as an unused substitute.
The record run of draws at the start of a season was extended to five when Jamie Simmonds scored for Hampton & Richmond Borough at Clarence Park to cancel out Adam Martin's only goal for the Saints on the 28th. Martin's goal ended a wait of 330 minutes since City's most recent goal at the Park. Having ended the 2009-10 season with a draw at Bath City the draw with Hampton ensured City equalled the Football Conference record of six straight draws. Frater returned to the starting line up to renew his partnership with Ben Martin , it was the first time the duo had started together since April 2009. Simpson, as a substitute, appeared in the City side for the final time. One day before the Hampton match, some minor damage was inflicted to the steps leading to the clubhouse when a branch fell from a nearby tree.
The sequence of draws had to end sometime and it fell in the sixth league game of the season at what is said to be the longest continually used football ground in the world; York Road, home of Maidenhead United. Striker Chris Benjamin became the first of several 17-year-old players to turn out for City during the season on work experience from Leyton Orient. United built a two-goal lead through Andrew Fagan and the excellent Ashley Smith before Mark Peters , thrown on as a striker, headed a late consolation goal.
Player of the Month – Peter Smith
September – Rare and welcome cup progress
City's first crowd of the season of over 350 (490), for the visit of Woking on the first Saturday of the month, was greeted by the sight of two small bald patches on the pitch. These, according to club secretary Steve Eames, had been caused by a fox. The fox had made the holes on successive nights during the week but the problem was solved by spreading some humane repellent on the pitch.
What had been an inconclusive start to the season – five straight draws – became a poor start of five points from seven games when Ricky Anane's first half goal earned victory for Woking. City struggled to string a run of passes together while Woking, by contrast, played a more pleasing passing game and should really have won by a more convincing margin. The experienced French striker Jean-Michel Sigere made his debut, as did Sean Shields , while Effiong was relegated to the bench. But neither of the new players was given much chance to shine given the way City played. In extending their unbeaten run at Clarence Park to a 13th match the Cards also ensured that City's points total was their lowest from the opening seven games for 27 years.
The following Saturday City sprung a nice surprise as it seemed that the criticism aimed at the team for the continual and ineffective use of the long ball was answered by a performance of composure and passing football away to Bromley. City arrived at Hayes Lane in 18th position; Bromley, having won all of their opening seven games, were top. Peter Smith looked to have celebrated his 26th birthday with a quite wonderful solo goal (below) only to have it ruled out for offside against Effiong who had not actually touched the ball. Relieved at their good fortune Bromley grabbed an interval lead through former AFC Wimbledon player Tony Finn but St Albans salvaged a point through substitute Peters' second goal of the season. The decision by referee Colin Lymer to disallow Smith's goal did not go down well with Steve Castle who was ordered not to return to the dugout for the start of the second half. And, in added time at the end of the game, Adam Martin became the first City player to be sent off since April when managing the unusual feat of collecting two yellow cards within 10-15 seconds of each other. Both cards were for dissent after a free kick that should have gone his way didn't.
Above: After a lengthy solo run Peter Smith scores at Hayes Lane but the goal is, incredibly, disallowed for offside against Inih Effiong (nearest the camera).
The satisfaction of ending Bromley's winning run lasted fewer than 24 hours, as a headline on the front page of the following morning's Non-League Paper revealed that the club was being investigated by the F.A. for making alleged illegal payments to players. The period under investigation covered the 2008-09 season. The F.A. investigated countless files but, strangely, did not interview the team manager, the secretary, or any of the players said to have been paid expenses rather than wages. By paying expenses instead of wages, the F.A. alleged that the club had tried to avoid paying tax.

Chairman John Gibson and vice chairman Alasdair McMillin had kept quiet that they had appeared in front of an F.A. disciplinary commission on 9th September. The meeting was revealed by the Non-League Paper. Gibson's response to the investigation was staggering. "At this moment in time we have got a slight issue to deal with and it is nothing other than procedural. As far as we're concerned it is a private matter," said Gibson, who then added, "I don't foresee any major problems." Unfortunately for the City owner, the F.A. did foresee major problems.
Adam Everitt was dismissed for pulling the hair of Bobby Hopkinson after the Havant midfielder had gone in high on the City defender; Hopkinson was also dismissed. And late in the game Havant had forward Manny Williams sent off for two bookable offences when he was fortunate not to get a straight red for either offence. The dismissals took the number of players sent off in the last six City matches under the control of referee Ian Crouch to eight – he also reported one assistant manager (City's Andy Edwards) to the Football Association.
Concern about the punishment that the F.A. may hand out was slightly allayed as City recorded their first win of the season with Sigere's first goal for the club securing victory over Havant & Waterlooville at Westleigh Park. The result, which ended a winless run stretching back 16 matches, was overshadowed by the ill-discipline of the players. City's
Just a week after claiming their first league win of the season St Albans ended a run of five years without a victory in the F.A. Cup with a 3-1 win over Kent League Premier Division side Beckenham Town. Sigere opened the scoring but the visitors went in level at half time through Danny McKone's equalising goal. City received a helping hand with referee Adrian Oldershaw generously awarding a penalty from which Drew Roberts restored the lead. Victory was ensured courtesy of Chris Hill's late own goal. Midfielder Adam Martin missed the game as he served City's first suspension of the season. A debut was given to Pelayo Gomez , a forward on work experience from Brentford who became the first Spaniard for 50 years to play for the club.
Player of the Month – Peter Smith
October – Progress then capitulation
nd October. The visitors were level by half time though through Scott Shulton and following the introduction of former Saint Danny Morgan on the hour Stortford overwhelmed their hosts. Morgan put the Bishop's ahead, another City old boy Duane Jackman added the third and Paolo Vernazza, following a pass from Morgan, completed Stortford's 4-1 win. Missing from the City line-up was Everitt who was serving the first game of his three-match ban, dished out following his dismissal at Havant.
City were back in F.A. Cup action on the 9th with the visit of Kingstonian in the 3rd Qualifying Round. Coach to the K's was renowned SKY football commentator Martin Tyler, who had played in the Isthmian League with Corinthian Casuals during the 1970s. Steve Castle had planned to give a debut to work experience Leyton Orient wide man Moses Odubajo. Plan B was put into operation when the teenager got lost en route to Clarence Park and had to be content with a place on the bench. The first meeting between the two long standing rivals, although goalless, was highly entertaining. Kingstonian, from the Premier Division of the Isthmian League, were very impressive at the Park but in the replay at Kingsmeadow it was City's turn to hold the upper hand. Gomez gave City an early lead with a superb goal but the K's drew level through Bobby Traynor's penalty right on half time. But Gomez was not to be denied his night of glory and secured City's passage through to the final qualifying round with another excellent goal during the second half. Drew Roberts came off the bench for the final minute in what proved to be his last game for the club before being released.
Following on from desperately needed victories in the league and F.A. Cup, City appeared on course for a third consecutive triumph when Deeney scored an early goal at home to Bishop's Stortford on the 2
Football suffered a sad loss on 15th October with the death of former City manager Colin Lippiatt at the age of 68. At Colin's funeral three of the pall bearers had St Albans City connections; Paul Bastock , Lee Clarke and Nick Roddis . Pictured below are some of the St Albans contingent gathered at Woking's Kingfield stadium following the funeral on the 3rd November; Steve Eames (secretary), Scott Cousins , Bernie Brothwell (Paul Bastock's long time friend), Dean Cracknell , Ben Martin , Dean Hooper , Paul Bastock and Lee Clarke .
With a couple of successes in the F.A. Cup and a league win at Havant behind them, City were optimistic that their season was on the road to recovery, with the late capitulation to Stortford a mere blip. This thought gained greater credence when Peters opened the scoring at home to Weston-super-Mare and Sigere added a second with just 16 minutes remaining. With ten league games played Weston were just three points clear of St Albans and Castle's side were now on course to leapfrog Craig Laird's boys. However, during the course of the next 14 minutes St Albans capitulated for a second successive league match and their season headed into freefall. Within three minutes Marcus Duharty and speedy substitute Sahr Kabba had pulled the Seagulls level. City looked to have survived Weston's fightback when Effiong put the home side into a 3-2 lead on 78 minutes. But still Weston were not finished and two minutes later it was Kane Ingram's turn to get his name onto the scoresheet. Back came City once more but the crossbar denied Adam Martin and there was one final twist in the tail as Kabba, on 89 minutes, clinched a completely unbelievable 4-3 victory for Weston. If it is possible for a team to be shell-shocked then St Albans were that team.
In a strange move, believed to have been on command of the chairman, the young and exciting Sean Shields was placed on a contract.
Alarmed by the way his side crumbled against Weston, Steve Castle fielded his entire First team four days later for a Reserve team League Cup tie against Luton side Crawley Green. But the match, played at Barton Rovers' Sharpenhoe Road ground, was an unmitigated disaster for the Saints. The only First teamer missing against Crawley Green was Paul Bastock , his place was filled by teenager Sam Austen. Unfortunately for Austen, it was his error that led to City falling behind. The tie was taken to extra time with Deeney equalising but the Saints performance was pitiful and South Midlands side Crawley should have secured victory before the game went to a penalty shoot-out. Despite City's first penalty, taken by Effiong, being saved St Albans did win the shoot-out. Castle was looking for a positive response following the debacle of the previous weekend against Weston. He was also looking for a win of substantial proportions as the Saints faced a daunting F.A. Cup 4th Qualifying Round tie at Luton Town the following Saturday. Instead, City's fragile confidence had suffered another blow and Gomez was ruled out of the trip to Luton due to an ankle injury sustained against Crawley Green.
With the club in decline on the pitch and disarray off it, the trip to Luton was an opportunity for City to put all of their problems behind them and grab some cup glory at Kenilworth Road. But, after a bright opening few minutes, it was soon evident that City were out of their depth and Luton were in no mood to be kind to their near neighbours. The Hatters were three-up in 38 minutes and strolled to a 4-0 win with Amari Morgan-Smith scoring a hat-trick. Danny Crow scored the other goal and the Hatters would have scored a good deal more had Bastock not been in excellent form. A debut was given to on-loan Leyton Orient midfielder Harry Beautyman. The number of City supporters at Kenilworth Road surprised home officials with the Saints being cheered on by 537 followers in a crowd 4,144. Sadly, so outclassed were St Albans that the club failed to retain any of those new supporters who went along dreaming of cup glory. In the run up to the match grave concerns had been expressed by Hertfordshire police regarding the suitability of Clarence Park to stage any possible replay. As rumours grew of some elements of supporters of Luton Town and Watford seeing Clarence Park as the ideal place to settle a few old scores the police informed the F.A. that a replay could not be staged there. After looking at various options the F.A. agreed that, if needed, the replay could be held at Kenilworth Road. The run may have been over but getting drawn away to Luton, after winning through two rounds, meant that City's participation in the F.A. Cup had, for the first time in many years, been a financial success. The club picked up £12,000 in prize money for the wins over Beckenham and Kingstonian while approximately another £13,000 was received as our share of the gate money from Kenilworth Road.

Just one day after the defeat at Luton there was more sad news as Bill Nicholson, the City Treasurer since 1979 and a loyal servant of St Albans City for more than 60 years, passed away at the age of 85.
On the eve of the next match, at home to Ebbsfleet United, Dom Petrucci, the leading goal scorer for the Reserves, and former Tottenham Hotspur player David Hutton, both signed Conference South forms. Goals for the visitors by Calum Willock and Tom Phipp either side of a smart finish by Effiong condemned City to a fourth successive home defeat.
Player of the Month – Paul Bastock
November – City slump
Hutton made his debut on the 1st of the month and crowned a fine 90 minutes away to Chelmsford City by providing the cross from which Beautyman scored his only goal for the club. It was the first goal conceded at Melbourne Park by Glenn Pennyfather's side since the previous season but the Essex side salvaged a point through Anthony Cook's equaliser.
Before the next match, away to Welling United, the funerals took place of Colin Lippiatt (Easthampstead Park Crematorium, Bracknell) and Bill Nicholson (West Herts Crematorium, Garston). Following Bill's funeral a good number of family members and supporters gathered in the Clarence Park clubhouse for the wake.
Any thoughts that the draw at fourth placed Chelmsford marked a turning point in City's season were banished within 23 minutes at Park View Road the following Saturday, 6th November, as Welling United stormed into a five-goal lead. Joe Healy (2), Jake Obersteller and Andy Pugh had already beaten Paul Bastock before his close friend, and former Saint, Lee Clarke headed in the fifth goal. Welling were made to wait until the final minute before notching their sixth goal, scored by substitute Luis Cumbers. Although painful for Bastock that final goal seemed to sum up the way the club was falling apart. Hutton hit a pass to his 'keeper from out on the City left, but Bastock fly-kicked at the ball and allowed Cumbers to roll the ball into the open goal. The game marked the end of the road for Robbie Martin.
The heart that was lacking at Welling returned for the following Tuesday's game at home to Farnborough but with two second half Jack King goals the Surrey club handed St Albans a fifth successive home defeat. It was City's fourth consecutive match against opposition either in or on the fringes of a play-off place and the return of just one point from 12 highlighted the gulf between City and the upper echelons of Conference South. City welcomed back an old boy as Hector Mackie , signed from Bath City, made his first appearance for the club since April 2009. Petrucci, as a substitute, made his debut and was booked three minutes later. Sigere, the player who made way for Petrucci, was released later in the week having scored three times in 13 games. The Frenchman joined Division One South Isthmian League side Walton & Hersham.
St Albans were back at Clarence Park 24-hours later to entertain Hatfield Town in the 1st Round of the Herts Senior Cup. Only the younger element of the First team squad – Shields, Magwood, Effiong and Petrucci – were included in a side containing seven other Reserve team players. Hatfield, from the Spartan South Midlands League Premier Division, ran out easy 4-1 winners with goals from Matt Standon (2), Daniel Staples and Jason Becks. Effiong scored City's lone goal. The only good news to come out of the game from City's perspective was the appearance of Solomon Shields . It was his first run out for the senior side since suffering a ruptured Achilles at the end of February. The attendance of 40 is the lowest recorded for a competitive St Albans City match at Clarence Park .
After a run of games against sides from a distant end of the Division, City met up with likes of their own on the 13th with a visit to the atmospheric and alluring Dripping Pan, home of Lewes. The Sussex club were in 20th place in Conference South, City were one position above the relegation zone in 19th place. After an even opening 30 minutes Lewes ended the first half well on top and leading 2-0 with goals from Paul Olima and the debut-making Ben Godfrey. Olima strengthened Lewes's grip on proceedings early in the second half with a wonderful solo effort. Everitt reduced the deficit when heading home a corner from Hutton but was then dismissed three minutes later as City's fightback was extinguished. Lewes were now out of the bottom three and City back in it for the first time since the opening day of the 2009-10 season. Castle's front line was another new pairing as Gomez was joined by Chris Benjamin who was playing his first game for the club since early September. The day was hardly one Castle would wish to recall although it was his 200th match asmanager of St Albans City.
The growing air of despondency and uncertainty evident at Clarence Park , not aided by the impending F.A. hearing, lifted a little when Staines Town were beaten 3-1 in the final qualifying round of the F.A. Trophy. There was a new face up front as Ollie Palmer, on a one-month loan from Woking, lined up alongside Benjamin. Palmer fired City ahead inside ten minutes with Everitt giving the home side a comfortable two-goal cushion at the interval. Following the sending off of Staines' Andre Scarlett, Peters increased City's lead before Elliott Onochie scored a consolation for the visitors. City's win added a most welcome £4,000 to the coffers from the prize fund.
The year had begun with a long cold spell and more snow than in recent years and during the latter part of November the start of another long cold winter left its footprint on the sporting world. City's first match to fall victim to the weather was at Eastleigh on the final weekend of the month as a frozen pitch at the Silverlake Stadium made play impossible. It may be nothing more than clutching at straws but having won on their past four visits to differing grounds in Hampshire, St Albans were keen for the game to go ahead. Back at Clarence Park , an announcement appeared on the official club website that there was to be, early in December, one final draw for the 100 Club before it would be closed down. The draw never did take place and the whereabouts of missing funds accumulated through the 100 Club have never been explained.
Player of the Month – Ben Martin
December – Out of the Trophy – F.A. Hearing delayed
Ashley Vickers , now player/manager at Dorchester, was not present due to attending a wedding but will have been delighted to hear of The Magpies 3-0 win. Although level at the interval, City provided feeble opposition and fell to a brace from Ryan Moss and a single by goal by Rico Wilson. Castle was without three of his big guns for the trip to Dorset. Everitt was ruled out due to his second suspension of the season, Ben Martin was working in Ireland, and Peter Smith who was laid low by illness. New signing Matt Hocking, from Boston Town but with a wealth of Football League experience, made his debut at left-back. Heading away from the Park was Hector Mackie for whom the game at Dorchester was his last in a City shirt as he signed for Gloucester City.
The new month was due to start with St Albans facing Dorchester Town on consecutive weekends; firstly in the league and then in the F.A. Trophy. Heavy snow put paid to any ideas of Dorchester visiting the Park but the Trophy tie at The Avenue Stadium did go ahead. Former City defender
It had been anticipated that the meeting between officials of the club and the F.A. would take place at Wembley on the 15th but the meeting was adjourned at late notice, due, apparently, to the club providing new information in its defence. The hearing with the F.A. was not the only postponement as the weather accounted for matches against Woking, Boreham Wood and Hampton & Richmond Borough, the latter only being called off barely over an hour before the scheduled kick off.
January – City rise and fall
After a month during which temperatures seemed stuck at somewhere between -5C and -10C the weather relented just sufficiently for football to resume on New Year's Day. Temperatures were still uncomfortably low but games went ahead on decent playing surfaces. City's start to 2011 could hardly have been better as a brace of goals for Effiong against his former club, and a superb free kick from Peter Smith , clinched what, at the time, appeared to be a crucial 3-0 win over Boreham Wood at Broughinge Road. The scoring was over before half time as City moved out of the bottom three, Wood slipped to the foot of the table. Effiong grabbed the headlines but the star of the show was Hutton whose close control and passing was sublime.
Two days later the bid to avoid relegation looked to be moving in the right direction as Effiong struck again to see off 12th placed Alan Devonshire's Maidenhead United as City won a league match at Clarence Park for the first time since 13th March 2010. The win lifted City to 18th position, their highest placing for ten weeks.
City had had to dig deep to take all three points from Maidenhead and the following weekend Bromley also forced St Albans to defend for long stretches before holding out for a point in a 1-1 draw. Hutton opened the scoring with a goal that came courtesy of a wild miscue by Effiong. Bromley, still second in the table but slowly falling away from the promotion race, denied City a third successive win with Leon McKenzie's 65th minute goal. Hutton's strike was his only goal for the club as he had trials with Glenn Hoddle's Academy at Bisham Abbey and accepted an offer to join the Academy in Spain. The Bromley match also marked the end of the road for Ollie Palmer who returned to Woking. New Woking boss Garry Hill (City manager 1998-99) declined to extend Palmer's loan, as he wanted to have a closer look at the player.
Concerns over the state of the club finances were expressed as the players' cheques, and also that of the club secretary, were bouncing once again. Despite this, vice chairman Alasdair McMillin gave assurances to Steve Castle that the players would be correctly paid for the remainder of the season. Most of the outstanding cheques are believed to have been brought up to date following a donation from an individual who was not a director but carried sway in the boardroom.
St Albans' intended Conference South fixture at Eastleigh on the 15th was called off due to the Hampshire side's continued involvement in the F.A. Trophy. The day was a sad one for many supporters as it was announced that Adrian Jolliffe, a supporter for some 40 years, had passed away following five months in a coma.
A visit to the F.A. headquarters was postponed for a second time on the 21st due to a commission member being unwell. The hearing was put back to 4th February.
City returned to action on the 22nd with a trip to another corner of Hampshire to face Frank Gray's Basingstoke Town at the Camrose. A first half goal for Effiong and Smith's first goal in open play earned City a 2-0 win. Making a welcome return to Conference South football for the first time since February was Solomon Shields who replaced Adam Martin midway through the second half. Heading away from the club though was Pelayo Gomez who went off at half time carrying an ankle injury and didn't play for the club again.
After three wins in four games, which included three clean sheets, City had risen to 19th in the table and had a good opportunity to pull away from the foot of the table as the month ended with three consecutive home games. The run started badly though when Richard Graham , brother of the former City winger Mark, ended the four-match unbeaten run when scoring the goal that gave Eastleigh a 1-0 win at the Park. Castle increased his selection options for the night with the signing of Leyton Orient duo Kaine Sheppard and Billy Lobjoit, the latter remained an unused substitute. Ryan Frater made his 100th league appearance while Petrucci started a league match for the first time. The match attracted City's lowest league attendance of the season thus far, 217, it was also the lowest for a match between the two clubs. The number of paying spectators was under 140, which only served to increase the cash flow problems at Clarence Park .
The game against Eastleigh had been a dire affair but City had another chance to move clear of the bottom three with the visit of bottom side Lewes on the final Saturday of the month. But the confidence gained during the unbeaten run was now nothing more than a distant memory and the two sides fought out a desperately poor goalless draw. Lewes played out added time with just ten players following the sending off of defender Nathan Green. Sean Shields was in the starting line-up for a league match for the first time since early September while Solomon Shields , as a substitute, made his final appearance. Sol informed Castle that he needed more time at a lower level to get fit before resuming his career in the Conference South.
Player of the Month – Inih Effiong
February – Sinning Saints severely punished by the F.A.
St Albans' failure to collect more than a single point from two home games made the clash with Boreham Wood on 1st February, rearranged from Boxing Day, a genuine relegation showdown. The local derby failed to grab the attention of the football folk of Hertfordshire though with a disconcerting turnout of just 294 people bothering to wander down to Clarence Park . And those supporting the Saints must have wondered whether it was worth the effort as City failed to score for a third successive match and slumped to a 1-0 defeat with Greg Morgan netting Wood's winner. A one and only appearance was given to Jacob Joyce, a first-year scholar with Peterborough United, while fellow Posh youngster Joe Newell came in for his only starting appearance.

Each of the games against Eastleigh, Lewes and Boreham Wood were of a poor quality and provided a dismal backdrop for the clubs' meeting with the Football Association at Wembley on the 4th. Club chairman John Gibson, vice chairman Alasdair McMillin and a lady from St Albans-based chartered accountants Rayner Essex, represented the Club. Rayner Essex had been assisting with the financial affairs of the Club since the collapse of William Verry in May 2009. A protest planned by the chairman of Saints City Trust, Ian Rogers, turned out to be something of a damp squib. Rogers and just two other supporters made the journey to the F.A. offices with the intention of handing out leaflets to members of the commission pleading with them to punish the instigator of any alleged crimes, the chairman, rather than the Club. The protest failed to make any impact and inside the building Gibson and McMillin were told that the club had been found guilty of financial irregularities during the 2008-09 season. The F.A. investigation is thought to have gone on for 15 months. The crime was one of paying players expenses rather than wages. This method of evading tax was described by the F.A. as giving St Albans City an unfair advantage over other clubs and as such a fine of £7,500 was handed out along with a deduction of ten league points. The club was also ordered to pay £2,000 in costs and was warned as to its future conduct. City were now firmly at the foot of the table, relegation was virtually assured even with 20 league games still to play. Just months after being slapped with a transfer embargo the club had now been found guilty of financial irregularities; the good name of St Albans City Football Club lay in tatters.
Steve Castle was informed of the punishment within minutes of the verdict being announced, courtesy of a phone call from the Non-League Paper. It was not until the following morning that the chairman had the decency to ring him to discuss the matter.
Due to the deduction of ten points, which took effect immediately, City took to the pitch at The Beveree against Hampton & Richmond Borough on the 5th well and truly rooted to the bottom of the table. Ninety-minutes later and there appeared little sign of a minor miracle unfolding as the Saints failed to score for the fourth consecutive game. Fortunately, Hampton were equally uninspiring and a point was gained from a gruesome goalless draw. The only talking point to be taken from the game was the performance of referee Nigel Lugg. The Chipstead-based official blew his whistle for almost 50 free kicks and flashed his yellow card ten times, including twice at Peter Smith who was duly sent off in the final minute. Smith was not the only casualty as City lost skipper Ryan Frater with a groin strain after just 15 minutes. Kyle Vassell, a striker who was two days away from his 18th birthday, made his debut on work experience from Brentford. City were only able to name four substitutes – Hampton could assemble just three – and one of the three used was striker Jamie O'Donoghue whose only previous game for the club was on the opening day of the 2009-10 season. At the other end of the appearances scale, Paul Bastock became, after Mark Pearson, the second goalkeeper to play 250 games for the club.
th February a meeting of the board, or at least some members, was convened to determine the response of the club to the F.A.'s punishment. What exactly occurred at the meeting is unclear. One version is that Gibson said that for an appeal to be successful he would resign. He is reputed to have said that this would increase the chances of success as he was 'hated' at the FA. But minutes were never produced to support or deny this statement. It was decided that an appeal would indeed be launched but it was not done so until two days before the 14-day deadline. Those involved in the appeal-making decision are thought to have included Franco Sidoli and Malcolm MacMillan, despite neither being members of the board. The board was thought to consist of John & Karen Gibson, Nick Archer, Danielle Manzi, John McGowan and Lawrence Levy. John Gibson retained 100% of the shares despite having received payment from other board members for a stake in the club of between 10% to 15% each.
On Sunday 5
A new club record of six successive games without scoring was set the following weekend as Chelmsford City strengthened their position in the play-off places with second half goals from Rob Edmans and Wayne Gray securing a 2-0 win at the Park. During the match there were protests by supporters against club chairman Gibson.
City spent Valentines Night (Monday) in Eastleigh and gave their pluckiest performance for many weeks only to have a succession of big decisions go against them that contributed to a 4-2 defeat. The match was played under heavy rain throughout that led to a badly scarred pitch by the final whistle. Effiong opened the scoring with his tenth goal of the season but by the time Dave Deeney (right) scored the second City goal Eastleigh had moved into a commanding position with goals from Shaun McAuley, Brett Poate and a brace from Jamie Slabber that included a controversial penalty. Effiong's goal was City's first in 571 minutes while Deeney's goal came in his last game for the club. Deeney had talks with Nuneaton Borough the following day but on the Wednesday morning was diagnosed to have a potentially serious eye problem that could end his career. Midfielder Ollie Kelly, formerly with Reading and one member of a talented family, made an impressive debut at the Silverlake Stadium.
Chairman Gibson issued a statement towards the end of the week refuting allegations, made in the St Albans & Harpenden Review, that the wage budget had been cut from £3,500 per week to somewhere around £2,000. He made no comment regarding the growing number of bounced cheques and the mounting debt of the club. Ian Rogers, chairman of the Saints City Trust, which itself was under fire for not offering financial support to the club and not providing transport for players for the longer trips, called for Gibson to resign.
City travelled to Farnborough on the 19th almost 40 points behind the Hampshire club but were only denied at least a share of the spoils by a series of cruel events. The goal that won the game for Steve King's side was scored by James Smith despite a clear foul on Bastock, while the woodwork twice came to the rescue of the home side. Making his debut at left-back was former Oaklands youngster Aidy Chaves while central defender Ben Martin played in attack for the second successive match as Castle sought to add a physical presence to City's strike force.
The fallout from being accused of deliberately evading paying tax began to show inside the board room with vice chairman Alasdair McMillin, a senior partner with Sherrards Solicitors, resigning as a director. Bizarrely, and in-keeping with the way the club had been run throughout Gibson's reign, McMillin still attended board meetings after standing down and it seemed almost like business as usual despite his supposed exit from Clarence Park .
Ten days after the F.A. announced their decision Gibson made the following announcement, "The first point I would like to make is that the problem with The F.A. has nothing at all to do with the non payment of tax and PAYE." That statement was at complete odds with the F.A. statement, which made it clear that the misdemeanours of the Club during Gibson's reign were very much in relation to evading paying tax. As highlighted in the F.A. statement, "The three breaches are in relation to financial irregularities in respect to payments and expenses to players." The point could hardly have been put more clearly.
Before City's next match Gibson met with an individual who was asked by Gibson to make a significant five-figure 'donation' to the club. The request was refused. On the 25th Companies House confirmed that McMillin's directorship had been terminated.
The improved performances witnessed in recent matches was not maintained during the visit of Dover Athletic on the 26th with the Kent side romping to a 5-1 victory. But rather than this being a particularly bad City performance credit went to the visitors for the excellence of their display. Gary Cohen , who had effectively retired from football at the end of the previous season to pursue a career as a paramedic, made a one-off return in an attempt to boost City's attacking options. Long before Aidy Chaves bagged an 89th minute consolation goal, his only goal for the club, Dover had wrapped up the points with strikes from Adam Birchall, Donovan Simmons, Lewwis Spence, captain Rob Gillman and Barry Cogan.
Two days after the Dover match Castle spoke to the players individually during training and released Deeney and Adam Martin . Fears that Deeney's career may be over proved unfounded and he joined Southern League side Arlesey Town. Martin returned to one of his former clubs, Slough Town, where he teamed up with fellow ex-Saints Chris Seeby and Simon Martin .
Player of the Month – Adam Everitt
Castle compensated for the loss of Deeney and Martin by signing experienced striker Tony Battersby. The former Sheffield United, Notts County, Bury and Lincoln City player joined City on a dual registration from Northern Premier League side Stamford. Battersby took just 76 minutes to make his presence felt with a headed equaliser away to Weston-super-Mare. Weston had taken the lead through an early Nat Pepperell penalty and won the game with a late and superbly placed free kick by Kane Ingram. With neither the club nor the Trust providing transport the players had to make the longest journey of the season under their own steam and their reward after the game was to not be paid. Assistant manager Mark Peters sustained a bizarre injury when he caught a finger in goalkeeper Lloyd Irish's jersey and had the digit broken as it was yanked in an unusual direction.
On the 8th March a meeting was held at Sherrards Solicitors office in St Albans with potential new owners meeting the chairman, a director, the former vice chairman and a significant investor. It is believed that two meetings may have taken place with possible new owners. The following day Castle informed the players of another wage cut, initial reports suggested it was a 30% cut but Castle later revealed it was 10%. Despite the wage cut three players were added to the squad on the 11th. Oaklands youngster Michael Lewis signed Conference South forms as did former Leyton and Walton Casuals midfielder Lee Flavin. The most significant signing was that of Jonathan O'Donnell for a one-month loan spell from Luton Town. The 19-year-old midfielder had joined the Hatters from St Albans in January 2010.
Clarence Park . Battersby had opened the scoring with a stunning goal as City's ten-match winless run came to an end. The Staines match marked the end of Matt Hocking's season as the defender suffered medial damage to his knee in a challenge with Scott Taylor.
Just like Battersby a week earlier, O'Donnell celebrated his return with a goal as City saw off a disappointing Staines Town 2-0 at
Two days later, the 14th, Gibson issued a rambling statement on the club website. He stated that was prepared to stand down, by the weekend, as chairman and a director in exchange for the Trust giving money to the Football Club. It was money that he believed to belong to the Football Club in the first place. Gibson made no reference to either his shareholding or ownership of the Oaklands project. He added that the sum was at least £10,000. The response of the Trust was to post a statement on its website that was no less rambling and contradictory of the facts than the chairman's online posting.
It was against such a messy background that the players again had to make their own way down to Dorset to face Dorchester Town at the Avenue Stadium on Tuesday, 15th March. The lack of support for the team from both the club and the Trust was bewildering. Castle breathed a sigh of relief that all the players not only arrived safely but also on time. But one player not to make the long trek was Ben Martin who stayed behind to sign for Welling United. Martin was in dispute with the chairman over wages and expenses and decided that his future lay away from Clarence Park . Dorchester were hardly in the best of form and were in danger of being sucked into the relegation zone. City's bid to get out of trouble, however unlikely, was boosted by a fine 3-1 win, which saw Inih Effiong score the Saints first hat-trick in 105 games. His first and third goals, following defence splitting through balls from James Fisher and Dom Petrucci, were examples of clinical finishing. Sandwiched between that duo was a successful penalty, given for a rash challenge on Kweme Glodi, who enjoyed a highly promising first starting appearance.
Effiong, though, was far from the only City player to shine at Dorchester and four days later away to league leaders Braintree Town, Bastock followed up a number of good saves he had made in midweek with an outstanding display as St Albans collected a surprise point. The home side led through a goal from on-loan Crystal Palace striker Nathan Pinney before Petrucci's first goal for the Saints restored parity eight minutes from time. City substitute Malik Abdulai replaced Magwood on the hour to make his debut and, as it is turned out, only appearance. One particularly unusual feature of the game was to see one of the linesmen wearing a cap due to the brightness and angle of the sun.
Dartford and St Albans City squared up to each other in a league match for the first time on the 22nd and the winners at the end of a thrilling encounter were the crowd of 674. Although more than double City's average home gate it was, to this point of the season, Dartford's third lowest attendance of the campaign. Effiong was on target again as City took a first half lead but two minutes later Charlie Sheringham, son of former England striker Teddy, levelled and then put the Darts ahead shortly after half time. Ollie Kelly, growing in stature with every passing game, headed City back onto equal terms within two minutes. Facing ten men for the final 30 minutes, following the dismissal of James White, St Albans, maybe should have gone on to win the game. Instead they were grateful to pick up a point when Darts substitute Ryan Hayes fired an injury time penalty against the woodwork. But the main reason why City avoided defeat was one more sublime performance by Paul Bastock . It was at a ground where he had what was possibly his finest game for the club and he frustrated the Kent side once more with a succession of acrobatic saves.. Lee Flavin made his debut when replacing Kweme for the final 13 minutes.
The togetherness of the team in the most trying of circumstances had been clear to see over the past eight games, even with the deduction of ten points there was a feeling that City could yet avoid the drop. But within 14 hours of the Dartford match finishing City suffered a blow that was, on the whole, unexpected and one that ripped the heart out of the club. It seems impossible that the loss of one player can have such a devastating effect, but there can no doubting that the news of Paul Bastock quitting St Albans City to return to Boston United really did take all the heart, hope and togetherness out of Club. The blame can be laid squarely at the feet of those running the club for the run of bounced cheques, along with the uncertainty of future payments being honoured, had caused Bastock, and Ben Martin before him, to call it a day. The loss of the two biggest names at the Club ended all pretence of City surviving in Conference South.
The suddenness of Bastock's departure left Castle with a massive headache, as he did not have a second choice goalkeeper. Indeed, in 143 of the 220 games for which he had been manager up to this point, Castle had not named a goalkeeper amongst the substitutes. After two days of frantic phone calls Castle settled on promoting Reserve team keeper Aidan Kelly for Saturday's Conference South match at home to Thurrock.
This was a match that, until Wednesday morning, City would have fancied their chances of winning. Also, had the club not been deducted ten points then we would have been above Thurrock in the table. As it was City played with neither spirit nor cohesion and Thurrock, with second half goals from former Saint Jamie Richards (a penalty) and Jake Lee, won with plenty to spare. Another City old boy, Lee Flynn , had been due to play but had to rush from the ground around an hour before kick off due to his wife being taken ill. Kelly made his debut and pulled off a couple of good saves but was also caught out of position for Lee's injury time goal. Castle's post match interview was not a pleasant experience as he talked about the struggles of trying to be manager of a football club that offers no resources to attract new players and has trouble paying the ones that it already has. He also spoke of the demands the job put on him with regards to time when he had a young family to bring up.
For the return match with Ashley Vickers' Dorchester Town on the 29th City had a new goalkeeper in the 6'5" form of Charlton Athletic 17-year-old Conor Gough. The teenager was given plenty of practice and capped an eventful evening by saving Nick Crittenden's second half penalty; he was booked for conceding the spot kick. Gough also had to pick the ball out of the back of the net four times. Ryan Moss opened the scoring right on half time before Gough was beaten in the second half by excellent strikes from Mark Jermyn, Reece Connolly and, with the pick of the bunch, Steve Devlin. Adam Everitt notched the City goal with a rare right-footed effort. The attendance of 142 was City's fourth lowest in the National League. Castle was in far better spirits in his post-match interview than for the previous game. He called for all factions of the club to pull together but he did also label St Albans City 'a dead club walking.'
Two days later, 31st March, was transfer deadline day and in an effort to make sure the club had sufficient players to see out the rest of the season around a dozen Reserve team players were signed on Conference South forms. But one player decided he had enough and after 135 games James Fisher became the third experienced player to quit in as many weeks. Such was Fisher's disillusionment that he was thinking of giving the up the game completely and Castle had to work hard to talk him out of it. With Martin, Bastock and Fisher gone, Ryan Frater was now the only member of the current squad to have played more than 100 games for the club.
Player of the Month – Adam Everitt
April – FA Verdict Upheld – City Suffer as Gibson Stays
There could hardly have been a more apt day for the F.A. to hear St Albans City's appeal against the deduction of ten-league points and a fine of £7,500 than 1st April, and after listening to the club's defence, presented by McMillin and Lawrence Levy rather than Gibson, the F.A. upheld its original decision. The F.A. decided against increasing the punishment, something that had concerned a number of people who thought the appeal to be frivolous. Instead, having been presented with details of the future plans of the club, the F.A. simply ratified the earlier punishment. A statement on the club website said that more details would be announced 'to fans' shortly. As usual given the poor public relations of the club at the time there was no truth in such words and speculation was rife over the ensuing weeks that the Gibson era was drawing to a close. A number of league tables had been amended over the two weeks leading up to the appeal to show City's record with no points deducted. But with the appeal out of the way City were well and truly entrenched at the foot of the table some 13 points away from safety with just six games to go. It was all over, City were down bar the formalities.
Even so, Castle's team put up a spirited display the day after the F.A. hearing and were most unfortunate to go down 2-1 at home to Dartford. Lee Burns, the Darts leading goal scorer during 2009-10, finally opened his account for the current season to put the visitors ahead before a fine goal by Tony Battersby restored equality. With just five minutes remaining substitute Jack Pallen clinched victory for Tony Burman's side. Burns goal was a humiliating experience for Conor Gough. Burns, maybe midway inside the City half, headed on a long ball from keeper Andrew Young, the ball bounced close to the edge of the penalty area and was misjudged by the outrushing Gough. The 'keeper could only look behind him as it bounced into the unguarded York Road goal. But Gough was not the only Saint with something to blush about as Battersby struck the crossbar from the penalty spot when the scores were level and City well on top. Steve Castle gave a debut to 17-year-old right back Michael Lewis who was one of five players, including the substitutes, in the side with experience of Oaklands college. In amongst the crowd of 404, largely from Dartford, was Charlie Sheringham's father Teddy, and the former England striker accepted a hastily made invitation to go onto the pitch at half time to be photographed with members of St Albans City Youth Under 10s.
The uncertainty of the future of the club and the uncertainty regarding payment of wages, led to Ryan Frater joining the exodus the following midweek as he signed for Division One Southern League side Arlesey Town. One can only assume that he had actually signed for the Bedfordshire club during the previous week, as he would have been unable do so after the transfer deadline of 31st March. Frater, who had lost the captaincy after picking up an injury at Hampton on 5th February, made 127 appearances for the club. It is the second highest number of games played by an outfield player who had never scored for the club.
St Albans City's relegation from Conference South became reality on 9th April when Ebbsfleet United maintained their promotion push in completing a league double over the Saints with a comfortable 4-0 win at Stonebridge Road. City, who gave a debut to one-time Tottenham Hotspur youngster Nick Chrysanthou, held their own for 27 minutes but once Calum Willock had scored his 25th goal of the season the contest was as good as over. Former Saint Ram Marwa added the second goal three minutes later and further strikes late in the second half from Michael West and Scott Ginty completed the Saints misery. With four games still to play it was the earliest in a season that City had suffered any of their four relegations. The match was the eighth and final one of Jonathan O'Donnell's loan spell from Luton Town and the midfielder signed off by setting a new club record of being substituted in six consecutive games.
Former City favourites Lee Clarke and Ben Martin were back at Clarence Park the following Saturday, 16th, but neither was wearing a City shirt as the Saints faced Welling United, another club in the thick of the play-off places. St Albans supporters, and even club officials, feared that a defeat of alarming proportions was on the cards, as the number of players at Castle's disposal shrunk by the day. Ollie Kelly was out of the reckoning due to being in America for a week, Peter Smith was ill and Adam Everitt unavailable. Castle drafted in James Fraser, formerly of Harrow Borough, to play in midfield alongside 17-year-old Greek-born Spyros Mentis. Mark Campbell, a regular for the Reserves, came in for his league debut and joined a back four that also consisted of Mark Peters (captain), Aidy Chaves and Battersby. It was the first time that 35-year-old Battersby, lining up at right-back, had played in defence throughout his long career. The Wings dominated pretty much the entire 90 minutes but just could not get a legitimate goal. Three times referee Ian Parsons disallowed 'goals' and on three other occasions the ball was cleared from the goalline. Somehow City hung on and with an excellent strike by Inih Effiong (above), his 15th goal of the season, St Albans pulled off the shock Conference South result of the season.
The following day payment was sent to the F.A. to clear the £7,500 fine and £2,000 costs. Gibson flatly refused to pay the fine despite it having been incurred due to him taking measures to evade paying tax on players wages. The punishment the F.A. would have dealt the club had the fine not been paid is unknown but the possibility of such a situation arising was avoided when one of the directors, who was not with the Club at the time the offences took place, paid the fine.
City's follow up performance to the fortuitous win over Welling was one of startling ineptitude. Everitt, Smith, Ollie Kelly and Petrucci all returned to the side as Fraser, Campbell, and Chaves stood down for the trip to Bishop's Stortford. Chaves, who was listed amongst the substitutes, became increasingly frustrated as the afternoon wore on and long before the end of the game had changed out of his football kit. Following a heated exchange of words with Castle it was clear that Chaves days with St Albans City were over. Boosted by an early goal from Steffan Gaisie Stortford cruised to an easy 4-0 win. Aiden Palmer, Dean Rance and substitute Danny Morgan completed the rout with all four goals set up by Sanchez Ming. Everitt was dismissed in the final minute following a spectacular one-handed save on the goalline. Palmer blazed the resulting penalty high over the crossbar. Everitt became the third City player to be dismissed three times in one season, the others being Paul Newell in 1998-99 and Dean Hooper in 2004-05.
Everitt's season of fluctuating fortunes took another twist on Easter Monday, two days after City crumbled at Bishop's Stortford, when he received the red carpet treatment as Havant & Waterlooville visited Clarence Park for City's final home match in the Football Conference. Restored as City captain, Mark Peters having been handed the role for the past two games, Everitt headed in a Peters free kick to give City a half time lead. With a fine half volley soon after the interval Manny Williams ensured a share of the spoils.
Prior to the kick off against Havant Everitt collected the March Player of the Month award and Rob Magwood picked up the April award. After the game Everitt added to his trophy collection when he was presented with the Supporters Player of the Year trophy and then the Players' Player of the Year trophy. The Goal of the Season award eluded him though as Inih Effiong was handed that trophy for his outstanding volley at Boreham Wood on New Years Day. The Wagstaffe Simmons (Clubman) Trophy went to Ian Rogers. The presentations were made by Dave Ranger, Tim Petty, Rex Winn, John Fenely , David McLean and Steve Eames respectively.
For St Albans City's 253rd and final match in Conference South the Saints travelled to the Kent coast to face Dover Athletic at The Crabble. Dover needed a sizeable win over St Albans to retain a hope of sneaking into a play-off position and Martin Hayes's side would also need both Chelmsford City and Welling United to lose for it to become reality. Steve Castle faced more a searching problem, namely how to field a side to complete a most dreadful season. Having seen a succession of players leave during the closing weeks of the season, he now saw his options restricted as Reserve team manager Franco Sidoli asked that some players be rested as he wanted to include them in a cup final two days later. And with some younger players deciding that they could do without the two-hour trip to Dover just to sit on the bench, Castle was left with just 13 players from which to select his side. As it was City put in a commendable performance but the naivety of the side was obvious and Dover were in no mood to waste any of four one-on-one chances created. Nathan Ashton put Dover ahead with Adam Birchall increasing the lead within a minute. Donovan Simmonds added Dover's third before the interval but shortly after the break Peter Smith pulled one back with a beautifully struck free kick from 25 yards. Not to be outdone Birchall notched his 45th goal of the season to complete Dover's win. Back in goal for City was Gough who had been on the bench for the Charlton Athletic First team in recent weeks. City also gave a debut, at right back, to Colney Heath defender Josh Humbert who had actually signed for St Albans back in December. The match referee was Colin Lymer, he had come to the attention of City supporters when disallowing Smith's magnificent solo effort against Bromley in September. He confessed after the Dover match that, having seen a video of the goal, he had been given wrong advice (by one of his linesmen) and that the goal should have stood. But Lymer upset City once more at The Crabble when ignoring what appeared to be a blatant penalty when home keeper Ross Flitney brought down Effiong after just six minutes. At the final whistle City's miserable season was over and results elsewhere condemned Dover to another season in Conference South.
Player of the Month – Rob Magwood .
May – Gibson goes, Levy and McGowan move in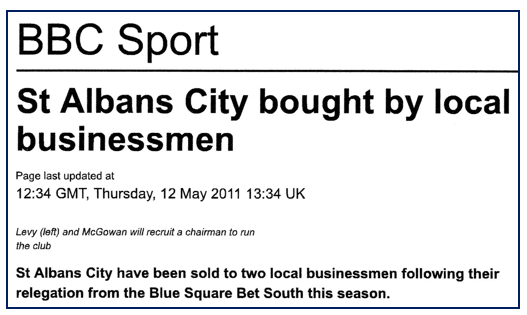 The departure from Clarence Park of St Albans City chairman John Gibson had been anticipated several times throughout his nine-year tenure. Indeed, Gibson himself was not averse to stating most publicly that he might walk away at any time, particularly if an offer for the club was forthcoming. The words, at least to supporters, sounded hollow at the time and given that at least three consortiums are believed to have shown an interest in taking on the club during his reign, the shallowness of them was clear.
Finally, though, he had to stand down. Income from attendances was pitiful, income from sponsorship was virtually non-existent, income from matchday raffles had all but dried up, and income from the Club Shop was similarly small. There should have been sizeable monthly income from the '100 Club.' But the shocking mismanagement of this scheme meant there were no funds in this pot to pay the monthly prizes, let alone go towards helping other areas of the Club financially.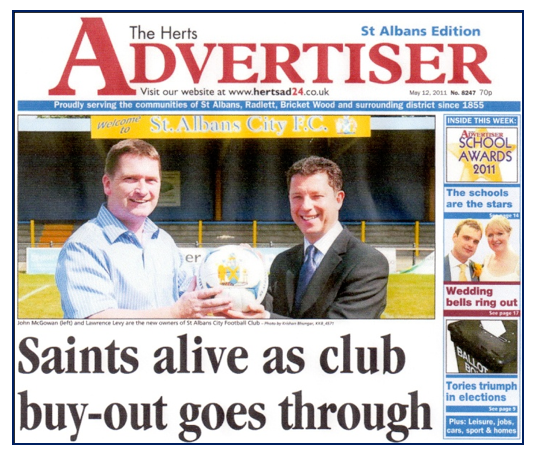 It had long been believed that the Club should have received a sizeable income from Oaklands College. The Club, so it was thought, would receive financial benefit for each student placed on a course at the college through the Football Club. However, it was established during Gibson's final days at Clarence Park that the scheme was owned by Gibson's 'off-the-shelf' company, Wisetrip (St Albans) Ltd, rather than St Albans City Football Club.
Rumours of Gibson's exit strengthened the weekend after the F.A. handed the Club a points deduction and large fine. It is alleged that at a meeting of the Board of Directors on 6th February Gibson said that he would resign when an appeal was lodged. An appeal was lodged but he did not resign. However, with Lawrence Levy attending the appeal hearing, rather than Gibson, it was evident that changes were afoot within the boardroom. Levy, along with John McGowan, had joined the board the previous July but neither, to put it mildly, was seen at City matches with any regularity. Talks also took place with a group that had previously made a bid for control of the Club a year earlier and, quite astonishingly, were repeatedly asked for funding by Gibson to help the Club out. This group, it is believed, were keen to provide a large financial input to the Club immediately should they have gained control. But their demands will not have found favour with Gibson, as they wanted him to hand over not only all of his shares but also ownership of the Oaklands scheme. Whilst the eventual successful acquisition of the Club by Levy and McGowan did see Gibson relinquish his entire shareholding he was able to retain ownership of Oaklands through Wisetrip.
After protracted talks, Levy and McGowan assumed control of St Albans City on Tuesday, 10th May 2011. A press release stated that the club had been bought for an undisclosed sum. In terms of non-league clubs this usually means that no money changes hands but the new owners take on existing debts. Whether this is relevant to this takeover was not established although in one of his first interviews after the takeover Levy did strongly hint that this had been the case.
"Our relationship with City really started at the beginning of the season when we were both asked to invest in the club, and we saw what was going on. The business had been under-capitalised, and was hand-to-mouth from day one, reliant just on the next result or cup run to get the income in to pay for the next month's bills."
"John and I sat down and said if we were able to capitalise the club, pay off the debts and give it a fresh start, then put some marketing and PR together, there was a huge opportunity," said Levy in an interview with the Herts Advertiser.
Levy was managing director of the St Albans-based international recruitment and project organisation Levy Associates. The company head office was just off Holywell Hill in St Albans. He was also well-known locally as the major fund-raiser for Grove House and was the founder of the highly successful annual Herts 10K run.
McGowan, a Hemel Hempstead resident, followed in the footsteps of his parents in that he ran a chain of Irish-themed bars in and around the London area. He also had businesses in haulage and the skip trade.
Both men had connections to St Albans City Youth through their children. Each had a son in the Under 13's side, which was managed by Levy.
Summary
Peter Smith appeared in most games; 44 out of the 50 played. At the time of his departure, Paul Bastock had played in 67 consecutive league games. James Fisher and Ryan Frater both passed 100 appearances and Ben Martin moved past 150. Bastock moved into City's list of leading appearances when edging his way past Steve Oliver (253), Andy Polston (253) and Ron McCormack on 255 to secure a place inside the top twenty.
During the course of the 2010-11 season St Albans City used 70 players, the highest number in the history of the club and of these, 45 made their debut. Both figures are exaggerated by the use of Reserve team players to fulfil county cup ties. Fifteen players made just one appearance and a further ten were seen in just two games. Three players were signed on loan and a further nine on work experience. No player was ever present but
Steve Castle was the head coach, continued to provide players for the First team. Five students from the college made their St Albans City debut during 2010-11, taking the total number of students to have played for the club since the college and the Football Club came together in 2004 to 27. Inih Effiong is the first Oaklands student to reach 50 First team appearances; Rob Magwood was next in line on 47. If Effiong's appearances (51) and goals (15) were subtracted from the accumulative figures for Oaklands-trained players then the remaining 26 players have contributed one goal to the First team in 237 games.
Oaklands College, where
With 15 goals (14 league) Inih Effiong was the top goalscorer, no other player got into double figures. Adam Everitt became the third player in successive seasons to win both the Players' and Supporters Player of the Year trophy.
Although City played five games more during 2010-11 than in the previous season a reduction was achieved with regards to both bookings and dismissals. For the first time in eight seasons not a single player collected ten or more bookings. The 74 bookings were shared between 22 players: 9 Frater, Smith. 7 Everitt. 6 Fisher. 5 Effiong, Hocking, Peters. 4 Magwood, 3 Bastock, Deeney, B.Martin, Petrucci. 2 A.Martin, Roberts. 1 Beautyman, Chaves, Dedman, O.Kelly, R.Martin, Mentis, O'Donnell, Sulaiman. Drew Roberts' two bookings included one in a pre-season friendly with Hemel Hempstead Town; bookings in friendlies are not usually forwarded to the F.A. Everitt was sent off three times, while City's other two red cards were shown to Adam Martin and Peter Smith . Steve Castle was also served with a two-match ban after being removed from the dugout during the home game with Bromley. Opposition bookings fell from 79 in 2009-10 to 54 in 2010-11, opposition bookings dropped from nine to six.
The average attendance for Conference South matches at Clarence Park was 324, City's lowest since the final season as members of the Isthmian League in 2003-04. The highest home attendance was 490 for the visit of Woking, whilst the lowest league attendance was 142 for the visit of Dorchester Town. The biggest crowd played in front of all season was at Kenilworth Road when 4,144 saw Luton Town remove City from the FA Cup. The smallest attendance was a paltry 40 at home to Hatfield Town in the Herts Senior Cup, it is believed to be the lowest gate for any match involving St Albans City at Clarence Park .
All The Saints 2010-11
Malik Abdulai –Nineteen-year-old former Leyton and Walton Casuals midfielder who joined St Albans City in March 2011 and had his only run out as a substitute during a 1-1 draw away to Braintree Town on the 19th March. Was an unused substitute on four other occasions.
Jon Addai– Played for the St Albans City 'academy' side in the Conference Alliance Youth League during the 2010-11 season and also appeared in the Reserve side before making his First team debut in the county cup. Made one Conference South appearance towards the end of the season.
Jack Ashcroft–A former St Albans City Youth player who made his First team debut in April 2010. Made one other First team appearance during 2010-11 when City faced Hatfield Town in the Herts Senior Cup. A regular in the City Reserves.
Sam Barker– Former Luton Town Youth team player who had a short spell with Leighton Town. Joined St Albans City early in the season and was namedas an unused substitute during the Saints FA Cup defeat atLuton Town.His only First team appearance came during City's defeat at home to Hatfield Town in the county cup.
Paul Bastock – One of the all-time great City goalkeepers who, by the end of the season, had played around 1,000 games for various clubs. During his first spell with Boston United he made 625 appearances for the Pilgrims and followed that with 260 games, in two spells, for St Albans City. His first taste of success came in 1989 when he won the FA Youth Cup with Coventry City. Since that time he has played in the Football League and non-league for the likes of Cambridge United, Cheltenham Town, Kettering Town, Bath City, Fisher Athletic, Aylesbury United , Scarborough, Dagenham & Redbridge, Rushden & Diamonds and Malaysian side Sebeh. Other honours won include promotion to the Conference National (with St Albans City in 2006) and with Boston he was a member of the Conference winning side in 2001-02 and the Southern League two years earlier. Has also gained FA representative honours. Made his City debut on 23rdNovember 2004, left to join Rushden at the end of 2006-07, returned to Clarence Park on 1stMarch 2008 and made his final appearance with an outstanding performance in a 2-2 draw at Dartford on 29thMarch 2011. Signed for Boston the following day. He first came to City's attention when he played for Boston during their FA Trophy quarter-final defeat at Clarence Park in 1999.
Tony Battersby –Scored on his St Albans City debut at Weston-super-Mare on 5thMarch 2011 having signed on a dual registration with Northern Premier League side Stamford. Experienced striker who started his career with Sheffield United (15 apps, 2 gls) before having spells with Southend United (8/1), Finnish side BK-IKF (18/24), Notts County (47/8), Bury (54/9), Lincoln City (150/26), Northampton Town (3/1) and Boston United (14/3). Has played for a number of non-league sides, such as Hucknall Town, Rushden & Diamonds, Stevenage Borough, Gravesend & Northfleet, Cambridge City, Kings Lynn, Grays Athletic, AFC Wimbledon, Chelmsford City, Welling United, Corby Town, Bourne Town and Bedford Town.
Harry Beautyman– An 18-year-old midfielder who made his St Albans City debut during City's FA Cup 4thQualifying Round defeat away to Luton Townat the start of a one-month loan. A former Youth team player at Leyton Orient he signed a contract with the O's in the summer andmade three First team appearances after returning from St Albans and before joining Isthmian League side Hastings United.
Chris Benjamin – Teenage striker who joinedthe Saints on work experience from Leyton Orient. Played two games during the early weeks of the season and had two other spells with St Albans later in the season.
Mark Campbell– Central defender and captain of the City Reserves side who played in the Herts Senior and Charity cups before making an impressive Conference South debut during the 1-0 win over Welling United. Also played in the home draw with Havant & Waterlooville.
Aidy Chaves– Former member of the local Football Development College who made his first team debut at Farnborough in February 2011 and scored his first goal against Dover Athletic a week later. Gave a number of impressive displays down the left flank but left after a dispute with the manager. Ended the campaign with one of his former clubs, Potters Bar Town. Has also played for Broxbourne Borough.
Nicholas Chrysanthou– A 21-year old who was with Tottenham Hotspur to U16 level and has since had trials for a number of clubs; most recently Leeds United, Barnet and Northwood. Twice suffered a broken leg during his time with Tottenham and was formerly a member of the local St Albans Football Development college. A regular for the City Reserves, playing in the centre of the midfield.
Gary Cohen –Having retired from football at the end of the 2009-10 season, to concentrate on his career as a paramedic, he was persuaded to make one final appearance as City went down 5-1 at home to Dover Athletic in February 2011.
Ross Dedman – One of two teenagers who broke into the First team during the 2009-10 season, having started in the Youth team that progressed through five rounds of the FA Youth Cup to the 2ndRound. His progressed stalled during 2010-11 when injury delayed his start to the campaign and appeared to lose the faith of manager Steve Castle . Injury also curtailed his end to the season.
David Deeney– A Zimbabwe-born player who started his career with Luton Town, for whom he made one First team appearance. Also played for Hitchin Town, Enfield (loan) and Corby Town and joined St Albans City from Hemel Hempstead Town for the start of the 2010-11 season. Was released early in March just a few weeks after being diagnosed with a potentially serious eye problem but soon resumed playing with Arlesey Town.
Inih Effiong – A teenage striker who returned to Clarence Park for his second spell having spent the 2009-10 campaign with neighbours Boreham Wood. Made his Conference South debut with St Albans City in December 2008 and was the Saints leading goal-scorer during 2010-11. Scored some excellent goals and won the Goal of the Season award for his volley from James Fisher's cross at Boreham Wood on New Year's Day.
Adam Everitt – Since signing for St Albans City from Bromley in November 2008 he has endeared himself to supporters with his tireless commitment. Has served the Saints mainly a left-back or central defender but has also filled in in midfield when required. Started his career with Luton Town before having spells with Cambridge City, Eastleigh, Yeading, Hayes, Hemel Hempstead Town and Harrow Borough. Following a number of high-profile departures towards the end of the season he was appointed club captain and crowned a personally rewarding campaign by being selected as both the Supporters and players' Player of the Season.
James Fisher – Signed for St Albans City in February 2008 from Northwood and put in a string of good performances at right-back. But many of his 135 games were spent in midfield and following an unhappy run in that position left the club at the end of March 2011. Scored five times for the club and had a spell as captain. Was with Chelsea as a youngster before having stints with Wembley and Wealdstone .
Lee Flavin– After spells with lower league sides Leyton and Walton Casuals he signed for St Albans City in March 2011 and made his debut as a substitute during a 2-2 draw at Dartford. Made one more substitute appearance before leaving. Also had spells with Godalming, Horsham YMCA, Kentish Town and Sawbridgeworth.
James Fraser- Midfielder who joined the Saints towards the end of the season after four seasons with Harrow Borough. Has also played for Folkestone Invicta. Made his City only appearance during the win over Welling United.
Ryan Frater – Dependable central defender, and regular captain for the past two seasons, who played 135 times for St Albans City after joining from county rivals Hitchin Town in December 2007. Has the distinction, possibly unwanted, of making the second highest number of appearances by an outfield player without scoring for the club. Either side of two spells with Hitchin he also played for Bedford Town and Dunstable, and had trials with Luton Town. Left City in early April to join Southern League side Arlesey Town.
David Galbraith– Left-sided player who made 28 appearances for Tottenham Hotspur before joining Northampton Town in January 2004 and then moving into the non-league game with Boston United and Kettering Town. Joined St Albans City in the early part of 2009-10, from Kings Lynn, only for a knee injury to cut his season short. He returned to Clarence Park for a brief spell in January 2011.
Pelayo Gomez – Joined St Albans City on work experience from Brentford in September 2010. Born in Marbella, he is only the second Spaniard to play for the club and the first to score when he scored both goals in City's FA Cup win at Kingstonian Had a spell in non-league during 2009-10 when he scored twice in eight games for Carshalton Athletic.
Conor Gough– Seventeen-year-old goalkeeper who joined the Saints on work experience from Charlton Athletic. Marked his debut by saving a penalty and being booked during City's 4-1 defeat to Dorchester Town. Also played for the Charlton Youth team during 2010-11, Horsham YMCA, Lewes and was on the bench for Charlton First team.
Matt Hocking– A central defender who began his career with Sheffield United but was given his Football League debut with Hull City. Made over 250 appearances during a professional career that took in Hull City (71 app, 2 gls) York City (110/2) and Boston United 76/1). His non-league days have taken in stops at Stevenage Borough, Fisher Athletic, Southport and Gateshead. Started the 2010-11 season with his hometown club Boston Town. A knee injury sustained against Staines Town cut his season short on 12thMarch.
Josh Humbert– Defender who signed for the Saints a week before Christmas from Spartan South Midlands League side Colney Heath having previously played for London Colney and AC Finchley. His sole City appearance came during the final day of the season meeting with Dover Athletic.
David Hutton– A 21-year-old midfielder who spent three years with Tottenham Hotspur before making 33 appearances for Cheltenham Town, whom he left in the summer of 2010. Has represented the Republic of Ireland at U15, U16 and U18. Made his St Albans City debut in November following a spell training with Leyton Orient. Scored his only goal during a draw with Bromley in January and later in the month joined The Glenn Hoddle Academy in Spain following trials at Bisham Abbey.
Jacob Joyce– A Peterborough United Youth and Reserve team teenager who was called in on work experience for City's home Conference South match with Boreham Wood but was not retained.
Aidan Kelly– (right)Goalkeeper who spent most of the season playing for the City Reserves. Made his Conference South debut during City's defeat at home to Thurrock in March. Played for the Reserves in the Spartan South Midlands League Division One Cup Final defeat to AFC Dunstable in May.
Oliver Kelly – Following a season ravaged by injury he joined City in February making his debut at Eastleigh. A central midfielder 18-year-old midfielder who was previously on the Reading Academy and has attracted interest from Torquay United. Has a brother still at Reading whilst one of his sisters has starred in The Lion King in the west end.
Glodi Kweme– An 18-year-old who broke into the City Reserves side towards the end of the 2009-10 season and signed Conference South forms in the summer. Was given an extended run in the First team in the spring and caused problems with his speed and strength when running at defences. Previously with Dunstable and Bedfordshire County League side Luton Old Boys.
Michael Lewis– A product of the local Football Development College who made a good impression during his First team debut at right-back during City's Conference South defeat at home to Dartford on 2 April.
Hector Mackie –Returned to Clarence Park for a third spell in November 2010 but left after just four games to sign for Gloucester City. Previously played for St Albans City during 2007-08 and again the following season after a spell with Potters Bar Town. Began with Waltham Forest and had two trial matches with Tottenham Hotspur before turning out for Stevenage Borough, Welling United, Cambridge City, Diss Town, Weymouth and Bath City, and he rejoined the latter club after being released by Gloucester.
Rob Magwood – Spent six years as a youngster with Watford and had two years with St Albans City Youth. Was captain of the midweek City Youth side that won through five rounds of the FA Youth Cup during 2009-10. Tenacious midfielder who uses the ball well and ended the 2010-11 season by collecting a Spartan South Midlands League Division One Cup runners up medal when the Reserves lost to AFC Dunstable in the final.
Adam Martin – Central midfielder who joined St Albans City during the summer of 2010. Ended the previous season with Southern League side Slough Town having previously played for City's near neighbours Hemel Hempstead Town and Berkhamsted Town. Scored one goal for St Albans and rejoined Slough after being released at the end of February.
Ben Martin – A 6'7"central defender who returned to Clarence Park in the summer of 2010 after spending a year with Chelmsford City. Played for St Albans City Reserves during 2000-01 and made his First XI debut three years later having had spells with Swindon Town, Lincoln City, Stevenage Borough and Farnborough Town during the meantime. His career has been blighted by injury over the past four years and periods of rehabilitation have seen him spend time at Staines Town, Leighton Town and Wealdstone . Once fully fit, he walked off with the Saints Players' and Supporters' Player of the Year trophies for 2008-09. Frustrated with the way the club was being run from the boardroom he quit on 15thMarch to join Welling United.
Robbie Martin– Creative wide midfielder who can play on either flank and was new to Clarence Park at the start of 2010-11. A former Watford youngster who played for Maidenhead United, Hornchurch, Havant & Waterlooville and had two spells with Braintree Town before joining the Saints. Was released by St Albans in November 2010 and signed for Isthmian League side AFC Sudbury the following March.
Spyros Mentis–Athens-born midfielder, of Albanian parents, who was with Southend United up until Under 16 level. Signed Conference South forms in March and made his First team debut during the win over Welling United at Clarence Park on 16 April.
Joe Newell– A 17-year-old winger who joined St Albans City just before Christmas on work experience from Peterborough United. Made just one starting and one substitute appearance, both against Boreham Wood.
Jonathan O'Donnell– A 19-year-old highly gifted midfielder who was formerly with Milton Keynes Dons and Watford and first joined St Albans City at the start of the 2009-10 season from neighbours Hemel Hempstead. Signed for Luton Town in January 2010 but rejoined the Saints on loan in March 2011 scored against Staines Town in his first match back at Clarence Park . Laid claim to the dubious distinction of being the first City player to be substituted in six consecutive matches at the end of his loan spell.
Jamie O'Donoghue –Played up front for City on the opening day of the 2009-10 season but was soon released. Returned in January 2011, following a spell with AFC Hayes, but left when unable to get a regular place in the side. Previously with Barnet Youth he has also had spells with Yeading, Biggleswade Town, Brimsdown Rovers and Australian side Langwarren.
Moses Odubajo– Joined St Albans City on work experience from Leyton Orient in October. Made his debut during City's goalless draw with Kingstonian in the FA Cup 3rdQualifying Round with his Conference South debut coming during the home defeat to Weston-super-Mare. An attacking left-sided player.
Ollie Palmer– Joined St Albans City on loan from Woking in November 2010 and scored on his debut against Staines Town. Was selected for the England Colleges team in 2010 and earlier in the 2010-11 season had a loan spell with Kent Leaguers Sevenoaks Town. After returning to Woking he came on as substitute against St Albans during the Conference South match at Kingfield.
Mark Peters –Joined St Albans City in the summer of 2009, from the old Kings Lynn club, as both assistant manager and a player. A coach at the local football development college who began a lengthy Football League career on the books of Manchester City. After leaving Maine Road he spent a season with Norwich City before making his League debut with Peterborough United (23 app, 0 gls). A Wales Under 21 international (3 caps) he then had spells with Mansfield Town (128/10), Rushden & Diamonds (82/2), Leyton Orient (45/2), Aldershot Town (loan) and Cambridge United.
Dom Petrucci– Leading goalscorer for St Albans City Reserves during 2010-11 and signed Conference South forms at the end of October. Made his First team debut on 9thNovember and had an extended run in the First team after the turn of the year. His only Conference South goal secured a draw away to league leaders Braintree Town.
Jake Reeves– Seventeen-year-old midfielder who made two appearances for St Albans City whilst on work experience from Brentford having previously been a schoolboy with Tottenham Hotspur. His City debut came during a 2-0 defeat at Woking on 8thFebruary.
Drew Roberts –St Albans City's leading goal scorer for 2009-10 (14 goals) despite ending the campaign with Southern League side Brackley Town. Originally joined the Saints from Hemel Hempstead Town having also played for Bedford Town, Kettering Town, Aylesbury United , Cambridge City and Histon. Has had the misfortune to twice lose in a play-off when facing St Albans. A former England Schoolboys International who was also the Saints penalty-taker prior to being released in October. Joined Southern League Central Division side Leighton Town.
Kaine Sheppard-Signed for St Albans City on work experience from Leyton Orient on 25thJanuary and made his Conference South debut that night against Eastleigh. Was with Ipswich Town to U16 level and was a product of the Football Development School in Wellingborough who had spells with Northampton Town, Kettering Town and Histon before signing for Orient.
Sean Shields – A former Rushden & Diamonds teenager who made his St Albans City debut in September. A two-footed, attacking, wide midfielder who during 2009-10 made a handful of appearances for Potters Bar Town and Cockfosters. A regular goal scorer for the City Reserves.
Solomon Shields – A midfielder who originally joined St Albans City on-loan from Leyton Orient before making the move permanent in the summer of 2009. Returned to the City First team in January 2011 after a prolonged lay-off caused by a ruptured achilles but then wanted more time at a lower level before making a permanent return to Conference South football.
Jean-Michel Sigere – Signed for St Albans City at the start of September from Isthmian League side Margate. A French-born striker who, since crossing the Channel in 2000, has won promotion to the Football League and played at Wembley in the FA Trophy Final with Rushden & Diamonds and Stevenage Borough respectively. Also helped Lewes win promotion to Conference National in 2008. Has also played for Hornchurch, Horsham, Heybridge Swifts, Gravesend & Northfleet, Eastbourne Borough, Farnborough and Tonbridge Angels. Released by St Albans in November 2010 and signed for Walton & Hersham.
Leon Simpson– A 6'9" striker who signed for the Saints in the summer of 2010. A well-travelled player who has appeared in the FA Sunday Cup Final and played for a multitude of clubs including Hitchin Town, Aylesbury United , St Neot's, Farnborough, Mertsham, Leatherhead, Taunton Town and Keynsham Town. After leaving St Albans he had spells with Brackley Town, Barton Rovers and Rugby Town before the season was out.
Peter Smith –Signed for St Albans City in November 2009 and promptly won the Player of the Month award for the next three months and topped this by winning both the Supporters and Players' Player of the Year trophies. Joined the Saints from Poole Town after moving to London having previously played for fellow southern sides Lymington & New Milton, Winchester City and Salisbury City. Scored his first goal as City won at Boreham Wood on New Year's Day 2011 and, with a spectacular free kick, scored City's final goal in Conference South during a defeat at Dover Athletic.
Hassan Sulaiman – Returned to Clarence Park for a second spell in August 2010 having made 62 appearances between August 2007 and April 2009. Took his total appearances to 85 before a knee injury curtailed his season in September. Having started as a scholar with Arsenal he had spells with Wigan Athletic, Aldershot Town and Slough Town before joining St Albans City. A right-sided player who is on the coaching staff at Chelsea.
Chris Sullivan– Joined St Albans City in January 2010 from Isthmian League side Billericay Town. Left the Saints at the end of the season but returned on the eve of the new season only to be released after three substitute appearances. Joined one of his previous clubs, Braintree Town towards the end of the season but ended the campaign at Aveley. A speedy wide midfielder who can also play in attack. Has also had spells with Canvey Island, Tooting & Mitcham United, AFC Wimbledon and Stevenage Borough.
Josh Urquhart– A summer trialist who signed for St Albans City two days before the start of the 2010-11 season. A Northampton born defender who played for the Cobblers at Youth and Reserve team level and has featured for a number of local Northampton sides including Woodsford United, Northampton Spencer, Wooton St George, United Counties League side Long Buckley AFC and Sunday League side Kings Heath United. Left St Albans without playing in the First team and had spells with Northwood and Potters Bar during the season.
Kyle Vassell– Signed on work experience from Brentford in February 2011 and made his debut as a striker at Hampton & Richmond Borough – two days before his 18thbirthday. Appeared in just one more game for the club, ironically away to Woking for whom he had played one game earlier in the season.
Steve Castle – Manager– The third longest serving manager of St Albans City having been in charge for 228 games. Took charge of the Saints for the first time in October 2003 but resigned a year later. Returned as manager in January 2008 following Dave Anderson's brief reign. Made 61 appearances for the Saints as a player after a successful Football League career spanning 16 years (608 games, 129 goals) that began and ended with Leyton Orient. Also played for Plymouth Argyle, Birmingham City, Gillingham, Peterborough United and Stevenage
Photos by Robert Walkley and David Tavener
2010-11
A
Appearances
S
Substiute
League
Cup
League & Cup
G
Goals
42
8
50
DOB
A
S
G
A
S
G
A
S
G
A+S
G
1
Malik Abdulai
09/06/91
0
1
0
0
0
0
0
1
0
1
0
2
Jonathan Addai
09/01/93
0
1
0
0
1
0
0
2
0
2
0
3
Jack Ashcroft
17/11/91
0
0
0
1
0
0
1
0
0
1
0
4
Sam Barker
29/05/92
0
0
0
1
0
0
1
0
0
1
0
5
Paul Bastock
19/05/70
34
0
0
6
0
0
40
0
0
40
0
6
Tony Battersby
30/08/75
12
1
3
0
0
0
12
1
3
13
3
7
Harry Beautyman
01/04/92
5
0
1
2
0
0
7
0
1
7
1
8
Chris Benjamin
13/10/92
3
2
0
2
0
0
5
2
0
7
0
9
Mark Betts
04/11/88
0
0
0
1
0
0
1
0
0
1
0
10
Dan Bishop
30/09/89
0
0
0
2
0
0
2
0
0
2
0
11
Mark Campbell
03/04/90
2
0
0
2
0
0
4
0
0
4
0
12
Aidy Chaves
24/10/90
2
8
1
0
0
0
2
8
1
10
1
13
Nick Chrysanthou
01/03/89
5
0
0
0
0
0
5
0
0
5
0
14
Gary Cohen
20/01/84
1
0
0
0
0
0
1
0
0
1
0
15
Ross Dedman
22/12/92
6
3
0
0
2
0
6
5
0
11
0
16
David Deeney
12/01/1987
27
0
2
6
0
0
33
0
2
33
2
17
Inih Effiong
02/03/1991
31
7
14
2
2
1
33
9
15
42
15
18
Adam Everitt
28/06/1982
35
2
3
3
0
1
38
2
4
40
4
19
Micky Fiori
22/07/1983
0
0
0
0
1
0
0
1
0
1
0
20
James Fisher
13/04/1984
32
0
1
5
0
0
37
0
1
37
1
21
Lee Flavin
18/09/1990
0
2
0
0
0
0
0
2
0
2
0
22
James Fraser
14/02/1984
1
0
0
0
0
0
1
0
0
1
0
23
Ryan Frater
20/12/1984
27
1
0
6
0
0
33
1
0
34
0
24
David Galbraith
20/12/1983
1
2
0
0
0
0
1
2
0
3
0
25
Pelayo Gomez
28/07/1992
5
0
0
2
1
2
7
1
2
8
2
26
Conor Gough
09/08/1993
3
0
0
0
0
0
3
0
0
3
0
27
Matt Hocking
30/01/1978
10
1
0
1
0
0
11
1
0
12
0
28
Josh Humbert
08/03/2011
1
0
0
0
0
0
1
0
0
1
0
29
David Hutton
04/12/1989
5
2
1
2
0
0
7
2
1
9
1
30
Tegana James
12/07/88
0
0
0
1
0
0
1
0
0
1
0
31
Jacob Joyce
08/01/94
1
0
0
0
0
0
1
0
0
1
0
32
Aidan Kelly
16/03/86
5
0
0
1
0
0
6
0
0
6
0
33
Oliver Kelly
31/03/92
13
0
1
0
0
0
13
0
1
13
1
34
Glodi Kweme
12/08/92
6
7
0
0
0
0
6
7
0
13
0
35
Michael Lewis
13/10/92
3
2
0
0
0
0
3
2
0
5
0
36
Ben Luck
15/02/90
0
0
0
1
0
0
1
0
0
1
0
37
Neil McDaid
12/09/86
0
0
0
1
0
0
1
0
0
1
0
38
Hector Mackie
10/05/88
2
0
0
2
0
0
4
0
0
4
0
39
Dominic Madejczyk
22/12/92
0
0
0
0
1
0
0
1
0
1
0
40
Thomas Madejczyk
16/06/89
0
0
0
1
0
0
1
0
0
1
0
41
Robert Magwood
27/03/1992
24
5
0
3
0
0
27
5
0
32
0
42
Adam Martin
18/03/1989
16
10
1
3
2
0
19
12
1
31
1
43
Ben Martin
15/11/1982
23
1
0
1
2
0
24
3
0
27
0
44
Robbie Martin
29/12/1984
11
2
0
2
1
0
13
3
0
16
0
45
Spyros Mentis
10/01/1994
2
0
0
0
0
0
2
0
0
2
0
46
Madalitso Mkoloma
09/12/84
0
0
0
1
0
0
1
0
0
1
0
47
Joe Newell
15/03/93
1
1
0
0
0
0
1
1
0
2
0
48
Alexis Nicolas
13/02/83
0
0
0
1
0
0
1
0
0
1
0
49
Jonathan O'Donnell
29/10/91
8
0
1
0
0
0
8
0
1
8
1
50
Jamie O'Donoghue
02/07/88
1
4
0
0
0
0
1
4
0
5
0
51
Moses Odubajo
28/07/10
1
0
0
2
1
0
3
1
0
4
0
52
Ollie Palmer
21/01/92
3
0
0
2
0
1
5
0
1
5
1
53
Jake Panayiotou
20/01/1984
0
0
0
0
1
0
0
1
0
1
0
54
Rob Patewell
0
0
0
0
1
0
0
1
0
1
0
55
Sam Perrin
02/12/1987
0
0
0
1
0
0
1
0
0
1
0
56
Mark Peters
06/07/72
14
9
3
4
1
1
18
10
4
28
4
57
Domenico Petrucci
02/06/88
7
17
1
1
0
0
8
17
1
25
1
58
Rob Quattromini
19/01/1990
0
0
0
1
0
1
1
0
1
1
1
59
Jake Reeves
30/06/1993
2
0
0
0
0
0
2
0
0
2
0
60
Drew Roberts
28/10/1983
7
3
1
1
1
1
8
4
2
12
2
61
Kaine Sheppard
26/11/1993
0
1
0
0
0
0
0
1
0
1
0
62
Sean Shields
21/01/1992
8
16
0
3
3
0
11
19
0
30
0
63
Solomon Shields
14/10/1989
0
3
0
0
1
0
0
4
0
4
0
64
Dom Sidoli
04/06/1989
0
0
0
2
0
0
2
0
0
2
0
65
Jean-Michel Sigere
26/01/1977
8
1
2
2
2
1
10
3
3
13
3
66
Leon Simpson
28/02/1985
0
3
0
0
0
0
0
3
0
3
0
67
Peter Smith
11/09/1985
38
1
3
5
0
0
43
1
3
44
3
68
Hassan Sulaiman
26/09/1985
8
0
0
2
0
0
10
0
0
10
0
69
Chris Sullivan
26/09/1987
0
3
0
0
0
0
0
3
0
3
0
70
Kyle Vassell
07/02/1993
2
0
0
0
0
0
2
0
0
2
0
Own Goals
0
1
1
1
Final Standings 2010-11
Conference South
2010-11
P
W
D
L
F
A
W
D
L
F
A
GD
Pts
1
Braintree Town
42
15
4
2
45
17
12
4
5
32
16
44
89
2
Farnborough
42
12
5
4
37
22
13
2
6
45
25
35
82
3
Ebbsfleet United
42
9
7
5
34
26
13
5
3
41
25
24
78
4
Chelmsford City
42
14
3
4
48
16
9
5
7
34
34
32
77
5
Woking
42
13
5
3
36
17
9
5
7
27
25
21
76
6
Welling United
42
14
3
4
44
20
10
5
6
37
27
34
75
7
Dover Athletic
42
9
5
7
36
26
13
3
5
44
25
29
74
8
Eastleigh
42
12
1
8
39
29
10
5
6
35
23
22
72
9
Havant & Waterlooville
42
8
5
8
31
27
8
5
8
25
24
5
58
10
Dartford
42
9
7
5
37
28
6
5
10
23
32
0
57
11
Bromley
42
7
6
8
24
30
8
6
7
25
31
-12
57
12
Weston-super-Mare
42
12
3
6
34
24
3
5
13
22
42
-10
53
13
Basingstoke Town
42
8
4
9
34
32
5
6
10
16
31
-13
49
14
Boreham Wood
42
8
5
8
35
32
4
6
11
21
34
-10
47
15
Staines Town
42
7
5
9
25
30
4
9
8
23
33
-15
47
16
Bishop's Stortford
42
6
3
12
19
38
7
3
11
29
41
-31
45
17
Dorchester Town
42
5
9
7
23
28
5
5
11
26
31
-10
44
18
Hampton & Richmond Borough
42
3
8
10
19
30
6
7
8
24
31
-18
42
19
Maidenhead United
42
3
6
12
16
34
7
4
10
27
36
-27
40
20
Thurrock
42
5
7
9
27
40
3
6
12
22
37
-28
37
21
Lewes
42
5
5
11
19
38
4
4
13
15
32
-36
36
22
*St. Albans City
42
3
6
12
15
33
4
7
10
24
42
-36
24
* 10 points deducted