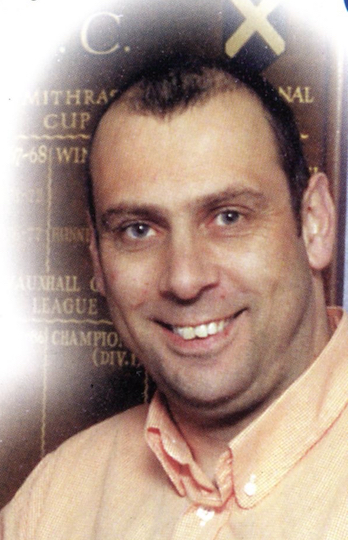 The 1998-99 season was a season of so-near-yet-so-far. A strong challenge for the Isthmian League championship was made, it finished with City sitting in sixth place. Only champions Sutton United had lost as few games as Garry Hill's (right) Saints. Too many draws, 17 in the 42-game programme, had cost City a genuine shot at the title. Runners-up Aylesbury United were a distant 11 points above City, while Sutton were a further 11 points clear of the Ducks.
In the FA Cup draws again came to the fore as wins over Essex sides Romford and Basildon United were followed, in the final qualifying round, with two draws against Kingstonian. The K's went through to play Nigel Clough's Burton Albion in the 1st Round courtesy of victory in a penalty shoot-out at Kingsmeadow, but that City drew twice with the side sitting in fourth place in the Conference was testament as to how good this side was.
City's doggedness to not lose was certainly a contributing factor to the side going oh so close to making it through to Wembley in the FA Trophy. We thought we had made it…
The format for the FA Trophy had changed since City first entered it in 1974 but our record altered little in the intervening 24 years; a win here and there, but genuine progress? Forget it, although, starting in the Preliminary Round in 1981-82, Ron Duke's side did remove five teams before succumbing to then Conference side Scarborough at Clarence Park in the 2nd Round Proper. And then came along the 1998-99 season. Garry Hill's first, and only, full season as manager of St Albans City. His side had a splash of youth and a good amount of experience. Only left-back Peter Risley , central defender Kevin Mudd and goalscoring legend Steve Clark remained from John Mitchell's Isthmian League runners-up side from six years earlier.
Leyton Pennant 0-3 St Albans City
2nd Round. Saturday 21st November 1998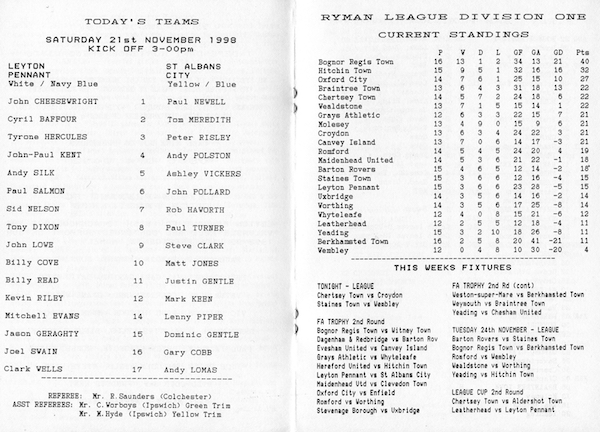 City's first game in the Trophy this season took us to Wadham Lodge, Kitchener Road, in Walthamstow, to face Isthmian League Division One side Leyton Pennant in the 2nd Round on 21st November. Leyton included two one-time Saints in their starting XI, goalkeeper John Cheesewright and defender Joel Swain, but this was just about the most straightforward, in fact, easiest, game we played all season. Clark scored the 38th double of his City career and Rob Haworth chipped in with a single as a 3-0 win and 13th game without defeat was chalked up. Seats on the supporters' coach cost just £6 each, this ensured that the club had a decent following in E17. One St Albans resident who didn't take advantage of the supporters' coach was Kevin Moran, he happened to be manager of Leyton Pennant.
Hastings Town 0-3 St Albans City
3rd Round. Monday 25th January 1999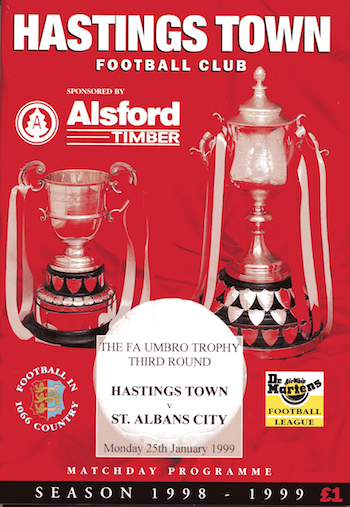 There was then a wait of over two months before City headed south for a 3rd Round tie away to Southern League Premier Division outfit Hastings Town at the Pilot Field. The match had been postponed on two occasions, due to inclement weather, which meant a Monday night trip for Garry's boys. This should have been a tougher 90 minutes than the game against Leyton Pennant, but, with a third minute goal by Paul Turner, direct from a free kick, City were quickly in control. Hastings threatened to take the tie to a replay but their finishing was woeful and when Turner teed up Clark for the second goal six minutes from the break City had put an iron grip on the outcome. It was Clarky's 24th goal in his last 23 appearances and a minute later it was his turn to be provider when slipping a pass through for Dominic Gentle to round off another 3-0 triumph.
City could afford the luxury of giving a debut to a 46-year-old goalkeeper who thought that he had retired. Mervyn Cawston, just ten days shy of birthday number 47, was called upon due to regular 'keepers Paul Newell and Andy Lomas being out through suspension and a shoulder injury respectively. Newell was serving a ban after being sent off in an FA Cup tie and later in the season also managed to get himself despatched in a league game and an FA Trophy game. Two days before the win at Hastings, City had strengthened their position in the top three of the Isthmian League with a 3-2 win at Gander Green Lane over Sutton; it hadn't been a bad 57 hours.
Due to the game at Hastings having been postponed a couple of times, it was already known who the winners would face in the next round, and Hastings did not appear to be overjoyed at where the draw had decreed the winners would head next. The matchday programme went with the following editorial:
'The winners of this tie have been handed one of the worst ties possible, a trip to Greater Manchester to take on Ashton United of the Unibond League Division One on February 6th. This would mean a round trip of some 550 miles for us with an overnight stay a real possibility which would make the tie a financial disaster.' Probably best if they don't get into the Conference for the time being.
The post-match interview was carried out with assistant manager Terry Harris. It was a more than chilly night at the Pilot Field and when this was mentioned to Terry he replied that he wouldn't fancy coming here in the middle of winter. It was the 25th January.
Ashton United 2-2 St Albans City
4th Round. Saturday 6th February 1999
The Trophy games were pitting us against clubs that we seldom meet usually and another new venture was undertaken on 6th February with a first visit to Ashton United's Hurst Cross ground in Ashton-under-Lyne. The Robins are an old club, having been formed in 1878 they even pre-date the original St Albans club by three years.
Newell was back between the posts but Clark was absent; the school teacher was serving a detention after picking up five bookings. Peter Risley was also missing, due to injury, his enforced absence led to a debut for Jimmy Carstairs. Having kept clean sheets in the opening two matches, City's defence was finally breached after 300 minutes. But it took a City player to show the opposition how to do it, as Ashley Vickers headed past Newell following Steve Hollis' long downfield punt. City made a habit of leaving things until late in this game and drew level for the first time in first half injury time through Dominic Gentle.
Three minutes after the restart an opposition player had the temerity to score against us with Gary Williams firing the side second in the Northern Premier League Division One into the lead with a spectacular effort from all of 30 yards. Having taken a couple of coachloads of sightseers to the game it began to look like the return journey would be a tad quiet, especially when Ashton's former Dagenham and England semi-professional international goalkeeper John McKenna made a wonderful save to deny Dominic Gentle a second goal four minutes into injury time. But Dom wasn't finished yet and a minute later - just a handful of seconds from full time - he chased a seemingly lost cause and caused McKenna to spill the ball. Haworth was on hand to slide home a dramatic equaliser (below) and the excellent meat and potato pies that Ashton specialise in began to taste even sweeter. Dom's brother Justin had plenty to thank his sibling for as this was his 100th game for the City and he was not keen on marking the event with a defeat. Full marks to United boss John Coleman for agreeing to give an interview after the game for use in the replay programme so soon after suffering the disappointment of City's late equaliser.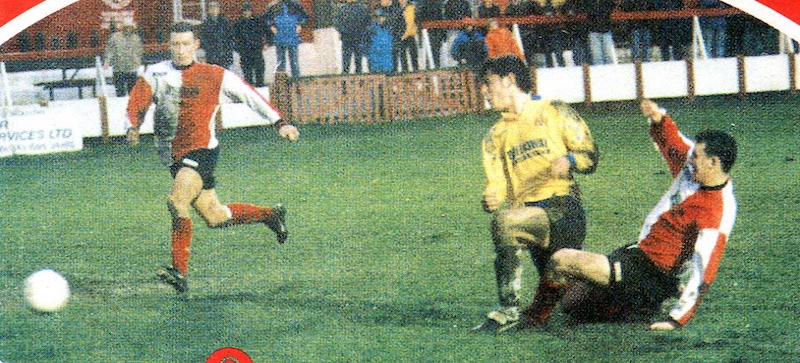 Hurst Cross is a fine ground with a scenic backdrop but there was talk of the club moving to a new stadium sometime in the future. Twenty-one years on (at the time of this review) the Robins are still at Hurst Cross. Hard to believe that any other club could possibly take so long to fulfil the dream of finding a new home…the possibility of City getting a new home was first mooted in the 1920s when the club was, allegedly and unofficially, offered land further up Hatfield Road on the site of Loretto College. One week after this game City revealed more plans for a prospective new stadium. Some things in life never change.
St Albans City 2-1 Ashton United
4th Round Replay. Monday 8th February 1999
Two days after the first meeting the two sides reconvened at Clarence Park . The comradery of the first game was lost somewhere in the snow that blighted the replay. Garry Hill blasted Ashton for their on-pitch antics and off-pitch determination to get the game abandoned. Referee Graham Monk, an amiable chap, had his work cut out to maintain control but he did a pretty decent job.
The poor weather persuaded many locals to stay at home and a disappointing attendance of 390 was recorded. Those that chose to warm their toes by an open fire missed out on a second half that ran for 78 minutes, seven bookings, a player carted off to hospital, a physio reported to the F.A., and the game halted while snow was cleared from the lines. We had just one orange ball, which was used from the start of the second half, and it was no coincidence that the visitors made as many attempts as possible to whack it out of the county. There was one other significant feature to this game; the return of Steve Clark .
Our leading marksman, who had turned a mere 35 the previous week, was on his way to being the top goalscorer at the Park for an eighth consecutive year, and boosted that formality by bagging another pair at the expense of John Coleman's side. The 90thminute had sailed into the distance some six minutes earlier when Paul Clowes glanced home an Eamonn Elliott free kick to reignite Ashton's hopes of saving the tie. But any thoughts Clowes may have harboured of grabbing a second goal were banished 20 seconds from time when clashing heads with Haworth. As Clowes lay motionless in the snow there was a 15-minute delay while an ambulance made its way from Hemel Hempstead Hospital. Ashton's, understandable, desire for the game to be abandoned fell on deaf ears and just before the morning newspapers arrived City did secure their place in the Fifth Round.
Dagenham & Redbridge 1-2 St Albans City
5th Round. Saturday 27th February 1999
After the almost surreal events surrounding the Ashton replay there was, surely, nothing that the 5thRound meeting at Victoria Road with Isthmian League Premier Division rivals Dagenham & Redbridge could do to match that remarkable evening. Well, this game came close.
City's league form was on the wane by the time of this meeting, the Daggers, although 17 points adrift of leaders Aylesbury, were coming good and in Danny Shipp and Paul Cobb possessed a lethal attacking duo. City had Clark, who already bagged 31 goals. Whichever of those big guns was on form would decide which club went through to the quarter-finals. So, who should open the scoring, none other than a centre half with a half volley as cleanly struck as one could wish to see. After the game City's club captain Kevin Mudd reflected on his breathtaking strike, "At first I couldn't believe it. I was in a state of shock." Not as much as the rest of us Kev. "It was the sort of shot that you connect with once in a while in training, never mind in a big game," he continued, as he came to terms with what he had done.
Muddy's goal looked set to be wiped out just after the hour when Paul Newell, saddled with the nickname of Tubbsy, wrote his name into the history books by becoming the first City player to be dismissed for the third time in the same season. While Tubbsy trudged off pondering what to do with the rest of his afternoon, penalty taker Cobb had a lengthy wait. Shipp, having been splattered by Newell, added to the delay by undergoing on-pitch treatment. Andy Lomas jumped up off the bench to face the penalty, Clark being the outfield player sacrificed to make way for him. Any other club would have been delighted to have Andy as their no.1 'keeper, for City to call upon him as our second-choice custodian was an abundance of riches. Also, Lomas held the British record for saving more penalties consecutively than any other 'keeper. Maybe all of these things were going through Cobb's mind as he prepared to take the penalty that he then blasted somewhere off into Essex. Some comments from Muddy may also have disrupted his concentration.
Seven minutes later and the Daggers edge was further blunted when home goalkeeper Paul Gothard parried an Andy Polston shot into the path of Dominic Gentle. Dom duly maintained his good form in the competition by tucking away his third Trophy goal and eighth of the season in all competitions. The excellent away support in a crowd of 1,227 saw little of the ball during the closing 15 minutes as Dagenham laid siege to the City goal. Lomas, edging towards his 34th birthday, rolled back the years and could afford to allow former Spurs youngster Paul Janney to reduce the arrears and look on as Cobb drove another effort against the woodwork. Somehow, City were through. With just four bookings, a sending off and a missed penalty, this was a much quieter affair for referee Mr F.Walton. There were nagging rumours that Dagenham were keen on taking Hill for their next manager as veteran Ted Hardy neared retirement.
The victorious St Albans City side at Victoria Road.
Back: Kevin Mudd, Jimmy Carstairs, Rob Haworth, Mark Keen, Steve Clark , Paul Turner, Andy Polston, Lenny Piper.
Front: Peter Risley , Andy Lomas, Tom Meredith, Dominic Gentle, Justin Gentle.
St Albans City 2-1 Boston United
6th Round. Saturday 27th March 1999
After three away draws the news of a home draw was greeted favourably at the Park but news that the game was being brought forward to a 1pm kick off went down less favourable with Boston United manager Steve Evans. He pushed for a Sunday kick off but City stood firm. The game would have clashed with England playing Poland in a Euro 2000 qualifier had it stayed at 3pm.
The kick off aside, City went into the game in anything but the best of form. The championship bid had slowed before the 5thRound tie at Dagenham and completely expired by the time of Boston's debut visit to Clarence Park on 27th March. Boston were in fourth place in the Premier Division of the Southern League but were a distant 24 points away from leaders Nuneaton Borough. The Pilgrims bid for glory, just like that of the Saints, lay in the FA Trophy.
Not only were the results not going City's way but the class of '92 were also absent. Injury ruled out Risley and Mudd while the FA accounted for Clark when giving him a three-match ban for elbowing Heybridge Swifts defender – and future Saint – Ben Lewis . Clark pleaded his innocence against his red card but, unfortunately, from behind the goal it did look as though referee Roland Dodge had got that decision right.
Expectations of a large crowd were well founded. Boston sold their allocation of 1,460 tickets and, doubtless, others turned up on the day. Admission was set at £7 plus an extra £2 for anyone wanting an obscured view from our ageing stand. The game was placed under the control of Premier League referee Paul Danson.
Muddy suggested that City had enjoyed good fortune when winning at Dagenham and drawing at Ashton but it was nothing compared to what happened at the Park on the 27th March. All of City's star performers were to be found in midfield and defence although Junior McDougald, hired out from Leyton Orient at short notice, gave a most competent display up front. Lomas was on the pitch from the start as Tubbsy served another ban.
Midway through the first half Paul Watts glanced home a Richard Mason cross, after 23 minutes of domination it was no less than the Pilgrims deserved. During the remaining 67 minutes City had a good number of chances but, really, Boston should have put the game to bed long before succumbing to an 88th minute killer blow. With the City forwards struggling to find a way past the Pilgrims legendary goalkeeper Paul Bastock – it would be a further five years before Bazza set about being lauded a City legend – it befell two defenders to block the Pilgrims progress.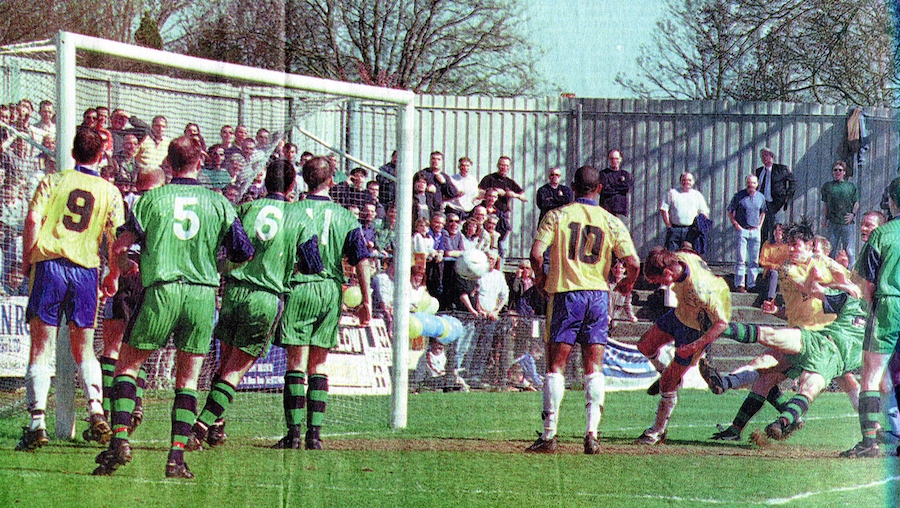 Ashley Vickers stooped to head home a Paul Turner (above) cross to pull St Albans level and then, with just two minutes remaining Tom Meredith, probably the outfield player with the longest odds of getting a goal, rose majestically to plant a header beyond Bazza's desperate sprawl to his left (below).
For 21-year-old Tom, it had been a day of disappointment, bemusement and, ultimately, utopia. He sat in the dressing room before the game and thought that his chance of Trophy glory had gone. "I am normally at number two on the team sheet but when he ( Garry Hill ) read the team out I wasn't in the early numbers and I had my head down thinking I had been dropped. I was really gutted but then he put me in the centre of midfield. I didn't know what to say but Garry had seen them play and said that he wanted a bit of bite in the middle," he said. As for the goal, he continued, "I seemed to be in the air a long time and when the 'keeper got a hand to it I thought it was out. But to be fair to Paul Turner he followed it in, so if the 'keeper had kept it out, Turns would have scored anyway."
Tactical genius by the Manager got the best out of Tom, was it another inspired managerial decision that set City up for the equalising goal. Goalscorer Ashley Vickers suggested otherwise. "I have no idea what I was doing up there to get that goal. I normally go back as soon as a corner breaks down, but this time I thought I'd just hang around and try my luck."
City were into the last four and 2,723 had witnessed it….it looked, and sounded, more.
Nick Harling covered the game for the Daily Telegraph, many years earlier he wrote up a few City matches for the sadly missed Evening Echo. He labelled the win as 'scarcely deserved' (difficult to argue) and quoted the Pilgrims boss Evans as saying, "I think St Albans' final will come in the semi-final. They won't be able to beat a Conference side over two legs." The Telegraph ran with the headline; 'Hill likely to leave St Albans.'
St Albans City 1-1 Forest Green Rovers
Semi-Final 1st Leg. Kick off 3pm 10th April 1999
It hardly seemed true that St Albans City were through to the last four of the national knock-out competition and history begged the question of 'why bother?' Four times the club had reached the semi-final of the Amateur Cup prior to its demise in 1974, and four times that is where the journey ended. No other club had walked up to the penultimate hurdle on so many occasions and then failed to get through to the final at least once. Why bother.
Well, good fortune was on our side, victory was assured. Kevin Mudd felt that good fortune had been on City's side at convenient times throughout the Trophy run. However, his long-serving partner in the back-four, Peter Risley , had trouble finding it during the opening seconds of the 1st Leg of the semi-final with Conference new boys Forest Green Rovers. Rizzer's understrength header to Andy Lomas, just 13 seconds after the kick-off, allowed Marc McGregor to nip only to be bundled over by the City 'keeper. Unlike his oft disappearing teammate Paul Newell, Lomas did stay on the pitch but his impressive record when facing spot kicks meant nothing as Watford old boy Jason Drysdale fired Rovers ahead on 70 seconds. Twenty minutes later Risley's world started to get back on track as he struck a truly wonderful equaliser, from 18 yards (below), right in front of the stunned travelling support on the Hatfield Road terrace. Before half time a shoulder injury to goalkeeper Justin Shuttlewood led to Rovers making an enforced change with Steve Perrin coming off the bench. Much to City's frustration Perrin, a Minor Counties cricketer with Wiltshire, proved to himself to be a more than able stand-in and displayed impeccable handling. The rest of the game, whilst having moments of drama, failed to live up to its spectacular opening but a draw was sufficient to convince both sides that the Twin Towers awaited their presence.
Rizzer tried to describe the emotions that he was going through during the game. "It was sheer horror going through my mind. No one wants to give a goal away during the game, especially a few seconds from the start. I just lost the ball in the sun and let it bounce. It was too high to head out and I had to head it back. Unfortunately, I didn't get enough on it and I knew it straight away." His description of his goal was less detailed, "I just spanked it", he said. It had been quite a few days for Peter as he had turned 33 just two days before the game.
On days such as this the sideshow is almost as intriguing as the game itself. Admission was £10, which included a seat in the wooden stand, while it was £8 to be on the terraces. The gate was given as just 2,120, well down on the Boston attendance. This was partly due to Rovers bringing close on a thousand fewer supporters than Boston had done.
Forest Green Rovers 3-2 St Albans City
FA Trophy semi-final 2nd Leg. Kick-off 1.30pm Sunday 18thApril
Eight days after the first meeting attention switched from The Park to The Lawn. Support for the City at Nailsworth was always likely to be good, not least because the St Albans Observer laid on four free coaches taking 200 fans to the game. Ultimately, half a dozen coaches packed with 'well-wishers' left Clarence Park with Wembley on their minds. Those travelling to Gloucestershire under their own steam helped to swell the numbers significantly. On the morning of the game the weather in St Albans was sunny and warm but, almost as a metaphor for the game, the bright start was not maintained and dark clouds gathered the further west we ventured.
The story of the game is well-known, City bossed the first half, or at least the first 44 minutes. The game opened with Rob Haworth driving the ball into the home goalmouth where the experienced Mike Kilgour kindly put it into his own net. Scoring after 104 seconds may seem sluggish considering Rovers start at Clarence Park but it was decent enough given that Wembley was now just 88 minutes away.
Lomas was called upon to make just one noteworthy save before Paul Turner had a vicious shot knocked away to Haworth who played in Clarky. The outcome was obvious. Forty-one minutes gone and Steve's 36th goal of the season was in the record books (below). City were two-up, Turner almost made it three a minute later, Wembley was fewer than 49 minutes away. Forget the minutes, it was almost time to start counting down the seconds.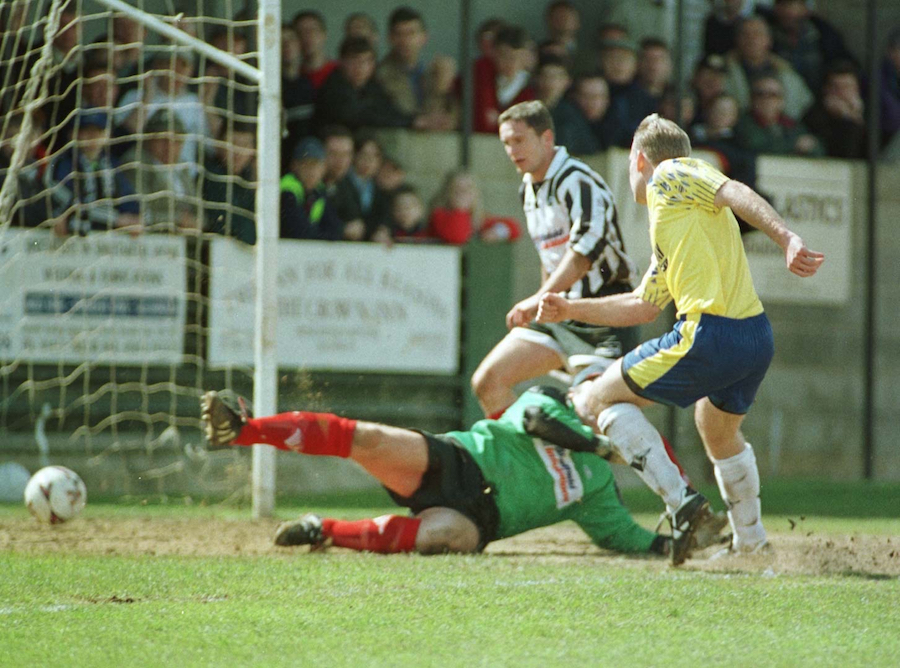 So, what went wrong, how did a 3-1 aggregate lead become a crushing 4-3 defeat? The game turned just before the break when Alex Sykes, dropped for the first game, stabbed home Rovers first goal after the ball had rebounded in all directions off various players like a pinball. The wizard now was Rovers manager, a Geordie, Frank Gregan. In the book, 'Something to Shout About,' the history of the club, he said, "Half time against St Albans in the 2nd Leg of the semi-final was one of my inspirational team talks. We were getting bit of a pasting and looked out of the tie trailing 2-0, but a Syko goal just before half time gave us hope. The players still looked despondent in the dressing room and I knew that I had to give them a lift mentally rather than tactically. We were forty-five minutes away from Wembley. They had been so much better than us in the first half and all they had to show for it was a slender one-goal lead. St Albans had a goal disallowed in the second half and Steve Perrin made two brilliant saves late on, but it proved to be our day."
Ian Hedges pulled Rovers level three minutes after our disallowed goal and substitute Gary Smart, who only came on in the 80th minute, scored the winner two minutes later. All three goals were painful, ugly, scrambled; it was a grotesque way to miss out on the pinnacle of cup football for non-league clubs…for a fifth time.
The 2nd Leg was Peter Risley's 295th game for the City and, so nearly, his last. The left-back went through the wringer over the course of the two games, Rovers final goal clipped him on its way past the stranded Lomas. "It was heartbreaking. After the game I thought about quitting there and then. Some of the younger lads may get another chance in the semi-finals, but I knew this would be my last chance, so it hurts even more. We played all the football and destroyed them in the first half," he said. Garry Hill , who did go to Dagenham & Redbridge at the end of the season, summed it up perfectly for everyone within the club and on the terraces, "I feel so empty."
Garry actually lived in the same road as referee Andy D'Urso for many years. Talking to Garry almost twenty years after the game he said that he would see D'Urso most days but never once said a word to him.
Taking the cross-country route to Nailsworth was a most enjoyable experience in the spring sunshine. With the match over moods now matched the chillier air and deepening grey skies, most supporters opted for the fastest route home, the M4. It was a nightmare. A group of wedding guests on a coach had got a touch unruly and the incident had exploded into full scale fisticuffs. It caused horrendous delays while the police tried to sort out what was going on. It gave those in their static cars times to ponder the meaning life and take in the wildlife. Such as a kestrel that hovered for ages before swooping down on its prey just off the hard shoulder. Far from putting one's mind at rest it simply regurgitated memories of waiting for the third killer goal at The Lawn.
After the win over Boston United in the quarter-final, twelve players were interviewed for the matchday programme. The upbeat utterings on that occasion were replaced by more sombre words ahead of the trek back to St Albans from Nailsworth.
First up was bustling striker, Rob Haworth.
"It is gutting, I can't say that the boys didn't defend well because I think we gave it our all but lady luck was not on our side. I have been told that when I get into those situations just hit the ball hard and low or dink it towards the back post. So, I just thought, smack it across and see what happens. Fortunately, it got a deflection and went in. I just felt that we were unlucky with everything we did today, it was a great start and we were so unlucky. I honestly can't see why that third goal was disallowed. Junior got on the wrong side for the defender, the defender was all off balance trying to recover his position and Junior had headed it in. That was the turning point of the game, it just killed us."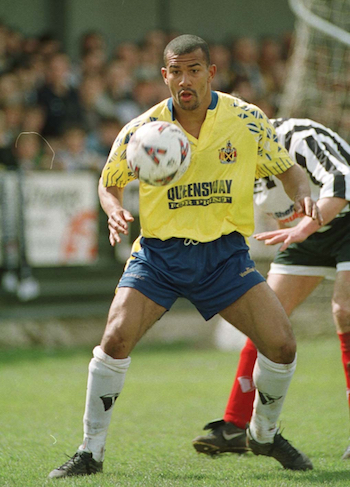 The controversially disallowed goal came at a time when City were 2-1 up, and, without a shadow of a doubt, this was the moment in which referee Andy D'Urso played such a crucial part in our downfall. This was 'goalscorer' Junior McDougald's (right) take on it.
"I think the referee gave it for a push and, obviously, I was the one involved but I feel it was a very harsh decision. I didn't think there was anything wrong with it at all. I'm sure that a goal then would have taken us through. It was one of those games where we had done so well to go 2-0 up – yes, we had a bit of good fortune with the first goal – and I thought that it was going to be our day. I don't think that there was a lot in it, over the two games we showed that we are more than capable of beating them and I think it would have benefitted us if we had been on a better pitch. It's a shame the pitch was like it was today but we are not making any excuses."
Prior to Junior's 'goal' the moment when we thought that we were on the way to Wembley came four minutes from the break when Steve Clark tucked home his 36thgoal of the season, and, even in the fifth minute of injury time when all looked to be lost, only a brilliant save by Steve Perrin denied Clark from adding to his tally.
"I thought that if we could get to half time at 2-0 then we were in with a great chance but going in 2-1 meant that they were always to come at us, and we sat back and let them come at us, which is a shame. With regards to that save at the end it was a nice height for him, there wasn't that much power in it and he just tipped it over. I was pleased with the finish because he came racing out, so I drove it underneath him."
Paul Turner played a significant part in our Trophy run, it was his goal that set us on the path to victory at Hastings, he had a hand in both goals that accounted for Boston United, and at Forest Green it was his shot that helped set up the second City goal. All of which will come as little consolation to a player for whom losing at this stage of the competition is not a new experience.
"The semi-final is always the horrible one to lose and, unfortunately, we are the ones who lost it today. I think their first goal is the one that stuck the knife into us really. Perhaps we could have defended it better and stopped the short free kick. And that is the disappointing thing because if we could have gone in at 2-0, and maybe Junior's goal had stood, we'd have been okay. Sometimes when you are involved in a game you tend to think that the breaks are not going your way. It did seem as though some of the decisions didn't go our way and it was just a little but unfortunate because when you are playing against a Conference side in the semi-final of the Trophy you expect to get a fair crack of the whip. I don't think that we did today."
Matt Jones appeared to be as downcast as anyone following the game.
"When you get 2-0 up, playing well and the other side are resorting to long balls hoping to get the second bits, you do start to think that you are almost there. I thought we played very well in the first half but their first goal just before half time knocked us back a bit. But the way we were playing, and if we could just keep a positive attitude by taking the game to them, rather than letting them come at us, then we could run out worthy winners. It wasn't to be and it is very very disappointing."
For 44 minutes City's central defensive pairing gave an excellent performance and even when the goals started going against us it must be said that our defending was not particularly bad, but our luck certainly was, as Ashley Vickers was quick to point out.
"The start we had was incredible but I do think that the goal we conceded just before half time killed us a little bit, we could have done with going into the break at 2-0 up. To concede a goal like that, where there is a ricochet and a lucky break, guts you. We knew that they would be pretty direct and try to knock the ball over the top. So, we wanted to play a straight line and at the same time give ourselves some room to allow for the boy with a bit of pace, it worked well for the majority of the game."
Ashley's partner in crime in the middle of the City defence was Mick Bodley, or Rodley as the programme referred to him. His performance was every bit as good as that of his partner as he made a series of perfectly timed tackles and went close to scoring with a fine second half header.
"To be fair, we kept it tight at the back and throughout the game they did not have one clear cut chance. We just didn't have any luck in the second half, every little ricochet seemed to go into their path. Looking forward to the second half we thought we were going to have the wind with us but suddenly it changed and we were up against it again. I thought we defended ever so well but it was just not our day, the third goal was a deflection, the second goal took a ricochet off someone straight into the guy's path, it was not our day."
The player whose goal took us through to the semi-final was Tom Meredith and he, like pretty much all of the large City support at The Lawn, believes that lady luck turned her back on us a crucial time.
"For that first goal there was something like three ricochets and each fell to them, on the day we didn't have lady luck with us. As a back four we played well in the first game and we were superb in the first half on Sunday, but once they got their first goal it was always going to be like the Alamo for us. We knew then that they would come at us again and again and again. We had to take chances at the end, it meant that they might score again but we had to go for it and risk losing a fourth goal. It nearly paid off, we had two good efforts at the end and it is very disappointing to have lost."
Goalkeeper Andy Lomas had been thrown in at the deep end several times during the season but at Forest Green he was in from the off.
"They had the pressure but we didn't look to have any problems until they got a lucky first goal. Tom cleared it but it hit someone on the backside and bounced right in front of the fella who tucked it away. If we could have got to half time at 2-0 I am quite convinced that we would have won the game. It was a bad time to concede, as I'm sure it brings them back in psychologically. But, saying that, I think their other goals were fortunate with ricochets and rebounds. I had the third goal covered, Riz was just trying desperately to defend and he deflected it over me. You can't blame him for it, he didn't even know about it and he was just trying to protect the goal, but as it turned out the guy didn't strike a particularly good shot and I would have saved it. I spoke to the Kingstonian 'keeper on Saturday night after their game and he said just play your game and think that you are there (Wembley). You can't think that you are there until you actually are, and today proved it. I thought we had a great chance."
The versatile John Pollard admitted he thought that City were Wembley-bound.
"At 2-0 I was celebrating with Robbie (Haworth), because when you are in that position your sights are on Wembley. After that things didn't go for us, they got a goal at a time that was really important to them. From there, although I don't think that we intended to sit back, they pushed us back and threw everything at us. Until that first goal went in we were in control but the only problem is that you can never dominate a whole game. As I said, at 2-0 they had to throw everything forward and it was disappointing that they got their first goal at that time. When they came out for the second half it was with all guns blazing at us, but to be two-up and come away beaten 3-2 is very disappointing."
As he stood waiting for a final group of players to be herded onto the team coach, City's assistant manager Terry Harris, who had scored in a previous Trophy final, confessed that the defeat hurt. "It is the third time this has happened to me and it doesn't get any easier," was his simple message.
Appearances:
8 Rob Haworth, Tom Meredith
7 Matt Jones, Lenny Piper, Paul Turner, Ashley Vickers
6 Steve Clark , Dominic Gentle, Justin Gentle, Mark Keen
4 Andy Lomas, Kevin Mudd, Paul Newell, Andy Polston
3 Jimmy Carstairs, Mark Kane, Junior McDougald, John Pollard
2 Mick Bodley
1 Mervyn Cawston, Greg Howell, Scott Witney.
Goals:
6 Clark
3 D.Gentle
2 Haworth
1 Meredith, Mudd, Risley, Turner, Vickers, Own Goal.
Photos courtesy of: John Sherwood (Forest Green Rovers), Pete Stevens (St Albans Observer, Boston United), D.Nicholson & Team Talk Magazine (Ashton United, Dagenham & Redbridge).