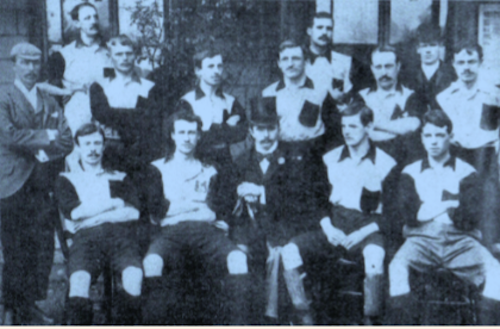 From the Vault looks back to the 19th century, Boxing Day 1894 to be precise, for the first Christmas match played at Clarence Park when the original St Albans Football Club were hosts to Clapham Rovers. Clarence Park had opened just five months earlier after the land had been generously donated and laid out by Sir John Blundell Maple. St Albans had been in existence since 1881 but did not become members of a league until joining the Southern League in 1897. Consequently, almost all of their matches were of a friendly nature although the F.A. Cup and F.A. Amateur Cup were entered for the first time in 1894-95. Clapham Rovers were amongst the entrants of the first F.A. Cup competition in 1871-72 and appeared in the final in 1879 and 1880, winning the pot in the latter year with a single goal victory over Oxford University at The Kennington Oval.
Cup progress for The Pinks
Nine friendly matches and five cup ties had been played by the time of Clapham Rovers visit. The Pinks, the affectionate name by which St Albans were known due to their colours, had recorded a surprise 1-0 win (Frank Mardall) away to Norbury club Vampires in the 1st Round Qualifying of the F.A. Cup but succumbed 6-1 (Harry Laughton) at home to Luton Town in the next round.
In the Amateur Cup the Pinks won 4-2 at Chesham (John W. Sharpe, Sidney M. Stanley and Laughton 2) before losing a 2nd Round Qualifying replay at home to Maidenhead 2-0. The first meeting with Maidenhead had been abandoned due to bad light when St Albans were leading 2-1 (G. Westcott-White 2). Of the nine friendlies played prior to Christmas three had been won, two drawn and four lost. St Albans had to make two late and unexpected changes for the meeting with Clapham Rovers after Barker and Cox, both of whom weredue to make their first appearance of the season, had missed their train connection at Watford. Fortunately, Harry Payne (right-wing) and C.Sibley (left-back) filled in despite having also played in the morning for fellow St Albans club City Rovers.
The rest of the St Albans side featured some significant characters. In goal was Jack Dickerson, a teacher at the local Hatfield Road school. 'Dickie' started his football career with Hertford, joining St Albans in 1891. He later had a spell with Luton Town, a trial with Everton and a number of representative appearances. After his playing days were over he turned his hand to refereeing and took charge of the 1911 Amateur Cup final. Dickie was also brother-in-law to George Wagstaffe Simmons, the founder of St Albans City.
Two members of the Sharpe family played against Clapham Rovers; John William and the wonderfully named Ernest Northern. Two other family members – John William snr., and Cecil also played for the original St Albans while younger brother Ivan turned out for St Albans Abbey, St Albans City, Watford, Leeds City and Leeds United, and became an Amateur England international. Ivan also won a gold medal at 1912 Olympics Games football tournament held in Stockholm.
Driving force
At left-half against Clapham Rovers was Alec Sargent while leading the attack was his brother Fred. Along with the St Albans secretary Richard Cook, Alec is credited with being the early driving force behind the Hertfordshire FootballAssociation. Fred Sargent started out as a full-back before playing at half-back and then centre-forward, where he became one of the most formidable figures in the county.
He scored 161 goals in 152 games for Watford in their various guises of Watford Rovers, West Herts and Watford. Fred was also the second highest goal scorer for the original St Albans, he played in a known 57 matches for the Saints scoring a known 81 times. He undoubtedly scored more than the figure stated but complete records for this time cannot be found.
Playing at right-back for Clapham was Cecil Hugh Aylen who made 113 appearances for St Albans although just 11 were competitive matches. Aylen was in good form for the visitors, as was goalkeeper J.M. Langton, as the Pinks dominated the game.The match was settled by a single goal, put away by J.W. Sharpe during the first half as St Albans attacked the top, York Road, goal. The opening sentence of the match report detailing the second half gives an indication of St Albans dominance.
'The second half was a repetition of the first, St Albans having all their own way, but although they banged as hard as they did the whole of the time the luck was against them and they could not score for nuts.' The game attracted an attendance of 'considerably over a thousand spectators.'