This From the Vault article takes look at St Albans City matches in France. This has been sparked by an email received from Stan Bissinger, recounting his time of following the Saints during the 1990s. Stan is a close friend of Steve Clark's family, particularly his parents Len and Gill, and was attracted to watching the Saints while Steve hammered in 322 goals in 488 games. Stan and his wife Christine spent a lot of time in France before making the move permanent in 2004 but he has continued to follow our fortunes through the wonders of the internet.
"Your observations concerning St Albans in France brought back a flood of memories, all of them comforting and positive. To the end of my days I'll be grateful to the Clarks for revealing SACFC to me where I discovered a band of folk devoted to the beautiful game and who were so welcoming (even if the term "slap-head" was directed at me regularly by some objectionable character - I'd like to get my hands round his throat. Oops, sorry Stan). In an impersonal world swirling around one's ears it's a warm human experience to be accepted so readily into such a club.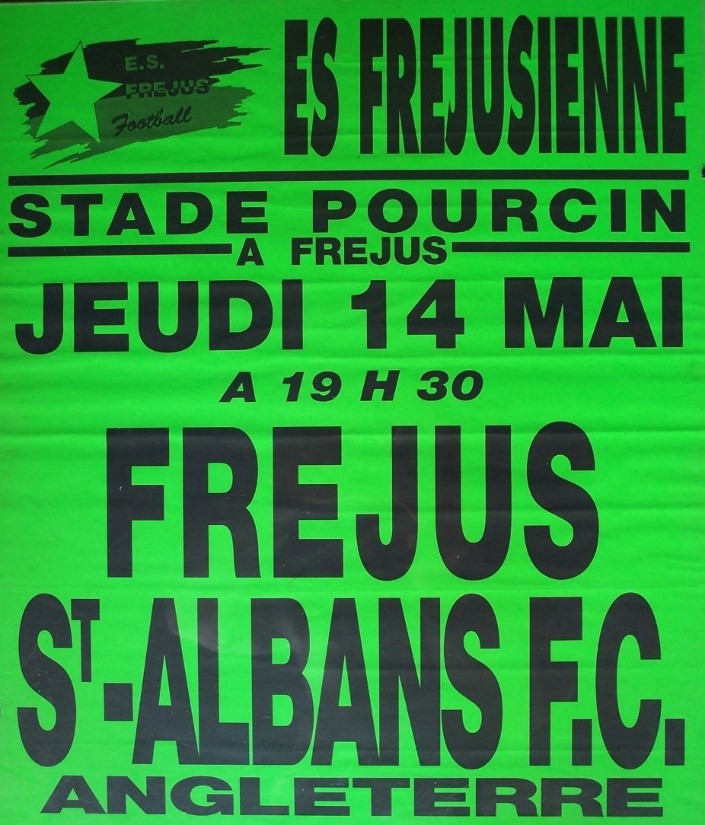 And then there was the football, and the players. Each match different, same players but varying peaks of form, each game with its own dynamic, passion, triumph, bitter disappointments, sheer joy, all the emotions there, every bit as absorbing as a play at the theatre, even more I'd say. For a blessed couple of hours you forgot all the crap life was throwing at you.
Thank you St Albans, thank you.
And it hasn't finished there for me because football in France arouses similar passions with similar folk. My local club is Pagny-sur-Moselle, national level five - not bad for a little town of about five thousand. The people are friendly and the level of football competent. You pay seven euros to get in!! I carry on my St Albans tradition of always standing behind the enemy goal and I can't understand why I'm usually the only one. Maybe my lucky cap has too pungent an odour.
Good old internet, it allows me to follow SACFC's progress and keep those wonderful memories alive."
Stan's letter conjures up memories of City's three trips across the English Channel to play games against French clubs. At the start of June 1960 City took the place of Clapton to partake in the Victor-Linart Trophy. Local club Stade Vernolien proved no match for Pat Welton's side as City romped to a 5-1 victory on the back goals from Ron Wood, Don Falconer, Danny Desmond, Alan Carter and John Stevenson. That win put City through to the final to be played 24-hours later on Whit Monday, 6th June, against German side Welper. This proved to be a much sterner test and after a 1-1 draw the Saints lifted the trophy having won 5-1 on corners. City's goal scorer was Keith Rand, a second half substitute for Dave Darby who had to catch a flight back to England to sit exams the next day. The two games attracted gates of close on 2,000 and 2,500 respectively.
We were back in France a year later to defend the trophy in Verneuil-sur-Avre. City's first match on this occasion was against Welper and goals by Brian Nisbet (who turns 80 on 14th September) and Malcolm Tomlinson (who was later sent off) gave us a healthy two-goal cushion at the interval. Welper, however, stormed back to win 3-2 and leave us facing a third-placed play-off match against Stade Vernolien. Nisbet was again on target with his late goal seeing off the hosts in a match of few thrills that took place after a long night of partying and celebrations.
City returned to France again in May 1992 when manager John Mitchell and chairman Bernard Tominey led a party to the former Roman town of Frejus. Two games were played, the first was a warm-up affair against a local side Pujet with St Albans secretary Steve Trulock acting as referee and Leigh Page running the line. City struggled early on but the tide turned when Mitch brought himself on before half time and we ran out 4-1 winners courtesy of goals from Steve Scott, Martin Duffield, Andy Cox and Michael Danzey. The club had been guests of honour at a few events during the week but hospitalities were difficult to spot during the game with Frejus with the referee blowing for time a good seven minutes early with honours even at 2-2. The City goals came from Danzey and Paul Halbert in front of a crowd of around 150.