We recently received a request from one of Charlton Athletic's historians, Ian Wallis, who is compiling a book about every player (around 850) to have appeared in the Addicks First team. Ian was after information about Roy Bethell who joined Charlton from St Albans City in 1928. Whilst looking into Roy's history we were reminded of just how strong the ties are between our two clubs.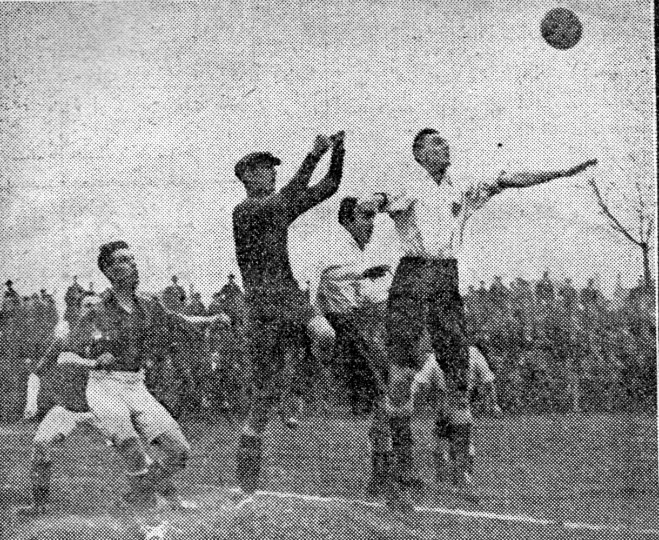 During the 1920's Bethell was just one of eight City players to pass through our door en route to The Valley. Born in Watford in August 1906 he joined the Saints at the start of the 1925-26 season but spent the rest of the campaign playing for Watford St Mary's before returning for one City appearance in April. Having scored on his debut, a 2-0 Isthmian League win at Tufnell Park on 26th April 1926, Roy became a regular in the side from the start of the following season through to joining Charlton at the start of March 1928. He scored 63 times in 58 games for the Saints and in one phenomenal run scored in 11 consecutive matches. We did not receive a transfer fee from Charlton but as a way of thanking the Saints they did send their London Combination side for a friendly at Clarence Park on 20th September 1928. Charlton won that game 3-2 but Bethell had caught their eye 18 months earlier when scoring a hat-trick as City beat their Reserves 6-2 at the Park. Roy made three appearances in the Charlton first team before spending six years with Gillingham where he scored 32 times in 170 games. (Above left: Roy Bethell challenges Great Yarmouth Town goalkeeper W.Dennis during City's 6-0 Amateur Cup 1st Round Replay victory at Clarence Park just a couple of months prior to Bethell's move to Charlton Athletic. City's scorers against Yarmouth were Bethell 2, Wilf Minter 2 and Phil Pierce 2).
Bethell was the second Saint to join Charlton with Harold 'Baby' Miller having made the switch to The Valley immediately after our famous 8-7 FA Cup defeat at Dulwich Hamlet on 22nd November 1922 – the game in which WH 'Billy' Minter scored all of our seven goals yet still finished on the losing side. The Charlton manager, Walter Rayner, was one of 20 managers said to be at the match and wasted no time in signing the player who we had snapped up from local football in Watford and made just 14 appearances in our colours. He won one England cap whilst with Charlton and played 365 times (14 goals) for Chelsea after being transferred for £1,500.
Following on from Miller the Addicks took George Biswell from us in the summer of 1925. George's debut was hardly a glorious start as we went down 9-1at Wycombe Wanderers on 29th September 1923 in only our sixth match in the Isthmian League. But the season was not a complete disaster as we won the return match 5-0 and lifted the Isthmian title at the first attempt. George, who joined us from Watford side Villa Juniors, had two spells with Charlton either side a stint at Chelsea.
Goalkeeper Ted Barnes made one appearance for the Saints in November 1920 before heading off for a season as an amateur with Charlton. Ted, who also had spells with Southend United and Queens Park Rangers, played 21 times in the Charlton First team and earned a reputation as the king of saving penalties after keeping out 13 in succession. He returned to the Park to feature in a further 57 City matches.
Percy Winter, a veteran of 58 games for the City between 1925 and 1929, was another former Saint to appear in the Charlton First team, six games, whilst registered as an amateur. Harold Miller's two brothers, H.E. 'Ted' Miller and Redvers Miller, both played for The Addicks London Combination side. The last City player from the 1920s to be associated with Charlton was Fred Hellicar, the City captain signed amateur forms with the south London club.
Above: The St Albans City side that won the Isthmian League at the first attempt in 1923-24 featured six players who went on to sign amateur or professional forms for Charlton Athletic.
Bert Sansom, Ted Barnes, Fred Holland (Captain)
Ted Keightley (Trainer), Percy Bidd, Harold Figg, Fred Hellicar, WJ Green (Hon.sec.), Sid Duller
Fred Dear, George Biswell, Wilfred Minter, Ted Miller, Redvers Miller
Moving forward to the 1960s and Charlton signed City goalkeeper Mick Rose after 45 games for the Saints. As part of the deal that took Mick to The Valley the Addicks provided the opposition for the official switching on of our floodlights on 19th November 1963. On 21st August 1965 Mick created a piece of football history when he sustained an injury away to Bolton Wanderers and was substituted by Keith Peacock. It was the first time that a substitute had been used in the Football League.
Our final connection with Charlton is in regards to their ground, as back on 15th May 1995 we faced Fisher 93 in the final of the London Challenge Cup at The Valley. Barry Blackman and Martin Gurney scored a goal apiece but it was the four goals scored by Steve Clark (right, celebrating after scoring City's equaliser against Chesham United in front of a crowd of 3,120 in February 1993) in a 6-0 win that makes that game particularly memorable, as it took his total for the season to 56 – the highest tally by a City player in a single season. Steve scored his goals in 65 games whereas the previous record holder, Charlie Bunce (left) scored his 54 goals in just 42 games during the 1934-35 season.