The F.A. Cup First Round. The very mention of it sends a shiver of fear coursing through the veins of managers of lower placed Football League clubs, as the fear of a humiliating exit at the hands of some previously unheard of non-entities from the world of the non-league game becomes reality and the minnows claim their 15 (90) minutes of fame.
We have been in the other camp on nine occasions (as at end of 2017-18), hoping to be the non-league side that captures national headlines, and once, just once, we did achieve that greatly cherished honour.
Brentford
Our moment of glory as giant-killers came on 29th November 1924 when Brentford, then bottom of League Division Three South, visited Clarence Park , home of the reigning Isthmian League champions. Brentford led 3-1 at the interval, but eventually went down 5-3 in front of a then record attendance of 8,825. Two of the City goals were scored by the Saints all-time top goalscorer and Amateur England international, Wilfred 'Billy' Minter. Born in St Albans, Minter worked in his father's grocery shop in Culver Road and turned down the overtures of several professional clubs who sought his services. City's other scorers on one of the most significant days in our history were George Biswell 2, and Wally Buckingham .
The meeting with Brentford was actually a 5th Round Qualifying tie, rather than the 1st Round Proper. Up until 1924/25, inclusive, the Cup had six qualifying rounds with the Football League sides coming in at the 5th Round Qualifying stage, making it the equivalent of today's 1st Round Proper.

Action from City's 5-3 win over Brentford
Hartlepools United
In the 6th Round Qualifying, having disposed of Brentford, City faced an arduous trek to the north-east to face Hartlepools United at their Victoria Park home in Clarence Road. City went there with an impressive reputation but failed to live up to it and lost 4-0 with 5,852 people looking on. But Hartlepools (the 's' was dropped in 1968) did struggle against opposition of lower standing in subsequent years and over the course of the next five seasons were knocked out four times by non-league clubs.
Gillingham
City's first FA Cup tie against Football League opposition had taken place on 17th December 1921 when, as members of the Athenian League, we travelled to Priestfields to visit Division Three South side Gillingham for a 6th Round Qualifying tie. This was City's first season in the Athenian League but in spite of going on to win the league they were very much underdogs against Gillingham. George Meagher, the first City player to make 200 appearances for the club, scored for the Saints but the Kent side ran out 3-1 winners in front of a crowd numbering 8,500.

Freeman scores for Gillingham during our first F.A. Cup tie against Football League opposition in 1921
Walsall
After the defeat at Hartlepool it was to be a further 43 years before we faced another side from the Football League when Walsall of the old Division Three popped into the Park for a 2nd Round tie. During our earlier cup runs the teams had been selected by a committee of the club but in 1968 the team was picked by manager Sid Prosser. City enjoyed great success during the five years of Prosser's first stint with the club and Walsall were just five minutes from elimination when Derek Trevis struck to wipe out Bill Ratty's early opener for the Saints. The crowd, 4,867, was three hundred fewer than that had attended our 1st Round replay win over Wealdstone . The replay with Walsall attracted 10,626 to Fellows Park but there was to be no giant-killing as the Saddlers won through 3-1 with John Butterfield getting the City goal. Waiting for Walsall in Round Three were Tottenham Hotspur, whose manager Bill Nicholson praised City for their performance in the Midlands.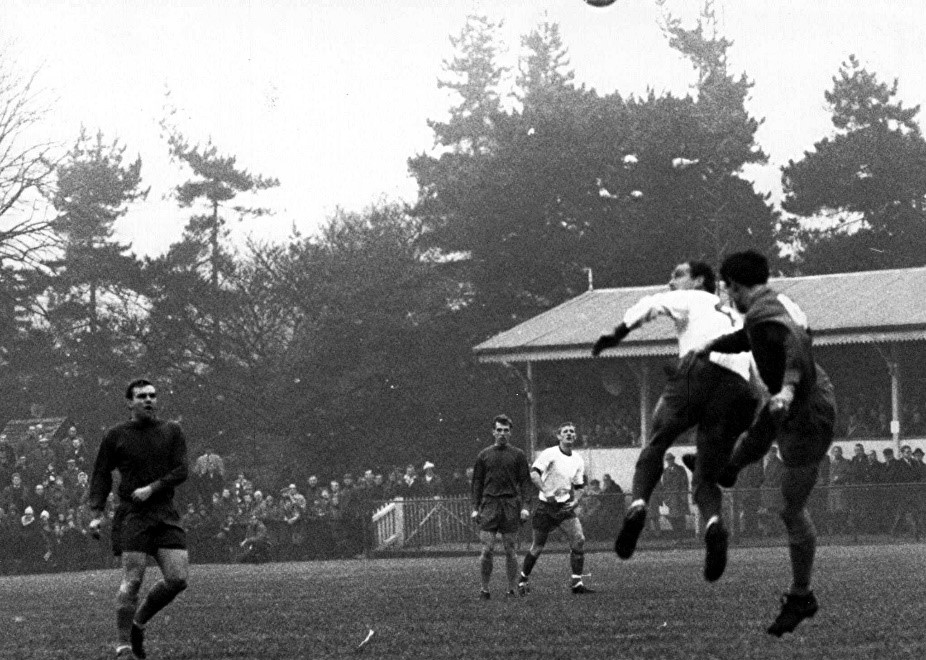 Dave Neville and John Butterfield look on as Phil Wood challenges for a header against Walsall at Clarence Park
Torquay United
Prosser had moved on by the time of City's next encounter with the professionals in December 1980 but three members of that earlier team, John Butterfield, Dave Lawrence and Phil Wood , were back at the club for one final swansong. Standing between the Saints and a place in the 3rd Round were 4th Division side Torquay United, then managed by Mike Green.
Torquay deservedly led at half time on a rainy afternoon in Hertfordshire but as the pitch turned into a quagmire after the break so St Albans rose to the challenge. Paul Mayles equalised and it was more by good fortune than planning that Torquay held out for a replay. City manager Ron Duke gained national headlines when responding, quite bluntly but also with a touch of humour, when Torquay moaned about a lack of soap in their dressing room. The attendance was given as 4,601 but over 6,000 were actually present on a memorable soggy afternoon at Clarence Park .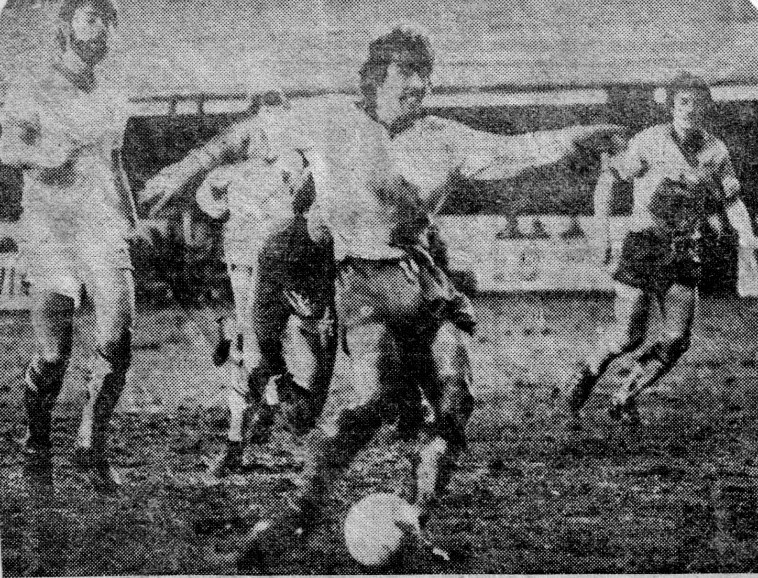 Paul Mayles pulls City level at home to Torquay United
The replay, four days later on an even wetter night at Plainmoor, was an unenjoyable acrimonious affair with Ian Whitehead scoring our only goal from the penalty spot during a 4-1 defeat; two of the Torquay goals also came from penalties. It was just one of 33 goals that full-back Whitehead, from Colney Heath, scored from the penalty spot during 1980/81 and 1981/82.
Bristol City
It was to be another 16 years before St Albans City once again took on the mantle of potential giant-killers when we travelled to Ashton Gate in December 1996 to face Bristol City in the 2nd Round. That City lost to the Division Two (Division Three before the formation of the Premier League) side was of no great surprise, that City lost 9-2 was, however, a tad disappointing. Steve Clark and Jon Daly scored for the City but manager Alan Randall was in no mood to celebrate their success and resigned before the coach had returned to Clarence Park .
Stockport County
The cup draw had us on our travels again in December 2002 when it pitted Gary Roberts and Steve Cook's side with struggling League Two outfit Stockport County at Edgeley Park. The margin of defeat was reduced from the Bristol City game but Stockport still ran out comfortable 4-1 winners. Central defender Derek Brown had cause for celebration after netting the City goal but fellow defender Rob Gould was less chuffed after being dismissed in a case of mistaken identity. Referee Mike Ryan had not spotted an offence but a linesman claimed that a player had handled on the goalline and Gould was sent packing. City protested against any such offence having taken place with the ball hitting Rob Kean, not Gould, but not on the arm. Gould's dismissal was later rescinded by the Football Association.
Mansfield Town
On 9th November 2013 Mansfield Town attempted to do what Brentford, Walsall and Torquay United had all previously failed to do and lower the City's colours on our own turf in an FA Cup tie. The 2013/14 campaign was Mansfield's first back in the Football League after five years spent in the National League. City, under the joint leadership of James Gray and Graham Golds, were in the Southern League at this time but the three-division gulf between the two clubs was indistinguishable for much of the first half. Darren Locke headed the Saints into an eighth minute lead that we held until the 44th minute. Then Mansfield turned the game on its head with two goals in the final minute of the half…and just for good measure the Stags added more on 70 minutes, 74, 77, 81, 86 and 90. Final score: 8-1, ouch.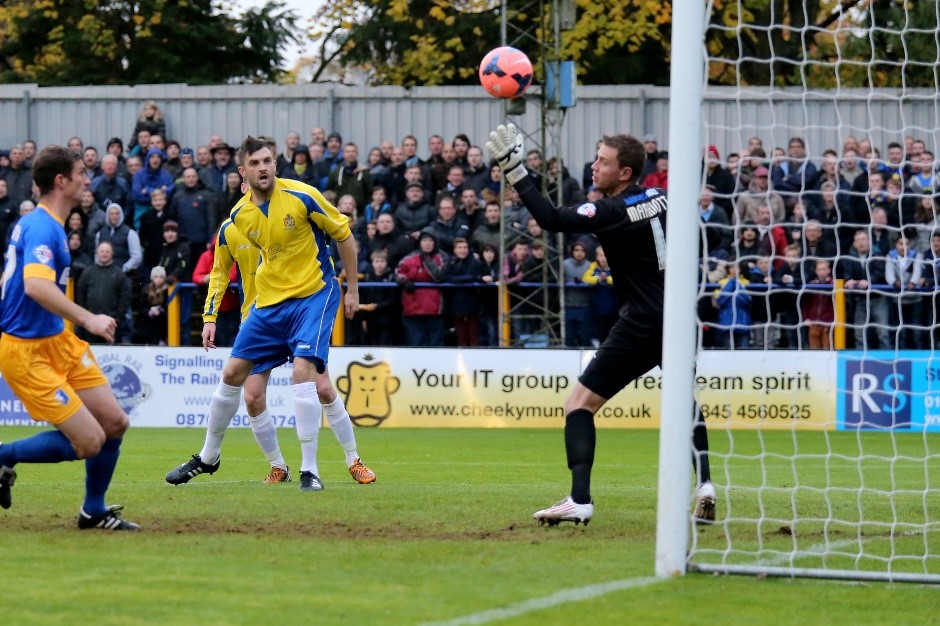 The dream is on as Darren Locke heads City into an early lead against Mansfield Town
Carlisle United
Undefeated League Two Carlisle United made the lengthy trip to Clarence Park on 6th November 2016 and took part in one of the greatest games seen at the old Victorian ground. City, now under the guidance of Ian Allinson, were ahead inside four minutes courtesy of what will probably be the most spectacular FA Cup ever seen at Clarence Park . It was just the start that the watching BBC cameras wanted but just 12 minutes into the second half the dream looked to be over as Carlisle edged into the lead. Morias, though, was not finished and with another wonderful finish pulled City level. Louie Theophanous added one more top of the range goal as City chalked up their highest score against Football league opposition since the Brentford game 92 years earlier, but by then Carlisle had taken they tally to five and City's run was over. Unknown to virtually everyone in the ground that day was that a deal had been struck two days prior to the game that would take Morias back into the professional game with Peterborough United.
Junior Morias prepares to score City's second goal against Carlisle United