One of the most significant and entertaining characters in the history of St Albans City is Robert Edward "Bob" Murphy, who, on the 8thApril 1964, made his City debut during an Isthmian League match with Tooting & Mitcham United at Sandy Lane. A few years ago Bob kindly wrote his footballing life story and this can be found on the Past Players section of the website.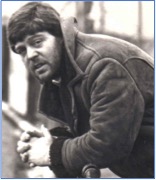 Bob had made his mark in local football as a phenomenal goalscorer for local youth side Carlton that, in its day, was seen as the youth nursery side to St Albans City. But, prior to Carlton, he had, from the age of 14, been playing for neighbours London Colney. Bob takes up the story.
"I must have done quite well for Colney when in the early summer of 1963 a portly chap from Carlton, Dick East, turned up at my Dad's café in London Colney and asked my Dad if I would play for them next season. I was now working, and had been since 1962 when I was 15, at De Havilland in the computer department, so I was technically a working man. It was great working at De Havilland where I met several City favourites, including Freddie Collings, Dave Lawrence, Jimmy Whiting, Clive Chattin and even the great Alex Massie. Before the war Alex was captain of Aston Villa and had 18 Scottish caps, can you imagine being a 15-year-old nowadays working at British Aerospace with Gary McAllister. I know Alex never played for the Saints but he brought many a team to Clarence Park when he was manager at Hertford and they were never a pushover. My Dad eventually agreed to me joining Carlton but wasn't happy about me defecting and resigned as chairman of London Colney, he later joined the committee at St Albans. (Bob pictured left whilst Manager of St Albans City F.C.)
As a reward for signing for Carlton all of the young lads were invited along for pre-season training with the men. The enthusiastic Jock Weir was manager and I remember him saying to all us kids in his gruff Scottish accent 'lads, on your way home kick dustbins and head trees.' I was so inspired I got off the 84 bus in Colney High Street and ran up Kings Road, kicking imaginary dustbins and heading trees.
I had a great season at Carlton, scoring loads of goals, winning the league and several cups, I got a hat-trick in the 6-1win against Bennetts End in the county youth cup final (Mick Pestle got the other three). I played a few times for the county (Joe Kinnear was in the team) and City Reserves and again scored goals for both. On Wednesday 8thApril 1964 I was invited to go along as 12thman (no subs in 1964) for the First team game v Tooting & Mitcham United. I turned up in my Hillman Imp at St Albans station to catch the coach, but Don Francis didn't turn up. Keith Lawrence, committee member, said Don was still at work, Gibbs and Bamforth, just around the corner in Lattimore Road. So the coach rolled round to his works and Don came out saying, 'I'm not playing, I've got to work'. That was it then, my debut awaited me albeit in south London on a rainy Wednesday evening. It was a complete non-event, Billy Spicer turned up injured and Roy Agar played even though he shouldn't have. Roy had a bit of a reputation and he was soon hobbling on the wing after some rough treatment by those naughty south London boys. I was marked by Dario Gradi, we got stuffed 3-0 and we were lucky to get nil, although I did have a perfectly good header disallowed. I think the evening said more about Don than me!"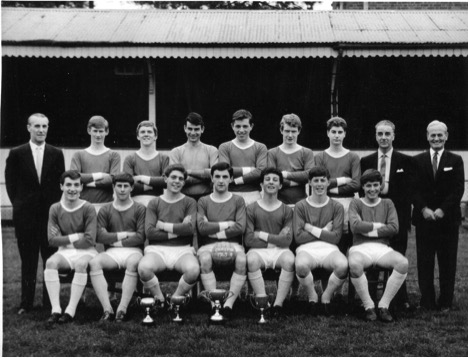 Carlton 1963-64
Back: Sid Pestle (Manager), Matt Hughes, Kelvin Curran, Alan Tatham, Neil Riley, ?? (Grogan), Kevin Allen, Eddie Allen, Charlie Nunn
Front: Mick Pestle, Tony Mardle, Bob Murphy , Graham Pestle, Andy Desmond, Bob Humphrey, Brian Taylor