Towards the end of January 2018 we received an email asking for any information that we may have in regard to the St Albans Pilgrims Football Club. The enquiry came from Mike Bayly who is compiling a book about, to put it bluntly, 100 Grounds to visit before departing this life, and Clarence Park is one of the featured grounds.
We had not been aware of the Pilgrims existence prior to Mike's email but research since then has been most rewarding with the birth of organised, well almost organised, football in St Albans having been pushed back from 1881 to 1870. In 1881 the original St Albans Football Club came into existence and were the first football club to use Clarence Park when it opened in the summer of 1894. That club ceased to be in 1904, four years before the foundation of the present-day City club.
There was a St Albans Pilgrims Cricket Club in existence in the mid-1860s and the football division of that club were founded by Henry Powell Owen-Smith who invited members to apply to join by 8th October 1870. The invitation stated:
'It having been decided that a Vacation Football Club should be formed amongst the gentlemen of St Alban's and district, those who wish to join are requested to send their names to H. P. Owen-Smith, Esq., secretary pro-tem, Christ Church Vicarage, St Albans, before Saturday next that they may be proposed for election at a meeting on that date.'
Owen-Smith's invitation did attract sufficient responses for the St Albans Pilgrims to be formed and on 17th December the first football club bearing the name of St Albans took to the pitch to face Harrow Holiday Club on 'the old cricket pitch' in Verulam Road. The Pilgrims team was H.McKenzie (goalkeeper), FN Searancke, J.Lloyd, A.Clarke, E.Hutchinson, J.Pugh, L.Weedon, H.Garbutt, T.Grimstead, C.C.Lapage and H.P.Owen-Smith. The game finished goalless with the extravagantly named opposition most probably being Boarders from Harrow School. A return match was played between the two sides at Harrow on 18th January 1871.
The Pilgrims season was short with their final game played on 21stJanuary. In all, seven games were played which included the two previously mentioned, two against Watford side Herts Rangers and three against Hitchin. Unfortunately, the only score found so far for these games has been for that opening game against Harrow.
The Pilgrims lasted for just another five, equally short, seasons. Just two games can be found for the winter of 1874-75 and the fixture list for their final campaign, 1875-76, was a pitiful two games with the final game being played on 26thJanuary 1876. On that occasion they defeated London-based Upton Park 4-0 (R.Allport 3, TB Day) at Lillie Bridge, West Brompton. Three years earlier Lillie Bridge had played host to the FA Cup final when Wanderers defeated Oxford University 2-0. The Pilgrims had been due to play at another FA Cup final venue, The Oval, on 21stJanuary 1874 but, unfortunately, the game against Harrow Chequers was scratched. The Pilgrims may have missed out on playing at The Oval but the present-day St Albans City did play there on six occasions during the 1950s and 1960s when Corinthian Casuals were using it as one of their home ground.
The Pilgrims can, possibly, claim to be the first club outside of the St Albans Grammar School1to play organised football in the town (St Albans was not decreed a city until 1877) but just how organised it was is questionable. Their first games were before the launch of the FA Cup, 18 years before the formation of the Football League, and in the same year that the first England international matches were played. Frequently teams did not have eleven players, and if required substitutes could not be found at the ground then games started with, sometimes, as few as seven players. With there being no league or cup football, players were free to turn out for whichever club wanted their services and there are several instances of players with other clubs turning out for the Pilgrims for just an odd game.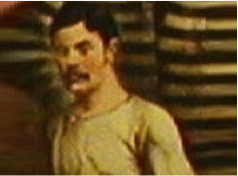 One player of note who played for the Pilgrims was centre-forward Francis John Sparks (right) who made three appearances for England (one as captain) in 1880, the same year that he won the FA Cup with Clapham Rovers. The Pilgrims also played against other England internationals Robert C. Barker, Robert Kennett Kingsford, Charles John Morice and Reginald Courtenay Welch, the latter was also an FA Cup winner in 1872 and is the only player to have appeared in both the first FA Cup final and the first England international.
The regular goalkeeper for the Pilgrims was Revd. H.W. McKenzie who was also a playing member of the St Albans Cricket Club. McKenzie joined the cricket club in the early 1860s and some fifty years later wrote his 'Recollections' that included details of cricket in the mid-Victorian era and also detailed profiles of those that he played with and against. His memories opened with a wonderful and lengthy description of the cricket pitch at Bernards Heath, a site that, for a while, was also home to the original St Albans Football Club.
No strong connections have been found between St Albans Pilgrims and the original St Albans FC although Alfred Herbert Debenham, a player for the Pilgrims, was a vice-president for five years for the later club. The Rev. HP Owen-Smith gained a M.A. degree at Magdalen College, Oxford, and served as vicar at Douglas Parish Church, Wigan, for 24 years and had just been appointed rector at Brindle in the borough of Chorley when he died of pneumonia in February 1909. He fell ill while returning from a wedding ceremony in Southampton. He was 58 and left a wife, Agnes Ida.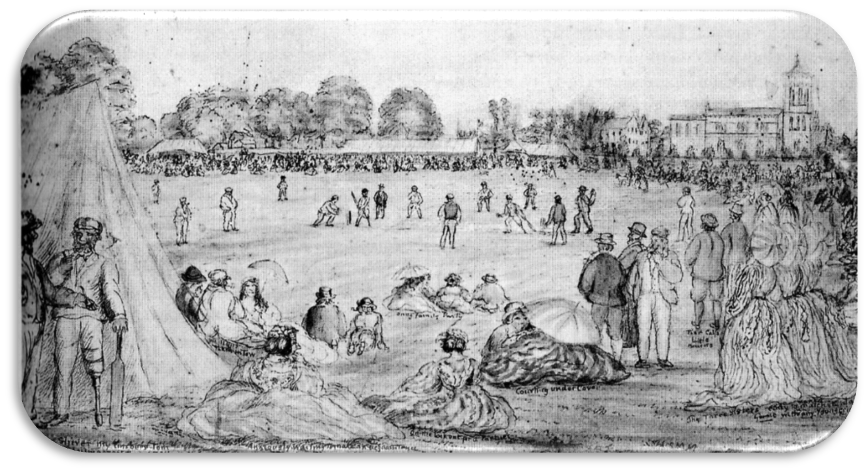 Above: Cricket at Verulam Road in the mid-1700s. The match is between the One-Armed and the One-Legged (taken from the book; Cricket in Hertfordshire by R.G. Simons).
1St Albans Grammar School is known to have played matches against other local schools as early as 1863.