A match report from "The Sportsman" describes our first ever defeat - the game was only the third since the formation of St Albans City and followed on from a 1-1 draw with Leavesden Asylum in the Herts County League, and a 1-1 draw at Clarence Park in the first meeting with Upton Park.
"With Leytonstone playing in the neighbourhood and weather totally unfitted for football, it was not surprising to find only a meagre gathering (attendance 22) at the Leytonstone Ground (Granleigh Road) yesterday, when Upton Park met St Albans in their replayed Cup-tie.
It was by no means a great game and Upton Park, in winning by 3-2, just showed sufficient superiority to carry them into the next round. If there was little science, however, there was plenty of whole-souled enthusiasm amongst all the players.
The Cathedral team had quite a number of followers in the crowd and although they were a goal down in less than ten minutes, there was any amount of encouragement for them. Upton Park had a very mixed lot of players in the field,buttheir forwardshadagood sense of direction when in the vicinity of goal and a centre from "A.Flier" to O.L.Dale was promptly taken advantage of.
Within a few minutes a second goal came to them, F.Cutten going through and scoring with the prettiest shot of the match. Even this reverse did not upset the Herts team. In J.Smith (believed to actually be Charles Patrick, City's usual full-back and reported inThe St Albans Post as Patrick) they have a left-back who has played the game in good company and, aided by a portly partner, he kept the attack under control. The rushes by "Flier" and Tatnall were broken up repeatedly and if the play of the forwards had been on a par with the defence a different result would have to be recorded.The first half, however, was not to go without a score for the strangers, as P.Agate handled in the fatal area and L.Hosier scored with a simple shot and the teams crossed over with Upton Park leading by the odd goal in three.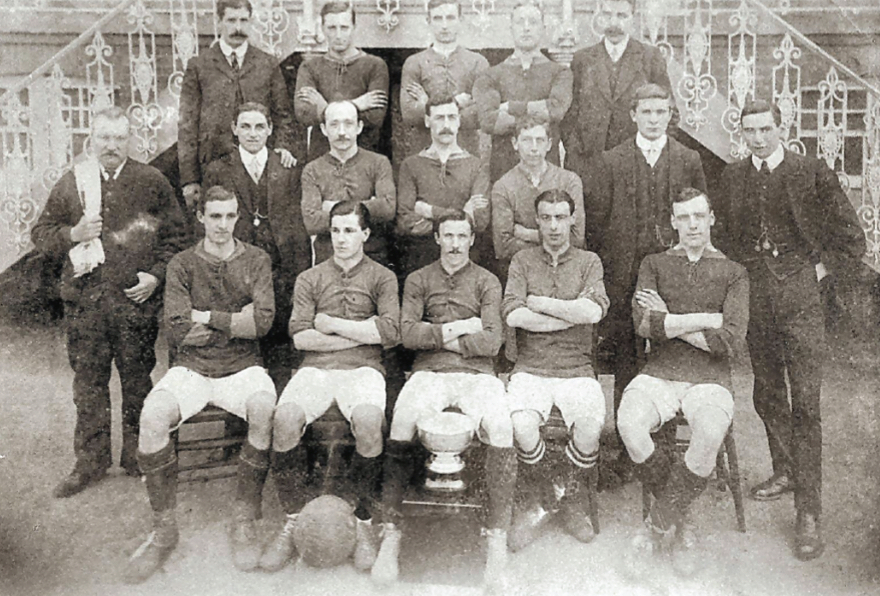 The first is the team photo from 1909-10, Les Hosier (scorer of both goals against Upton Park) is far left, front row.
The second half was as fast and unscientific as the first.The St Albans forwards, of whom Hosier was the best, were too ragged to trouble a moderate defence and it was not until Morrison was fouled in front of goal that the scores became level. Again Hosier was entrusted with the kick and he easily beat Jones, the Upton custodian. To the general surprise, the referee ordered the kick to be taken again, presumably because one of the defenders moved, but Hosier was equal to the occasion as he again steered the ball past Jones.
With only twenty minutes to go both sides struggled hard for the mastery. J.Smith played a great game for his side, but a weak clearance by MacIntyre enabled Cutten to bundle the ball through and the odd goal in five went to Upton Park.
The St.Albans goalkeeper was very reluctant to use his hands all through and that fact, combined with a weakness in the front line, was the cause of their downfall. Upton Park arestronger forward than they are in defence, while both sets of halves were wild in their kicking.
Upton Park: J.H.Jones ; P.Agate and J.Flour ; L.M.Waldron, H.Redgrave and M.F.Lane; A.Flier,W.H.Tatnall, F.Cutten, O.L.Dale and G.F.Mutton.
St Albans City: K.MacIntyre; V.S.Bourdon and J.Smith; E.Anderson, T.Noel and J.Fisher; L.Hosier, H.Day, T.Walker , A.Morrison and R.E.WebbReferee: Mr F.H.Wall.
The Upton Park team was named in "St Albans Post" as follows: J.H.Jones; J.Kingston and F.Spackman; J.H.Dale, D.Renovf and P.Agate; S.J.Ourns, G.Paponeau, J.Cutten and G.F.Mitchell."