St Albans City's preparations for the short journey down the M1 to face FA Amateur Cup finalists Hendon at Claremont Road on 25thMarch in 1972 could hardly have been worse. After five wonderful years at the helm, manager Sid Prosser had announced that he was leaving the club, the professionals of Southern League side Wealdstone having tempted him away from Clarence Park .
The Isthmian League meeting with Hendon came on the back of three consecutive league defeats; the only time that City had failed to collect any points in three games during all of our 241 league games under former Arsenal youngster Prosser. The trip to Hendon was Prosser's last league game as City boss and he was determined to sign off in style. Team selection at Claremont Road, however, was left with team captain Dave Neville, who had also been appointed as caretaker manager in view of Prosser's impending departure.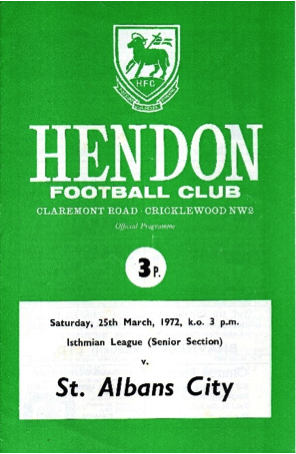 Neville took the bold step of moving central defender Les Burgess into the attack, it proved to be a masterstroke. Paul White returned to the side after missing a 2-0 defeat at Bishop's Stortford five days earlier and Kevin O'Brien stood in for injured goalkeeper Ray Bloxham. Striker Steve Moss was relegated to the bench.
Hendon were buoyant, almost bullish, as suggested in the opening line of the programme notes. "Good afternoon Ladies and Gentlemen and we welcome you to Claremont Road hoping you enjoy watching the Amateur Cup Finalists of 1971-72."
The Dons had qualified for the final the previous weekend with a 2-1 semi-final success over Wycombe Wanderers at Brentford in front of a crowd numbering in excess of 10,000, the majority of which were supporting the losers. Hendon had lost just two of their 42 games played prior to City's visit and boasted an unbeaten home record stretching back almost a year. City's record away to Hendon, and their previous incarnations as Hampstead and Golders Green, was not good with only three wins recorded in 14 visits dating back to 1932. Four games away to Hampstead during the 1920s saw City win three and draw the other with Billy Minter scoring in each game.
City were three points and two places behind the second placed Dons who also had the small matter of seven games in hand. The omens did not look good for City but there was one telling factor in our favour; four Hendon players had been in action the previous night for the England Amateur international side in a 4-0 win over Scotland at Wigan.
Hendon started strongly but City defended well and went into the break on level terms. It was after the interval that Dave Neville's bold move paid dividends with Burgess heading home from a Bill Ratty corner to put the Saints ahead just before the hour. Hendon did not take kindly to seeing their impressive home record threatened and some 'tasty' challenges started to fly in. Two such lunges by Jameson on Paul White put the City full-back out of the game but the introduction of substitute Steve Moss worked in St Albans favour, as he added a second goal from a Ratty free-kick on 66 minutes. Hendon's unbeaten run was over.
It was ironic that both goals came from set-pieces given that in the Dons line-up was Bobby Childs, for so long the Saints dead-ball specialist but had joined Hendon earlier in the season. Overall, though, it proved a good move for Childs who ended the season with an Amateur Cup winners medal as Hendon defeated Enfield at Wembley. In the Enfield side were two more City greats of the Prosser era, Tony Turley and John Butterfield, both of whom were quickly capped by England after leaving St Albans.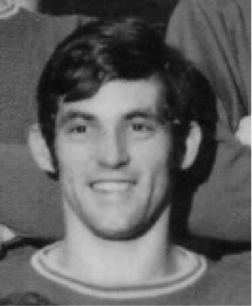 City were back at Hendon the following Saturday and Derek Christmas, the Saints Club Historian at this time, wrote, "second half City got on top and when we scored we completely outplayed them. I think it will be a different story next week." Indeed, it was. We lost 4-0 and our reign as London Senior Cup holders had come to an unceremonious end.
Bill Ratty (pictured) teed up both City goals in the 2-0 win at Claremont Road.