'In Conversation With' were articles for the matchday programme in the 1998/99 season in which Dave Tavener interviewed various members of the team. Below is the interview with the then City manager Garry Hill that appeared in the programme for the Isthmian League match against Dagenham & Redbridge on 1st May 1999. During his time in the hot seat at Clarence Park Garry guided City the semi-final of the FA Trophy, a sixth-place finish in the League and success in the Herts Charity Cup. It was Garry's final game as City manager before taking over as Dagenham manager.
Playing days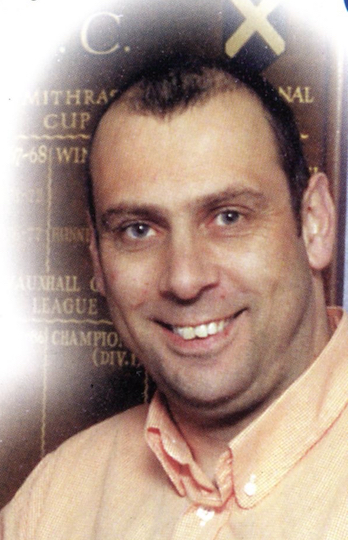 "I only really played local football with Bowers United and Basildon United in the Essex Senior League and a local Sunday League side, Priory Sports, which of course I ended up managing. I started to run Priory when I was about 25 or 26 as I had to give up playing after breaking a leg and ankle, managing a Sunday side was the next best thing to playing. I had the best Saturday players from the area in that side and I am pleased to say that we won everything going and that success got noticed by Heybridge Swifts who gave me a chance at a higher level."
The break into football management
"I didn't take any players with me when I went from Priory Sports to Heybridge, it is like any job you go to where you have to work six or seven days a week and watch as many games as possible, something that I still do. I was watching a lot of Saturday games of the standard of Heybridge so I had an idea of the type of player I was looking for. I was watching games all the time, I live and die for football and everyone who knows me knows that. I think you will only get out of football what you put in and that goes for off the field as well as on it. I had five and a half wonderful years at Heybridge. They had never previously been promoted in 120 years but we soon achieved that, we got through to the 1st Round of the FA Cup on two occasions, reached the quarter-final of the FA Trophy and during my time there we won six trophies. So, it was a good time but then along came the job at St. Albans City and as soon as I walked into the ground I knew I was taking on a bigger job and bigger challenge. I am ambitious and when I came to St. Albans there was a job to be done and I'll be honest and say that it was a hard job as the club was in danger of going down to the First Division. Talking to players and supporters at the time I think credit has to be given to Lee Harding for had he not made the change then the club could have been relegated. I am pleased to say that we got the club out of trouble during those final seven weeks of last season and it was nice to pick up a little bit of silverware. It might have only been the Herts Charity Cup but it was nice to have a trophy in the cabinet at the end of a season which hadn't been too good for everyone at the club."
The 1998-99 season
"Those seven weeks were useful as preparation for the following season and I set about building a squad of players as quickly as I could to hopefully get St. Albans into a position where the supporters feel they should be which is basically challenging for the championship or having good runs in either the FA Cup or FA Trophy. I felt that we started off the season very well and were in the top three from early on until the middle of February. From the back end of September through to the end of January we lost just once in 25 games and not only were we in the hunt for the title but we were also still in the Trophy, so, it was all positive things. Unfortunately we had one of those spells, which you do get in football, where the results don't go your way. We had injuries and suspensions that everyone gets but credit to the chairman, he was prepared to go out and help bring players in but I felt that at this time we did not have the level of fitness I wanted and needed at this time. It is good to have players on contract but it can make it difficult for them to go out and get fully fit somewhere else until you need them. When I look back there are games in which we have been unlucky but also there have been others when we have thrown points away after being in strong positions, I could probably list half a dozen occasions when this has happened."
St. Albans Swifts
"Living in Essex I saw all the time at the start of the season we were labelled St. Albans Swifts, it didn't really hurt. I am proud to say that I can go out for a meal with my wife or out with friends, that whatever team I have put out at St. Albans this season has got noticed for the right reasons. The club was on the floor on the playing side 13 months ago and since then a major turnaround has happened. In that time we have only gone out and bought Ashley Vickers , Gary Caldon and Scott Witney. Ashley has done superbly, things didn't work out for Gary but we were able to make a 400% profit on him and then there is the situation with Neil Trebble. I have to admit I was disappointed with him, I don't know whether he thought it was going to be a holiday camp here but what we got out of him was not good enough but still we managed to sign him for nothing and sold him for £15,000. Then I look at Jon Daly, he was a good servant of the club and I have got the utmost respect for him but I felt that in fetching John Pollard to the club, and he was six or seven years younger than Daly, would be a better investment for St. Albans long term and we were able to make a profit when we sold Jon to Hendon. These things happen in football. We have done very well in transfer fees this year and made a profit in excess of £20,000, which is a fantastic achievement when you consider how much we've changed the side in that time and brought success to the club. The chairman has played his part and got work done around the ground a lot quicker than anyone anticipated, he has also put money into the club but also on the playing side we have helped get that money back with increased gates through success in the Trophy and the League although we are not quite where we would like to be coming into the last game of the season."
Consistency
"I think that the strength of the side was probably confidence, having a settled side was a great bonus - we did well overall on the discipline side - but we just lost a bit of consistency at important times of the season. People have to realise that it is something like 13 months since I came to the club at which time we were 18th in the table and fighting to stay out of Division One. But just a year on we all know just how hard we challenged for the championship and were just 16 minutes from Wembley, the club, on and off the pitch, have moved forward in a big way. Whatever comes out of the summer, whether I am here or not, I can honestly look back and say that the foundations are set for the club to go another step further forward and hopefully fight for the championship. I feel very positive towards the future of the club and believe that St. Albans will be one of the favourites for the league next season."
Great support
"I know that our run in the FA Trophy has meant a lot to the people of St. Albans who, I must say, have been absolutely superb to me since I came to the club, and it is nice to see that there is now a younger generation following the Saints in large numbers away as well as at home. So, to go into the final week of the season knowing that we will finish inside the top six, got as far as the last four of the FA Trophy and only lost on penalties in the FA Cup to a side from the Conference, I feel that it has been a good season and the supporters have played their part and I believe that their support has been rewarded by what has been achieved on the pitch. The players have been fully aware of the increased support this season and have done everything they possibly can to reward and justify it. I think that the platform is now in place for next season and with three, maybe four, new players I believe the club will be in a position to push for the championship."
A great season
"When I joined the club I was told that the chairman would be happy with a top six spot and also that it would be nice to have a cup run. Well, I think I have achieved that but maybe things have gone on a bit quicker than anyone could have anticipated. As I said, in mid February we were still very much in with a shout for the championship but you see it at all levels, Aston Villa is a good case in the Premiership, whereby sides can go off the rails and not quite get back on. I look at the positive aspects and I look at sides like Sutton United, Aylesbury United , Aldershot Town, Enfield and Billericay Town, all of whom we took four points off, we have also beaten Purfleet and won at Dagenham in the Trophy after drawing there in the league. What I am saying is that we have not been too far away and there have been a lot of positive points to build on for next season."
The future
"I am sure that everyone is aware of the speculation regarding myself, all I can say is that I am happy to have a forum if you like with anyone who wants to attend and I can put you all fully in the picture as to what has gone on. All I can say is that I signed a three year contract with St. Albans and I have been happy here, the supporters have been great to me, the players have been great and I have had a good understanding and relationship with the committee, it has been a great season for the club and I have really enjoyed it. I think that certain things have changed, due to conversations and some things which have appeared in print which did not need to happen, and I don't think they helped the players at what was a crucial time of the season. As far as the Football Club is concerned I think that certain situations could have been sorted out within the camp rather than made public. I just hope that things can be sorted out as amicably and as soon as possible."
FA Trophy defeat, a painful memory
"Without a doubt, I still have not got over it now. It will be a memory that lives with me until the day I die, there is no doubt about that. It was the most disappointing time of my life. I have been very lucky in that I have never really lost anything, I still have all my family around me and I know that football should not get as deep as family life, but it did really seem as though I had lost something very close to my heart. I felt for the players and for the supporters with whom I am pleased to say I have built a close relationship over the past year. I am a passionate person, I am a winner, everyone knows that, and I put a lot of value on the supporters of this club. I look at the supporters and know that they have played as big a part off the field this season as the players have on it, the same goes for the chairman and the committee who have also worked very hard."
With hindsight ... any changes at Forest Green
"No, no, no, I wouldn't agree with that. I can never turn round, look at that and think that I played the wrong side. The biggest question of the lot was whether you would play Lenny Piper, as far as I was concerned there was no chance of playing him in the first game at Clarence Park . The reason being that I'd had Forest Green watched two or three times and, with no disrespect for Lenny, I felt that John Pollard had come on leaps and bounds quicker than we'd expected following his injury, and that we needed to fight Forest Green physically to still be in the picture at the end of the first leg. That is maybe the only change I would have made had it been a one-off game rather than a two-legged affair. You want to make sure that after the first game, which is only half-time in effect, you are still in contention. No, I have no regrets about the team I picked for the first or the second game. I felt that the team was right for the match at Forest Green and we found ourselves in a winning position at 2-0. Even at 2-2 I did not feel the need to make changes, I was happy to go to extra time when hopefully I could then send on the fresh legs needed to win the game. Unfortunately we found ourselves in a situation where they scored seven minutes from the end and it was too late for us to make real changes, in many respects when Lenny and Mark Keen went on it was a last throw of the dice but we didn't get the bit of luck we wanted. I don't look back at all at the Trophy and think of any changes that I could have made, it was fabulous for the club and St. Albans is now recognised for all the right reasons. A lot of that is down to the Trophy run and the season we have had in the league."
Praise
"I look through the squad over the course of the season and think how well they have done but I must be honest and say there was a big question mark hanging over Peter Risley 's head when we started, quite simply should I offer him a contract or not. Peter and I had an open and frank chat and I must be honest and say thank goodness that that is one we sorted out, he has done superbly for me this year. Ashley Vickers has also been superb and credit must be given to the chairman in bringing him to the club. Then I look at players like Paul Turner, I hold him in very high regard for the way he conducts himself both on and off the pitch, he is a real asset. People said before I came to the club that maybe the man up front is past his sell-by date, his record this season has dealt with that one and I must say that to have someone of the quality of Steve Clark as a goalscorer and person to work under you is marvellous. I know you need others to set them up for you but to get around 40 goals in a season is some achievement. I have great respect for all the players and have been delighted with the way they have performed for me this year, also the support from the people you don't hear about so much, Terry Harris, Richard Harper, Mick Loughton and Steve Eames, has been exceptional. The semi-final of the FA Trophy just about summed up everyone's attitude, obviously some players were bitterly disappointed but not one player gave me a problem after the teams were announced."
No time to lose
"I run my own business and work unsociable hours but my wife and family back me totally and understand that I am totally committed to football. To get rewards out of football you have to put the work in and there have been many times when I have had long sleepless nights - I'm pleased to say there have not been too many of them while I have been at St. Albans - when you get run down and depressed and then when everyone goes away after the end of season dinner for a rest I don't, I have to start again as I think that the summer can be the most important time of the year. You look to pinch a march on other managers by starting early. With regards to pre-season, I think the most important thing is making sure that the sharpness and stamina is there but you can play too many friendlies. I like to feel that five or six games is enough, clubs that play nine or ten games have players going out at the start of the new season, having played 60 or 70 times the previous season, and are flat and tired by the end of October. It is nice, and financially important, to have a friendly with a top pro club but also it is important to have a couple of games where you can get good results to boost confidence."