'In Conversation With' were articles composed for the matchday programme during the 1998/99 season in which Dave Tavener interviewed various members of the team. Below is the interview with the then City goalkeeper Andy Lomas that appeared in the programme for the Isthmian League match against Walton & Hersham on 2nd January 1999.
The Move To St. Albans City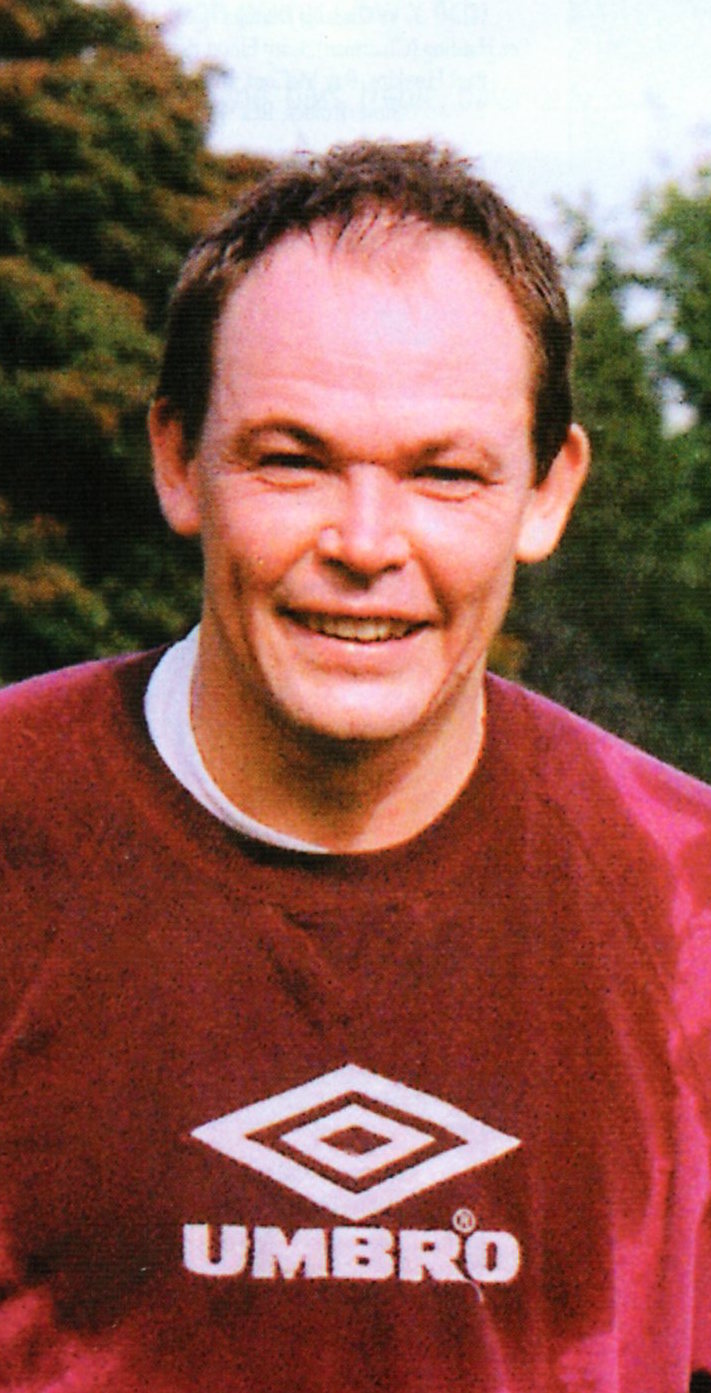 "The move to St. Albans came at just the right time. I have to devote a lot of time to the business but I wanted to stay involved in football and where St. Albans is in relation to where I live is ideal, it works well for Garry and it works well for me. Since I first met Garry I have always felt that he is very straight with you and very fair, which as a player is all you want. I am sure this is why the lads always give him 100% commitment."
Penalty King
"My best run was eight consecutive penalty saves which I still believe is a record in British football and I was confident I was going to save one against Kingstonian in the FA Cup. We took good penalties that night but all five by Kingstonian were excellent. I am quite confident against anyone really and it was just unfortunate that Kingstonian were just so good. During my good run I think players got to know I was saving penalties and that gave me an advantage. You get to know by the way they run up what they are going to do and also you do your homework on other clubs by remembering past games and from watching games. When I was at Chesham United I saved one from Steve Clark , someone else hit a post and last season Gary Cobb also hit a post when I was with Aylesbury United . I have never taken a penalty myself but I have scored a goal. That was for Eaton Bray against Brache Sparta in the South Midlands League Cup final. It was a drop kick, one bounce over the keeper's head and into the centre of the goal. I was a bit gutted because none of the lads would come over to me as they were so stunned and I, never having scored before, didn't know what to do, so we all just stood looking at one another!"
Where It All Began
"I started off playing South Midlands League football with Eaton Bray when I was just 16 and from there I went to Arlesey Town in the United Counties League. Next, I went to Baldock Town and by finishing as runners-up in the United Counties we were promoted to what is now the Dr Martens League Southern Division. But before the start of the next season Barnet came in for me and I joined them mainly as a relatively young lad just as cover. As things worked out, I ended up playing in the Conference in my first season, we were runners-up to Lincoln City and I got the Player of the Year award. We lost the title on the last game of the season and that was probably the most disappointing moment of my career. There was unbelievable tension that day, we had a good side and Barry Fry used to give us a lot of confidence. I love games like that - and it could happen at St. Albans this year as I think it could go to the wire - you just have to get your nerves together and go out and play without worrying about the ins and outs of the game. On the day Lincoln were good and maybe we had lost our chance before then because we had been on an indifferent run. That season we were getting crowds of over 3,000 and for the holiday period games there would be over 5,000 people at the matches, they were great games to be involved in and I feel privileged to have played in a good side in games like that."
"I spent two and a half years at Barnet and had interest from Newcastle United during my time there, in fact I was only three days away from playing in the old First Division. A fee of £50,000 had been agreed and I was due to play against Everton as one of their keeper's was injured and the other had lost confidence. Don Howe and the scouts had seen me play and the Newcastle manager Willie McFaul was going to take a chance on me. But the chance went when I got injured in training, a week later they signed Peter Guthrie and soon after Dave Beasant, so I guess it just wasn't meant to be. After that I think Northampton Town wanted me and Barry was so sure that I was going to turn pro that he then signed Guthrie but I turned round and said I'd rather stay at Barnet. That backfired as I spent the next ten games watching from the stands before Chesham came in for me. They were only in Division One of the Isthmian League but the chairman sold the club to me and I joined them" (for a fee of between £17,500 and £25,000 - ed).
"Chesham brought in a lot of good players and with a steady backbone to the side in Steve Bateman, Micky Barnes and myself we won everything. It was an outstanding side and one game that really stands out was that league match at St. Albans when over 3,000 spectators were at Clarence Park when we were both going for the league. It finished as a 1-1 draw and we weren't too displeased with that as St. Albans were always chasing us. For a couple of years the football we played made for some of the best years of my career. We beat Boreham Wood 9-1 in the FA Cup, put seven past both Stevenage Borough and Sutton United, we were a Conference side really and should have gone up."
"After Chesham I went to Stevenage which was not one of my happier times. This was in 1994-95 and Stevenage were struggling but we'd just found some form when I cracked my elbow and Des Gallagher came in. He played ever so well and I couldn't get my place back but in one of those strange twists of fate I actually went from there to playing in the Football League. I was playing in the Reserves at the time and said to Paul Fairclough that I needed to play in a better standard of football as I wasn't really being stretched, so he put me out on loan to Cambridge United who had just sold John Filan to Coventry City. Just a few days after I joined their first choice 'keeper was concussed so I went straight into a Division Two game at Chester. At the time Cambridge had not won for ten games and were deep in a relegation battle but we won 3-1, I felt I played well and didn't let anyone down. We then drew 0-0 at home with Leyton Orient and Cambridge now wanted to sign me permanently. But on the strength of those two performances I had a number of other clubs interested in signing me, both league and non-league, and I plumped for Rushden & Diamonds. It seemed like a good thing at the time and I do not regret going there but I didn't really get many first team opportunities as they had three other goalkeepers on their books. Since I've been there they have gone through at least another four keepers, we can't all be bad it is just that their turnover of players is phenomenal due to their funds. If you have a bad game at Rushden you are out which is not really the way in non-league football. We won the league whilst I was there (Dr Martens Premier) but I did not play enough games to get a medal which was a big disappointment. When I was there we played a friendly against Newcastle, I played all but ten minutes of the game. Ferdinand got his first goal for the club, Ginola played his first game and playing against the likes of Peter Beardsley was just a great experience.
After Rushden I went to Boreham Wood and was playing regularly but was struggling with a groin injury and for the first time in my career I was now picking up one injury after another. Wood were very good to me but their chairman Phil Wallace agreed to tear up my contract as I needed a total break from playing. I kept myself fit and in pre-season 1997-98 went to Hendon mainly just to stay fit but Frank Murphy put me in when his first two goalkeepers were not playing well. I only played a few times there before going to Aylesbury United really only to help out Steve Ketteridge as he is an old friend of mine. I stayed there for the rest of the season and was voted Player of the Year. I thought I would be there again this year but a new manager came in, Bob Dowie , he brought in a new 'keeper after giving the impression that I would be first choice. I think in the end Bob has actually done me a favour as I really enjoy it at St. Albans and having started up a new company in the summer, and my wife giving up playing table tennis, the arrangement here has worked out really well."
"I filled in a player-profile at Chesham a few years ago and named Steve Clark as the most difficult forward I had played against and I would like to think that Steve too has a bit of respect for me as over the years we have had some great games against each other where he has scored and others where I have saved from him including a penalty. I think if you speak to most centre-halves they would say that he puts himself about a bit and can look after himself but he is fair. I remember Bateman and Barnes having great battles against him but I am just pleased now that I am playing with rather than against him."
An Easy Life?
"I don't think goalkeepers have it easy what with the back-pass rule as it is now. People may think that goalkeepers don't do anything but some of the injuries I have picked up have been bad ones. You have to dive in at a forward's feet as he is bearing down on goal and I don't think it is until you actually play in goal that you really understand how mentally tiring it is, also it is far more physical than non-goalkeepers realise. You have to organise your defence and I think a good goalkeeper is one who comes off his line to take crosses and looks to dominate the penalty area. You have to be able to kick a moving ball now, unlike the old days, and because of my groin injuries I do struggle a bit but my drop kicking is fine."
"I have been fortunate throughout my career to have played for some very good sides and at the end of my career I will be able to look back on four championships and numerous cup winners' medals. The clubs I have played for have often brought in a specialist goalkeeping coach which has been of great benefit and I think this year Paul Newell has benefited by having someone to work him hard. No keeper is perfect and it helps to have someone on the outside saying where changes need to be made to your game."
Andy made 20 appearances for St Albans City with his final game being against Hampton (as was his debut) in the Isthmian League Cup on 14th September 1999, City won 2-0 at The Beveree. After leaving Clarence Park he had spells with Bedford Town, Dagenham & Redbridge and, finally, Berkhamsted Town.