'In Conversation With' were articles for the matchday programme during the 1998/99 season in which Dave Tavener interviewed various members of the team. Below is the interview with midfielder Paul Turner that appeared in the programme for the FA Cup 4th Round Qualifying tie against Kingstonian on 31st October 1998.
PAUL TURNER
Fact File
Born: 13-11-68, Enfield.
Occupation: Runs his own printing business.
Previous clubs: Arsenal, Cambridge United, Farnborough Town, Enfield, Yeovil Town.
St Albans City Playing Record:
Debut: 9-08-97, a 2-1 Herts Charity Cup win at Baldock Town.
First Goal: 9-08-97 same match as above.
Appearances: 65 (45 League). Goals: 10 (5 League).
This afternoon we trace the career of Paul Turner who is in his second season at Clarence Park following spells at Yeovil and Enfield. Born in Cheshunt, Paul played for various Herts County FA Youth sides before being offered a glimpse of the high life with Arsenal.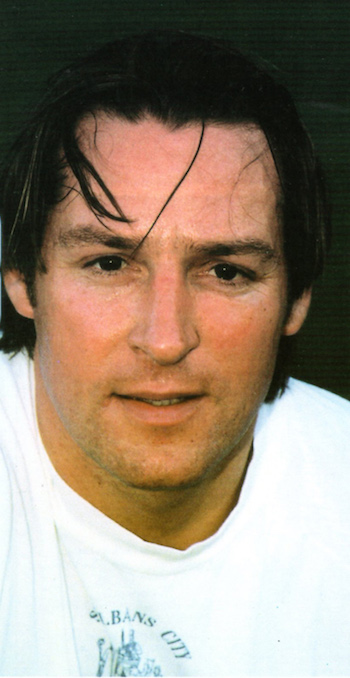 "I went to Arsenal as an associated schoolboy at the age of 14. For me it was either Tottenham or Arsenal, but I chose Arsenal as they seemed to push their kids a little more and I was lucky enough to get an apprenticeship. I did that for a year before turning professional but after a year as a pro things didn't work out for me. George Graham came in and said that he wanted players in the Reserves that were ready for the First team and probably at the time I wasn't ready.
I didn't really play much in the Youth team at Arsenal, I went more in the Combination side and as a 16-year-old it takes your breath away a little bit. At the time George came in players like Charlie Nicholas and Graham Rix weren't really in his plans so were playing in the Reserves. At times there were weeks when the Reserve side was stronger than the First team. Obviously, it was a direction George wanted to go in, he, maybe, wanted more functional players than ball players.
I had a few trials at different clubs but eventually went to Cambridge United. When I went to Cambridge I wondered whether I could play there every week, without being arrogant, when you play in the Combination side, admittedly most of the stadiums are almost empty, you have to motivate yourself to play at somewhere like Cambridge. Once I realised that, I was quite prepared to have a career in the lower Divisions. But when I became aware of how good the standard was in non-league football I thought it would be better to add another string to my bow outside of football and train twice a week and play as a semi-professional. It may sound a bit boring but I guess football is my life, and the printing business I run helps to supplement my income."
Long days
"Graham Roberts, the then manager of Yeovil Town, is very professional in that he wants everybody to train all the time and I am not the kind of player who can get away with not training. The problem was that I was going to be spending two or three hours on the motorway getting there and two or three hours more coming home again and I could not really give it that time. Yeovil is a great club and I have been lucky enough to be associated with very good clubs at non-league level and maybe the clubs I have played for at this level have been as big as Cambridge United.
I went to Farnborough Town from Cambridge but contracted glandular fever. They were in a transitional period at the time as they got accustomed to being a Conference side rather than one of the feeder league clubs. I went from there to Enfield for a month on loan and probably at the time that was the club I wanted to play for, Ted Hardy was the Enfield manager who signed me. I really enjoyed my time at Enfield, I was a local boy and it is pretty much as with the young lads at St. Albans like Richard Evans, if you can make it with your local side then it is that bit more special. It was a bit upsetting the way it ended for me at Enfield, these things happen in football, but I needed to have a season away at Yeovil and when I came back St. Albans showed an interest which was great."
Respect
"We were involved in the championship race most years and we had some great sides there. As a player there, which of course that was the only thing at Enfield I ever was, there was no arrogance, we had the utmost respect for whoever the opposition was. Enfield probably should have been in the Conference throughout the nineties and when they were relegated to the Isthmian League they felt that they should not be there."
Expanding Conference
"If the Second Division of the Conference comes off then a lot of clubs will really have an opportunity to justify their status in the local community, I think a lot more people will come along to watch their local clubs if they have that improved status. For me personally going into the Conference now would not be such a problem, being with a local side rather than having to travel to Somerset just for home games would make it more feasible."
Playing for the team
"Since being with St. Albans I have not been happy with my goalscoring record. I find that midfield players tend to go in phases, if the requirements for the team are for you to sit tight and hold things together then you are not going to get forward into many goalscoring positions. When you look at where most goals are scored, you remember the spectacular ones, most of them are from inside or around the six yard area. I feel that if I were the midfield player who makes the runs into the box then I would be a ten or fifteen goal a year player. If you play the holding role then I think five is reasonable."
Honours & discipline
"I have toured with the Middlesex Wanderers to Vietnam and Thailand, and the Wanderers contacted St. Albans this year inviting me to go to Burma with them but I had just had the operation on my foot so I couldn't go. The Wanderers are all about taking football to people who do not have the lifestyle that we do, you are like an ambassador when you go to these countries. From a personal point of view, there is not only the honour of playing for the Wanderers but to tour in these places where you are treated like a bit of a star is great.
Every non-league player obviously sees the Trophy - or the Vase - as their path to Wembley and those chances do not come along too often. I remember when I was at Enfield and we were in the semi-final of the Trophy against Woking. We almost won it with practically the last kick of the second leg when Martin St. Hilaire struck the woodwork, obviously a goal then and we would have gone to Wembley.
I try to play as fair as I can but there are times when we all get caught up in the heat of the moment, then you come off at the end of the game and think that you've been a little bit silly with something you've done. But that is only because you want to do so well and get frustrated when it doesn't go right. I like to think that I play within the bounds of the laws of the game."
Fitness and the future
"I had an operation to release the tendon in one of my feet two or three years ago and had the other foot done this year. I try to keep myself fit and I don't want this to sound like a cliché but it gets to the stage where it has been your life for so long you don't want it to end. However it may look, everyone goes out there with the same intention of doing well for themselves and the club they are playing for. I'll carry on playing as long as I can. I want to stay involved once my playing days have finished and keep working with football people. There is still a fire in the belly and I am ambitious as I have ever been, unfortunately once the legs start slowing up I may have to drop down a little and no doubt the crowd will tell me when the time is right to hang up my boots. I would like to get involved in coaching when the time comes."
Match officials
"Unfortunately, there seems to be a stigma attached to being a referee as they seem to be a buffer for everyone's abuse. In my opinion it would only take a couple of top professionals to take up the whistle, and if they were paid a decent salary then there are no doubts that some would. That might encourage more people to get involved and the standard would rise. It is a great idea that referees are mixing with the clubs during the week, players then get the trust of the officials and the players get to leam not only the laws of the game inside out but also the constantly changing interpretations. I cannot see how the way forward is to have people in charge who have not played the game and do not know of the idiosyncrasies of football. I get as frustrated as any player or supporter when a match official misses something and then books a player for something which is a complete nonsense."
Paul Turner spent three seasons at Clarence Park and by the time of his final game in May 2000 had made 139 appearances and scored 15 goals. He played in both of our FA Trophy semi-final games against Forest Green Rovers and was captain of the City team that won the Herts Senior Cup in 2000.