'In Conversation With' were articles for the matchday programme during the 1998/99 season in which Dave Tavener interviewed various members of the team. Below is the interview with the then City Honorary Treasurer Bill Nicholson that celebrated his 50 years with St Albans City. This article appeared in the programme for the Isthmian League game against Billericay Town on 26th October 1998.
BILL NICHOLSON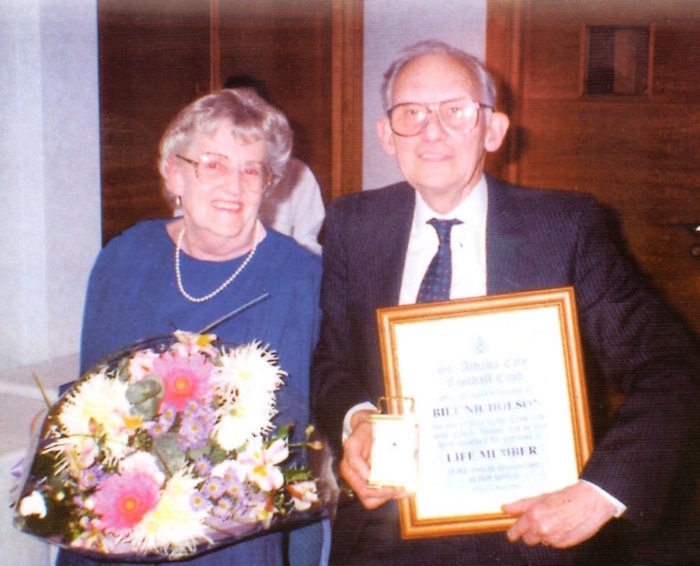 The current season is a special one for the St Albans City treasurer Bill Nicholson who, this month, celebrates 50 glorious years association with the Saints. Bill joined the committee back in October 1948 and over the next two pages we trace his 50 years as one of the most loyal servants in the Saints 90-year history.
Last Thursday, a party of sixty, guided by the Lord McNally, gathered at the House of Lords to pay tribute to Bill. Speeches were given by Lord McNally himself and other past and present representatives of the club including Ken Hill, Malcolm MacMillan, John Mitchell , Bob Murphy and Lee Harding whilst Steve Trulock handled the introductions.
The adventures of my fifty years with the City Football Club
"I started on the Supporters Club Committee in October 1948. In those days the committee was 24 strong and had a membership of 2,000. My first task, which came within a few weeks, was to run a lottery that lasted until 1990. We sold around 4,000 books a week of football tickets which were spread not only around St. Albans but also in the surrounding areas of Hemel Hempstead, Watford, Hatfield, Redbourn, Harpenden, Wheathampstead and London Colney.
After a few years we tried other schemes such as a 31-goal pontoon and scratch-cards but once the National Lottery came in sales dropped and we had to look towards other ways of raising revenue. We still ran two-200 Clubs which proved highly popular. On top of being promoter for these schemes, I was Social Secretary which involved organising dances and whist drives once a month at the Town Hall in St. Albans.
Every year we held a big Christmas Whist Drive, for which we always filled over 200 tables, and all the prizes were related to Christmas. First prize was a large Christmas hamper which included a turkey, Christmas cake and wine etc. All the prizes, and there were about 30 smaller ones, were all generously donated by local businesses."
Rising through the ranks
"When the Supporters Club Treasurer, Bill Marriner, took on the same position with the Football Club (1949), I became Assistant Treasurer of the Supporters Club whilst still retaining my other jobs. Within a few years I stepped up from assistant to Supporters Club Treasurer. During the early part of the 1970's, Derek Bing was Secretary of the Football Club, we used to meet every Friday evening to discuss team expenses of which half were paid for by the Supporters Club. Eventually, in July 1977, Derek got me to join the Football Club Committee and despite holding onto my position of Treasurer with the Supporters Club I also became the Saints Assistant Treasurer and Match Secretary. Due to my increased involvement with the Football Club I had to stand down as Social Secretary."
Good times - bad times
"There have been some good times and bad times. Back in February 1950 we played Wycombe Wanderers at Loakes Park in the quarter final of the Amateur Cup and took an amazing 48 coaches packed with supporters. Although we lost the game it was a great occasion and a ground record attendance of 14,926 was set (Wycombe's club records later amended this to 15,678).
I recall back in 1950-51 the Club appointed Frank Soo, the former Stoke City wing-half, as our first full-time manager. The Football Club purchased a house for him in Flora Grove, St. Albans, with the Supporters Club contributing towards the mortgage. For part of the team's training every Thursday evening, he would run the players from Clarence Park to Nomansland Common and back. At the Common he would put them through various physical training exercises. Frank would be at the front of the players while trainer and loyal club servant of many years, Bertie Butcher, would be on his bike at the back with a big red lamp. The run was about eight miles there and back. Unfortunately, Frank resigned near the end of the season and we finished ninth in the Isthmian League table.
Moving forward to the 1968-69 season, with Sid Prosser as manager, we reached the 2nd Round of the FA Cup and drew 1-1 at Clarence Park with Walsall. The replay at Fellows Park was lost 3-1 which was particularly disappointing as the winners went through to play Tottenham Hotspur in the 3rd Round. A season later we made it as far as the semi-final of the F.A. Amateur Cup and drew 1-1 with Dagenham at Millwall but again we lost the replay this time 1-0 at Luton Town's Kenilworth Road ground. Prosser finally got his hands on some silverware during the 1970-71 campaign when Enfield were beaten 1-0 at Barnet in the final of the London Senior Cup, the side also finished third in the Isthmian League that season."
Happy Torquay
"The most outstanding event was an FA Cup 2nd Round tie with Torquay United in December 1980. The crowd was over 6,000 but as with the Walsall match we lost the replay after drawing at home. After the replay the committee and players stayed for the night at the Grand Hotel right on the sea front. Getting back to the match at Clarence Park , it took myself, Charlie Hand, Cliff Duncombe and Derek Christmas three-and-a-half hours to count the money. I then had a police escort up to the Barclays Bank in St. Peter's Street and I also had an escort home. My wife, Una, opened the door and was astounded to sec a big, burly policeman standing at the doorstep. She asked, "What's the matter?" and was relieved when the policeman told her the reason why I had been escorted home. In the evening following the game, the committee, players, manager Ron Duke and wives had a good time at the Tudor Tavern in George Street, St. Albans. I felt pretty chuffed that night when Ron congratulated me on my efforts for all I had done for himself and the players."
The new manager is...gone
"But also, there were bad times, like when Tommy Coleman was appointed manager. We'd won just two league games by Christmas and won only two more by the end of the season which ended in us, along with Corinthian Casuals, being the first clubs to be relegated in the enlarged Isthmian League. Season 1978-79 was an even bigger disaster. Dennis Gibbs agreed to be manager at the start of the week but resigned on the Thursday evening. We had three players and no manager. We telephoned a former player of ours, Maurice Walby ; chairman John Howard met him on the Friday morning and he agreed to become manager. By the following Tuesday he had 30 players, some senior and some junior but we did at least start the season with a team which got stronger as the season wore on. Maurice, and then later Ron Duke , gradually built the team that then went on to play Torquay in that FA Cup match. Two-and-a-half seasons after the Torquay game we were relegated again but the good times quickly returned under John Mitchell who got us out of Division Two as runners-up in 1983-84 and into the Premier Division as Division One champions in 1985-86 following a last day of the season 7-1 win at Lewes."
Una - Thank You
"On a note of self-indulgence, I must tell you how I met my wife. It was in December 1952 that I got tickets off the Supporters Club chairman Albert Martin to go to the St. Albans Cricket Club New Year's Eve Dance. I took a girl with me; she went dancing with one of the cricketers but I saw this very nice young lady in the chairman's company. I asked her for a dance, she accepted and after that we met again and it snowballed from there. I remember that after football - of course - we went to London to see the show 'South Pacific.' We got engaged on Easter Sunday and back to football on Easter Monday. We were married on 5th September of the same year, pretty quick work, eh! I must say that it has been a very understanding Una to put up with me for 45 years so far and I hope for a few more yet."
Years
"I have enjoyed my years with the Club, whether standing at the gates in the sun, rain or snow, or keeping the books straight, or promoting lotteries and any other tasks I have carried out. Una and I have two sons-in-law both of whom used to play football but not for St. Albans City. One of them, Chris Pearce, used to help on the gates but now assists in the boardroom and runs our successful 200 Club. We have three granddaughters, our only grandson, Chris' boy, is only six but has already started training with St. Albans City Youth. Then there is my brother Ron Nicholson, I got him on the committee some seven or eight years ago and since then he has carried out a lot of electrical and building work down at Clarence Park . During my time with the club I have served under ten chairman, Alf Hobbs was chairman when we built the clubroom. That was back in 1949-50 and was all done by voluntary labour, of course there was a brick-layer amongst us. I think that's all for now but I hope to be with the Club for a few more years yet!"
Although his role as treasurer was reduced in later years Bill Nicholson continued to serve St Albans City right up until he passed away on 24thOctober 2010. His life was celebrated during the wake that held at Clarence Park .
House of Lords & City A-Z
One of the speeches given at the House of Lords to celebrate Bill's 50 years with the Club was given by Bob Murphy . It was in the form of an A-Z of City Life during Bill's association with the Saints. The speech, and accompanying article, was printed in the matchday programme against Bishop's Stortford on Boxing Day 1998.
Back in October, the Saints, courtesy of Lord Tom McNally, held a reception at the House of Lords to mark Bill Nicholson's 50 years of loyal service to St. Albans City. Amongst the various past and present members of the club to say a few words was Bob Murphy whose association with the Saints stretches back at least as far as the early 1960's (could be another reception on the way in a few years' time). Although now sadly a confirmed Gooners fan, Bob has contributed to the Saints in many ways down the years from a schoolboy selling the matchday programme, to rock-solid central defender, a free-scoring centre-forward(?), manager, managing director, chairman and now President to the Youth. At the House of Lords he also proved himself to be a fine after-dinner (or buffet) speaker and by popular demand we bring you his speech which hints at numerous topics concerning football in general and St. Albans City in particular over the past 50 years. So, while you attempt to sleep off the excesses of recent days, here is a little something to get the grey matter functioning again as you try to recall each individual and incident mentioned.
"I cannot believe that one person can give 50 years unpaid service to a football club. After a few years most of us wake up one morning and think what the hell am I doing and get out. There can be no praise or respect high enough for Bill, in my time working for the club. I had nothing but respect for the man, if ever something needed doing Bill got it done. How we managed to pay the wages some weeks I'll never know and maybe it's better that I didn't know. Obviously, Bill couldn't have given his time without the complete support of his wife Una and his family and close friends. Along with David Tavener I have tried to review Bill's 50 years in an A-Z tribute, events he has been involved with or changes to the game over the years, teams he has seen St. Albans play, people he has met but not necessarily admired or liked."
'A - Amateur Cup - Dave Lawrence - history, but not with us though. Arensons, our first sponsor. Dean Austin, he paid the wages for a while, quite a while actually.
B - Back pass law. Balls to Boreham Wood, or was it Brimsdown Rovers. The Butterfield's -John & Barry, Dave Bassett, Tony Brothers, Burgess & McClean.
C - Cotton Oxford's. Corinthian Casuals. Bobby Childs, Steve Clark , Allan Cockram , Freddie Collings.
D - Dubbin - on your boots. Dagenham -semi-final - replay - Millwall - so sad. Dowie brothers - Bob & lain, Danny Desmond.
E - European Tours. Entente Bruxelloise -Victory Cup - Eastbourne, won the league. Dick East, Fred West, Jason North & Bill Southern.
F - Full time, part time, any time, party time. Fulham - Johnny Mitch, came back. Joe Fuentes, Spanish goalie.
G - Goals - Girls in the board room. Guildford, now defunct. Dennis Gibbs, Bernard Grimson.
H - Hand ball, offside, goal kick, corner. Hampton, Harrow Borough, County Cup (5 times). John Howard, Charlie Hand, Ken Hill, Willis Hall - sorry Matt (Hughes).
I - Isthmian League or Rothmans, Berger, Servowarm, Vauxhall, Diadora, ICIS, Ryman League. Ilford. Godfrey Ingram, Ian Whitehead.
J - Jock strap or I'm pleased to say you've got the job Mr Soo, Mr Drabwell, Mr Hunter, Mr Howard, Mr Ketteridge. J Cars - otherwise known in 1990 as St. Albans City FC. Nigel Johnson - Chris Jones.
K - Kick-in - went well didn't it? Kingstonian, Barrie King - Gary Keen - Joe Kinnear - Steve Kirby.
L - Lace up balls - Laws that change. Leytonstone - Lewes, won it again - John Lacy - Lasher Lawrence.
M - Movement of the ball - Ronnie Duke, now he was a character. Merthyr Tydfil. Ron Mann - Paul Mayles - Albert Martin.
N - No tree - dead wood - except in the board room. Northampton Nomads (1954). Nicholson's - Bill & Ron - Dave Neville.
O - Offside - hands up. Oxford City. Mick O'Shea - John Oxley.
P - Penalty kick. Pegasus. Sid Prosser - Alan Paradise - Doug Parkin - Mark Pearson.
Q - Quick off the mark. Oh ah QPR. Roger Quinton - Tony Quick, who wasn't!
R - Roy of the Rovers , committed suicide. Ruislip Manor, 17-0 Mithras Cup, 1970. Bill Ratty - Delroy Rhoden - Peter Risley - David Rand.
S - Saints Supporters Club, where's it gone? Shin pads must be worn. Stork FC - Amateur Cup 1950's (3,264 crowd) 1-0. Dave Sayers (got the winner) - Herbie Smith - Dave Sumner.
T - Tackles from behind - Throw ins. Tottenham - euch! - Tony Berry - Torquay, very slippery. David Tavener (more behind than tackle) - Steve Trulock (Bill's sparring partner) & Bernard Tominey - threw it in.
U - Under the counter payments - Oops!, boot money. Unpaid tax. Ulysses, won 6-0 -even I scored (didn't actually - td). Dave Underwood jnr, never did get to be a senior.
V - Vase - never in it, hopefully never will be. Vauxhall Motors - Bill Baldry - (we could have had Vampires de Haviland - 1948). Don't get your Vidgen & Vickers in a twist (Mark & Ashley, that is).
W - Wing Backs - Full Backs. Wycombe Wanderers - Away, took 48 supporters' coaches (14,926). Phil Wood - Gordon Wilkinson - Maurice Walby - David Westcott - George Walker - Syd Wells - John Wadlow.
X - Xtra time. X teams, all now playing under Dagenham & Redbridge! Derek Christmas, thanks for your help.
Y - Yellow Card - Red Card. Yeovil Town. Micky Young - not so young.
Z - Zonal marking. Zwolle Athletic, world famous Dutch team (1927). Chris Zoricich, '93- 94; so there.'
Good luck Bill, it has been a pleasure to know you."
Robert Murphy.