John Mitchell , the City manager since March 1991, informed the St Albans City chairman, Bernard Tominey, that he was to step down from the hot seat at Clarence Park . Mitchell's record as a player and a manager of the Club is outstanding. On 9th June 1993 he gave a lengthy interview at his Harpenden home during which he recalled his early days with Carlton going right through to 1993 when he, as manager, took St Albans City so close to the Isthmian League title. City finished that season as runners-up to an outstanding Chesham United side that declined the opportunity to be promoted to the Conference. City, as runners-up, expected to the promoted in place of the Generals but were refused promotion due to an oak tree that stood in the Hatfield Road terrace.At the close of the successful 1992-93 season
Born in St Albans on 12th March 1952, Mitch made an early impression on the game as a free scoring forward. His strike rate earned him a place in the Hertfordshire County Youth team and an England Youth Cap. At the time of Mitch's teenage years the top youth side in the area was Carlton, run by former City hon. secretary Dick East.
"Carlton were seen as the youth side to St Albans and there was always a bit of kudos about playing for them. I was fortunate that when I played for them we had a quality side, they were good times. Then there comes a big step that every young lad finds. You come out of youth football and suddenly you're playing mens football. In a way I had eased myself into that by playing Sunday League football in St Albans, initially with Norman (John's brother)."
After his success at a local level Mitch was faced with the first serious question about his future, as bigger clubs started to take an interest in him.
"At this time I was playing for Sporting Club who were a very successful side. I remember that one year we reached the semi-final of the National Sunday Cup. Also in the Sporting side were Bob Murphy and Roger Grant, they were also signed to Hertford Town, so I was shepherded over there."
Hertford were one of two clubs who wanted to sign Mitch but when he got to Hertingfordbury Lane he found that the step into senior amateur football was not straightforward. Mitchell's new manager was Maurice Walby , a former Amateur England international who had played for St Albans at the end of the 1950s, and in 1978 became the City boss.
"Maurice deliberated about putting me into the side, I'd already scored a lot of goals in the Reserves. Hertford had a cup tie in midweek, which I turned up for but never expected to play in. But they had a lot of problems with injuries and suspensions, so I was kind of cast into this position of playing for Hertford quite unexpectedly. We played Ely, I think it was in the East Anglian Cup, we won 5-1 and I scored a hat trick. Two of the goals have really stuck in the memory. The goalkeeper drop kicked the ball and as it fell to me on the halfway line I just smashed it on the half volley and it went straight into the top corner." After that Mitch was a regular in the Hertford side and scored at a prolific rate.
His continued success quickly attracted St Albans and he joined his hometown club towards the end of the 1970-71 season. City manager Sid Prosser played his 19-year-old new signing in five games and a promising start was made with Mitch scoring three times.
"I think they were having a look at me and I started off the next season with St Albans. I guess the rest of it is quite well known to St Albans supporters. I only stayed with the club for about three-quarters of the season, so I haven't really spent too long with St Albans as a player. My memory of it all is that this was the club to play for, there was a great aura about the place. Sid was a highly respected manager and he created something special at St Albans."
During the summer of 1971 City defeated Fulham 3-0 at Clarence Park in friendly Bobby Childs with two and Bill Ratty with a single scored the goals but it was Mitchell's performance that really caught the eye of the London club. Fulham trailed him throughout the season and eventually an agreement was reached where he would sign for them once City went out of the Amateur Cup.
A controversial match at Slough Town, during which Bill Ratty was punched in the face and suffered a broken jaw, ended City's cup hopes in the 2nd Round on 29th January 1972 and paved the way for Mitchell to step into the professional game.
"I was taken to a Chinese restaurant near Wembley Stadium with the City Club President Willis Hall and Fulham Manager Bill Dodgin Jnr. Terms were discussed but we couldn't agree on what I should get. To be honest, I signed for Fulham on less than I was getting from my job and my expenses with St Albans, but the lure of giving it a go was strong and I'm sure that given the same opportunity most boys would do the same thing."
A glut of goals during a final training session convinced Dodgin that Mitch was worth a few extra pounds. "I signed there and then and drove home feeling very elated, it was a great moment for me. It's funny how you remember things outside the game and I'll always remember that journey home."
Mitchell spoke with genuine affection in his voice as we reflected on his days at Fulham. It was a happy time in his career and many of the ties forged then still hold strong to this day with him being invited to attend numerous functions connected to the club. In 1992 he featured strongly in a book entitled 'Fulham's Golden Years." Mitch is pictured on the cover celebrating a very famous goal.
"I joined a great club, I turned down Luton to go to Fulham. It was towards the end of the season and, funny as the game of football can be, by the time the next season started the manager I rejected at Luton, Alec Stock, was now in charge of Fulham."
Under Stock, Mitch was quickly put into the First team and in little time he built a good bond with the Fulham fans. "There was a great atmosphere and stability there, the club was harmonious, which is something every club must have if it is to be successful."
His move from Clarence Park to Craven Cottage hardly broke the bank as far as Fulham were concerned with St Albans benefitting to the tune of £250 initially, rising by a further £500 after him making six First team appearances.
Mitch was delighted with the way the fans took to him and never felt that he had to try to live up to some most illustrious names. "Fulham sides of the past had always been glittered with big names, such as Haynes, Marsh, Mullery, Cohen, MacDonald and Best, where as I was an honest lad who worked hard and could score a few goals."
After a bright start at Fulham Mitch became increasingly dogged by injury. "Maybe I went in for a few more tackles than I should have done, and in trying to nick the ball would often get whacked. I suppose I was fairly robust but not overly so, as a forward my strength was over three yards, which was crucial inside the box. Also, I had two very good feet and good balance, so could move freely on either side."
The 1974-75 season, his third full season at Craven Cottage, had not been a significantly pleasant one for John, due to injuries, but it ended with that astonishing goal and a Wembley appearance. The chances of him playing a major role in Fulham's great FA Cup run were not particularly good but gradually the injuries cleared and everything fell into place. "I was given a chance a couple of rounds before the semi-final and I managed to score about five goals on the spin. My first game back was away to Norwich City (31stMarch 1975) who were top of the table and we were about ninth. It was the Easter weekend and there was a great crowd at Carrow Road (29,909). Before the game I met the Norwich manager, John Bond, who said that I'd been scoring a few goals but I wouldn't do it that day. He was just trying to impose himself on a young player. Fortunately, we won and I scored two great goals (said with a suitably wide grin) and had a third disallowed towards the end for offside against a colleague."
A week later John wore the number seven shirt as Fulham took on Birmingham City (of the First Division) in the semi-final of the Cup in front of a crowd of 55,000 at Hillsborough. It was a day that saw him score the Match of the Day Goal of the Season; surely an event that is frequently discussed in the Mitchel household. "I can't remember a thing about it!" When pressed he did recall a few details about a goal that is firmly etched in the memory for the rest of us. "I remember hitting it and thinking, yeah, it's in. As soon as I hit it, it was in really. I've seen it on telly since and the 'keeper had no chance. It was one of those efforts that, if you manage to catch it right, it flies into the net. You may try it another half dozen times and not even hit the target."
The first game with Birmingham ended in a 1-1 draw (Joe Gallagher scored for Birmingham) and for the replay four days later, at Maine Road, John wore the number eight shirt. This time he scored a fortuitous, maybe instinctive, goal at the very end of extra time.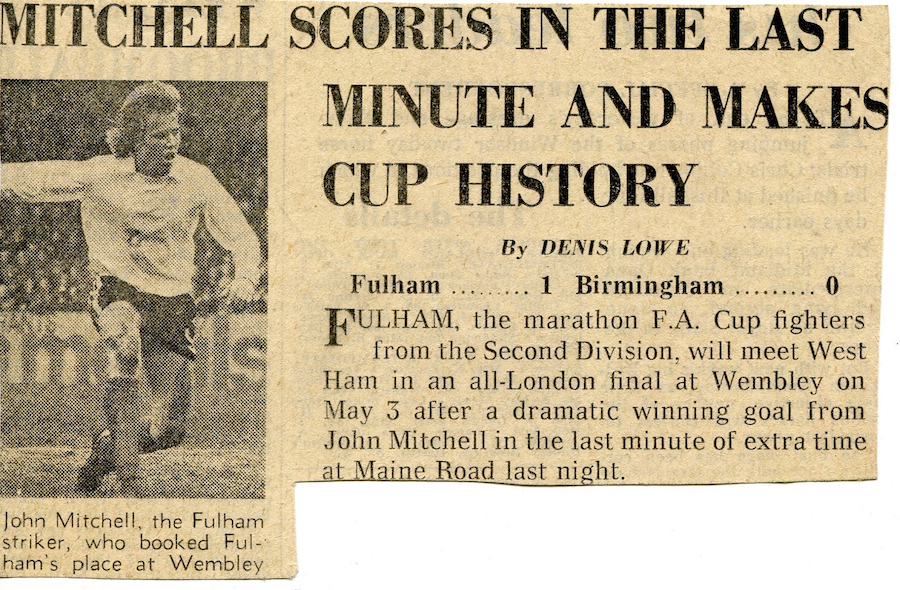 "All I remember of the replay goal is that we were all very tired. In the first game I had John Roberts marking me and maybe as a way of summarising the way I played he was dropped for the replay, and instead of him they put Kenny Burns on me. To be fair to Birmingham, they were a little unlucky early on. Peter Mellor made a couple of good saves early on and they shaved the outside of the post. I remember Gordon Taylor working his heart out, it was probably his last chance of getting to Wembley. Trevor Francis was very young and lively but we managed to contain him and as the game wore on you felt that maybe this wasn't going to be their day. During extra time it seemed as though it was going to be another stalemate before we got what was a real opportunist goal. There was a long punt by Alan Slough, John Dowie got up on the edge of the box and all he could do was knock it down, it must have been around the penalty spot. I just took a gamble and thought that if he wins it, there is only one place where he could knock it, with any quality anyway. A defender was in front of me and as I went behind him the ball went across him and he couldn't get to it. The 'keeper was bearing down on us but I stuck out a toe and actually managed to get a good contact. The ball hit the 'keeper and came back at me and all I could do was force it goalwards off my chest. What I do remember very vividly is the ball rolling very slowly towards the goal and thinking that this just ain't going to go in. It was almost as if it was rolling back to me and I could see defenders running back. They were very tired and although it appeared that they were going very fast they were, in fact, hardly moving and the ball just crept over the line, it couldn't have hit the back of the net. There were just nine seconds to go, so there was no turning back."
The two semi-final goals that Mitch scored against Birmingham that year were the only ones that he ever scored for Fulham in the FA Cup but they ensured that some great names, in the twilight of their careers, would have one more day out under the Twin Towers.
"It was great that people like Bobby Moore, Alan Mullery and that wonderful ambassador, Alec Stock, were going back to Wembley. I learnt a lot from him, he was a very honest man. The Final was disappointing in that we didn't play as we had done during the season. I remember going out there and feeling like I'd already played a game. I haven't seen the game too often since the day it was played but I do know that for about twenty-five minutes we hardly gave West Ham a kick."
The match was decided by two most unfortunate errors on Fulham's part. At the opposite end of the pitch the nearest that Fulham came to a goal was through Mitch. "I had a chance just before they scored. I did the instinctive thing and hit it on the volley. I suppose the 'keeper made a good save, but he seemed to dive one way as the ball went the other, but it hit him on the elbow. The other chance was when we were two-down, it was a breakaway and as a couple of defenders closed in I shot low and it cannoned off the 'keeper's (Mervyn Day) legs."
Mitchell believes that if that side had stayed together for another year they would have won the old Division Two. At the end of the following season Fulham experienced several changes off the pitch and Mitch felt that the club had lost its togetherness. Next stop for him was Cold Blow Lane, Millwall, in 1978, a place that was a far cry from SW6.
"I went from chalk to cheese, Fulham was in a very nice area of London whilst Millwall was in the heart of the east end. It was a very fierce place but I have to say that they are really nice people. The people involved in the club are first class and the fans really get behind them. It was a very difficult time for me again with injuries and I had to play most of my games with cortisone injections. Unfortunately, the Millwall fans never really saw the best of me, there were glimpses when maybe you felt that yes, it is coming right but it was very hard to keep playing with a crack in the ankle bone."
In the book 'Fulham – A Complete Record,' his move to Millwall was described thus, 'In June 1978 Mitchell was transferred to Millwall for £100,000 and he was greatly missed.' Two years after his move to Millwall injury ended his playing days.
When he left St Albans City in 1972, Mitch left a top amateur club, although on reflection it was now a year past its peak and Sid Prosser resigned at the end of the 1971-72 season. When John returned as a committee member in 1982 the club was in decline with relegation on the horizon. During the summer of 1983 he was appointed joint manager with John Butterfield and the duo were charged with the responsibility of winning the Club promotion at the first attempt. Butterfield was manager the previous season when City were indeed relegated to Division Two (the bottom Division) of the Isthmian League.
"I was invited to do a spot of coaching. It had been a difficult period for John (Butterfield) and I'm not being unkind to him but I was surprised with what I saw. Maybe John had only played for a couple of sides under three or four managers. I took the players for a few sessions and things seemed to move fast. John had problems outside of the Club, I've been through that myself, so I know how he felt. It was still early in the season when John resigned and after that I think we played about 36 league games and lost just two of them."
St Albans City 1983-84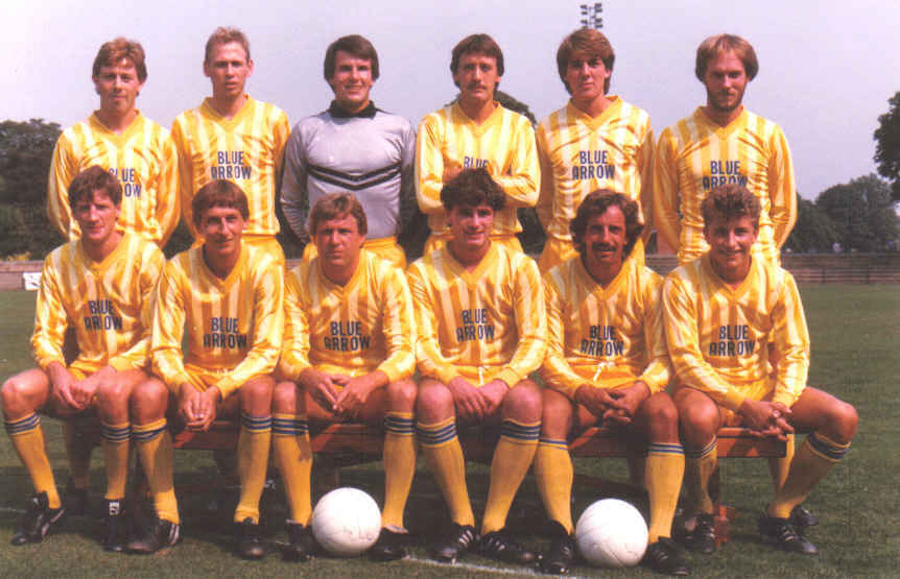 Neil Dudman, Rob Smale , Mark Pearson, Dave Leonard, Terry Benning, Paul Marriott.
Steve Oliver , Laurie Ryan, John Watt (Captain), Steve Pattison, Ray Tucker, Gary Keen.
To get the optimum benefit of his main strikers, Paul Mayles and Rob Smale , Mitch changed City's style and the results spoke for themselves. "We scored a lot of goals, won something like 96 points and it had been achieved with local players (Basildon United pipped City to the title with 97 points). At that time, we needed to do it that way as it brought some pride back into the Club and we did it with a little style."
A somewhat smaller than limitless budget perhaps helped to dictate that the Club rebuild locally and for the following season Mitchell found his hands again similarly tied. "We headed the table for quite a while but never had the strength in depth to stay there. We had an injury problem with Paul Mayles (he had to retire in December 1984 at the age of 28 after scoring 118 goals in 355 games) and didn't have cover. We learnt from that for the following season and I managed to get a little bit more money, not too much, and we had the depth that we needed. Everything was starting to fall into place with things coming right both on and off the park."
Things certainly were falling into place on the pitch, two seasons after winning promotion on the back of 100 goals, a second promotion was achieved with 92 goals scored. City won the Division One championship with a 7-1 win at Lewes on the final day of the season, Steve Perrin scored four times that glorious day at The Dripping Pan.
St Albans City 1985-86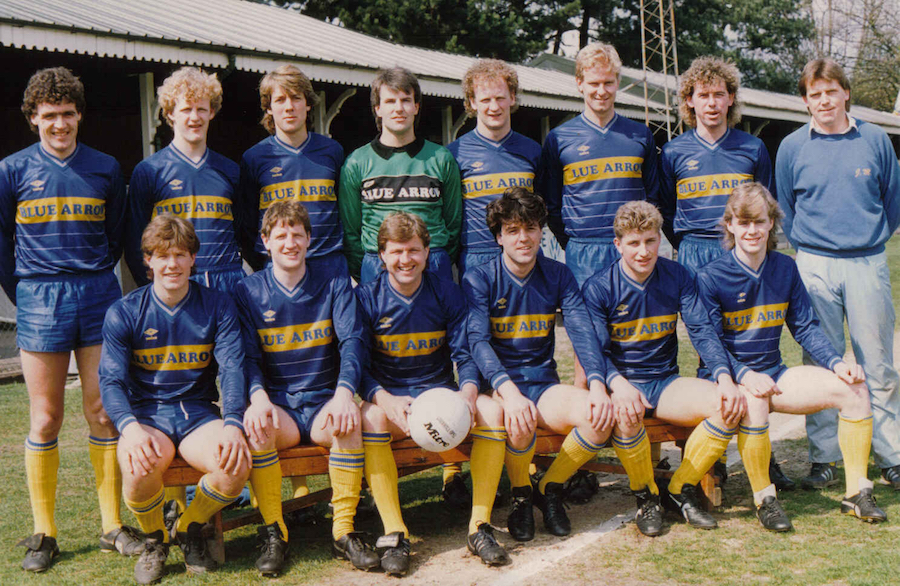 Steve Perrin, Iain Dowie, Terry Benning, Mark Pearson, Bob Dowie , Neil Jeffrey, Alan Paradise, John Mitchell (Manager).
Nigel Wilson, Steve Oliver , John Watt (Captain), Mick O'Shea, Gary Keen, Martin Gurney .
In fewer than three seasons Mitchell had taken the club from 19th in Division Two back up to the Premier Division. He stayed on as manager for just one season in the top flight before handing over the reins to an old Fulham team mate of his, John Lacy . That first season was, until 1992-93, the Saints most exciting in the Premier Division and it was with great frustration that Mitch looked on as City failed to progress in the intervening years. That frustration heightened when, as vice chairman to Bernard Tominey, he was directly involved in the appointment of his successors.
Bob Murphy – one of a select band to have represented the Club as player, manager and chairman. "I felt that John could have been helped a lot more, he had the basis right but wasn't steered properly." Tominey took over as chairman in the summer of 1989 and the first managerial appointment with him as chairman and Mitch as vice chairman was that of Peter Lawrence (left). "Peter had been very faithful to the Club and done well at various levels for a number of years. You have to give people a chance and, after his earlier success, it was reasonable to expect that he should be given his. He was given that chance but where I felt that Peter failed was to communicate. Peter was very single-minded, which certainly isn't a failing, I just think that he could have got a lot more out of people just by asking for help. There was a lot of criticism regarding the timing of his departure from the Club, as we had the AC Delco (League) Cup final coming up. But in fairness no one was enjoying the football, we were a below average side that had just got absolutely spanked by Hertford Town in the Herts Senior Cup final. It was highly embarrassing and we couldn't see that side beating Aveley in the AC Delco. His team had done very well to get to two finals but it had accomplished it with a couple of exceptional performances and some kind draws in other Rounds." Aveley during beat City 3-0 in the final played at Victoria Road, Dagenham.
The decision to appoint Lacy was not fully down to Mitch but he certainly recommended him to the then chairman
After Lawrence's exit the former Boreham Wood defender Jimmy Howard was appointed manager for a season that is not remembered with much affection at Clarence Park . "The mistake we made with Jimmy Howard was that he wasn't experienced as a manager. Very soon we were again playing a style of football which I don't think is really part of St Albans culture. There are some sides that I believe people see as footballing sides, St Albans City is one of them and there were a number of things that weren't right. The sad thing about those two appointments is that they both put their heart and soul into the Club but it just didn't work out."
Howard stood down after just seven months of the 1990-91 season, in his place came the returning John Mitchell , initially only as a temporary manager. "When I took over from Jimmy I found a lot of people in the dressing room that we really didn't need. Most of them left and I kept just Ron Duke . I inherited a side that had Paul Hobson who, in many respects, was still a puppy at this level, a lot of talent but not as yet harnessed, Bob Dowie , Andy Cox, John Colfer and Paul O'Reilly . That was about it. We didn't really have a Premier Division forward at the Club, so you ask yourself the question whether you are going to survive at this level."
St Albans City 1991-92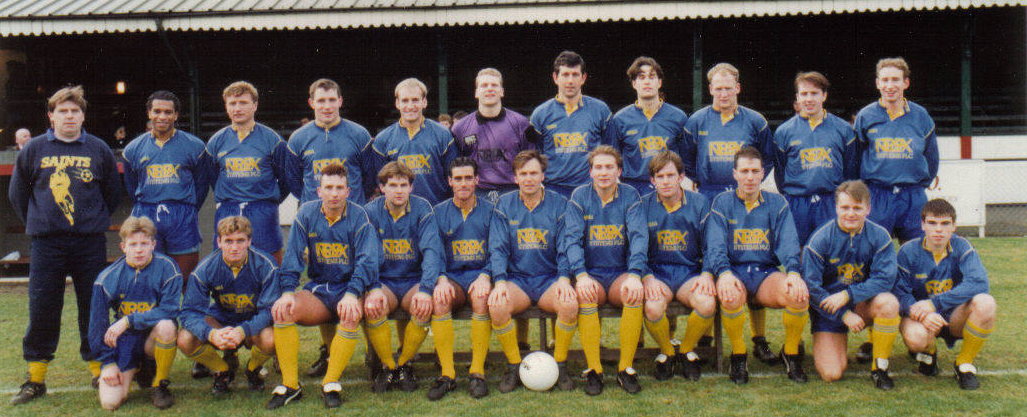 John Mitchell (Manager), Trevor Wilkinson, Paul Price, Kevin Mudd, Steve Clark , Andy Hopping, John Lacy , Michael Danzey, Bob Dowie , Steve Storey, Ricky Cornish.
David Ross , Tony Joyce, Paul Hobson, Steve Scott, Craig Johnstone, Steve Ketteridge (Captain), Ian Scott, John Colfer, Jimmy King, Garry Brooke , Bradley Anderson.
The Club had edged dangerously close to the relegation zone but it survived and Mitch was confirmed as manager for the 1991-92 season. Bernard and Mitch agreed that players would have to be sold before anyone new could be purchased. "We had to work self-financed deals and through the sale of Andy Cox, and later Paul O'Reilly , we were able to sign Steve Clark , Jimmy King, Paul Price and Steve Ketteridge. There was a lot of hype about the fact that we'd bought our first player, but I knew that although the side was improving it wasn't the finished article. Everyone's expectations were high, I hoped that we could finish in the top six but, as I said when I took over, it could take eighteen months to get it right. We sold Paul Hobson at the end of the season and that financed other deals, we were able to bring in players like Martin Duffield, Martin Gurney , Gary Westwood and Dean Williams . Duffield wasn't an immediate hit, he was troubled by injury, but last season (1992-93) he, along with Clark, was probably my Player of the Year. But it wasn't just the players who cost us a fee that did well, the real bonus for us was Shaun Brett, signed from Ware, who had a tremendous season."
On reflection Mitch felt that the side was still at least one quality player short but he knew that he had his best side ever as City manager. "Through our dealings in the transfer market I knew I had the back-up that I'd always wanted as manager and felt confident that we were going to have a good season. As everyone knows we lost five league games, gained 93 points, scored 103 goals and won three cups, but, most importantly, it was done in a style that everyone enjoyed. It was achieved with the same football we had played in Division Two, the side was set out the same but we had better quality players this time to achieve success at a higher level."
In addition to the successful league and cup season, John also won three Manager of the Month awards, so the decision to stand down could not have been an easy one. "One of the things that I feel that I am good at is motivation and with the disappointment of not getting into the Conference I felt that the motivation just wasn't going to be there. So, I've taken the view that the best thing for St Albans City Football Club was for me to resign and hand over to Steve Ketteridge. Steve was very supportive to me and now he has the chance to make all the decisions. From working with Steve for the past two seasons I know that he is going to be successful."
Before the commencement of Mitch's last season as manager the Club disbanded both its Midweek Youth and the Reserve teams, something that caused more than a few adverse comments. "I operated with a squad system and I think that the Club was better focused with all our efforts going into the First team. I sympathise with those who enjoy youth football but I think that the results have justified the action we took. I would like to have been in the Capital League last season and that we are in it for the 1993-94 season is a very positive step for the Club. I'm sure that being members of the Capital League will be financially beneficial to the Club and will provide us with good experience before we step up into the GM Vauxhall Conference."
John Mitchell : The Stats & Facts
Playing record with St Albans City: 47 app 25 goals
Playing record with Fulham: 194 app 61 goals
Playing record with Millwall: 89 app 20 goals
Record as Manager of St Albans City:
League:
P 258 W 67 D 33 L 29 F 263 A 166 W 62 D 27 L 40 F 247 A 197 Pts 447
Cup:
P 90 W 27 D 6 L 13 F 107 A 54 W 22 D 2 L 20 F 79 A 76
Total: P 348 W 94 D 39 L 42 F 370 A 220 W 84 D 29 L 60 F 326 A 273
Season by season record as Manager of St Albans City:
1983-84:Isthmian League Division Two Runners-up. 100 League goals scored for the first time. Manager of the Month for December and April.
1984-85:Sixth in Isthmian League Division One. Manager of the Month for October.
1985-86:Isthmian League Division One champions. Manager of the Month for December.
1986-87:14th in the Isthmian League Premier Division. FA Trophy 1st Round. Herts Charity Cup winners.
1991-92:13th in the Isthmian League Premier Division. Billy Minter Trophy winners. Manager of the Month for December.
1992-93:Isthmian League Premier Division Runners-up. FA Cup 1st Round. FA Trophy 2ndRound. East Anglian Cup winners. Herts Charity Cup winners. Billy Minter Trophy winners. Manager of the Month for September, January and April.