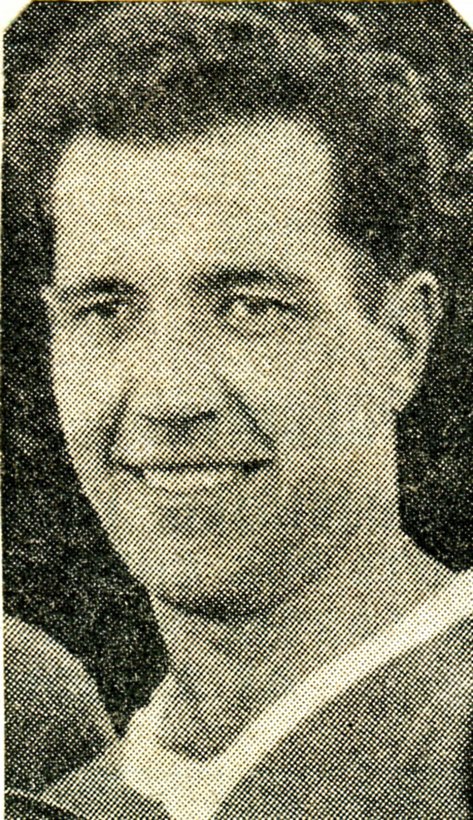 It was with immense sadness that on Saturday, 30th July 2022, we lost another one of our great names with the passing away of Alan 'Dickie' Last at the age of 85.
Dickie spent a lifetime in football as a player, match official and supporter, and continued to attend St Albans City home matches right up until the end of the 2021-22 season. Standing with a number of fellow Arsenal supporters under the cantilever stand, his afternoon at the Park would start with a chat with City manager Ian Allinson and then securing a copy of the team sheet.
First Legend of the St Albans Sunday League
Dickie played in the inaugural season of the St Albans Sunday League in 1961-62. The league existed under the title of the St Albans Industrial Sunday League for its first three years due to the participating clubs all being offshoots of local businesses. Employed by Ballito, he led the attack for the nylon company that was based where Morrison's is now sited in Hatfield Road. He was top scorer in the league's first season with 48 goals; 15 clear of second placed John Francis, brother of the City player Don (who just happened to be the third highest scorer).
The following season saw him have the honour of playing in the first representative team of the Sunday League as they lined up against their counterparts from the Welwyn Garden City Sunday League. The St Albans side included six either past, present or future St Albans City players; Dickie (91 app, 1 goal), Barry Payne (184a, 11g), Eddie Southern (1a), Herbie Smith (282, 73), Jim Whiting (39a, 8g) and Ginger Norris (86a, 49g).
Pictured left is the Ballito F/F (Fully Fashioned) side that clinched the St Albans Knock-Out Cup for the third successive year in 1964 with victory over Gainsborough. Just like Ballito, Gainsborough had strong ties to St Albans City and fielded six players in the final who, at one time or another, wore the City's blue and gold: Herbie Smith, Barry Payne, Nicky Goodchild (6a), Brian Haggerty (32a, 2g), Keith Rand (7a, 1g) and Don Francis (53a, 28g).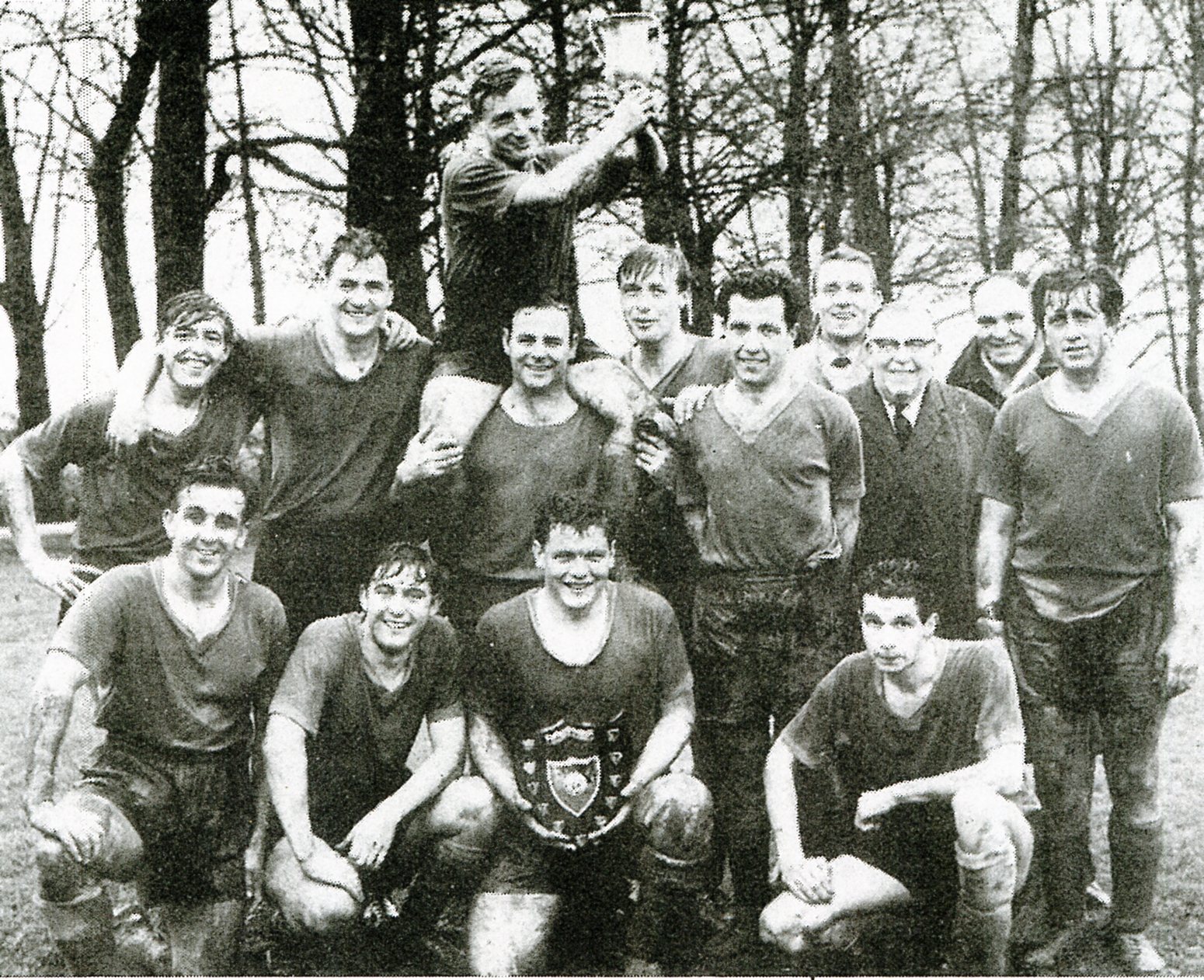 Above: Ballito F/F 1963/64.
Back: Keith Wilson, Ken Hodgins, Jimmy Norris, Bill Bennett, Les Meaton, Dickie Last, George Catterick (sec), AJ Kellard (Managing Director of Ballito), Roy Lye, Joe Davis.
Front: Bob Semple, Graham Cutler, Pat Smith, Jim Whiting.
By the time of that cup final Dickie was already on the books of St Albans City having joined the Saints from Herts County League champions Marconi Instruments. During his time in the County League Dickie had switched from being a phenomenal goalscoring centre-forward to left-back. It was a remarkable transformation given that during 1963/64 he scored in all but one game in which he had played in the Sunday League and stretched his record in the Knock-Out Cup for scoring in every round to three consecutive years.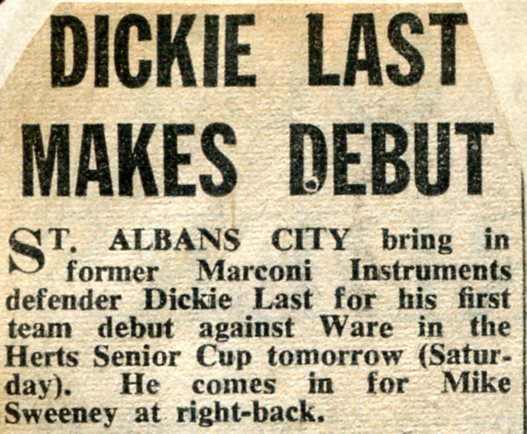 His pedigree was impeccable; he was captain of Marconi, had played five times for the Hertfordshire Junior side, had already collected numerous trophies and became the first player to score 200 times in the Sunday League. At the start of December 1963 he signed for the Saints under coach Harry Gibson. Dickie's first appearance for the City Reserves was on 7th December during a 6-1 thrashing of Woking's second string at Clarence Park . Another local lad, Jim Whiting, grabbed the headlines by scoring five of the six goals with Ray Williams completing the tally. Other local talent in the team included a youthful Phil Wood and winger Eddie Rolfe. Strangely, Dickie played at right-back that day.
His first team debut came the following month, 18th January 1964, during a 1-1 draw with Ware at Buryfield in the Herts Senior Cup. Brian Nisbet scored the City goal in an XI that featured fellow St Albans Sunday League players Whiting and Herbie Smith. Dave Lawrence (480a, 20g) was also in the side at the start of his lengthy time with the club. Dickie featured in a dozen City matches before the season was out including playing in front of 3,178 spectators as we went out of the Amateur Cup in the 2nd Round at home to Whitley Bay.
Prior to the start of the 1963-64 season Dickie had a run out up front for the City Reserves and responded by scoring once and setting up Jim Whiting for our other goal in a 6-2 defeat to Sutton United at Gander Green Lane. It was a difficult day for the City's second XI with Bob Murphy going in goal after half time to cover for the injured Fred Sharp.
During his three years with the Saints, Dickie appeared in two cup finals, both of which were in April 1965. He collected a winners medal in the Mithras Cup as City defeated Dagenham over two legs, but was less successful against Barnet in the Herts Senior Cup as City missed out in a two-legged final.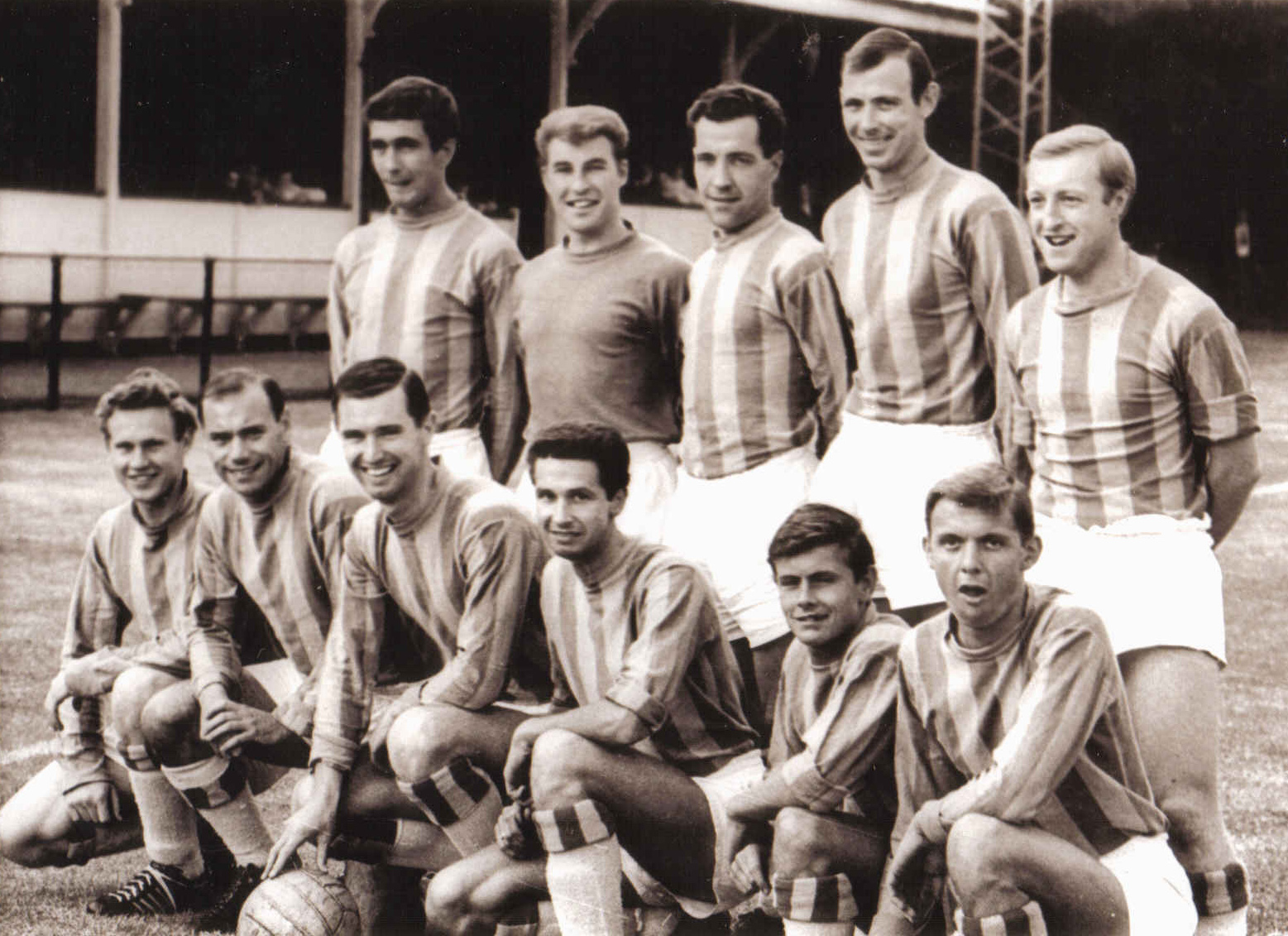 St Albans City 1964-65:
Back:
Phil Wood , Dave Westcott, Dickie Last, Dave Bromley, Alan McDonnell.
Front: Dave Sills, Roy Agar, Brian Nisbet, Jim Whiting, Herbie Smith, Billy Spicer.
On Wednesday, 9th March 1966 Dickie scored City's fourth goal during a 5-0 rout of Tooting & Mitcham United, it was our 11th visit to Sandy Lane and first success. He played on the left-wing that day and the goal he scored that day was his only one for the City. He was, however, still knocking them in with great regularity in the Sunday League and had already notched 40 by the time of this goal and finished the season with 58.
With the help of Dickie's prolific scoring, Sporting Club enjoyed a tremendously successful campaign. In addition to winning the Sunday League and the Knock-Out Cup, the club reached the last four of the F.A. National Sunday Cup where they went down 2-1 at Clarence Park to Dagenham side Ubique in front of a crowd said to number 6,000; Bob Murphy scored Sporting's goal. The Sporting Club XI that day featured ten that made a combined total of 1,348 appearances for St Albans City at some time during their career, only goalkeeper Tim Pickett never played for the City. The ten outfield players were; Brian Taylor (3a), Dennis Gibbs (148a, 1g), Jim Whiting (39a, 8g), Stuart McClean (35a, 1g), Dave Sumner (116a, 10g), Bob Murphy (133a, 8g), Dave Lawrence (480a, 20g), Dickie Last (91a, 1g), Herbie Smith (282a, 73g), Bob Humphrey (21a, 1g).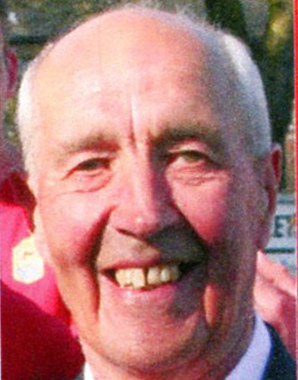 Dickie left City at the end of the 1965-66 season but continued playing in the Sunday League until the mid-70s. Once his playing days were over, he turned to refereeing and this continued his association with the St Albans Sunday League until the end of the1991-92 season.
Dickie married Janet Bush in April 1963 and they lived in Colney Heath until 2018 when Janet passed away. Born on 28th February 1937, Dickie passed away on 30th July 2022 at the Brompton Hospital and a burst of 30-seconds applause was held in his memory prior to St Albans City's friendly with an Arsenal XI at Clarence Park two days later.