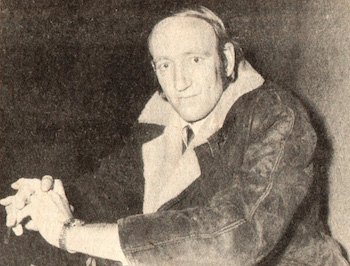 It is with much sadness that we have learnt of the death of our former manager Tommy Barnett at the age of 85.
Born in Muswell Hill on 12th October 1936, Tommy was appointed manager of St Albans City at a most difficult time in the history of the club. The glory days of Sid Prosser's first spell in charge at Clarence Park had long since faded and in the just over 21-months since Prosser's departure in March 1972 the club had taken on – and fired – John Drabwell, Mickey Hunter and Tommy Coleman.
The 1973-74 season was the first in which the Isthmian League, founded in 1905, had had two Divisions and City were facing relegation at the first attempt. At the time of Tommy's appointment only Corinthian Casuals sat below City in the top flight of the (Rothmans) Isthmian League and the club had gone 25 games without a win (21 league).
First up for the new boss was an Amateur Cup 1st Round tie against Hampshire League side Brockenhurst at Clarence Park on 5th January 1974. Desperately short of players, Tommy called up the young Carlton duo of Mick King and Micky Coyle – the latter scored the City goal in a 1-1 draw. Barnett moved quickly to bring in new players with his former club, Hoddesdon Town, providing rich pickings but all were cup-tied for the replay at Brockenhurst. The visit of City to the New Forest attracted Brockenhurst's record attendance of 1,104 and a giant killing of sorts was carried out as City lost 2-0.
Above: Tommy Barnett, with trademark cigarette in his mouth, looks on as City draw 1-1 with Brockenhurst. Left to right; Graham Less (City substitute), TB, Vic Lindsay (hidden), Colin Flatt.
A week later and City fielded their new signings as the unwanted club record 27-match winless run was brought to an end with a 3-1 win over Spartan League side Berkhamsted Town at Lower Kings Road. Unfortunately, recent signings Nick O'Donoghue, Kenny Ward and Tony Gough had not been with City for the 28-days required to be eligible to play in the Herts Senior Cup and the club was thrown out of the competition. Ward went on to be club captain, Gough found F.A. Cup glory with Harlow Town and O'Donoghue became one of City's top marksmen of the 1970s.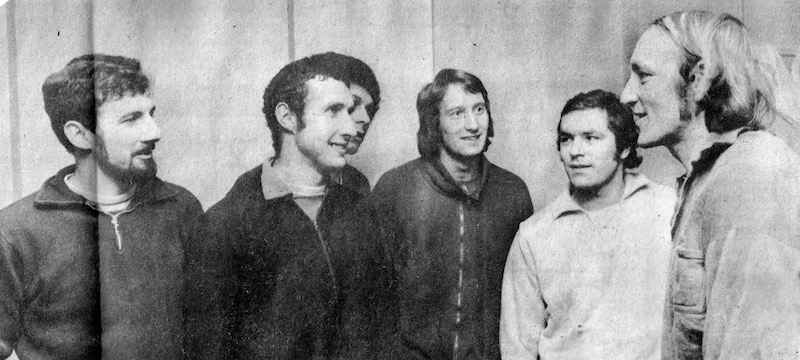 Above: Tommy Barnett (right) with new signings Bob Clements, Ian Wolstenholme, Ivan Johnson, Barry Hewitt and David Barnes.
Even with the succession of news faces brought into the club the odds of avoiding relegation were, at best, slight. Tommy even dusted off his boots to add his experience to the team. He made his debut on the pitch at the age of 38-year-old during a 2-1 win over Corinthian Casuals at Tooting & Mitcham United's Sandy Lane home. The goals scored by John Field and Gough that day, 9th March 1974, ended two 'worst ever' records set during that season; firstly, 14 successive league defeats and, secondly, 25 winless league games. A Bob Clements goal against one of his former clubs in the next game secured another win, this time over Enfield at Southbury Road.
But it was a false dawn and failure to win of the remaining eight games sent City down with Casuals. At least under Tommy Barnett the club had put up a fight, something that looked impossible under his predecessors.
The 1974-75 season was a campaign of consolidation as City became acquainted to life in Division Two of the Isthmian League. Barnett attracted to the Park some familiar names from the days before the slump. Back came Phil Wood , Bill Ratty, Bob Murphy and Matt Hughes as City kicked off the season with just one defeat from the opening dozen games. With a high number of draws, the side failed to put pressure on the leading clubs but at the end of January were in seventh position.
What proved to be Tommy's final game as City manager took place on 1st February; a goalless draw at Clarence Park with Corinthian Casuals. Tommy was replaced by the returning Sid Prosser. It was claimed that Tommy resigned due to business reasons but it is believed that he was pushed as the club jumped at the opportunity to re-engage Prosser.
As a youngster Tommy had been with Barnet before making his mark with Chatham Town. During his time at Chatham he scored a hat-trick against Margate but finished on the losing side as Chatham went down 9-5.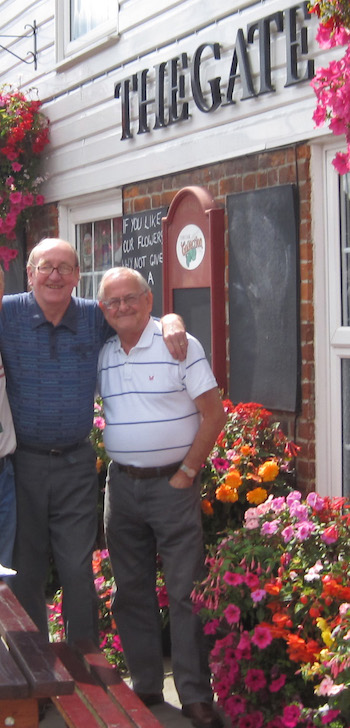 Tommy joined Division Four side Crystal Palace in December 1958. A regular in the Reserve team at Selhurst Park (72 appearances, 35 goals), he scored twice in 15 games for the First team. After leaving the Eagles he spent the 1961-62 season with for Margate where he scored 14 times in 41 games. It proved to be a highly successful season for 'The Gate,' as they reached the 2nd Round of the F.A. Cup, were Southern League Cup finalists and won the Kent Senior Cup.
In the summer of 1962 he moved from Margate to Romford for a fee of £200. During eight years with the Southern League club he scored a record 201 goals in 479 games. After leaving Romford he had a spell with Bexley United where he teamed up with Colin Flatt who became his assistant manager at Clarence Park .
His first taste of management came with three years at Hoddesdon Town and when he left the Lowfield club they were top of the Spartan League. He left City in February 1975 and became manager of Hertford Town in the summer of 1976. Tommy was Hertford manager for eight years and returned for a brief second spell in March 1985.
Tommy made ten appearances as a player for St Albans City, scoring one goal during a 3-2 Herts Senior Cup 1st Round defeat to Ware at Buryfield. He was City manager for 61 games; P61 W21 D15 L25 F85 A88.
A football addict, he was captain of Waltham Sunday League side Lodge when they defeated St Albans Sunday League champions Sporting Club in the final of the Herts Sunday Challenge Cup. Tommy was, bizarrely, dropped for the replay due to 'not playing to instructions' in the goalless first game. Lodge included fellow one-time St Albans City players Fred Gulvin, Joe Riolo and Bob Clements.
Outside of football he started his business life as a butcher and is said to have been an excellent saxophonist. He was best known for being landlord of The Gate public house in Sawbridgeworth, where he also ran his own microbrewery.
Right: Tommy Barnett at The Gate with City club historian Peter Taylor in August 2010 (photo by Gary Barnett, Tommy's son).
Tommy Andrew Barnett was born in Muswell Hill on 12th December 1936 and passed away on 15th March 2022.