St Albans City and A.F.C. Sudbury squaring up to each other in the F.A. Cup is not a new experience although there has been just one previous encounter. Supporters with a longer memory will recall that we also played another club from Sudbury back in April 1993
That game was in the semi-final of the East Anglian Cup, the Suffolk club, Sudbury Town, were holders of the trophy and also the reigning Eastern Counties (Jewson) League champions. Goals from Kevin Mudd and Martin Gurney (2) secured a 3-2 victory for John Mitchell's Saints and ended Sudbury's hopes of lifting the cup for a third time. Town found the target through Dean Barker and substitute Paul Coe. The attendance at Priory Stadium was 368. Sudbury Town had been formed in 1885 as Sudbury but in June 1999 they merged with Sudbury Wanderers to become the club that we know today, A.F.C. (Amalgamated Football Club) Sudbury.
Sudbury unbeaten in 20 games
The new club was in only its fourth season when we rolled into town on 26th October 2002 for a 4th Round Qualifying tie at King's Marsh, Brundon Lane, the former home of the Wanderers. At the time of our visit Keith Martin's side were third in the Eastern Counties League Premier Division, having won the title for each of the previous two seasons. The success of the new club looked set to be continued as they went into this game boasting an unbeaten start to the season stretching back 20 games, including ten wins in their 11 most recent outings.
To reach this stage of the competition, the final qualifying round, Sudbury had already played five games with them removing Hoddesdon Town (at Hertford Town's Hertingfordbury Park home), Raunds Town, Harefield United after a replay and, finally, Walton & Hersham. For our part, we had played two ties and edged past Wingate & Finchley and Chelmsford City without conceding a goal.
The game attracted a then record attendance for the new club of 780, which was hardly surprising given Sudbury's lengthy unbeaten start to the season and that City were two points clear of Billericay Town at the top of the Isthmian League Premier Division.
Going into the game, Sudbury's leading goalscorer was the towering Andy Claydon, formerly of Newmarket Town, and within seventeen minutes he had scored his sixth F.A. Cup goal of the season to put the hosts ahead. Lining up alongside Claydon was the more mobile Gary Bennett who went on to become Sudbury's record goal scorer. City were well aware of his capabilities having been on the receiving end of his 40th goal in 47 games whilst with Braintree Town for an East Anglian Cup semi-final tie at Cressing Road in 1996 that we lost 2-0.
Moran and de Souza pull Saints through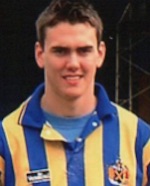 Sudbury appeared to be on the verge of an appearance in the competition Proper as City, despite gaining the upper hand with regard to possession, looked to be wilting in the warm sun. Our joint management team of Gary Roberts and Steve Cook changed the course of the game with a couple of inspired decisions to send on Scott Oakes and Craig Mackail-Smith on 75 and 77 minutes respectively. Suddenly, there was new purpose to the City attack and, on 84 minutes, Mackail-Smith chested down an Oakes cross for central defender Ryan Moran (right) to drive home his first F.A. Cup goal. Ryan celebrated by removing his shirt and was duly booked.
It was a huge phycological blow and in the first of five minutes of added time Miguel De Souza, receiving a pass from Jon Challinor, drove forward and, from the edge of the box, maintained his record of scoring in all of the three rounds in which we had played to secure what, a few minutes earlier, had appeared to be an unlikely victory. Playing at three Divisions higher than Sudbury maybe gave City a superior physical advantage but, whatever the reason, the end of the road had been reached for Keith Martin's side. Martin, a highly successful builder, passed away in 2008.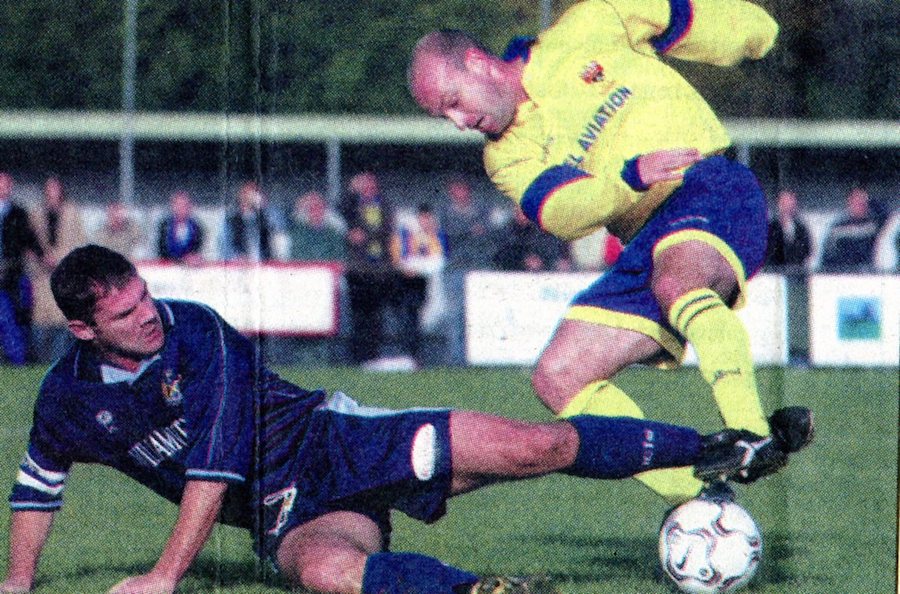 Above: Steve Castle makes a sliding tackle at King's Marsh.
Mistaken identity red card as City go out at Stockport
The draw for the 1st Round took us north, as we faced Stockport County. At this time Stockport were under the guidance of manager Carlton Palmer and sitting in 15th place in the 24-club Division Two (Division Four in old money). Around 600 City supporters travelled north including four supporters' coaches but it was all in vain as County ran out 4-1 winners. Our goal came from central defender Derek Brown while Rob Gould was sent off in a case of mistaken identity. On the word of a linesman, referee Mike Ryan dismissed Gould for an alleged handball on the goalline. Gould was not on the line at that time and, if there was an offence, something that City disputed, then the culprit was Ron Kean. City were 3-0 down at the time, so the decision barely affected the outcome. The F.A. later rescinded the red card and took no action against Kean.
We had enjoyed a cracking start to the season with all of the opening eight games (seven league) being won. Thereafter, we failed to win more than two games in a row and with five defeats in the final six games fell away from being potential champions to finishing in fourth position, 28 points adrift of champions Aldershot Town. City went into the second half of the season under the sole control of Steve Cook after Gary Roberts had been sacked on 16th December. We were third in the table at the time just seven points behind Aldershot who were beaten 2-0 at the Park five days later through goals from Corey Campbell and Steve Castle .
Our F.A. Trophy campaign fell at the first hurdle with a Jon Case goal giving Hayes & Yeading United victory at the Park. The League Cup trail was more productive with wins over Bognor Regis Town and Ashford Town (Middlesex) taking us through to meet Dulwich Hamlet who ended the run with a 2-1 victory at the Park.
In the Herts Senior Cup, Miguel De Souza scored his only hat-trick in 104 games for the club as Ware were despatched 6-0 and a single goal accounted Hemel side Greenacres before we bowed out to an injury time goal at Berkhamsted Town. We also removed Ware from the Herts Charity Cup but fielded a weakened side, and lost 3-0, in the semi-final at Hemel Hempstead Town due to the game being played at the same time that we also played out a dire league match at home to Enfield.
Jon Challinor was the leading appearance maker with 57 games (out of 59) while Gary Crawshaw, with 10 goals in 41 games, was voted Player of the Year. Simon Martin was our leading marksman with 22 goals.
More glory for A.F.C. Sudbury
A.F.C. Sudbury put their cup defeat behind them and went on to enjoy another success-filled campaign. With 103 points, the Eastern Counties League was won for the third of five successive seasons, they were also the top scorers with 122 goals from 44 league games. Having been F.A. Vase finalists in 2001-02, they went one better this time out but fell 2-1 in the final to Brigg Town at Upton Park; Terry Rayner scored the Sudbury goal. They also reached the final for the next two seasons but again suffered defeat on both occasions.
This is how the two sides lined up for that first F.A. Cup clash 20 years ago:
AFC Sudbury: Ben Nower, Chris Howlett, David Head, Chris Tracey, John Bishop, Ross Taylor (Michael Cheetham 87), Terry Rayner, Aaron Gardiner (Lee Owen 81), Gary Bennett, Andrew Claydon, Paul Betson (Lee Norfolk 79), subs, Simon Hyde, Russell Tanner
St Albans City: Duncan Roberts, Ryan Moran, Dominic Naylor, Leon Townley (Scott Oakes 75), Corey Campbell, Jon Challinor, Rob Kean, Steve Castle , Stafford Browne ( Craig Mackail-Smith 77), Miguel De Souza, Rob Smith, subs, Richard Evans, Rob Gould, Richard Wilmot.
Referee: Dean Whitestone (Weston Favell, Northampton)