This edition's Ramblings glances back to the 2011-12 season when the Saints and Bluebirds squared up to each other for the first time.

Chippenham Town were in their 11th season in the Southern League and had only once finished lower than eighth. Following relegation from Conference South, we were making our debut in the Southern League; that said, the original St Albans club had been members of this league from 1897-99.
Manager of the Bluebirds was the Chippenham-born Adie Mings who had previously served the club as a player. Adie was in his fifth season as boss but left a year later to become a scout for Chelsea and is now fulfilling a similar role for Manchester City. His son, Tyrone, also played for Chippenham before moving on to play for Aston Villa and England.
In-form Chips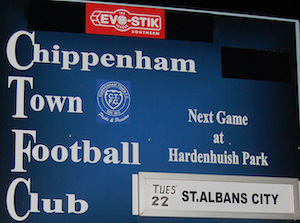 Chippenham had suffered just one defeat in nine games prior to our visit to Hardenhuish Park for a Tuesday night fixture on 22nd November 2011, but the Bluebirds had been hit by a few injuries and suspensions. Due to this, Mings made three changes from the side that drew at Arlesey Town the previous Saturday. That Arlesey side included no fewer than five one-time City players; Fabio Bufano, Ryan Frater , Derek Brown, Lee Allinson and Aston Goss.
Our current form was not as impressive as that of the Bluebirds although a 1-1 draw ( Sean Shields ) with second placed Brackley Town and a 4-1 win (Paul Furlong 2, Mo Shariff and an own goal) over relegation-bound Evesham United steadied the ship in 11th place after 17 games. All of the five games prior to then had been lost and from eight away league matches played thus far six had been lost and just one won. Chippenham were three places and three points better off than ourselves.
Captain of the City XI for only the second time was 36-year-old striker Rob Haworth. His first game was lost 3-0 and the last 6-1, this one didn't go too well either. Having ventured into the centre circle for the toss-up Rob was back there twice more within the opening 19 minutes as Toby Osman and Ross Stearn got Chippenham off to a flying start. Two goals during the second half by the reliable Lewis Powell, including his first of the season, saw the Bluebirds cruise to a 4-0 win, their biggest of the season at Hardenhuish Park. Unfortunately, injury curtailed Powell's season in January.
Unbeaten 12-match run ends
Chippenham's win took their points tally to 28 from 18 games but by the time that they visited Clarence Park for the penultimate game of the season, on 21st April, they had picked up just 21 more points from 22 games. Now down in 13th place they were ahead of Swindon Supermarine in the final relegation place by just six points. We, by contrast, went into the game on the back of a 12-match unbeaten run, the best that we achieved during David Howell's time as City manager. The run came too late for us to make the play-offs and Chippenham certainly put such thoughts to bed with a thumping 4-1 win at a sunny Clarence Park that also included a sharp downpour just before half time.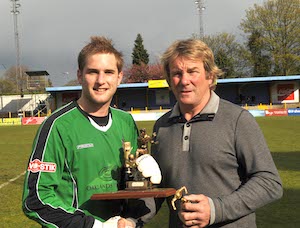 Ross Stearn opened the scoring with a somewhat contentious goal inside two minutes. Chris Henry wiped that out five minutes later but by half time Alan Griffin and Stearn had put the game virtually out of our reach. Just after the hour Grifffin, a week before his 29th birthday, completed the Bluebirds win with the fourth goal. With 24 goals in 46 appearances, Griffin was Chippenham's leading goalscorer this season, a position that he retained for the two subsequent seasons too. Minutes after the Bluebirds triumph the Saints annual awards were dished out with goalkeeper Nick Jupp picking up the Player of the Year trophy (left; Nick receives the trophy from sponsor Paul Martin).
Chippenham rounded off their league campaign a week later with a 1-1 draw at home to Arlesey Town while City, not wishing to upset Brackley Town's championship winning celebrations, crumbled to a 6-0 defeat at St James Park. That result meant that we had the distinction of losing a Southern League Premier Division game by the equal highest margin that season and also suffered the biggest home defeat, 6-1 against Barwell.
Turning to the cup competitions, Chippenham beat Wells City 3-0 in the F.A. Cup 1st Round Qualifying but were then expelled for fielding an ineligible player. City eased past Berkhamsted after a draw at the Park but were then turned over in a home replay by East Thurrock United. Whilst we slithered to a poor defeat at home to Ashford Town (Middx) in the F.A. Trophy, Chippenham enjoyed their most successful campaign to date. The Bluebirds removed Poole Town, Mangotsfield United and Eastleigh in the qualifying rounds, all after replays, before bowing out to fellow Southern League side Weymouth.
Plenty of new faces
City got through 69 players during the season with a remarkable 53 making their debut. Midfielder David Ijaha topped City's list of appearances with 46 games while lively Frenchman Sakho Bakare was top scorer with 16. The home game with Chippenham saw bustling striker Rob Haworth make his 200th and final appearance for the club. Popular central defender Ryan Moran played the last of his 167 games during the defeat at home to Barwell.
The 2011-12 season was David Howell's first as City manager and it was another defeat at home to Chippenham, on 24th November 2012, that brought his reign to an end. A former captain of the England semi-professional side, Howell had been manager of Harrow Borough for seven years prior to his move to Clarence Park . The club was also under new ownership and had Ian Ridley back at the Park for a second spell, this time as chairman.
The line ups for Chippenham's 4-0 win over the Saints in November 2011 were as follows:
Chippenham Town: Will Puddy, Mani Randhawa, Shaun Lamb, Ashley Williams, Steve Casey, Iain Harvey, Ross Stearn, Toby Osman, Lewis Powell, Alan Griffin (Jack Pitcher 75), James Guthrie, subs; Andy Sandell, Aaron Wilson.
St Albans City: Nick Jupp, Michael Harriman, Ryan Watts, David Ijaha, Matt Cutchey, Ryan Moran, Sean Shields , Barrie Matthews, Rob Haworth (Joakim Ehui 75), Mo Shariff (Sakho Bakare 37), Danny Hart (Jerome Walker 46), subs; James Bent, Tobi Jinadu .
Referee: Andy Newell (North Yate). Att: 287.
(Photos by Robert Walkley and David Tavener)