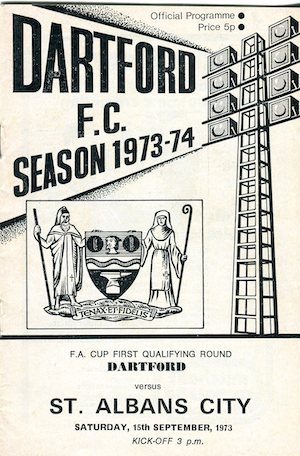 The 22nd October 2022 saw ourselves and Dartford meet each other for the 21st time and the 16th occasion in league matches. The previous season, 2021-22, we had the glory of a history making and financially lucrative F.A. Cup run, but the story was different for our first meeting with Dartford 49 years ago on 15th September 1973.
The 1973-74 season, coming off the back of a desperately poor campaign for City in 1972-73, was another disaster as we endured two of the direst seasons in our history in succession. At the time of our F.A. Cup 1st Round Qualifying tie with the Darts at their old Watling Street ground we had gathered seven points from our opening eight Isthmian League Premier Division fixtures. It would be another six months until our next league win.
Southern League Leaders
Dartford, on the other hand, were already top of the Southern League Premier Division, three points clear of second placed Chelmsford City. Manager of the Darts was Ernie Morgan who was in his second of three spells as manager of the club. As a player he set the record for the highest number of goals scored by an individual in a season whilst with Gillingham (since equalled by Brian Yeo).
The likelihood of City making progress was extreme and within 16 minutes the Darts were two goals to the good. Veteran forward Stan Marshall took his tally to five from the opening ten league and cup games by scoring that duo and was joined on the scoresheet by John Mitchell (not our former player and manager) during injury time. City rallied during the early part of the second half and pulled a goal back on 56 minutes through substitute Roy Butler.
The blond-haired Butler proved to be handful for Dartford and, in addition to striking the woodwork, had a goal somewhat harshly disallowed for an alleged push. Had the goal stood, though, it would have made little difference to the outcome as John Read had already scored a fourth goal for the Kent side.
Dartford's cup run was extinguished in the next Round as our fellow Isthmian's Kingstonian won 3-1 at Watling Steet. It was a rare blip in an outstanding season in Dartford's history. Morgan's side reached the final of the F.A. Trophy before succumbing 2-1 to Morecambe at Wembley in front of 19,000 spectators. The Southern League title went to Dartford for the third time as they finished eight points clear (two points for a win) from runners up Grantham. They fared somewhat less well the following season and were relegated. The Dart's goalkeeper, John Morton, went on to become the chairman of the English Schools Football Association, a position that he has held for the past 27 years.
City sack Tommy Coleman
City manager Tommy Coleman had also experienced the disappointment of defeat in the Trophy final having seen his Barnet side lose 3-0 to Stafford Rangers in 1972. The Dartford game was just one of four cup ties for which Tommy was City manager, the other three were also lost. Coleman took control for the final four games of the previous season, during which time we scored just once. A goal by Colin White gave City victory over Corinthian Casuals on the opening day of the 1973-74 campaign and White, along with Vic Cogger and Dennis Murphy, was among the scorers six games later as Bromley went down heavily at the Park. That, though, was as it good as it got for City and in the darkness of the power-cuts of the winter of 1973 there was hardly a darker place in the country than the mood at Clarence Park . A run of eight consecutive defeats – that included the cup tie at Dartford – was extended to a barely believable 27 winless games.
Tommy Barnett revives Saints
Coleman's time as manager of St Albans City was cut short following a 3-0 defeat at Hayes towards the end of December 1973; we had won just two of the 36 games played under him, 28 ended in defeat. City looked to the 36-year-old Hoddesdon Town manager Tommy Barnett to revive our fortunes but the appointment came too late to avoid an embarrassing defeat to Brockenhurst in the Amateur Cup. The Hampshire League side won a 1st Round replay in a match that set the record attendance of 1,104 at Grigg Lane, it was our final game in the competition before it was closed down at the end of the season. Our final goal in the Amateur Cup was scored by Carlton youngster Mick Coyle during the drawn home game with Brockenhurst.
We did see an improvement on the pitch under Barnett but the rebuilding did not really gain momentum until the following season, by which time we, along with Corinthian Casuals, had experienced the dubious honour of being the first clubs to be relegated in the newly expanded Isthmian League. A week after the Brockenhurst game, City faced Berkhamsted Town in the Herts Senior Cup. Following the non-appearance Chris Clark and Steve Joyce, Barnett was forced to field new signings Nick O'Donoghue and Kenny Ward, both players had come with him from Hoddesdon. However, neither player had been signed on for the 28-day qualification period and City, after winning 3-1, were duly kicked out of the competition. O'Donoghue proved to be an excellent signing with the brace he notched at Berkhamsted being the first of 74 goals that he scored for City in 160 games.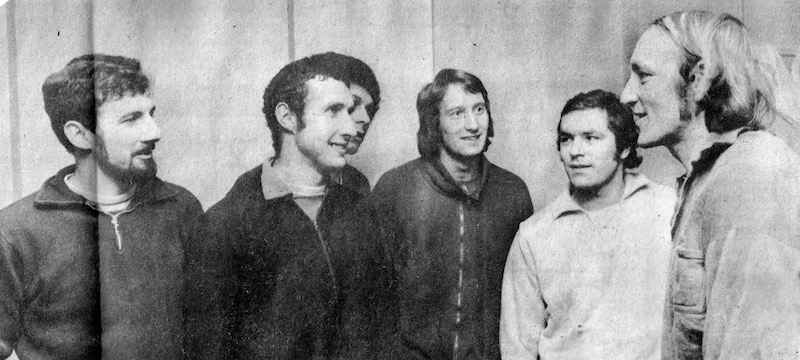 Above: Tommy Barnett (right) with new signings Bob Clemence, Ian Wolstenholme, Ivan Johnson (partly hidden) Barry Hewitt and David Barnes. Tommy, who for many years ran The Gate pub in Sawbridgeworth, passed away in March this year and is remembered most fondly at Clarence Park .
Midfielder John Field was ever-present in the 50 games played that season while the title of top goalscorer – just five goals in all competition – was shared by Roy Butler and Colin White from 24 and 31 appearances respectively. Butler, along with Steve Perrin, later had a brief spell as joint-City manager in 1989. Just to emphasise the point of how poor a time we had in 1973-74, the four league goals that Butler and Alan Carrington each scored remains as the lowest figure for a top scorer of league goals in our 114-year history.
Our full record against Dartford is: P20 W6 D5 L9 F29 A30.
Dartford: John Morton, John Read, John Stevens, Gary Jenkins, Les Burns, Martin Binks, Alan Payne, Bob Glozier, Stan Marshall, John Mitchell , Danny Light, sub; Ken Halliday.
St Albans City: Wilf Woodend, John Field, Steve Twiddell, Terry Smith, Dennis Roach, Chris Clark, Colin White, Bobby Wiles, Vic Cogger, Barry Fry , Dennis Murphy, sub; Roy Butler.
Attendance: 1,150. Referee: A.M. Harrington (Gosfield, Essex).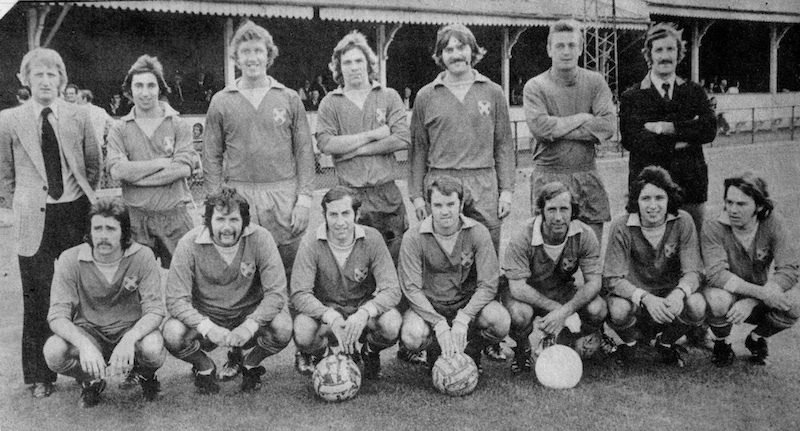 St Albans City 1973-74:
Tommy Coleman (Manager), Bobby Wiles, Dennis Roach, Chris Clark, Vic Cogger, Wilf Woodend, Colin Flatt (Assistant Manager).
Ian Denholme,
Barry Fry
, Dave Hogwood (Captain), Colin White, Dennis Murphy, John Field, Dave Webb.