The 2022-23 season marks 100 years since the famous F.A. Cup tie when Wilfred 'Billy' Minter scored all seven of our goals during a 4th Round Qualifying replay defeat to Dulwich Hamlet at Champion Hill. Wilf's achievement of scoring the most goals by a player on the losing side in an F.A. Cup tie is unlikely to be beaten and has been fully covered in various publications down the years; a full account is available here.
This'Tales From The Park' looks at another (in)famous cup tie between the long-standing rivals, as we recall an F.A. Trophy 1st Round replay at Clarence Park on Monday 1st February 1982.
Bad weather since the turn of the year had led to the first meeting being played at Champion Hill the previous Thursday instead of on a Saturday. It was our first cup tie at that ground since the 8-7 game sixty years earlier. Dulwich, then of the Isthmian League Premier Division took the lead through former Hendon player Chris Lewington only for City to salvage a draw when the much-admired Jon Sille fired home from close range in a snow flurry five minutes from time.
Ron Duke's 'loony team'
The replay was a not to be forgotten thriller that had repercussions that rolled on for several months. The colourful Ron Duke (left) was City manager and his post-match interview was as unconventional as ever; "You won't get better entertainment than that anywhere. I firmly believe that a team reflects its manager's personality. I'm a looney and in many ways I've got a bit of a loony team!"
Dulwich, from a Division higher than Duke's Saints, began positively and were rewarded when Kimm Connett, son of Dulwich committee member Pat Connett, scored after just eight minutes. Neil Levy, playing the penultimate of his 84 matches for St Albans, equalised with his first cup goal for the club. City forged ahead when Geordie Paul Scope fired home after a shot by Sille rebounded off an upright, and Levy added his second, and our third, with a cracking drive from 20-yards.
Dulwich, managed by former West Ham United, Crystal Palace and Colchester United defender Eddie Presland, were far from finished though and pulled one back through Mark Denton when City 'keeper Roland Malcolm fumbled a soft shot. There was little that Malcolm could do with Denton's next effort as he pulled the sides level on 54 minutes with a fine effort from outside the penalty area.
Ian Whitehead penalty sees City through and Presland sacked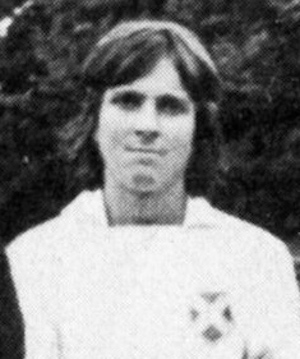 With the game, seemingly, slipping away, City decided that attack was the best form of defence and laid siege to the Dulwich goal in the latter stages. Sille twice struck the crossbar as Hamlet reeled and, ten minutes from time, City's largest crowd of the season to date erupted as Ian Whitehead (right) converted from the penalty spot after Tony Field had handled. City saw out the remaining time to progress through to the 2nd Round for the first time. With his side struggling close to the foot of the table, Presland had cause to rue Hamlet's Trophy exit as he was sacked following the defeat. Dulwich finished the season in a safe 15th position.
The action on the pitch may have been over but there were remarkable scenes on the Hatfield Road terrace after the whistle as the Dulwich goalkeeper, Steve Bowtell, took exception to comments directed at him. After scaling the pitch perimeter fence, Bowtell confronted a City supporter and punched him close to his right eye. The supporter was treated by the City physio Bill Hindley while Bowtell was taken away by the boys in blue. He appeared at St Albans Crown Court on 10th March and pleaded guilty to assault and causing actual bodily harm. Having already been suspended by the Football Association for seven days and fined £25, he was now handed another fine of £35 by the court and ordered to pay £20.25 in compensation and £23.25 costs.
Enderby Town – the ultimate thriller
The two games with us were Hamlet's only Trophy ties that season while we had already played five games to reach this stage of the competition. Two precise free kicks by Jon Sille set us on the path to a 4-1 win over Eastern Counties League side Lowestoft in the Preliminary Round with Paul Mayles and Neil Dudman (left) completing the tally. In the 1st Round Qualifying City despatched Clapton 3-0 at the Old Spotted Dog Ground, a repeat of the scoreline from the league game in east London earlier in the season. Dean Parratt scored twice and was joined on the scoresheet by veteran John Dear who was a member of the Bishop's Stortford side that were the last winners of the Amateur Cup at Wembley in 1974.
City's league form during 1981-82 was far from impressive but the Trophy rolled on with a notable 2-1 victory over high-flying Southern League side Chelmsford City at Clarence Park at the start of December. Future Stevenage and England 'C' manager Paul Fairclough opened the scoring following a cross by Mayles and the transfer-listed Scope headed home the winner past former Luton Town custodian Willie Carrick.
City's reward was a trip to the midlands to face another Southern League side, Enderby Town (now known as Leicester United). The weather played havoc with the fixture and Enderby's programme notes wished everyone a Merry Christmas – the game was scheduled for 19th December but was delayed until 4th January. It was well worth the wait as it, somehow, eclipsed the Dulwich games for entertainment. Enderby burst into a two-goal that Scope and Les Eason had wiped out by half time. Following a foul on Paul Mayles , Ian Whitehead scored from the penalty spot; it was one of 33 successful penalties taken by the City right-back during a two-year period.
Enderby hit back to lead 4-3 but, as the game drifted into its final seconds, a cross by Eason clipped one of the last remaining follicles on Dear's head to take the tie into a replay. The replay was also a topsy turvy affair as City came from behind to win 3-1 with goals from Fairclough, Sille and central defender Paul Marriott (left). The poor weather caused the two games to be postponed ten times. Next came the victory over Dulwich before City put in a tame performance when bowing out in the 2nd Round to Alliance Premier League side Scarborough at the Park. The attendance was a disappointing 683 with admission, increased from the usual price, being £1 for adults.
Our league form failed to improve in the latter part of the season and, following a last day of the season win at Bognor Regis Town, Ron Duke resigned with the managerial reins passed to one of our finest forwards and a true City great, John Butterfield.
City line-up at home to Dulwich Hamlet in February 1982: Roland Malcolm, Ian Whitehead, Les Boughey, Paul Marriott, Jimmy Hendrick, Paul Fairclough, Jon Sille, Paul Scope, Neil Levy, Paul Mayles , John Dear (Dave Leonard).