Weymouth, then of the Southern League Southern Division, first made the long haul to Clarence Park on 18th January 1997 for a 1st Round tie in the F.A. Trophy. They came into the game with a good run of form behind them with just one defeat in 14 games, it was a run that included six successive games without conceding a goal. With 20 league games played Matthew McGowan's side had amassed 36 points.
Free scoring Terras
To reach this stage of the competition they had seen off Fareham Town 7-0 at the Wessex Stadium following a 2-2 draw in Hampshire. Clevedon Town were next to go, 4-1 in the 2nd Round Qualifying with the Somerset club returning to the Wessex the following week to go down 5-1 in the league. In the final qualifying round first half goals by David Laws and Darren Powell accounted for Ashford Town.
City's form had been less impressive. That said, due to bad weather it had been a month since our new manager, Jimmy Neighbour , had seen his side in action for the one and only time. Former Tottenham Hotspur and Norwich City winger Neighbour had replaced Alan Randall as manager following Randall's swift exit after our 9-2 F.A. Cup 2nd Round exit at Bristol City in December.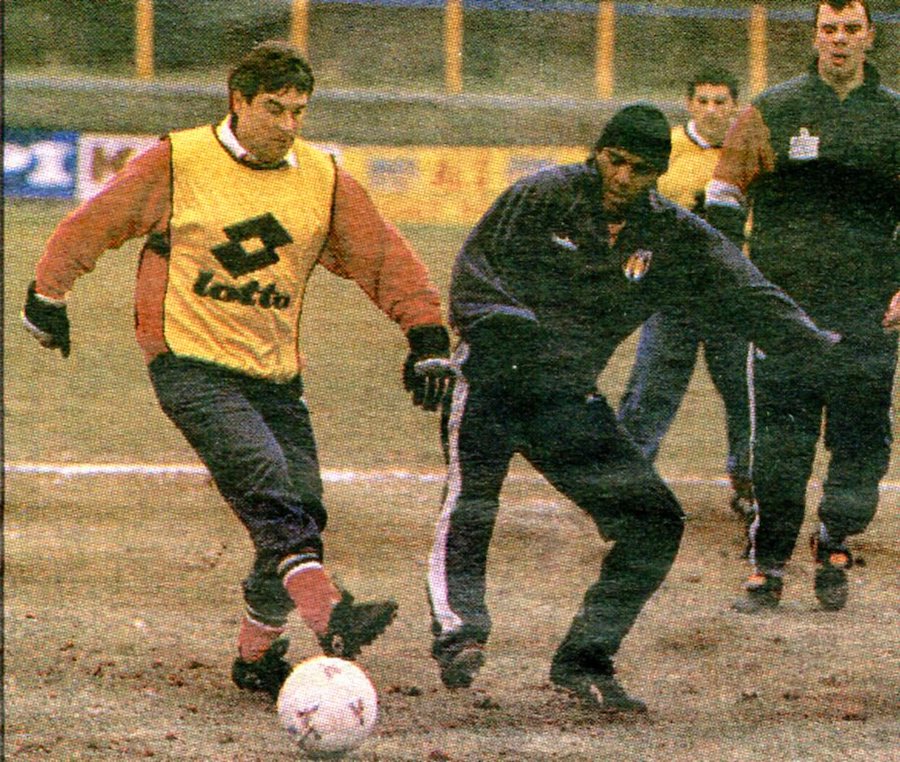 Above; Jimmy Neighbour shields the ball from Tony Kelly as City work-out during the lengthy weather-enforced lay off. Naseem Bashir and Darren Coleman look on.
We had played just one game in the Trophy to reach the 1st Round with a brace from Jon Daly and a single from Rob Haworth removing Kings Lynn Town at the Park. However, since that game at the end of November we had bowed out of the F.A. Cup, the Full Members Cup, the Herts Charity Cup and the Guardian Insurance Cup – all within 15 days. With 22 points from 17 games, City were 15th in the 22-team Isthmian League Premier Division.
Kelly and Clark strike early
Current form suggested that Weymouth were onto a good thing but the Terras got off to a dreadful start and inside 18 minutes City were two-up through Tony Kelly and a Steve Clark penalty. Kelly was in his second spell with the Saints having left for Stoke City in 1988 for an initial fee of £15,000. Clark was in his sixth season at the Park and was enjoying another goal-fest with his early strike in the York Road goal being his 28th of the campaign.
Weymouth fell well short of expectations and limped tamely out of the competition; or maybe it was not quite so tamely after referee Mr Armstrong felt the need to insert the details of five of their players into his notebook.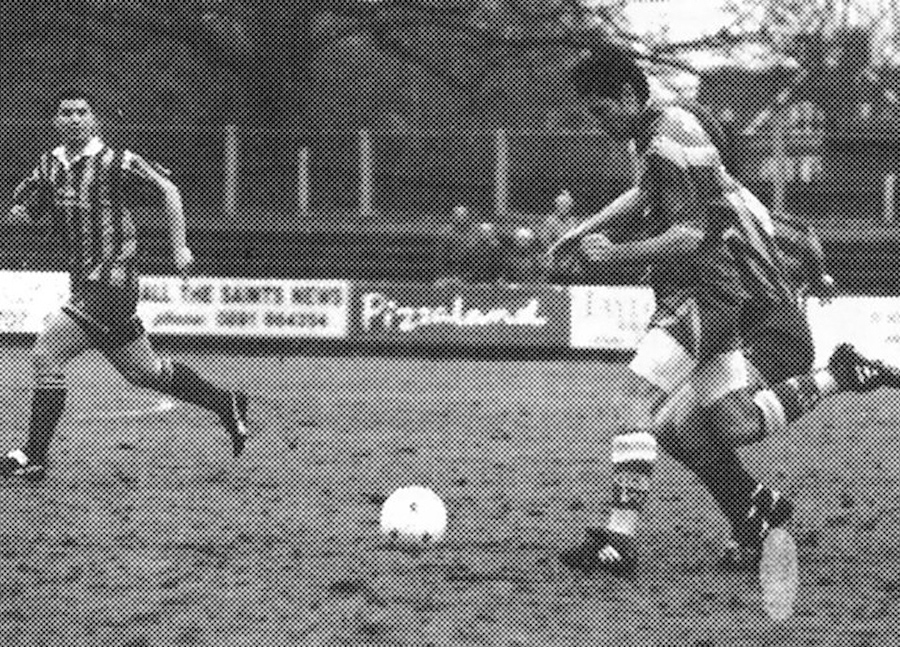 Above; Rob Haworth leads another City attack on the Weymouth goal.
Weymouth bounced back from their Trophy at Clarence Park to knock Salisbury City out the League Cup four days later with former Bishop Auckland striker Laws scoring his 17th goal of the season, he finished the campaign with 27 under his belt. The Terras made good progress in the League Cup before bowing out in the semi-final to Sudbury Town (one of the two Sudbury clubs that merged to form A.F.C. Sudbury – our conquerors in the F.A. Cup earlier this season). Weymouth had progressed through two rounds of the F.A. Cup before being knocked by Cheltenham Town at Whaddon Road. The Terras finished seventh in the Southern League, a distant 21 points behind champions Forest Green Rovers.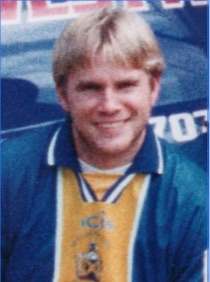 In other City news around the club at the time of the Weymouth match, Simon Martin headed off for a few games with Welwyn Garden City to get some match practice and winger Richard Blake was placed on the transfer list. In the then current edition of Team Talk Magazine, Steve Witney named City midfielder Greg Howell (right) in his all-time favourite XI. Greg is the son of former Millwall, Swindon Town and Brighton & Hove Albion midfielder Ronnie Howell, and Steve said, "Greg excites me every time I see him play. He lacks a bit of pace but he is tremendously skilful and scores spectacular goals." Earlier in the season, Greg had scored the two goals at Wisbech that won our 1st Round F.A. Cup tie to set up the trip to Bristol City.
City fall to cup kings Woking
The win over Weymouth took us through a 2nd Round meeting with Woking who had already won the competition twice in the 1990s. Under the leadership of manager Geoff Chapple and his assistant Colin Lippiatt , the '90s were a glorious time for the Cards and after a thrilling game at the Park, drawn 1-1 with a Greg Howell penalty equalising Justin Jackman's early strike for the visitors, we went down 3-1 in the replay at Kingfield. Woking went on to lift the Trophy for the third time. Lippiatt later took charge at Clarence Park and under him we won promotion to the Conference National in 2006. Colin passed away in 2010 but it was good to catch up with his wife Frances and son Rob during our win at Farnborough earlier this season.
The defeat at Woking left us with one cup to challenge for, The London Challenge Cup, but that bid faltered with a surprising 2-0 defeat at home to Uxbridge. In between the Weymouth and Woking games our interest in two other cup competitions ended with Boreham Wood and Ford United winning at the Park in the Herts Senior and East Anglian cups respectively.
Neighbour looked to be getting our fortunes back on track when a run of four successive away games in March was rewarded with maximum points and we ended the season in sixth place, just three more points would have put us third in the table behind champions Yeovil Town and Jimmy's former club, Enfield.
Jon Daly is top Saint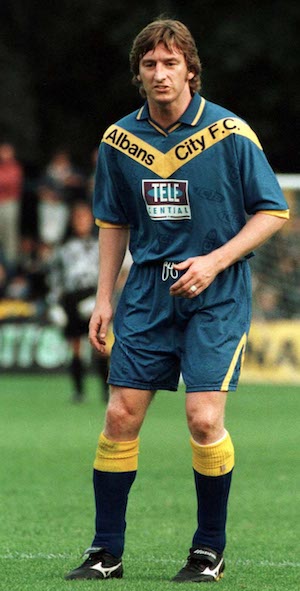 We played 66 games during the season with Steve Clark making the most appearances in missing just four games, just for good measure he also knocked in 40 goals. Defender Andy Polston (62) was the only other player to top 60 appearances while Rob Haworth, Jon Daly (right) and Greg Howell all got into double figures on the scoresheet. With 50% of the vote, midfielder Daly picked up the Player of the Season trophy and received his award from chairman Bernard Tominey and Herts Advertiser reporter Tim Hobbs. JD was also voted the Players' Player of the Year. Daly and Clark had the honour of scoring our two goals during that (in)famous F.A. Cup tie Bristol City.
St Albans City: Gareth Howells , Erskine Smart, Peter Risley , Andy Polston, Kevin Mudd, Jon Daly, Darren Coleman, Tony Kelly, Steve Clark , Barry Blackman, Rob Haworth (Naseem Bashir 77), subs; Gary Cobb, Greg Howell.
Weymouth: Paul Myers, John Waldock, Nick Limber, Alex Browne, Richard Bartlett (Ian Hutchinson 63), Darren Powell, Mark Boulton, Andy Mason, Marlon Shepherd, David Laws, Neil Hosley, subs; Nick Fiory, Aaron Watkins.
Referee: P.Armstrong. Attendance: 506.