Or game aginst Dulwich Hamlet at Champion Hill on Saturday 4th March 2023 marked a milestone in the history of St Albans City as we played our 5,000th competitive game. In this article we look back at some significant moments and numbers from our proud history.
Leavesden Asylum were the first on 19th September 1908. Dulwich Hamlet were the 5,000th on 4th March 2023. During the 4,998 matches linking these two games, St Albans City experienced all the high, low, unexpected, inevitable, shattering and truly uplifting emotions that only sport can deliver.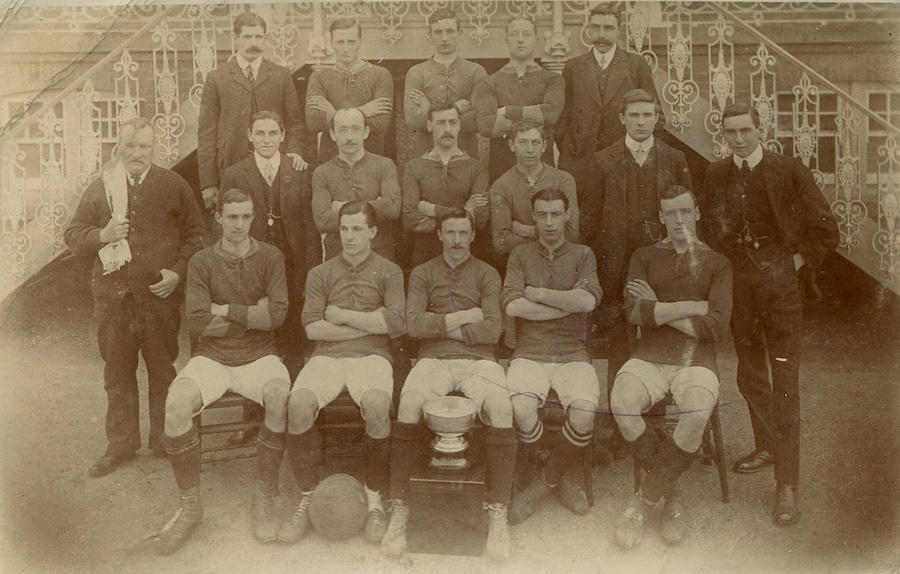 The first cup won by the club was the Herts Charity Cup with a 2-0 win over Barnet Alston in match No.49 (5th March 1910). Back row: Arthur Marshall (committee), George Webb , Herbert Smith, Charles Patrick, Bob Fox (hon. sec.), Middle row: George Hartley (Trainer), Richardson, Eddie Anderson , George Price, Jack Squires, Harry Gray (committee), A.Welch (committee). Front row: Les Hosier, Tommy Knott, Willy Hughes, George Butcher , Tommy Walker .
Founded in April 1908 from the ashes of the original club that fell four years earlier, St Albans City entered two leagues during our formative years just to give some depth to the fixture list. The relatively low number of league games played during our early years is reflected in the time taken to reach our 1,000th game, after hitting that landmark the tempo stepped up. The first 1,000 games took 38 years to complete. The low number of league games played only partly explains why it took so long, a couple of world wars accounted for around ten years without a ball being kicked in a competitive fixture. The club did play competitive football of a kind during World War II but the 166 games played in the Herts & Middlesex League, and a number of cup competitions, are not included in the peacetime 5,000.
The run from 1,000 to 2,000 games took just 22 years and the third thousand a lightning 16 years. The arrival of floodlights at Clarence Park in November 1963 was a major factor in the increase of frequency of games. The fourth 1,000 games took sixteen and a half years. The first thousand was celebrated with a 3-1 win over Dulwich Hamlet on 10th May 1947. Dulwich, as already mentioned, also featured as our opponents for the 5,000th game last Saturday (4th March).
Hidden among the first one thousand games are a number of the biggest occasions in our history. The attendances for our games during the 1920s were staggering. The record attendance at the Park of 9,757 saw Ferryhill Athletic defeated 4-1 in the Amateur Cup 4th Round in February 1926. It was only our 411th game, the 410th had seen us beat Southall in a replay of a 3rd Round tie, that game attracted 9,745 spectators. Our first victory over Football League opposition in the F.A. Cup came after just 360 games when 8,825 watched Brentford's demise (5-3) on 29th November 1924. Our second F.A. Cup victory over a Football League club was kept waiting until our 4,925th game when Forest Green Rovers were beaten 3-2 in front of the BBC cameras and a Clarence Park crowd of 4,100 in November 2021.
The City line up prior to the 4-1 Amateur Cup win over Ferryhill Athletic. Photo taken in front of the cricket pavilion in the Clarence Park , which, until 1929, was where the players got changed until the football ground had dressing rooms installed. Back row: Bill Green (hon. sec.), Harold Figg, Percy Bird, George Anderson, Cecil Canon, Sid Duller, Ted Keightley (Trainer). Front row: Percy Winter, Alf Bishop, Wilfred Minter, Fred Dear, Fred Hellicar, Wally Buckingham .
The first 1,000 also included three numbers that would, these days, be classed as heart-breaking but back then were 'disappointments.' These were games 301, 375 and 413, when we lost to London Caledonians (1923), Southall (1925) and Stockton (1926) in the semi-final of the Amateur Cup. The game against Stockton was played at Middlesbrough's Ayresome Park, just a handful of miles from their home and attracted the record attendance for one our games, 20,380. The defeat to Southall was a replay, the two games against the west London club drew crowds of 18,797 and 16,670 and were played at Watford and Brentford respectively. Game 2,039, saw our run of Amateur Cup semi-final defeats extended to four as Dagenham beat us in a replay at Luton Town's Kenilworth Road home in 1970. That game drew a gate of 7,259 where as the quarter final at Wycombe Wanderers pulled in 10,200 spectators. No other club lost more times than us in the semi-final of the Amateur Cup without going on to play in the final. Should we laugh or cry at that? The Wycombe match was the 13th game that we have played in front of a five-figure crowd, 53 years on and it remains as the most recent one in which we have played in front of a crowd in excess of ten thousand.
The opening 1,000 games included nine league championships, in fact, those nine titles had been wrapped up within our first 491 games. Just one more league title has been added to the list during the next 4,509 games.
The way football is played has changed dramatically down the years along with alterations to The Laws of The Game. Suggestions that the game is more negative these days and that sides, sometimes, now have an eye on not losing rather than winning is supported by the statistics. During our first 1,000 games just 142 ended in a draw, now that figure has risen to 218. Our figures will be distorted by the sustained success of the 1920s that has not been replicated since. Games 1-1,000 saw us score 2,560 times; for games 4,001 to 5,000 it dropped to 1,521. Similarly, goals conceded also show a significant decline from 1,903 to 1,546.
Dulwich keep cropping up in these statistics and here are another two examples of them appearing in our history for significant reasons. Possibly the greatest match that we have ever been involved in was number 287. It was the day, 22nd November 1922, of the F.A. Cup 4th Round Qualifying replay at Champion Hill. Dulwich won 8-7 with Amateur England international Wilf 'Billy' Minter, by scoring all of our seven goals, going into the records books as the player to have sored the most goals on the losing side of an F.A. Cup tie. That game saw Minter become our leading goal scorer with 64, by the time of his retirement he had moved on to 356 goals (362 appearances) with only Steve Clark , on 322, getting close to dislodging him from pole position.
Just for good measure, with 134 games played between ourselves and Dulwich, they are the club that we have faced more often than any other. Today's game is our 23rd against Eastbourne Borough. Clapton are the club that we have enjoyed more success against than any other with us coming out on top 63 times in our 113 meetings. Dulwich, naturally, have beaten us more often (60) than any other club.
The 5,000 games include single matches against 113 clubs ranging from Arsenal – their Reserve team in the East Anglian Cup – to Shredded Wheat and the football team of several military units. In addition to the competitive games, next season's warm up games will see us pass 700 friendly matches. These games include playing against the full First team of both Arsenal and Tottenham Hotspur.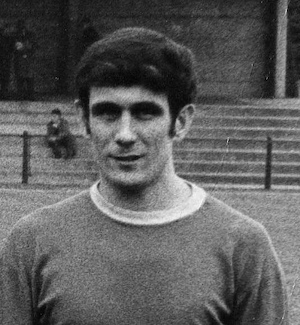 Phil Wood (left) made more appearances for the club than any other player with his 900 games unlikely to be beaten. At the time of Phil finally hanging up his boots in August 1984, 22 years after his debut, he had appeared in almost a third of our 2,879 games. Three other players ( Steve Clark 488, Dave Lawrence 480 and Martin Gurney 413) have since played over 400 games for the club but Phil's record looks pretty secure. Back on 30th November 1912, Les Hosier became the first player to complete 100 appearances for the club, by which time we had played just 132 games.
At the other end of the scale, a barely believable 396 players have each appeared in just one of the 5,000 games. One of whom was Redbourn lad Andy King who found fame with Luton Town and Everton before sadly passing away in 2015. Andy's one game for us, in-keeping with a number of these statistics, was away to Dulwich Hamlet (match no. 3,122).
Saturday remains as our busiest day for playing games with 3,370 of the games having been played on this day. That said, matches have now been played on all seven days of the week; Sunday (18), Monday (284), Tuesday (979), Wednesday (133), Thursday (175) and, Friday (41). Had any supporters been around for all of the 5,000 games (and now be approaching a minimum 115 years of age) then the task of seeing all of our games would have been rendered virtually impossible by the dubious decision of the club to play two First team matches simultaneously. This has happened on three occasions, the most recent being on 31st January 2012 when the stronger 'First' XI won a Southern League match away to Redditch United 4-2, while a weaker 'First' XI went down 2-1 at Leverstock Green in the Herts Charity Cup. The previous occasions that this occurred where on 4th February 2003 – a goalless Isthmian League draw at home to Enfield and a 3-0 Herts Charity Cup defeat at neighbours Hemel Hempstead Town – and on 24th April 1969, during an incredibly hectic time fixture wise, when an Isthmian League encounter with Leytonstone at Cranleigh Road was won 2-1 and a Premier Midweek League game at home to Hemel was lost 1-0.