This Tales of Park Life's rambling through the annals of the history of St Albans City takes us back to a meeting with our county rivals Cheshunt from almost 73 years ago when the two the clubs tussled at Clarence Park , on 11th February 1950, in an Amateur Cup 3rd Round tie. When Cheshunt visited the Park for a Herts Senior Cup tie back in October last year the attendance was 240. The gate for the Amateur Cup tie was a slightly more impressive 5,787.
The history of the original Cheshunt club goes all the way back to around 1880, a year before the formation of the first St Albans club. Whilst our first Saints folded in 1904, Cheshunt met their demise in 1931 and it was not until 1946 that the present day club came into existence and were admitted as members of the London League. During their early years Cheshunt were frequently referred to as Cheshunt Sports, this coming about from the club having taken on local side Crossbrook Sports as their base. The cover of the programme for the game at Clarence Park in 1950 also showed them as Cheshunt Sports.
Cheshunt were still in the London League for the 1949-50 season and were enjoying a good campaign there as well as in the Amateur Cup. With 13 league games played they had chalked up nine wins and just two defeats, the goals tally was impressive with 64 being scored and just 18 conceded. Goals also flowed in the Amateur Cup with a 5-1 win at Welwyn Garden City in the Extra Preliminary Round of qualifying being followed by a 9-1 crushing of Sawbridgeworth and a 5-1 thrashing of Hertford Town. In the final qualifying round Histon Institute were seen off 1-0 but it was in the competition proper that Cheshunt began to attract attention. After disposing of Ryde Sports 2-1 they then stunned cup holders Bromley with a 2-1 win at Theobalds Lane (scorers A.Ault and D.Jones). This was Cheshunt's first season at their new home and the Bromley game attracted the still record attendance of an estimated 5,000.
City entered the cup in the Final Qualifying Round and moved into the competition proper with victory over Dagenham-based works side, and members of the Spartan League, Briggs Sports. Briggs were far from novices and boasted three England amateur internationals. Reigning Corinthian League champions Walton & Hersham were next to bite the dust and then West Cheshire League champions Stork fell to a Dave Sayers goal but were said to be unfortunate in exiting the competition at this stage. Such was the sportsmanship of the time that, prior to the game with Cheshunt, St Albans received telegrams of support from the players of both Walton and Stork.
Cheshunt's trip to Clarence Park was their first away draw since the win at Welwyn Garden City and they were not lacking in support as 40 coaches packed with their followers arrived in in the city. St Albans decided to issue a joint ground and stand ticket at a cost of 2s 6d each that would be available from the Stand Paybox the Sunday before the game between 10am and 11.30am. There was not a reduced price for children. The matchday programme consisted of four pages (essentially a folded sheet of foolscap) and cost 2d. Cheshunt had to change from their normal black and amber shirts to white, as it was deemed there would be a clash with City's shirts of blue with gold arms. Playing at outside left for the visitors was Eric Skipp, who joined City in the summer of 1952.
This was the eighth time that Cheshunt had faced City at Clarence Park and, having lost the previous seven – usually quite heavily - they must have prayed that the law of averages would be on their side. But, with barely a quarter of the game gone, Cheshunt had already realised that their record of only once conceding fewer than five goals at the Park was unlikely to be improved upon.
Bill Hussey, from a Norman Griffiths free kick, opened the scoring and then turned provider when playing a corner to Ken Facey who looked on as his looped cross eluded Cheshunt's young goalkeeper R.Ward. Cheshunt complained that City had committed offences during their first two goals but the boot was on the other hand, so to speak, when City appeals for handball against G.Ferguson went unanswered as he reduced the deficit. The game, though, was as good as out of Cheshunt's reach by the interval when the outstanding Jimmy Sperrin teed up Sayers for our third goal.
Cheshunt made a couple of positional changes for the second half but were soon further in arrears when Sperrin found Hussey for goal number four. Ault added a second for the visitors but City did score a fifth and final goal through Sayers. The popular Sayers, with 23 goals in 33 games, was comfortably our leading goalscorer during the season with his tally including our only goal in the next round, a 4-1 quarter final defeat to Wycombe Wanderers at Loakes Park. That match attracted Wycombe's record attendance of 15,678 (the gate was originally announced as 14,926) after Loakes Park had hosted over 13,000 for each of the two previous rounds against Crook Town and Dulwich Hamlet. Strangely, match referee A.H. Blythe is said to have been under the impression that St. Albans had won at Wycombe. His match card was simply headed with 'blue' and 'gold' rather than the names of the two teams.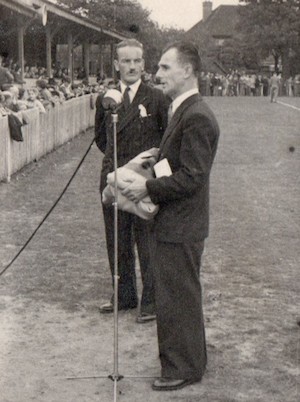 The St Albans City Supporters Club booked 45 coaches for the short journey to Wycombe but it was estimated that in the region of 100 motor-coaches, including taxis, carried in the region of 3,000 City supporters to the game. Although the attendance of 5,787 against Cheshunt was four thousand fewer than the Clarence Park record set in February 1926, it has not been surpassed during the intervening years and, given current health and safety regulations, it never will be. The gate receipts amounted to £359 1s 6d.
Cheshunt put the disappointment of their Amateur Cup defeat behind them to win the London League Premier Division by two points from Tilbury and a further two points back were our now fellow National League South rivals Dartford. Cheshunt reached the final of the Herts Senior Cup for a second successive year but, unfortunately for the Ambers, both finals were held at Clarence Park where they suffered their (then) customary defeat; both games were lost 3-1 to Barnet.
As for City, we finished sixth in the 14-team Isthmian League but made little impression in the F.A. Cup when suffering a 2nd Round Qualifying defeat at home to Wealdstone . Our participation in the Herts Senior Cup ended at Bishop's Stortford in a game sandwiched between the Cheshunt and Wycombe Amateur Cup ties. Just two games were played in the Herts Charity Cup with a semi-final win over Letchworth – during which five different City players were on the score sheet – was followed by a heavy defeat at Barnet in the final.
City's coach for much of the season was Billy Williams. However, following a change of job, he relinquished his position at the end of March with the long serving Bertie Butcher holding the reigns until Frank Soo returned for his second stint as City coach, this time as our first full-time employee. Team Secretary H.R. 'Reg' Simms, a Class 1 Referee, announced his departure after eight years in that position. He had first joined the City committee back in 1910-11.
Off the pitch this had been quite a season for the club. The Supporters Club pressed hard to achieve a 2,000-strong membership; they managed this during the final weeks of the season. Back in October, the Supporters Club chairman, G.Morrison, had donated flags to the parent club with chairman Alf Hobbs receiving them prior to a 4-1 F.A. Cup win over Crown & Manor. Somewhat more significant than the flags, though, was the construction of the clubhouse that benefitted from a sizeable donation from the Supporters Club.
Right: Chairman Alf Hobbs thanks for the Supporters Club for the donation of club flags.
Hertfordshire played three Southern Counties Amateur Championship matches during the season with Dave Sayers scoring in each one of them. Other City players to appear for the county team were Harry Rawlings. Ken Facey, Norman Griffiths, Ernie Handscombe and Jimmy Sperrin. City played 37 matches in all during the season with the leading appearance makers, on 36, being Facey and Gordon Wilkinson. One of the most popular players to pull on a City shirt (367 appearances), Fred Collings, married fellow Hatfield resident Gwen Jubb in March.
Team line ups for the City v Cheshunt Amateur Cup tie:
St Albans City: Sid Sullivan; Fred Collings, Harry Rawlings; Ken Facey, Gordon Wilkinson, Norman Griffiths; Jimmy Sperrin, Jack Chappell, Dave Sayers, Dickie Lucas, Bill Hussey.
Cheshunt: R.Ward; H.Freeman, J,Freeman; C.Wickett, F.Pointing, R.Wetton; D.Jones, A.Ault, G.Ferguson, A.Raynor, E.Skipp. Referee: N.W.Hillier (Northampton).