This article takes a look at the two earliest Flyers regarding football in St Albans still known to be in existence. The first is in connection with the original St Albans Football Club (1881-1904) and their first season in the FA Cup.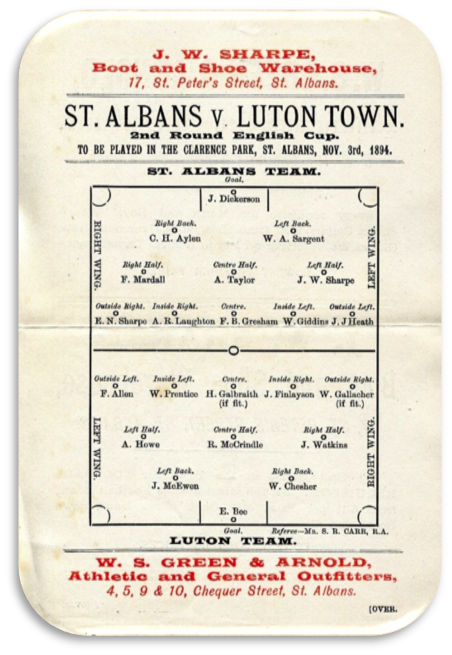 Having been founded in 1881 it was five years before the club played its first competitive match; a Herts County Cup tie away to Watford Rovers that was lost 3-0. In 1894 St Albans, who were still not members of a league at this time and competitive games were limited to cup ties, made their debut in the FA Cup on 13thOctober with a 1stRound Qualifying tie away to north London club Vampires. A goal by Harry Laughton (pictured) secured a surprise victory for the Saints.
Three weeks later and The 'Pinks', as St Albans were fondly referred to and were the current County Cup holders, entertained Luton Town who were in the first of their two seasons as members of the Southern League. The game was seen as a mismatch but still around 2,500 to 3,000 crammed into Clarence Park, generating match receipts said to be in the region of £300. The Park had been open for just four months and it would be many years before terracing would be installed. The visitors were well supported with between 1,000 to 1,400 said to have paid one shilling each to make the short train journey. Laughton repeated his feat of the previous round but a hat-trick by Hugh Galbraith paved the way for Luton to win by a far from flattering 6-1 margin.
The earliest known surviving flyer advertising a St Albans City match was for a Spartan League fixture at home to Watford Orient on 14thDecember 1912, and shows that admission for adults was 4d and 1d for boys (rather than concessions). City were reigning Spartan League champions while Watford Orient were making their first visit to the Park in this their first season in the league. The St Albans side contained some high-profile names. The City captain was Ernest Grimsdell who played 98 times for the Saints and won two England caps. Ernest later went on to play for Queens Park Rangers while his brother, Arthur, who played eight times for St Albans in 1910-11, captained both Tottenham Hotspur and England. Also in the side against Watford Orient was George Edmonds, a phenomenal goalscorer (62 in 65 games) who lined up against Arthur Grimsdell for Wolverhampton Wanderers in the 1921 FA Cup final. At half-back was George Meagher, another one-time St Albans captain, who was the first player to appear in 200 games for the City. Goalkeeper Herbert 'Micker' Smith and winger Les Hosier both played over 100 games for the club.
The game was drawn 2-2 and extended the Saints unbeaten home run in league games to 20 games. The unbeaten run was ended in the final home game of the season but not before it had been stretched to 27 games. Edmonds bagged both of the City goals while Orient, who included former St Albans players P.Shrimpton and Alec Hedderwick, found the back of the net with a brace from A.Green.
The flyer points out that a collection was to be taken for Arthur Gathard who had seriously sprained his ankle the previous month. The collection raised £2 7s 4d, while a collection at the Reserve team match added 18s 6d. Gathard, who lived in Thorpe Road, St Albans, was one of seven St Albans City players to fall during the 1stWorld War. He was injured in France and died of his injuries at Chatham Military Hospital on 31stJanuary 1916 at the age of 25