Nowadays the loyalty of a player can be bought for a mere £45m signing on fee and a weekly wage of £1m, so we thought that we'd look back to an era when football clubs benefitted from genuine loyalty by those who did so for a love of their club and with no thoughts towards financial gain.
Bill Nicholson
To start this off we look at our former treasurer William Richard 'Bill' Nicholson who served the club for more than 60 years. Bill first saw the City in action in 1933, at the age of eight, and joined the committee of the Supporters Club 15 years later. In December 1979 he took on the position of treasurer at the Park and held it until his death in October 2010. His 62 years as an official with the club are unprecedented and his achievements were rewarded in 1998 when the Football Association produced a medal to commemorate his first 50 years of service to football. St Albans City also marked the occasion by using some useful contacts to host a reception for Bill and his wife Una at the House of Lords in October 1998.
Dick East
Arthur Richard 'Dick' East served the club for 14 years during Bill Nicholson's reign. Dick, who passed away 20 years ago next month at Seaford in Sussex, is well known for founding, along with David Lucas, the wonderful local youth football club Carlton in 1944. Carlton was the starting point for a number of City players down the years but probably Dick's finest capture was Joe Kinnear who later played two games for the City Reserves but never featured in the First team. Dick served as City's assistant secretary for five years from 1959 and then nine years as secretary. Upon his retirement from the club he was presented with a silver salver.
Harvey Dockerill, Alf Hobbs and David Rand
After 14 years as hon. Secretary and one as assistant hon. Secretary, Harvey Dockerill resigned in the summer of 1959 and was presented with a clock and made an honorary Life Member for his services to the club. Harvey's one season as assistant was City's first campaign after World War Two, 1945-46. It was a difficult time for the club and that season saw us go through 62 players in just 37 games, by far the highest number used by the club at this time since its formation in 1908. Dockerill received his clock from Alf Hobbs who, a year earlier, had stood down as chairman after ten years in the role. Alf spent the next nine years as President of the club and following his retirement from that position in 1967 was presented with a silver cigarette box by Chairman Dave Rand. Alf Hobbs' wife was a founder of the Saints ladies' committee and was presented with a bouquet of flowers.
Rand was City chairman for 15 years, the longest time that any individual has held the position, and when he gave way to John Wadlow in 1973 it truly marked the end of an era. Eighty-two years ago next month David Rand made his debut for the City as a player; he went on to score 41 times in 105 appearances. After being demobbed at the end of the war he joined the committee of the club, played a leading part in running the team that were Isthmian League runners up in 1954-55, and became chairman in 1958. Rand and East stood down at the annual dinner and while Dick received his silver salver, which has beautifully carved clawed feet, David was handed a silver tray and goblets (pictured) by Frank Wilson, the vice-chairman of the Isthmian League.
Down the years the club has also recognised the long service of various players. We will take a more detailed look at the players in future aricles but Freddie Collings, on 30th April 1959, was the first to receive a Testimonial Match after 367 games for the club, plus another 31 wartime appearances. Fred's Testimonial was as captain of Hatfield Town, but it was a day of mixed emotions for the former City captain as Hatfield went down 5-0. After the game Fred was presented with a wall barometer by City President Alf Hobbs.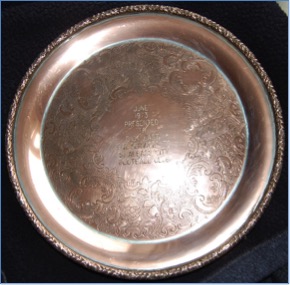 Above: Silver salver presented to Dick East.