In conversation with DOMINIC GENTLE
"In Converstation With" were articles for the matchday programme in the 1998/99 season in which Dave Tavener interviewed various members of the team. Below is the interview with Dominic Gentle.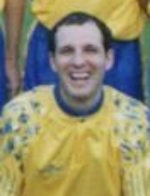 Back at the start of the current season Dominic Gentle joined the Saints from Purfleet to team up with his brother Justin at their fourth different club. During the early part of the season Dominic had to be content with a lengthy spell on the substitutes bench but since the end of December he has forced his way into the side and has started to score on a consistent basis including the vital second goal at Dagenham & Redbridge in the FA Umbro Trophy. Dominic talks us through his career starting with the early rivalry between the two brothers.
The early days
"In our younger days, going up to 14 or 15, I was probably the better player but I gave up the game from about the age of 16 to 18 and Justin probably overtook me then. I was doing an apprenticeship and travelling all over the country doing shop-fitting so couldn't go training. I got back into playing football again with Cockfosters when they played me in the third team and I had to work my way through to the first team. At the time I left Cockfosters the manager there was Jeff Voyce who helped my career a great deal, he would tell me how good I could be and all that sort of stuff. I went from the third team to the first team within a couple of months or so and played out the rest of the season there. Justin joined me there the following season."
Into the Isthmian League
"Justin moved from Cockfosters to Boreham Wood and I went along to train with them before joining him there. Again I started with four or five months in the Reserves before getting into the first team. When I first went there they used me as a centre of midfield player and when I broke into the first team they kept playing me in that position and I was in and out of the side. During the next pre-season they played me up front and I have played there ever since. It was actually Jeff Voyce who first played me in midfield when he put me on the right because I wasn't really physically strong enough to play up front in those days. I was a late developer and it wasn't until I was about 18 or 19 that I got strong enough to play up front."
Success with the Wood
"I was at Boreham Wood for three seasons two of which were in Division One and one in the Premier. We won the Division One championship by a record margin 22 points and were something like 15 points clear by Christmas. That was the season that really made me as a I scored about 20 goals, I then spent a season in the Premier Division with the club before going out on loan to Grays Athletic. They signed me and about three other players to help get them out of relegation trouble and it worked well for me as I couldn't stop scoring goals and ended the season with something like 15 goals in 15 games as we just avoided relegation. At the end of that season George Borg came in for me and signed me to Enfield, it was a move that didn't really work out for me. I didn't seem to play that often and although I thought I did well when I did play I would still find myself left out of the next game. I couldn't get a run going of any kind and then you tend to try that little bit too hard because you don't know whether you will be playing in the next game or not. Regardless of how much training you do, it does take five or six games to get fully match fit and you only really gain confidence from playing games. I left Enfield to join Stevenage on loan for a couple of months and I played some of the best football of my career there. At the start of the following season I went to Heybridge Swifts on loan but the travelling became too much as it took an hour and a half to get there even on a good run. I knew that to keep doing that for a season would gradually grind me down and I got an offer to go to Purfleet which was half as far so I went there."
Playing alongside Clarky
" Steve Clark is a great goalscorer and I have had to adapt my game to play with him. I look to hold the ball up and have a player running off me, obviously Clarky can't do that so I have to compromise my game. I would say that my main strengths are my work-rate and determination."
Family rivalry
"Justin and I spur each other on rather than compete against each other, obviously when we went to Cockfosters and Boreham Wood we did follow each other but playing at the other clubs at the same time as each other is just the way it has panned out rather than be something that we have planned. There is no real rivalry between us, I am pleased to see him do well, and he is pleased when I do well. I was on a good run last season when I played against St. Albans for Purfleet and I scored a couple of goals that night although I believe one of them was supposed to have been offside."
Winning is a habit
"I think that having a good run in the Trophy should be good for morale, if you look at the pro game it seems to be that a sides' league form improves when they also have good cup run. I don't really see success in a cup as a distraction to your league form."
The Saints Trophy run came so close to ending at Ashton United until Dominic's timely injury time intervention up at Hurst Cross, home of Ashton United. "I thought that when the keeper saved my shot at Ashton United it was our last throw of the dice gone but then Justin hit a long hopeful ball into the box and I thought I could get there just before the keeper. I slid in but it ended up as a block tackle with the ball spilling out for Robbie to score. It was good to get a second bite of the cherry as I thought we were a much better side than Ashton and I would have been so disappointed to have lost to them."
Scoring Goals
"Probably the best goal I ever scored was a curler for Boreham Wood against Purfleet. As I have become more experienced I have scored more tap-in's but when I first started my career I used to score good goals but not so many of them. My strike rate was not so good in those days but they tended to be better quality goals."
Biggest influence
"Jeff Voyce would always say be confident and aggressive, you can play at any level you like. He would encourage me all the time. I have been fortunate to have played under some of the biggest manager's in non-league football and they all have their own strengths. Garry Hill is probably the best man-motivator but Paul Fairclough is possibly the best for encouraging you and making you believe you are the best. He makes you play with arrogance. At Stevenage you are expected to win everything ad in Fairclough they had a good manager, he gave me a good chance over there. He was good at building confidence in players."
Happy talk
"I do talk to referee's but maybe because I am more experienced I can talk to them in a better way than Justin does. I do talk to referee's and I like to make my point but maybe I do it in a slightly different way to him."
Looking backwards and forwards
"I just want to keep playing for as long as I possibly can. I would like to go on until I am forty, maybe not at this level but I just want to keep playing. As a schoolboy I was with Watford but when they hand out the apprenticeships to 14 and 15-year-olds I didn't get one."
Best stadiums
"The best stadium I have played at is Rushden & Diamonds but it was in a Reserve match so there was probably no more than a couple of hundred people inside it. For atmosphere the best place was Stevenage Borough and I was fortunate as they seemed to quite like me but players they don't like do tend to get stick."
Protected species
"I think that the banning of the tackle from behind has made it better for forwards but it didn't work like that on Saturday at Hendon as I didn't get anything given in my favour although the tackles were flying in from behind. But generally you can relax better on the ball now as you know you are fairly safe from not having a defender clattering into the back of you. Before you were always looking over your shoulder to see who is coming to get you. I do feel though that forwards are still a little bit hard done by to be honest as you get pulled, pushed and kicked all over the place but as soon as you raise your arms to push back or whatever you get penalised for it."