'In Conversation With' were articles for the matchday programme during the 1998/99 season in which Dave Tavener interviewed various members of the team. Below is the interview with Steve Clark , a player who is St Albans City's second highest appearance maker and goalscorer. This first appeared in the programme for the Isthmian League match against Basingstoke Town on 12th September 1998.
Fact File Born: 4-02-64, Hull.
Home Life: Married to Min (Melanie). Children: Joshua will be two next month, Benjamin and Harrison five months.
Previous clubs: Stansted, Saffron Walden Town, Wivenhoe Town.
St. Albans City Playing Record: Debut: 20-08-91, a 3-1 Isthmian League defeat at Enfield.
First Goal: 24-08-91, a 2-1 Isthmian League win at Carshalton Athletic.
Appearances: 399 (265 League). Goals: 262 (158 League).
Honours with St. Albans City: Player of the Year 1993, 1995; Isthmian League Runners-up 1992-93; Top scorer seven consecutive years; Club record goals by an individual in one season 56, 1994-95; FA Cup 2nd Round 1996-97; London Challenge Cup Winner 1994-95; East Anglian Cup Winner 1992-93; Herts Charity Cup Winner 1992-93, 1994-95, 1997-98; Herts Charity Cup Finalists 1995-96; Isthmian League Representative XI; Scorer of 21 hat-tricks.
This afternoon the spotlight falls on long-serving St. Albans City striker Steve Clark as, barring injury, today sees him take to the pitch for the 400th time with the Saints. Since becoming what at the time was our record signing at £4,000 when he moved from Wivenhoe Town to Clarence Park in 1991, Steve has etched his name deep into our record books with just Billy Minter still above him in the goalscoring charts. Only three players - Phil Wood , Dave Lawrence and Martin Gurney - have played more times for St. Albans than Steve whose loyalty is to rewarded with a testimonial year next season.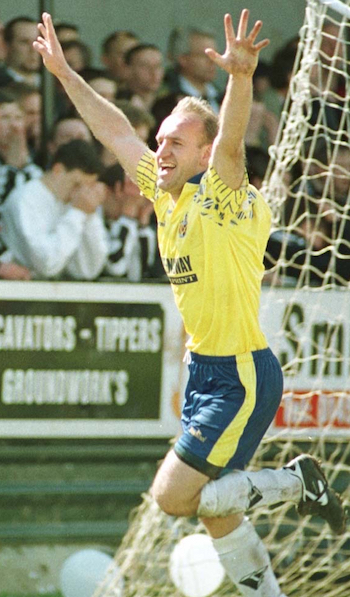 Goals and the future
"Every goal is very special whoever you are playing against and obviously the hat-tricks are the icing on the cake, to get three goals in a game is fantastic. I think you get more pleasure when the goals are against better opposition and even though the Tottenham Hotspur game was a friendly that goal was special to me. Then you look at the goals against Bristol City and Telford United in the FA Cup, they were very special, the bigger the game the more satisfying it is to score. There was probably a cubs or scout game somewhere in the past when I may have scored more but getting six against Hillingdon Borough, especially in the FA Cup, that, again, was a very special game. This season I have set myself a target of 30 goals in league and cup competitions and hopefully I will attain it. It is getting harder with every passing year but I would like to think that I can get through this year and next season, as that is my testimonial year, and I would like to finish that by playing at quite a high standard. Then I will see if I can continue to play with family and school commitments."
Conference
"I have always said that it would be difficult for me to play in the Conference. When there was a chance of moving to Enfield I told them that it would be hard for to play at that level, I would have to leave early for midweek games and get back in the small hours of the next day which would not really be possibly. I have always really enjoyed the teaching and it would have to be have been something very good to convince me to make the move. Early in my career I played for the Reserve side of a couple of Football League clubs but it was never a burning ambition of mine to play professionally. I wanted security for my family and I've got that with the job, the football is an extra which I really enjoy."
Achievements
"We have always been there or there-abouts but we have never really won that many things. Obviously, the year we were Isthmian League runners-up was good, as we also won three cups, and then under Allan Cockram we won the London Challenge Cup. You always want to win the league as that shows you have been consistent throughout the season. You look for good runs in the FA Cup and FA Trophy as it gives an added edge to the season certainly everyone found playing at Bristol City a great experience. For me personally it is very special to get to 400 games for one club, I look at the goals I've scored and hope to keep scoring at around one goal every two games. I am still up with that at present and hope to finish like that."
Supply and demand
"I have been fortunate enough to have played with some very good footballers at Wivenhoe Town like Paul Price, Lil Fuccillo, John Lacy , Phil Coleman. Martin Gittings was a very good player and we worked well together. Since then there have been a number of good strikers, Dean Williams did well when he was at St. Albans, he was a very good ball player. Jimmy King was brilliant for me at Wivenhoe and St. Albans, he made my job so much easier just by putting good crosses onto my head. You see very few wingers of Jim's class."
Goalkeepers and Penalties
"Martin Taylor at Boreham Wood is always a very difficult goalkeeper to score against. There have not been many that I think I will not score against but Taylor is one of the best. One goalkeeper I have done well against and it is always very nice to play against is Les Cleevely. When taking a penalty you have to be confident, know where you are going to put it. I always know in advance what I am going to do with it and I am pleased with my record for last season."
Strikers going soft
"We probably do get more protection than before with the challenge from behind being outlawed, that has improved matters but I still don't think we get enough protection (said with a wry smile - ed). I think that at our level you get more blocking as you try to run in but there is not too much shirt-pulling of the kind we saw during the World Cup."
The early days
"I was born in Hull and we moved to Bracknell as a family when I was nine. When I was at school I played for the District team and then for the Berkshire county side. I began my teacher training at college in Chester and that is where I met my future wife. They were three very good years at Chester, we played in West Merseyside which was tough but very enjoyable. At that time I was playing centre half but still scoring goals. I then moved to St. Luke's College in Exeter and with them I played in the final of the British Universities Cup, by now I was playing up front and managed to score the winning goal against Southampton. Apart from the football I was at St Luke's working towards a post graduates teacher training degree. Once we set up home in Takeley, near Bishop's Stortford, I began playing for Saffron Walden Town Reserves. From there I moved to Stansted in the Essex Senior League. I then returned to Saffron before making what at the time was the biggest move of the lot to Wivenhoe Town."
Sporting background
"In the year I was born my dad, Len, played in the Rugby League Cup Final at Wembley for Hull Kingston Rovers."
By the time that Steve played had played his 488th, and final game for St Albans a number of the stats in his Fact File had changed. His tally of goals had risen to 322 and he had added three more hat-tricks to his c.v. He scored in the 2nd Leg of City's FA Trophy semi-final games against Forest Green Rovers and added the Herts Senior Cup to his list of honours. The 1999-00 season saw him become the third City player to be granted a testimonial. After leaving St Albans City at the end of the 1999-00 season he had spells with Canvey Island and Aylesbury United . Twenty-seven of his 35 Isthmian League Premier Division appearances for Canvey were from the bench and this restricted him to just six goals during 2000-01. However, the move to Aylesbury United the following season was a success and in 42 games for the Ducks he scored 21 goals (15 in 34 league games) including five in the FA Cup against Brentwood Town. He was joined by former City colleague Peter Risley at Aylesbury as the Ducks won promotion from Division One of the Isthmian League. Steve retired from playing at the end of that season.