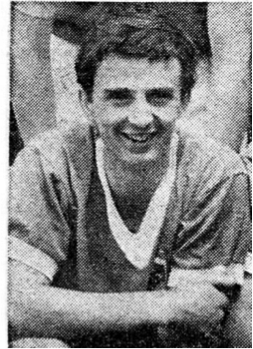 We are saddened to hear of the death of our former player Don Francis on Friday, 7th January 2022.
Born in Park Street, Don moved to the New Greens area of St Albans with his family, which included four brothers (Peter, Roy, John and Ken) and one sister (Joy), and attended Townsend School. He later worked 'in the print' for Fisher & Knights and Gainsborough Press.
As a footballer, Don was highly rated and played for the respected Carlton club who were regarded as the youth team to St Albans City. Below: Don in the Carlton side that faced Cambridge City Youth in the F.A. Youth Cup in September 1959. The Carlton side that day included fellow future City players Eddie Rolfe, Brian Haggerty, Dave Westcott, Eddie Southern and Brian Allen.
Two years later he played for Gainsborough United in the inaugural season of the St Albans Sunday League, 1961-62. Gainsborough won the 12-team single Division league with Don (28 goals) and his brother John (33 goals) enjoying a prolific campaign in front of goal. Further success was enjoyed in the Sunday League throughout the 1960s with Gainsborough, Paupers and Sporting Club.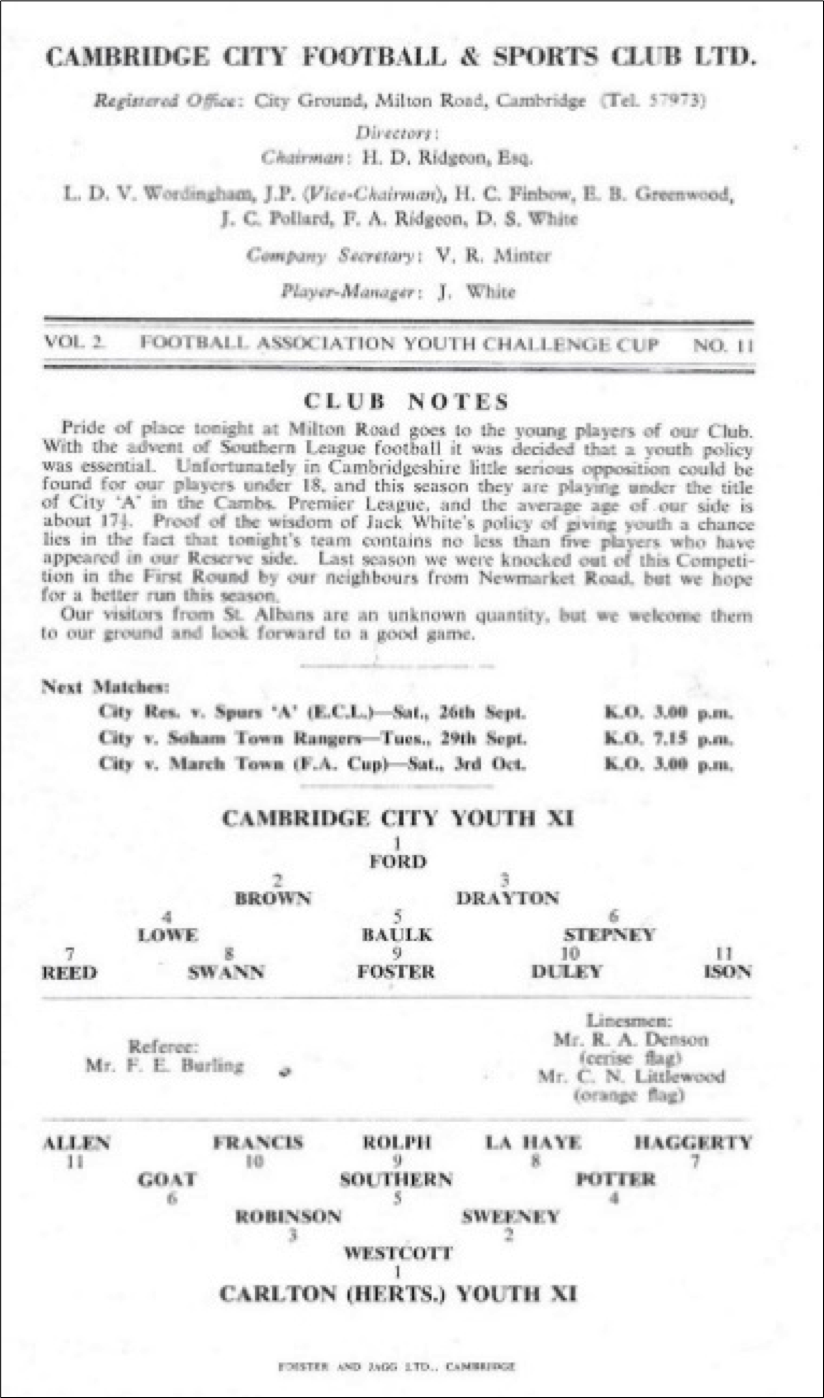 Towards the end of the 1962-63 season Don made his debut for St Albans City Reserves and stepped up into the First team for his senior debut on 1stJune as City went down 3-1 to Bishop's Stortford in the final of the Herts Charity Cup at Rhodes Avenue.
He started the following season in the Mid Herts League playing for Selby and also had a spell in the Herts County League with London Colney. On 30th November 1963 he was handed his Isthmian League debut as City entertained Dulwich Hamlet at Clarence Park . He marked the occasion in fine style when blasting home City's equaliser in a 1-1 draw from 30-yards out. His performance at inside-right earned him the headlines and great praise in the local press.
Don retained his place in the side for City's next game, a 2-1 defeat at home to Oxford City in which he did not score, but he fully established himself in the side by scoring in each of the next six games. That run included his only hat-tick for the club as City swept to a 5-1 win over Clapton at The Spotted Dog Ground.
His excellent goalscoring form during the 1963-64 season saw him finish the campaign with 15 goals in just 17 appearances. Despite his good form, City dispensed with his services after he failed to turn up for an Isthmian League match at Tooting & Mitcham United on 8thApril. The parting of the ways proved to be short-lived as he was back in the side for the start of the following season.
Don added a further 13 goals in 35 games during the 1964-65 campaign, giving him a career record at Clarence Park of 28 goals in 53 games. His final appearance for the City came in front of 2,503 spectators at Underhill, as Southern League Barnet won the 2nd Leg of the final of Herts Senior Cup 3-0 to win the cup 5-2 on aggregate. It was to be a painful ending of his time with St Albans as he suffered a fractured jaw during the game and had treatment at Barnet General Hospital. The injury ruled him out of an end of season trip with the club to Padova in Italy.
Don teamed up with former City coach Pat Welton at Hemel Hempstead Town for the 1965-66 season and was on the scoresheet as Hemel defeated City 5-0 in the Herts Charity Cup on 15thSeptember. He made two further appearances for Hemel against City the following April when the Herts Senior Cup came to Clarence Park following a 2-1 aggregate win for Harry Gibson's Saints.
The 1967-68 season saw Don move up the county to join a Hitchin Town side now under the control of former City boss Gibson. The two sides were drawn against each other in the 1st Round Qualifying of the F.A. Cup and following a goalless draw at Clarence Park in front of 1,404 spectators Hitchin, inspired by two goals from former Saint Barry Butterfield, sent the Saints packing at Top Field in front of a crowd of 1,881. Francis played in both games. His playing days also took in a spell with Cornish side Wadebridge following a move to the south west.
Don had a reputation of being exceptional at whatever sport he turned his hand to. Bob Murphy , a former player, manager and chairman of St Albans City, described him as, "one of the most talented sportsmen I've ever known."
Roy Scott, a colleague of Don's at Townsend and the founder of the St Albans Sunday League, said that Don "made football look easy."
Outside of football he ran a 'fruit and veg' stall on St Albans Market.
He leaves behind two sons and a daughter.