Dulwich Hamlet 8-7 St Albans City
FA Cup 4th Round Qualifying Replay
Wednesday 22nd November 1922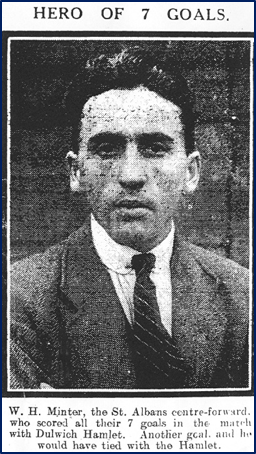 Probably the most famous match in the history of St Albans City Football Club, but where should one start when recalling a game that is etched so deeply into football folklore and the history of F.A. Cup in particular.
City's ace marksman, Wilfred 'Billy' Minter, is always the centrepiece when the game is retold but two other players also scored hat-tricks that day. Neither side had their regular goalkeeper, the match finished in farce in near darkness. There are so many stories to be told.
The game was a replayed 4th Round Qualifying FA Cup tie following a 1-1 draw at Clarence Park the previous Saturday. A crowd of 5,215 attended the first meeting in Hertfordshire but with the replay played in midweek, Wednesday 22nd November 1922, the gate at Champion Hill, south east London, was slightly lower at 4,060.
'Two hours continuous excitement fought out at a tremendous pace' is how the Herts Advertiser reporter described the game before filling his account with a string of superlatives, but the overriding tone of the report is that, as in the first game, St Albans were the better side and should have progressed through to the next round.
Both sides made changes for the replay, most significantly in goal. Dulwich were able to call upon the services of C.Williams when injury ruled out Amateur England international Ernest Coleman. Williams was a regular goalkeeper of some standing and replacing Coleman as his stand-in was a far from serious blow for the Hamlet.

City play full-back in goal

City, on the other hand, were in a quandary, as they did not possess a second-choice goalkeeper and called up Alf Fearn who had played outfield for the Reserves earlier in the season. During the previous season Fearn had been captain of St Albans Gasworks - from full-back.
St Albans made one other change with Arthur Webdale coming in for Bertie Butcher. Webdale played at full-back with Tommy Field while Fred Holland moved to half-back to cover for Harold Figg who had replaced Bertie Butcher at inside-right.
Somewhat rarely for accounts at this time, the match referee was severely criticised by the St Albans press who made it plain that at least two of the Dulwich goals came courtesy of dubiously awarded set pieces in their favour, while City were denied at least three, apparently clear cut, penalties as Hamlet struggled to contain Minter.
The game was goalless for the opening 15 minutes but it was St Albans who were pressing to make the breakthrough. History then repeated itself from the first meeting at Clarence Park with England Full and Amateur international Edgar Kail opening the scoring for Dulwich after the home side had been on the back foot.

Minter scores 15-minute hat-trick

Williams had thwarted Minter on two occasions and Harold Miller shot over when well-placed before Kail's goal but that setback looked to have been brushed aside when Minter scored three times in 15 minutes.
Minter's first saw him turn in a shot that had rebounded off the crossbar, his second was a header from a cross after Figg and Phil Pierce led a counter-attack, and the hat-trick goal was a well-struck cross-shot after good work by Harold Miller. Just two minutes after that third goal Dulwich responded with Kail's second goal.
Once again City responded positively with Williams saving from both Minter and Figg. Dulwich were not averse to mixing the Laws of the Game for Association Football with those of the Rugby Code and when Pierce broke free he was brought crashing to the ground by a rugby style tackle by T.Goodliffe.
The decision to place Fearn in goal came into question on 42 minutes when he hesitated in coming out to collect a long ball and that hesitation allowed Kail to advance and set up William Davis for the third Dulwich goal.

Dulwich lead 5-3 from 3-1 down

From two goals down the home side moved into a two-goal lead seven minutes into the second half. A.Hunt sent over the corner from which Davis scored his second goal on 47 minutes and five minutes later Sid Nicol clashed with Fearn when challenging for a cross. Fearn was 'knocked-out' in the collision that saw Nicol head against the crossbar and while the 'keeper was flat out on the ground Davis forced the ball into the City net. Following the goal there was a delay while Fearn had treatment, after which he was able to resume his position.

Minter claims another hat-trick

With one hour of the game having passed St Albans were still 5-3 in arrears, ten minutes later and Minter, with the fastest treble of his time with the City, had moved closer to his place in the record books as he put his side into a 6-5 lead.
The build up to Minter's fourth goal of the game was started by George Meagher, the City captain whose goal the previous Saturday necessitated the replay. Meagher played in Figg and when his shot rebounded off the woodwork Minter pounced.
Williams made two excellent saves to protect Hamlet's slender 5-4 advantage but Minter was not delayed long for his fifth goal. A clever piece of headed passing between the Saints leading goalscorer and Harold Miller on 65 minutes concluded with Minter bringing the ball down and sending it at pace high into the roof of the net.
One again, St Albans were in full flow and Dulwich were struggling to hold on, indeed, on 70 minutes their cause looked to be done for when Minter, after shrugging off a poor challenge, darted into the goalmouth and beat Williams from close range following a low cross.
St Albans pressed to restore their two-goal advantage from earlier in the game but Williams stood firm, as he kept out efforts from Figg and Holland but the busy custodian should have been beaten from close in by Harold Miller only for the Charlton Athletic-bound St Albans forward to fire over the top.
With five minutes remaining Dulwich enjoyed a stroke of good fortune when the match referee, Mr J.J. Kelly of London, reversed his decision to award City a goal kick and bowed to his linesman and handed a corner to the south Londoners. Fearn beat out the first cross for another corner but this time he could do nothing to stop Nicol from heading in to take the tie into extra time.
The fitness of the City players in the mud was admirable as they continued to search for more goals during the first half of extra time. But it was Dulwich, with a swift breakaway, as City threw most of the team into the home penalty area to attack a free kick, who claimed a seventh goal with Kail benefitting from a shot that appeared to slip through the hands of the diving Fearn.
Far from accepting their fate the Citizens continued to swarm around the Dulwich goal. Williams twice denied Harold Miller, at least he was able to get his shots away. Minter was not afforded such luxury. Goodliffe, for the second time in the game, used a rugby-tackle to stop a City player from scoring, this time his victim was Minter. As with his earlier indiscretion, Goodliffe escaped punishment from the referee and used his lenient treatment to good advantage once more when scything down the goal-bound Minter deep into the second half of extra time. A free-kick was not forthcoming.

A seventh for Minter but no heaven

As the light continued to fade so did St Albans' cup ambitions but just four minutes from time a measure of justice was meted out when Minter rose to head in his seventh goal of the game, this time from a Revers Miller corner.
The visitors could find plenty to argue that fortune had not been on their side during the course of the afternoon but any thoughts that they had survived to take a third shot at the Hamlet were shattered by yet another contentious decision that went against them. This is how the Herts Advertiser reported the incident that brought about a clear result to the greatest FA Cup tie of them all.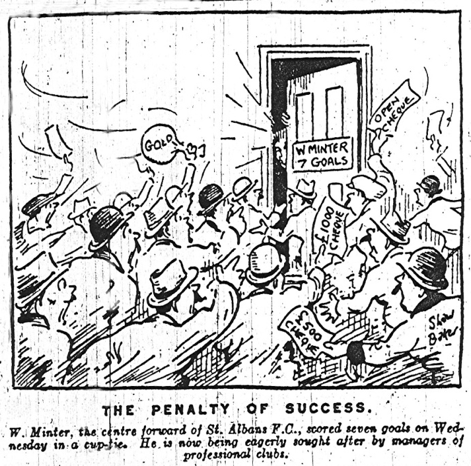 'It then seemed as though the teams would have to fight another day, but there was a dramatic finale to a thrilling game. When, according to the clocking of the majority of the multitude of pressmen present, the game should have been terminated, play was in progress on the touch-line in the Citizens' half, and not far from the corner flag. The linesman signalled to the referee, who stopped play, and, after some argument, awarded a free kick on the linesman's allegation that Figg had handled. The free kick was lobbed into the goalmouth, where, in the darkness, Davis headed past Fearn, and thus enabled Dulwich Hamlet to qualify to entertain Clapton in the next round of the F.A. Cup competition.'
In their report of the match the Daily News found room to have sympathy for St Albans' plight and that of Minter in particular. 'It is right and proper to congratulate Dulwich Hamlet, but one would have preferred to have seen the tie all square at the end, for St Albans played a wonderful forward game and it is a tragedy for Wilfred Minter that although scoring each of the 7 goals for the Herts club, the gifted centre-forward found himself at last on the losing side.'
St Albans had been defeated, but in doing so had entered the history books as the side to have scored most goals when losing an FA Cup tie, that Wilfred Harry Minter had scored all of their seven goals just made the tale all the more remarkable.
Dulwich Hamlet: C.W.Williams; A.Brooker, T.R.Goodliffe; F.Sivewright, R.H.Jonas, G.Shorrocks;
L.Jones, E.Kail, W.J.Davis, S.Nicol, A.E.Hunt.
Goalscorers: Kail (3), Nicol (2), Davis (3).
St Albans City: A.Fearn; A.Webdale, W.Field; F.Holland, P.Bird, G.Meagher; P.Pierce, H.Figg,
W.Minter, H.S.Miller, R.Miller.
Goalscorer: Minter (7).
Referee: Mr. J.J.Kelley (London).
Attendance: 4,060.