Unfortunately, there is insufficient information to hand to produce a full, in-depth, account of the 1899-00 season. Below is a short summary and when conditions allow for research to resume the story will be completed.
St Albans Amateurs rise from the ashes of the fallen Town
Following the disbanding of the professional St. Albans Town at the end of the 1898-99 season, club officials moved swiftly to ensure that the local citizens would not be short of a club bearing the name of the city. What happened in effect was that the Reserve, or 'A' team, of 1898-99 became the senior side for the 1899-00 season. The local council granted permission for the new club to use Clarence Park as its home ground. This ensured that a continuous line could be drawn linking the original club to the latter-day St Albans City club.
The club's agreement with the council would see one-quarter of takings under £100 passed to the corporation, this would rise to one-third for takings of between £100-150 and one-half anything above that figure. The council would supply someone to maintain the dressing rooms but this was to be charged to the club for a fee of £4 4s. The cost of Season Tickets was set at 3s for one person and 5s for two people, subscriptions were 4s if paid before December but 5s thereafter.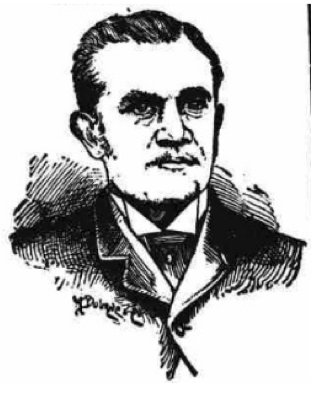 Frank Sharpe replaced William Baum as secretary after Baum had overseen the survival of the club. In November, business commitments also led to Baum resigning his position at the Hertfordshire Football Association. Sharpe had been secretary of the Reserve team the previous season, so he was familiar with the requirements of the job. He announced that the club would run teams in the Herts County League and both Division's of The Mid Herts League. the club would also compete for the Herts Junior Cup and the Bingham Cox Cup. The league tables are given below.
During the course of the season St. Albans lost a good friend with the death of James Gentle at his Paxton Road home on 18th September. Gentle had been a tremendous supporter of the club and during his time of 17 years as landlord the club had based its headquarters at his Crystal Palace public house. More sad news came the way of the Saints when the man who was so instrumental in the founding and running of the club during its formative years passed away. Richard Cook (left) suffered a heart attack and died on the way back to his Luton home on 6th December. Sir John Blundell, who had donated Clarence Park to the people of St. Albans, also bade farewell to his father on 4th March 1900.
1899-00 League Tables
| Herts County League | P | W | D | L | F | A | Pts |
| --- | --- | --- | --- | --- | --- | --- | --- |
| Apsley | 16 | 13 | 3 | 0 | 52 | 21 | 29 |
| Campfield | 16 | 12 | 3 | 1 | 60 | 11 | 27 |
| Hitchin Blue Cross | 16 | 8 | 3 | 5 | 17 | 22 | 19 |
| Harpenden | 16 | 6 | 3 | 7 | 24 | 32 | 15 |
| St. Albans Amateurs | 16 | 7 | 1 | 8 | 20 | 35 | 15 |
| Berkhamstead | 16 | 5 | 4 | 7 | 22 | 21 | 14 |
| Stanville | 16 | 5 | 2 | 9 | 17 | 32 | 12 |
| Stevenage Town | 16 | 3 | 1 | 12 | 18 | 35 | 7 |
| Hemel Hempstead | 16 | 3 | 0 | 13 | 10 | 31 | 6 |
| | | | | | | | |
| | | | | | | | |
| Mid Herts League Division 1 | P | W | D | L | F | A | Pts |
| Campfield | 12 | 9 | 1 | 2 | 37 | 9 | 19 |
| Frogmore | 12 | 8 | 0 | 4 | 19 | 15 | 16 |
| Harpenden | 12 | 7 | 1 | 4 | 27 | 27 | 15 |
| Hatfield | 12 | 5 | 1 | 6 | 21 | 23 | 11 |
| Stanville | 12 | 5 | 1 | 6 | 7 | 13 | 11 |
| St. Albans Amateurs | 12 | 2 | 3 | 7 | 10 | 21 | 7 |
| Fleetville | 12 | 2 | 1 | 9 | 8 | 21 | 5 |
| | | | | | | | |
| | | | | | | | |
| Mid Herts League D2 | P | W | D | L | F | A | Pts |
| Stanville | 12 | 10 | 2 | 0 | 47 | 7 | 22 |
| Campfield | 12 | 8 | 1 | 3 | 46 | 15 | 17 |
| Elstree | 12 | 7 | 2 | 3 | 21 | 21 | 16 |
| St. Peter's Athletic | 12 | 6 | 1 | 5 | 26 | 20 | 13 |
| St. Michael's | 12 | 4 | 2 | 6 | 12 | 32 | 10 |
| St. Albans Amateurs "A" | 12 | 2 | 1 | 9 | 7 | 28 | 3 |
| Wheathampstead | 12 | 0 | 1 | 11 | 11 | 47 | 1 |
| St. Albans two points deducted | | | | | | | |