Left: Announcement in the Herts Advertiser on 12th February 1916 stating that Lance Corporal Arthur Gathard had died from injuries received six weeks earlier during the Battle of Loos.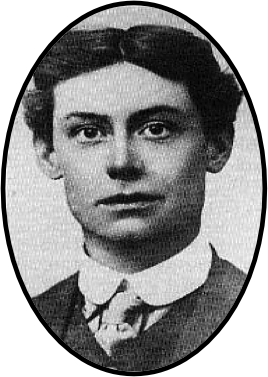 "Lance Corporal Gathard suffered very much before his death. He was wounded in several places by the bursting of a shrapnel shell near him while he was bandaging the wounds of a stricken comrade. Four days later, on Dec. 23rd, he was brought down to the 23rdGeneral Hospital at Etaples, France, and on Jan. 6th was brought across to a hospital at Chatham, where several operations were performed. He was frequently visited by his parents and other members of his family before he died. His case was hopeless from the commencement, and the doctors were astonished, considering the severe and complicated nature of his wounds, that he was so patient and cheerful. He was unconscious for three days before he died, and death was a merciful release from intense pain."
When his body was transferred by train from Chatham to his hometown, Arthur Gathard was afforded full military honours. Six soldiers from the Staffordshire Brigade, stationed in St Albans at that time, acted as pall-bearers at the Hatfield Road cemetery. Arthur, 25, was unmarried and was survived by his father, William, mother, Emily, brother, Albert, and sisters Margaret and Florrie. Arthur Gathard lived in Thorpe Road.
MILITARY RECORD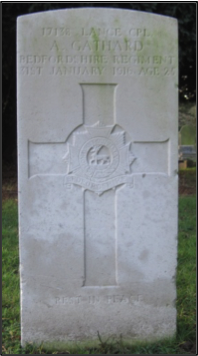 Arthur Gathard joined the Army in September 1914, becoming a member of the 8th Battalion of the Bedfordshire Regiment. As Lance Corporal 17138 he was sent to France on 10th August 1915 and fought in many battles, including Ypres. Injured at Loos, France, he was treated in England at the Chatham Military Hospital before losing his life on 31st January 1916. He was entitled to receive the Victory Medal and British War Medal. Pictured right is Arthur Gathard's gravestone at the Hatfield Road cemetery, St Albans.
ARTHUR GATHARD THE FOOTBALLER
Arthur Gathard never progressed into the St Albans City First team but, between 9thSeptember 1911 and 24thMarch 1913, did score twice in a known 35 games for the City Reserve team. A full-back he played in the Herts County League, Mid Herts League, Herts Junior Cup and Bingham Cox Cup during his time with the Saints. In his final game he collected a Bingham Cox Cup winners medal, as St Albans City defeated Sandridge 3-2 at Clarence Park , after being two goals down. Also in the City Reserve team that day was Jack Hillier who, like Arthur, fell during the war. The medal they received for winning the Bingham Cox Cup was made of gold.
Arthur attended the Priory Park School in London Road, St Albans, and in 1904-5 was a member of their team that won the St Albans Schools League. The Priory Park team was unchanged for all of its eight league games. Between leaving school and joining the Army, Arthur worked for Messrs. Adey and White, a mineral water manufacturer based in St Albans, and also for the Bernard's Heath-based Deep Well Boring Company.