Over the course of the two World Wars two one-time St Albans City footballers received military honours for their endeavours.
During the first conflict, Oliver Summers received the Distinguished Conduct Medal and was mentioned in despatches. This is covered in the tribute to him earlier in this publication.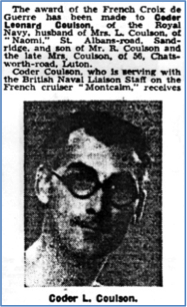 In the 2nd World War Coder Leonard Coulson was honoured, but not by the British. Coder Coulson was awarded the Croix de Guerre (Cross of War) by France for distinguished service in connection with the operations in Normandy and Provence. He was serving with the British Naval Liaison Staff onboard the French cruiser Montcalm.
Len Coulson joined the Royal Navy in 1943 having previously worked in St Albans at W O Peake Ltd (William Oliver Peake, 1879 – 1957). Peake's factory was in Hatfield Road, directly opposite Clarence Park , a ground that Len graced as a player with St Albans City between April 1927 and December 1932.
Len made 81 appearances for the City and scored a highly respectable 20 times. He was the second highest scorer at the Park in 1931-32, behind Percy Higgins . An article, printed in the Herts Advertiser describing the award of his medal, incorrectly states that he was the leading goal scorer for that season.
Given that Coulson was honoured for work carried out away from these shores, it is, perhaps, perfectly reasonable that the 'first' he achieved with St Albans City was also for something he did on a foreign field.
Over the Easter weekend of 1927, he was a member of a City squad that took part in the Grand Tourni de Pâques, in Liege. St Albans defeated Liege-Bressoux 5-2, and then Royal Standard Liege in the final, 3-2. The two games attracted crowds of five and ten thousand. Coulson did not score in either game but, as part of a pre-match agreement, clubs were allowed to use a substitute during the first half of the final. Consequently, when Harold Figg picked up an injury Coulson became the first substitute used in the history of the Club.
Below: Len Coulson, fourth left front row, with the St Albans City team and party that won the Victory Cup in Guernsey in April 1928. The front row features some of the best known names in the history of the Club. Left to right; George Butcher , Fred Holland, W.Brewer, Len Coulson, W.Shaw, Fred Hellicar, Wilfred Minter, Harold Figg, Bert Saggers, Wally Buckingham and Albert Ward.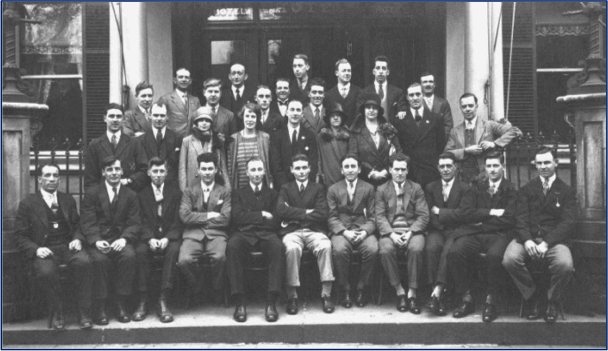 Once his playing days were over Len Coulson served the Club off the pitch as a member of the committee from 1934-38.
Substitutes were not permitted in England until 1965. An Isthmian League match at Barking on 30th August 1966 saw Graham Legg became the first substitute used by St Albans on home soil.
However, the loose rules and regulations surrounding Herts & Middlesex League matches during the 2nd World War allowed St Albans to use a twelfth man in their very first official league game of the conflict, in October 1939.
An injury rendered left-half Albert Martin unable to continue at a time when Enfield were very much on top at Clarence Park . The Middlesex club sportingly agreed for City to send on substitute Jack Gough. Gough went to outside-right with inside-right Dusty Miller dropping back to fill Martin's position. All of which seemed to work in City's favour as they ran out 3-1 winners. Gough made 18 wartime appearances for the Saints and prior to the war scored 15 times in 68 games for St Albans City.