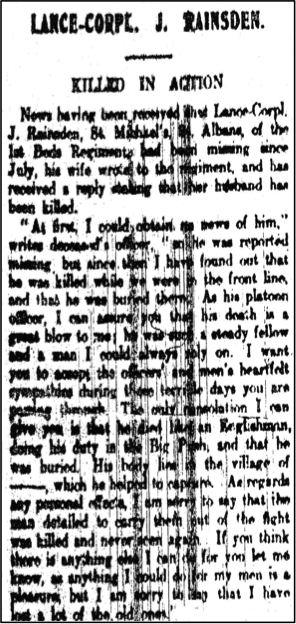 Left: Announcement in the Herts Advertiser on 23rd September 1916 confirming the death of Lance Corporal John 'Jack' Rainsden, who had actually died at the Somme almost two months earlier.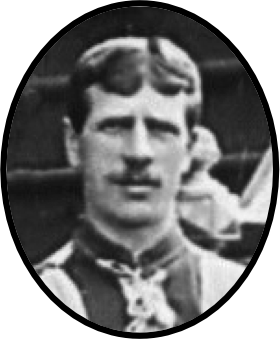 John Rainsden had been reported as missing since July and in desperation his wife, Annie, wrote to the 1st Bedfordshire Regiment – her husband's regiment – requesting details. She received the following reply from Jack's officer.
"At first, I could obtain no news of him, and he was reported as missing, but since then I have found out that he was killed while he was in the front line, and that he was buried there. As his platoon officer, I can assure you that his death is a great blow to me; he was such a steady fellow and a man I could always rely on. I want you to accept the officers' and men's heartfelt sympathies during these terrible days you are passing through. The only consolation I can give you is that he died like an Englishman, doing his duty for the Big Push, and that he was buried."
The letter also said that no personal effects had been found. Lance Corporal Jack Rainsden was born and bred in St Albans, and lived in Blacksmith's Lane, St Michael's, along with his wife, Annie, and their three children. As a boy, he attended St Michael's School and was an organ blower at the church. He worked as a gardener at St Michael's Manor but was employed at the Silk Mills (most likely the Abbey Silk Mills) when the 1st World War broke out.
He died on 27th July 1916 at the age of 33. Jack's brother, Alfred, drowned on a voyage to the Dardanelles on the 6th October 1915 whilst serving with the Australian Imperial Force.
MILITARY RECORD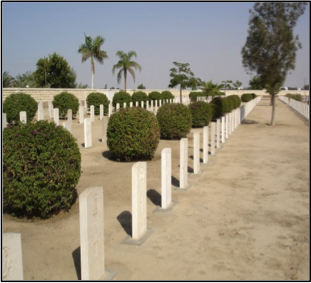 Lance Corporal John Rainsden
Service number 18526
1st Battalion Bedfordshire Regiment.
He was entitled to receive both the Victory Medal and the British War Medal.
John Rainsden is commemorated at the Thiepval Memorial, Somme, France.
Being a resident of the picturesque St Michael's area of St Albans, Jack Rainsden played for the St Michael's football team. He also played for St Albans Thursday (teams consisting of players from local shops played in a Thursday League – Thursday being early closing in St Albans). He made six appearances for St Albans City and played at least 32 times for the City Reserves. He had the distinction of playing in the first ever City Reserve match, a 5-0 Mid Herts League defeat at Redbourn on 12th September 1908. Jack got on the scoresheet in the Reserves next match, an 11-0 win at Flamstead in the Bingham Cox Cup. He went on to play in the final that season but collected only a silver runners up medal as City went down 1-0 at home to Hatfield United. Of Jack's six First team appearances, City won four and drew the other two. His sole First team goal secured a Spartan League victory away to Chesham Generals. Whilst playing for the Saints Jack lined up alongside the Grimsdell brothers, Arthur and Ernest, and the free scoring forward George Edmonds.